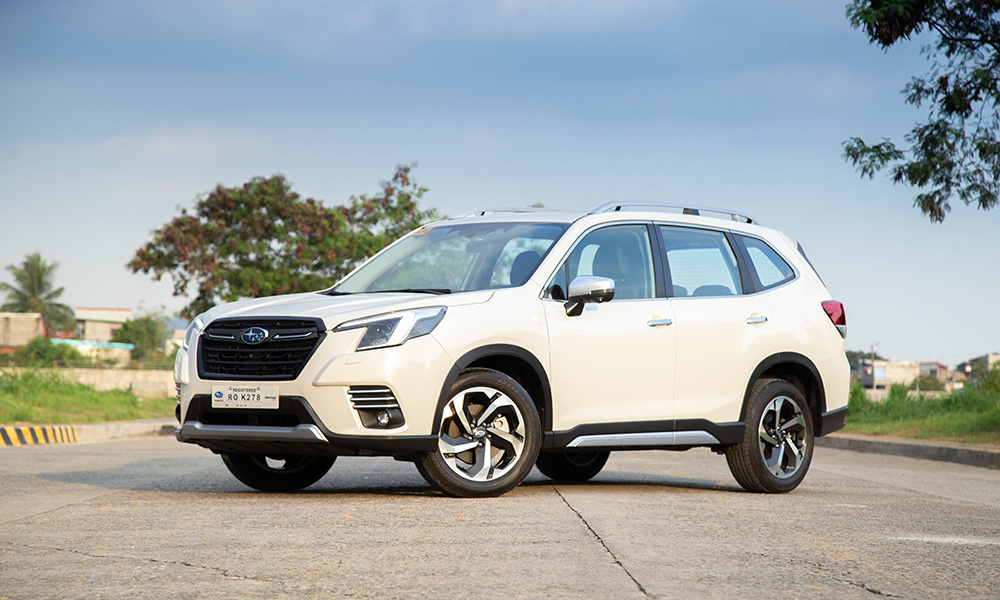 Back when Subaru still made XT variants of it, the Forester was the car dad's dream. It appealed to men who used to drive K-swapped EK Civics rolling on Tein coil-overs clicked to the hardest damper setting, but have since gotten married and had children.
The Forester XT could swallow a stroller in the back, carry a car seat in the middle, and give mommy more than ample berth to move around.
More importantly, though, the practical cabin was mated to the boxer engine from the WRX that made over 250hp and had enough rally-inspired character to give daddy a semblance of youth—a burbling all-wheel-drive reminder that becoming an older man in a minivan is a choice one can refuse. I know I have always lusted after an XT for this exact reason.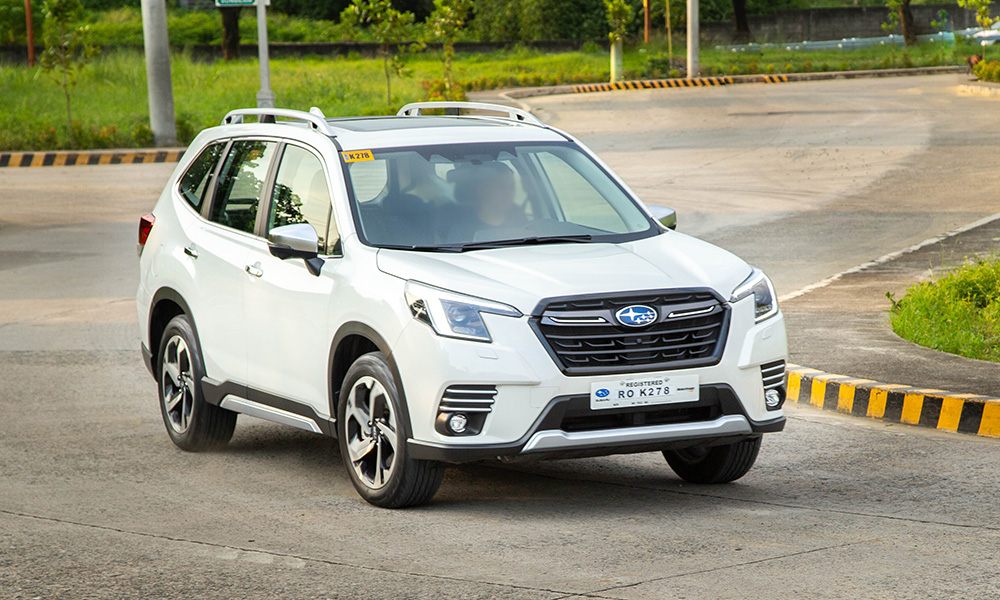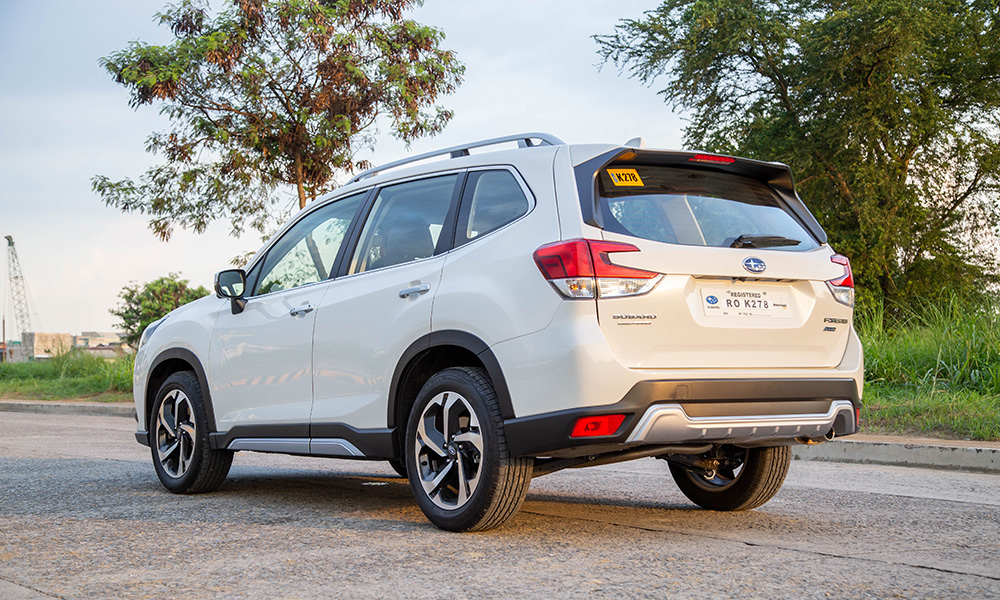 Sadly, the sun has now set on the XT as the latest Forester is no longer offered in this configuration. Standing in its place as the king of the Forester hill is the 2.0i-S EyeSight.
This 2022 model is a mid-cycle facelift, with the front fascia receiving a bit of a makeover. When it was launched back in 2019, it looked eerily similar to the model it was replacing, which Subaru has now rectified with this funky little design.
I personally think it looks quite good with the oddly sculpted headlights bearing a round projector in the middle surrounded by a C-shaped daytime running strip. To me, it gives off a menacing alien invader vibe that really appeals to me.  The rest of the car remains unchanged, leaving us with the rather uninspired rear end.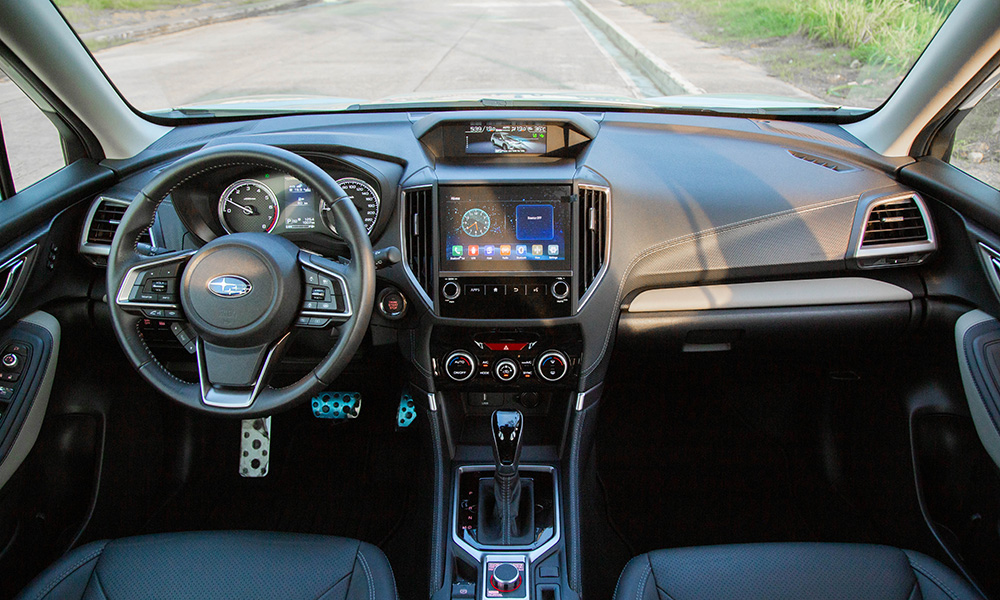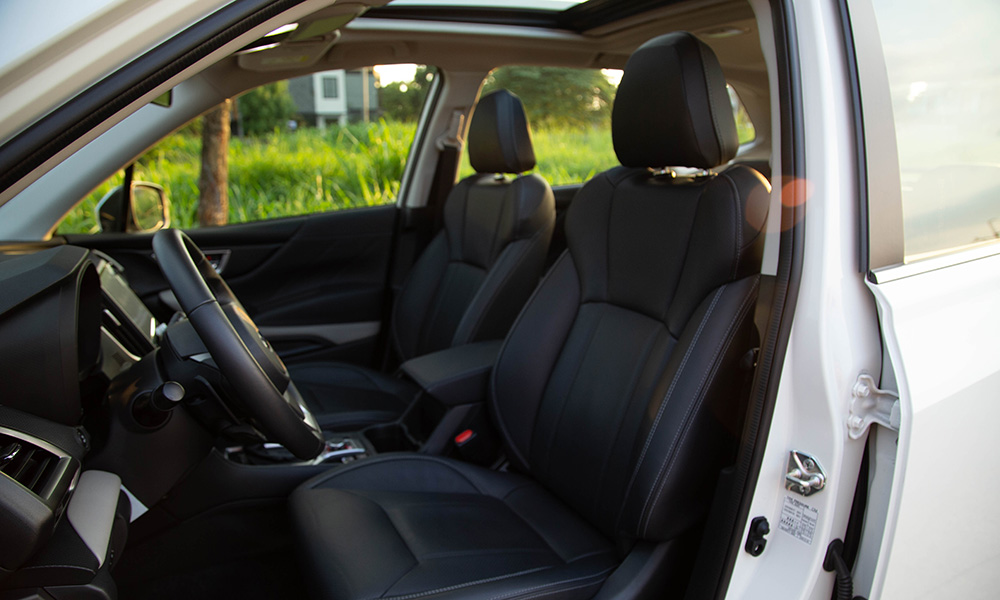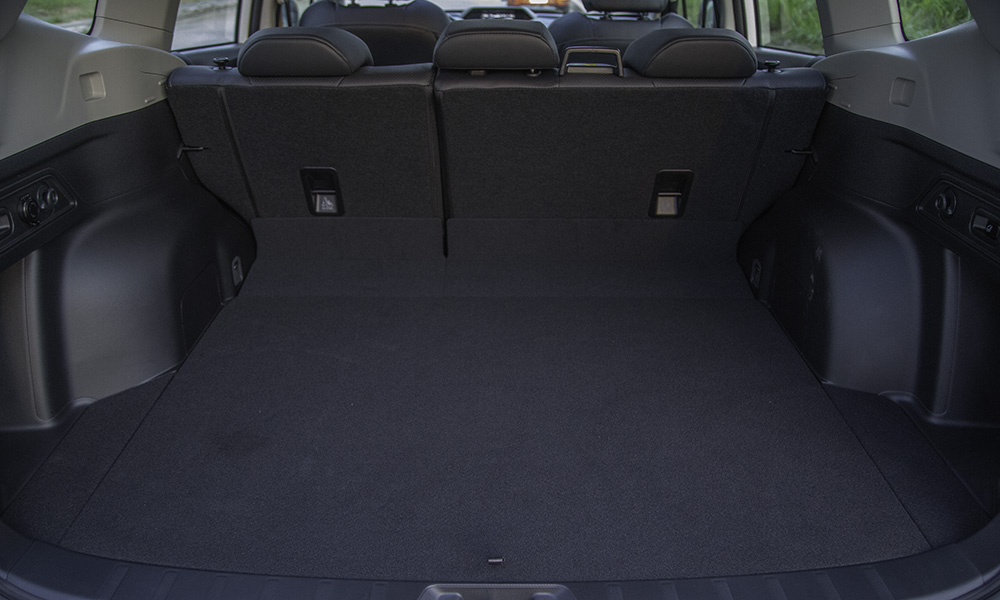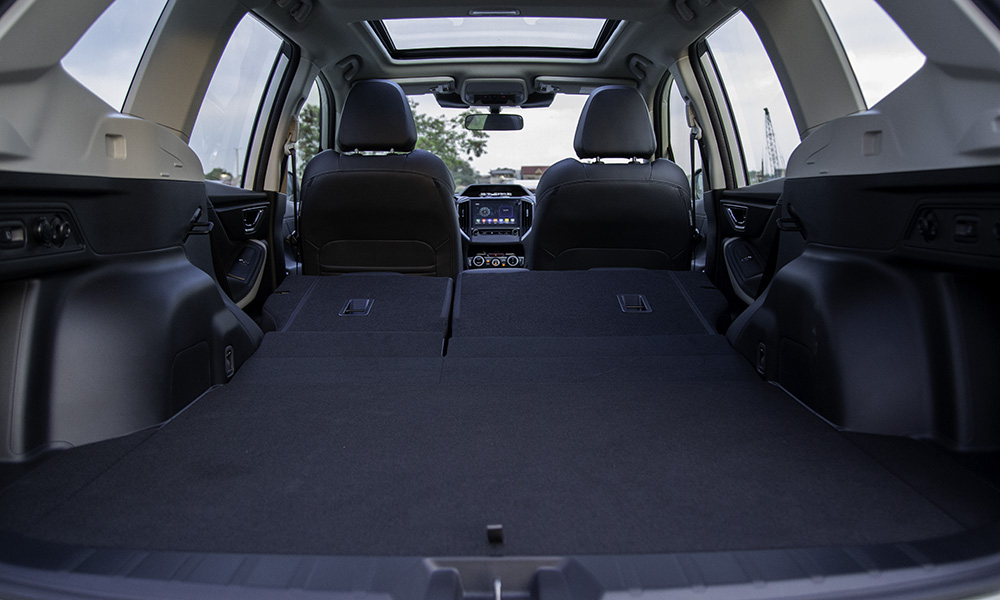 Stepping inside reveals an incredibly well-built cabin. Just opening the doors immediately gives off an air of sturdiness as the hinges articulate with substance and pronounced detents that hold them in place no matter the incline.
Though black plastic and leather abound, all the textures feel premium to the touch. Gray and silver panels are paired with piano-black finishes to accentuate the rather monochromatic look inside. The quality of both the interior materials and the space is truly remarkable.
It must be said that Subaru has done an incredible job of packaging this car. The dashboard is within reach yet out of the way, creating an unexpected amount of legroom for each passenger. Even the driver gets plenty of room to get the right seating position.
The seats are one of the most supportive in the segment, and both front passengers have electronic adjustments with the driver getting memory settings as well.
Rear storage is generous, to say the least, and can be increased by the flat-folding second row. Plus points for the tonneau cover that is included in the P2.068 million price tag, too.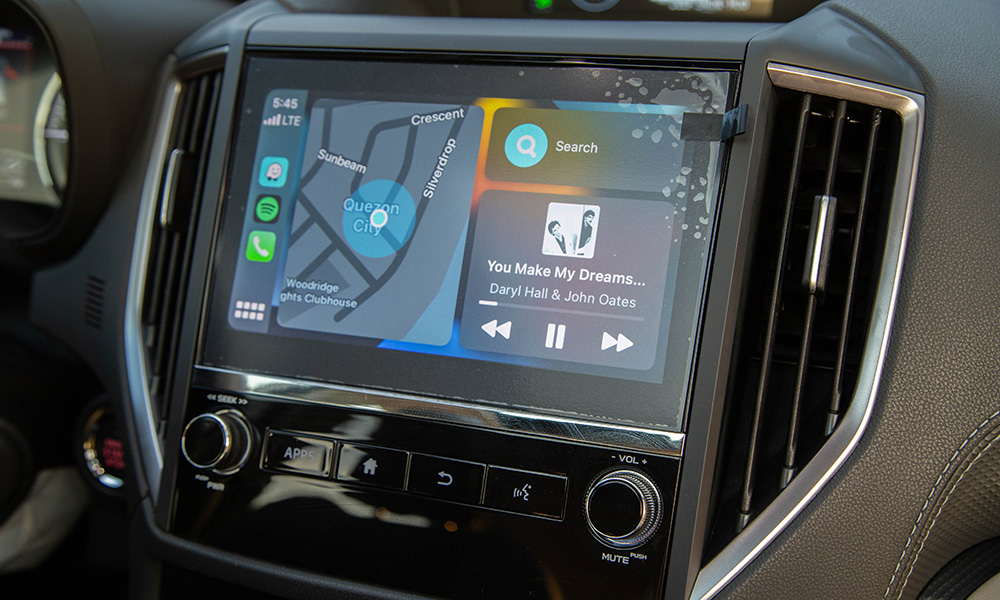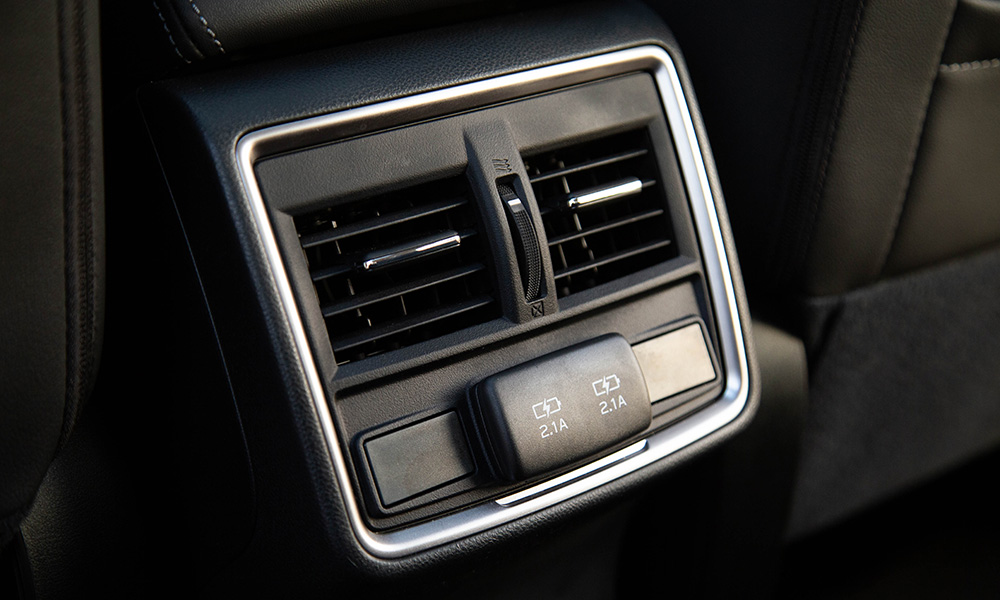 Occupants are entertained by an eight-inch touchscreen capable of Android Auto and Apple CarPlay. It also functions as the display for the 360° camera and reverse camera with cross-traffic alerts. USB ports are available for both the front and rear seat passengers.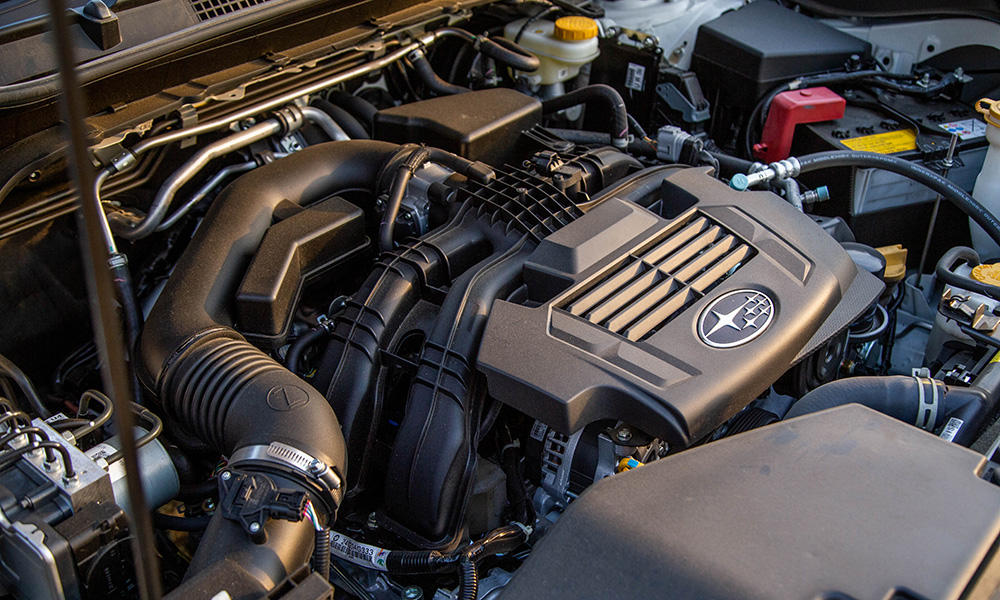 Powering this automobile is a 2.0-liter naturally aspirated four-cylinder boxer engine churning out 153hp and 196Nm. This is mated to a CVT which sends power to all four wheels.
The powertrain can be put in either Intelligent or Sport mode. The former is tuned for efficiency and smoothness, while the latter sharpens throttle response and holds simulated gears longer for harder acceleration and more spirited driving.
It's not the most fuel-efficient powerplant money can buy, managing just 6.4km/L in purely urban use. But I am a harder driver than most, so take my experience with a grain of salt.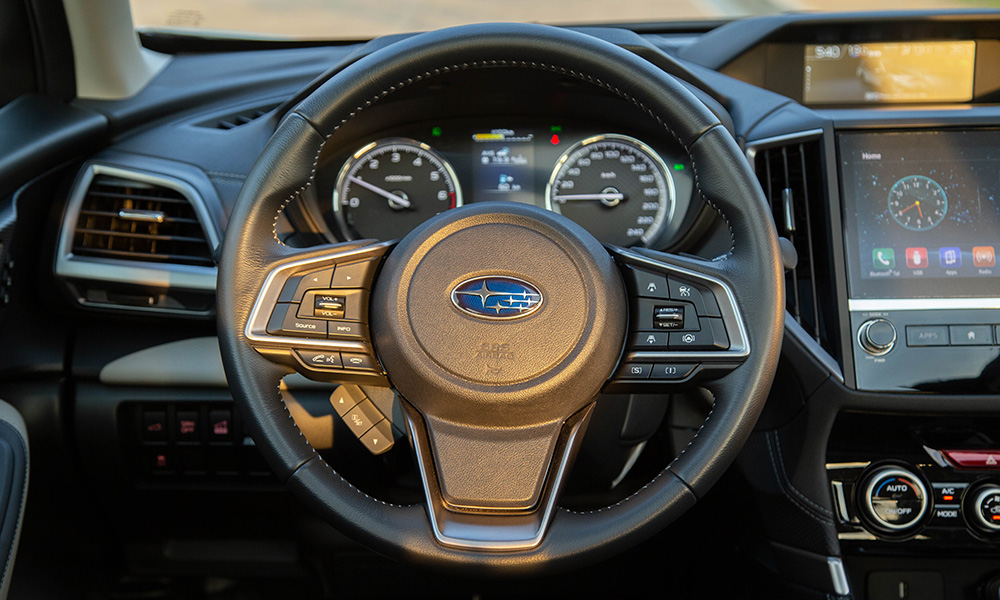 You can tell that sportiness is not the core competency of the Forester despite the sport button as it does not have enough oomph to be spicy. The steering is adequately direct, but extremely light and weightless even on center.
It is whisper-quiet inside, and the suspension is very supple for a crossover. What it is, though, is a big box of nifty tricks.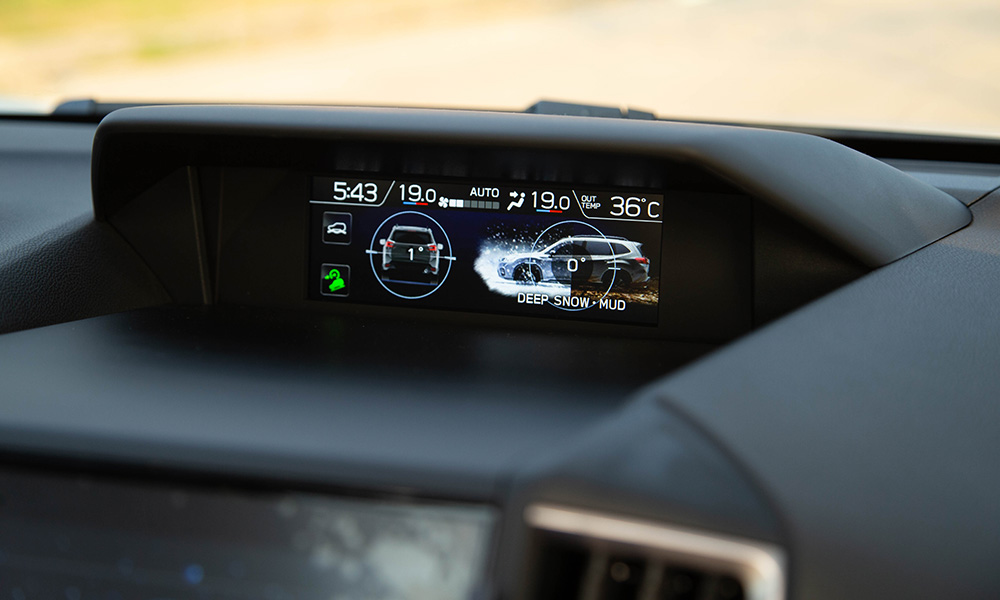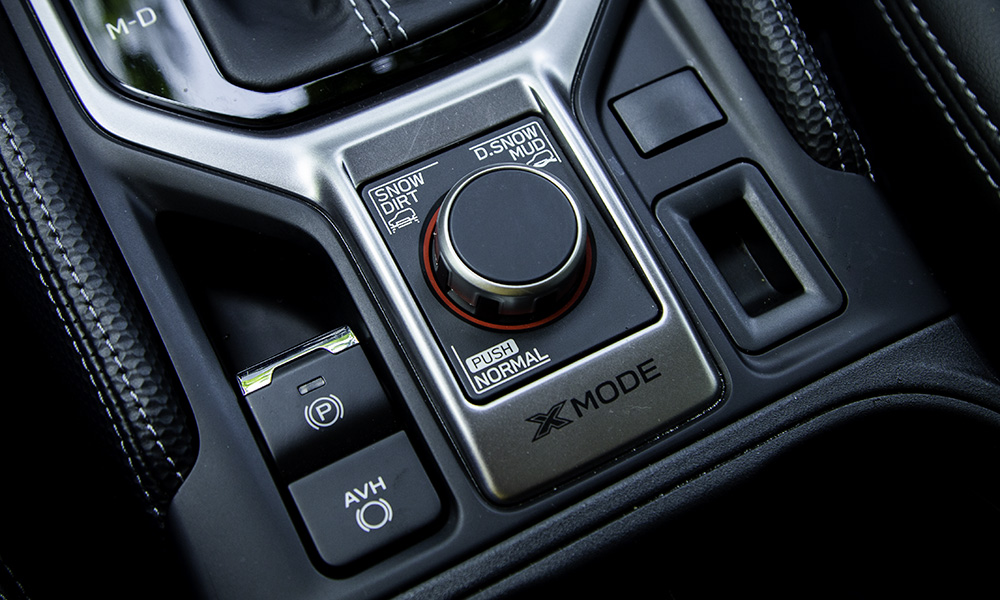 For starters, the Forester retains the big red X-Mode dial that controls the AWD system, which can be put in either for snow and dirt or for deeper snow and mud.
Most buyers are probably never going to put this car in a situation where the AWD system would be necessary, but then again it's better to have it and not need it than to not have it and need it in case of an emergency.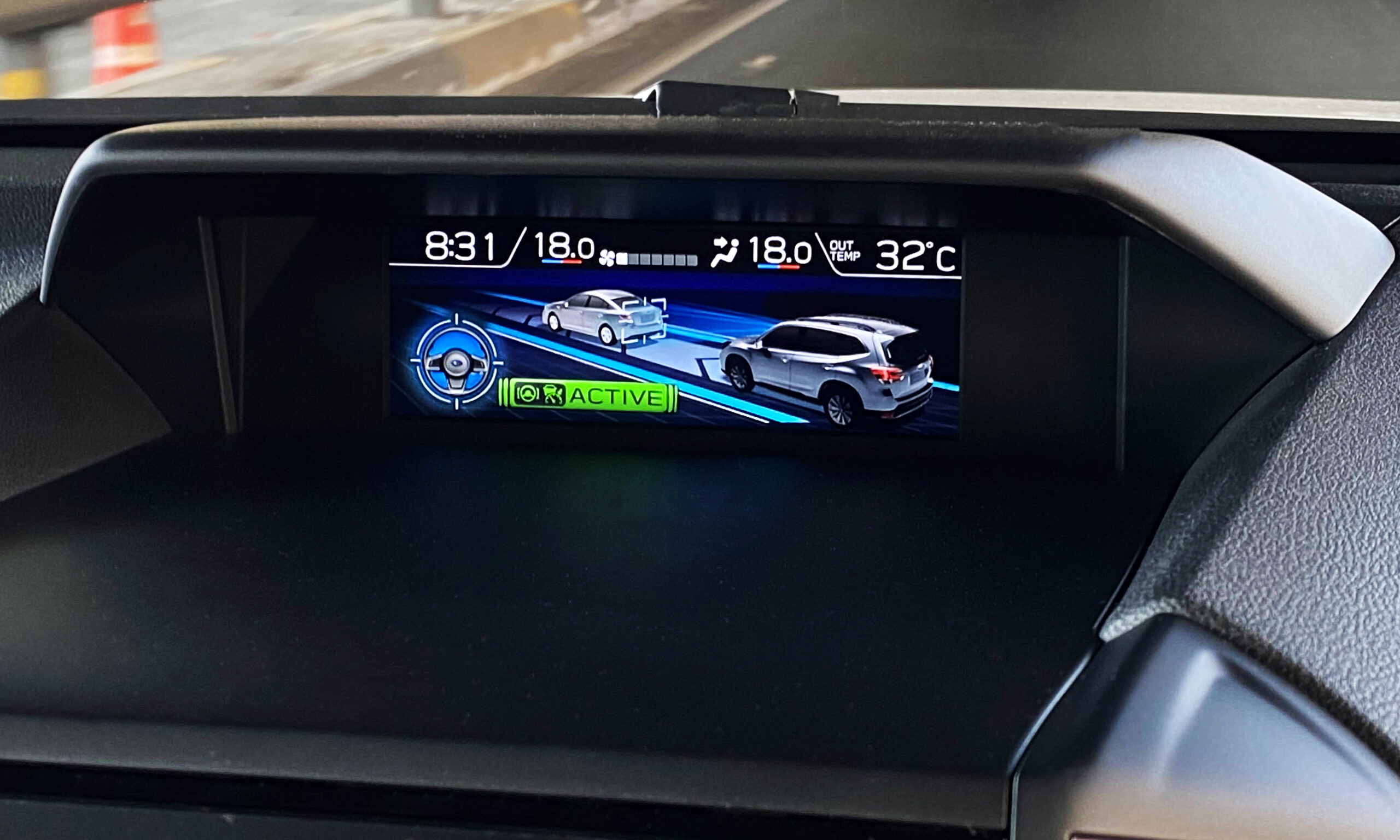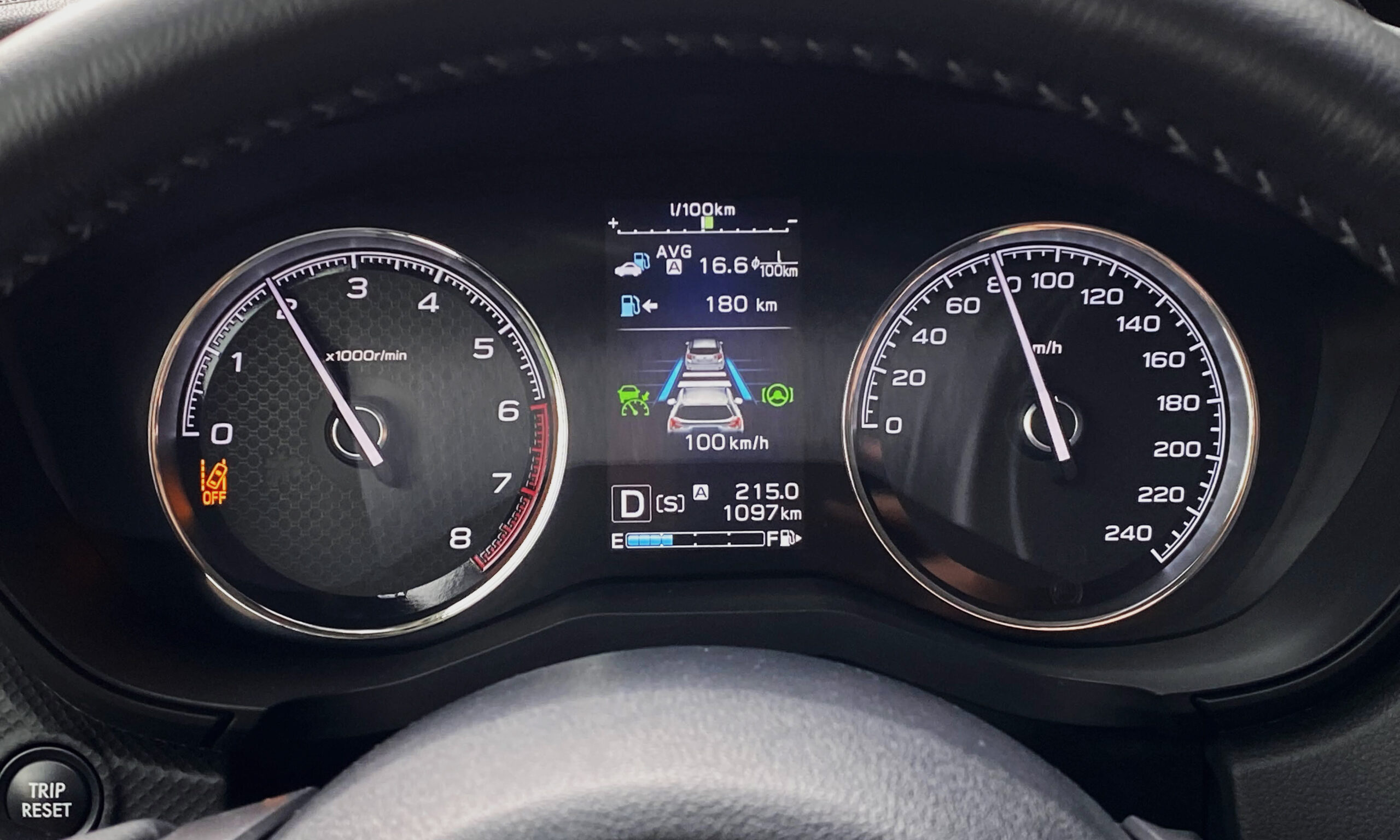 And then there's EyeSight, which is Subaru-speak for very intelligent cruise control. Unlike other guided cruise controls that use radar to detect obstacles, Subaru's take is a camera-based system. Using these cameras, the car can brake on its own, follow the speed of traffic ahead, and accelerate to one's preset speed. Its party trick is that it can crawl in traffic on its own.
Just set the cruise control speed to the minimum setting of 30km/h (which can be done even at a crawling pace), and watch the thing move and come to a halt in stop-and-go traffic without any pedal input from the driver. It can keep itself inside lanes to leave the driver with some time to relax from the chore of driving in rush-hour traffic.
The system is extremely intuitive. So much so that I have learned to trust it entirely in just a few days of driving, and I can see this feature becoming a necessity for Filipino car buyers. I found that the times that I have needed to intervene were all down to the lack of discipline and order found on the roads of Metro Manila, and were not the fault of EyeSight tripping up.
Add to those other driver aids such as auto vehicle hold (holds the brakes in traffic until you step on the gas pedal), lane-departure warning, and a collision mitigation system, and this becomes the closest thing to a self-driving car. But it is pertinent to remember that it isn't a self-driving car and should not be used as such.
Plus, EyeSight is getting even smarter with the upcoming addition of a Driver Monitoring System, which is basically an onboard drill sergeant that will scold you every time you look at your phone, glance at the back seat, or look drowsy.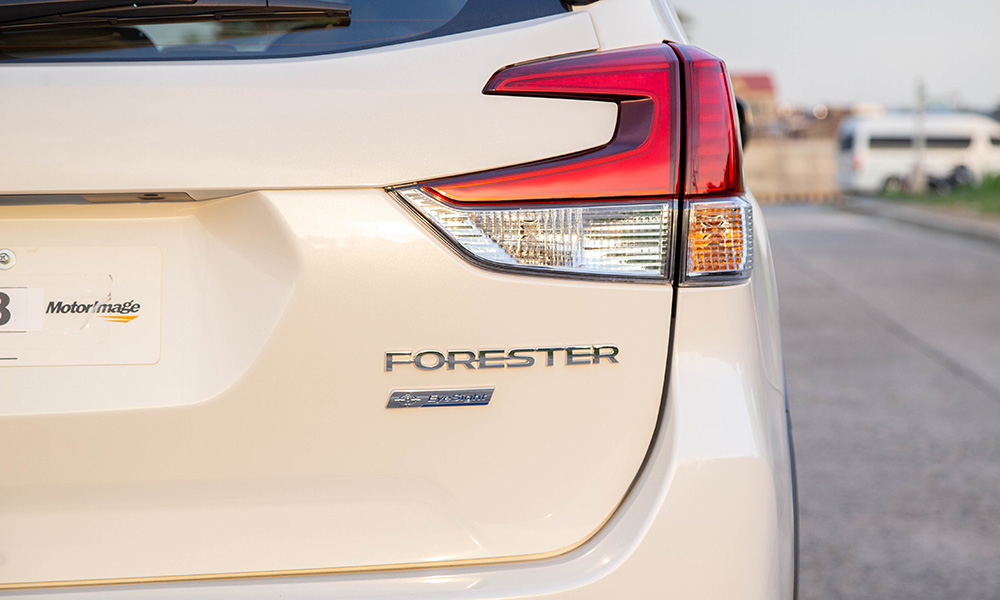 It's obvious that the Forester has done quite a lot of growing up. It no longer straddles the line between practicality and fun, but has rather fully committed to becoming a functional mass-market commuter with a broader, more general appeal. It pains me to say that it has given up its edge—that little bit of extra punch that just gives you the fizz.
In exchange, however, it now has the best current technology has to offer in terms of comfort, safety, and ease of use. Objectively speaking, the Forester is the perfect car for getting around in this day and age. And if that's what you want for your next purchase, then this car should serve you well.
SUBARU FORESTER 2.0i-S EYESIGHT
| | |
| --- | --- |
| Engine | 2.0-liter horizontally opposed four-cylinder gasoline |
| Transmission | CVT |
| Power | 153hp @ 6,000rpm |
| Torque | 196Nm @ 4,000rpm |
| Dimensions | 4,640mm x 1,815mm x 1,730mm |
| Drive layout | AWD |
| Seating | 5 |
| Price | P2,068,000 |
| Upside | The functionality of EyeSight and all the onboard electronics makes daily driving easier. |
| Downside | It could be considered a little dull just because of how refined it is. |