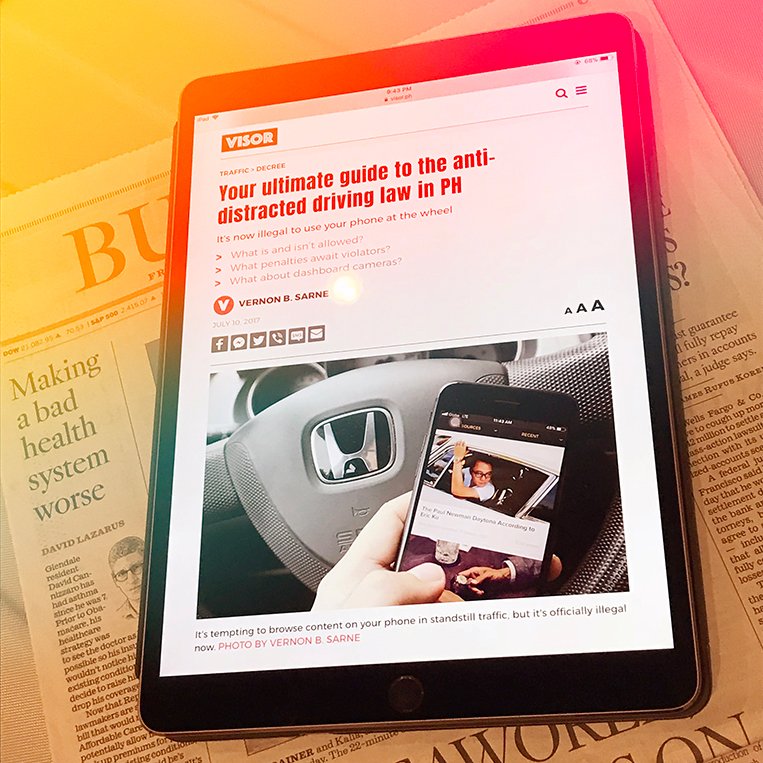 Mobility stories without the glare
VISOR is a Philippine-based mobility website that pledges to deliver smart, objective, transparent and accurate content. We went online on November 6, 2017. Why the name? Good question. We really wanted "Best Motoring Website," but that would have been a little awkward. Not because we wouldn't be able to live up to the automatic expectations (we intend to), but because the acronym "BMW" is already taken. Some carmaker based in Munich, Germany, apparently beat us to it. By 101 years.
Seriously, a visor helps the driver see things clearly on the road by blocking the blinding radiance of the sun. Similarly, we want our website to help readers wade through the stream of deceitfulness in today's old and new media that cover land transportation. Our slogan is "Mobility Stories Without the Glare." Or car-, motorcycle-, and bicycle-related content without the paid falsehood, without the sponsored drama, without the corporate bullshit. That's our pledge to you, dear high-minded reader, should you decide to include us in your list of trusted content producers.
If you stick around awhile, we'll talk about cars and mobility in the most honest manner possible and minus the self-serving agenda you've come to ascribe to journalists. We promise you won't find anything here that belongs to peddlers of fiction—political, automotive or otherwise. Pinkie swear.
Thanks for reading.
SECTIONS
CARS

• DRIVEN (test drives)
• ELECTRIC (engine-less cars)
• ENCOUNTER (intimate drives)
• ICONIC (classic automobiles)
• LAUNCH (production car launches)
• LIST (catalog of categorized vehicles)
• NEWS (automotive reports)
• OFF-ROAD (4×4 vehicles)
• PEEK (preview of latest cars)
• REDLINE (motorsports)
• STEED (personal cars)
• TECH (automotive technologies)
• TRANSFORM (modified cars)
• VISION (concept cars)
BIKES
• ALTERNATIVE (unconventional mobility)
• CYCLE (bicycle stories)
• HANDLEBAR (motorcycle parts and accessories)
• LIFESTYLE (two-wheel way of life)
• MOTOR (motorcycle news)
• QUICKSHIFT (Andy Leuterio's column)
• RIDE (motorcycle reviews)
INDUSTRY

• ALTRUISM (corporate social responsibility)
• BULLETIN (events, promos, news bits)
• BUSINESS (corporate news)
• GREEN (environment-friendly topics)
• MESS (conflicts, lawsuits, chaos)
• MILESTONE (feats, achievements)
• PROCESS (research and development, car manufacture)
• RANK (surveys, classifications, awards)
• RECALL (product safety announcements)
• SALES (vehicle sales reports)
• SECONDHAND (used-car sales)
• SERVICES (fuel, convenience, delivery)
• STORE (car dealerships)
• TREND (industry directions and forecasts)
• UPGRADE (aftermarket products, car parts)
• VISOR (anecdotes about, well, ourselves)
HUMANS

• 10 QUESTIONS (Q&A interviews)
• CLUB (car organizations)
• DARE (adventurous activities)
• FACE (brand ambassadors, product endorsers)
• FAMILY (relatives, loved ones)
• JOURNAL (schedules, personal events)
• LEGEND (motoring icons)
• OBITUARY (deaths)
• PERSONNEL (manpower update)
• SKETCH (human interest)
CULTURE
• ART (paintings, illustrations, sculptures)
• BLISS (car-themed events and places)
• DIVERSION (movies, TV shows, music, books, websites)
• ET CETERA (because car culture is too vast to categorize)
• GARB (motoring-themed apparel, shoes, bags, items)
• PIT STOP (car-inspired food and drinks)
• PLAY (toys and video games)
• ROAM (road trips)
• STUFF (objects of desire)
• TIME (wristwatches)
TRAFFIC
• APPRAISAL (reviews of establishments and government agencies)
• CONCRETE (road infrastructure)
• DECREE (motoring rules and regulations)
• GRIDLOCK (traffic congestion)
• GUIDE (navigational apps and devices)
• LEGAL (unlawful motoring-related acts)
• MISHAP (car accidents)
• RECAP (summary of motoring news)
• SAFETY (road security)
• TRANSIT (public transportation)
WISDOM

• ASK (answers to readers' questions)
• CAR LIFE (Botchi Santos's column)
• DATA (numbers, charts, infographics)
• FAITH (God-centered content)
• HACK (motoring or driving tips)
• NAVIGATOR (Vince S. Socco's column)
• OPINION (subjective essays)
• PASSENGER (R. Anthony Siy's column)
• REAR VIEW (Cito Beltran's column)
• SPOILER (Vernon B. Sarne's column)
• TRIVIA (car-related information)
• TUTOR (in-depth technical articles)
VIRAL
• HUMOR (amusing jokes)
• LESSON (gentle reminders)
• OMG (amazing nuggets)
• SNAPSHOTS (Instagram posts)
MEDIA
• VLOG (discussions)
• FLICK (short videos)
• GALLERY (car photos)
BRANDED
• APITLI
• BMW
• CTEK
• DTE
• FOCAL
• FORD
• GAC
• GEELY
• GOODYEAR
• GRAB
• HELLA
• HONDA
• HYUNDAI
• JEEP
• KIA
• LEXUS
• MASERATI
• MAXUS
• MAZDA
• MG
• MINI
• MPTC
• NISSAN
• PEUGEOT
• PIAA
• PWSPI
• SEIKO
• SONAX
• SUBARU
• SUZUKI
• TOYOTA
Some trust in chariots, and some in horses, but we will remember the name of the LORD our God. (Psalms 20:7)