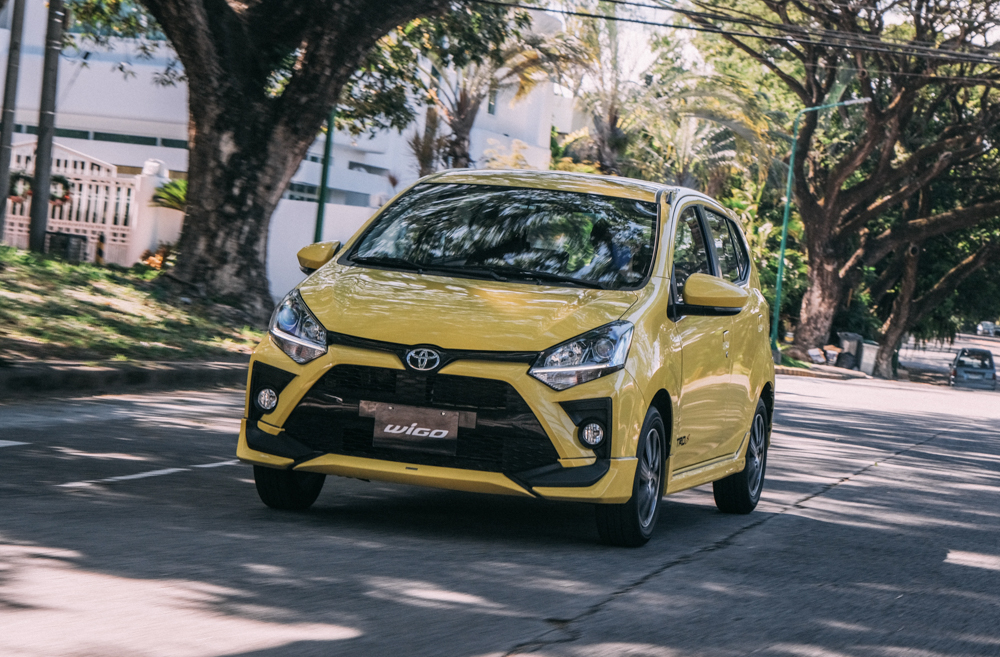 I yearn for those days when the roads were filled with compact sedans and hatchbacks. Nowadays, large SUVs that take up way more space are the norm. It's fine if owners are using the vehicle's full capabilities (or close to it), but I find it a little excessive if they're alone or with a single passenger.
I'm saying this as someone who drives one daily. My Mazda CX-8 is my only vehicle, and it usually carries six people on the weekends. But for other days, it's obvious that I can do 90% of my commuting with something smaller (there is cycling, but that's for another day).
Even with the popularity of crossovers and SUVs, don't dismiss the humble hatchback just yet. Especially the smaller ones like the Toyota Wigo.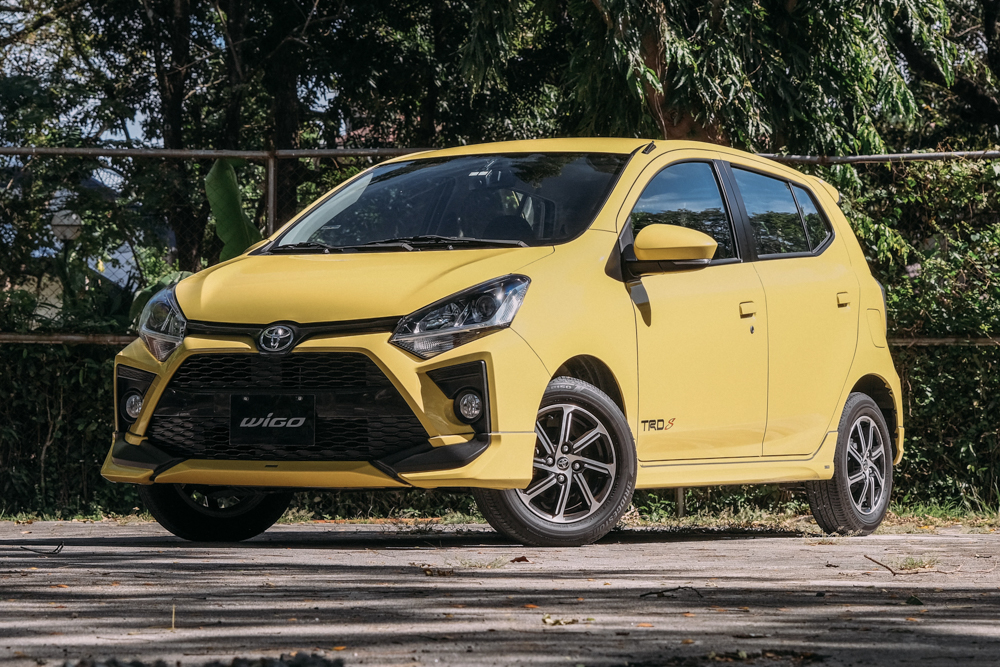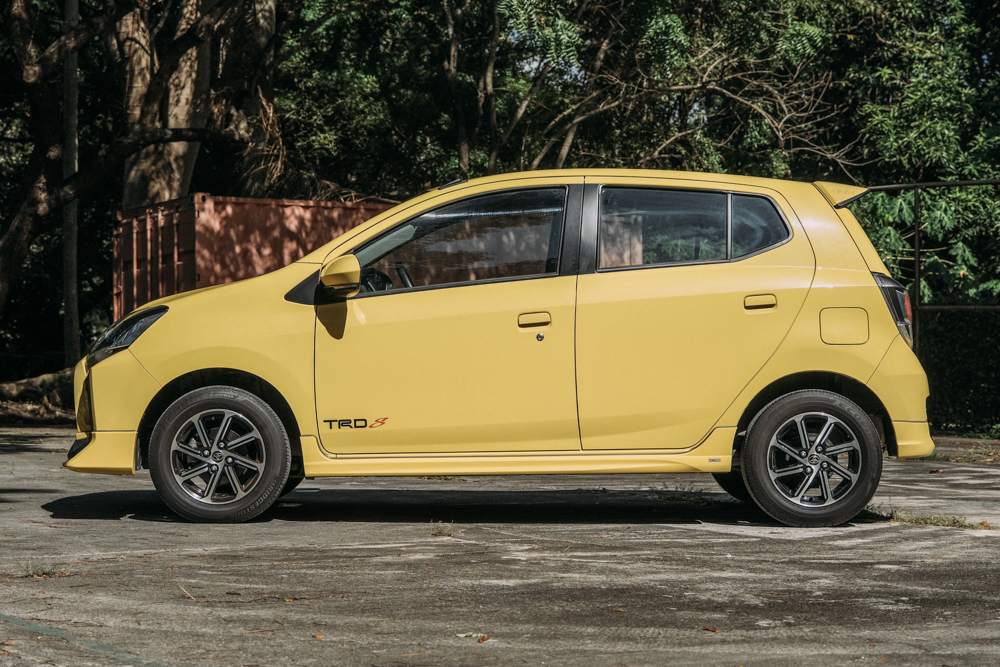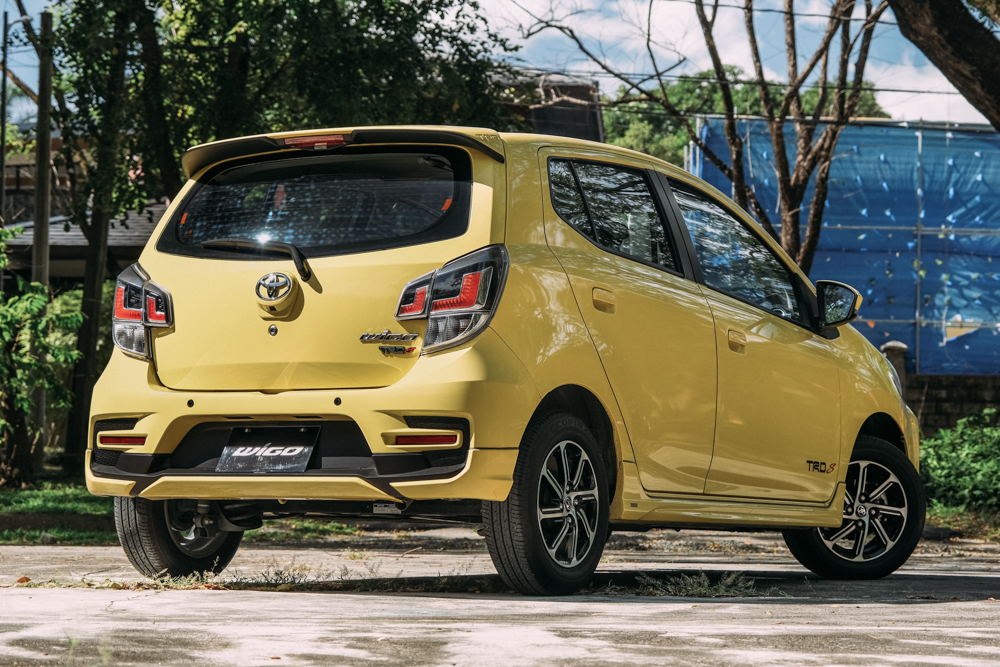 The Wigo has been one of the stronger nameplates in its segment ever since its introduction in 2014. Despite stiff competition from newer and slightly bigger rivals, it has enjoyed healthy sales and widespread adoption for its utility and attractive pricing. But is it still worth considering today especially over larger and more affordable products from China?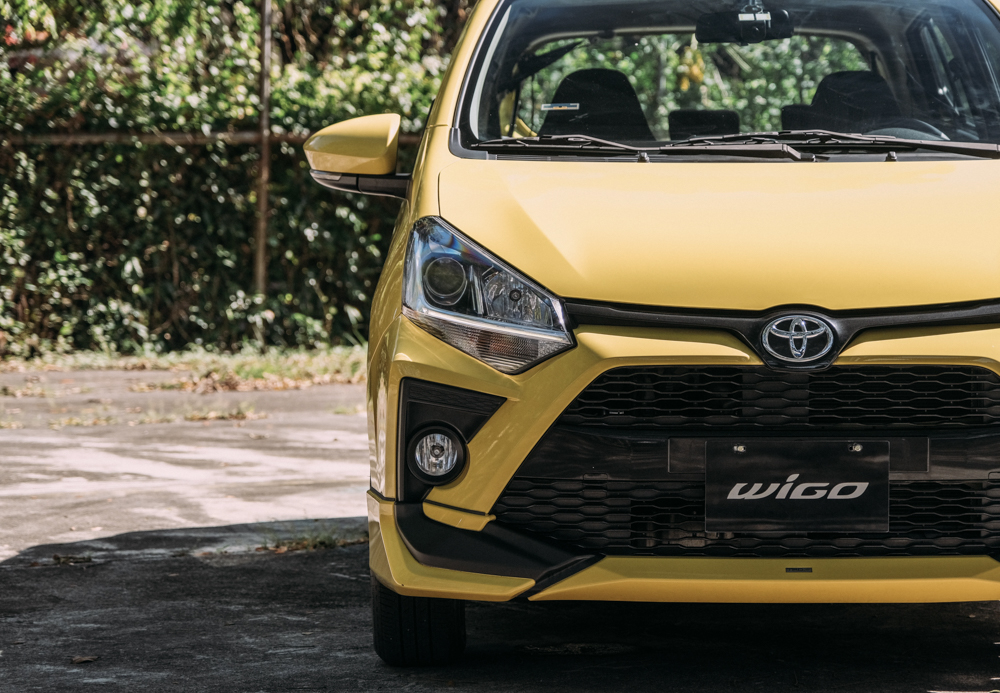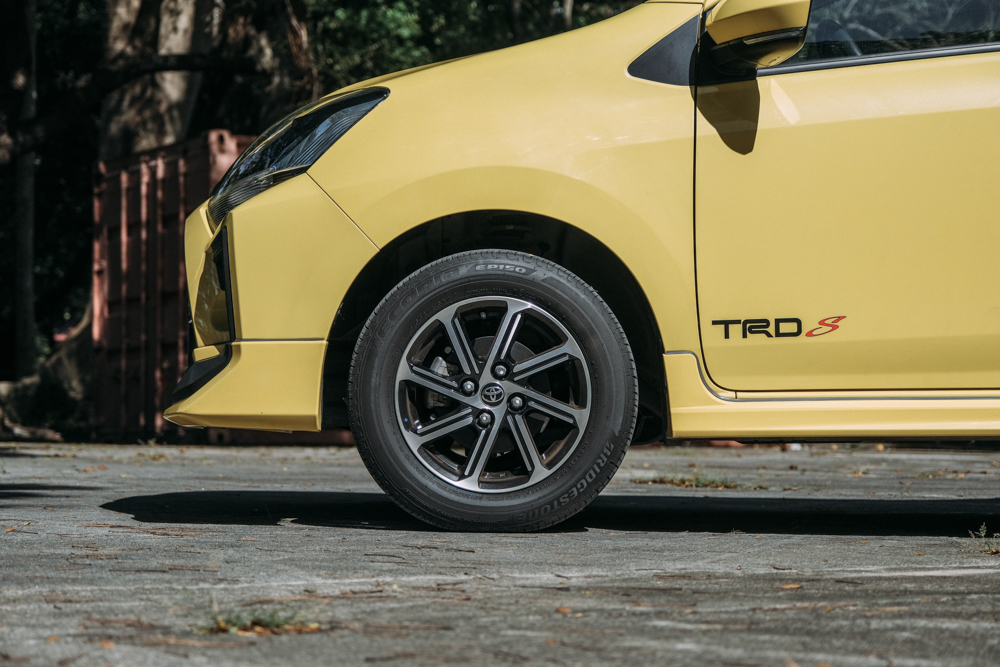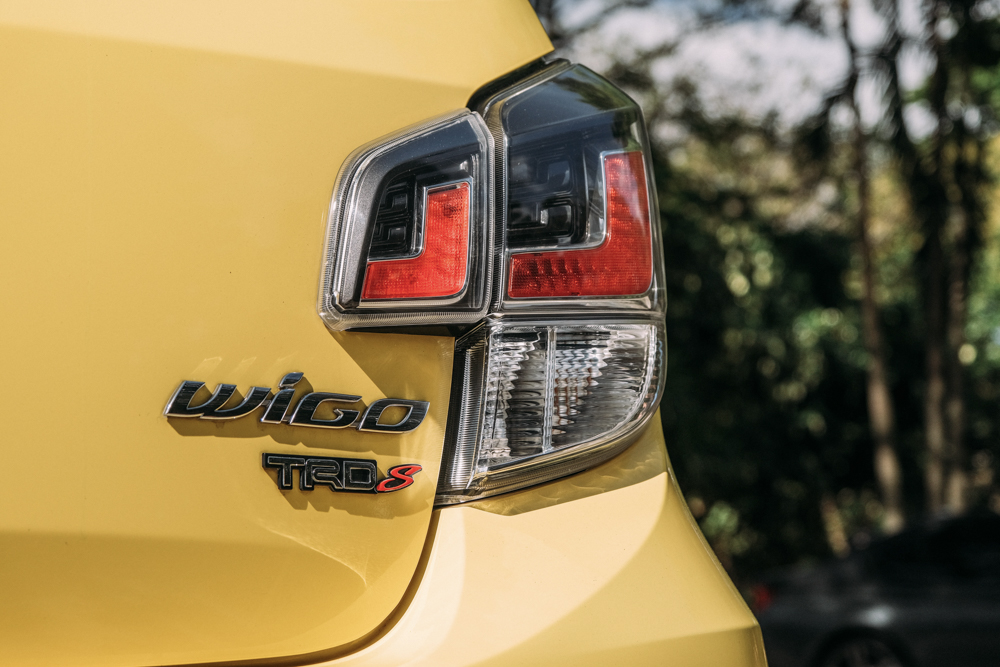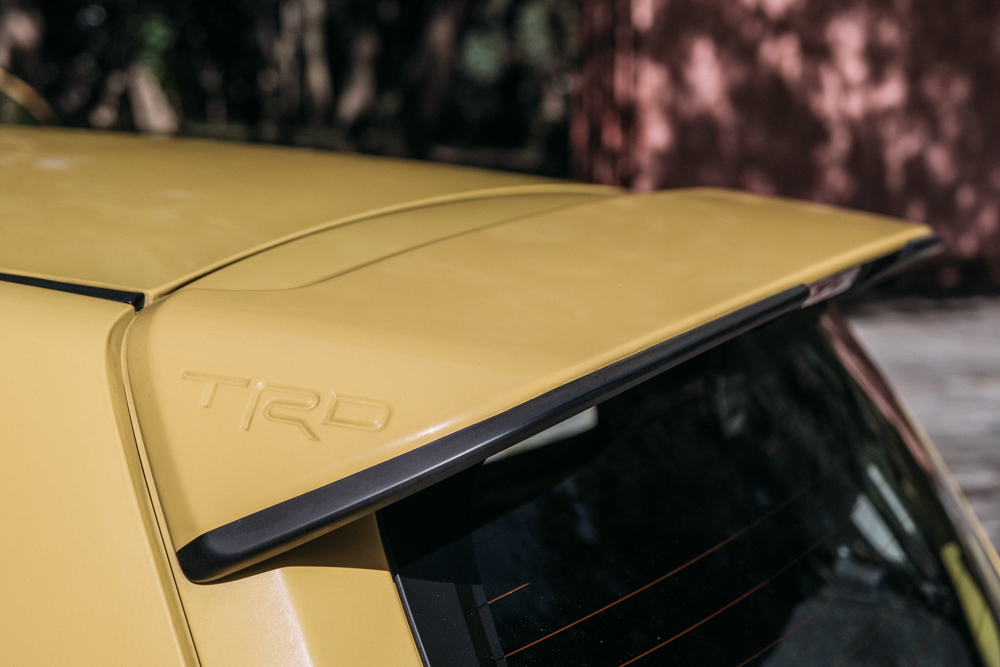 The test unit I have is the top-of-the-line TRD S trim. It's basically a cosmetic package consisting of a few quality-of-life improvements that make it worth the extra dough over the lower trims. We won't be surprised if this variant gets renamed "GR-S" down the line.
It's probably just me, but I feel like the TRD S is a little overly styled for a city car. Lesser Wigo grades already have fake rear-bumper vents and an angry-looking front fascia. This one adds bodykit and a rear spoiler, which it really doesn't need. Others may enjoy the sporty and aggressive look, but I miss the friendly, bubbly look of the vehicle when it was first introduced.
However, I dig the Yellow SE paint job. You don't see many cars in a bright color like this, and the Wigo manages to pull it off well enough for others to call it cute. Other details I like are the clean integration of the reversing camera (I mistook it for the hatch popper), and the clear "Altezza-style" LED taillights.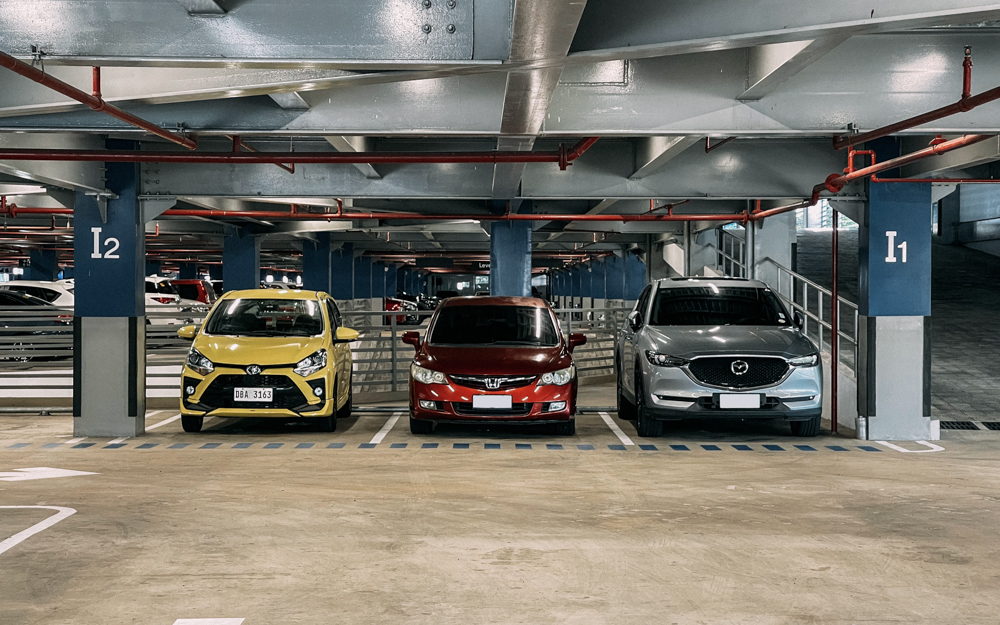 As for the interior, it's refreshingly utilitarian. The fabric seats and door-card inserts have red contrast stitching. Other materials in the cabin are either silver, piano-black, or textured-black plastics.
The center console houses a 12V socket, a storage cubby, two cupholders, and a digital air-con control panel. There are no precise temperature adjustments and oddly, no floor-level vents.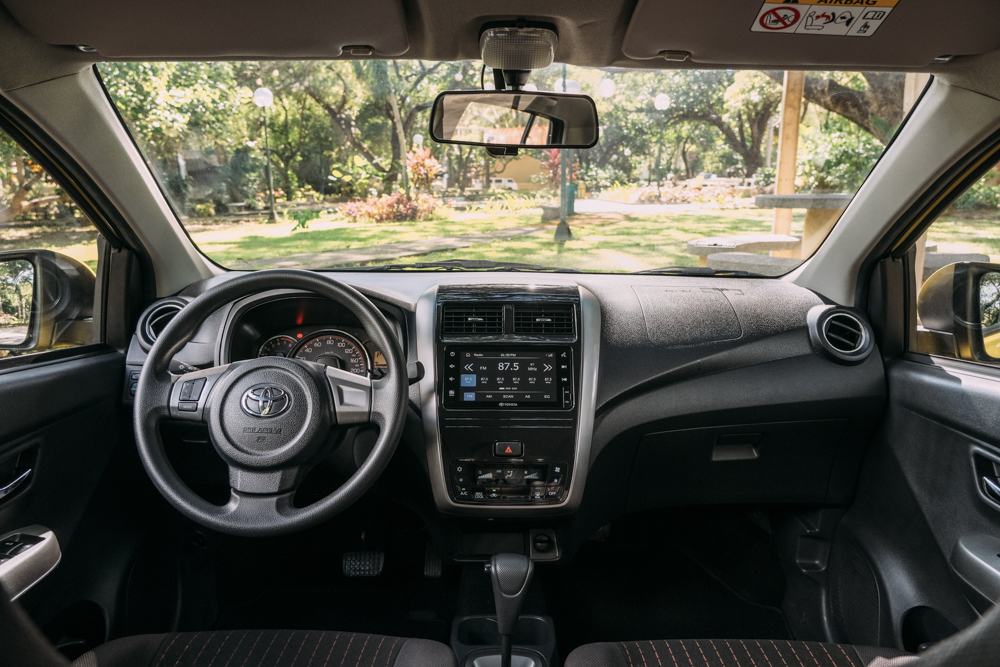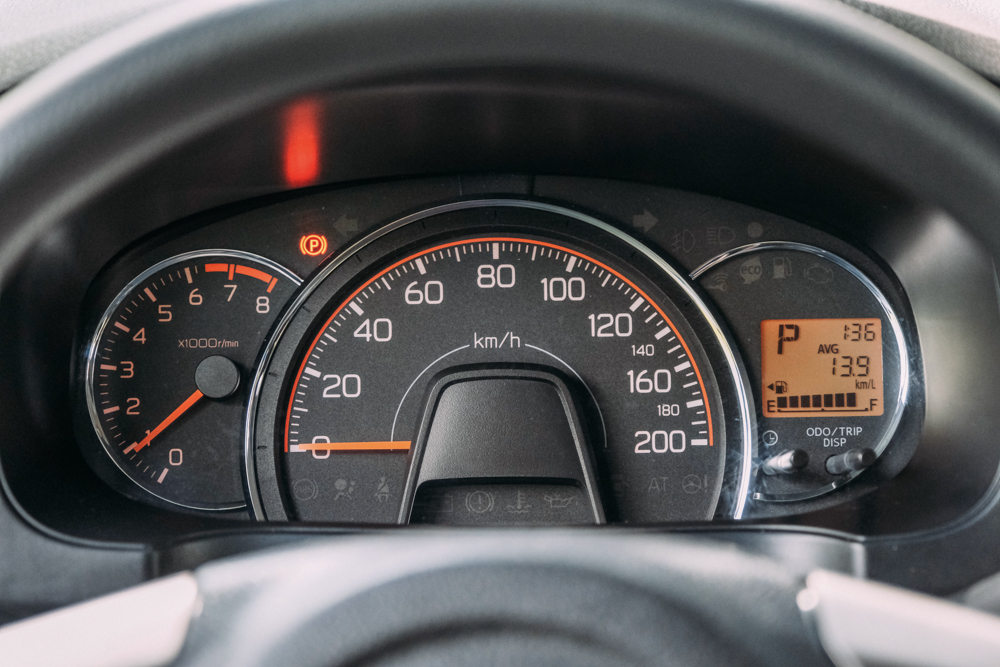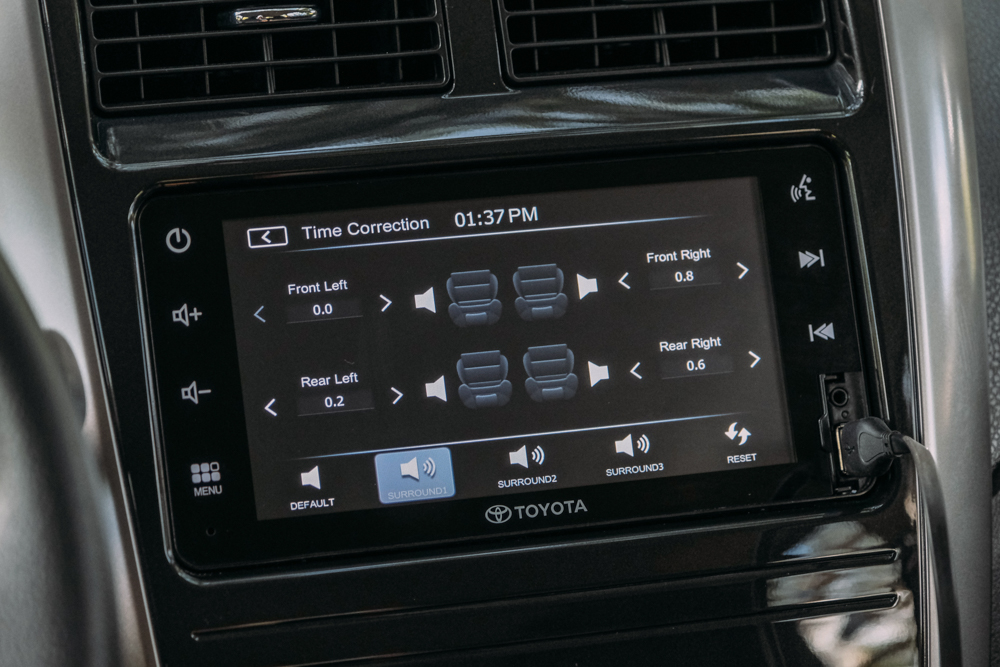 And then, there's the TRD S-exclusive "Advanced Audio" infotainment screen. This capable head unit supports both Android Auto and Apple CarPlay and even has features like a multi-band equalizer and time adjustment(!). It's a big bonus, as owners looking to upgrade their cars down the line won't need to swap out their radios.
You'll want to upgrade the speakers and add sound insulation. The stock equipment sounds muddy, even after spending a good hour tweaking the settings. When you're driving around at highway speeds (or even within the city), you'll hear a lot of external noise leak into the interior.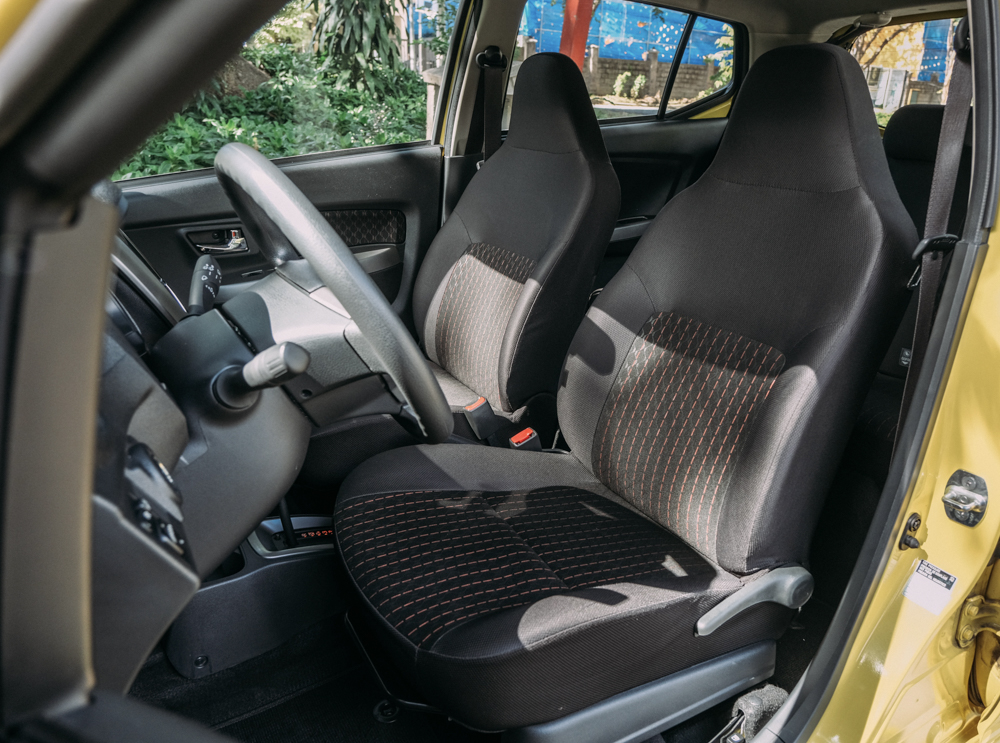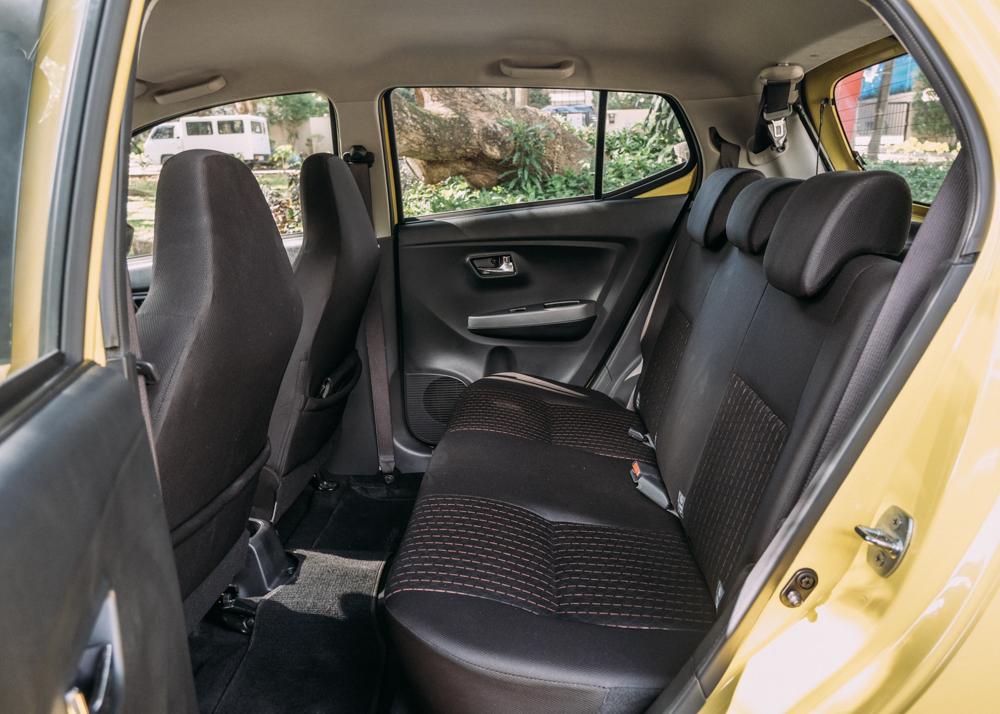 The cabin is spacious and is capable of seating five people comfortably with lots of headroom (except if you're taller than the average Filipino—more on that later). The boot is capable of swallowing a large suitcase without folding the rear bench down (it's not a split-folding seat back). Just stow the parcel shelf somewhere.
One of my personal qualms is that the front seats are not friendly for tall people. While a nonadjustable steering wheel is forgivable for a car of its price tag, the lack of seat-height adjustment makes life difficult for taller drivers. Their line-of-sight ends up close to the ceiling that their view is partially covered by the roof, and the awkward driving position can get uncomfortable during long drives.
The lack of an extendable headrest also makes it dangerous for taller occupants. In the case of my 6ft.-tall colleague, the top of the front headrest only reaches up to the base of his skull. In the event of an accident, his head will whiplash instead of being restrained.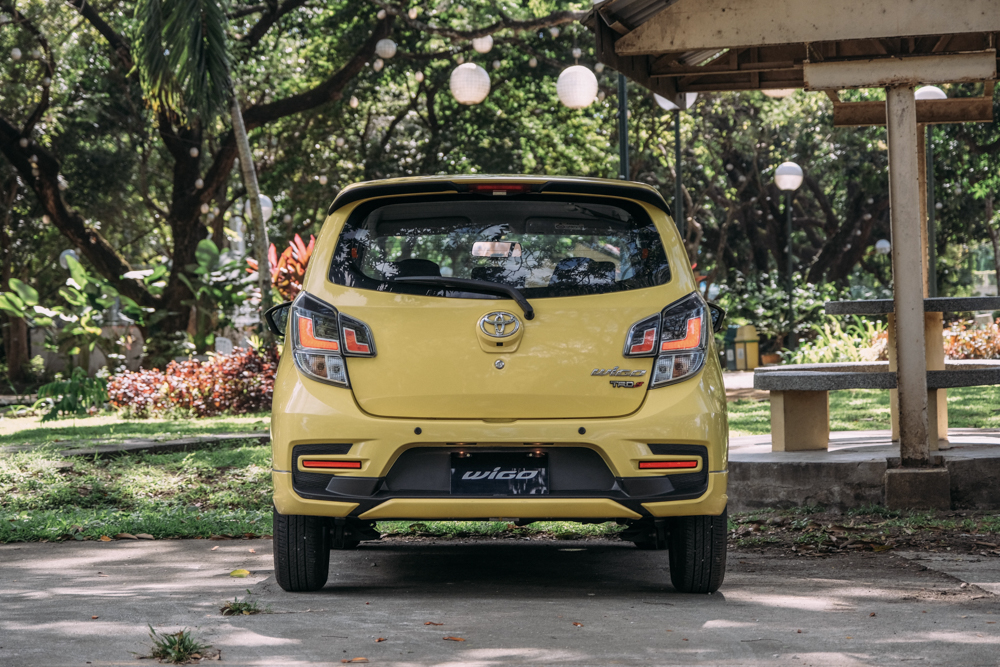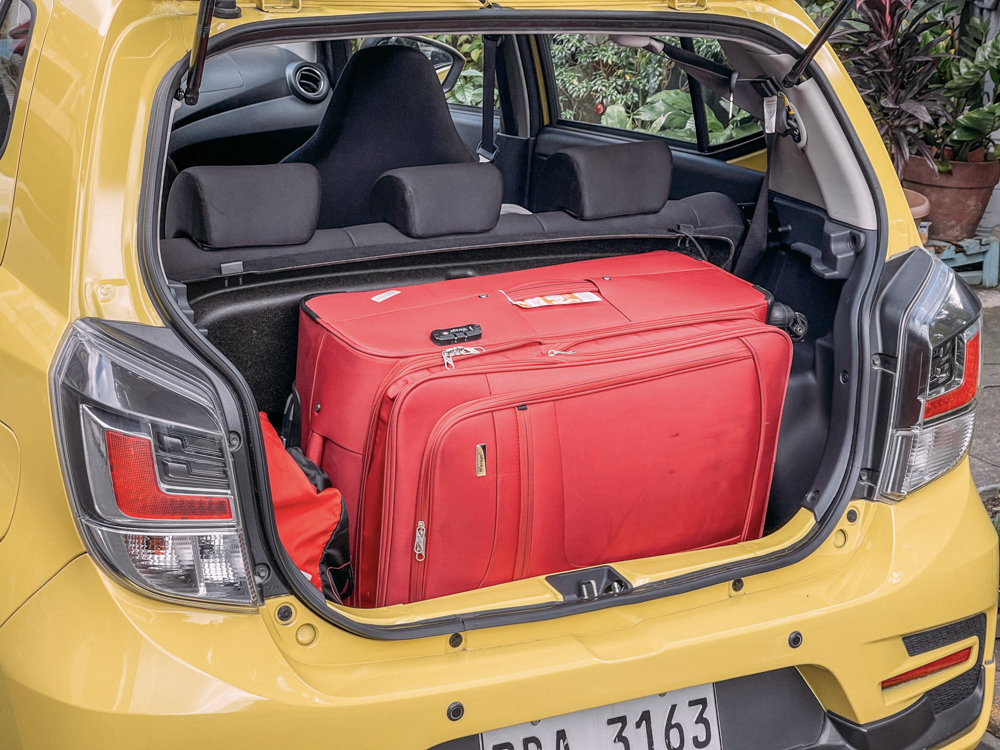 But what the Wigo does offer is excellent visibility all around and a relatively comfortable ride. The 14-inch wheels with thick-sidewall tires help cushion ruts and potholes on the road. The 180mm of ground clearance is good enough to clear light flooding and traverse some steeply angled driveways.
It's also very fun to drive because of its responsive go kart-like steering and sprightly engine. It can take corners pretty well, and the car's diminutive stature also makes it incredibly easy to park and maneuver around tight city streets.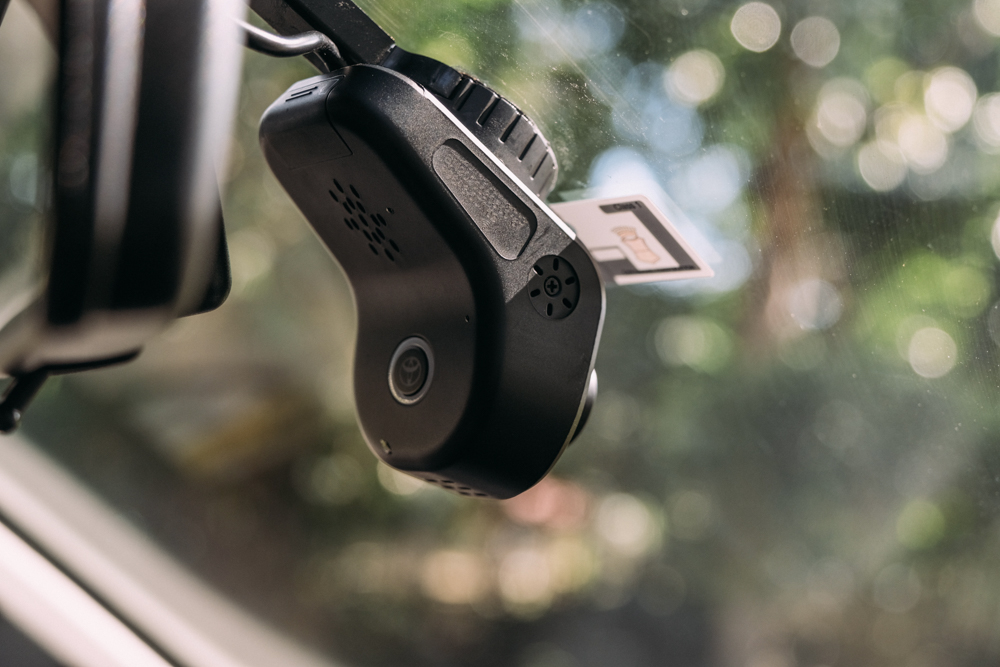 The 1KR 1.0-liter three-cylinder engine may sound diminutive with its output of 65hp and 89Nm, but it's well-tuned. Paired with a four-speed automatic, it manages to get to 40km/h (which is a speed you'll be driving at most of the time) with relative ease. If you need to get on an expressway, it allows the Wigo to keep up with larger cars so other drivers don't get annoyed.
Three-cylinder engines aren't the smoothest, hence why cars have an even number of cylinders. Because of this, the vibration of the 1KR is pretty harsh, up to the point that the rearview mirror becomes unusable because of how badly it is shaking. One way this can be remedied is by mounting it somewhere else that's a little more rigid.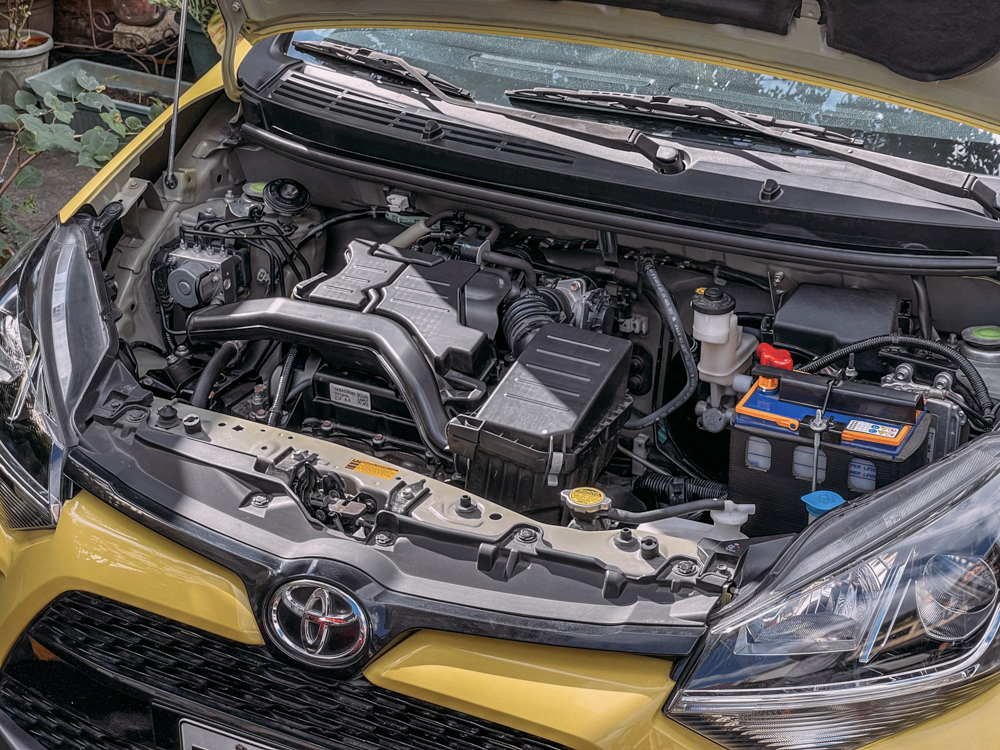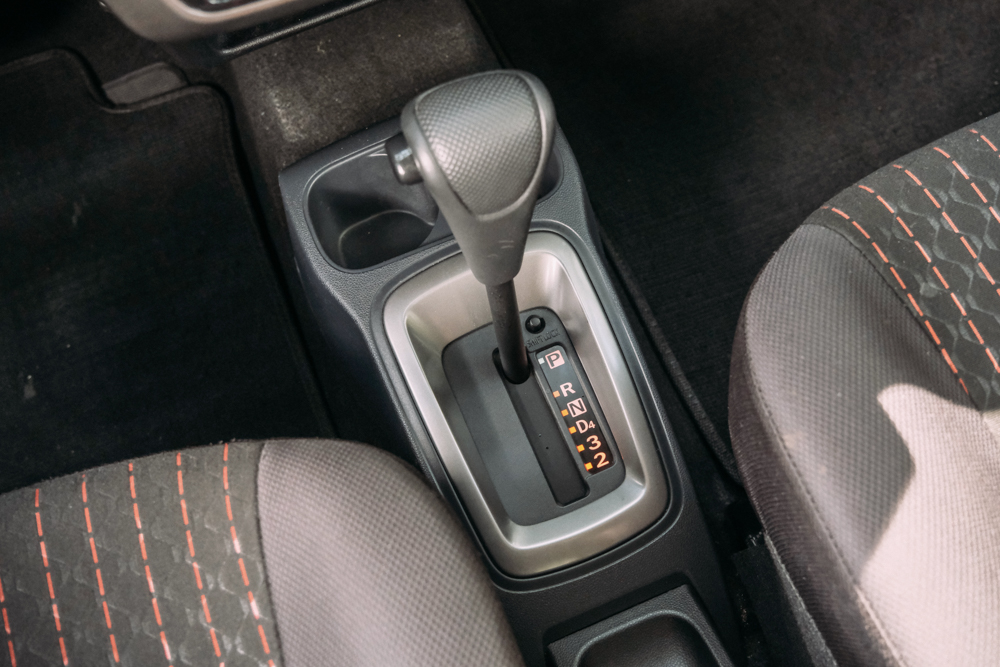 The fuel economy is another high point of this car. I got it during the holiday rush, so I subjected myself to the worst possible pre-Christmas traffic. Crawling through EDSA with a passenger and some cargo, it managed a decent 7.3km/L. When the roads are a less congested, it can get a respectable 9.4km/L in the city, 21.2km/L on the highway, and 11.7km/L in mixed conditions. I did all this with Eco mode disabled.
Aside from dual airbags, there's ABS, parking sensors and a reversing camera (for a small car), keyless entry, and a push-start button. However, speed-sensing door locks, an armrest, and an external hatch popper would be welcome additions. The TRD S also receives a Toyota-branded dashcam, but I had no idea how to operate it.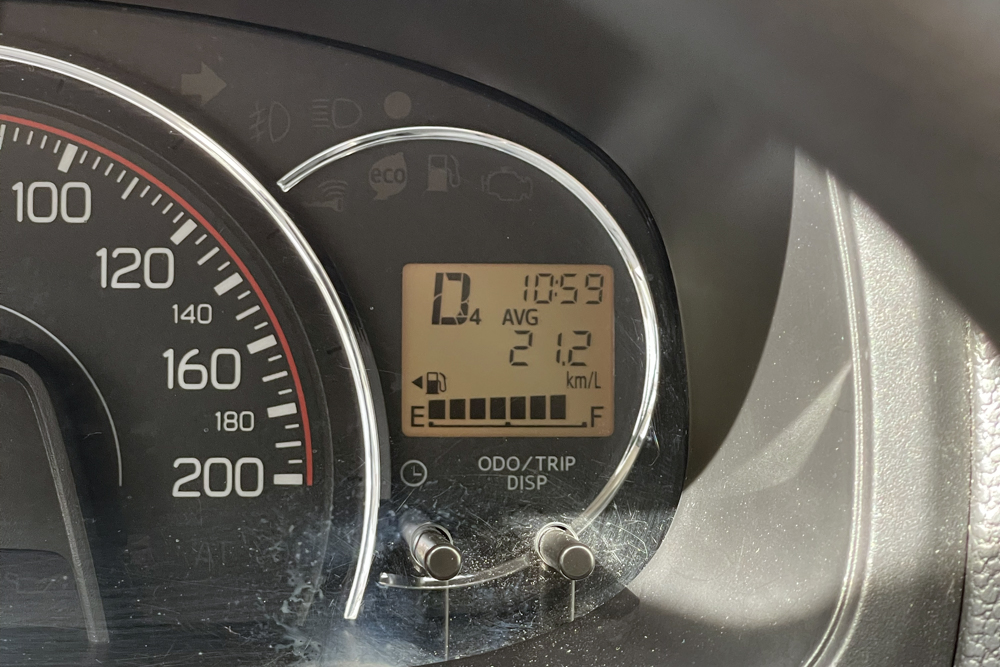 For P700,000, the Wigo TRD S still an incredibly appealing package for the value it delivers. With a spacious interior and a capable engine, it nails the basics of a city car. Whether if it's your first car, or you're looking for something to drive around in the city, this model should be on your short list.
Plus, it's built to Toyota standards, so it's guaranteed to be one of the more durable choices out there. Just be sure you can fit in the front seats if you'll be the one driving.
TOYOTA WIGO TRD S
| | |
| --- | --- |
| Engine | 1.0-liter three-cylinder gasoline |
| Transmission | 4-speed automatic |
| Power | 65hp @ 6,000rpm |
| Torque | 89Nm @ 4,400rpm |
| Dimensions | 3,700mm x 1,600mm x 1,520mm |
| Drive layout | FWD |
| Seating | 5 |
| Price | P700,000 |
| Upside | This car is extremely practical and roomy despite its diminutive size, and it has a very efficient engine. |
| Downside | Because of the lack of a seat-height adjustment, taller drivers will not be comfortable in the car. |