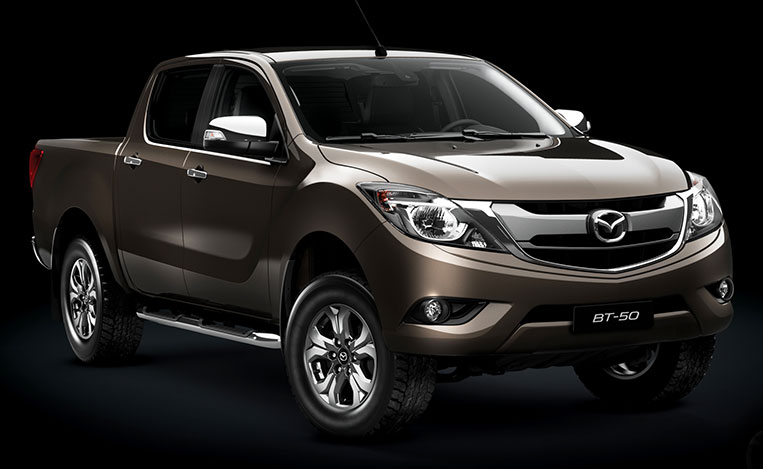 Pickup trucks have enjoyed a huge resurgence since the recently revised automotive taxation scheme completely exempted them from excise duty, subsequently slashing the prices of units imported after the TRAIN Act approval. Naturally, car buyers began giving pickups a second, more serious look. And on their short lists, the usual suspects get ample consideration: Chevrolet Colorado, Ford Ranger, Isuzu D-Max, Mitsubishi Strada, Nissan Navara and Toyota Hilux. Heck, even the Foton Thunder receives moderate interest these days.
But wait…doesn't Mazda have its own pickup, too? You know, the BT-50—otherwise known as the Ford Ranger's twin, having the same platform and engine choices.
According to Mazda Philippines president Steven Tan, the BT-50 is still very much available. His company, in fact, sells a steady 50 to 60 units a month of the low-key pickup, Tan told VISOR. The distributor brought in the face-lifted version just last year, but it somehow continues to be underrated next to more hyped competition.
Three variants of the BT-50 are sold at Mazda dealerships nationwide: a 4×2 version powered by a 2.2-liter four-cylinder turbodiesel (148hp and 375Nm) mated to either a six-speed manual transmission or a six-speed automatic gearbox, and a 4×4 model equipped with a 3.2-liter five-cylinder turbodiesel (197hp and 470Nm) paired with a six-speed automatic shifter.
Tan revealed to us that, in spite of the tax exemption from the new TRAIN Act, BT-50 prices shall remain the same for now. The executive did inform us that the BT-50 is now being offered with sizable discounts:
BT-50 3.2L 4×4 AT
SRP: P1,550,000
Discount: P150,000
Final price:

P1,400,000
BT-50 2.2L 4×2 AT
SRP: P1,395,000
Discount: P120,000
Final price:

P1,275,000
BT-50 2.2L 4×2 MT
SRP: P1,350,000
Discount: P75,000
Final price:

P1,275,000
Not bad, considering that comparable Ford Ranger variants (based on engine, transmission and drive layout) have the following prices:
Ranger 3.2L Wildtrak 4×4 AT – P1,628,000
Ranger 2.2L Wildtrak 4×2 AT – P1,388,000
Ranger 2.2L Wildtrak 4×2 MT – P1,328,000
The Generation 3.5 engine in the 2.2L Wildtrak 4×2, however, is more powerful (158hp) and torquier (385Nm). The exact same Generation 3.0 powerplant in the BT-50 2.2L 4×2 can be found in the Ranger XLS 2.2L 4×2 MT, which is much cheaper (there's no XLS 2.2L 4×2 AT). Still, the discounts should make the BT-50 truly enticing, especially when you realize it shares a lot in common with the Ranger—without looking as common.
If you're in the market for a new pickup truck, just remember the Mazda BT-50 exists and offers solid value. Think of it as the Orient Bambino of pickups: Not too many people know about it, but the knowledgeable enthusiasts do. And there's a good reason why.