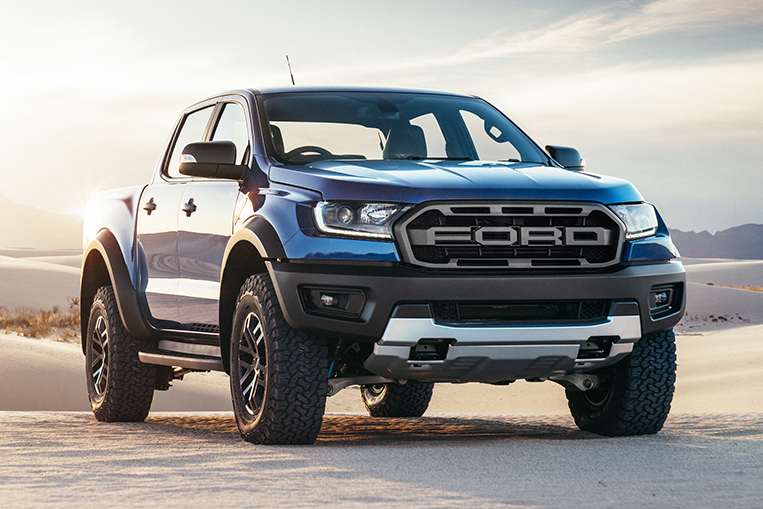 After months of anticipation, pickup lovers around the world can now lay their eyes on the first-ever Ford Ranger Raptor, with the American automaker unveiling the mean machine in Bangkok today. If you're already impressed with the regular Ranger variants, the Raptor should make you seriously consider trading your current workhorse for the new off-road king.
With the "Raptor" moniker passed down from the F-150 to the smaller Ranger, pickup users in Asia now have a true high-end model they can aspire to.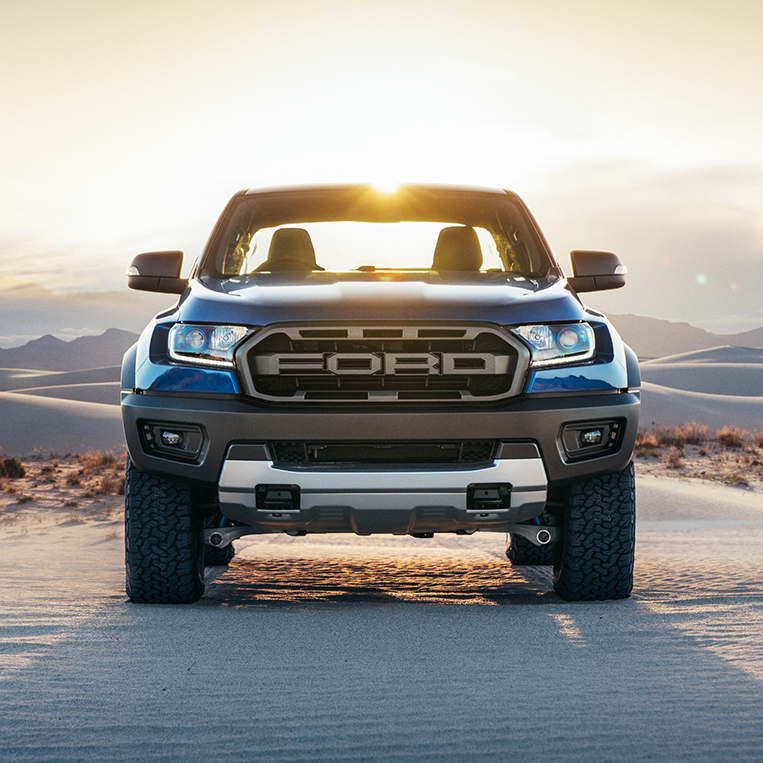 The performance pickup is powered by a 2.0-liter biturbo diesel engine rated at 210hp and 500Nm—more robust and torquier than the 3.2-liter turbodiesel unit under the hood of the top-of-the-line Ranger Wildtrak. It also shares the same 10-speed automatic transmission found in the F-150 Raptor. Ford claims "better acceleration and responsiveness" with the gearbox's wider ratio span.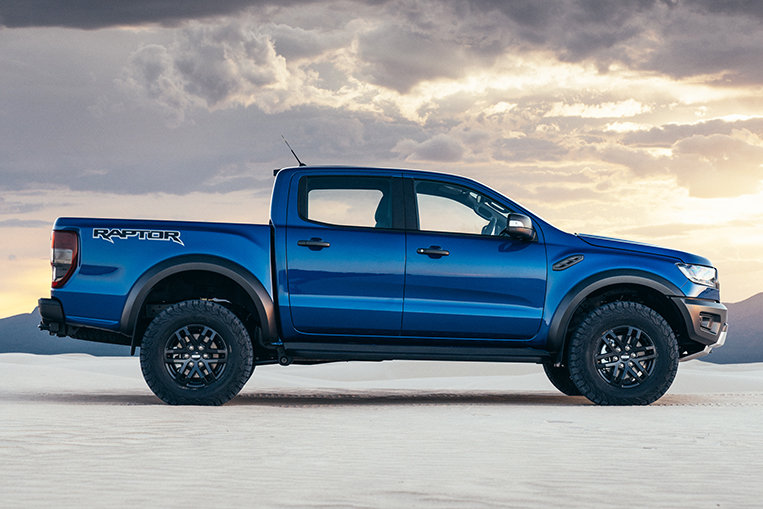 The Ranger Raptor measures 5,398mm long, 2,180mm wide and 1,873mm tall. For comparison, the regular Ranger has the following exterior dimensions: 5,354mm in length, 2,163mm in width and 1,821mm in height. The Raptor has a flood-conquering ground clearance of 283mm, significantly up from the already impressive 237mm allowance of the standard Ranger.
Further, the Raptor has an approach angle of 32.5°, a ramp-over angle of 24° and a departure angle of 24°—giving the tagline "no boundaries" a whole new meaning. Just try not to ding the specially designed 17-inch alloy wheels wrapped in 285/70, 285mm-wide all-terrain BFGoodrich tires.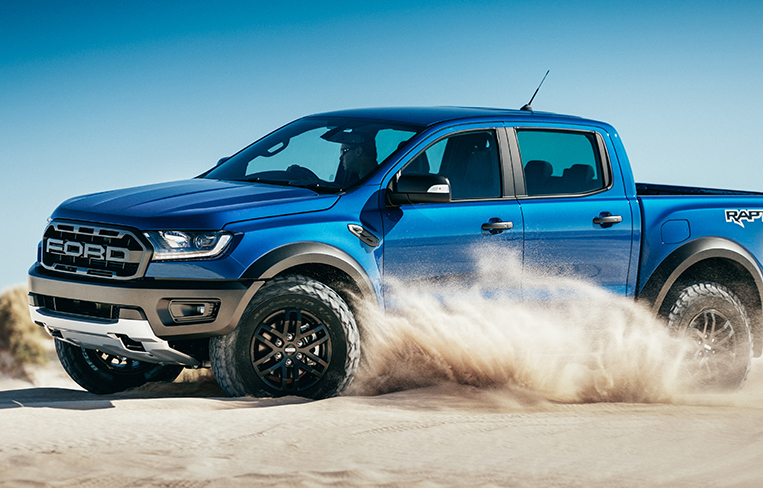 Ford is particularly proud of the Raptor's Fox Racing Shox front and rear dampers with 46.6mm pistons. What this means, according to Ford engineers, is a plush ride you don't naturally expect from a pickup truck.
Because this kind of vehicle is bound to be used for extreme adventure, Ford has given it a total of six modes for different driving requirements, including two on-road modes (normal and sport) and four off-road modes (grass/gravel, mud/sand, rock and Baja). As you can probably tell, the Baja mode—named after the famous desert rally—enables the Raptor to perform high-speed off-road exploits.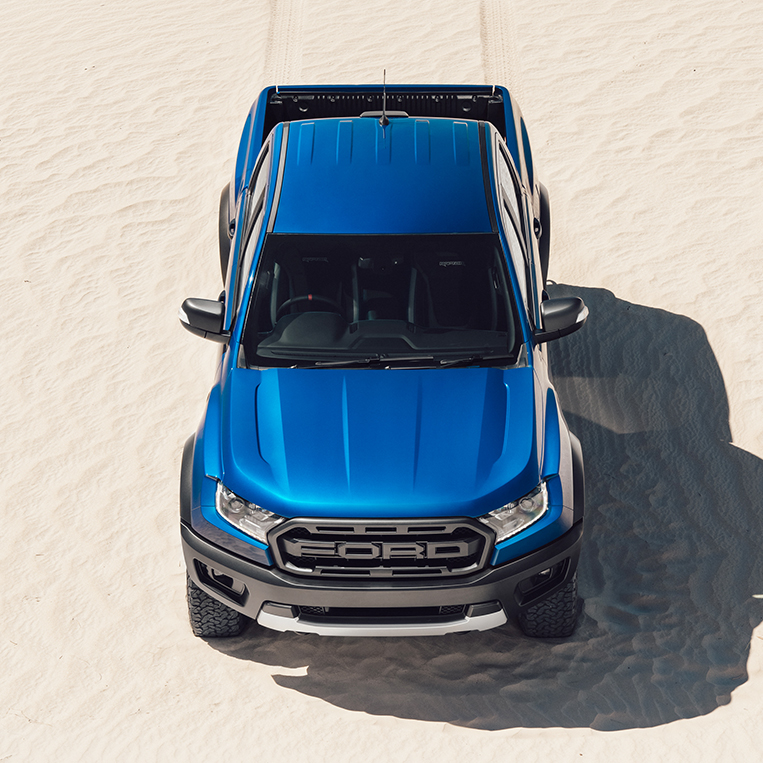 With a towing capacity of 2,500kg, the Raptor features an integrated tow bar and a pair of recovery hooks on its rear bumper. This should nicely complement the cargo bed's 1,560mm-by-1,743mm load volume. The rear also gets an EZ Lift tailgate that is said to require 66% less force to lift.
"The Ranger Raptor is really like a motocross bike, a snowmobile and an ATV rolled up into a pickup truck," says Ford Performance chief engineer Jamal Hameedi. "It's an incredible, awesome experience."
With what we've seen so far, we can't argue with that assessment.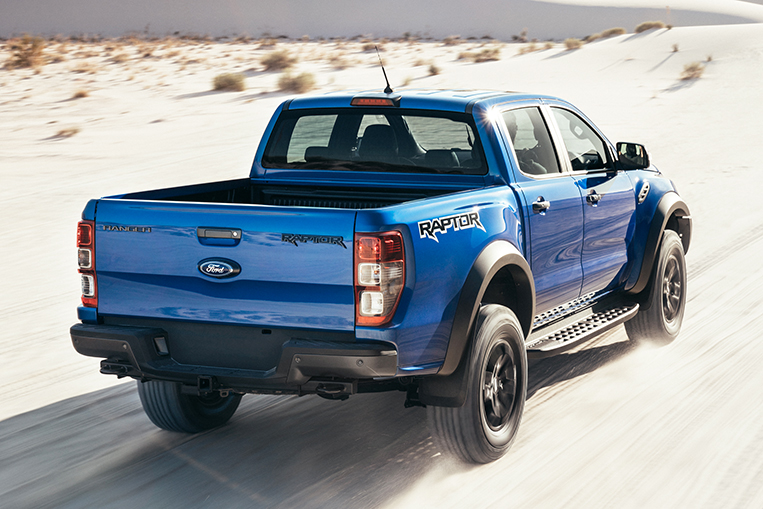 The Ranger Raptor—available in Lightning Blue, Race Red, Shadow Black, Frozen White and Conquer Gray—will arrive in the Philippines this year after Thailand releases it in its home market in the third quarter. So start cozying up to your friendly Ford sales manager for an early unit. Trust us, you want to be among the very first to drive this beast on EDSA. We know we do.
Oh, did we remind you that all pickup trucks are now exempt from excise tax (wink-wink)?