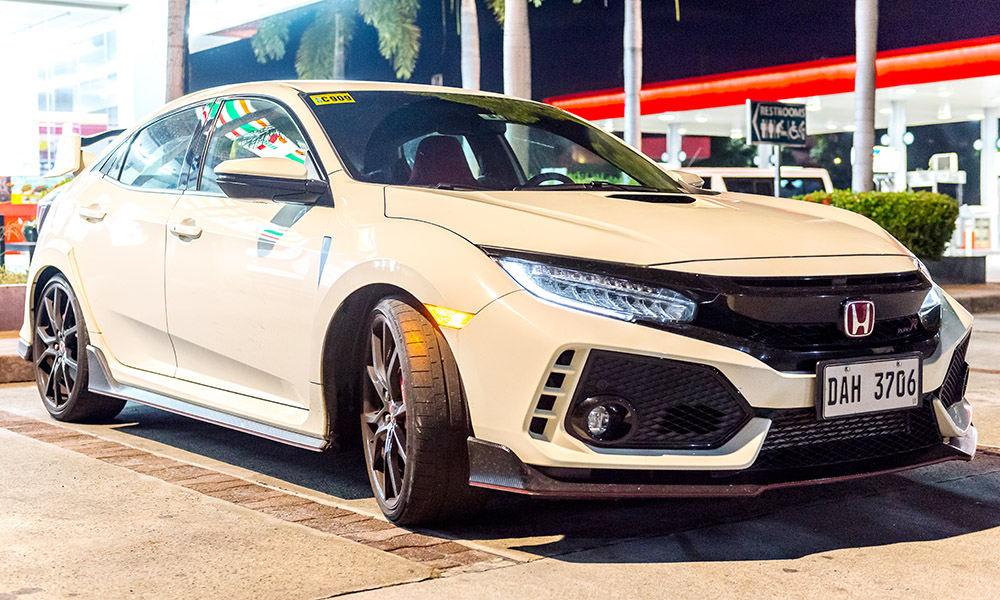 Can you daily a hot hatch? Yes.
Will you daily a hot hatch? Uh…
Manufacturers have touted hot hatches to be the perfect mix of a performance car and a family transporter. Space for five, a generously sized cargo area with acceleration and handling rivaling that of some sports cars is what the performance-oriented hatchback is all about. Vehicles like the Peugeot 205 GTI and even the mental Alfa Romeo 147 GTA are basically souped-up versions of their pedestrian brethren.
However, the constant pursuit of faster lap times at this patch of land in Germany called the Nurburgring Nordschleife has taken this segment to new heights. The speed at which cars go around this track has now become the standard by which performance is measured, and such has taken the once simple, hot hatchback formula to new extremes.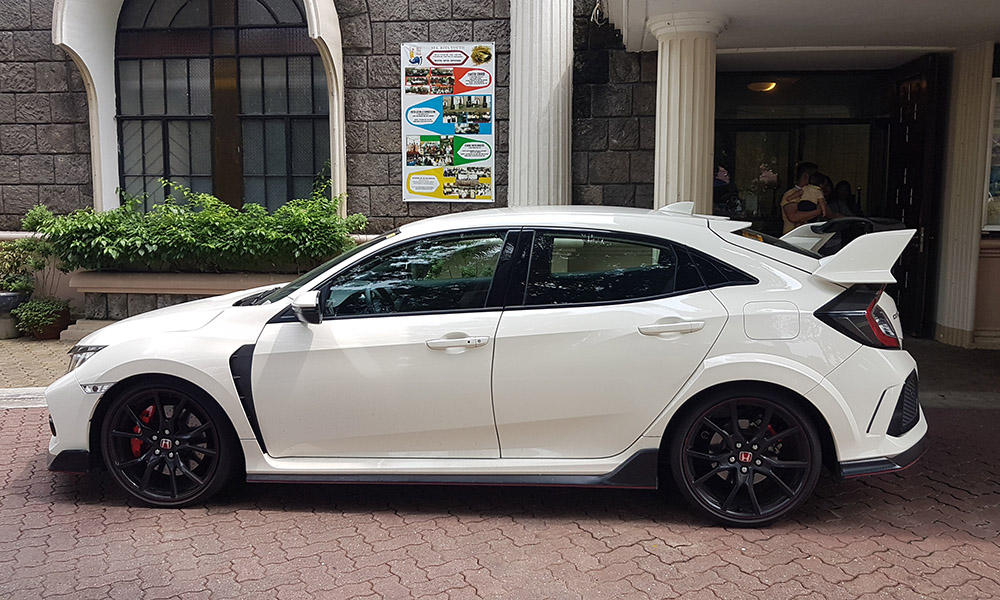 The FK8 Honda Civic Type R is as extreme as hot hatchbacks can get. Under its hood is a 2.0-liter turbocharged four-cylinder mill singing to the tune of 306hp mated to a short-shifting six-speed manual. It has huge 20-inch wheels and wide-bodykit that is worthy of being transformed into one of those giant Japanese robots. Crucially, it once held the lap record on the Green Hell for front-wheel drive production cars. Posting a time of 7 minutes and 43.8 seconds, that's an average speed of around 160km/h around the 20.6km track.
So there really is nothing to doubt about how capable the Type R is as a sports car slayer. In fact, just Google the car and you'd find out that there is no shortage of motoring journalists (including ours) thrilled by its performance. But that's just the "hot" part in hot hatch. So, when I got the keys to a Civic Type R, instead of carving up a mountain road at speed, I drove the car daily and tried to find out if it could still work as a family hatchback.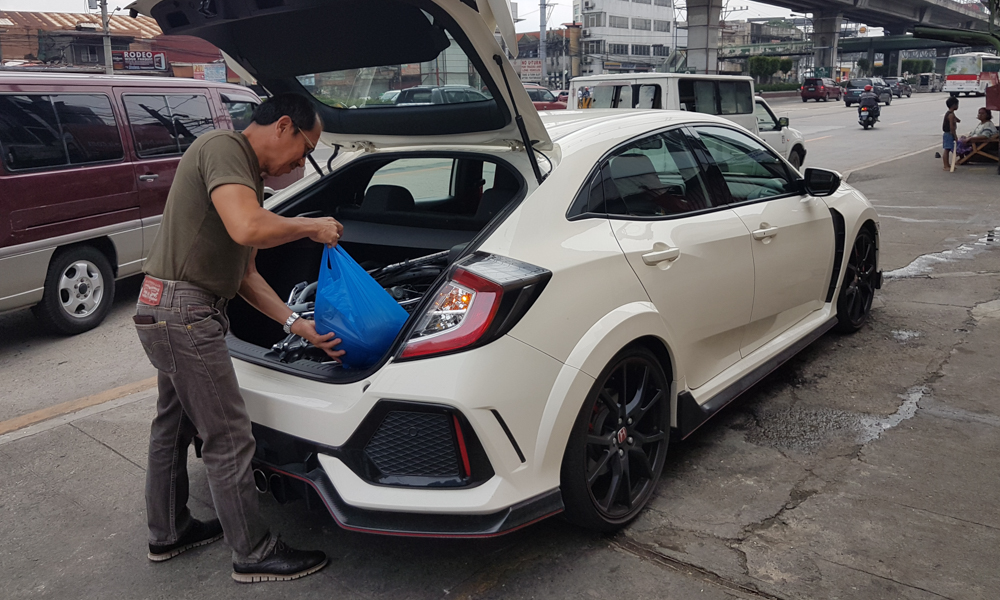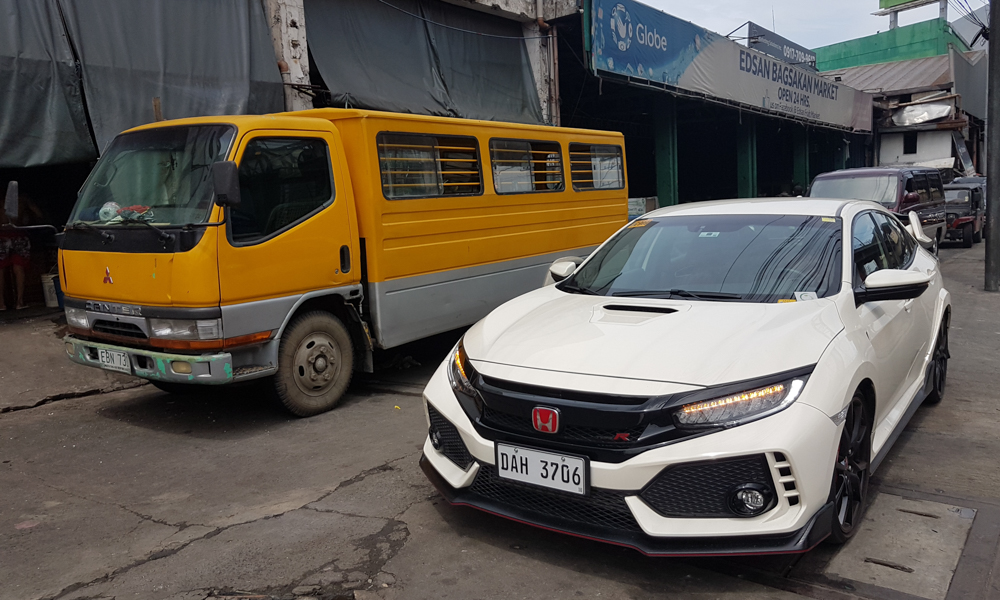 One very important measure by which family hatchbacks are judged is interior space. Being essentially derived from the regular Civic, the Type R has more than enough room for five adults. Even its fat fenders and bulky side skirts did not prevent my physically-challenged mother from getting in and out easily. In fact, she found it surprisingly roomier than my daily-driven Subaru Impreza.
Cargo capacity is at par with just about any compact car. The liftgate opening is quite huge, able to swallow mom's wheelchair and walker. I even took it to downtown Manila where the car was stuffed with three months-worth of bulky medical supplies. If that wasn't enough, the Type R still had ample space for a couple of watermelons and cantaloupe from the Balintawak wet market.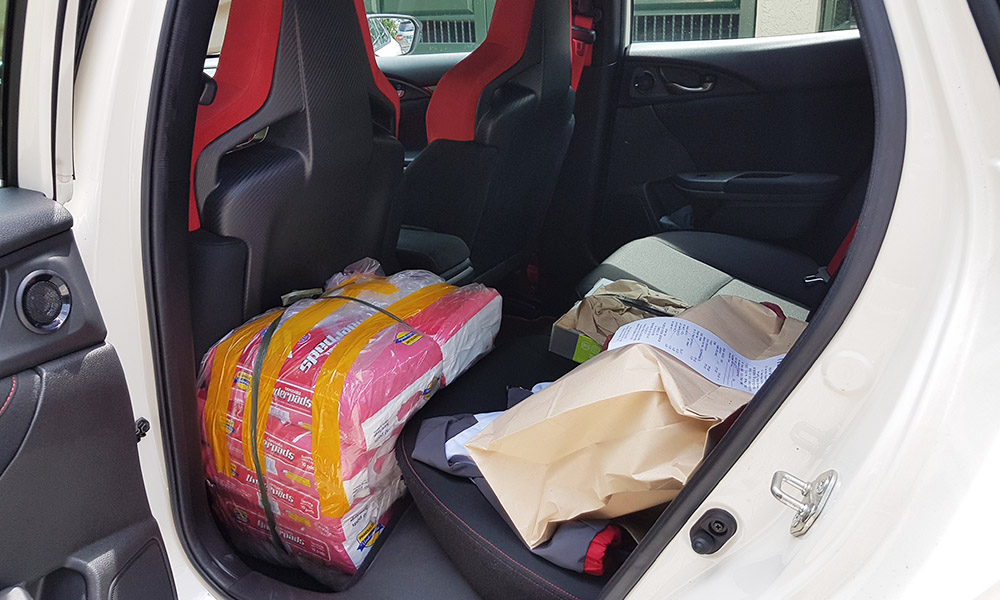 The quality of the cabin is very decent as well. Despite the Type R's sporting nature, it still has all the creature comforts of the pedestrian Civic. The rear seat has Isofix tethers. The infotainment system is as feature-packed as anything on the market with offline-satellite navigation, Bluetooth, and phone mirroring. There is a generous amount of soft-touch materials in the interior which gave it that premium feel.
So, you can indeed daily a Civic Type R. However, wanting to drive one every single day is another matter altogether.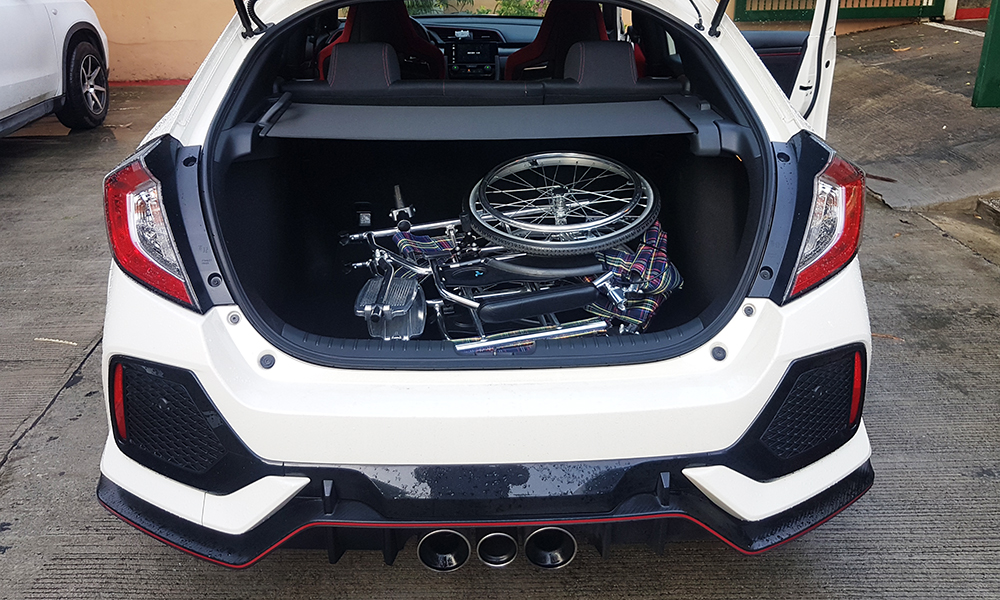 One of the things that makes the Type R so engaging to drive is its six-speed manual transmission. It's also one of the reasons why it's quite challenging to live with the car every day. The stick is notchy and takes some effort to slot into gear. And although the clutch's biting point is easy to get used to, the stiffness of the pedal is not. Making it crawl through morning rush hour traffic is painful on the left leg as the pedal is hard to push.
Adding to the leg cramps is my sore bum. The Type R's suspension is so stiff even in "Comfort" mode that I sometimes wonder if the springs were engineered to resist even the tiniest of compressions. You definitely feel the road on your body–every single bit of it from the expansion gaps to the manhole covers. And don't get me started on how the 20-inch wheels just make the already harsh ride even harsher.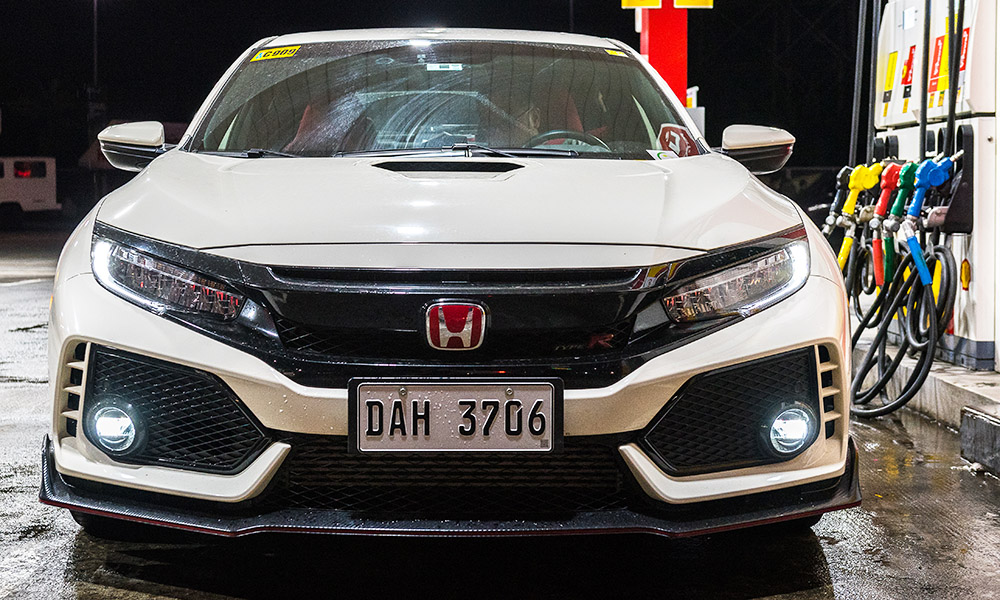 And then, there's that turbocharged 2.0-liter engine under the hood. Having 300-odd horsepower at my disposal is definitely exciting. But putting up with 5.8km/L in the city is just unacceptable for something that I must drive every single day. Sure, fuel economy isn't something I should prioritize when buying a Type R but it's a hatchback. I should be able to use it on a daily basis. And the thirst isn't something I want to live with.
So, would I daily drive a Type R? Probably not. If I had to endure the aches and spasms that come with driving one every day, each trip becomes tiring and tedious. When you think about the exhaustion that inevitably comes with taking it out for a spin, the appeal of the hot hatch begins to wane. I could see it going as far as not wanting to drive the car at all even on weekends.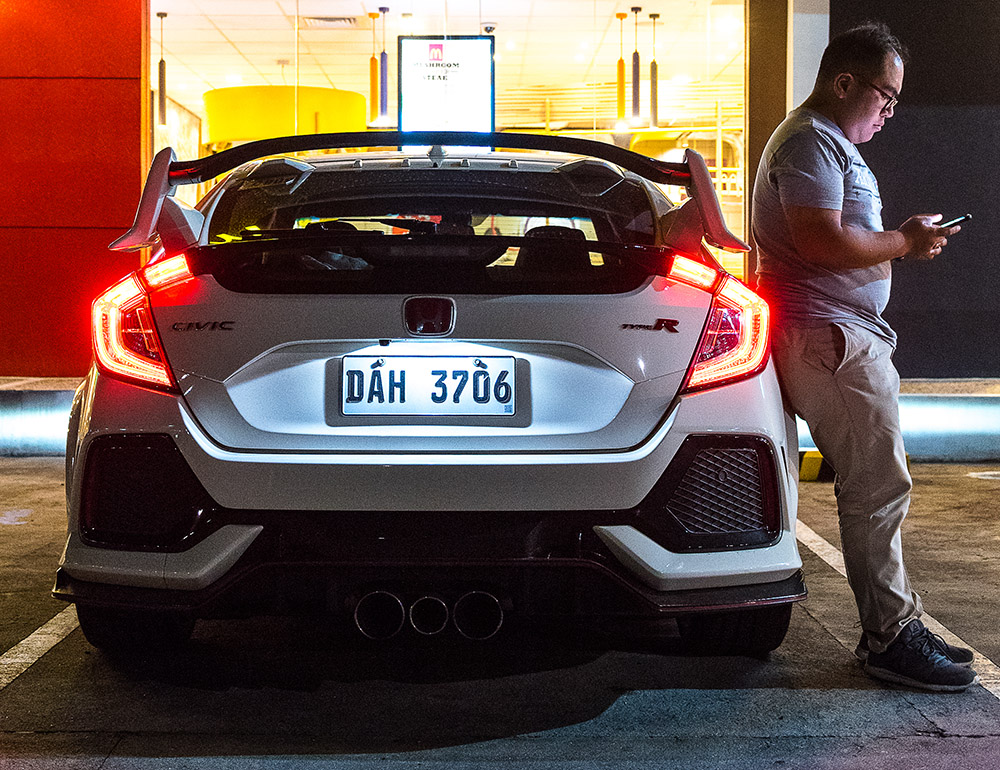 But I understand that the Honda Civic Type R is at one of the upper echelons of the hot hatch spectrum. There are other, less powerful sporty family cars like the Ford Fiesta ST or the Suzuki Swift Sport that are probably easier to live with. But both those cars aren't sold here, and the Type R is one of the very few of its kind that is available from official dealerships. If I had one in my garage, it'll highly likely stay as a weekend toy.