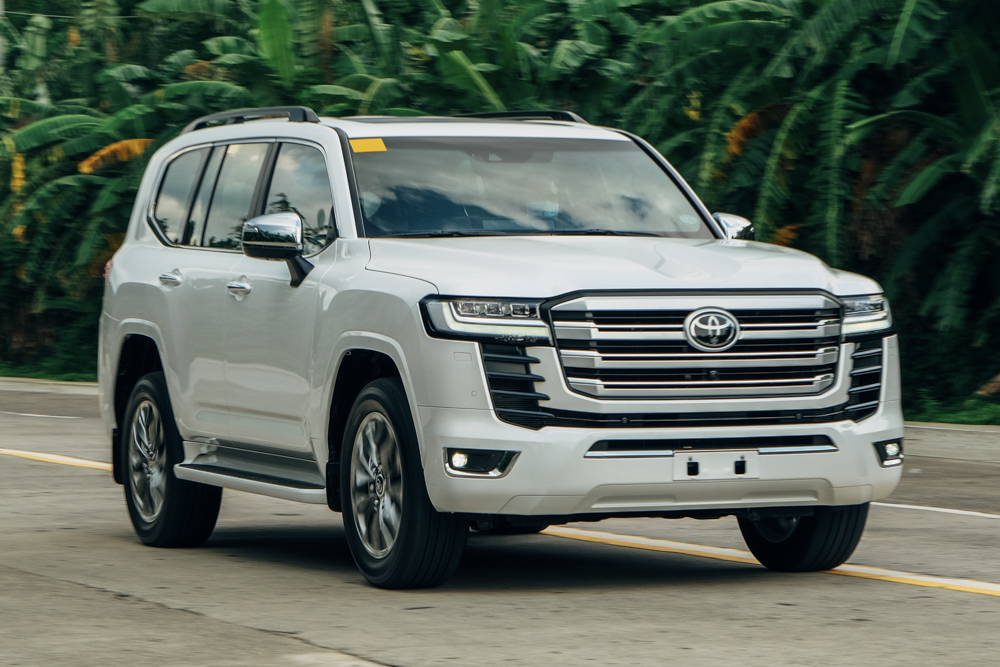 While customers in other countries have to wait a while to receive their own Toyota Land Cruiser 300 units, other places around the world have been luckier. Some buyers in the Philippines already have their units as we've been seeing lots of people posting photos of the luxury SUV on social media.
So, to get the opportunity to try one out (especially the top-of-the-line ZX trim) is no small thing. But we were able to do just that, and we cannot thank the very generous owner enough for letting us have a go in his ride so we could let you, dear readers, know what it's like to get up close and personal with the LC300.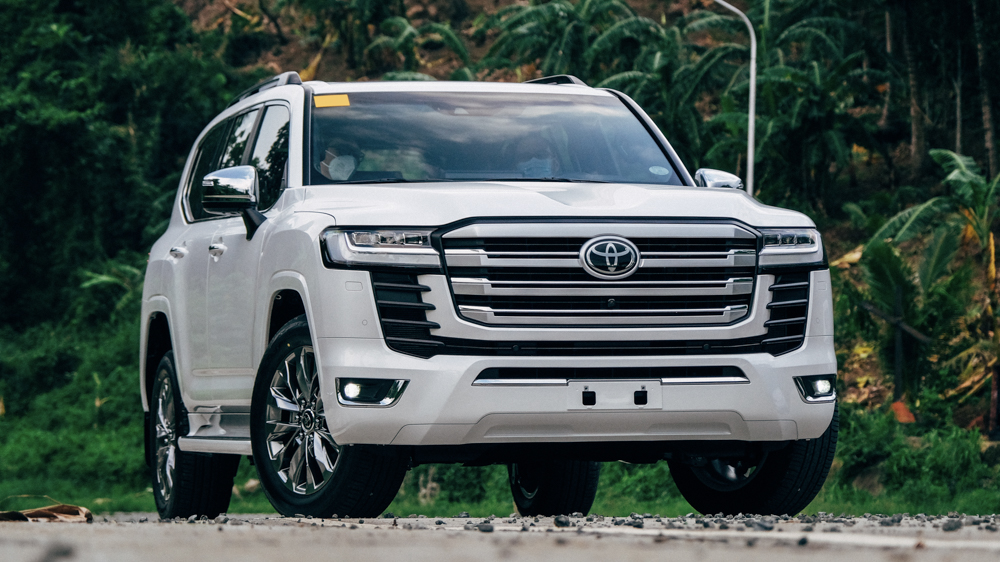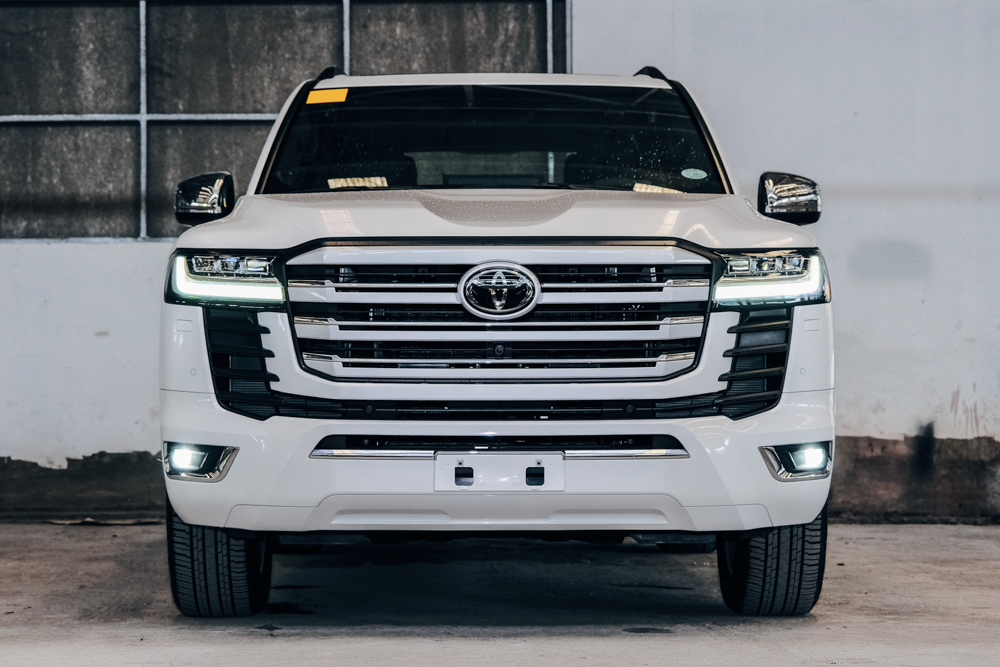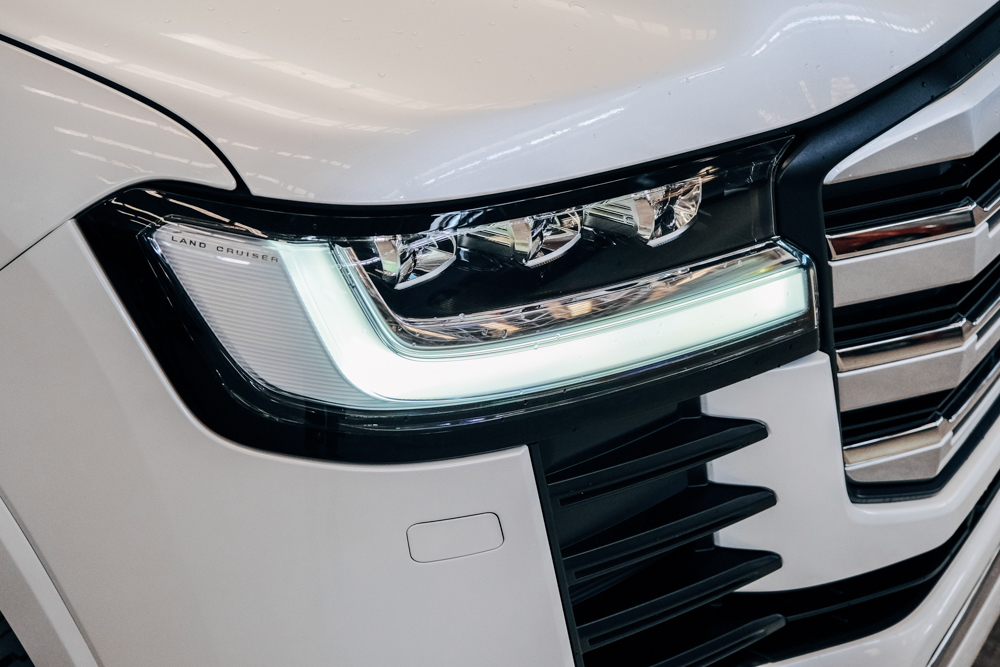 Seeing how the LC300 looks in photos does not do the car justice. When it pulled up in front of us, I couldn't help but gasp in awe as I was greeted by a vehicle with a lot of road presence and an authoritative demeanor (which may be exactly what its target demographic is looking for). It's unashamedly large, with a boxier design compared to the outgoing LC200, but has a muscular yet refined feel.
The ZX-exclusive Precious White Pearl paint job makes the fender flares and the lines pop, appearing a lot better in the metal. To be fair, we expected white to be the most popular color anyway. The ZX also has slightly different bumpers, sequential rear turn signals, illuminated side steps, and particularly beautiful gunmetal 20-inch alloy wheels (which are now six-lug, by the way).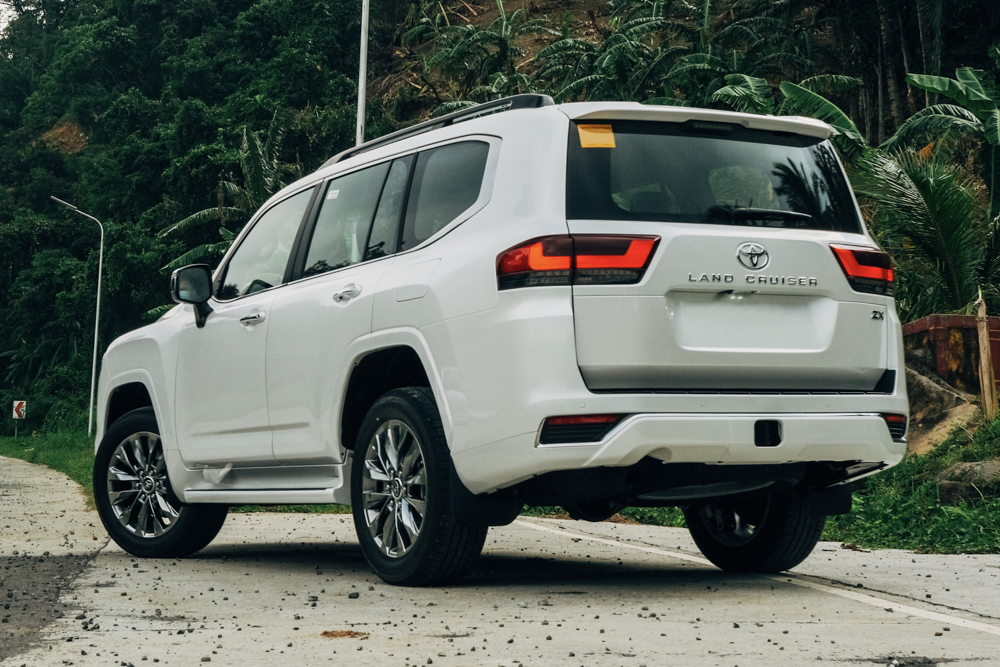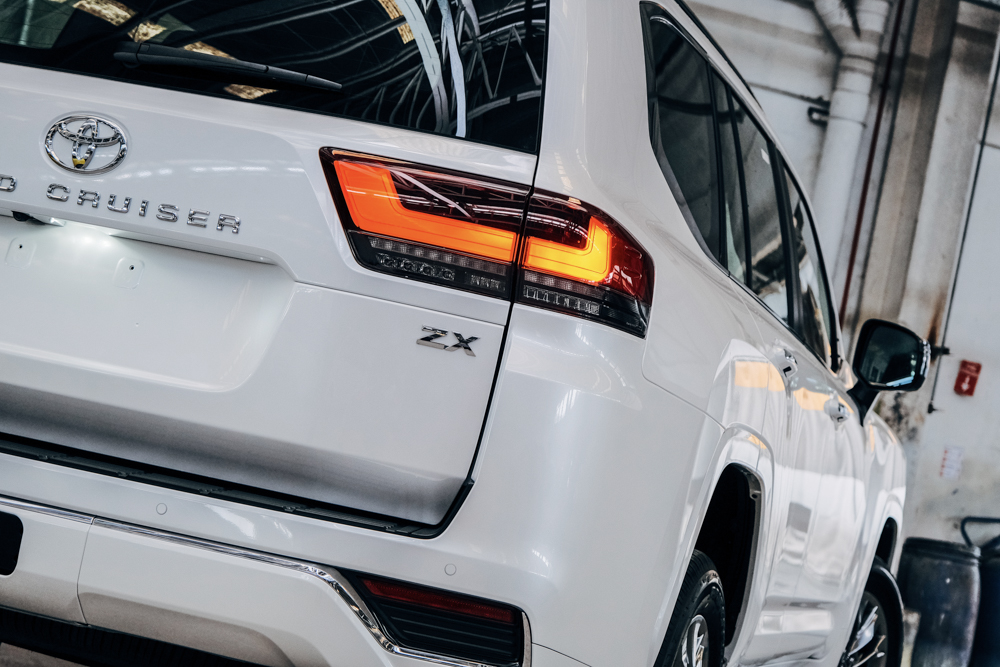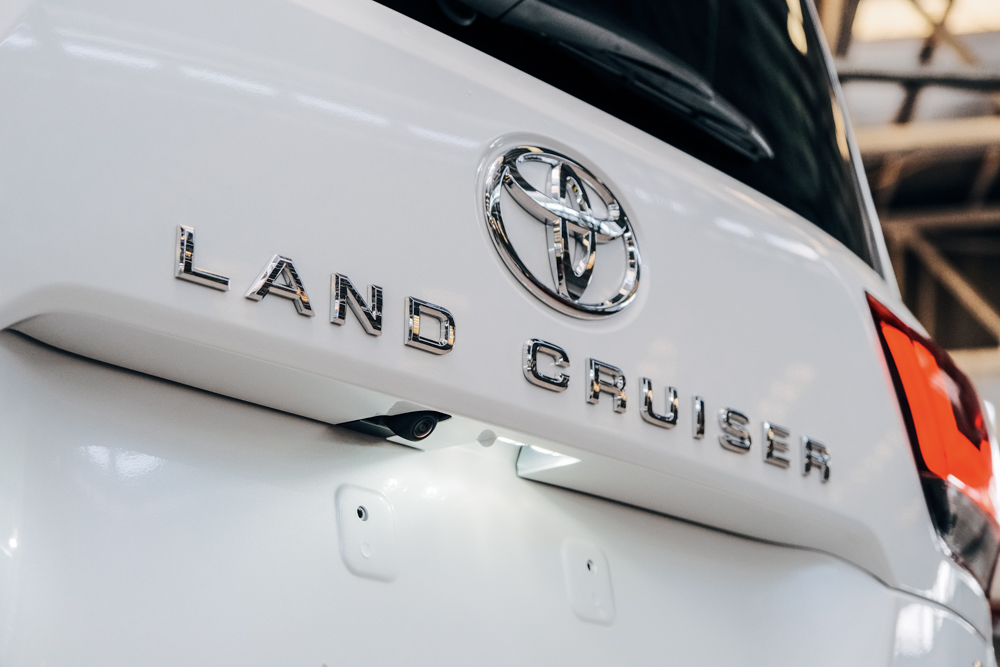 The cabin also gets a major overhaul. The LC200's relatively utilitarian dashboard has been swapped out in favor of a very Lexus-like control stack. Occupying front and center is the significantly improved 12.3-inch widescreen infotainment system with Apple CarPlay and Android Auto, which I found extremely similar to those in current-generation Lexus vehicles (sans the unintuitive touchpad).
Underneath are all the necessary knobs and buttons for your climate control, automatic heated and cooled seats, infotainment system, drive and off-road modes, electronic parking brake, and gear shifter. Being a Land Cruiser, the switchgear (including those found on the steering wheel) is still reassuringly chunky and tactile, so you can use them even with thick gloves.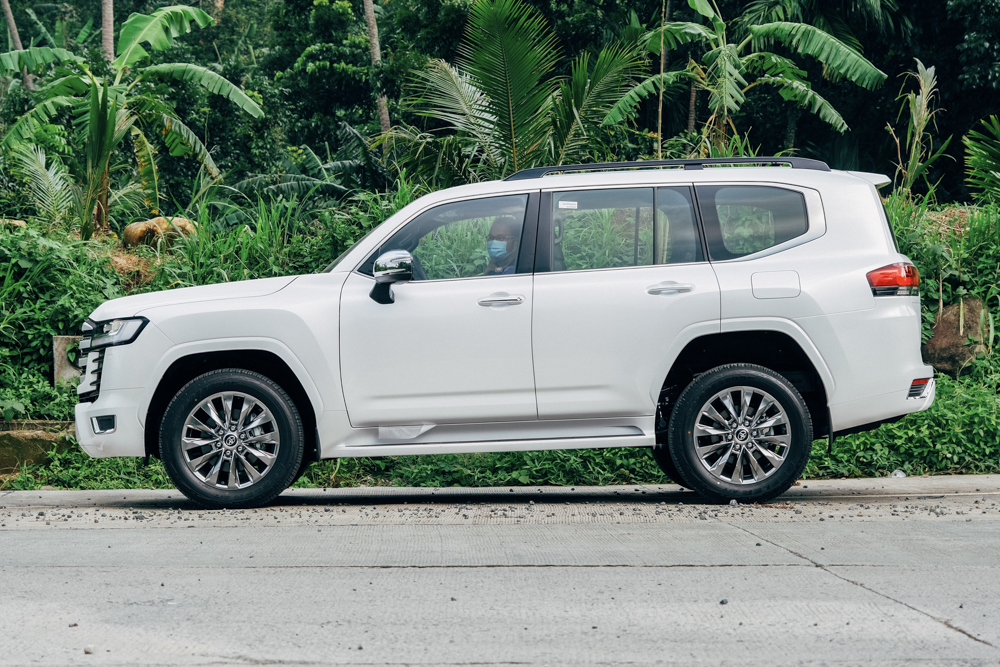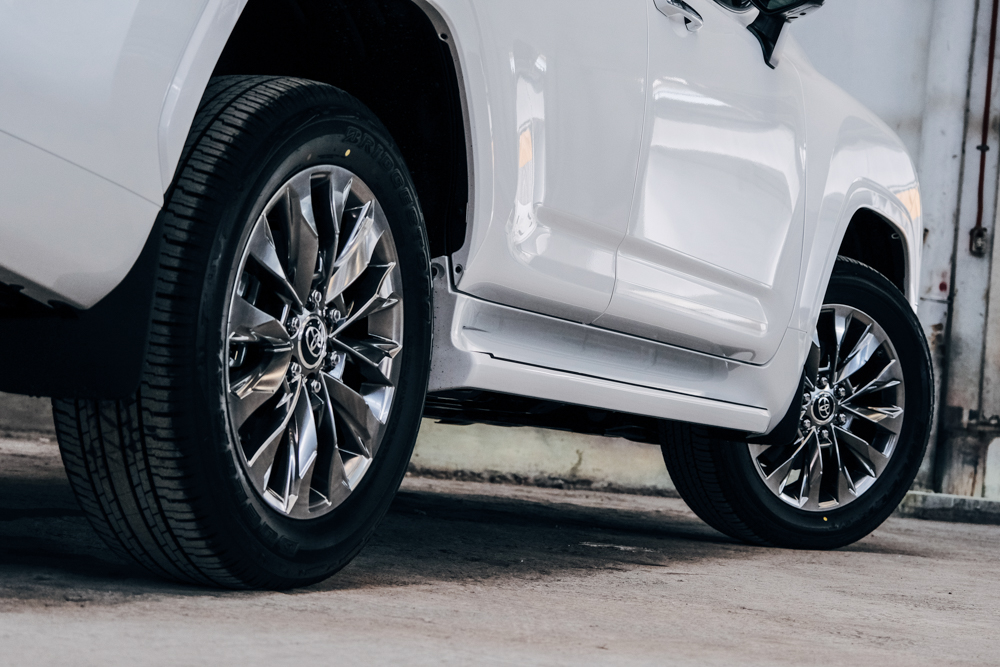 The interior in this particular car is draped in black leather, accented with satin-finish aluminum and wood paneling found on the center control stack, the steering wheel, and the door sills to make the cabin a little more upscale. Charging- and connectivity-wise, you have five USB-C ports, one USB-A port for phone connectivity, two 12V sockets, and a single 220V socket. Other niceties exclusive to the ZX are a wireless charging pad, a 14-speaker JBL sound system, ventilated first- and second-row seats, and a power tailgate.
Second-row passengers have plenty of legroom, shoulder room, and headroom. Getting to the third row is easy as the second-row seats tumble forward to allow access. It's surprisingly usable for relatively tall passengers like me (5'10"), though I wouldn't stay there for extended periods of time. If you need to carry cargo, you'll be pleased to know that the third-row seats electrically fold flat with a clever mechanism (instead of being stowed sideways), finally allowing for a flat load floor so you can easily accommodate more items.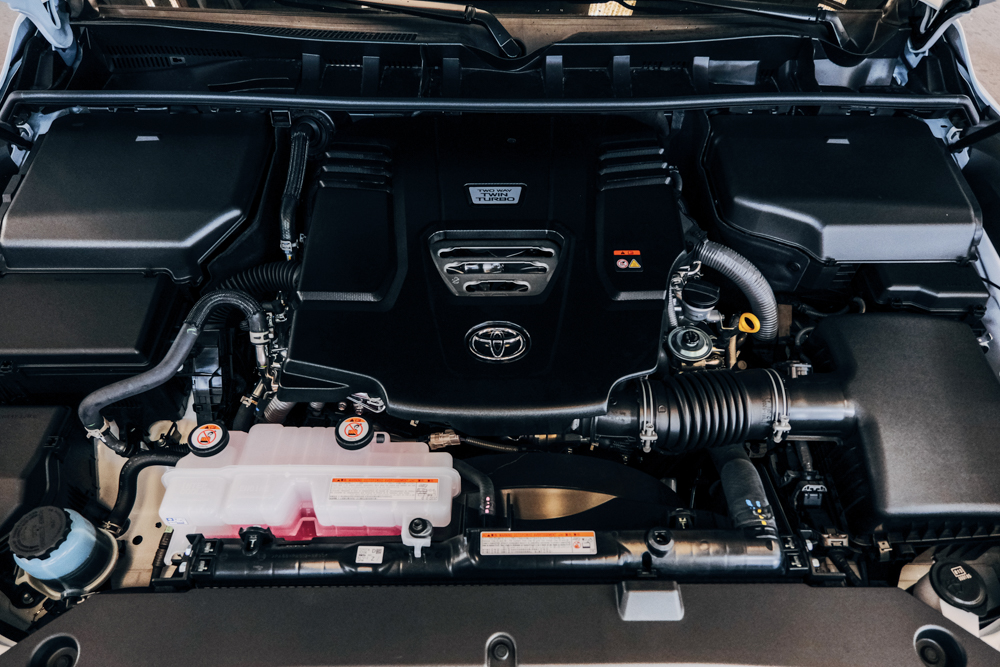 Sitting in the driver's seat puts you in a very powerful yet extremely comfortable position. There's a new set of gauges (which puts it in line with the rest of Toyota's current offerings), and the ZX has a very clear and information-filled heads-up display that you'll use more often. One thing you might have to get used to is the massive "power valley" view of the hood, which houses the vehicle's new powerplant.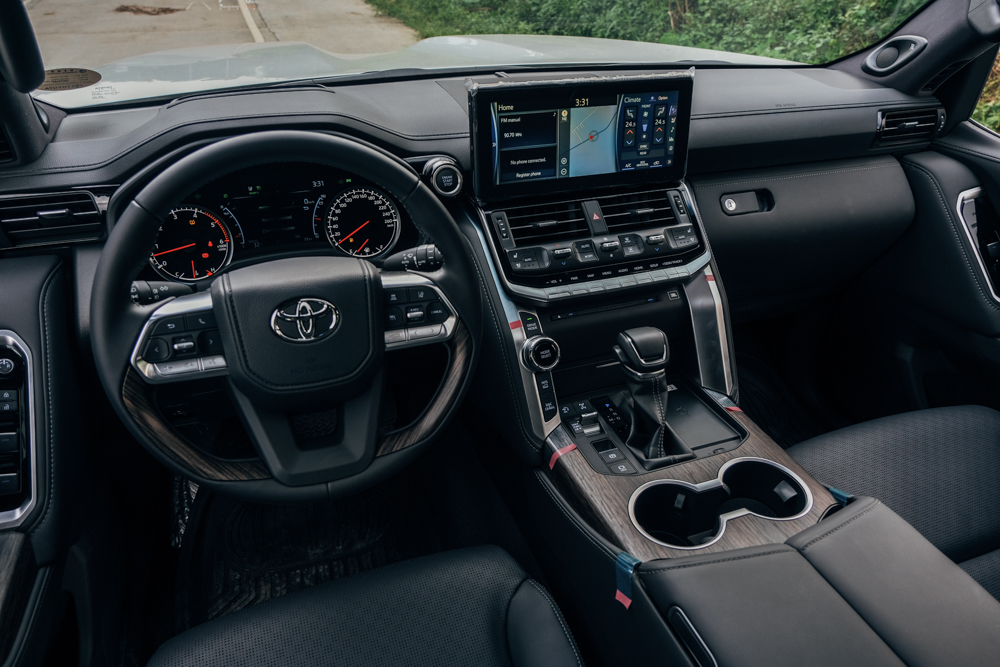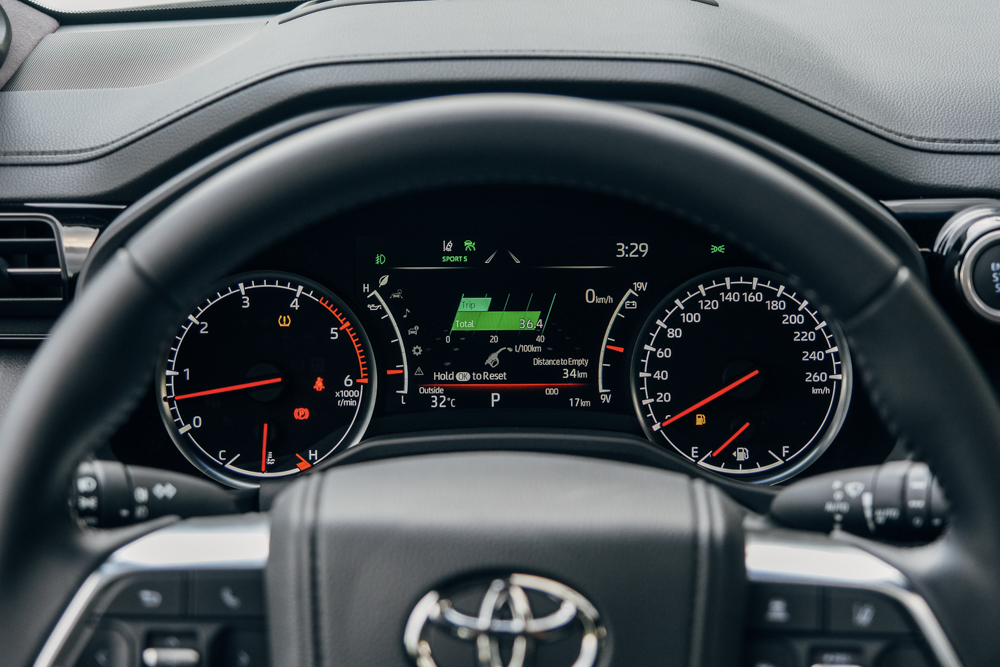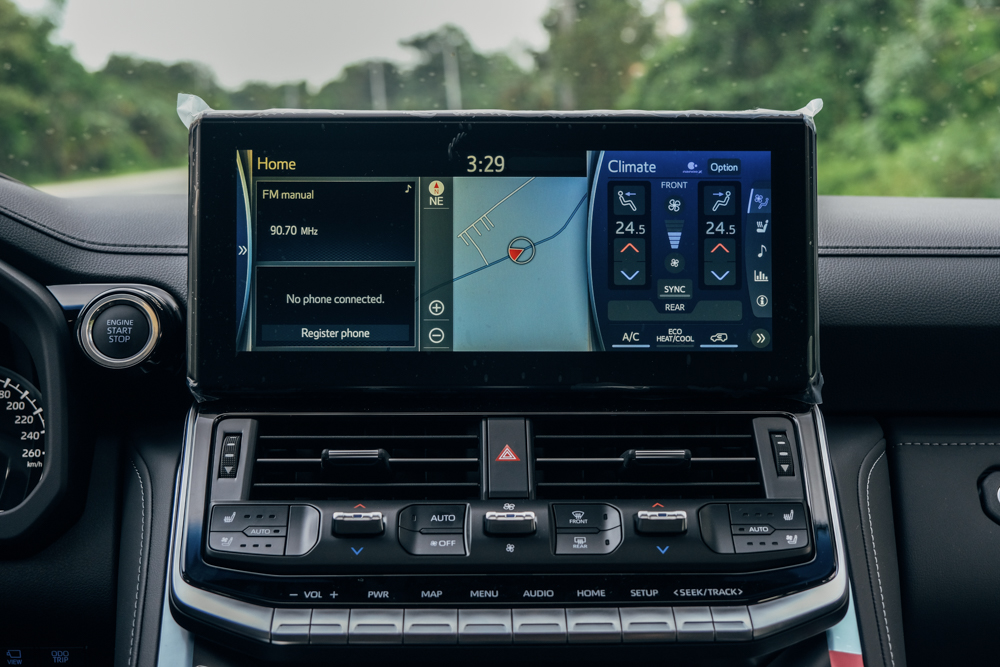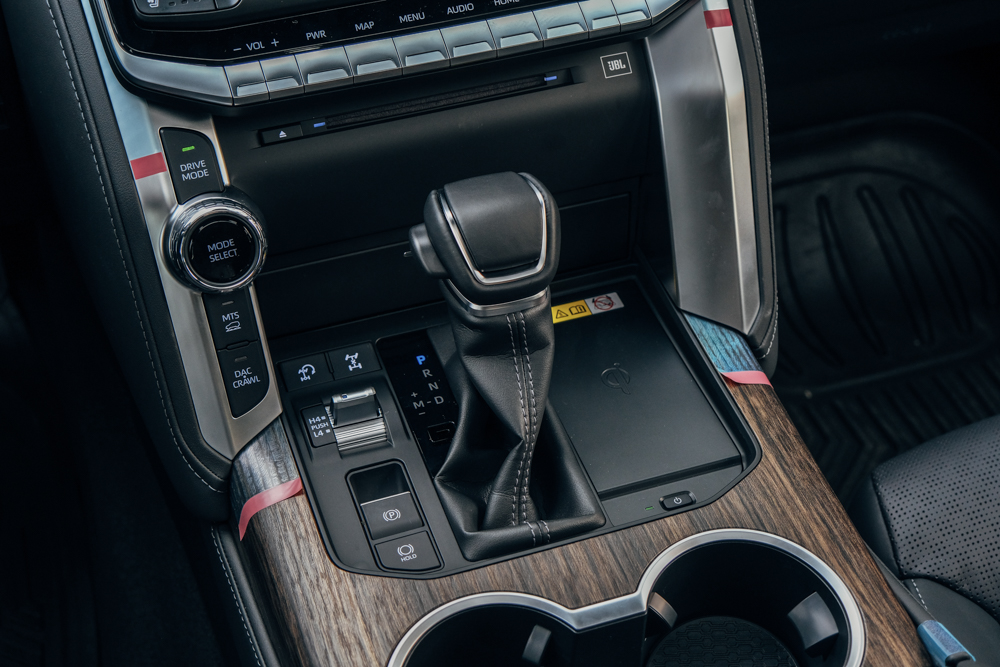 The F33A-FTV 3.3-liter twin-turbo diesel V6 moves the car with immediacy, due in part to its output of 302hp and 700Nm. The new 10-speed automatic gearbox has incredibly smooth shifts, keeping the car in the optimal power band. The engine will have more than enough grunt to move around the additional weight of a trailer or armoring, so you're not down on power. I can't say anything regarding fuel economy (since we only had the car for a short time), but expect this new motor to be more efficient than the V8 of its predecessor.
Toyota has made enough strides in developing its new engine to make you forget that you're driving an oil-burner until you have to fill it up. The characteristic diesel rattle is absent from inside the cabin even at low speeds. When the hood is open, the noise the engine makes while idling sounds almost gasoline-like—even prompting my colleague to do a double take.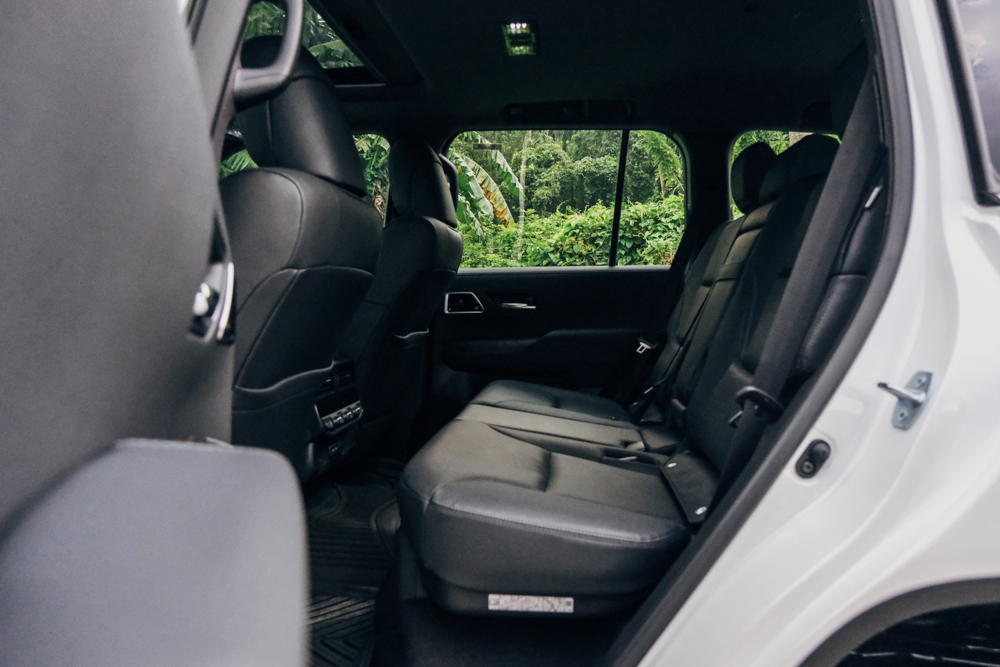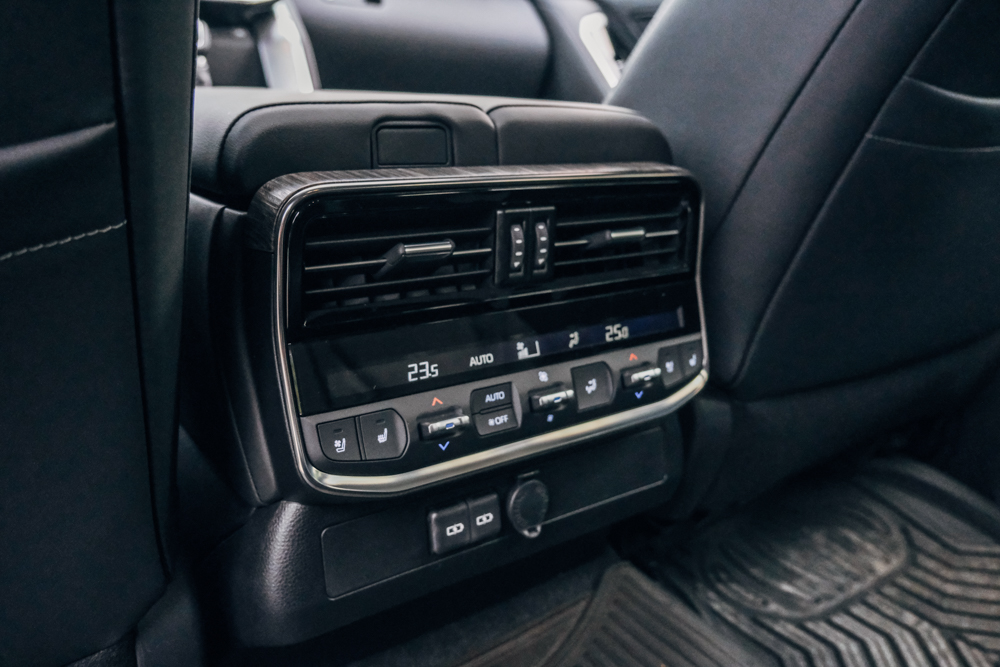 One thing that may divide several people is the lighter steering feel. If you enjoyed the heavier steering of old Land Cruisers, you may not like how the new tiller feels now. But start going around corners and you will be caught off guard with how nimble it is, betraying the SUV's large frame.
The new TNGA-based platform it rides on reduces weight by 200kg, lowers the center of gravity, and increases rigidity versus the LC200. The ZX also sports a rear torque-sensing LSD and adaptive suspension, so changing the various drive modes will affect how the SUV performs on and off the road.
But of course, most people who buy a Land Cruiser wouldn't be putting it in Sport mode and carving corners. They'll most likely be driven around in it. And if you're concerned about comfort and driving dynamics, my colleague likened it to a BMW X7, which, in itself, is one of the most comfortable SUVs I have ever ridden in.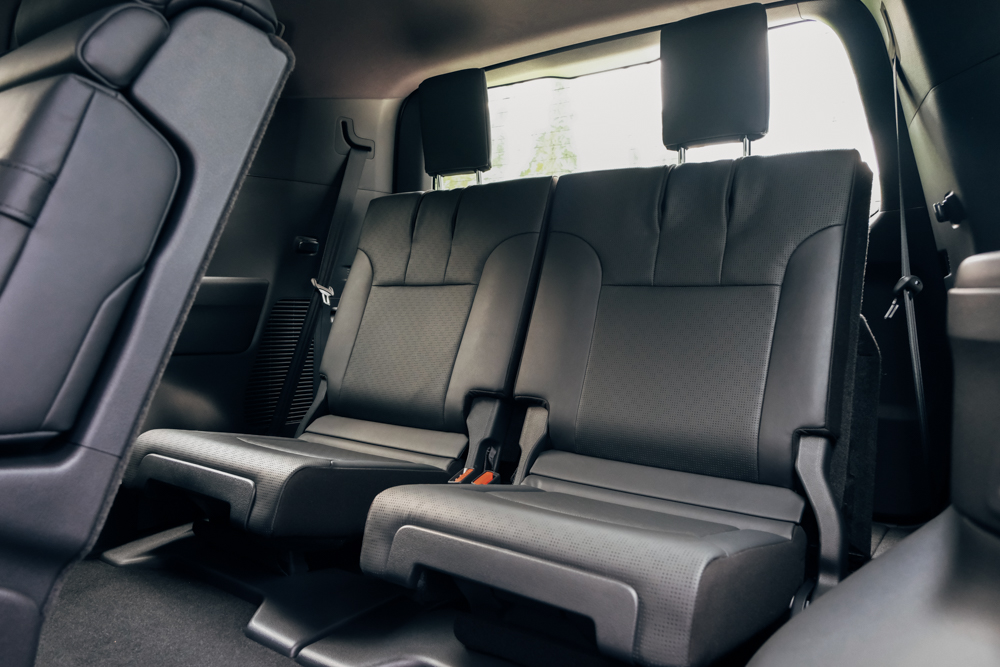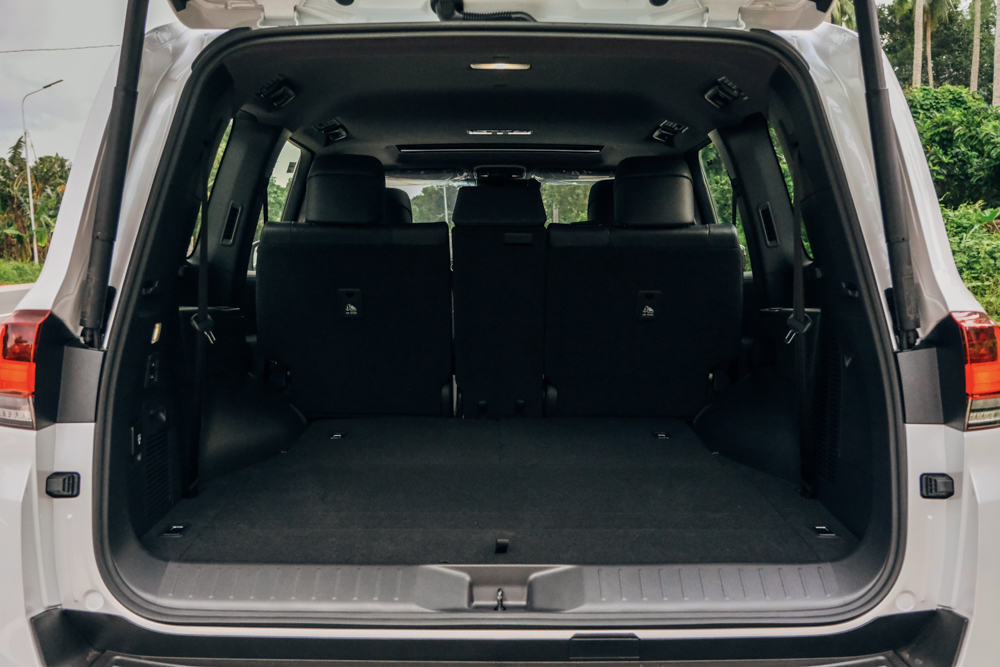 Lastly, let's talk about Toyota Safety Sense. This has the complete suite of features that include Dynamic Radar Cruise Control, Lane Tracing Assist, Pre-Collision System, Automatic High Beams, and a high-resolution 360° camera to make parking incredibly easy. You can disable it if it's bothersome.
The system did scare me once. I was reversing into a parking space when the guard rushed to assist me. The pre-collision system detected the obstacle and locked the brakes. I nearly soiled my pants from the experience (it is a really expensive car, after all). Thankfully, nothing happened to the car—or the guard. Other than that, TSS worked really well.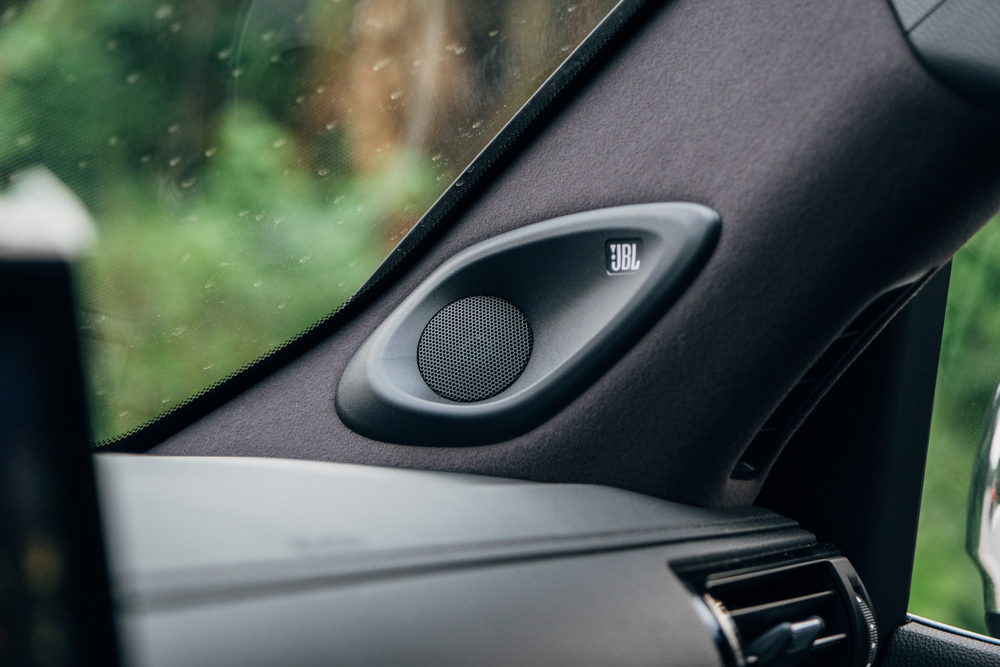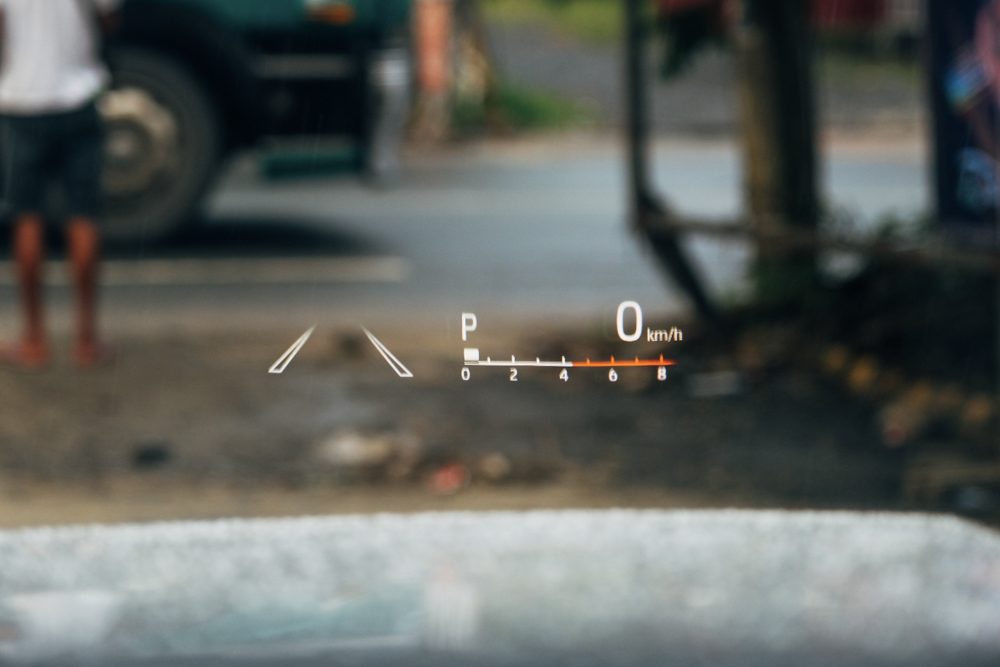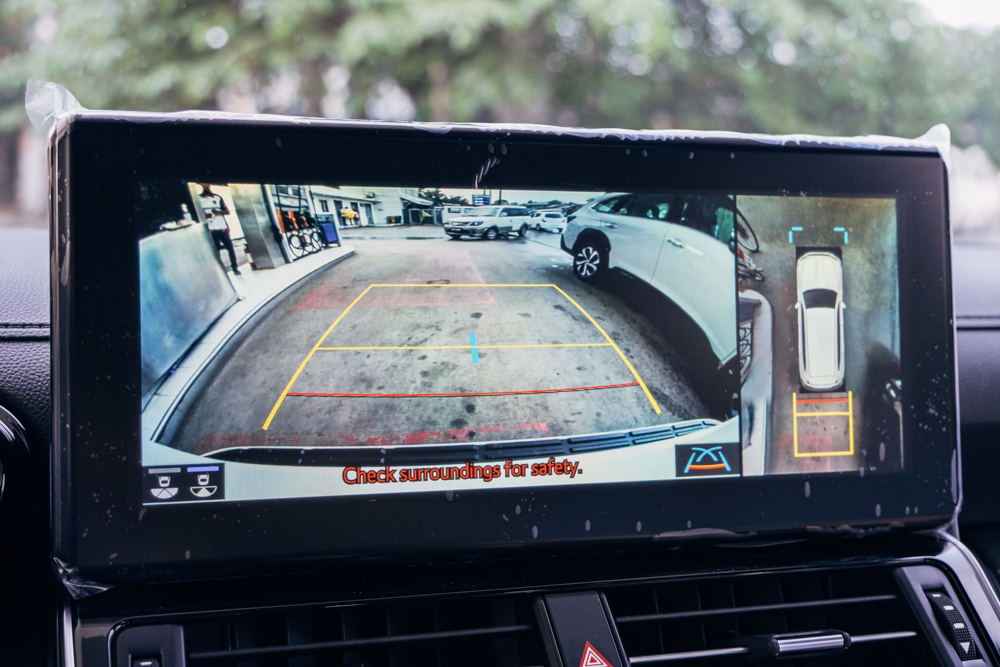 Unlike previous Land Cruisers, the 300 has lots of electronics, and only time will tell if it is worthy of the legendary reliability the nameplate is associated with. But knowing Toyota, we can be assured that whatever technology it uses will withstand the test of time. For P5,657,000 (P5,642,000 plus P15,000 for the special color), you really do get a whole lot of car for your money. Heck, the quality of the LC300 already borders on Lexus territory. So, if you find it a little lacking, you can always wait for the next-generation LX.