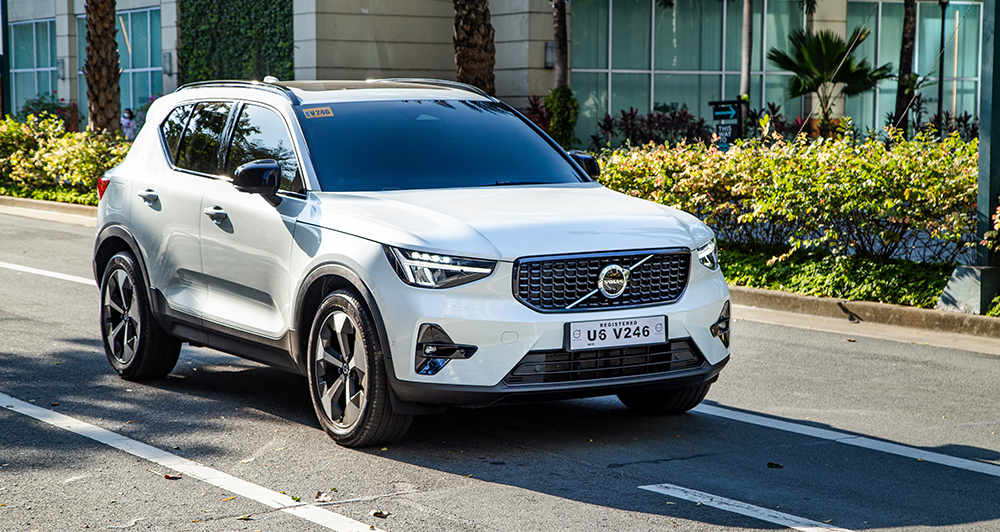 Volvo has been on the lips of many in the last few years not because of its own popularity or merit, but mainly due to its ties to Chinese automaker Geely. The latter has milked its affiliation with the Swedish marque for all it has got to bolster its own stock among the skeptical. And to incredible effect, I might add. They've convinced the public not just to give Geely a chance, but to give most (if not all) Chinese cars a chance.
So, it's been burned into our minds that Geelys are basically budget Volvos, which is why they're great cars. A real Volvo can't be that much better, can it? But then I drove this XC40 B5 R-Design, and it showed me exactly what a true-blue Volvo is like.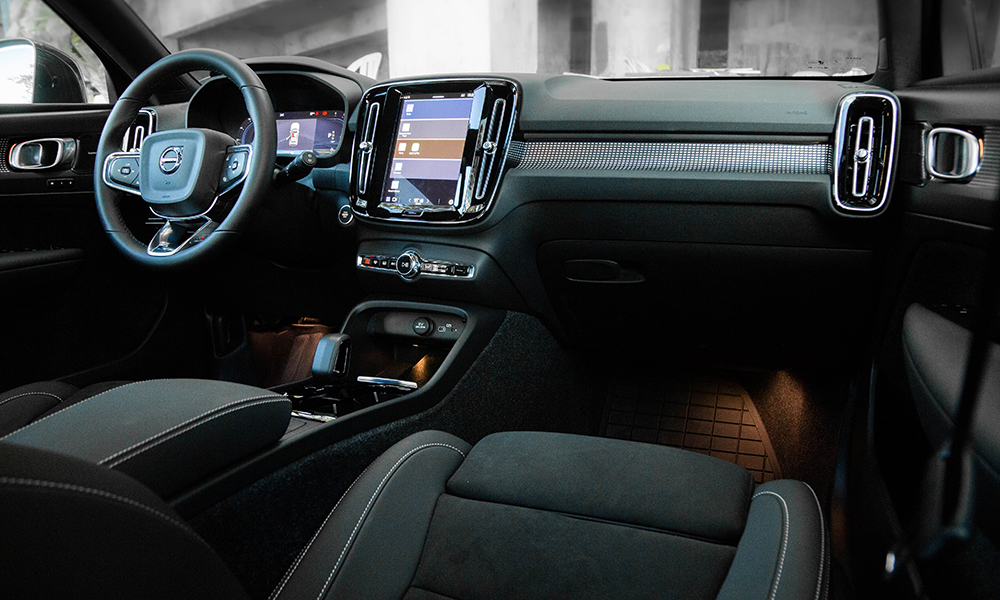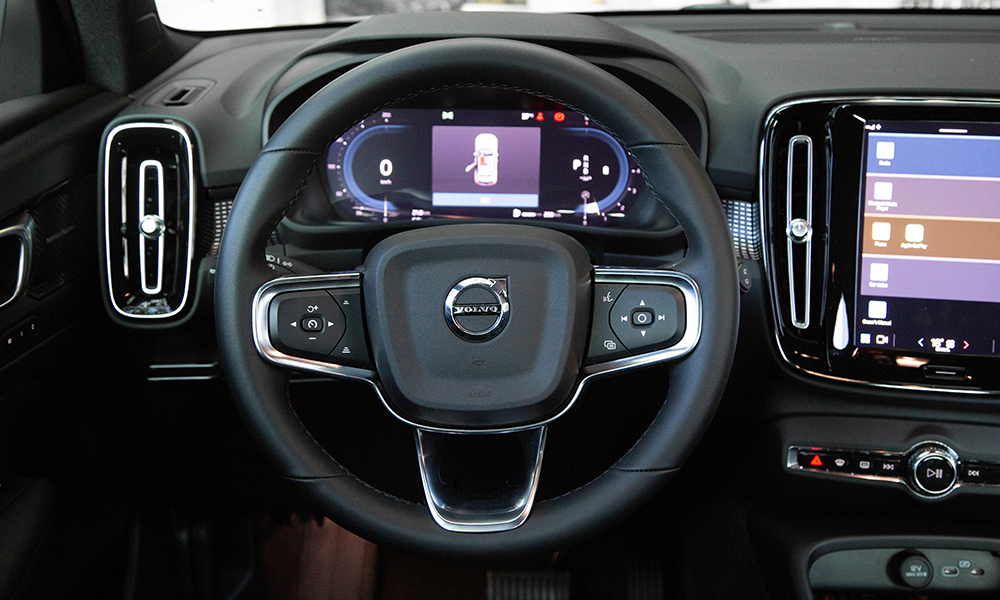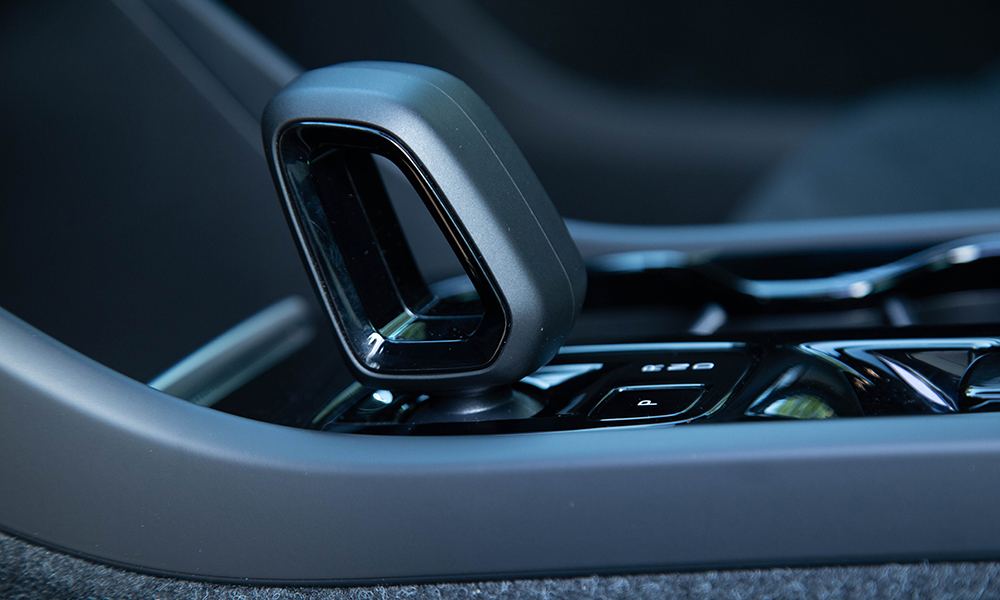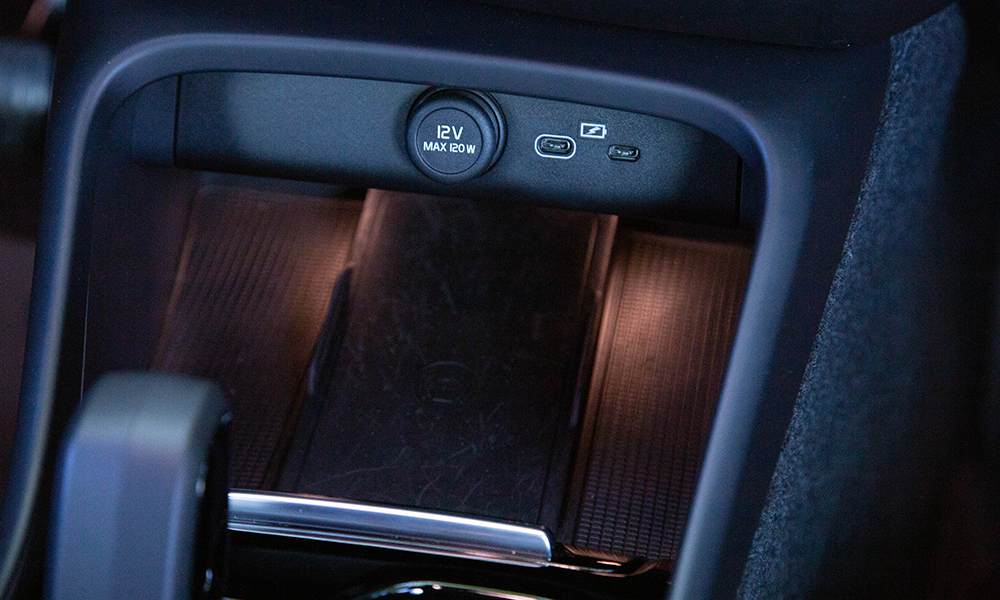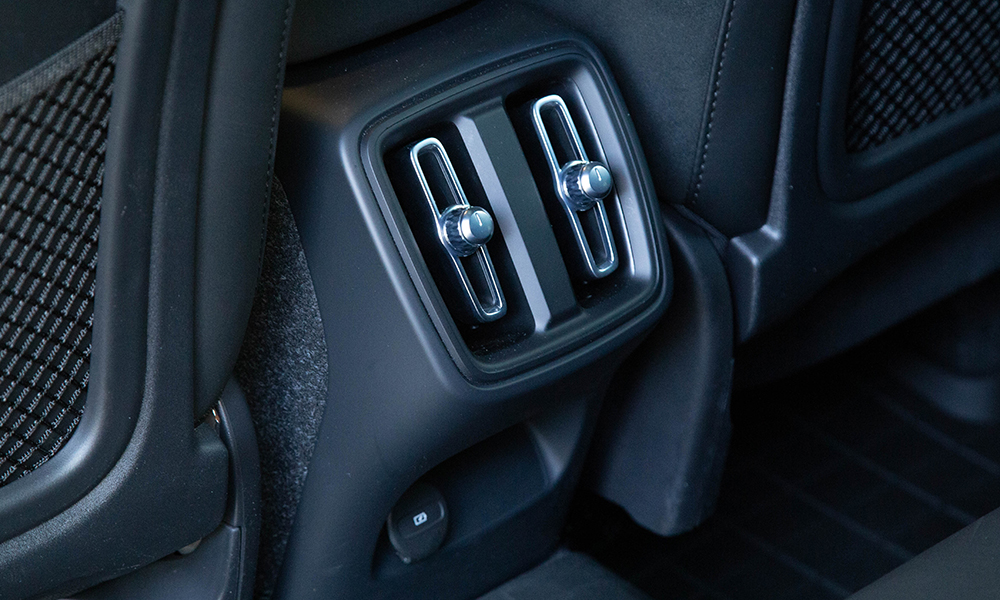 The XC40 is the cheapest model you can buy in Volvo's lineup today, and you can see it in the interior. At first glance, you wouldn't use the words "fancy," "plush" or "lavish" to describe the space. Acres of black plastic, practical rubber, and cloth greet you as you step into the car. Frankly, a Geely looks way flashier than this. But your hands will tell a different story.
Every surface is bathed in beautiful textures. Everything you press and pull is sturdy and solid. Nothing—and I mean nothing—is hollow. The attention to detail in this cabin is top-notch, and every shape and structure just fits and flows into each other. The center features fine gloss-black trims, which adds a bit of shine to the space. There are hardly any buttons, but each one gives a gratifying click.
Harman Kardon emblems on exquisite metal grates peek in the far corners of the front door cards. It ditches the typical ambient lighting setup for a gleam of warm yellow light diffused over the polished metal accents. Yes, the turn signal and wiper stalks are shared with the Coolray, but no, a Geely does not feel like this at all.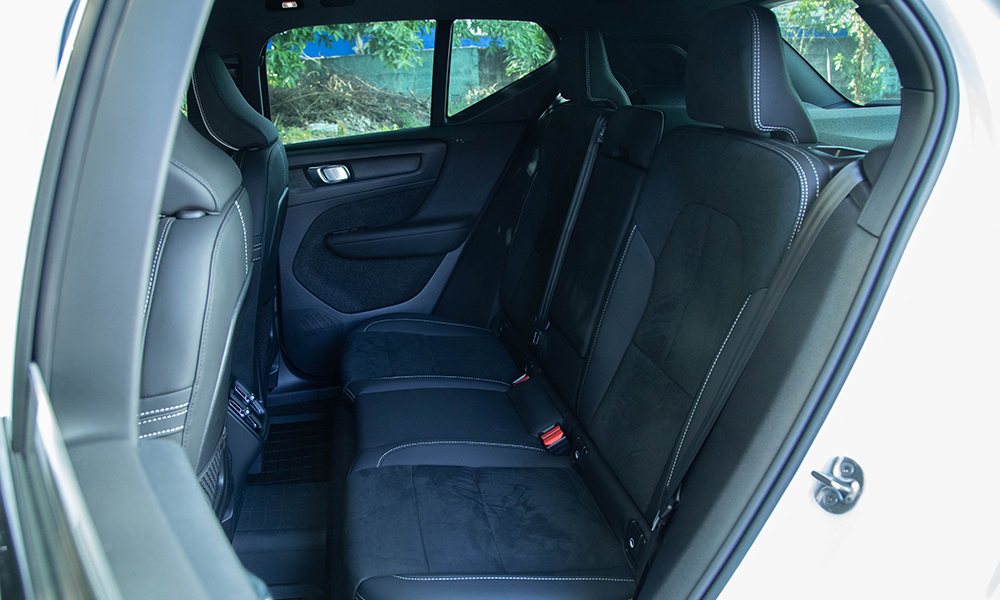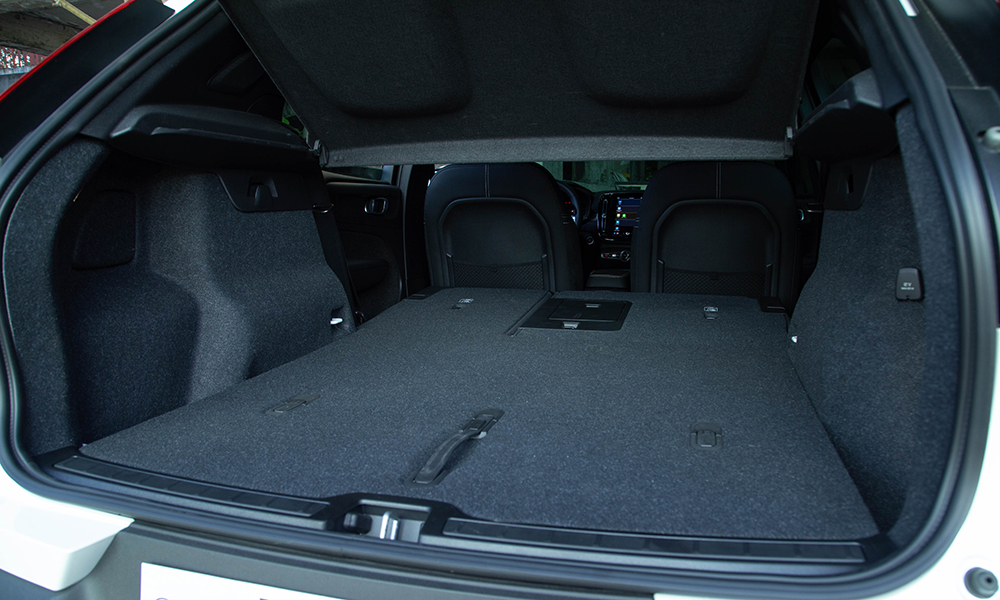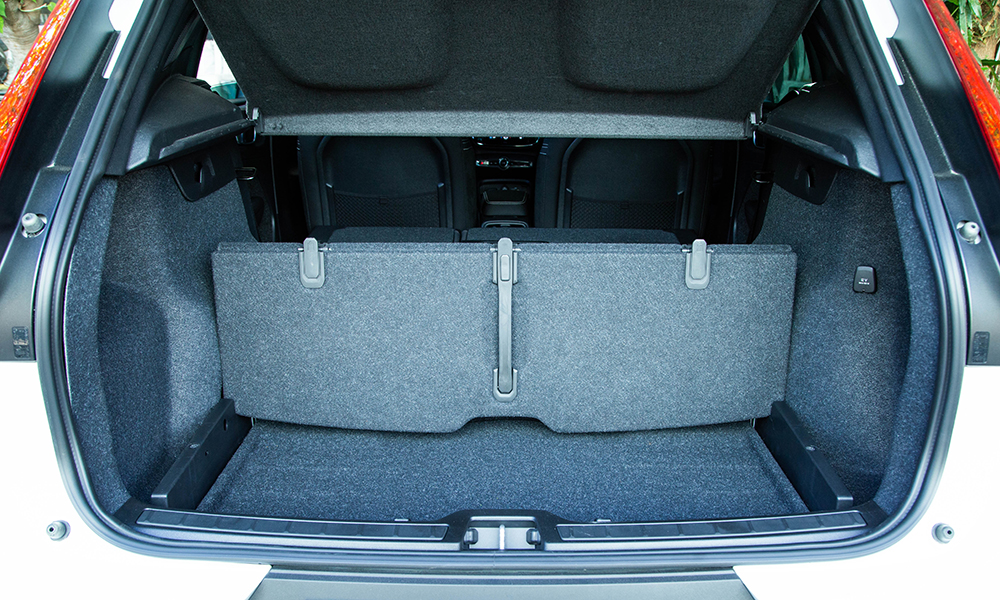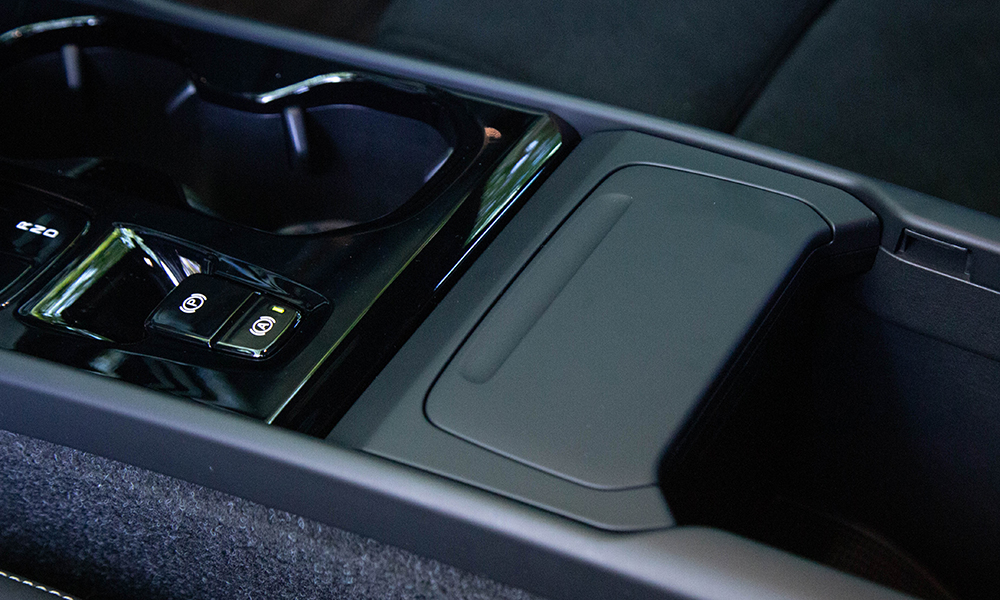 As a subcompact crossover, one thing it does not have is the luxury of space. The car seats five, although the space each passenger gets is, er, unremarkable at best. Practicality is increased by the flat-folding rear seats, the Isofix anchor points, and the rear compartment's floor that can fold up into a wall with hooks for shopping bags and grocery items.
What is remarkable, however, is every passenger's safety while traveling in this Swedish SUV. Volvo is all about safety, after all. The XC40 boasts equipment deemed worthy of a five-star NCAP safety rating, having scored 97% and 87% in adult and child occupant protection, respectively.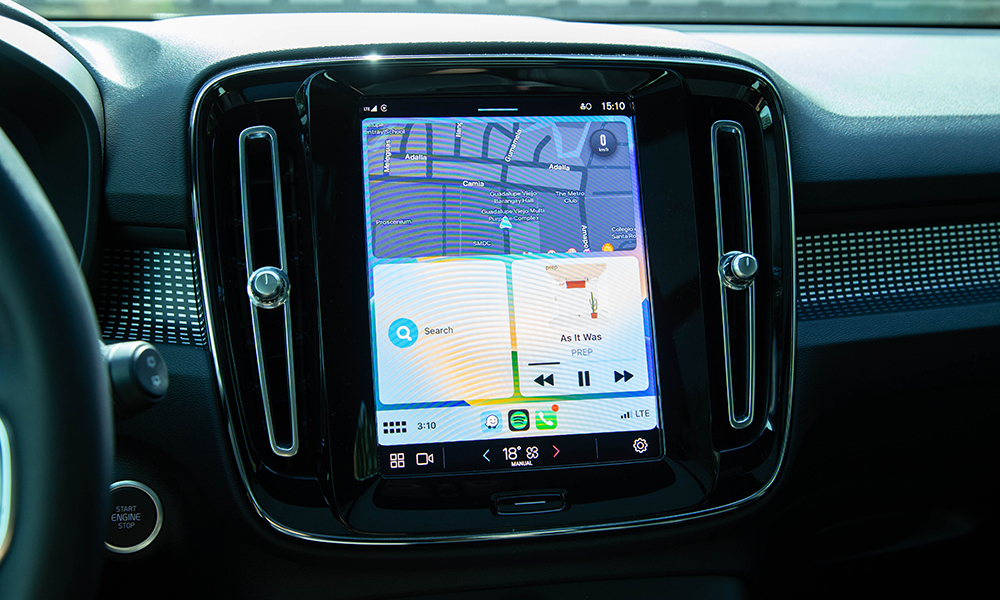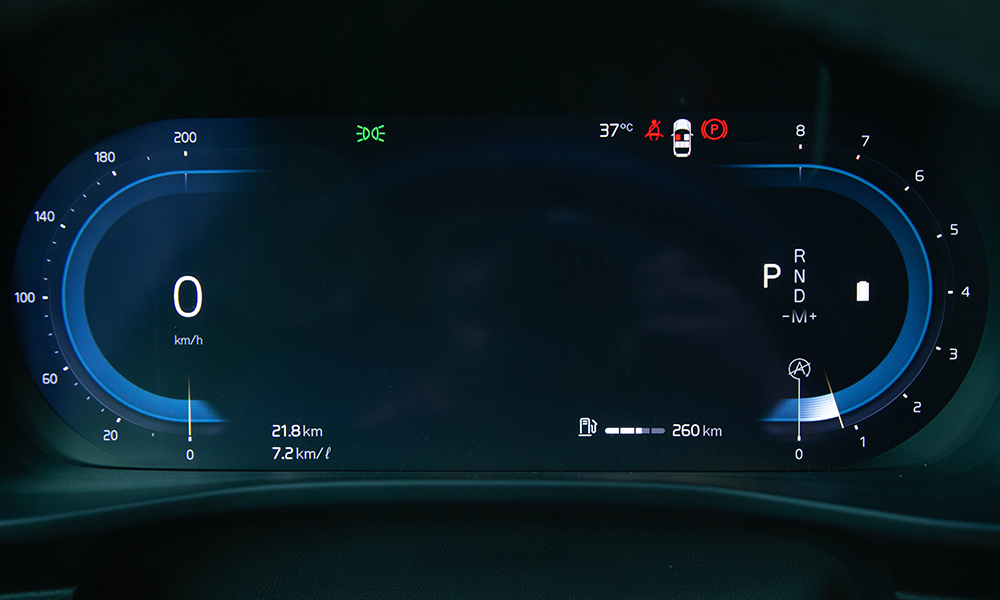 This is, in large part, thanks to Volvo's Intellisafe systems that integrate such features as collision mitigation, 360° cameras, cross-traffic alerts with auto brake, BLIS (Blind Spot Information System), lane-keep assist, and of course, adaptive cruise control.
For infotainment, the XC40 comes with a nine-inch infotainment screen front and center. The device is delightfully uncomplicated and straightforward in both design and function. It controls a few settings here and there, but Volvo has kept customization to a minimum presumably for simplicity's sake. It is capable of mobile-phone integration via wireless Apple CarPlay and Android Auto, and pushes sound through high-fidelity Harman Kardon speakers.
The driver gets a 12.3-inch digital gauge display with the most subdued graphics and the clearest resolution. The layout is uncluttered yet it still delivers all the necessary information. Again, it's simple but oh-so-gorgeous.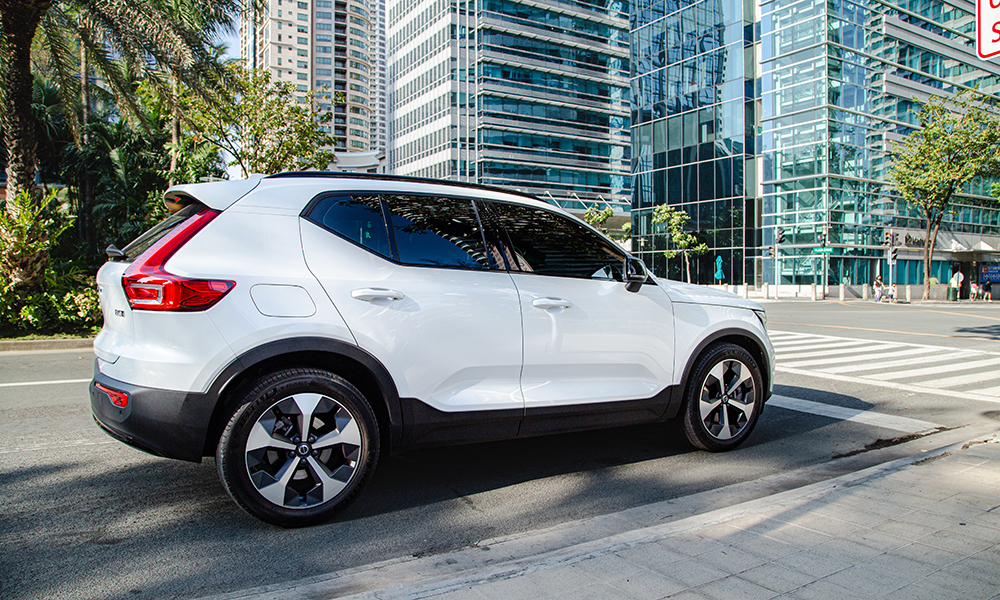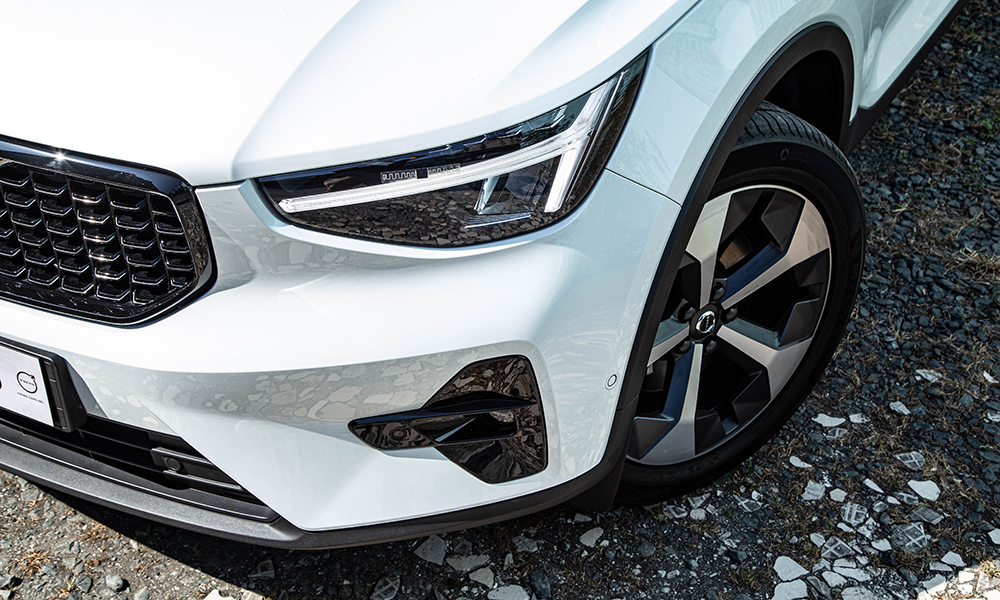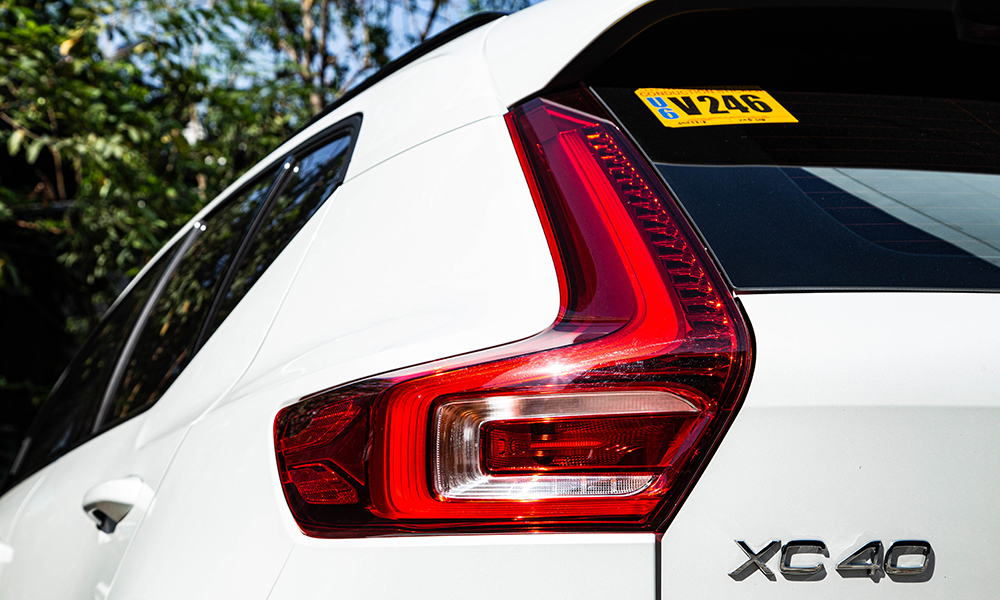 And the simplicity continues on the outside. Right off the bat, the XC40 hits you with LED eyes that glisten beautifully in the night sky, a face so adorable you just want to pinch its cheeks, and the hips of a goddess. The taillights are derived from the iconic C30 of the late 2000s, and it works to bring a certain charm to the table. The Crystal White paint is deep and luscious, while the gloss-black accents complete the upscale aesthetic. The 19-inch wheels are wrapped in 50-profile tires, and despite the aerodynamic design, Volvo has managed to keep it stylish.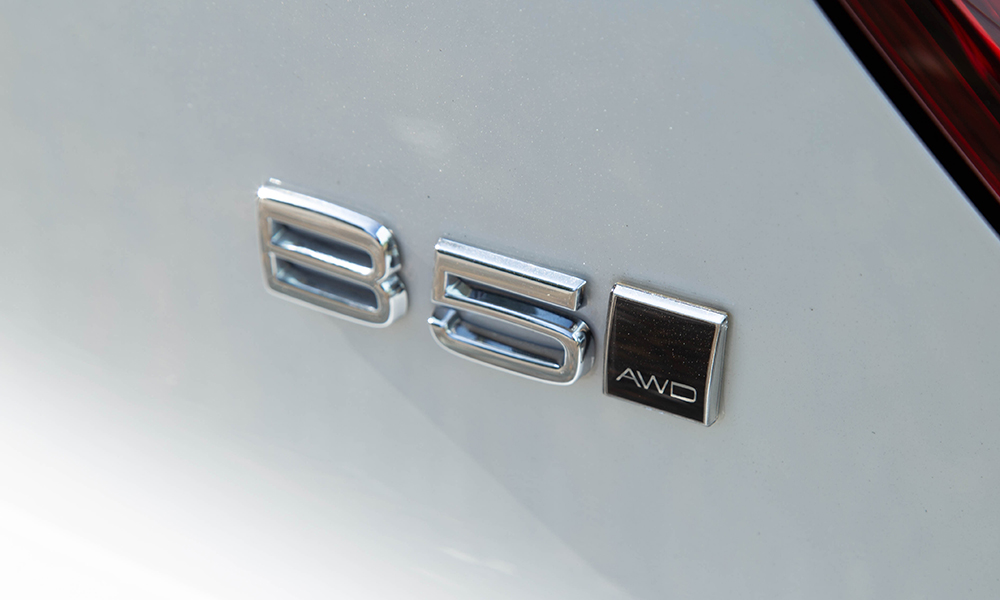 Behind the wheel, the XC40 is able to provide a unique experience due to its Boost Hybrid powertrain. There's an unnatural amount of torque below 2,000rpm thanks to the 48V electric system that works in conjunction with a 2.0-liter turbocharged four-banger that delivers a total of 264hp and 390Nm.
The acceleration is nothing crazy like a monstrous BEV, but it's also out of the realm of possibility for a turbocharged ICE alone at 1,500rpm. I quickly found myself yearning desperately for sharper steering and a quicker throttle pedal given its capability, but I was disappointed to find that the XC40 does not have switchable drive modes. A shame, really, as its beautifully balanced chassis and immense power are being held back by the slightly lazy points of interaction with the vehicle. Driven sensibly though and its modest size coupled with the mounds of low-end torque makes it a maneuverable city slicker.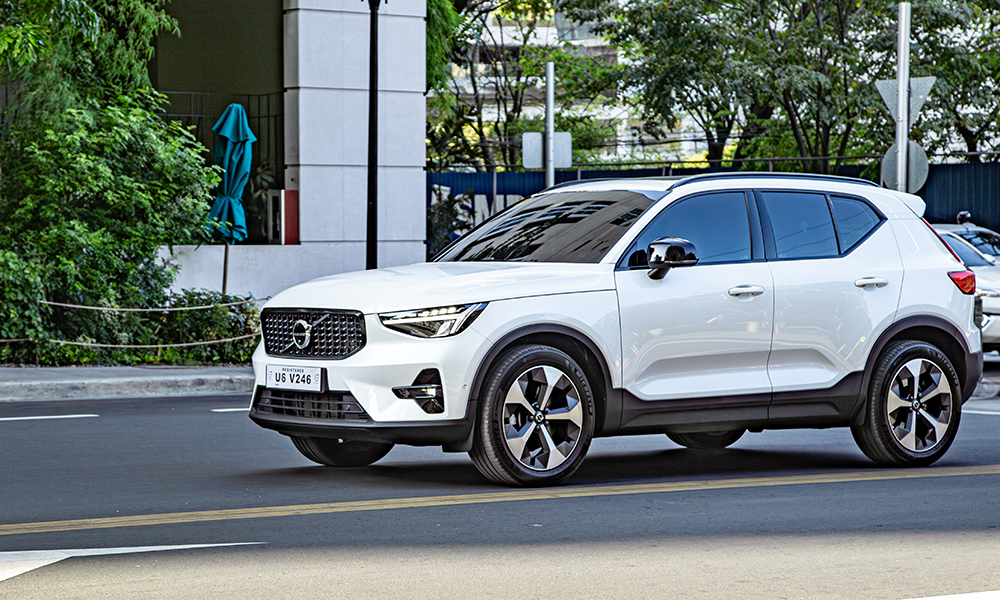 If I had to nitpick, though, the XC40 feels uncommitted. Be it the steering, the throttle response, or the handling, it always sort of straddles the line between BMW-sporty and Mercedes-comfy, which makes the car feel mediocre in these regards. The brakes are also a challenge to moderate smoothly due to the regenerative braking, which will definitely annoy your passengers.
Also, despite being a hybrid and having a start-stop function to help, fuel consumption is right about average for a 2.0-liter dinosaur-burner at a little over 7km/L. To be fair, that was in pure city driving with hours of idling while shooting these photos, too. Oh, and quite a few 6.4-second 0-100km/h acceleration runs. Yipee.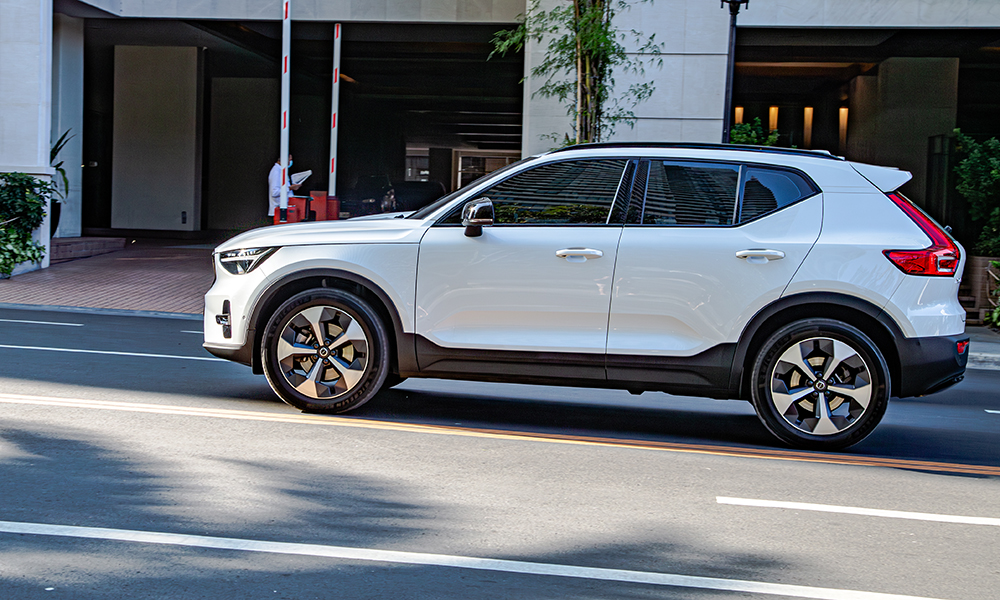 But flaws notwithstanding, the XC40 brings me back to a simpler time. A time when quality defined luxury. Not tech, not fancy drivetrains, not sportiness. While the XC40 does have a sprinkling of all that, it does not rely on those gizmos to stand out. It's stylish and chic in the way a Hermès Birkin is. Subtle, subdued, and simple, yet it screams class and opulence.
And consider its rivals. The Mercedes-Benz GLA will remind you that you cheaped out and bought the cheapest Mercedes SUV you could every time you sit in it. The BMW X1 could be a viable option, but not everyone is a fan of the manholes posing as kidney grilles up front (not to mention that the X1 is P200,000 more expensive). The Volvo gets everything right. It simply stands out as the obvious choice.
VOLVO XC40 B5 R-DESIGN
| | |
| --- | --- |
| Engine | 2.0-liter in-line-four gasoline with 48V mild-hybrid system |
| Transmission | 8-speed automatic |
| Power | 264hp (petrol engine + electric motor) |
| Torque | 390Nm (petrol engine + electric motor) |
| Dimensions | 4,425mm x 1,863mm x 1,652mm |
| Drive layout | AWD |
| Seating | 5 |
| Price | P3,690,000 |
| Upside | Swedish luxury in a small package. |
| Downside | Despite being a mild hybrid, the XC40 is very thirsty for a car this size. |