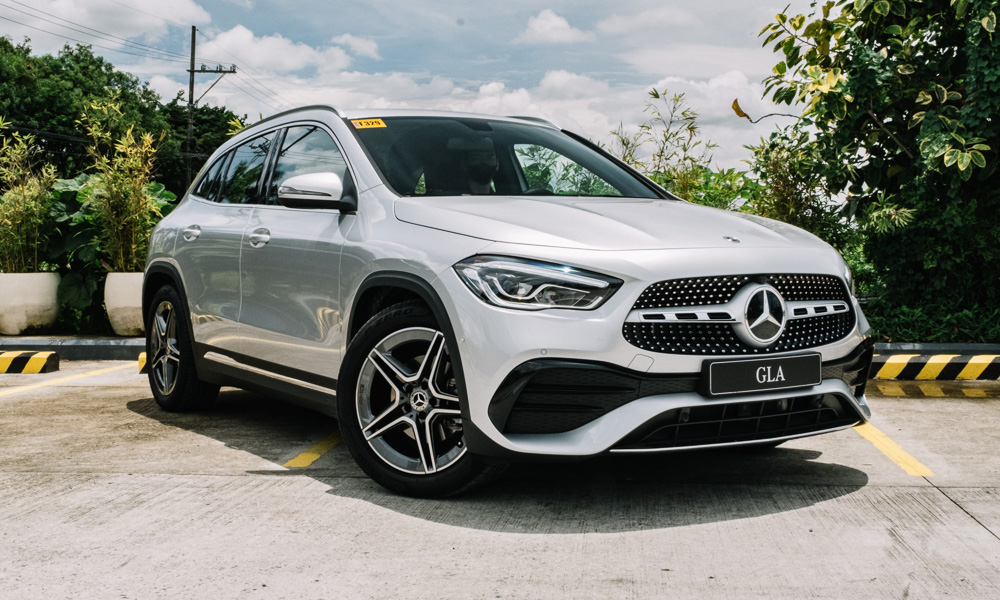 When you think about a Mercedes-Benz, images of its sedans and its opulent Maybach siblings come to mind. Like many other manufacturers, it, too, has been making other SUVs and crossovers aside from the Geländewagen.
With this new form factor being more popular in today's market, Mercedes-Benz has expanded its GL line in a similar vein to its sedan lineup—the GLA, the GLB, the GLC, the GLE, and the GLS.
Today, we're taking a look at the entry-level offering, the GLA. You might be quick to think that this may be a lifted A-Class (technically, it rides on the same platform), but believe me, it presents itself as more than that.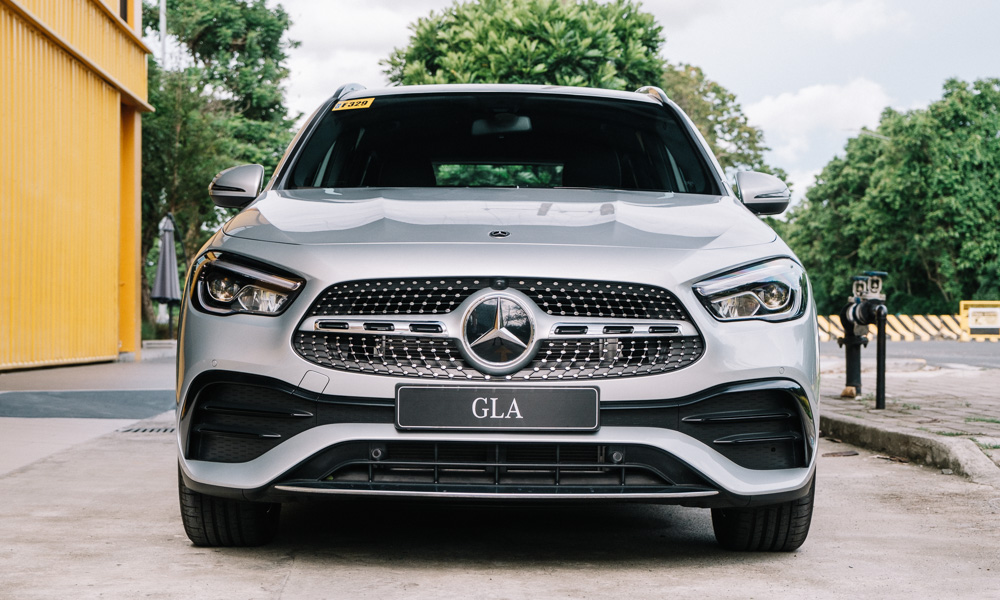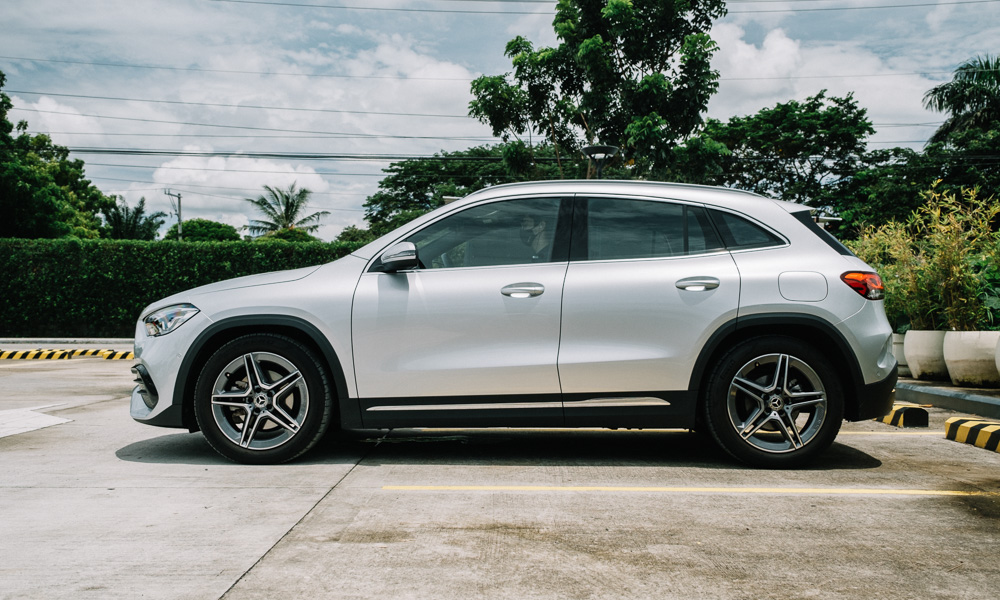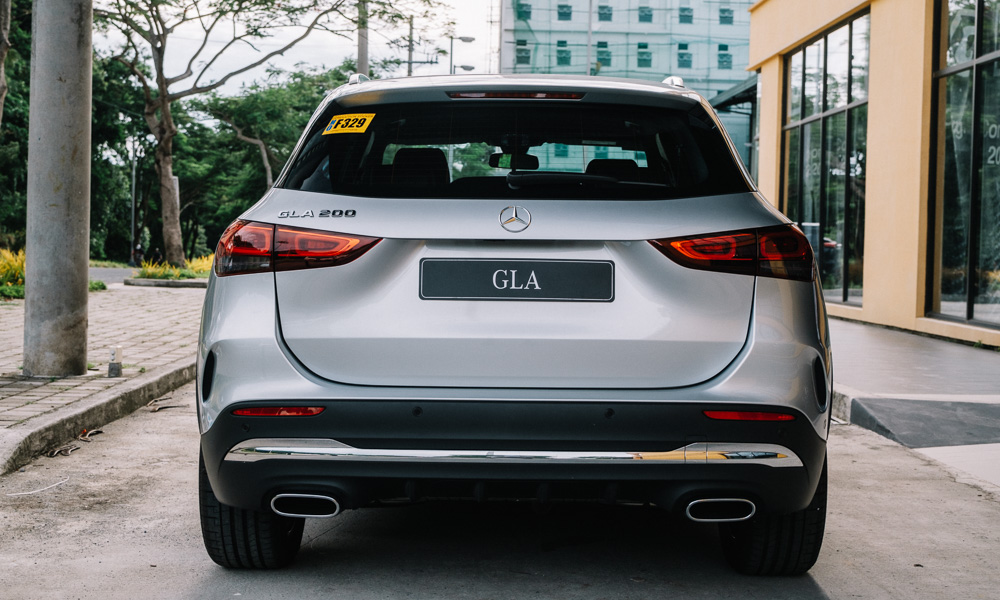 It's sporty enough to pass off as a raised hot hatch with plastic cladding. While the vehicle's AMG Line cosmetics are not for everyone, I personally think it works well enough to differentiate it from its other Euro competitors, but it will always turn heads thanks to that three-pointed star up front.
It still retains all the practical traits found in a crossover, like the increased ride height and the ease of ingress/egress into the vehicle's cabin. I wouldn't bring it off-road, especially with these 19-inch five-spoke AMG wheels. Leave that for your G-Class.
Do note that this trim comes with a lowered comfort suspension for a more aggressive stance, so if ground clearance is a concern for you, the Progressive Line comes with a suspension that rides a bit higher.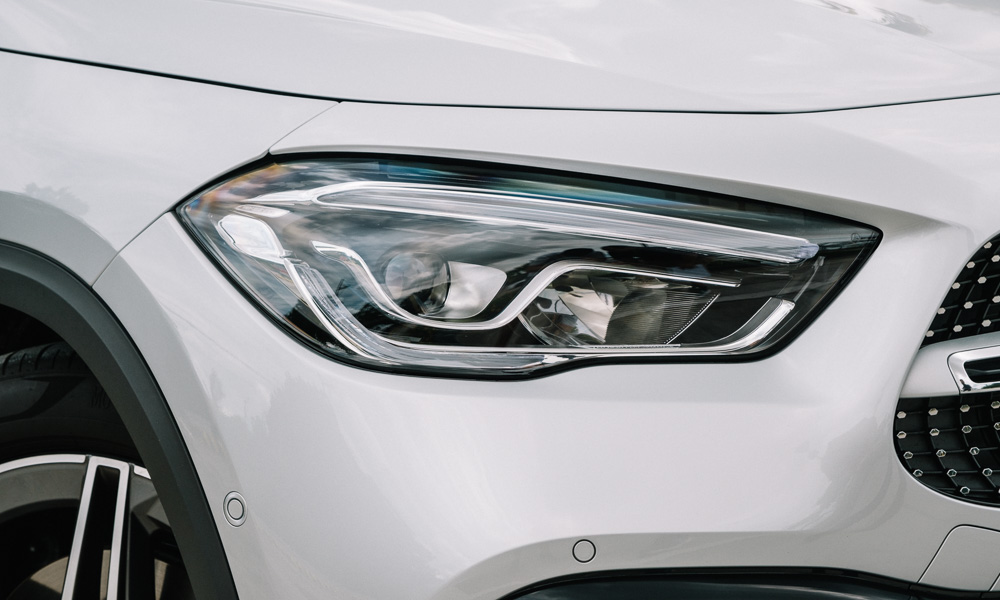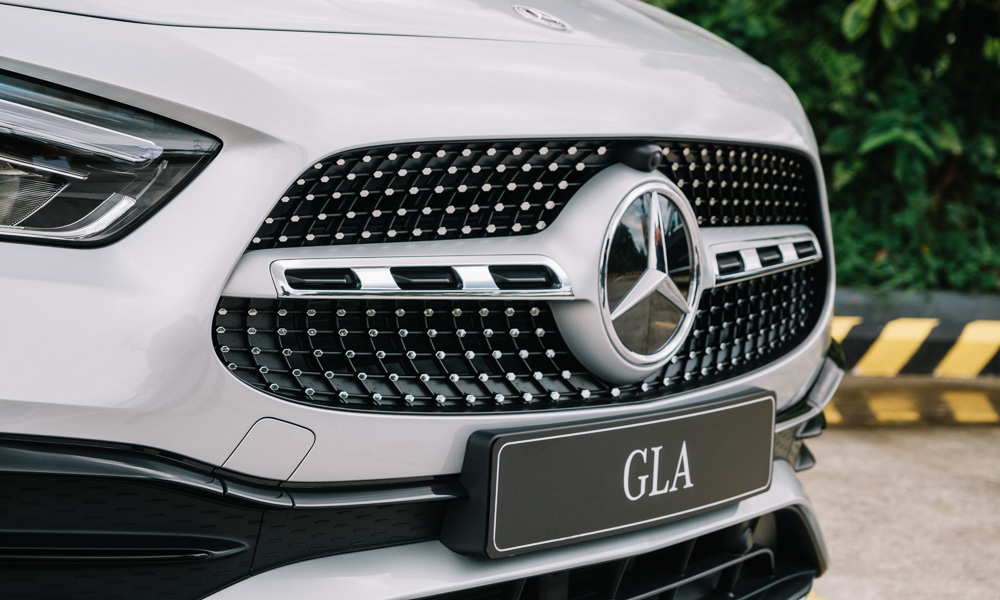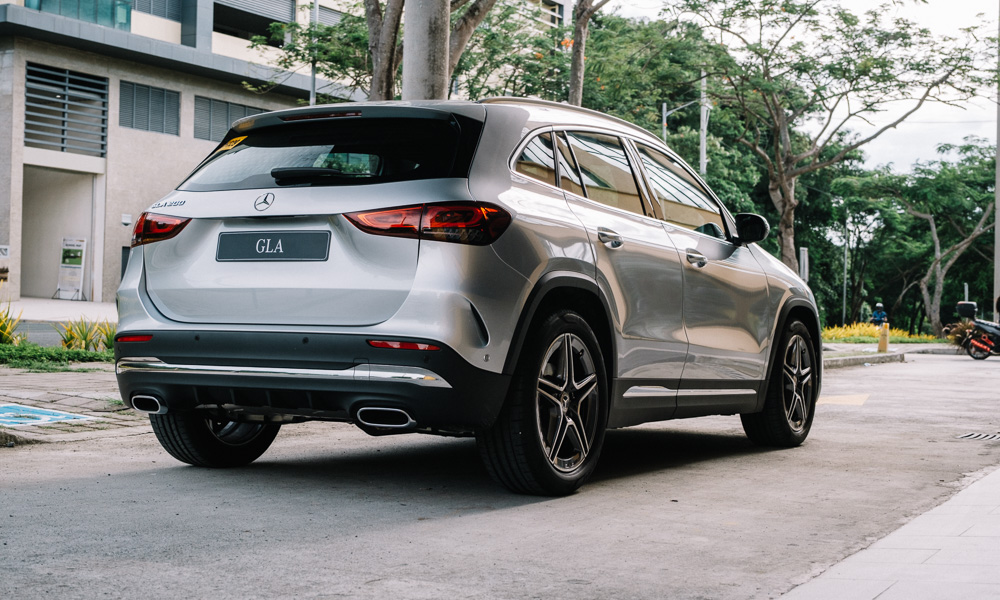 If there's one thing that you'll come to expect from a Benz, it's that you're getting rock-solid build quality inside and out. You don't see any funky panel gaps or hear any creaking, and closing the door has the sound (and the feel) of a vault.
And when you step inside the cabin, well, this is where things start to get a little complicated for me despite all of the good traits and qualities it possesses.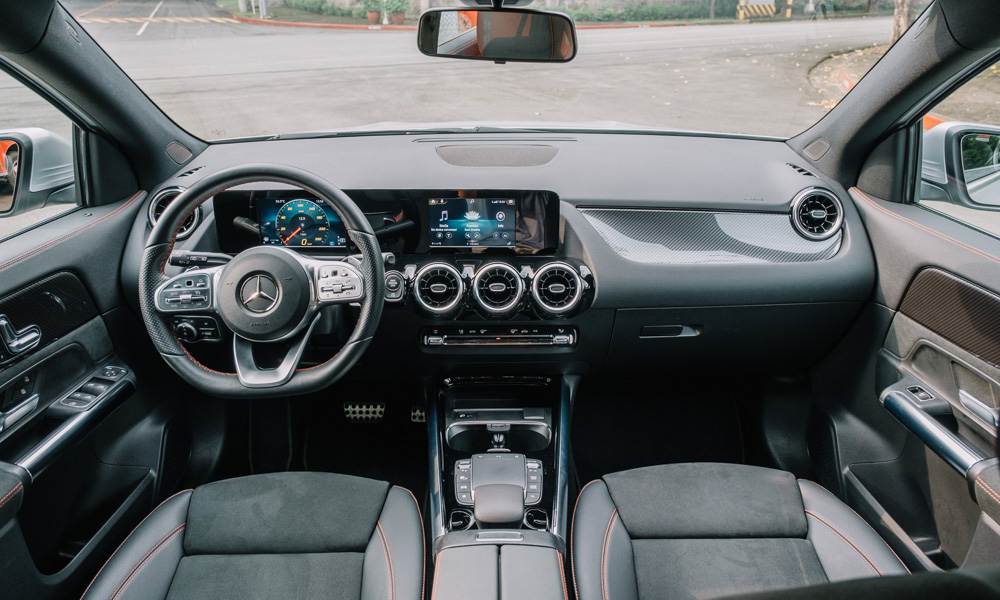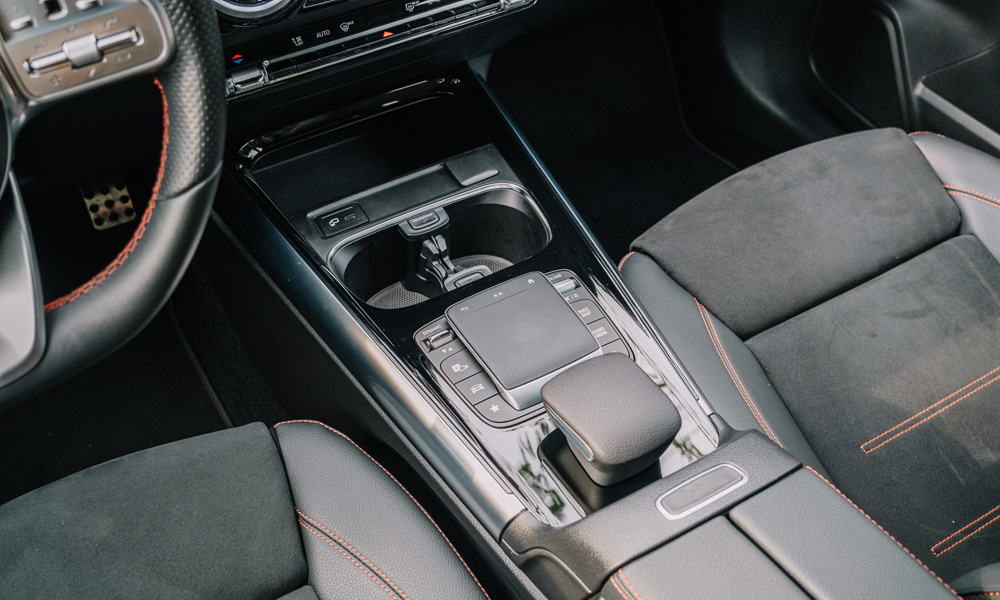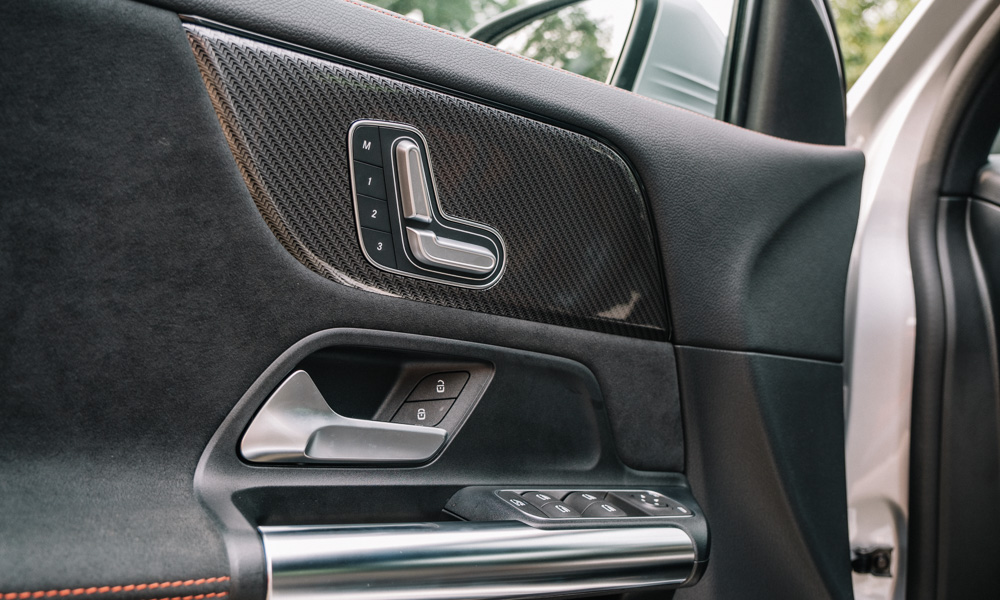 What I found conflicting in this cabin was the execution and the feature set present. There are positives like the tactile and ergonomic switchgear, a voice assistant that can be summoned by the keywords "Hey Mercedes" (but it's a hit-or-miss with our accent), and the MBUX, which is one of the most fluid, easy-to-use, and responsive operating systems displayed on two crisp and vivid seven-inch displays, with good, punchy audio coming out of the unbranded sound system.
Unfortunately, those displays are slightly recessed and surrounded by some of the thickest piano-black bezels I have seen in a car. I know this is supposed to emulate a single glass pane, which oddly enough, the Progressive Line has alongside a larger 10.25-inch infotainment screen, but this is arguably the biggest turn-off for me in the cabin. To be fair, I could be wrong as newer GLAs might all come with the 'glass slab' setup.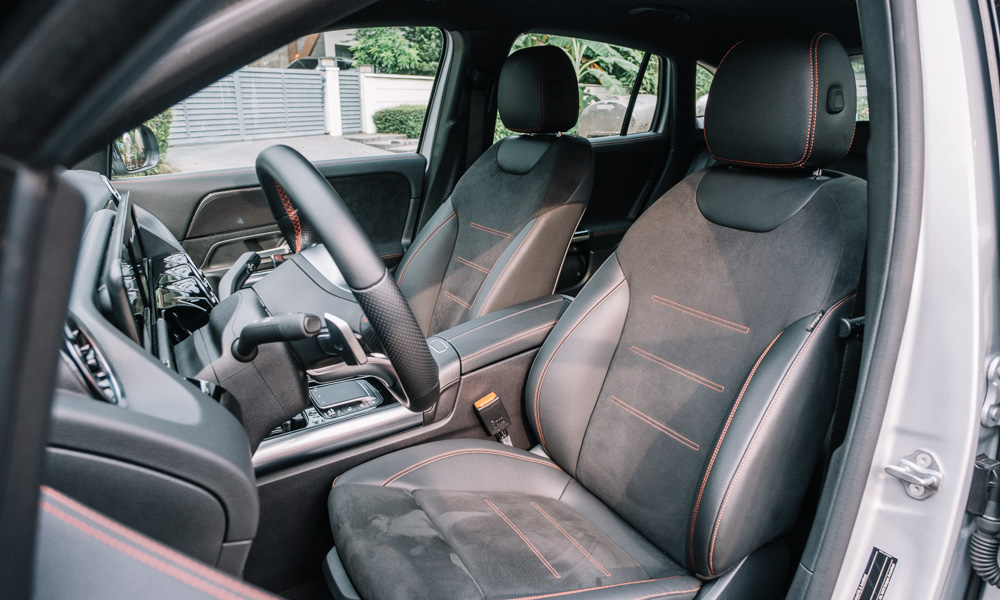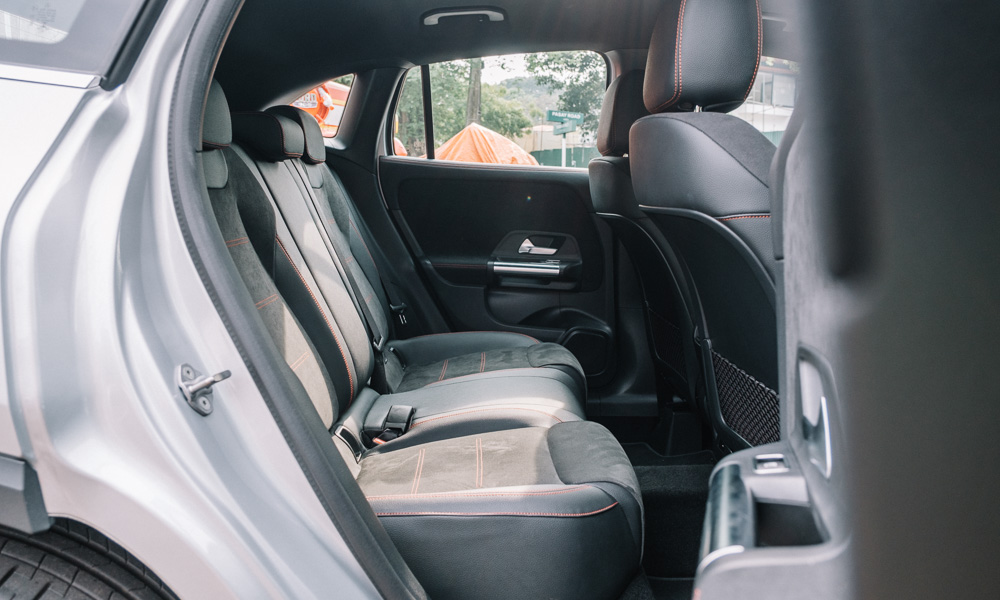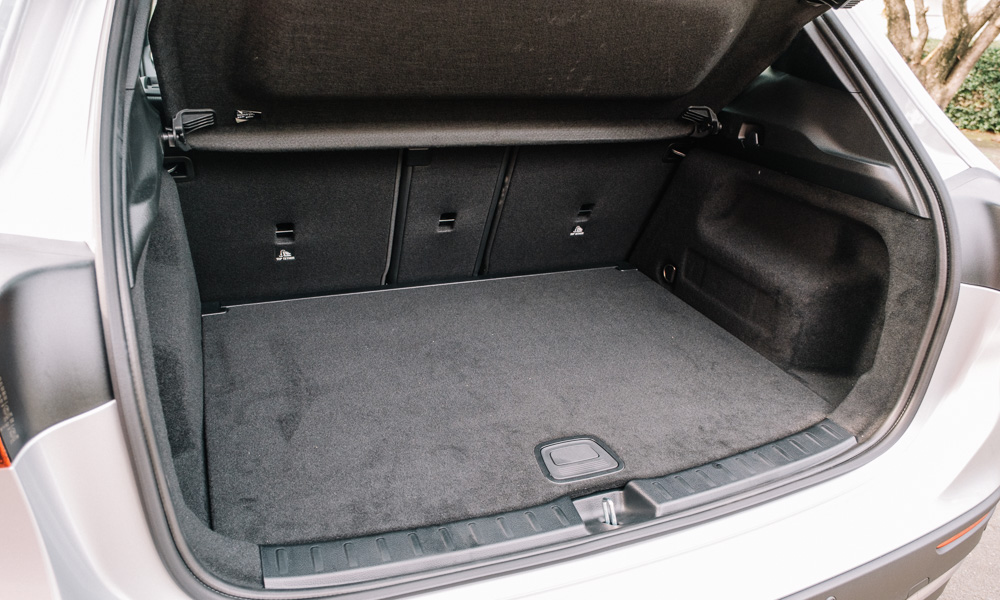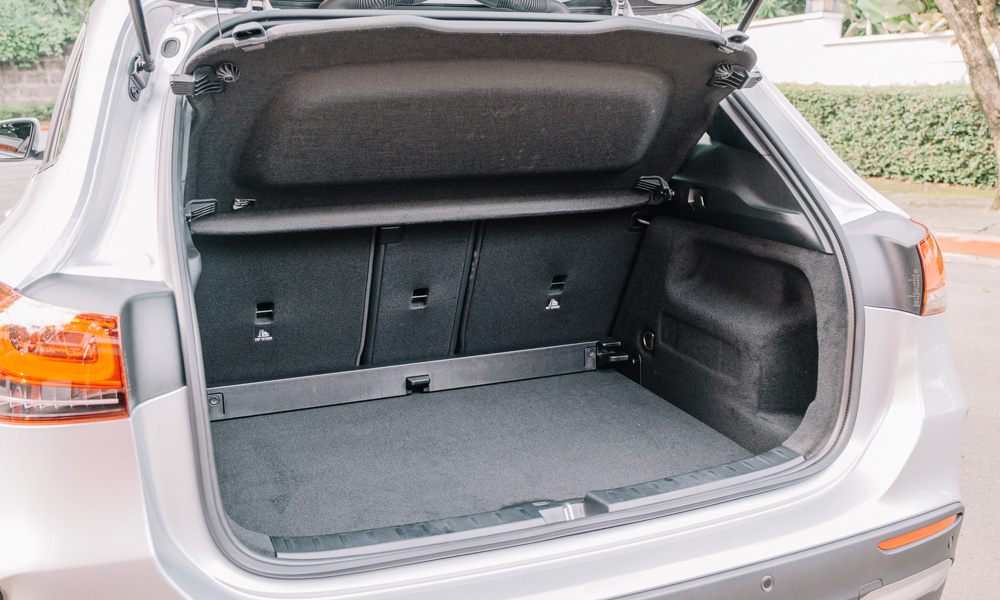 At least the fundamentals weren't glossed over, which makes the car a comfortable and practical crossover to live with.
The seats are upholstered in a mix of synthetic leather (called Artico) and suede-like material (called Dinamica microfiber). This combination allows for the best of both worlds in comfort and luxury, while not roasting your rump and back on hot days.
The rear seats have a good amount of legroom and headroom for my tall frame to be comfortable, save for the smallish rear window that makes it feel a little cramped. I wouldn't call it class-leading, as that award goes to the new BMW X1 and its compact SUV-like second row.
Interestingly, the driver's seat is the only one with power adjustment (the passenger's has to contend with manual controls), and this enables a feature called Energizing Seat Kinetics. No, this is not a massager, but rather, a function that moves the seat ever so slightly to help fight fatigue on long drives. It's subtle, but it works well enough, so props to the engineers who thought of this.
Finally, you have a 495L cargo space. You can reach this figure by forgoing the parcel shelf and lowering the load floor, and the rear seats fold down in a 40:20:40 split for more flexibility when you have to carry longer cargo. Plus, you have cubbyholes and storage pockets all around the cabin, so there's no shortage of where to chuck your items.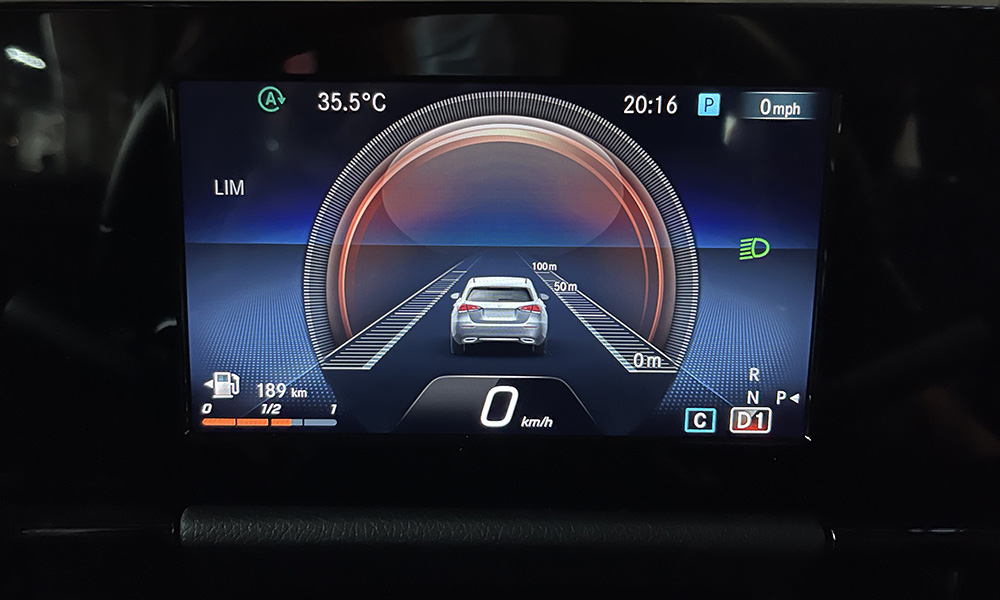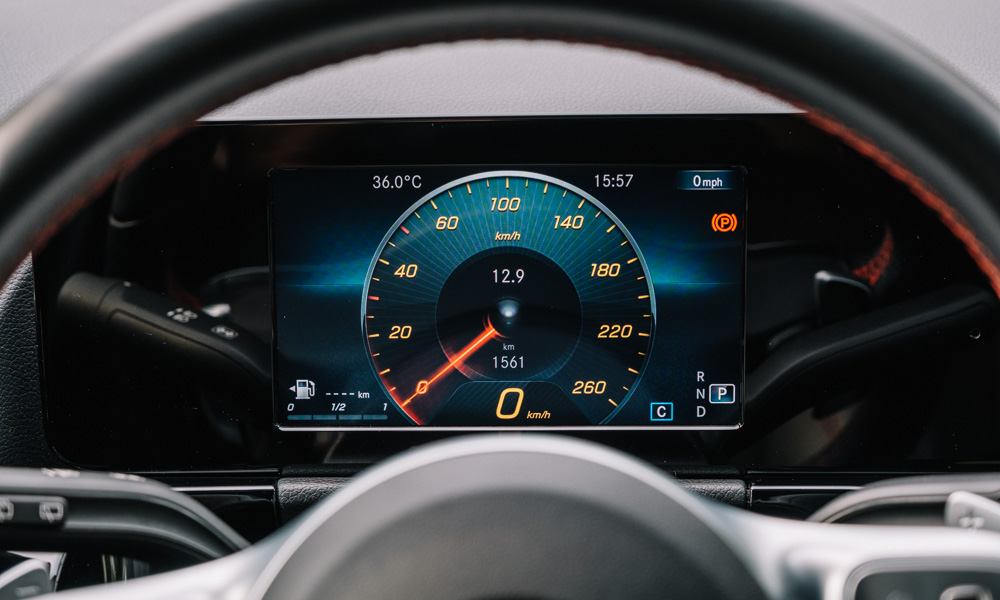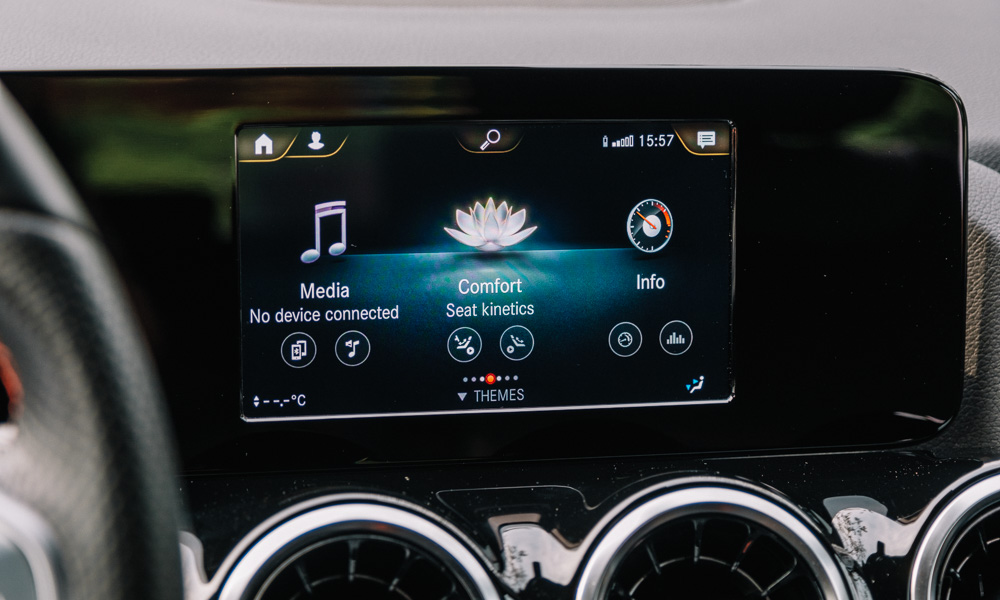 For the price, I find it wrong that it lacks driver assists like adaptive cruise control and a blind-spot monitor. But it has adaptive headlights, a really good suite of parking-assistance tech (including a reversing camera that pops out to stay clean and hidden), and a very accurate collision prevention system (called Distronic) that managed to alert me to the car ahead of me, which suddenly stopped a couple of milliseconds before I noticed—preventing what could've been a serious pileup.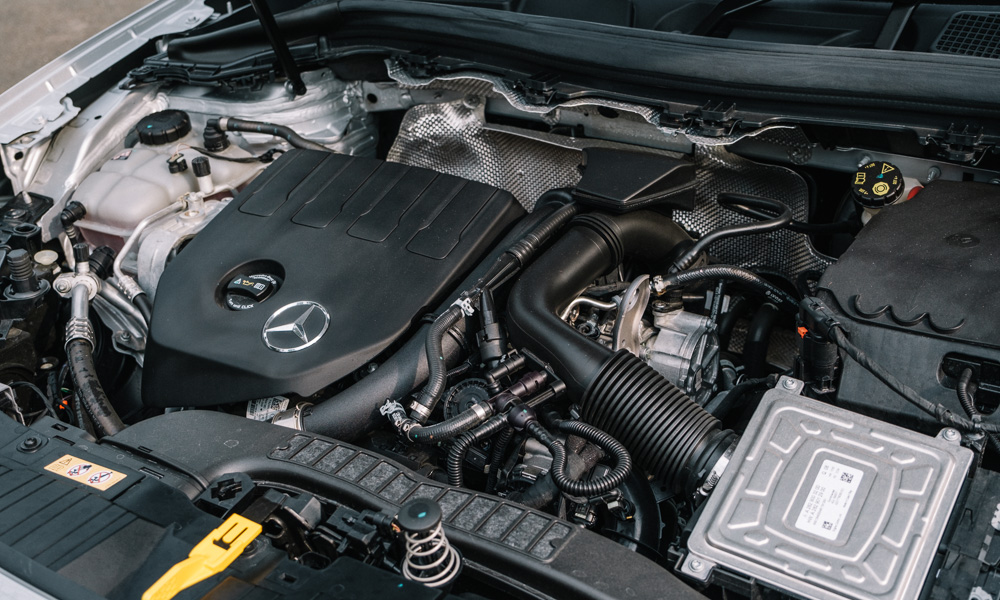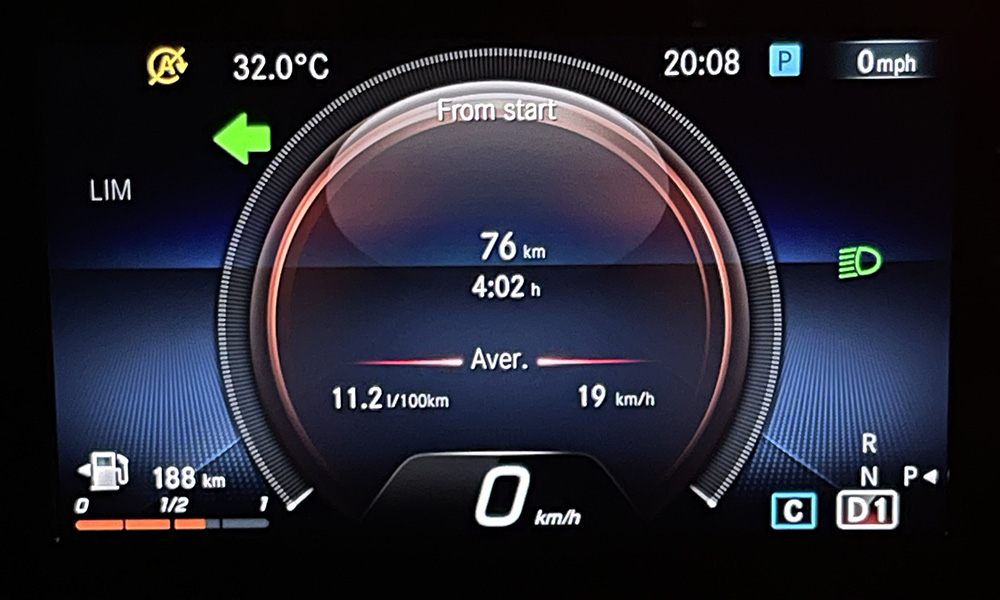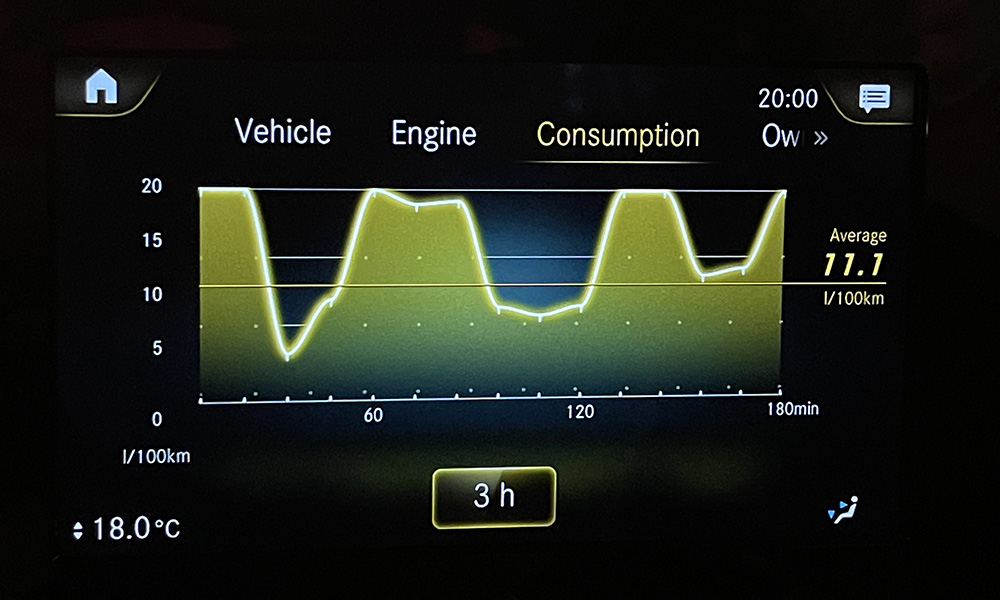 Despite this vehicle's AMG-inspired looks, you won't find an AMG engine underneath the hood. Instead, nestled in the middle is a tiny 1.3-liter in-line-four turbocharged gasoline engine called the M282. It has a conservative power output of 161hp and 250Nm, and is mated to a seven-speed dual-clutch automatic transmission.
Despite its diminutive displacement, it's a gutsy engine that drives like something bigger. It feels nimble and can manage to get up to expressway speeds with ease, and the dual-clutch transmission is one of the smoother-shifting ones out there. It's also a very frugal engine, especially if the auto start-stop is on. Cruising on highways gave me 18.5km/L, and crawling in heavy rush-hour traffic got me a surprising figure of 8.2km/L.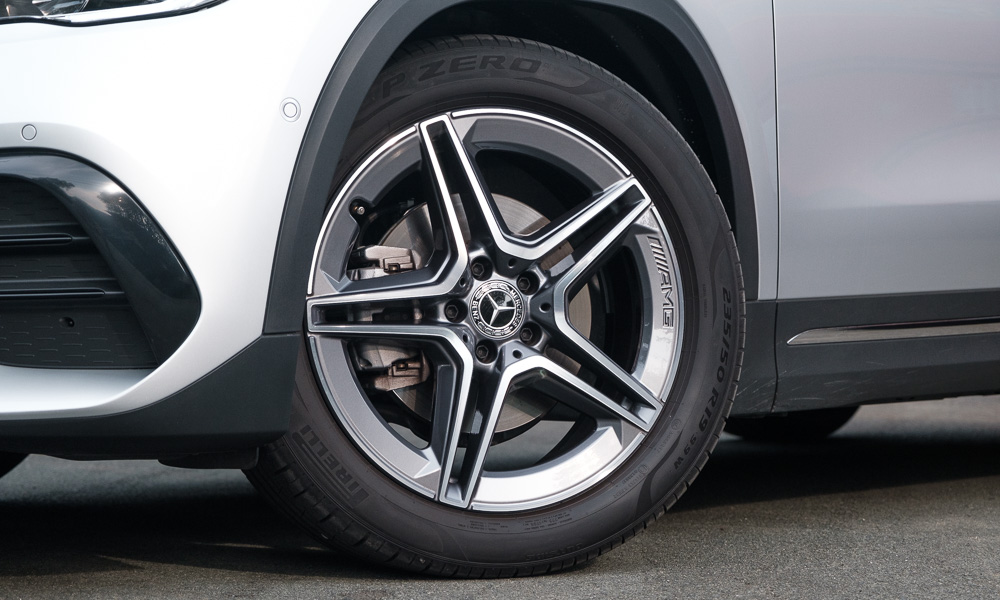 At this point, I'd tell you about the car's handling and NVH (which were excellent), but I found out that this test unit's Pirelli P Zero tires (235/50) didn't come standard. Instead, the stock rubber will be Continental EcoContact 6 (235/50). So, the actual ride quality and handling will differ by quite a bit, but I can tell you the suspension is softly sprung, so it soaks up ruts and bumps with ease.
It's an easy-driving car that's meant to shuttle you around the city and on the highway in comfort—a fact that is enhanced by the big rear window, the SUV-like driving position, and the good forward visibility.
And while this may sound obvious, putting the car in Sport mode really brings the engine, the transmission, and the steering to life. The engine response sharpens, the transmission has harder shifts (holding gears longer), and the steering firms up and provides more weight. Just don't throw it around corners as you would an A35 AMG (it's not a performance-oriented variant).
And that's where this vehicle's market comes in. With everyone wanting the practicality that a crossover delivers, something like this makes more sense over something like an A-Class. And for P3.75 million, it ain't cheap, and its curious feature set makes it harder to justify over the likes of the fully loaded Mazda CX-30 M Hybrid or the hybrid-only Lexus UX.
But if you simply must have a vehicle with the three-star badge as your first luxury stepping stone, the GLA200 is an easy choice either in AMG or Progressive Line, and it offers a more prestigious and luxurious driving experience over the BMW X1 and the Audi Q3.
MERCEDES-BENZ GLA200 AMG LINE
| | |
| --- | --- |
| Engine | 1.3-liter turbocharged in-line-4 gasoline |
| Transmission | 7-speed dual-clutch automatic |
| Power | 163hp @ 5,500rpm |
| Torque | 250Nm @ 1,620-4,000rpm |
| Dimensions | 4,410mm x 1,834mm x 1,611mm |
| Drive layout | FWD |
| Seating | 5 |
| Price | P3,750,000 |
| Upside | Clean, understated styling, comfortable ride, and an economical engine. |
| Downside | Curious feature omissions and some parts of the interior detract from the experience. |