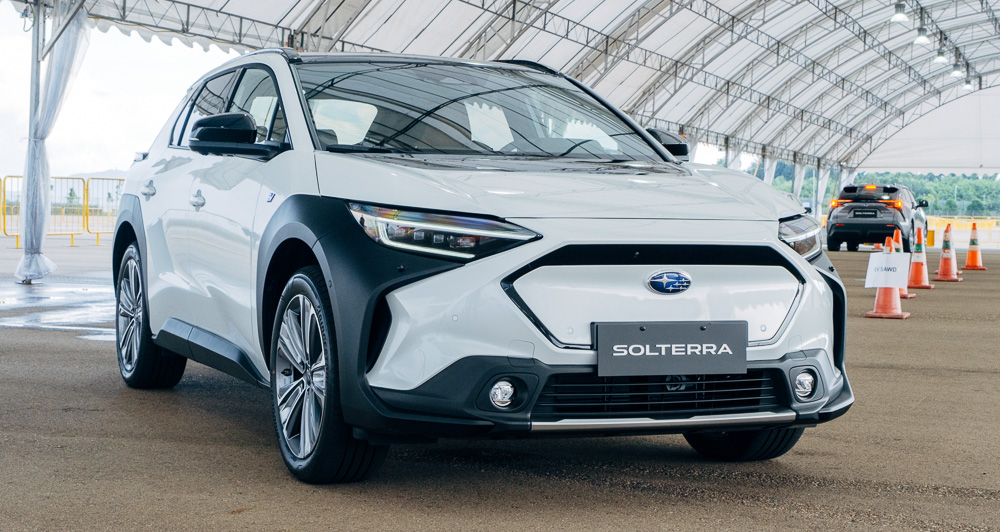 It has been said over and over again that the electric era is finally upon us. Americans lead the charge, followed by the Germans who pushed the technological envelope. With the exception of Nissan, the Japanese in particular have been a little slow with full-electric adoption.
Fast-forward a couple of years, and just about every major manufacturer from the Land of the Rising Sun has its own EV. In Subaru's case, its first-ever electric car, the Solterra, is not a true-blue Subaru per se, but the result of a collaboration with Toyota. Not like that's a bad thing, as that partnership has worked out surprisingly well in the past.
After the vehicle's global unveiling, the EV finally makes its ASEAN debut at the Singapore Motor Show—to which Motor Image Pilipinas (the official distributor of Subaru in our country) brought us. We were also able to spend a few moments with a preview unit at the so-called Advanced Technology Drive event.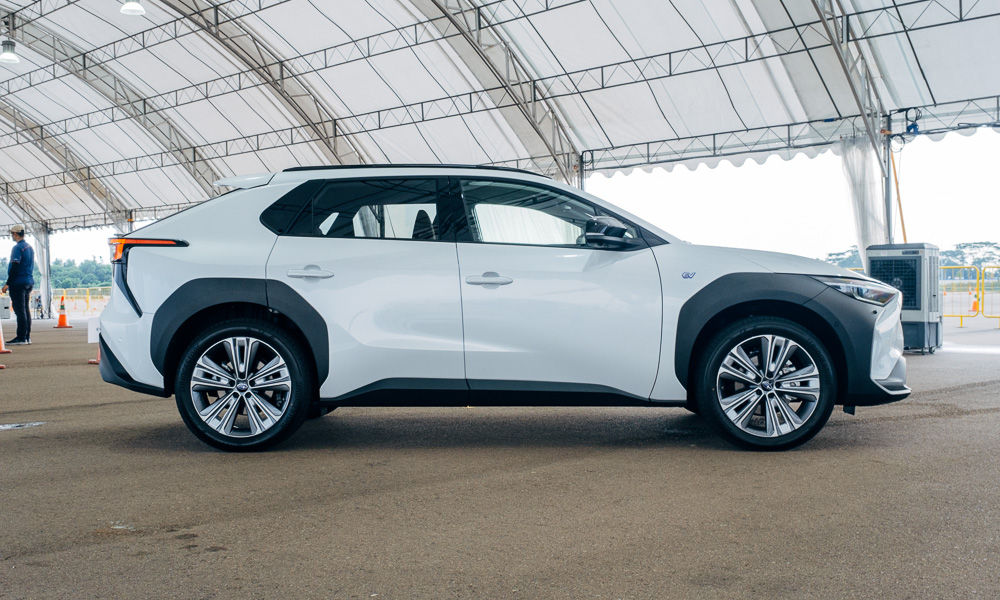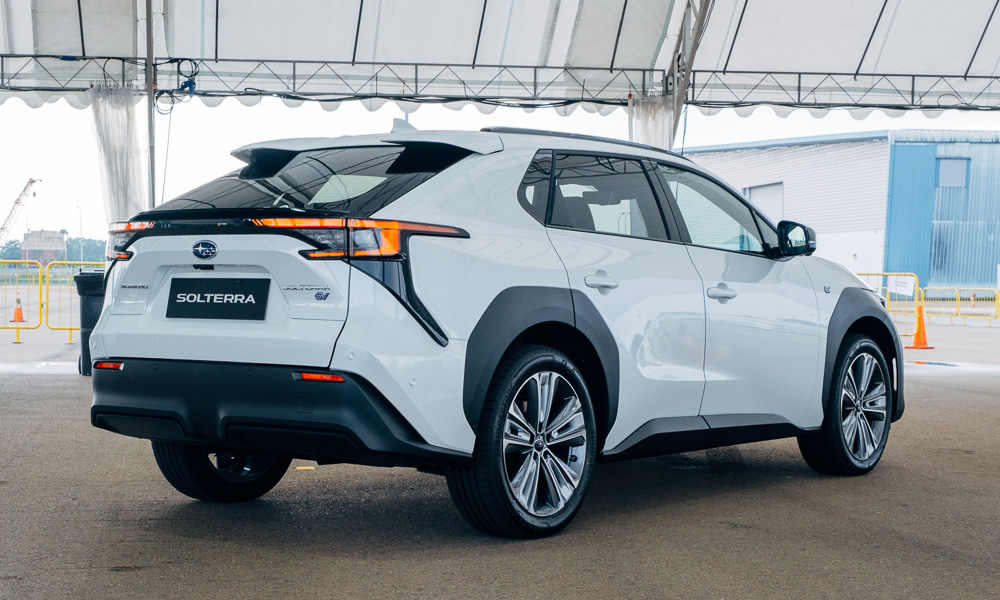 There's a common trend for EVs nowadays: no grille, a futuristic light signature either in the form of split headlights or a lightbar, and aerodynamically sculpted bodywork. The Solterra adopts all of these, but, at the same time, is one of the more unique-looking ones.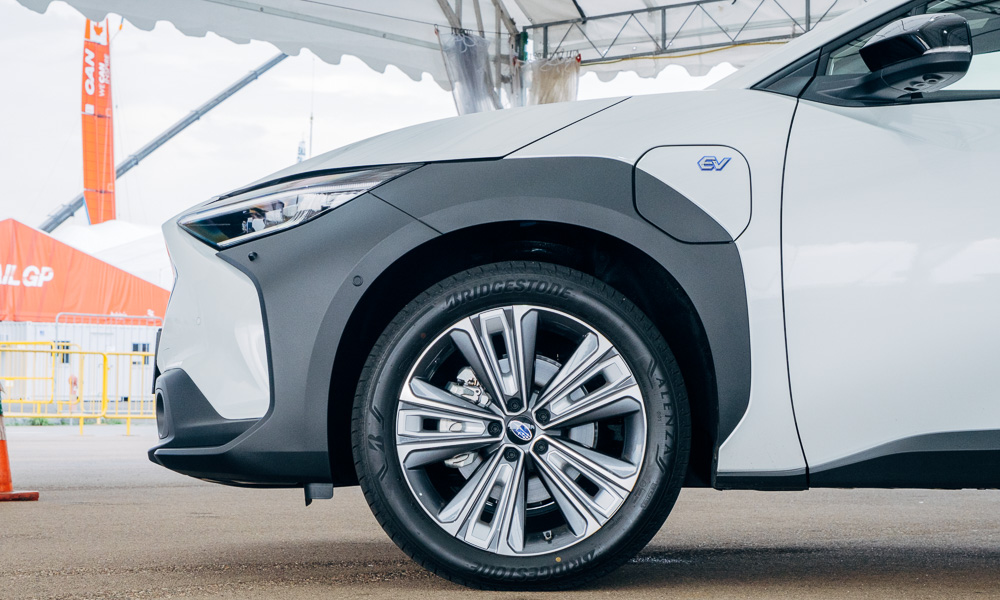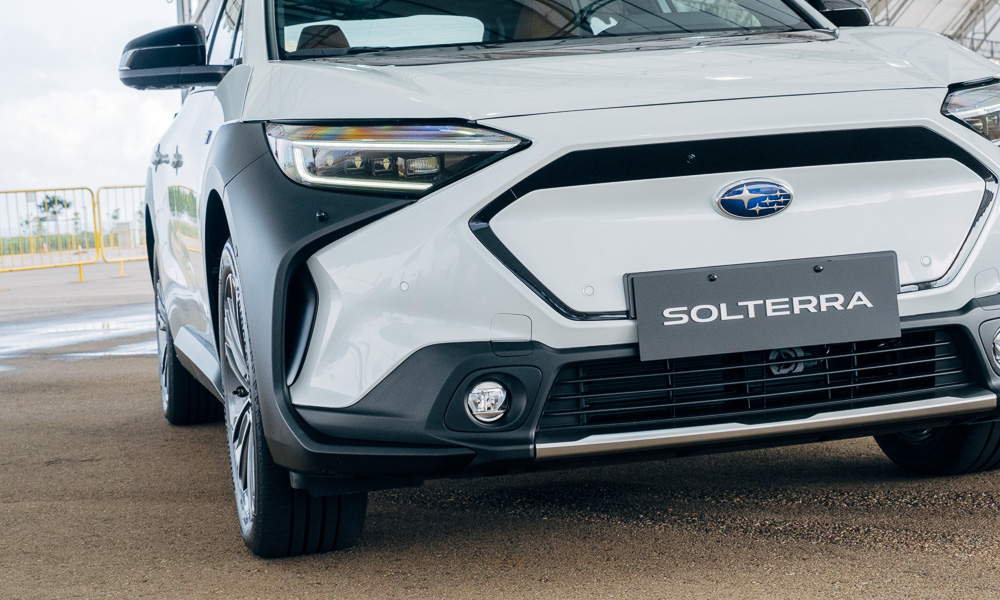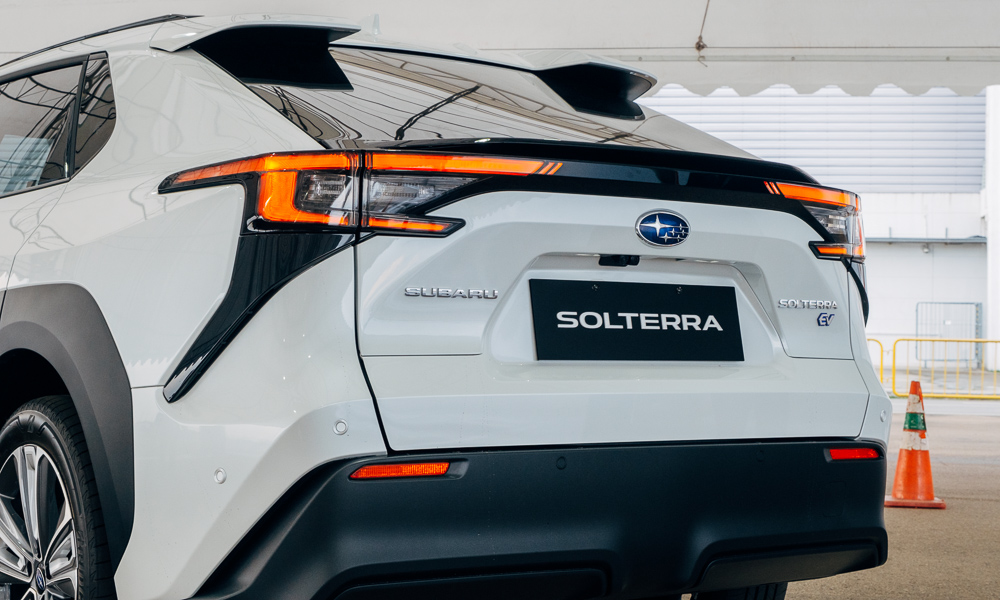 It has a face similar to a hammerhead shark, and gobs of black plastic cladding on the front and rear fenders. It rides on 20-inch wheels, and has a "split" roof spoiler—yup, this is your trademark Subaru quirkiness coming back, and is also part of the Bolder design language that the company employs.
Just don't squint too hard. Otherwise, you might think that this is a bZ4X, because the inside is just as similar to its Toyota sibling.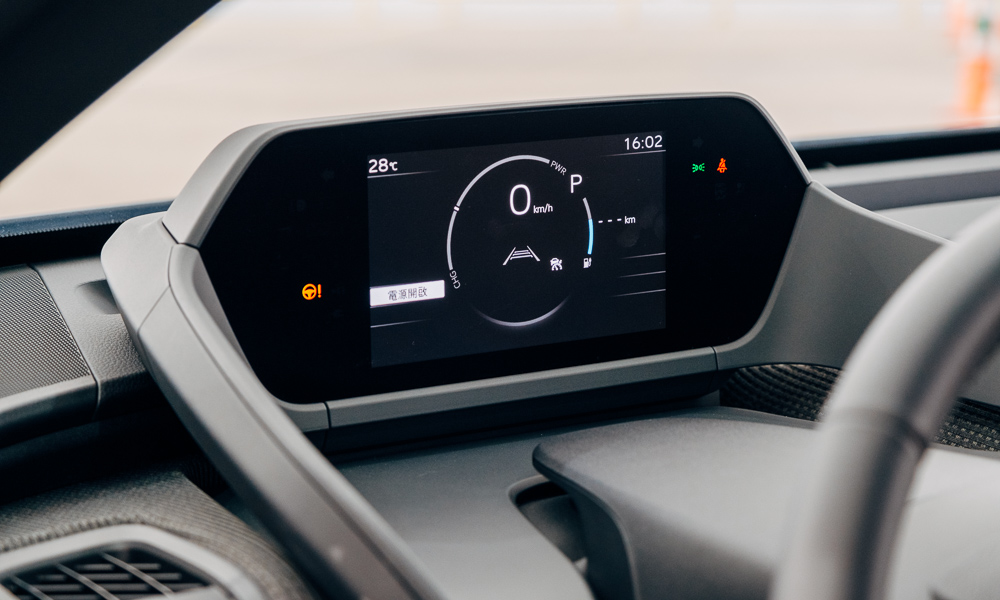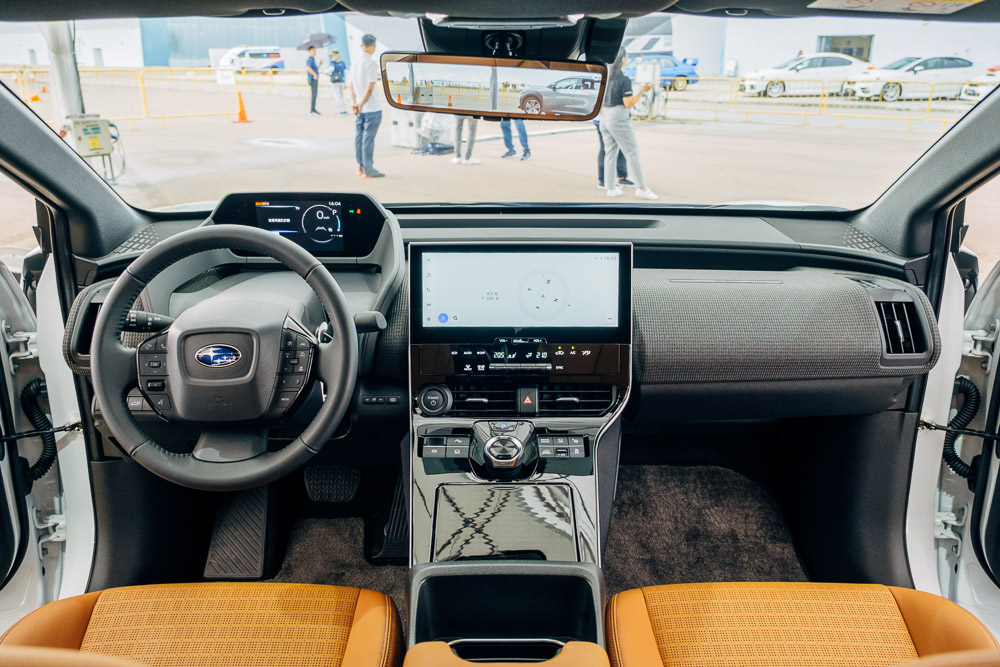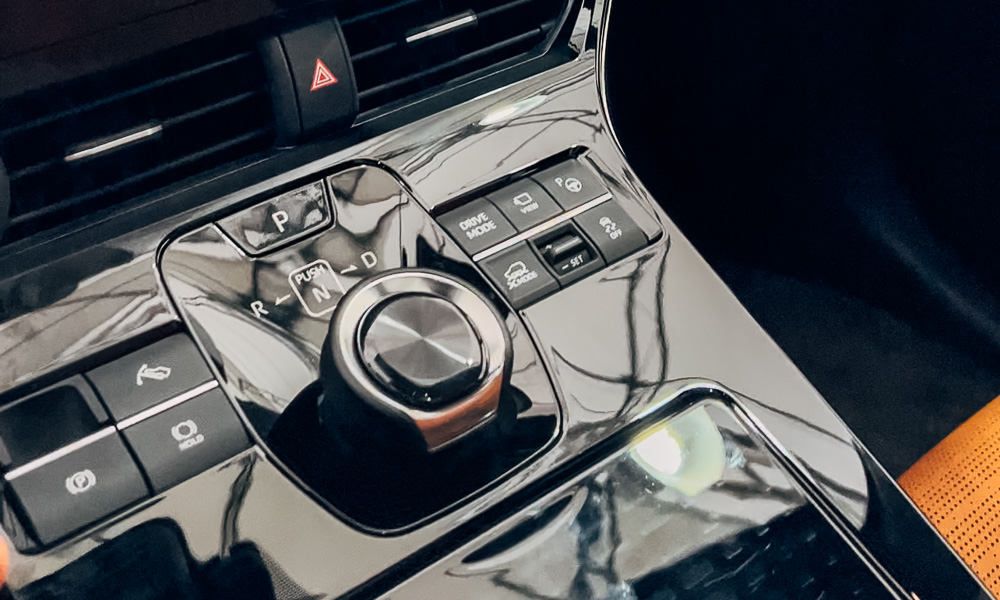 Setting aside the fact that it is essentially a carbon copy of the bZ4X's interior, the cabin itself is also an interesting mix of the two companies' design ethos.
For one, there is a digital gauge cluster that is mounted so far away and high up from you, and a rather large, round steering wheel with controls (with Toyota iconography) that you might need some time to get used to if you're coming from a Subaru.
The two-layer dashboard has its central part covered in a fabric material, and dead center is a wide, 12.3-inch touchscreen running Toyota's latest infotainment operating system. Beneath that is a mix of physical and touch controls for things like volume and climate, all housed in piano-black plastic.
Rounding up the control stack are your drive controls, with a rotary drive selector set smack in the middle, surrounded by other function switches and a cubbyhole with a translucent cover that holds the wireless charging pad.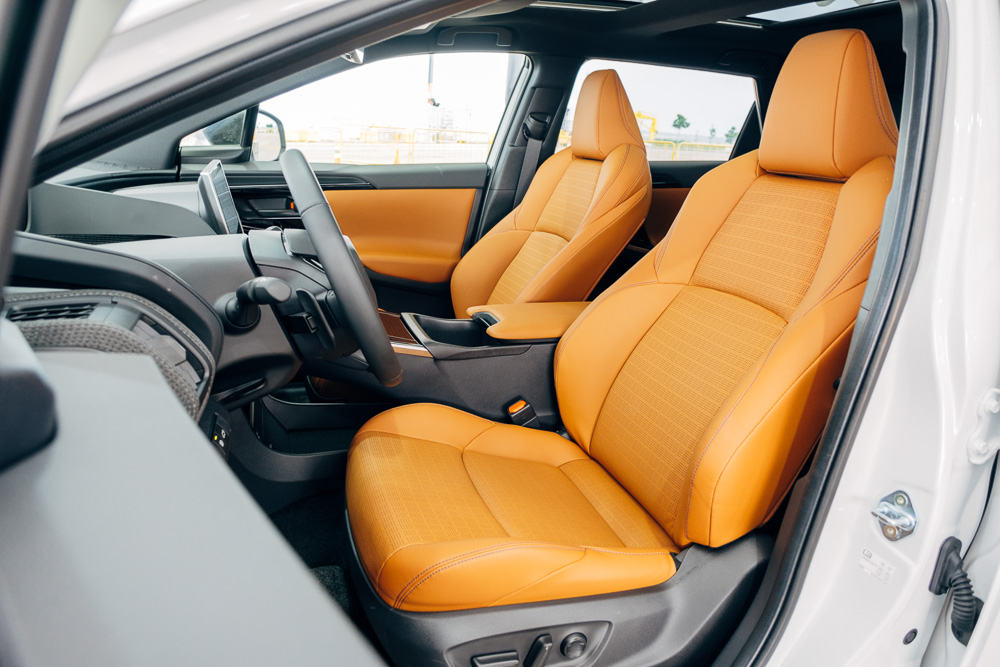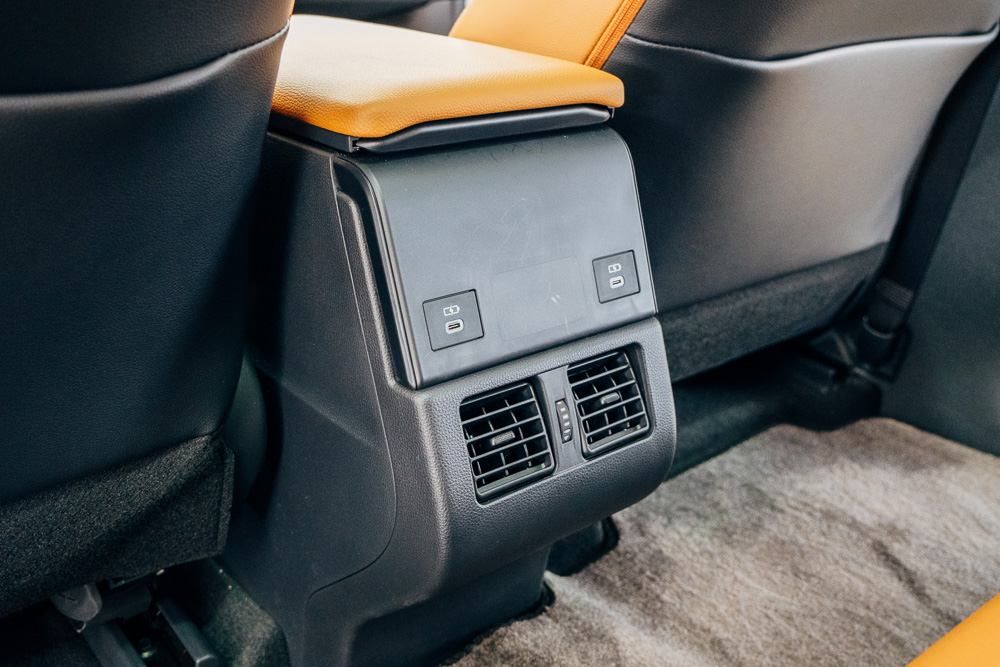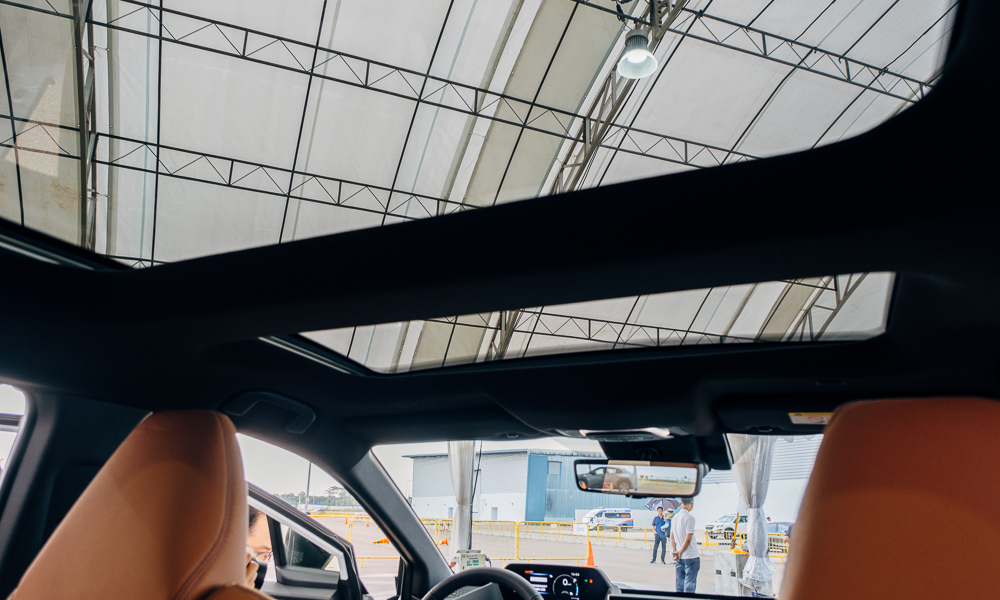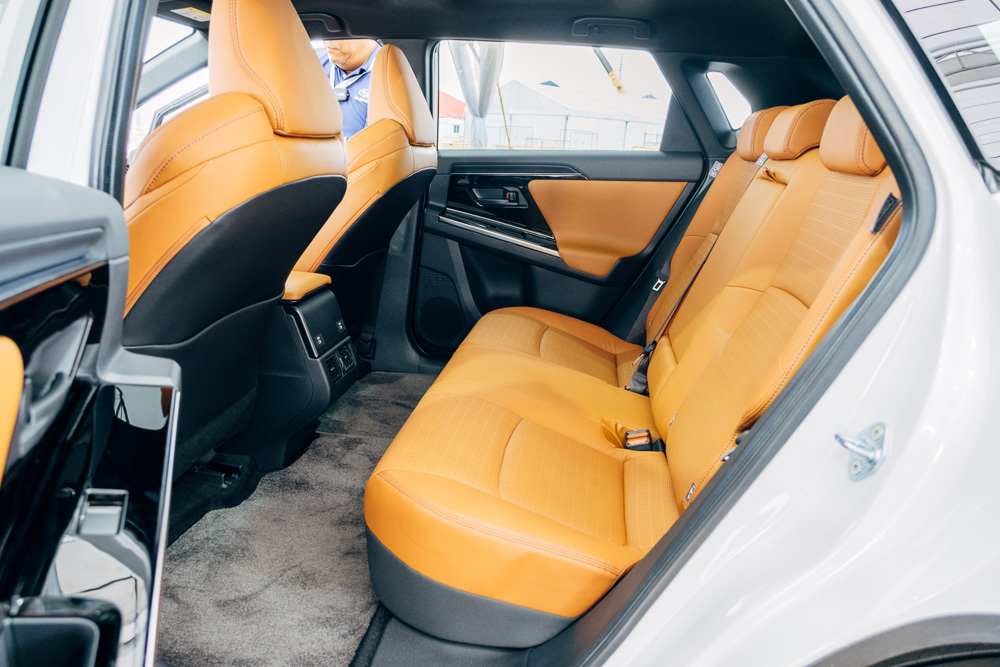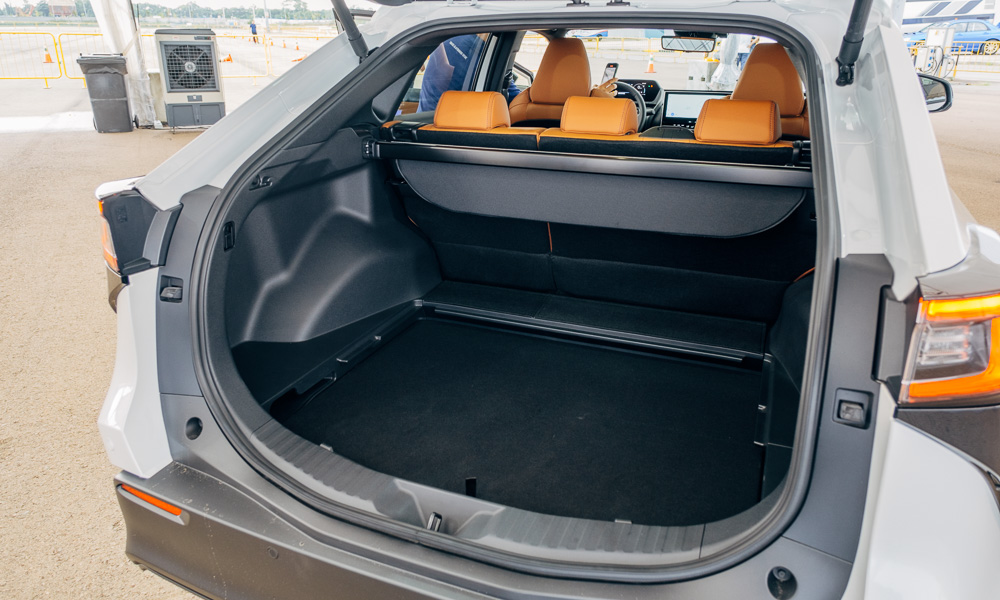 But beyond that, it's a rather roomy cabin that's almost Forester-like in terms of space. There is a panoramic glass roof, two USB-C ports for charging at the back, and a minimal hump in the middle—making this easily a five-adult crossover.
We're not so sure about the look of the tan leather seats, but we're hoping that they can be swapped out for a color that matches the dashboard's trim colors.
The car also has a respectable 441L of cargo space with the rear seats up, and there are features like an adjustable load floor, 60:40 split-folding rear seats, and a cargo cover. You will need all the space at the back, because there is no front trunk.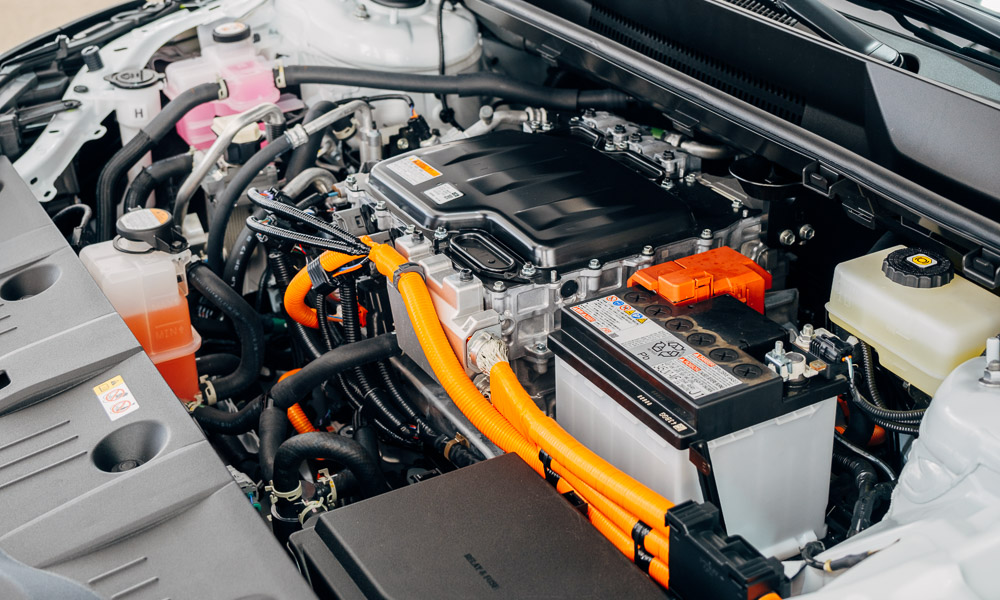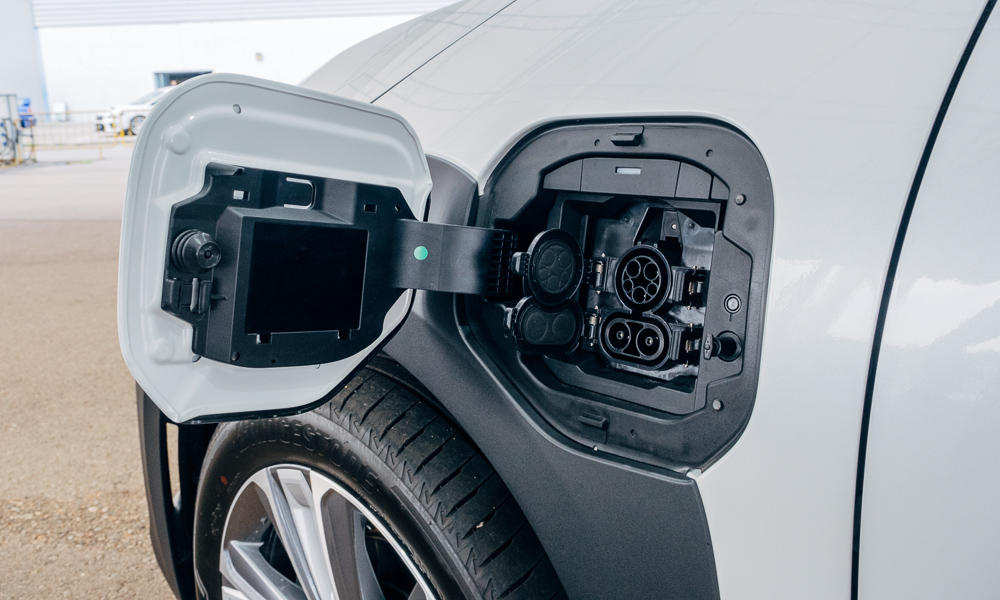 Instead, popping the hood reveals the innards of this electric vehicle, alongside easy access to all the fluids, the relays, the fuses, and (not surprisingly) a regular 12V battery.
Riding on the e-Subaru Global Platform (codeveloped with Toyota), this model is configured in the dual-motor setup (yes, all-wheel-drive), so it has a power output of 215hp and torque of 337Nm with a 71.4kWh battery. Do note that the official range figure we were given was "up to 414km of range on a single charge," which was a WLTP figure based on the European-spec Solterra.
Of course, take this with a grain of salt as whatever variant the ASEAN market receives will not be exactly a 1:1 copy—plus, you have to factor in the differences in climate.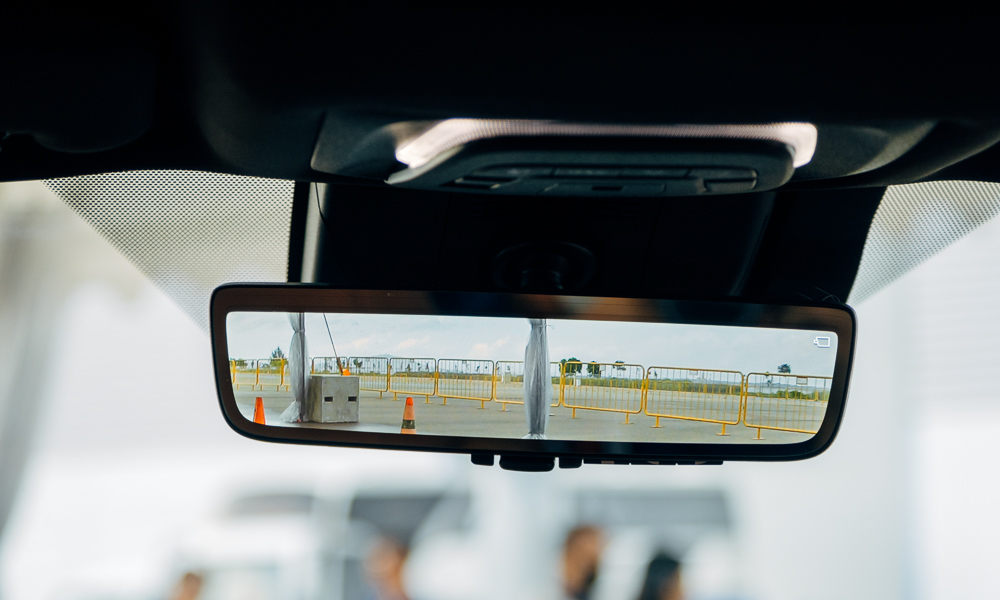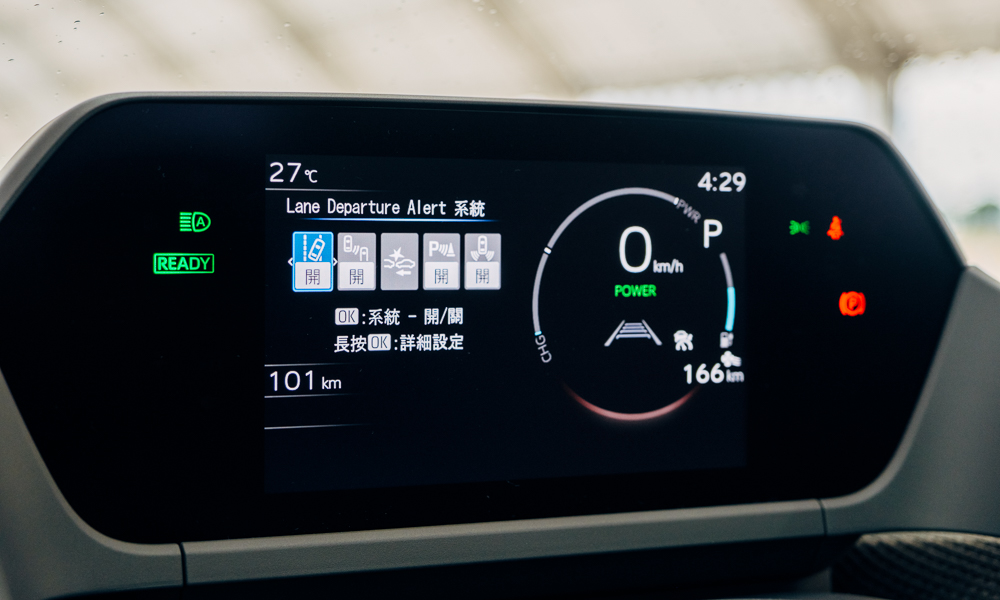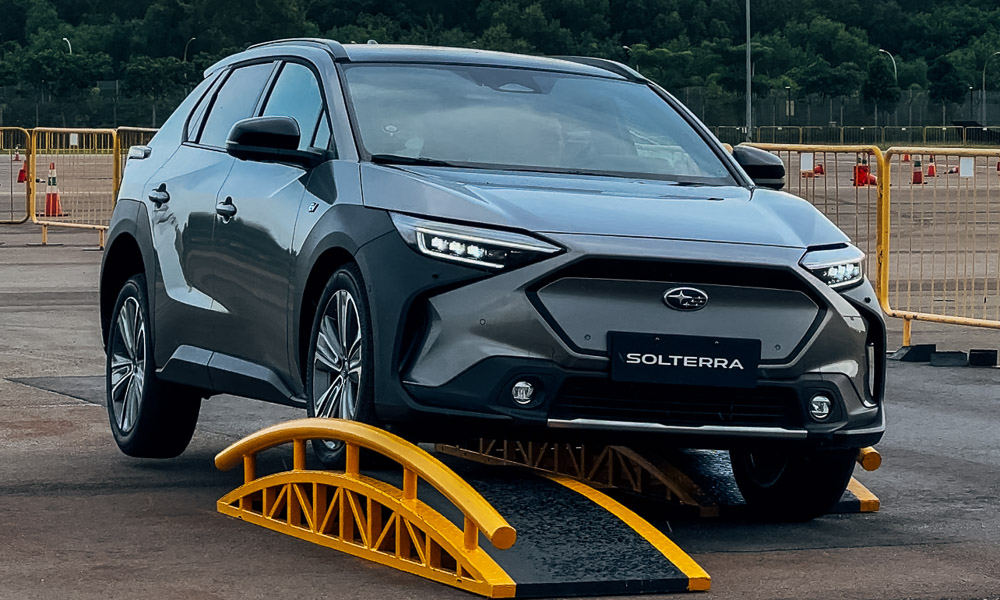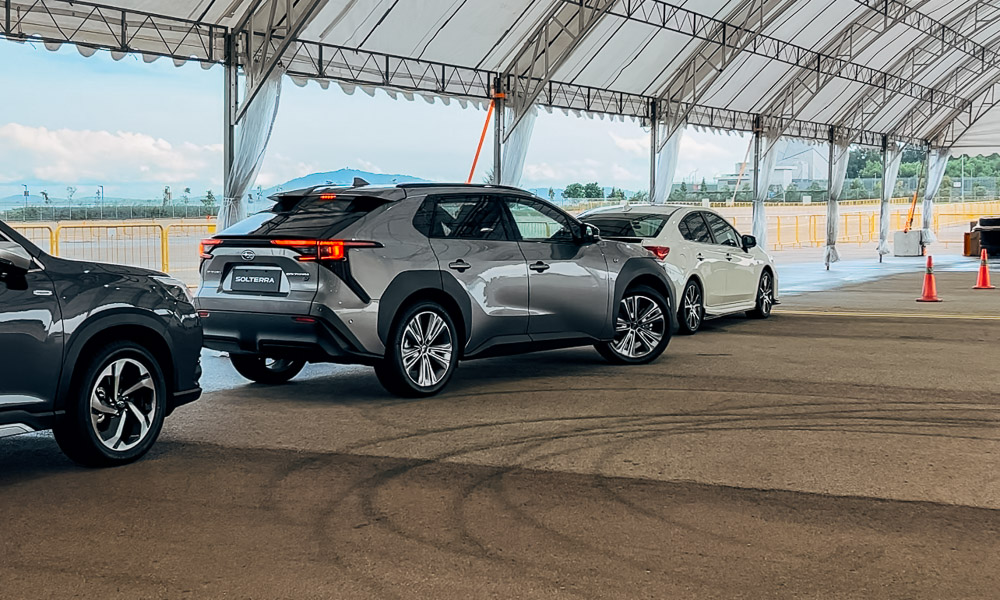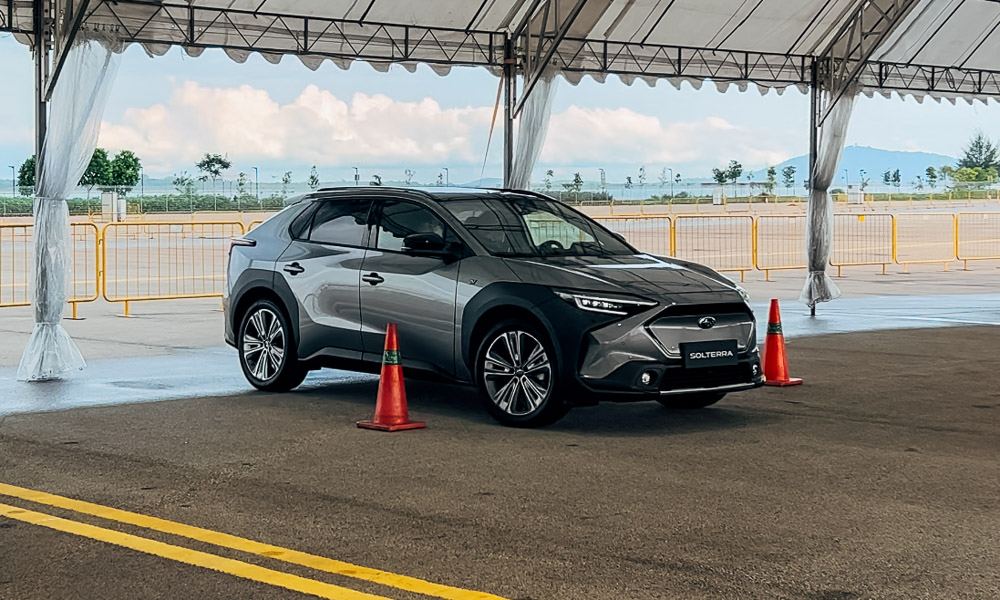 The Solterra is also loaded to the brim with tech and safety features. Apart from having Level 2 autonomous driving capabilities, it is also capable of identifying road signs and parking itself, alongside Subaru's excellent X-Mode drive control.
These features were demonstrated during the Advanced Technology Drive event, where we saw the car park itself in two different scenarios (parallel and reverse), and the AWD system in action as the Solterra climbed over uneven humps with ease.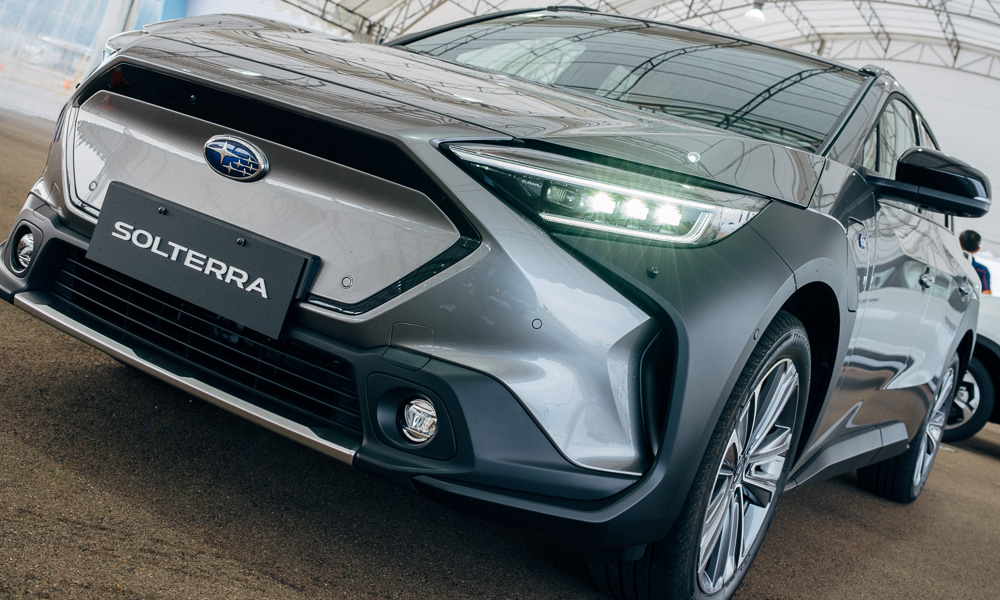 Motor Image Pilipinas has no plans at the moment to bring this to our market, but the time is ripe. Remember that we're seeing more and more EVs take advantage of the additional tax cuts and the benefits brought about by the EVIDA.
For longtime Subaru owners, they need not worry about the Solterra being a watered-down experience compared to their current cars. Sure, it may not have the traditional flat-four rumble, but it's just as capable as its predecessors were.