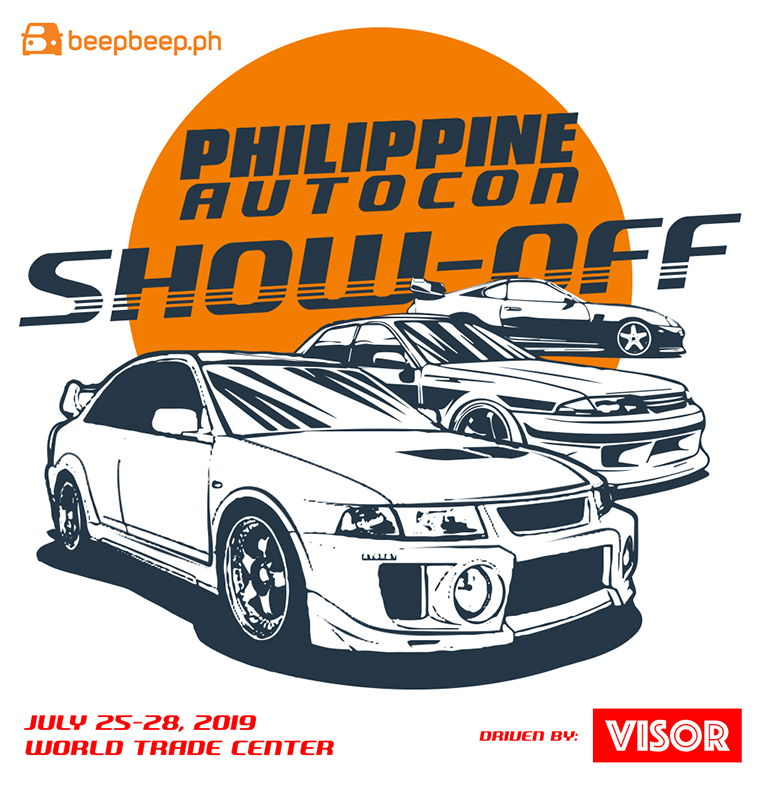 Are you a fan of old-school Japanese cars? Better yet, do you own a well-preserved example of these beautiful automobiles from the Land of the Rising Sun? Then you should join Philippine Autocon 2019's "Show-Off" competition. The first-ever Autocon is a trade show organized by BeepBeep.ph to showcase motoring-related shops and services that are present in the website/app's directory. It will take place on July 25 to 28 at World Trade Center in Pasay City.
"Show-Off" is basically a highlight of the event, and will be staged in partnership with VISOR. For this year, the competition seeks to put together the best old-school Japanese cars in the Philippines, with the owner of the top winner going home with P100,000 in cash as well as a trophy.
THE MECHANICS:
• Qualified cars are Japanese-brand models from the 1960s, the 1970s, the 1980s and the 1990s. All vehicle types (sedan, hatchback, wagon, coupe, roadster, SUV, MPV, van and pickup)—whether stock or modified—are eligible to join.
• Interested participants are to send five (5) high-resolution photographs of their car to [email protected] on or before 7pm of July 19 (Friday). The photos should clearly show the car's (1) front, (2) side, (3) rear, (4) interior and (5) engine.
• To be included in the e-mail are: (1) the car's year, make and model; (2) owner's full name; (3) owner's birthdate; (4) owner's complete address; (5) owner's mobile phone number; and (6) a short story (not more than 100 words) about how the owner acquired the car. Failure to provide all six details automatically disqualifies an applicant.
• Participating car owners need to be at least 18 years of age, and must not be related to any employee of BeepBeep.ph or to any member of the editorial staff of VISOR.
• All entries will be judged by a three-man screening panel made up of JP Cariño, Jeiven Perez and Botchi Santos. Ten (10) finalists will be selected from the entries, and their owners will be notified on July 21 (Sunday).
• The entries will be judged based on (1) aesthetics, (2) period-correctness and (3) overall condition.
• The 10 finalists will be displayed at Philippine Autocon 2019. It is imperative, therefore, that only cars in good working condition—and which can be transported to the venue—be entered in the search. Ingress to the venue is on July 23 (Tuesday; 12nn to 12mn), while egress is on July 28 (Sunday; 10pm to 5am).
• Each of the 10 finalists will be given P5,000 worth of fuel vouchers courtesy of Petron Corporation to help defray the costs of bringing and retrieving their rides to and from World Trade Center.
• The 10 finalist cars should look exactly the same as they do in the photos sent to us. Any sign of significant alteration will result in outright disqualification.
• The overall winner will be determined by public voting on-site and online. Show visitors get one (1) vote for every single-day pass, or five (5) votes for every multiday pass. For online votes, we will be posting to our Facebook page a photo album with all the 10 finalists in it. Each like is equivalent to one (1) vote. The final scores will be computed using this formula: on-site votes (70%) plus online votes (30%).
As mentioned above, the overall winner will receive P100,000 and a trophy from BeepBeep.ph. But because we know we're all passionate car guys here, the prize money is really nothing compared to the bragging rights the winner is bound to reap.
Let's go, guys! We need to assemble 10 of the coolest old-school Japanese cars in the country. Spread the word.