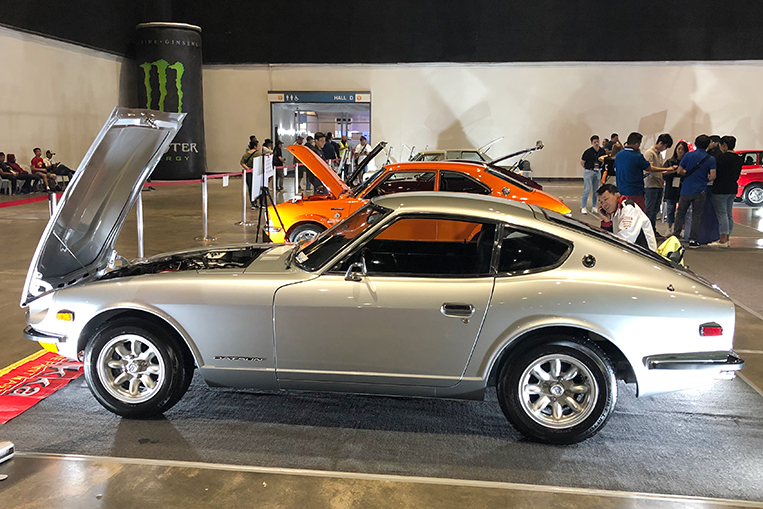 As you know, we're holding our first-ever "Autocon Show-Off" competition, a search designed to find the best old-school Japanese car in the country. The 10 finalists are currently on display at Philippine Autocon 2019 until July 28 (Sunday) inside World Trade Center in Pasay City. The finalists were selected by our highly esteemed panel of judges: Jeiven Perez, JP Cariño and our very own Botchi Santos.
Now, to determine the overall winner—whose owner will receive the grand prize of P100,000 in cash—we're conducting on-site and online voting, with the points earned from the former worth 70% and those reaped from the latter worth 30% when computing for the final scores.
The on-site voting is pretty much straightforward: You purchase one single-day pass, you get one vote (or one multiday pass for five votes). No problem here. If a participant wants to buy more than one ticket for more votes, that's entirely up to him—but it won't be cheap (one ticket costs P170). Thankfully, according to our colleagues at BeepBeep.ph, "vote-buying" has not been a problem at the venue.
The online voting, however, has turned out to be a lot trickier than we imagined it to be. Initially, our mechanics indicated that one like meant one vote. But then, when we published the photos on our Facebook page, we added a second component: shares. And then we assigned more points (3) to it, believing it would help spread the word so that more people could learn about the competition and maybe visit the show to check the cars out. What we failed to anticipate was everyone's natural tendency to become overly competitive—especially when something is at stake.
We apologize to our readers who shared their favorite cars in good faith, but we can't allow cheaters to game the mechanics. We'd rather err on the side of fairness
While we're admittedly thrilled that the competition's photo album on our Facebook page has gotten a lot of engagement, we're also very much disappointed to discover that a lot of unfair gamesmanship is being carried out as we write this. What are we talking about? You see, we got a complaint earlier today about how numerous individuals had been sharing their favorite candidates multiple times on their own Facebook walls. That's not the true spirit of the share component. That's really cheating if you ask us.
Here's the worse part: When we checked the shares, we stumbled upon fake accounts that had posted photos of certain cars repeatedly. How do we know these accounts are bogus? Well, they were created just today. Talk about starting a troll farm just to try and rig what should really be an honest match among car-loving gentlemen. Shame on all those who did this.
Anyway, to remedy the situation, we're going back to our original rule: one like equals one vote (or point). No more points for the shares. We sincerely apologize to our readers who shared their favorite cars in good faith, but we can't allow cheaters to game the mechanics. We'd rather err on the side of fairness.
Finally, we're applying a scoring system in which we'll award the following points according to the ranking:
1st place – 20
2nd place – 17
3rd place – 15
4th place – 12
5th place – 10
6th place – 8
7th place – 6
8th place – 4
9th place – 2
10th place – 1
The above scoring system is exactly the same one we used during the judging phase to come up with the 10 finalists.
The points from on-site voting will be multiplied by 0.7, while the points from online voting will be multiplied by 0.3. And then the two resulting figures will be combined for the final tally, which will ultimately determine the overall winner. We will publish the complete results after the awarding ceremony for the sake of transparency.
We still have a day of voting (or at least until 3pm) tomorrow, July 28. The awarding is set for 5pm. You are more than welcome to watch the proceedings. May the truly best old-school Japanese car win.