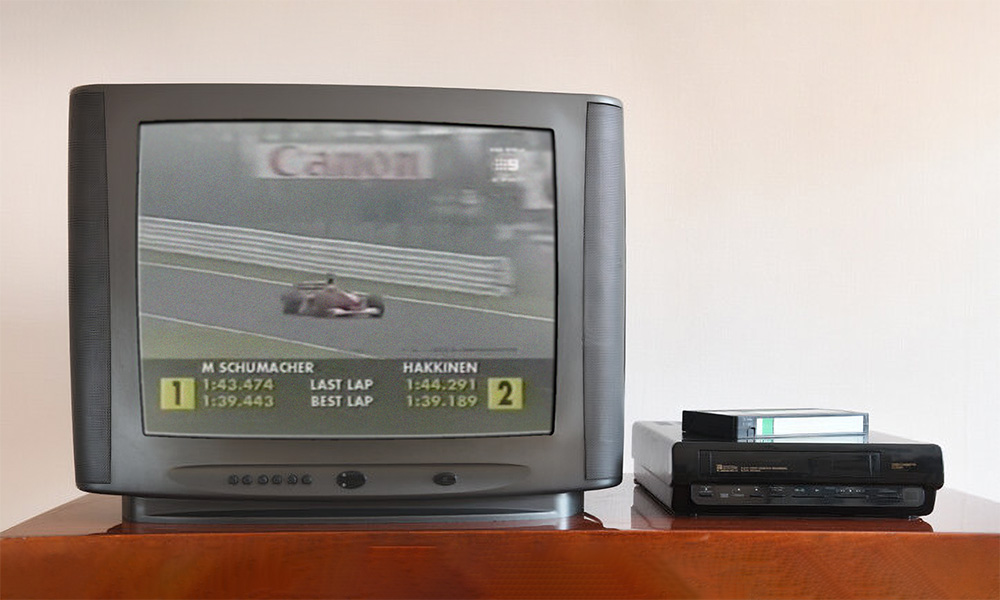 Formula 1 is in my blood, so coverage is very important to me. I'd watch it through Betamax recordings and at a friend's house through a satellite dish in the 1980s. In 1991, my parents subscribed to cable, and I've never looked back. Life changed.
What started as Prime Sports later became Star Sports. A few years later, it became ESPN Star Sports. Some 18 years down the road, it was relaunched as Fox Sports. The names didn't really matter to me so long as there was coverage. That was a big part of my life. As soon as the season started, weekend plans would revolve around the races. And I'm glad my wife understood that.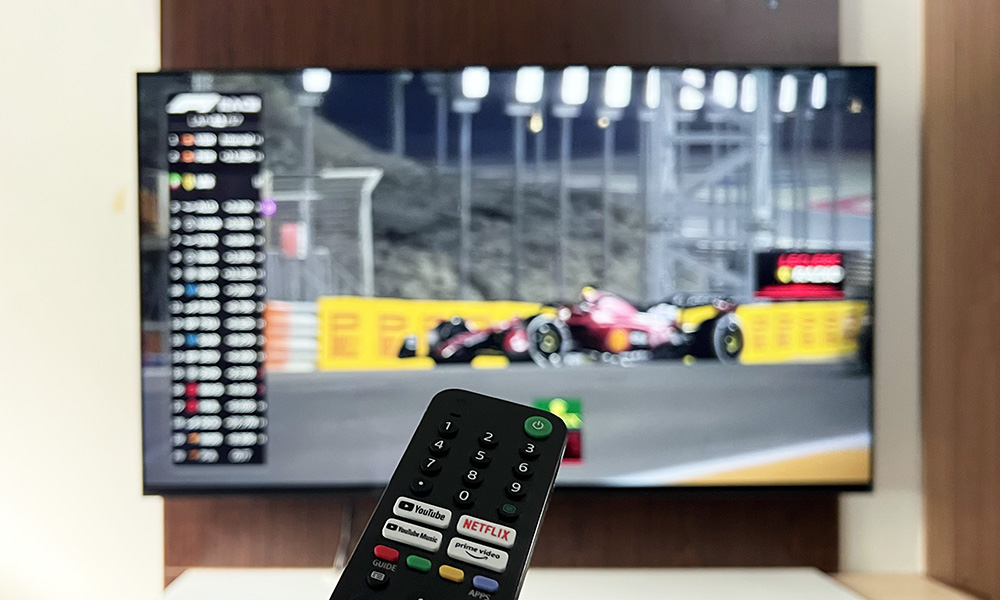 Then the unthinkable was about to happen. In April 2021, owner Disney announced that the Fox Sports network (along with the Fox channel lineup) would cease broadcast on October 1, which meant that the Russian Grand Prix would be the last race to be covered. That's 30 years of broadcasting Formula 1. While I consider that a good run, what mattered was…so what now?
I went to the Sky Cable office to find out what my options were. If not, I would stream. Luckily, Premiere Sports quickly took over and aired the remainder of the season, including the controversial Abu Dhabi Grand Prix. Imagine not catching that—a race that would be talked about for a long time. I would have flipped! Actually, I was lucky to have caught it. Four days later, Super Typhoon Odette struck.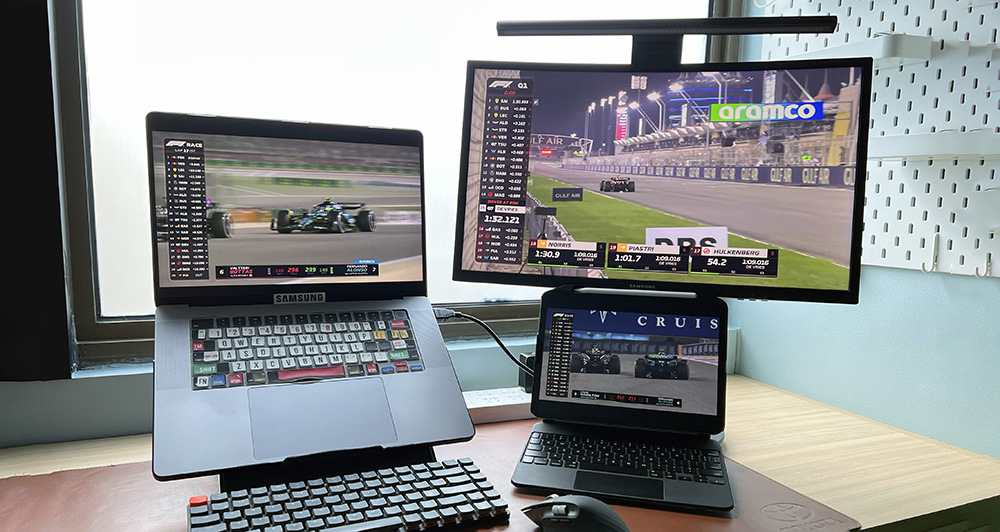 Moving on to 2022, coverage of F1 through Premier Sports was reassuring. But after the previous network pulled the plug, I felt apprehensive that it could happen again—perhaps sooner rather than later. After all, everything is headed to streaming (I'm prepared for it, and I've upgraded to a smart TV and have a TV box on standby), and covering F1 is expensive.
On to 2023. Some two weeks before the first race in Bahrain, Premier Sports was still promoting that it was "the home of Formula 1" in the region. So I thought to myself: "Okay, they're covering it."
Come Friday of the race weekend, nothing. I scanned between the sports channels I had in my subscription—Premier Sports, SPO TV, SPO TV 2, Be In Sports 1, 2, and 3. Until I finally saw the plug of F1 on beIN Sports 1. Thing is, it was showing football the entire night and nothing about F1, which raised my doubts.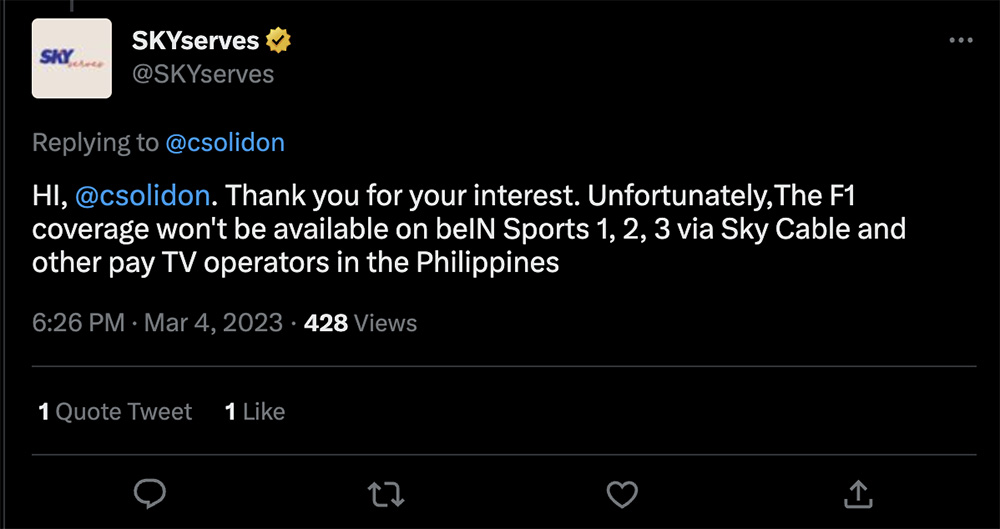 About 45 minutes before qualifying, I sent a message to Sky via Twitter, and asked if there was coverage of F1 and where? To which the representative replied that there was no longer coverage.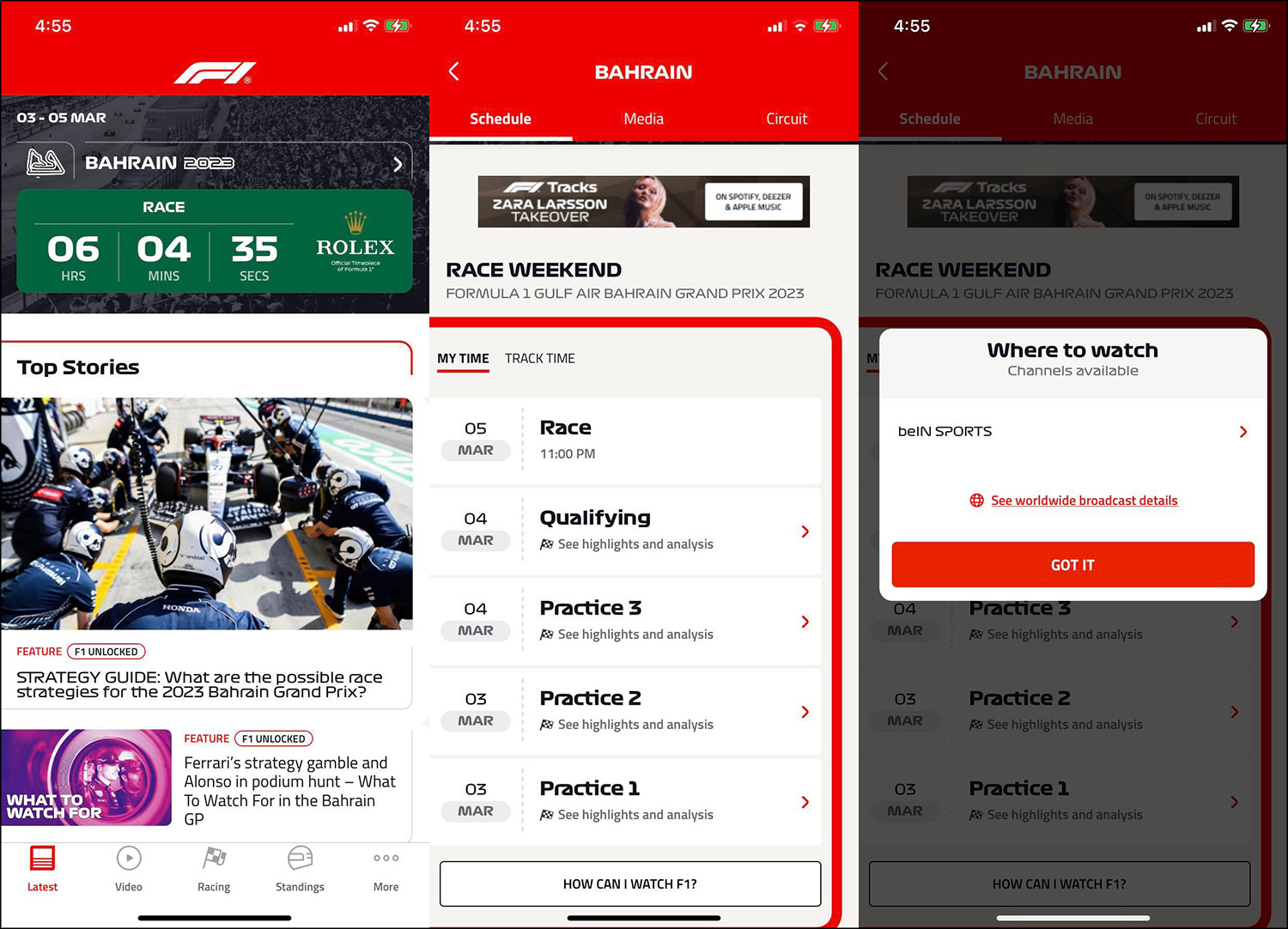 I went to my F1 mobile app to see "how I can watch F1" (that's an option as you can see in the photos), and cross-referenced my options. It showed beIN Sports as the option available.
I downloaded it and opted for the annual fee of P1,090. Just before qualifying, we were back in action with quality streaming and the chats after the session. Awesome! If you guys want to catch F1, there you go.
I am ecstatic. The season should be exciting.