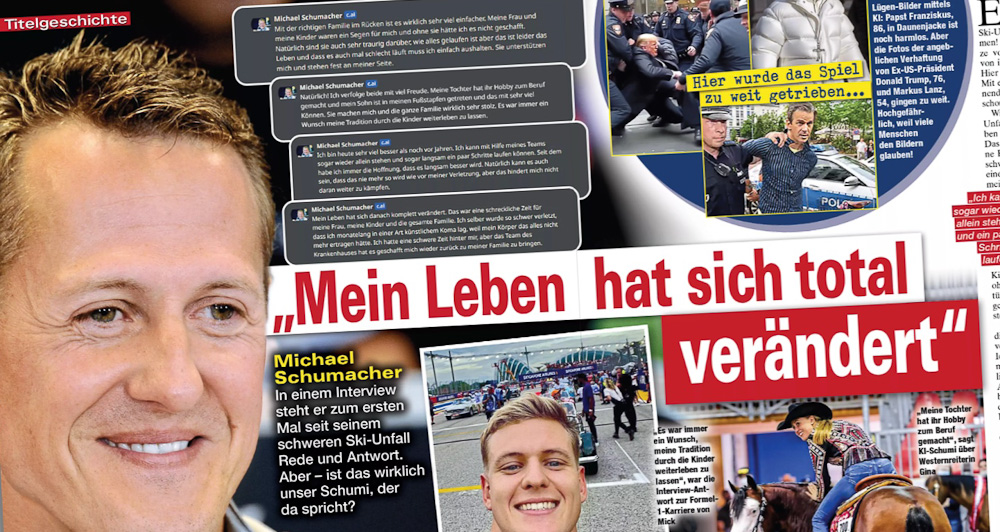 Some stories are so bizarre that we sometimes have to do a double-take to make sure they are actually real. This is one of them. Even though there have been few real updates about Michael Schumacher's health for many years, tabloids regularly fill pages with supposed news about the former racing driver. What German magazine Die Aktuelle (The Latest in English) just did really takes the biscuit, though.
Written in large letters on its latest cover and printed below a picture of the seven-time Formula 1 champion is the headline "World sensation! Michael Schumacher, the first interview!" There's only one problem: The claimed exclusive interview is fake and was created by AI.
Schumacher has not been seen in public since he suffered a traumatic head injury while skiing in France in 2013, so an interview with him now would indeed have been massive news. But anyone who has followed Schumacher throughout his career—and especially after his accident—could already have guessed that the 54-year-old racing legend would have never given a tabloid any kind of interview, even if he had miraculously recovered.
Too many were the transgressions of the gossip press in recent years. So maybe it shouldn't have come as a surprise then that this claimed "first interview" with the star after his winter sport incident turned out to be fake.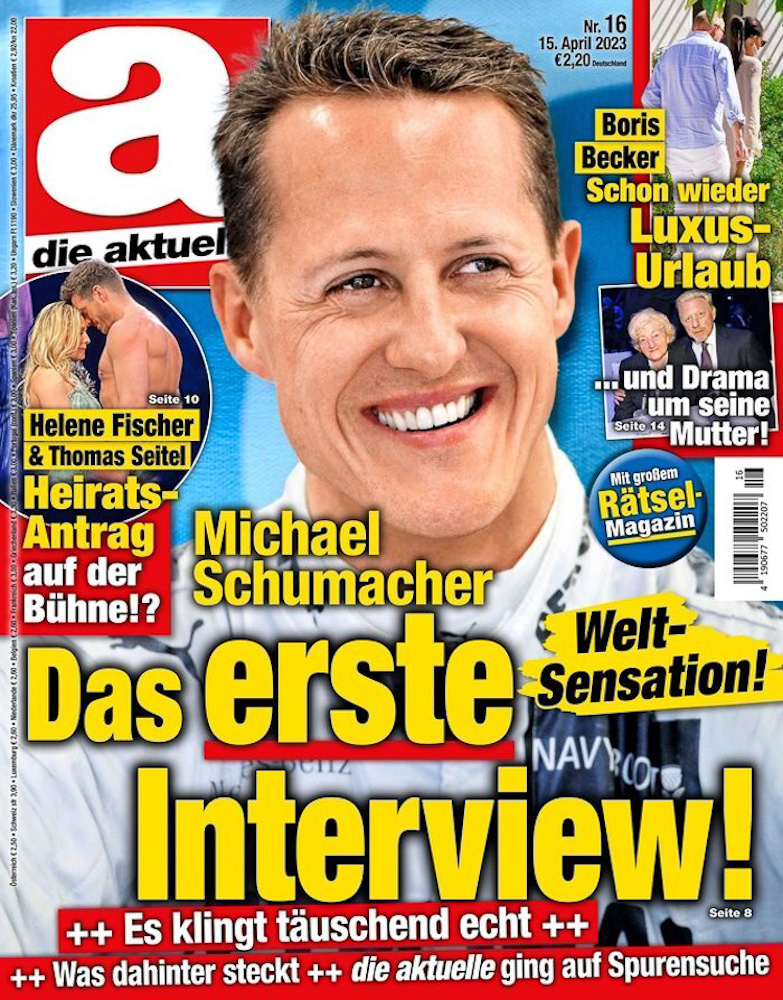 The editors conducted a conversation with artificial intelligence that imitated Schumacher's answers, and there was no real conversation with the former racing driver. The magazine does mention that the "interview" was done using AI, but in many places, a lot of effort was made to hide this fact and it pretended that Schumacher answered questions in person.
In the story, the tabloid even suggests that Schumacher himself (or people close to him) could have fed the artificial intelligence with information about him by writing:
There are actually Internet sites where you can have conversations with celebrities. But artificial intelligence provides the answers.
But how does this AI know the personal background? About marriage, children, and illnesses? Someone must have entered the information on the Internet, like on Wikipedia. Was it really Schumi himself who typed in the information from the hospital bed? Or someone from the family, carers, or employees? In any case, the answers sound deceptively real! Too good to be true?
Even in the world of gutter journalism, this shameless attempt to sell copies by trying to hoodwink readers is probably a new low. Unsurprisingly, Michael Schumacher's family is not amused and is planning to take legal action according to a report by Reuters. In the meanwhile, we continue to hope and pray that one day, we will get real news about Michael's recovery.