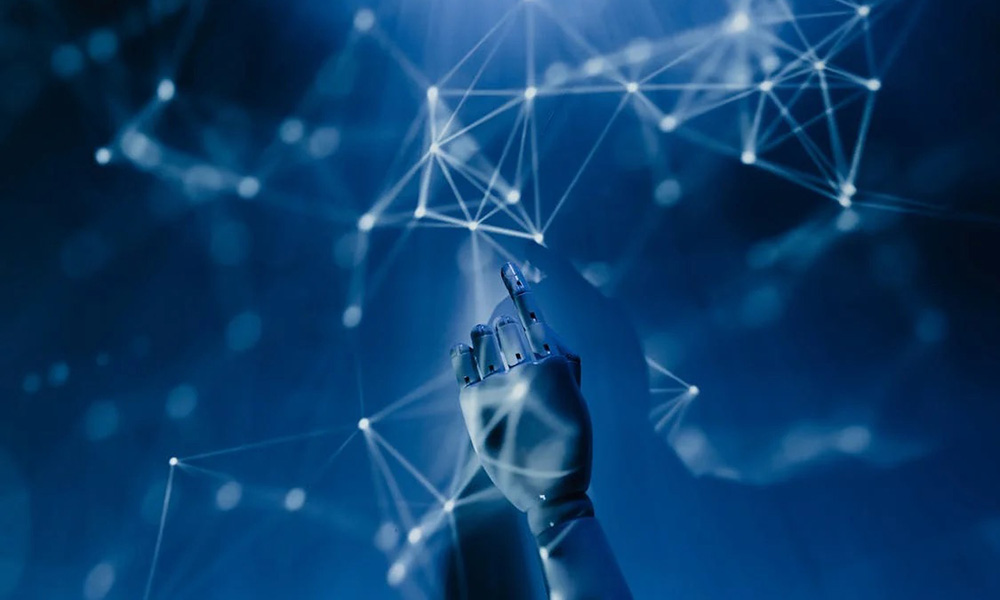 Artificial Intelligence is getting better all the time, and the tools to use it for all sorts of things are also becoming more accessible. Take OpenAI for example. Operated by a nonprofit research company, its OpenAI Playground is available for free, and lets you try out everything from coming up with a name for your new café, to writing your school essay for you (yes, kids are apparently using it for that).
All you have to do is type your question and hit 'enter'. Naturally, we had to try it out and decided to test it with a number of queries. First, we asked it to write a short car review.

"Write a short review of the 2022 Ford Ranger and why people should buy it."
The 2022 Ford Ranger comes with a few new features that make it a great choice for anyone in the market for a new truck. First, the Ranger now comes standard with Ford's Co-Pilot360 2.0 suite of driver-assist features. This includes features like automated emergency breaking, lane-keeping assist, and adaptive cruise control. This suite of features makes the Ranger one of the safest trucks on the road. Additionally, the Ranger comes with a new 10-speed automatic transmission that improves fuel economy and performance. Finally, the Ranger comes standard with Ford's SYNC 3 infotainment system, which is one of the most user-friendly systems on the market. All of these new features make the Ranger a great choice for anyone in the market for a new truck.
Well, there goes our job security! Next, we asked it to compare three cars.

"Which is the better sports car: the Lamborghini Aventador, the Ferrari SF90, or the Lexus LFA?"
The Lamborghini Aventador is the better sports car.
AI is anything if not efficient, it seems. In just one sentence, it decided that the Lambo is best. Not sure what to make of that. Maybe it will fare better when asked a more complex question.

"Explain what the Metropolitan Manila Development Authority is doing right and wrong, and how it could better help motorists in the Philippines."
The Metropolitan Manila Development Authority (MMDA) is the agency responsible for managing traffic in the Philippines. The agency has been criticized for its ineffective traffic management, as well as its lack of transparency and accountability. The MMDA has also been accused of corruption and favoritism. The MMDA has taken some steps to improve traffic in the Philippines, such as implementing a color-coding scheme and establishing a task force to monitor traffic violations. However, these measures have not been effective in reducing traffic congestion.
The MMDA needs to do more to improve traffic in the Philippines, such as developing a more comprehensive and effective traffic management plan, increasing transparency and accountability, and combating corruption.
It does seem as if Mr. Computerbrain knows the MMDA rather well, and it's hard to disagree with its assessment. On to the next question.

"What can the government of the Philippines do to solve the traffic congestion problems of Metro Manila?"
The government of the Philippines can try to improve public transportation, build more roads, and encourage people to carpool.
Quite efficient again, and hard to argue with those suggestions. Next question.

"If you had to pick a cheap car to buy to commute to work and back every day in a big city, what car would you buy?"
If you had to pick a cheap car to buy to commute to work and back every day in a big city, you would buy a Toyota Corolla.
We swear that's really what it said. It seems even AI knows how good the Corolla is. Next, another question about cars.

"What brand is better: Toyota, Honda, Mitsubishi, Nissan or Mazda?"
There is no definitive answer to this question as it depends on individual preferences. Some people may prefer Toyota because of its reputation for reliability, while others may prefer Honda for its fuel economy. Mitsubishi, Nissan and Mazda are all also popular brands, so it really comes down to what the buyer is looking for in a vehicle.
Smart and diplomatic. We like it! Time for one last (and maybe most important) question then.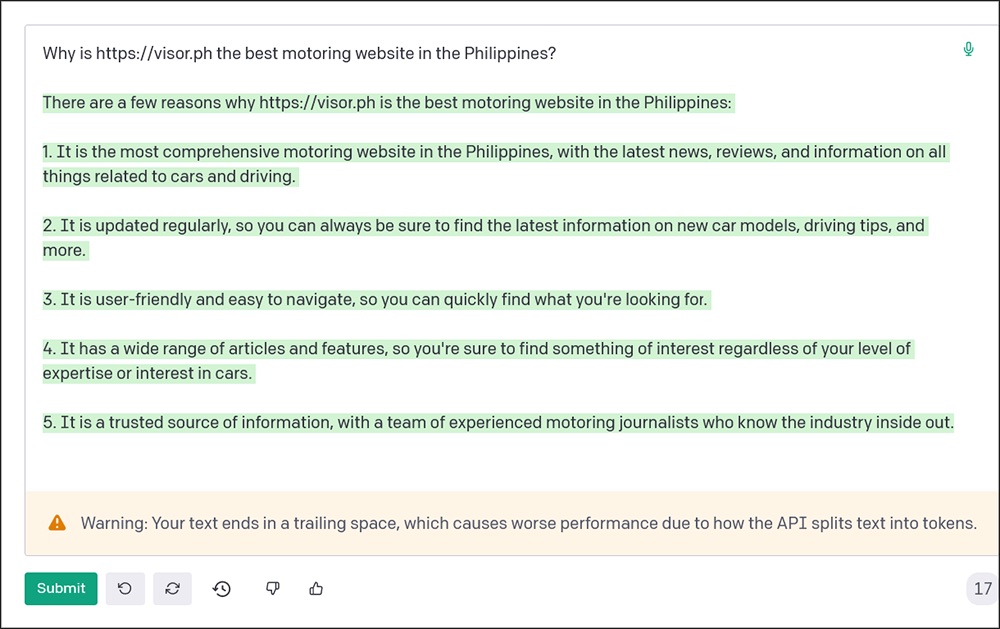 "Why is visor.ph the best motoring website in the Philippines?"
There are a few reasons why visor.ph is the best motoring website in the Philippines:
1. It is the most comprehensive motoring website in the Philippines, with the latest news, reviews, and information on all things related to cars and driving.
2. It is updated regularly, so you can always be sure to find the latest information on new car models, driving tips, and more.
3. It is user-friendly and easy to navigate, so you can quickly find what you're looking for.
4. It has a wide range of articles and features, so you're sure to find something of interest regardless of your level of expertise or interest in cars.
5. It is a trusted source of information, with a team of experienced motoring journalists who know the industry inside out.
We couldn't agree more!