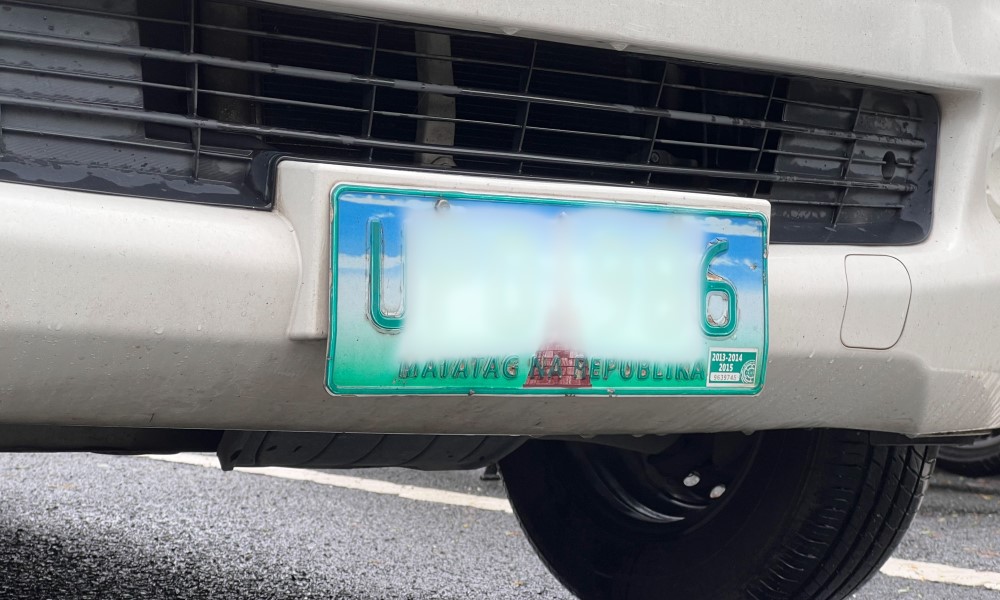 If there is one show that can beat Ang Probinsyano in terms of length, it's the drama surrounding license plates. It seems like the Land Transportation Office never runs out of reasons why we can't get our plates in a timely manner (if at all). The amount and the variety of the excuses will soon trump the number of lives of Cardo Dalisay.
The agency has never managed to solve this problem, resulting in vehicle owners only getting increasingly impatient. But thankfully, there is one thing that might just calm the frayed nerves of people waiting for their plates.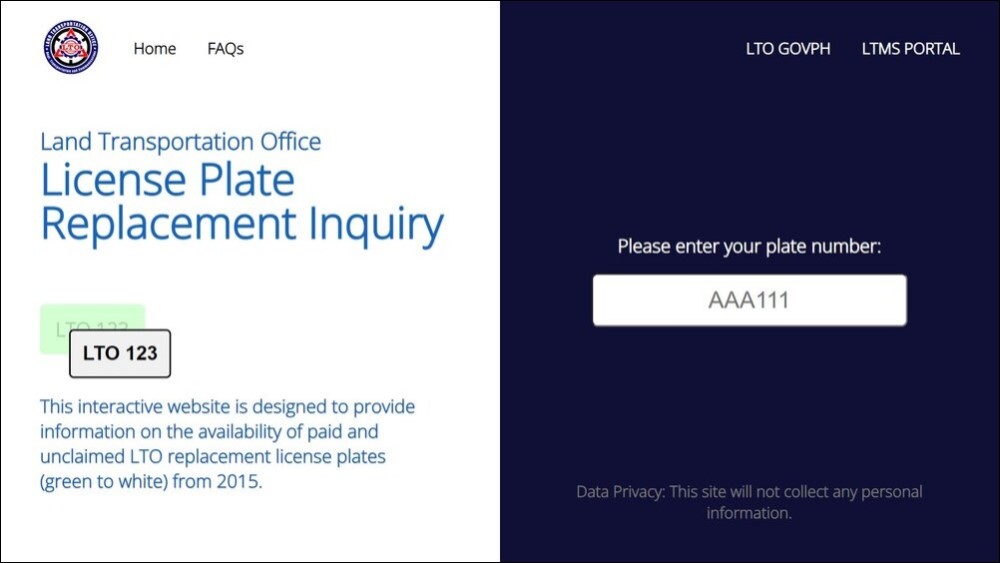 It's a website called License Plate Replacement Inquiry, which can be accessed here. According to the description on the main page, it is "designed to provide information on the availability of paid and unclaimed LTO replacement license plates (green to white) from 2015." Sounds good, then. Simply type your plate number and just like magic, it will tell you if your replacement tags are already available.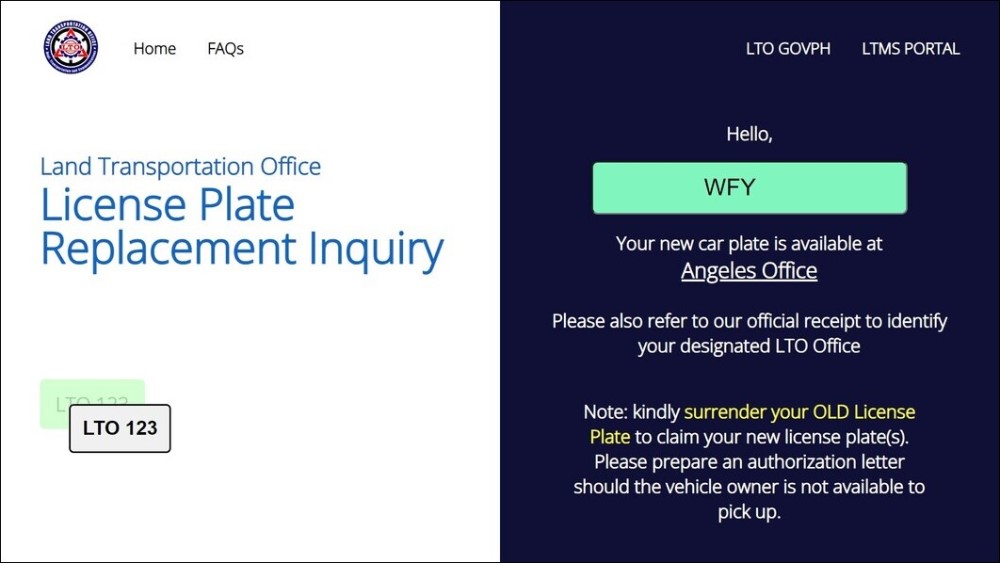 I made a list of the license-plate numbers of cars that my family has owned over the past four decades. If anything, a positive result is a shallow indication of the vehicle still being on the road.
One by one, I searched for the numbers on the site and came up empty-handed. I was about to give up until I got a match. It informed me about the branch where I could get the replacement plates, and the documents that I needed to bring. Interestingly, the car with this particular tag is a Honda Civic SiR that I drove during my college years, so whoever owns it now might be preserving it.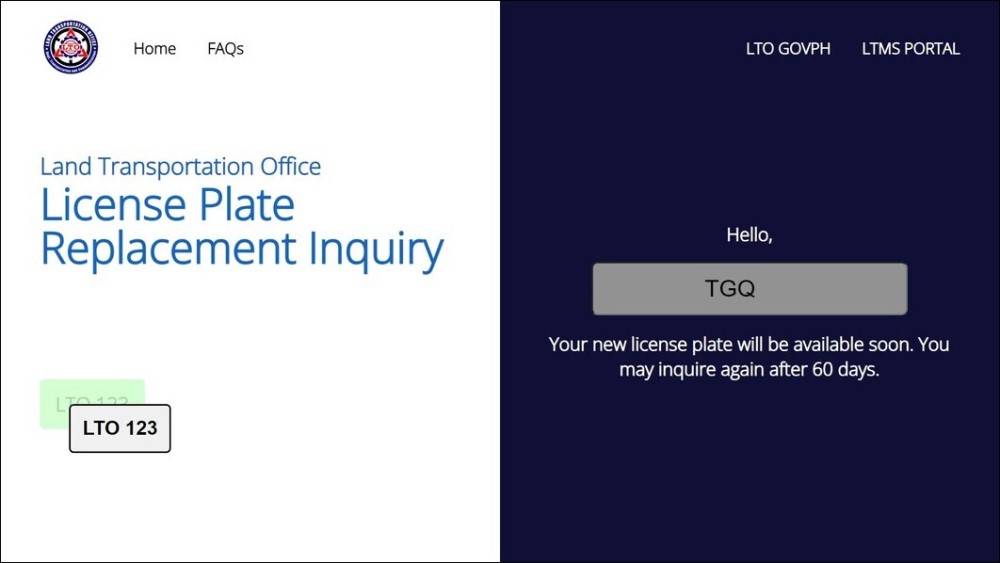 I tried a few more numbers after that, and all I got were negative results. But the one above piqued my interest because I had personally renewed the registration of this vehicle at LTO's Quezon City District Office in Cubao back in 2015. It had Rizal plates, and I clearly remembered paying the replacement fee that was mandatory at the time. I never got the new plates, and my family no longer has the car. As for the fee, only heaven knows what has happened to it.
Just for kicks, I tried a license-plate number that has already been claimed. The site displayed the same thing instead of something related to the plates already being taken. It could mean one of two things: Either there are delays in the database updates, or there are no plans for creating a different message for claimed plates.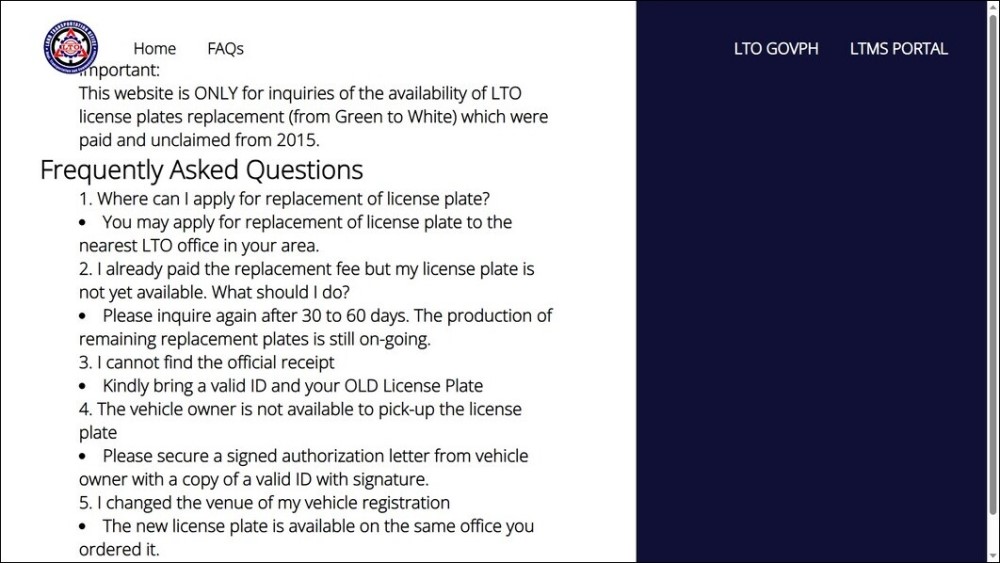 Number-plate woes aside, the website has a few bugs as of this writing. For one, it doesn't always respond to refreshing. Furthermore, only the FAQ link on the upper portion of the screen works—and even that page is still a work in progress. It also seems like the site is for four-wheeled vehicles only.
I knew about this website's existence when a friend shared it on social media. I searched for news or announcements about its availability, but I only got this Rappler article dated July 19, which said that the LTO had plans of launching such a website. Given its glitchy nature, I wasn't surprised that the agency hasn't made noise about it. But the fact that it's publicly accessible is a little weird. Then again, this is the LTO, so the defects might simply be business as usual.
Anyway, if you can access the site and get a positive result on your search, make sure to bring the old plates and the official receipt. If you're picking up the replacement plates on someone's behalf, you need to present an authorization letter.