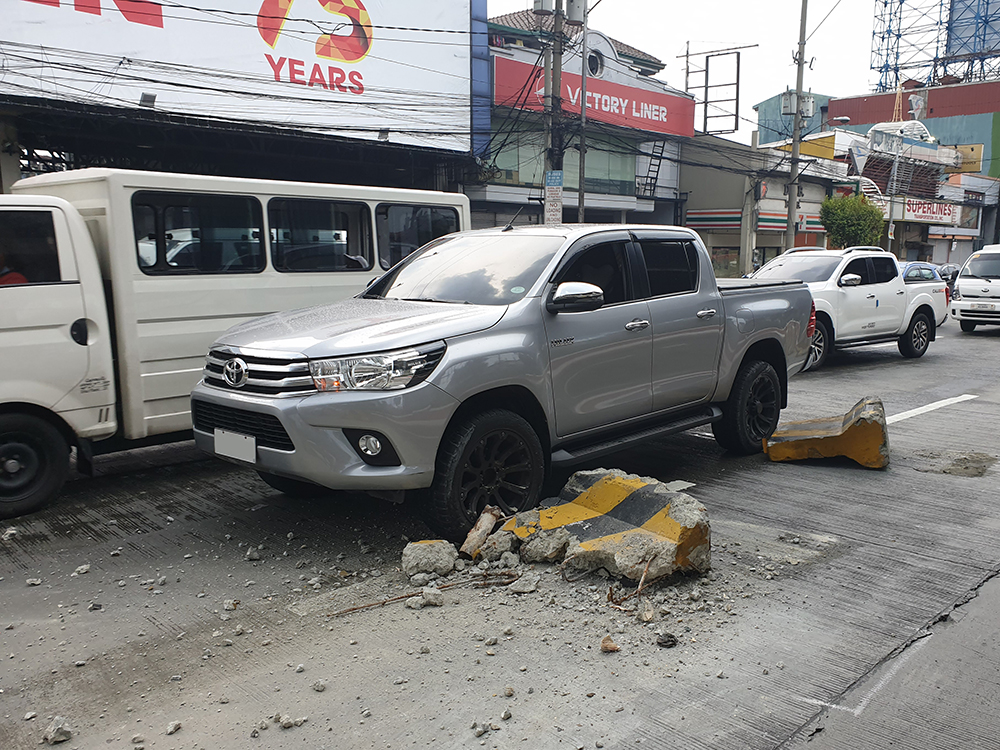 Due to our series of posts regarding the concrete barriers demarcating the bus lane on EDSA, we've been receiving interesting feedback from readers. This includes a 40-year-old real estate broker who asked us not to reveal his full name (let's call him Wesley). On July 15, around 4:30pm, Wesley was driving his Toyota Hilux on the busy highway when his vehicle was hit by a barrier that had been flung by a speeding bus.
"I was shocked when the concrete slab hit my car," he told VISOR. "Malakas ang impact. Parang may bumangga na truck. It later took four MMDA enforcers to carry that barrier. My second reaction was to get my phone to take a photo of the bus. Unfortunately, I wasn't able to. It sped away without its driver even bothering to stop."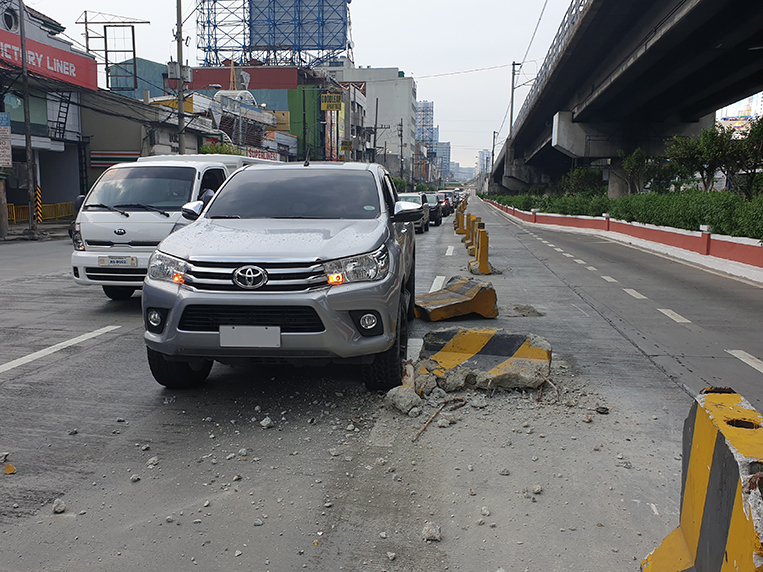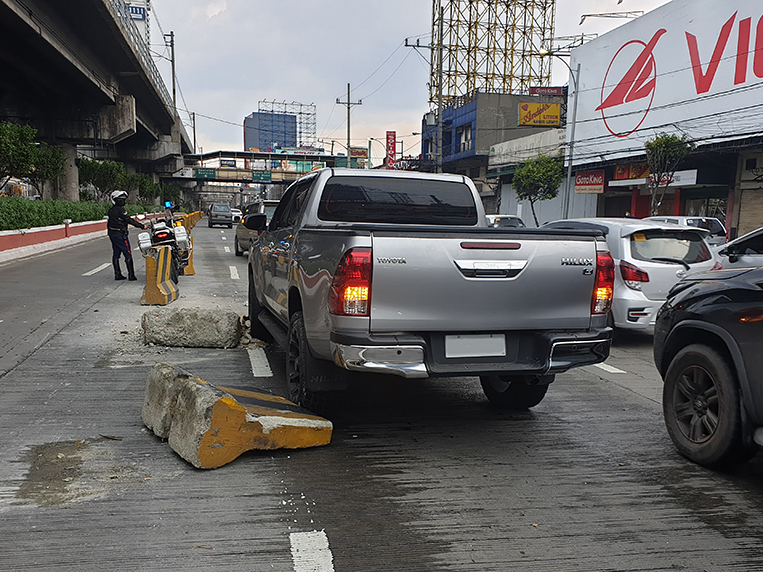 Wesley is convinced that the bus had been traveling above the speed limit for it to hit the concrete barrier—which he estimates to weigh around 200kg—and hurl it by "almost a meter."
"A bus traveling at 40km/h couldn't have done that," he pointed out.
So, are the concrete barriers to blame for these accidents? Or is it completely the bus drivers' fault?
"Both," he replied. "If the buses had 40km/h speed limiters, it would be okay. Even so, the barriers make the lanes narrow, especially through the underpass. It would be better if the authorities simply removed them."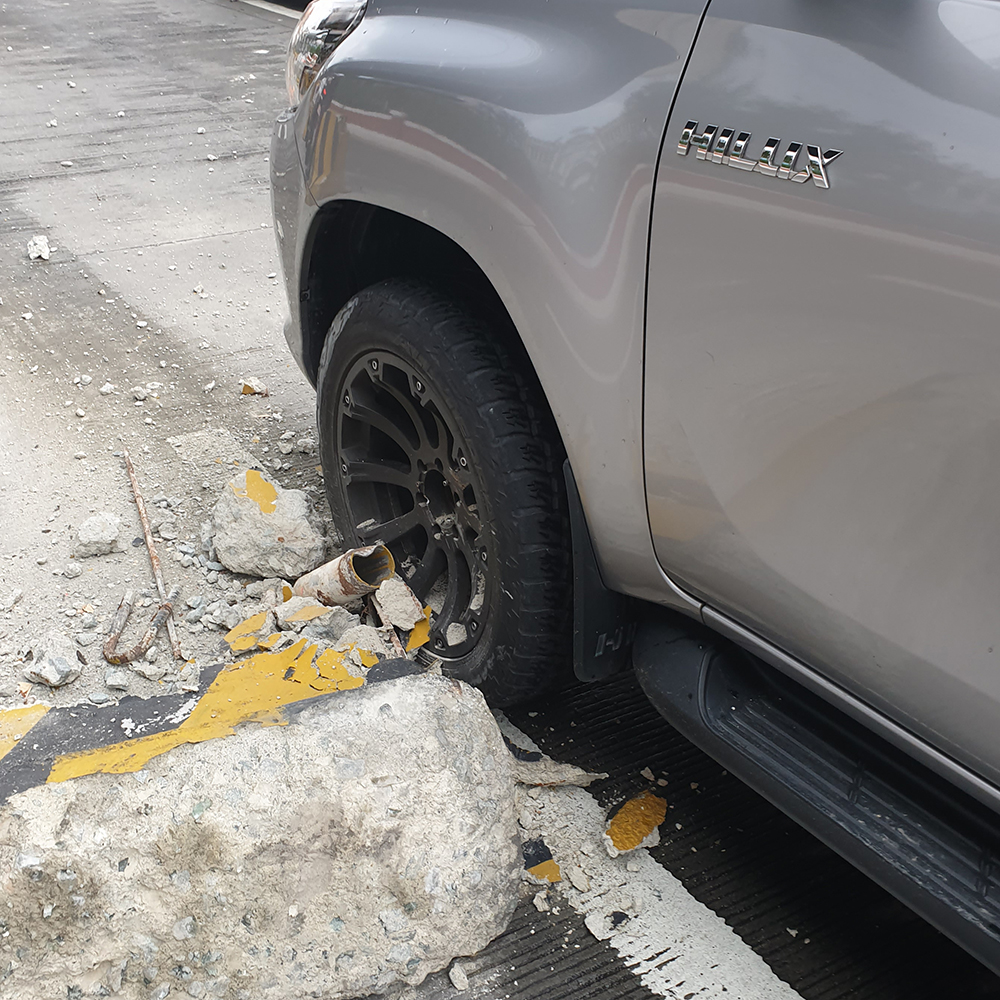 Thankfully, the damage to the vehicle was just a cracked alloy wheel. Still costly and inconvenient, but at least nobody got injured.
Wesley may be proof that there are many others who figure in barrier-related incidents on EDSA—we just never learn about them due to the lack of CCTV or dashcam footage. If true, this could refute the Department of Transportation's claim that said accidents are rare and isolated.
For safety's sake, the use of these cement barriers really needs to be reviewed. Let's not wait for a person to die before we do so.