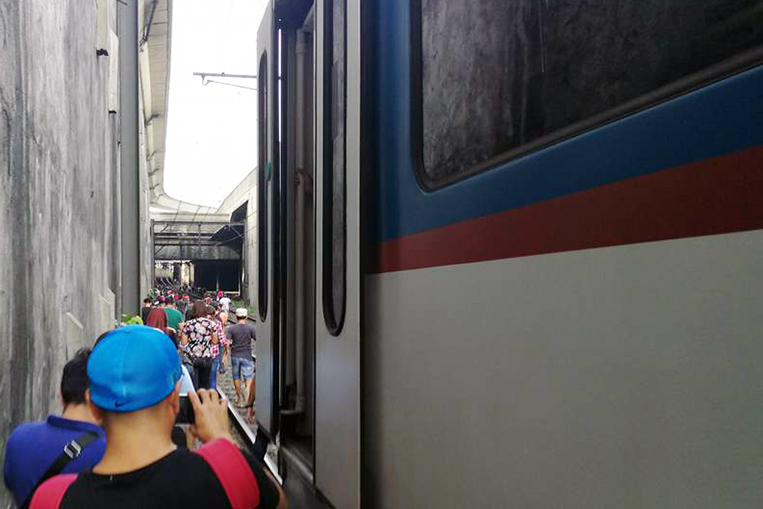 Another day, another Department of Transportation statement explaining the reason behind a Metro Rail Transit incident.
Yesterday, a car got detached from an MRT train between Ayala and Gil Puyat stations. Which is so disturbing on so many levels if you're a patron. Commuters now ask: Is it still safe to ride the MRT?
To answer that question, the public needs to know first what really happened.
Unfortunately, according to a DOTr statement, the detached car's black box has gone missing.
Upon initial investigation of the unfortunate incident, it was found that the Messma Card of the decoupled Light Rail Vehicle (LRV) No. 68, the third car in Train No. 5, is missing. The Messma Card functions like a black box that records all applied interventions.
MRT-3 safety chief technician Ruel Jose, who led the initial investigation, said there was no electrical fault, as there was no damage to the mechanical parts of the coupler.
"Imposibleng magkahiwalay ang coupler kung walang human intervention," Jose said.
We ask: What is the motive? Who has the capability of removing the black box? Was this an attempt to cover up a mistake on the operation of Train No. 5? Or was there an effort to sabotage the entire operation?
These questions are being addressed right now through proper and scrupulous investigation.
To be clear, it wasn't the black box—its disappearance or its malfunction—that caused the MRT car in question to get separated from the train. The black box only records all technical data in the train's operation—presumably including speed, schedule of arrival and departure, total load, etc. If it is really a black box as DOTr says it is, it had nothing to do with the decoupling—the same way an aircraft's black box cannot cause it to crash. Which means the authorities are still clueless as to what transpired. Or are they?
Hence, the "sabotage" angle.
The DOTr statement has raised more questions than it has provided answers
What happened to CCTVs? What happened to custodians and supervisors? What happened to logbooks? What happened to security guards? All of these were breached by the saboteur? Or all of these weren't there in the first place?
The DOTr statement has raised more questions than it has provided answers. Questions that are so obvious the DOTr's PR team spelled them out in the press release. Is this an attempt to condition our minds, or could it be they simply don't know anything? Even worse, are they just hiding something truly unsafe about the MRT?
Another day, another Philippine public transportation drama.