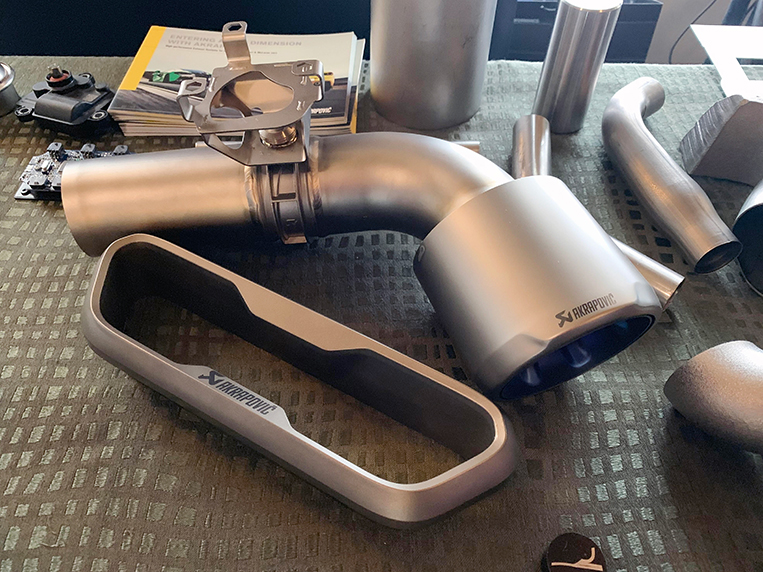 If diamonds are a girl's best friend, then titanium is definitely man's, alongside carbon fiber. These two materials feature in a lot of things that men like: automotive parts, sporting equipment and fine watches. It's only fitting, then, that Akrapovič, manufacturer of arguably some of the finest exhaust systems in the world, utilizes these two materials extensively in its product lineup.
The company was founded in 1991—originally as a motorcycle tuning shop—by Igor Akrapovič. The crafty tuner and businessman soon focused on his own line of titanium exhaust systems. Today, 65% of the firm's business is in motorcycles, while 35% is in automobiles, a line that only started in 2010.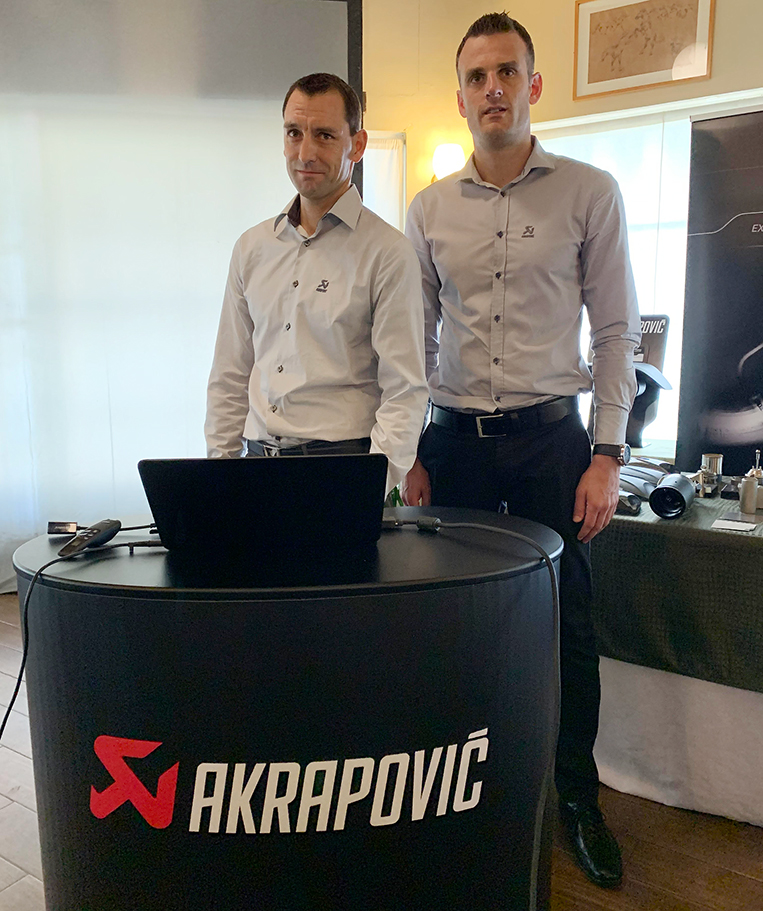 Marko Magdic and David Brecelj of Akrapovič recently flew in from their home of Slovenia to meet with journalists, dealers and clients. The pair discussed Akrapovič's history, its future and its cutting-edge technology, with a focus on the brand's automotive lineup. They told us how titanium is an ideal material for exhaust systems as it's light, able to withstand extreme temperatures up to 1,000°C and corrosion-resistant.
Akrapovič is the only titanium company in the world that forms and casts its titanium components into specific shapes. It utilizes titanium blanks bought from the US and Japan, processes these into its own proprietary titanium alloys, and forms them into specific shapes. It eschews the more common pie-cut construction used by other titanium exhaust makers as pie-cutting creates areas of weakness in the design construction. By casting and precision-forming titanium, Akrapovič can make complex shapes and sizes, and utilize full CFD (computational fluid dynamics) design software to engineer the lightest and best-flowing exhaust system possible.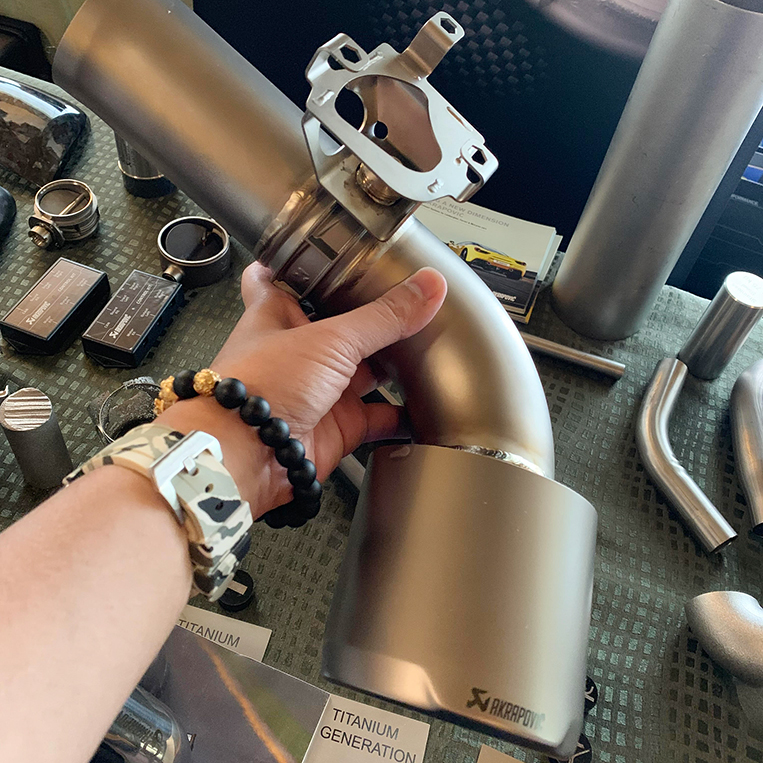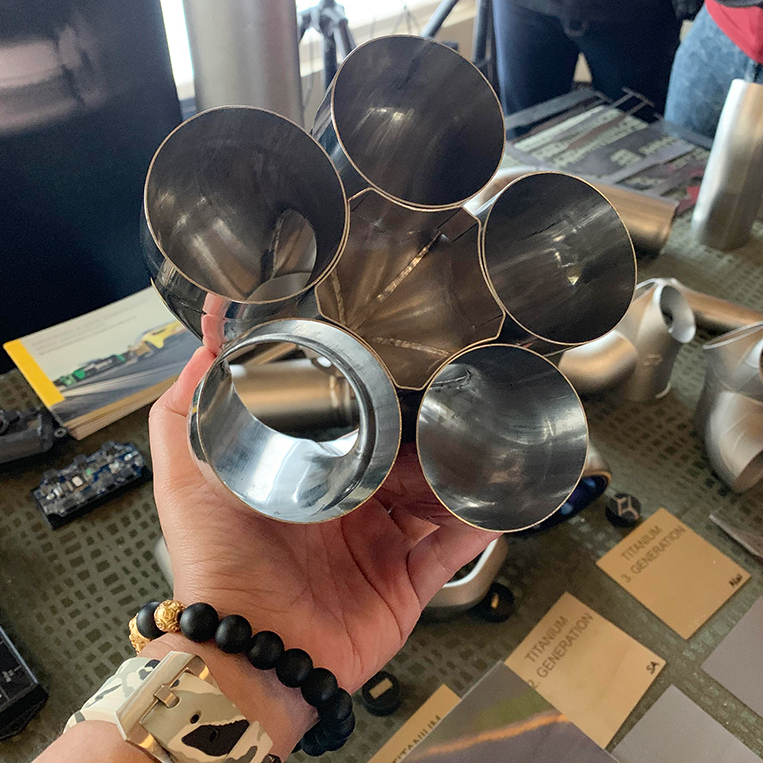 No other titanium exhaust producer offers this level of engineering. Akrapovič is one of Europe's largest titanium users outside of the military and aerospace industries. With over 1,400 employees at its facility in Slovenia, the enterprise is able to work quickly and design, engineer, test and manufacture everything in-house. It can usually come up with eight new applications in a fiscal year.
A typical Akrapovič titanium exhaust saves anywhere from 40% to 60% in weight over OEM stainless-steel systems, especially if you order a complete race-style system that includes the exhaust manifolds or headers and a cat-less straight-pipe system. And because it is titanium, it should, in theory, outlast the life of the vehicle.
Akrapovič is OEM-approved, finding its way into cars like Koenigsegg's Regera, Bentley's Bentayga, Porsche's 997 GT2 RS and Lamborghini's Urus
Akrapovič's product offerings for automobiles cater mostly to high-end and exotic sports cars. Applications include those for Lamborghini, Ferrari, BMW M and Mercedes-Benz AMG models. Only the Nissan GT-R and the Toyota Supra are models from Japan that Akrapovič caters to. The brand is also heavily invested in motorsports, with experience in Formula 1, Le Mans, WRC and WEC. Akrapovič is also OEM-approved, finding its way into cars like Koenigsegg's Regera and Jesko, Bentley's Bentayga and Continental GT3-R, Porsche's 997 GT2 RS and Lamborghini's Urus.
The US, Germany and China are the brand's biggest markets, with its most popular model at the moment being the full-titanium exhaust system for the BMW M3 and M4. In the Philippines, surprisingly, the Akrapovič's most popular system is for the Nissan GT-R.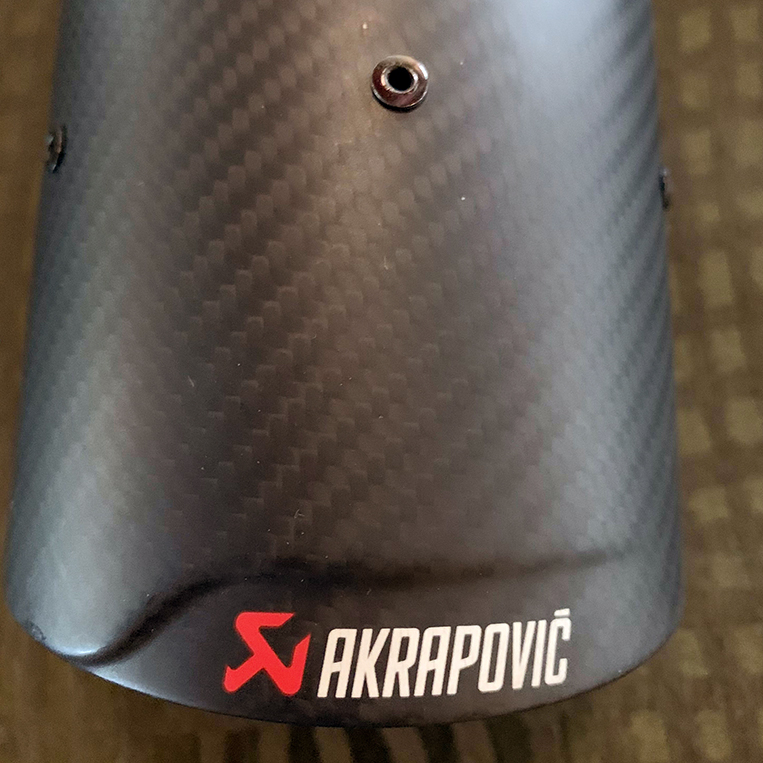 The future seems to be electric, and Akrapovič is preparing for this as well. Hybrid cars are heavy, and they will benefit from a lightweight, high-performance exhaust system. Pure EVs might be able to make use of Akrapovič's equally extensive experience with carbon fiber and other composites. In fact, Akrapovič is currently developing a new material called carbon matrix composite, which NASA is also experimenting on.
If you're looking to upgrade your car's exhaust system, we suggest you give Akrapovič's products a try. We promise they're worth their weight in, er, titanium.