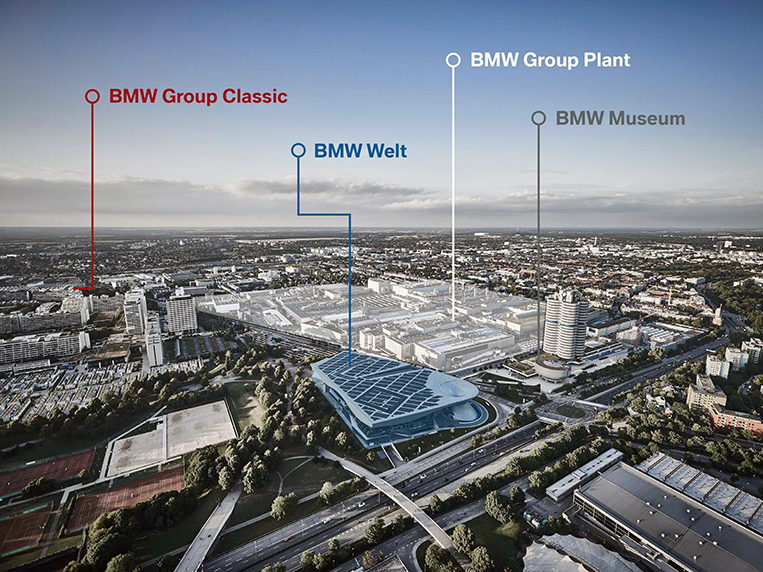 For any BMW fan, the iconic BMW Group Center, which is a complex of buildings and factories beside the Munich Olympic Complex in Germany, is an automotive mecca that car guys must visit at least once in their lifetime. It's easy to go to via subway, bus, taxi or Uber. Entrance to BMW Welt is free, while the BMW Museum charges you €10 (P577) for each adult or €24 (P1,384) for a family with kids. A guided tour can cost anywhere from €126 (P7,265) to €185 (P10,667), depending on the highlights.
BMW Welt is housed in a futuristic-looking building across the BMW Tower (known as the four-cylinder building), while the BMW Museum is the dome-shaped structure beside the corporate headquarters. The two are connected by a pedestrian bridge, and also play host to various BMW-related events.
The main difference between BMW Welt and the BMW Museum is that the former is an interactive experience that allows you to try or play with the automaker's latest and future models (including those of Mini, Rolls-Royce and, of course, BMW Motorrad), while the latter is a treasure trove of BMW history that includes production vehicles, racing cars and even aircraft engines.
There's a massive gift shop and even a children's section to educate tomorrow's generation about the future of transportation and mobility. There are also coffee shops and a fine-dining restaurant. On Sundays, most establishments around or near the Olympic Complex are closed, but BMW Welt and the BMW Museum remain open, making them popular destinations even for locals.
The beauty of BMW Welt and the BMW Museum is that they are always evolving. Their administrators constantly change the lineup of many of the cars and motorcycles on display every so often. My first visit here was in 2013, and six years later I still feel excited because there is a whole lot of new things I haven't seen before.
After the BMW Welt and Museum tour, you can also schedule a factory tour as well as a visit to the BMW Group Classic, a small museum of sorts that houses more classic cars. Attached to it is a BMW dealership specializing in the brand's high-end collectibles and rare low-volume models. For instance, you might spot an Isetta being serviced, an M1 awaiting attention, and a small fleet of Z8s lining up for their routine maintenance.
These BMW establishments are a real treat for car-crazy folks. I don't want to bore you any longer with my story, and will instead let the pictures do the talking. I really hope you get a chance to go one day. Even if you're not a BMW fan or you just happen to have a passing interest in cars, I have no doubt you will appreciate both BMW Welt and the BMW Museum. In the meantime, enjoy the photos.