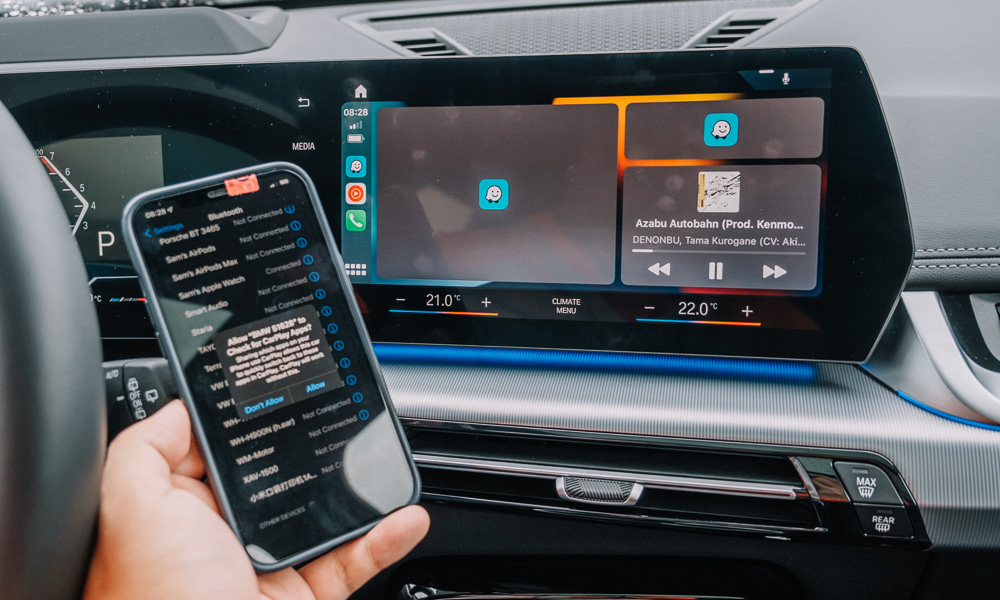 When was the last time you used your car's built-in infotainment operating system? Most of the time, people just plug their phones in to use Apple CarPlay or Android Auto, as most of the built-in features are near-useless in our market, aside from music, vehicle diagnostics (for those that support it), and a few settings.
Heck, we've come to a point where even Apple and Google are developing its applications to eventually replace the in-car operating system itself.
But that doesn't mean automakers have stopped developing and innovating with their operating systems. With the advent of 5G and the cloud, vehicles are now becoming interconnected, and that allows for advanced features that even Apple and Google haven't been able to implement yet.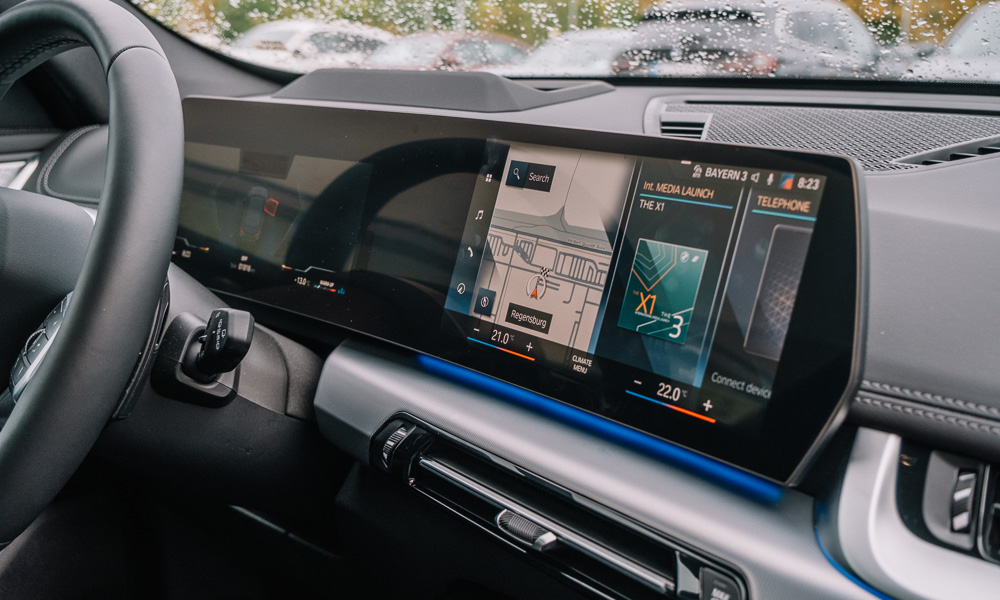 If you're in one of the newer BMW vehicles that have the Curved Display running OS 8 and a built-in eSIM, this enables the ConnectedDrive functionality. Think of it as having a built-in smartphone without the smartphone. Currently, we have this in our local-market iX, but most of the features are somewhat useless.
Fortunately, during my time in Germany, I was able to experience a demo of the operating system's full potential in a country with the infrastructure capable of supporting it.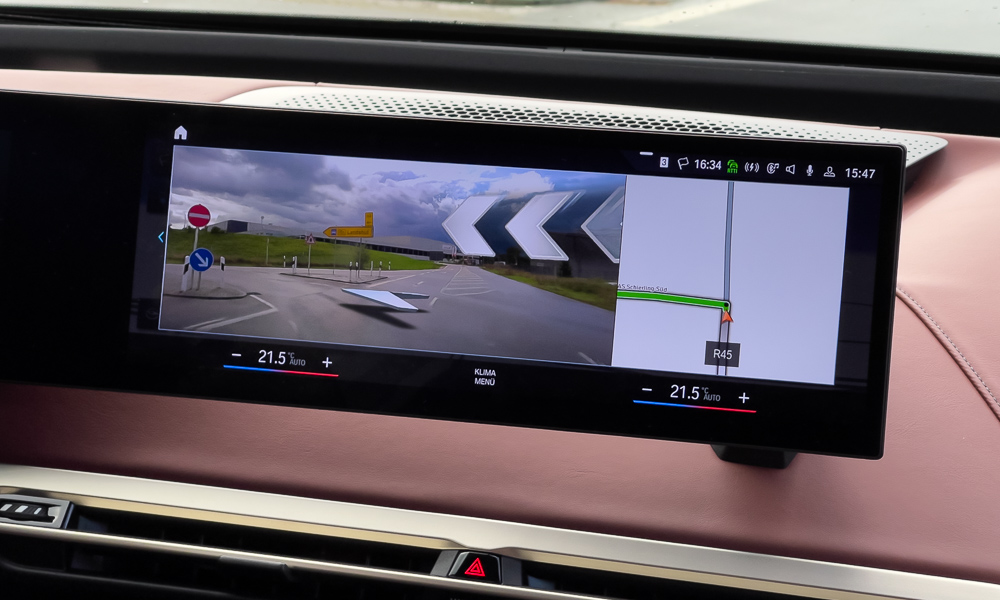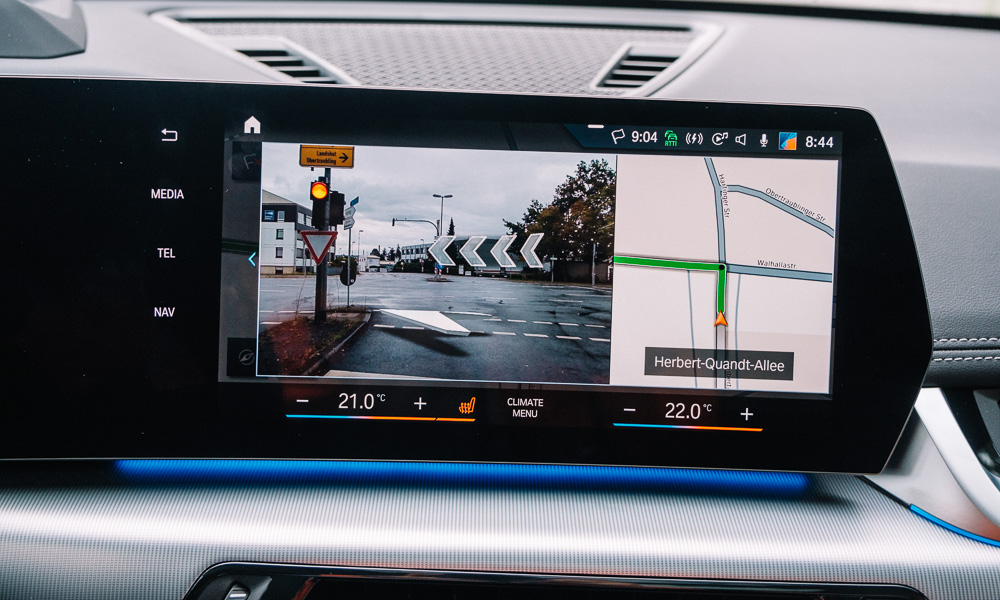 It has the basics like in-car navigation, but it augments it with features like real-time traffic information, augmented-reality directions (where it shows a camera feed from the front with an arrow to tell you where to go), and on-street parking locations.
In the fully loaded BMW X1, it has traffic light recognition. When I used it, the car would beep and display an indicator on the heads-up display that the light turned green. This is a very nice feature to have, but it's slowly being rolled out (understandably), only hitting the German market by October 22.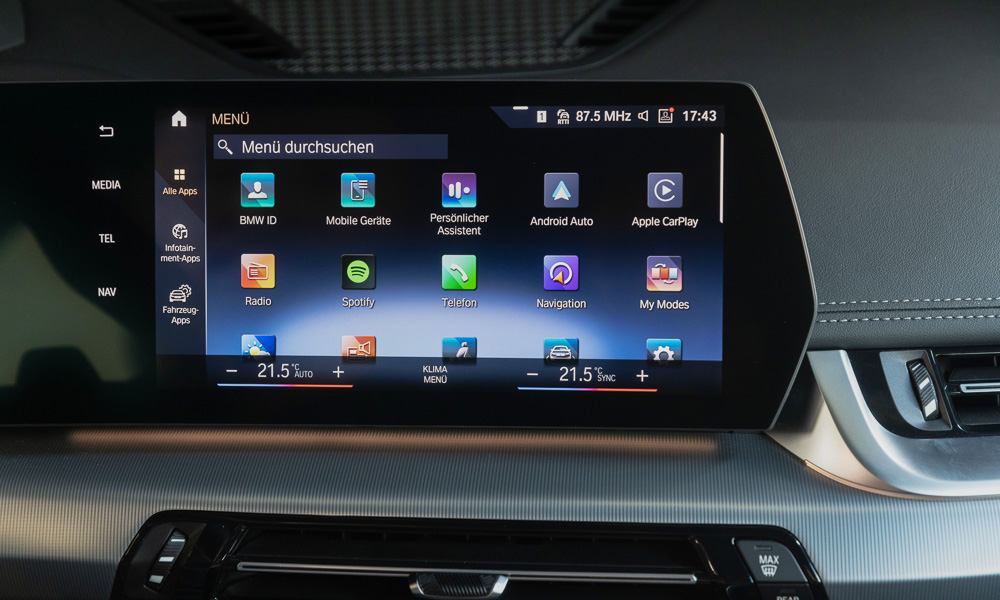 Aside from navigation, there are apps for weather, news, music streaming, and a personal voice-activated assistant to do things for you. And soon, you could start playing video games as well on the screens of your future Bimmer while waiting for the car to charge.
It has over-the-air updates like a smartphone, so you don't need to bring a car to the dealership for feature upgrades, but controversially, you can also pay to enable features (like heated seats).
Granted, this caused quite a stir on the Internet, and it seems like automotive manufacturers are also going to go down the route of microtransactions much like video games. That's not cool.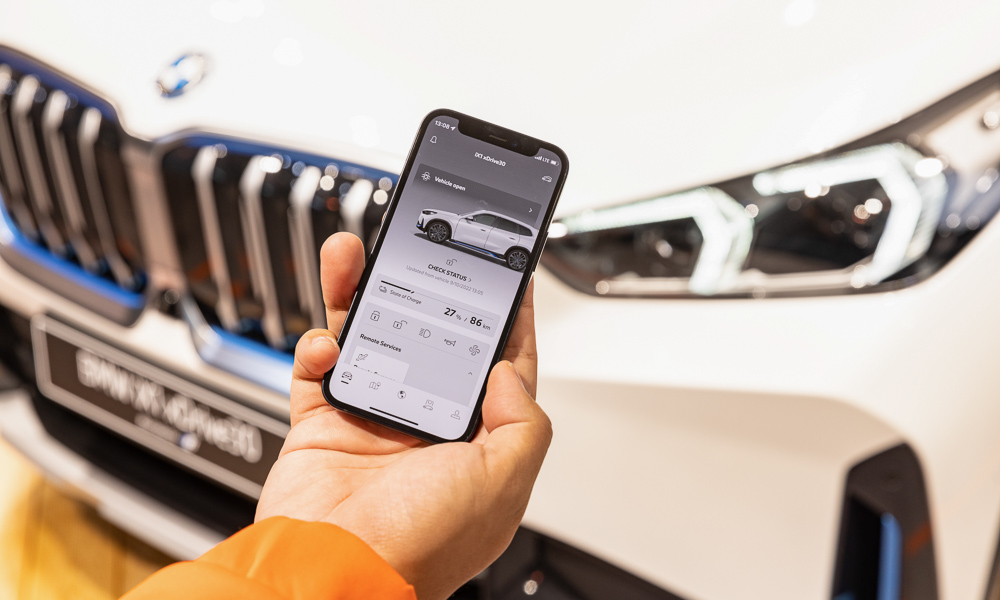 But the beauty of being a connected vehicle comes from the MyBMW app on your smartphone, assuming that your phone and vehicle have a stable data connection. Otherwise, it won't work as well (or at all).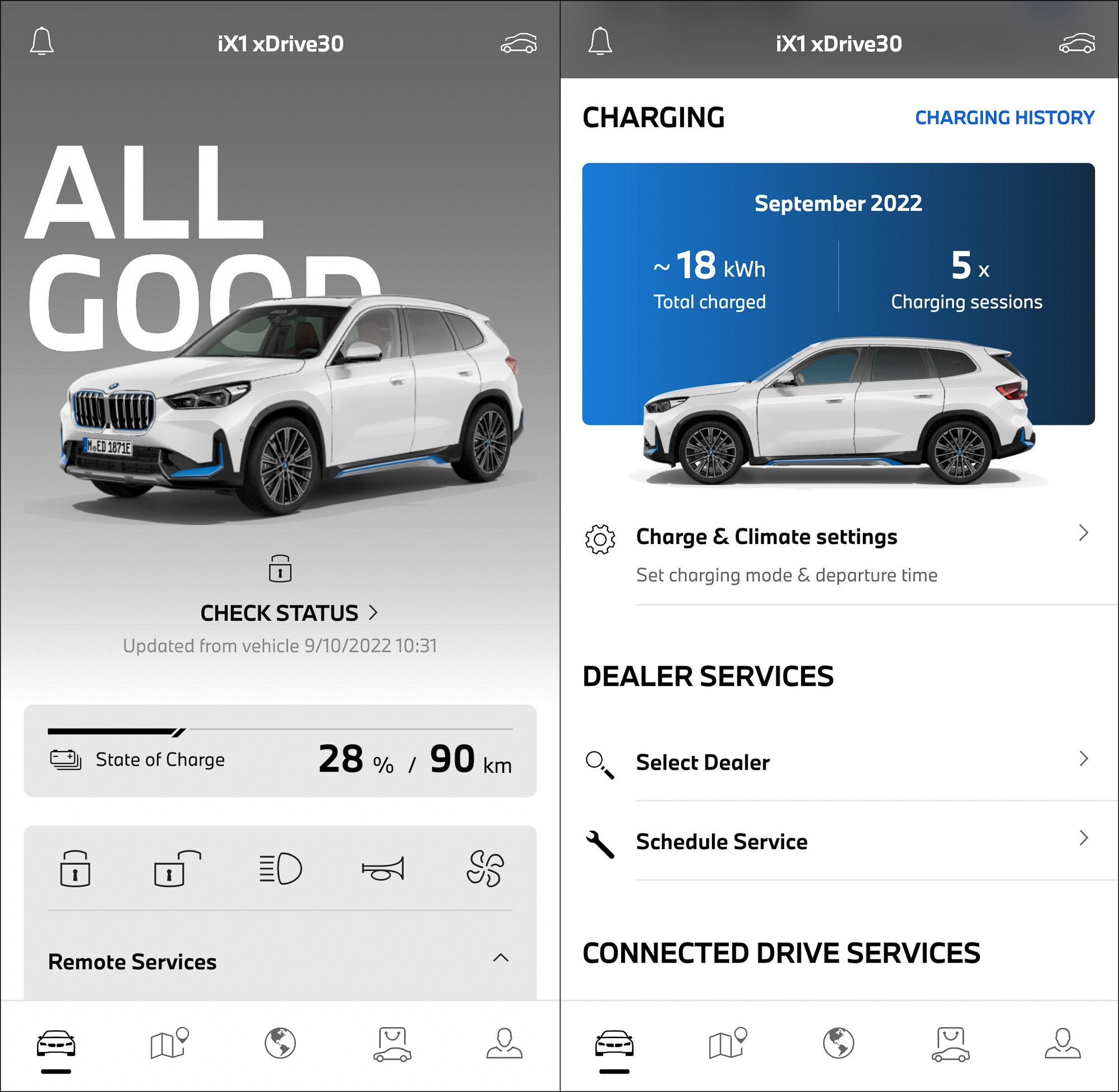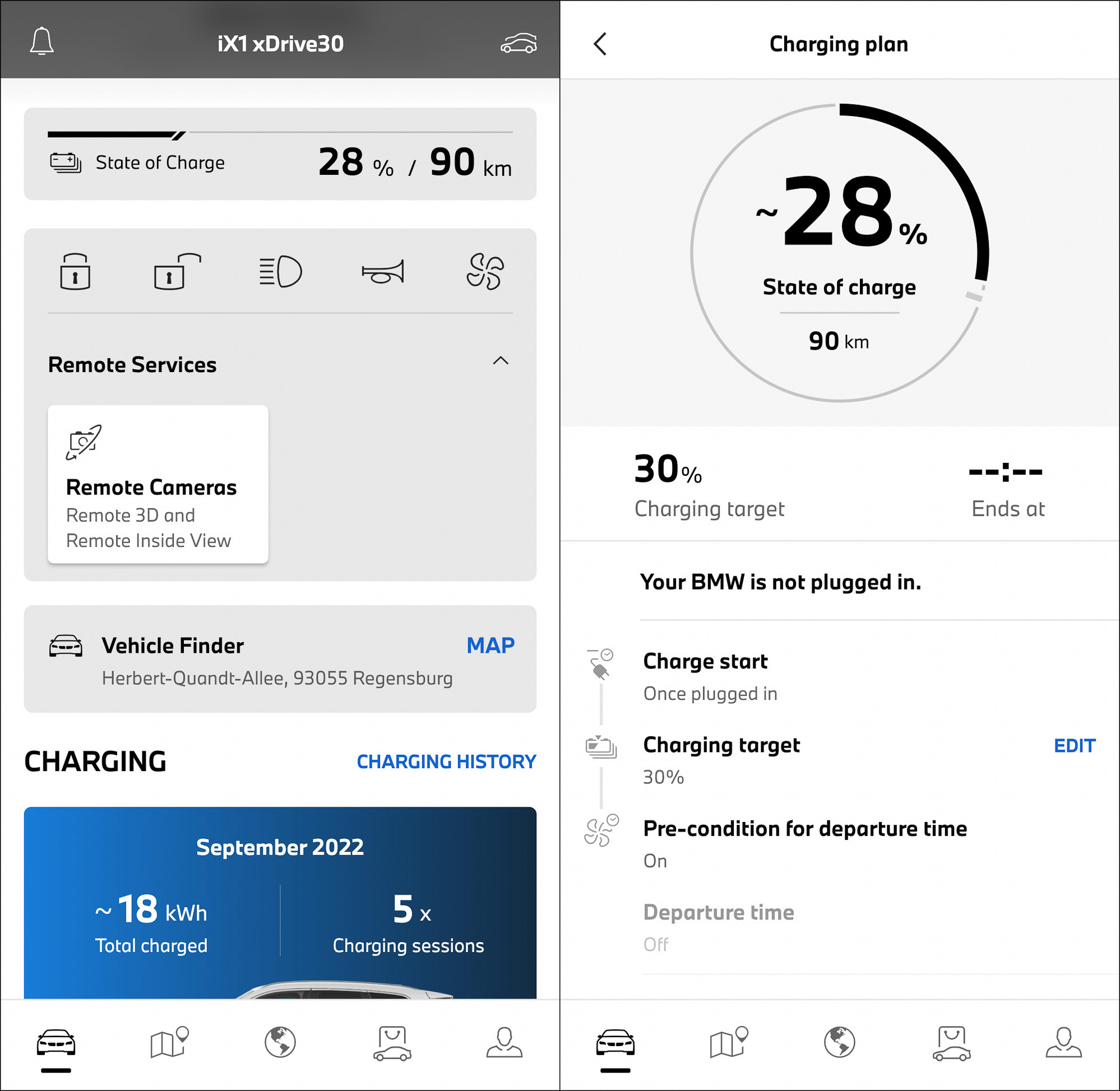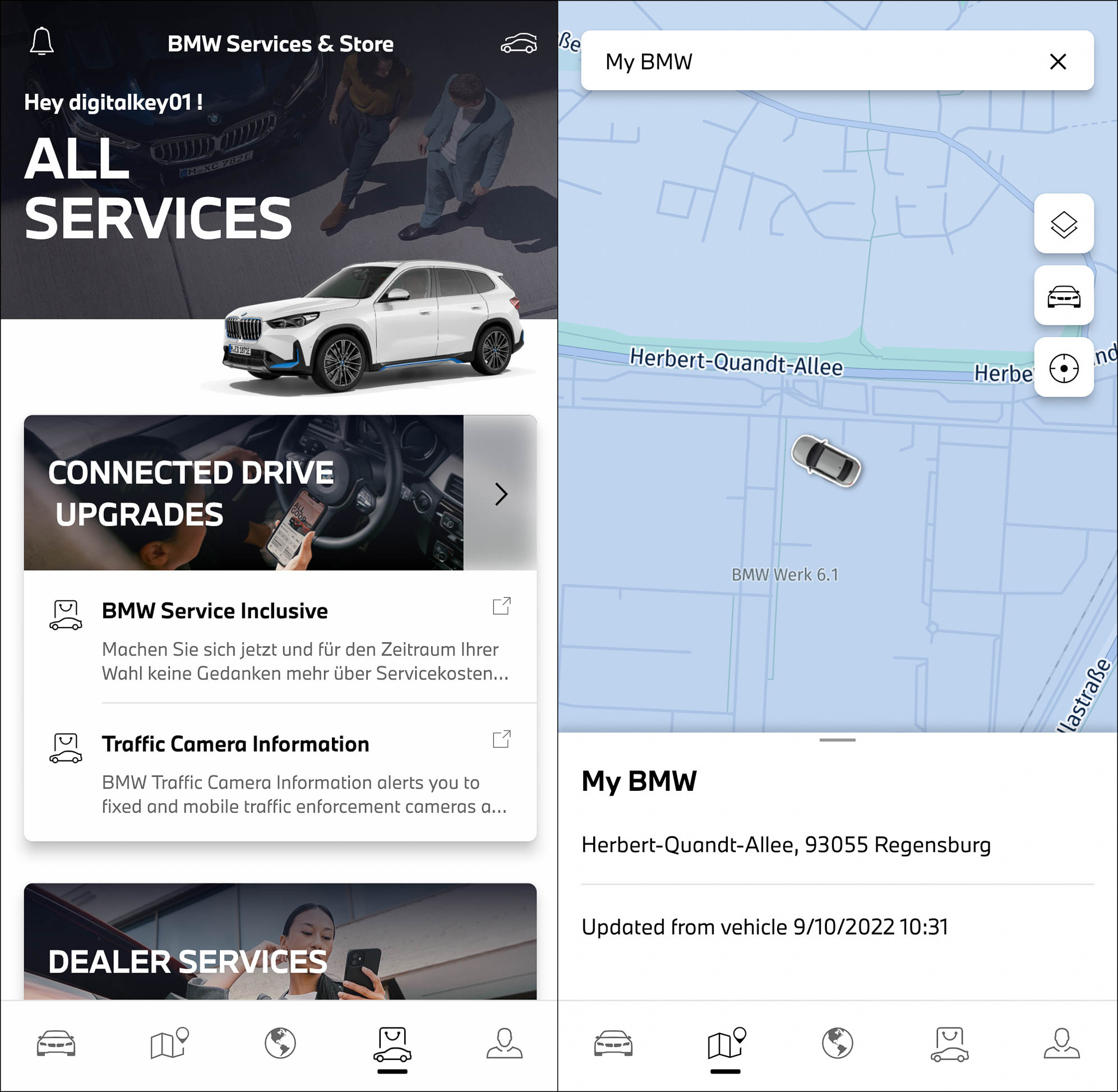 Using this application will allow you to do a whole lot of things from anywhere, but in practice, even if I was literally standing beside the car, there was a noticeable delay for all actions:
View the location of your vehicle in real time
Check the state of charge/how much fuel you have
Remotely lock/unlock the doors
Flash the lights and honk the horn
Precondition the cabin (make it cold/hot)
Schedule service and find a dealership
Buy "upgrades"
And for some reason, if you had two or more BMWs, signing into your BMW ID will sync over preferences from your original car to the one you've just logged into—things like your seating position, mirrors, favorite radio stations, and other settings. Even the home screen layout and widgets will carry over, as if you've already driven and owned said car.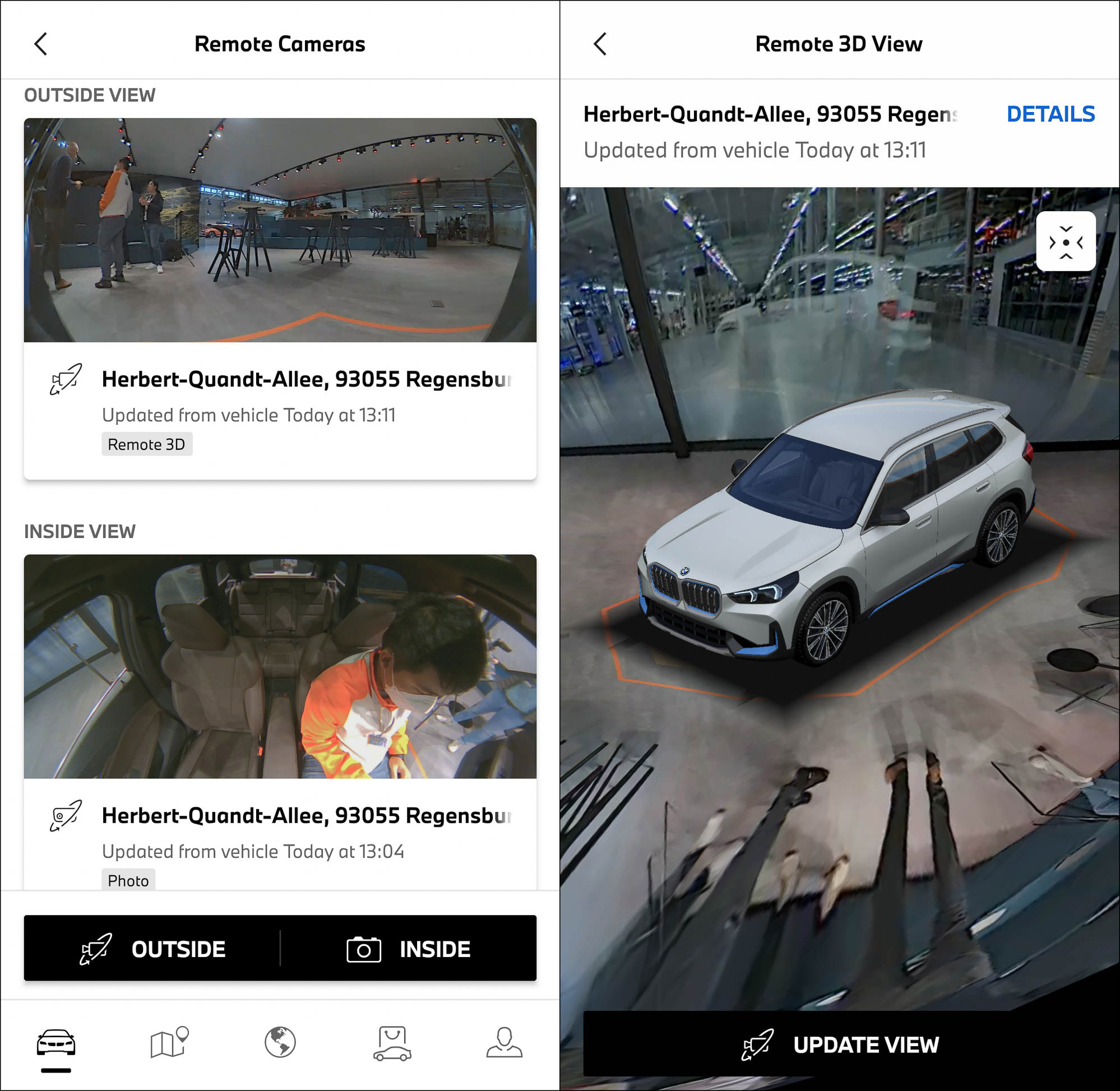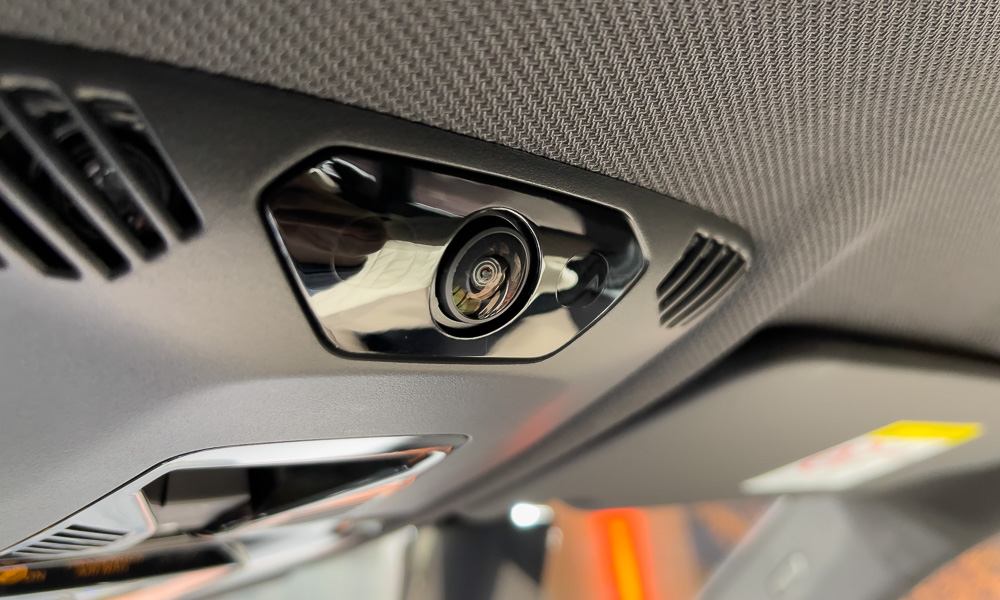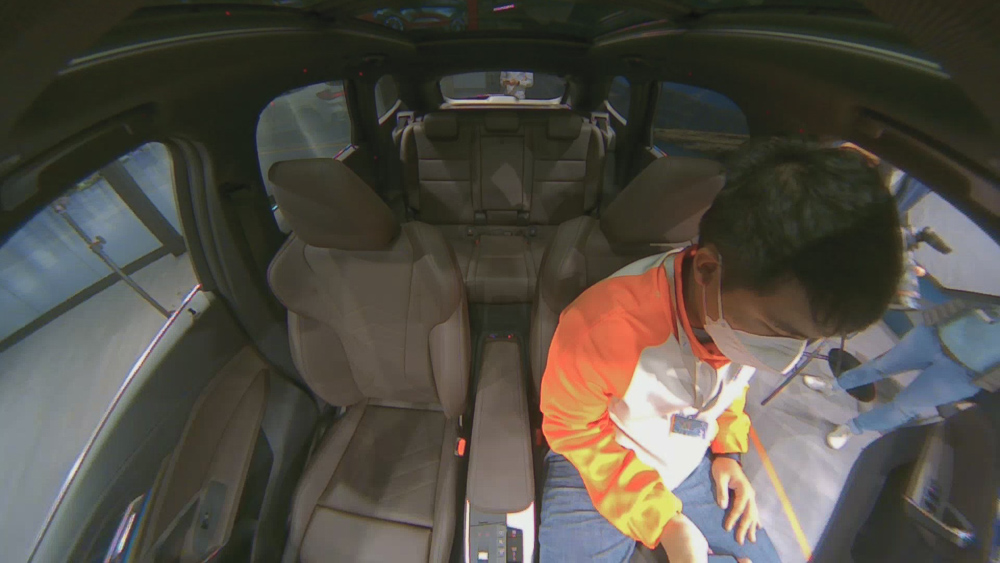 On this iX1 prototype, I could also take a photo of its surroundings using its 360° camera (and present it as a 3D model you could interact with), or a photo of the inside to check if you've left anything in the cabin. No need to go down to your parking lot to check if you've left your bag in your car.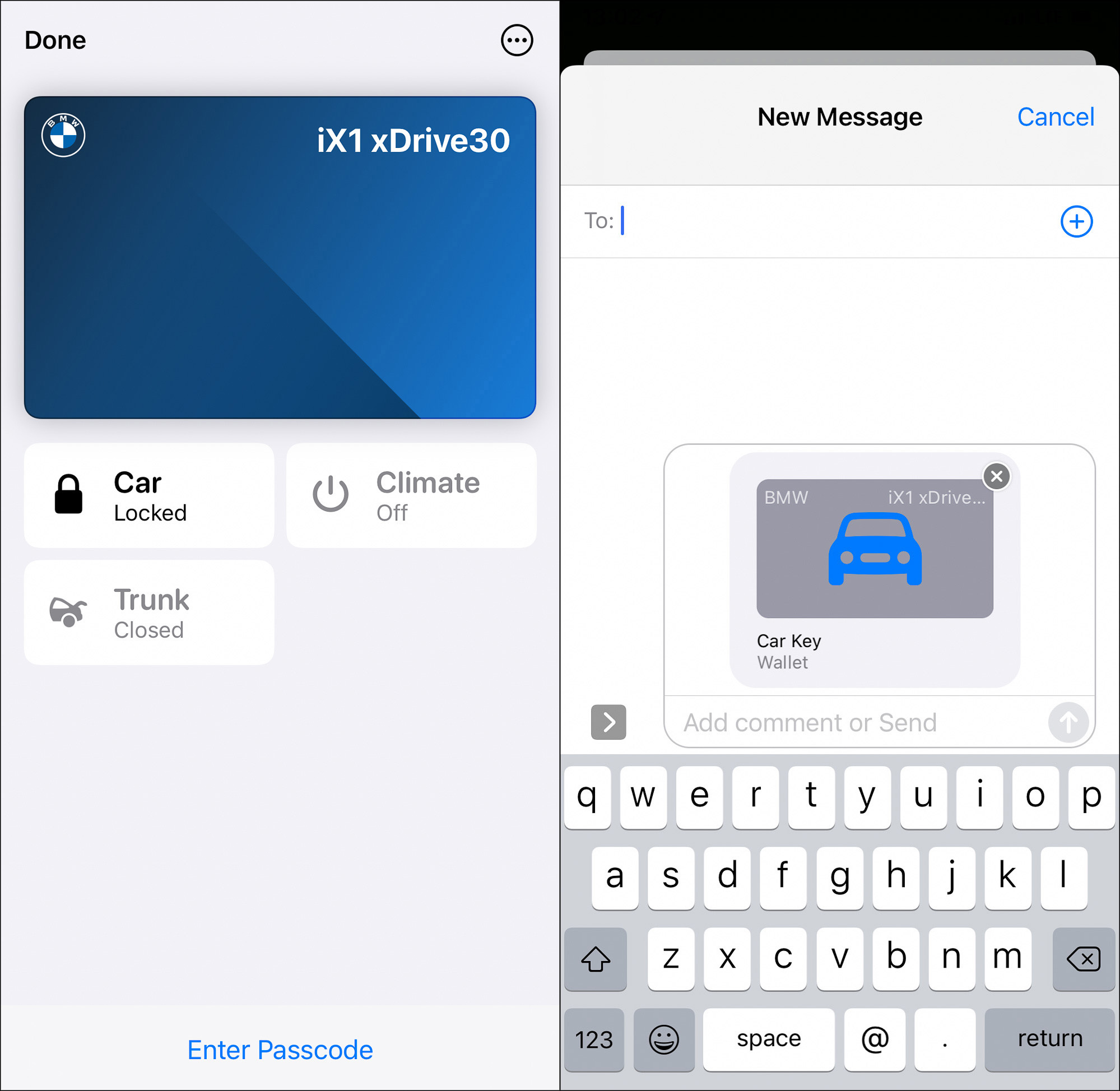 Finally, we're getting to the Digital Key. You've probably read about this in several of our articles before, but you can use it if your car is fitted with the option and you have any of these devices:
iPhone XR/XS (or newer)
Apple Watch Series 5 (or newer)
Samsung Galaxy S21, Note 20 Ultra, Z Fold 3, and Flip 3 (or newer)
Google Pixel 6 (or newer)
This basically allows you to hold your phone or smartwatch near the driver-side door to unlock the vehicle, turning your phone into the key, allowing you to operate the climate control and the boot.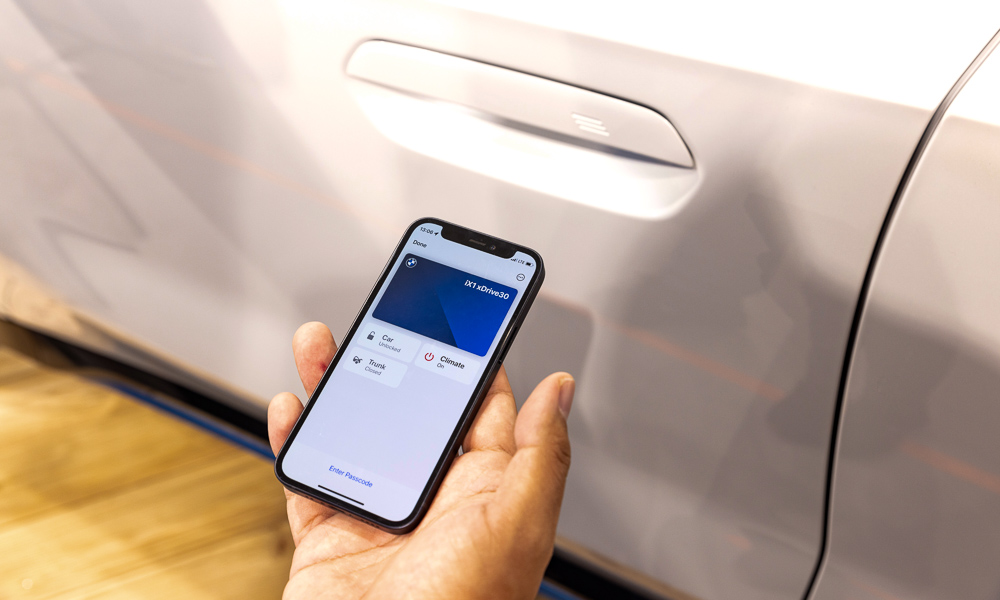 But if you've got an iPhone 11 or Apple Watch Series 6 (or newer) with the U1 chip, this enables BMW Digital Key Plus, which utilizes Ultra Wideband tech instead of Near Field Communication like on the regular one.
It's still mostly the same, but you can now unlock the car without taking your iPhone out of your pocket. Plus, it's a lot more secure to prevent relay attacks, so hackers won't be able to intercept your key data and steal the car. Yes, it does happen.
And if you're wondering, you can share the digital key with up to five people, and if your iPhone runs out of battery, this function will still persist for up to five hours via a Power Reserve mode, so you don't get locked out of your car with a dead phone.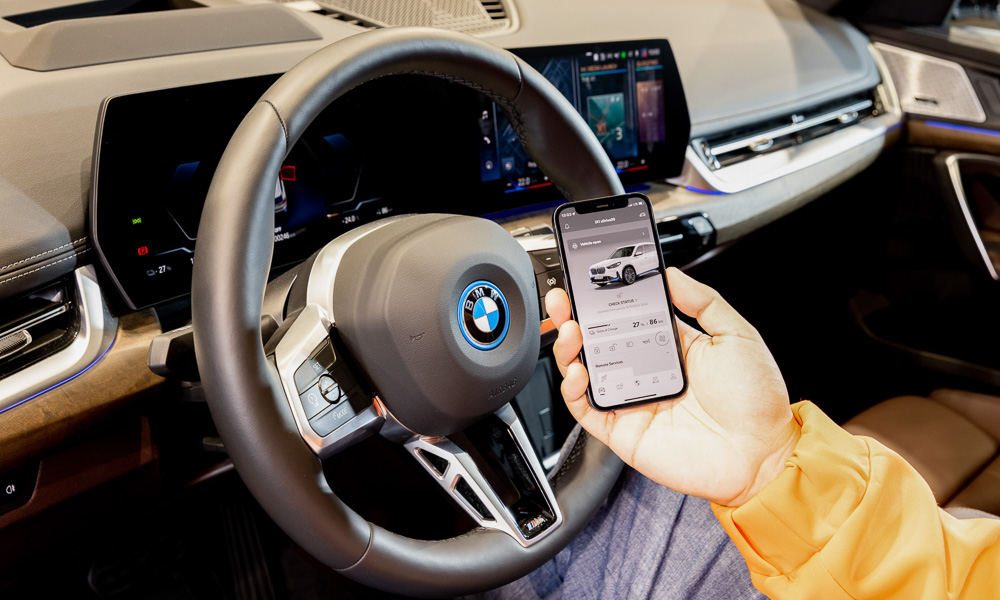 That's cool and all, but how will that benefit us over here? Well, as I was told, to get this ConnectedDrive network to work, BMW Philippines must engage in a partnership with either Globe or Smart to activate the eSIMs fitted in these newer vehicles.
There are a lot of questions that come to mind, like how much the owner would have to pay monthly for the cellular connection, or if it would be usable outside of the city (as these cars run on LTE and 5G networks).
From my experience, most of these features stopped working when we got to the mountainous regions of Germany where the signal was weak, but this was rare. To deliver a consistent experience, we also must have the backend to support these connected cars across the archipelago.
But hey, after having a taste of what a cloud-connected vehicle can do, I'm excited about the future of vehicle operating systems.