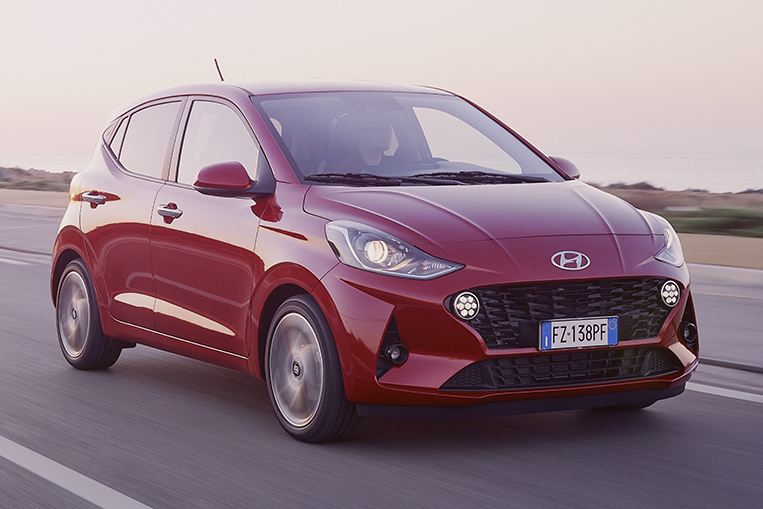 The supermini is really nothing more than postage stamps with wheels and an engine. Other than the obvious benefits in tight parking spaces and running costs, there is nothing exciting about jumping behind the wheel of a small city car. However, Hyundai may have found a way to make such a vehicle a tad less boring. Check out the all-new i10.
"Sporty" seems to be the adjective that automakers like using to describe any vehicle with a big grille, more bodywork creases, and a fancy set of alloy wheels. That's how Hyundai describes the newest iteration of its popular baby hatchback. The radiator now stands to get plenty of cool air due to the car's gaping mouth (which sort of reminds us of Lexus's spindle grille). Although the fenders aren't flared, tasteful grooves on the sides make them look wide enough to accommodate the optional two-tone 16-inch wheels.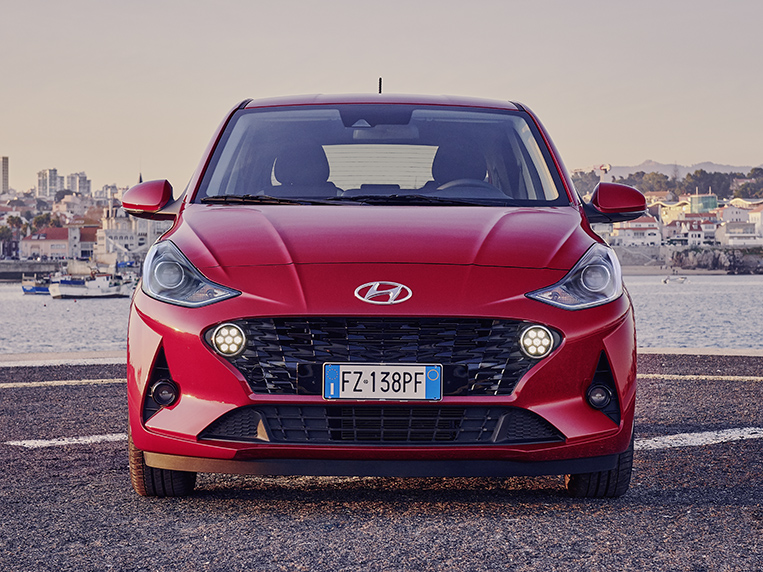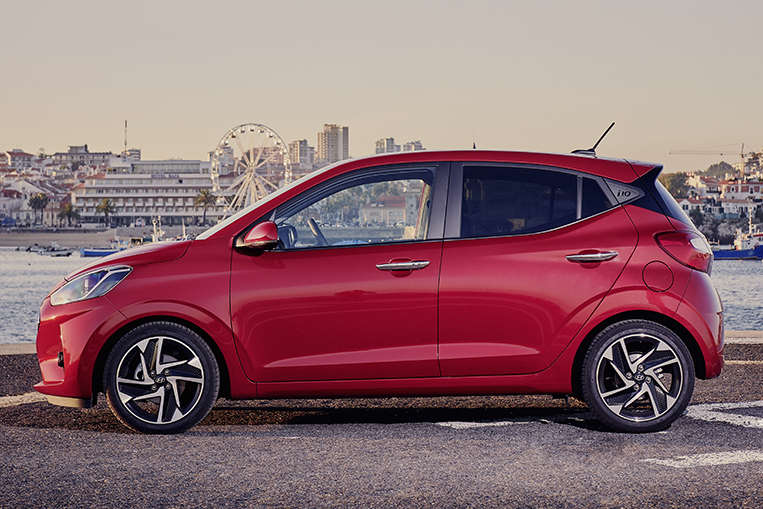 The exterior even has some quirky touches. There is a cheeky i10 badge on the upswept rear-quarter windows. The LED daytime running lights are housed in pods on each side of the grille. You can even spec the car with a black or red roof.
The cabin is quite the opposite with less-dramatic changes. The dashboard is typical of an urban car in which maximizing limited real estate is more important than styling. Tall passengers will like the improved legroom, thanks to a wheelbase that is 20mm longer. There is a generous 252L of luggage space with the rear seats up, easily accessed with a lower load floor.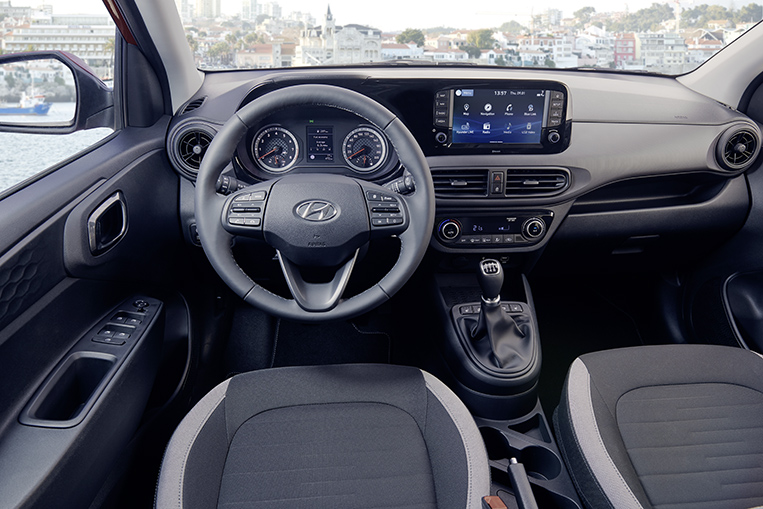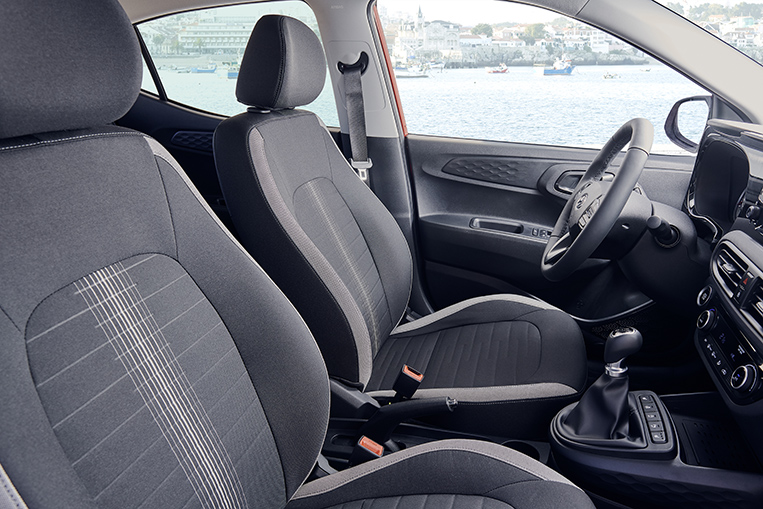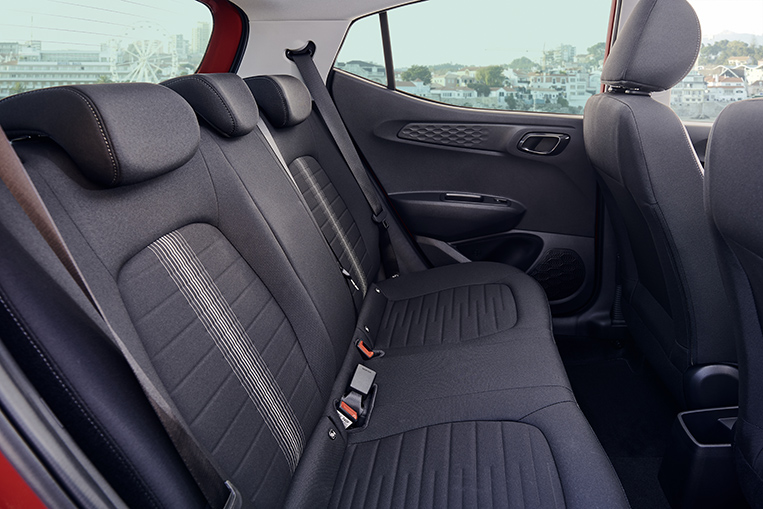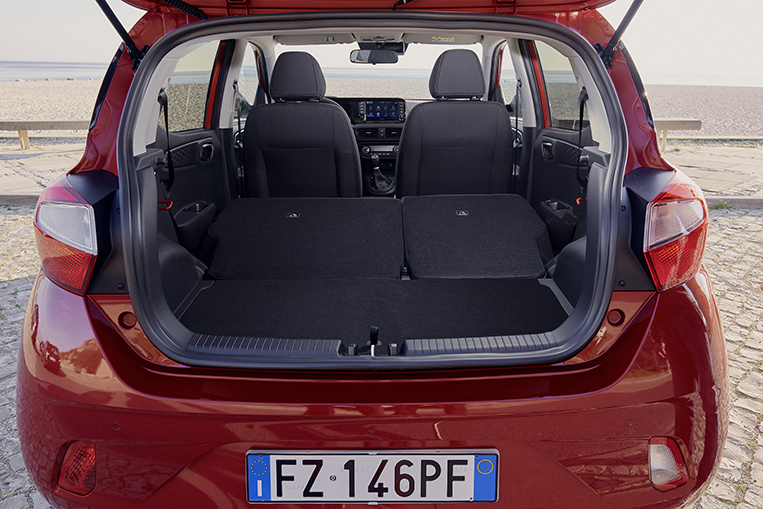 The interior clearly prioritizes function over form, the former being the main theme as the i10 now has toys that are typically not included in a mini city car. Aside from a reversing camera and parking sensors, the i10 now has onboard telematics courtesy of Hyundai's Bluelink technology. The built-in navigation system can display real-time traffic and parking updates, as well as the latest fuel prices at nearby filling stations.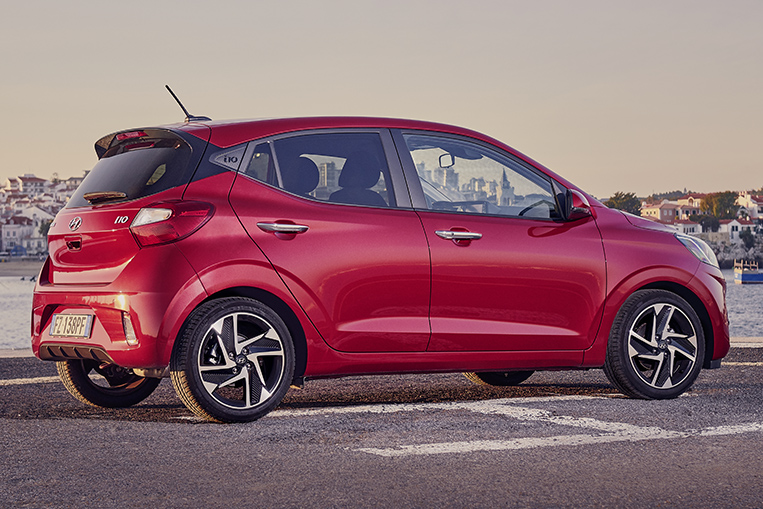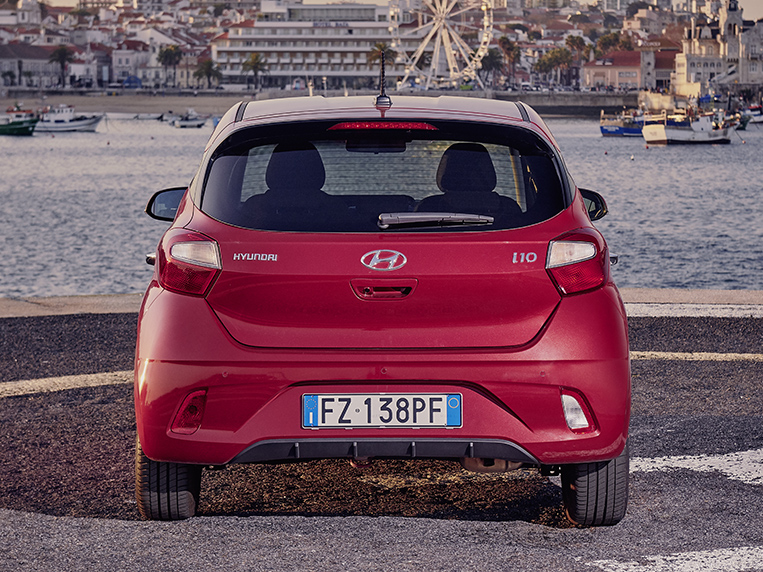 A downloadable smartphone app allows drivers to search for their destination and send it to the i10's navigation system. Subscribing to Hyundai's LIVE Services allows access to several security and convenience features such as remote locking, antitheft alarm status, vehicle location, and maintenance updates. However, Hyundai understands that not everyone will be making use of these. To that end, the infotainment system is also compatible with Android and Apple smartphone integration. It even comes with a wireless charging pad for your device.
Despite its size, the new i10 can be a compact cocoon from the perils of the outside world with its slew of active and passive devices. These include forward collision avoidance, high-beam assist, lane-keep assist, intelligent speed limit warning, and driver attention warning.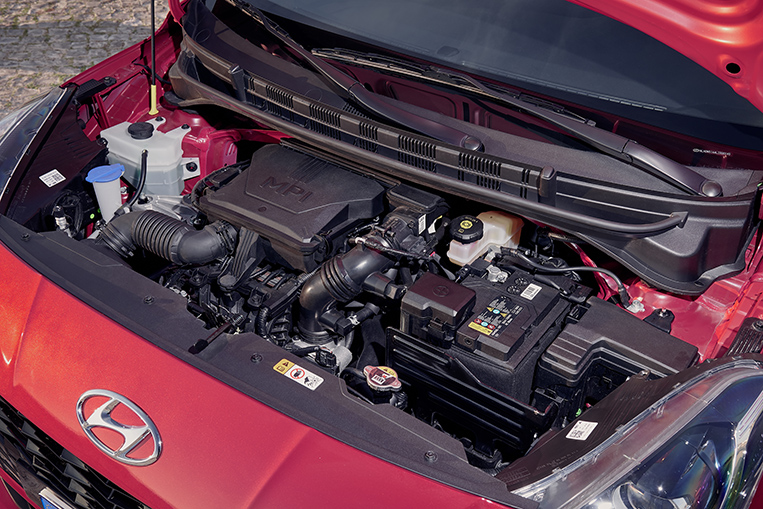 In standard trim, the i10 is powered by a choice of 1.0-liter and 1.2-liter engines. Performance is nothing to write home about given the car's purpose. But for more spirited drivers who want this city car, the N Line version sports cosmetic upgrades and a turbocharged 1.0-liter three-cylinder motor that can muster all of 99hp and 172Nm. In a package as small as this hatchback, that torque figure should make this pocket rocket fun on mountain roads.
Although the all-new Hyundai i10 is just being launched in Europe, the car already made its debut in India last year as the Grand i10 Nios. It would be nice to see a return of the nameplate to the Philippine market to give consumers a feature-packed and fun-to-drive alternative to the plain-vanilla Reina sedan.