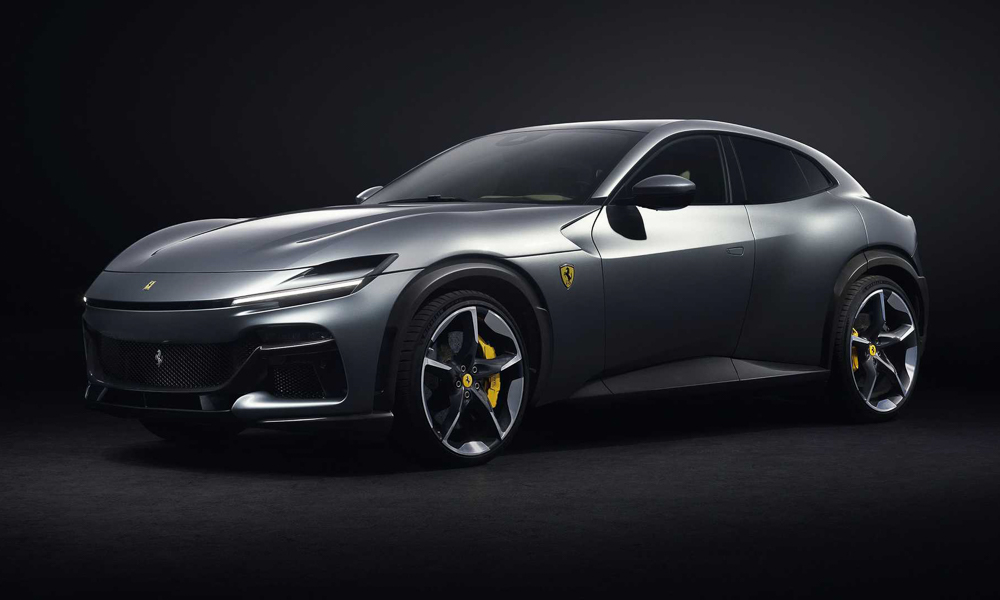 The work is done, and the veil is pulled back. Ladies and gentlemen, say hello to the Ferrari Purosangue, a car so important to the firm that even the basic press release explaining its greatness spans over 6,700 words. There's one term the Italians aren't using to describe it anywhere within that lengthy media release, and you can probably guess what it is.
In fact, the letters S, U and V are only used once in the whole document: in a section that talks about lesser vehicles from competitors. No, folks, this isn't just a sport-utility vehicle or even a super crossover. The Purosangue, which is Italian for "thoroughbred," is officially referred to as a four-door, four-seater GT car. One that Ferrari threw everything but the kitchen sink at, in the hope that it will claw back sales from competitors that, in some cases, have had years of head starts.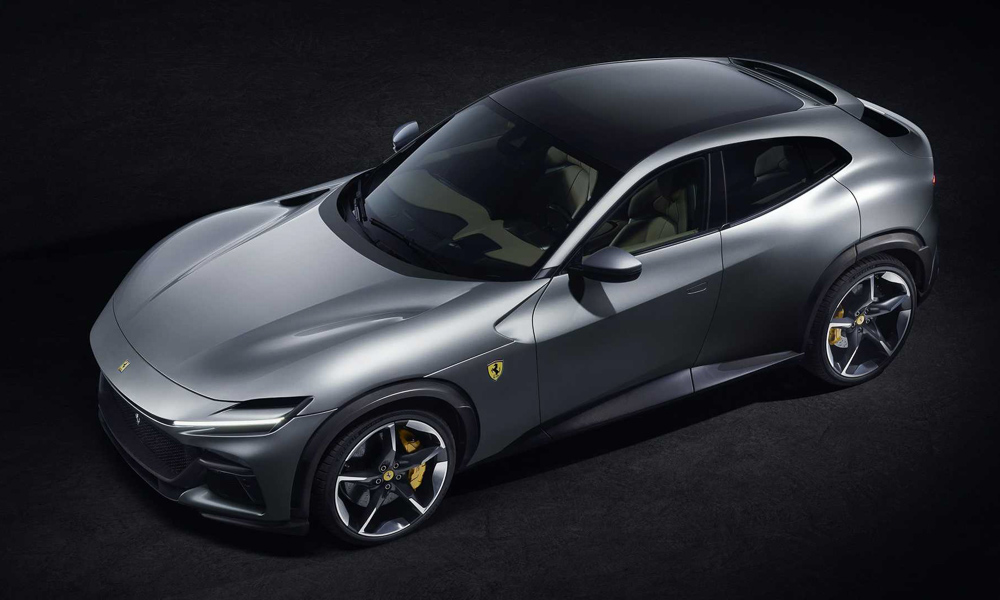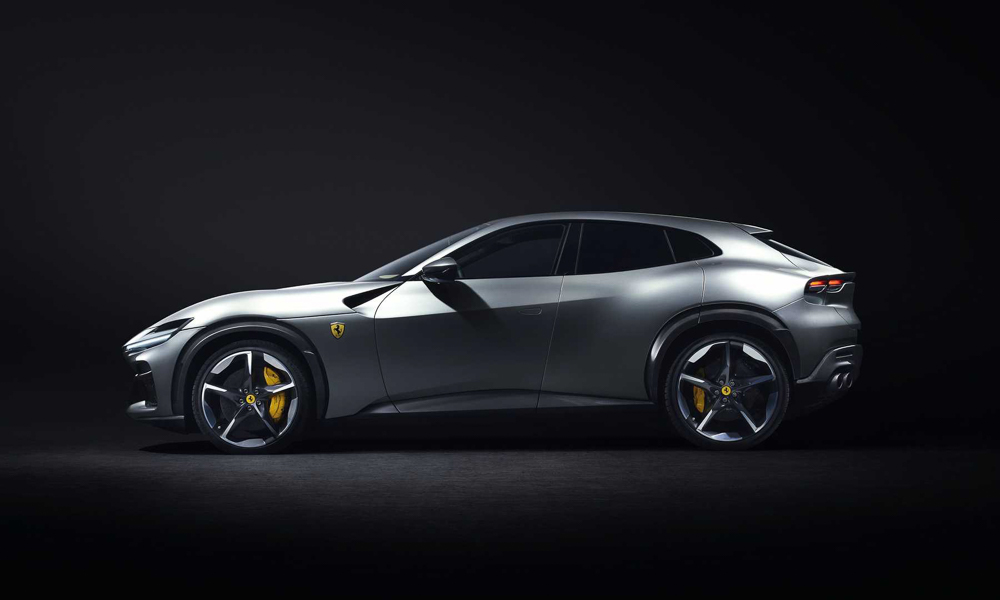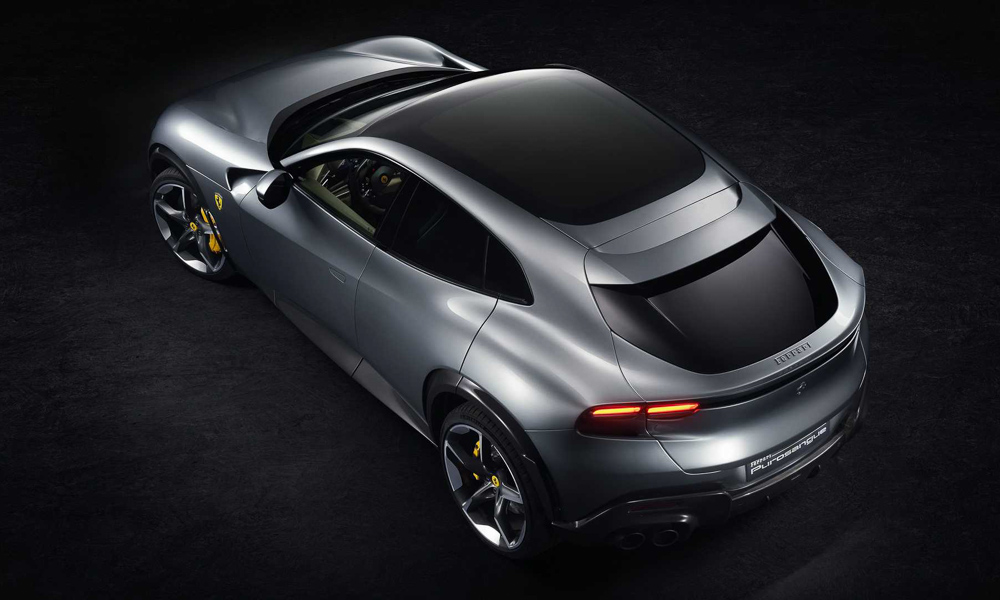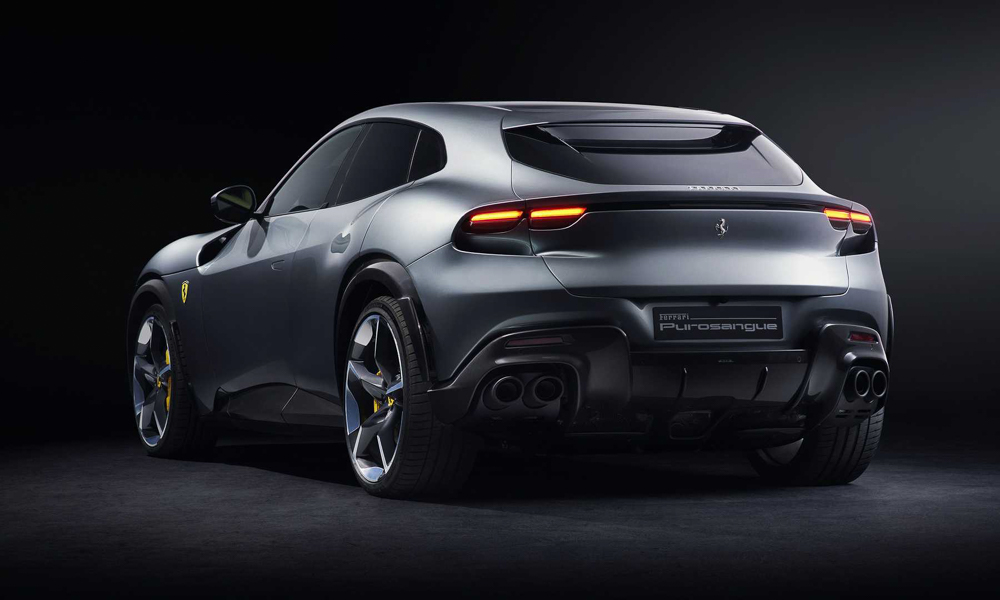 Let's dive straight in and give you the important numbers: 12 cylinders, mid-front-mounted and naturally aspirated with 6.5 liters of space for fumes to go bang. Max power and torque stand at 725hp and 716Nm, unleashed onto all four wheels through an eight-speed, oil-bath dual-clutch transmission. Zero to 100km/h is done in 3.3 seconds, 0 to 200 in a mere 10.6, and the top speed is north of 310km/h. All that while being 4.97m long, 2.02m wide, and 1.58m tall, with a total weight of (not exactly light) 2,033kg.
As for the design, we anticipate it will split opinions. At first glance, it looks like a mashup of a number of current and past models, including the SF90, the Roma, and the GTC4 Lusso. The resulting mixture was then put on stilts and unveiled to the world. Ferrari uses all sorts of grandiose terms, like "chiseled shape" and "impression of lightness" to describe its latest money spinner, but we can't help but think that this might be one of those cars best judged for its looks in the metal.
A bit like the BMW iX maybe, which turned a lot of people off but actually looks quite alright when you see one in the real world. Maybe the most surprising feature on the outside is the fact that it not only comes with four doors, but two of them are suicide-style ones.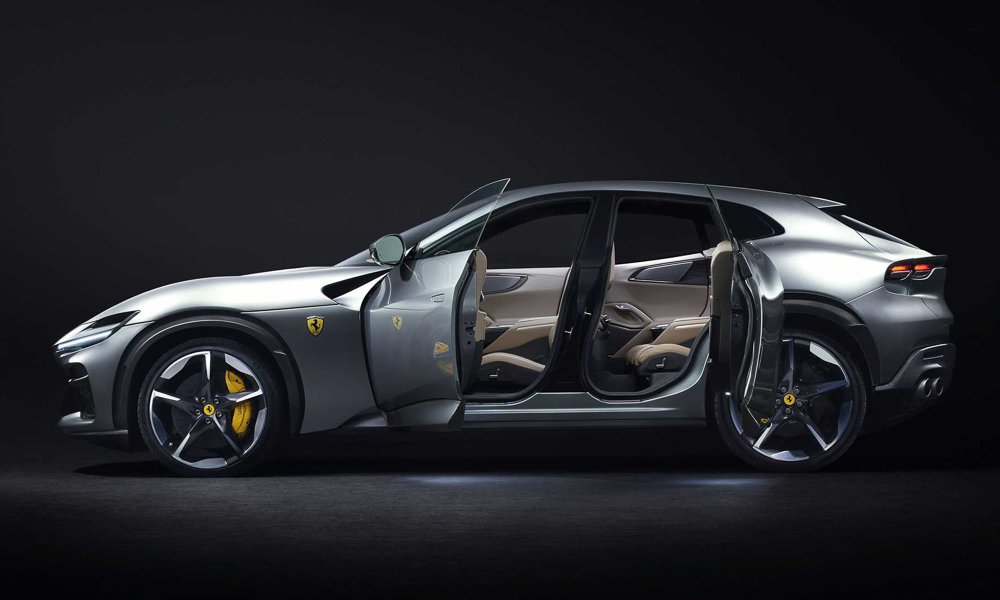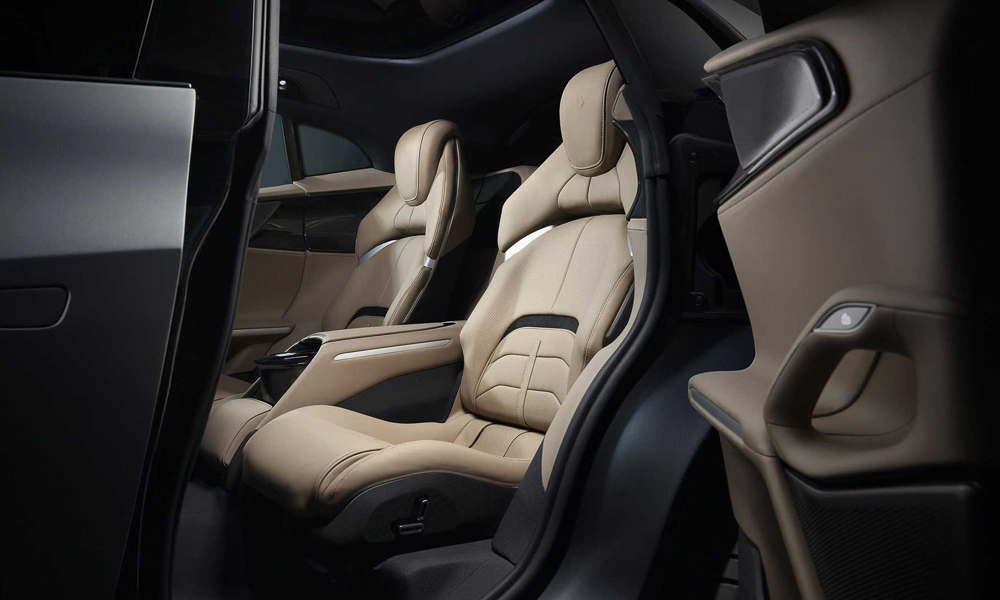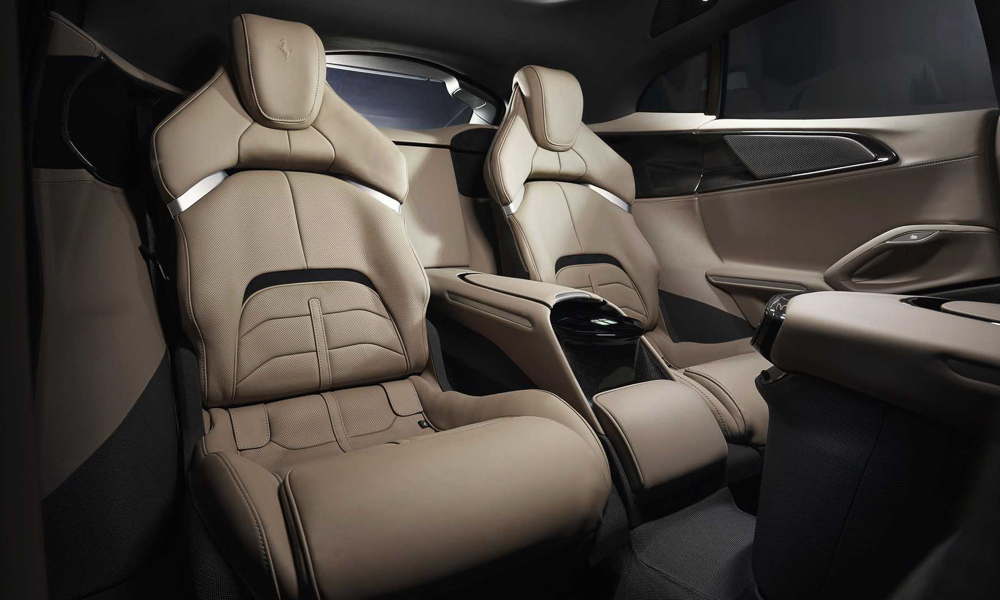 Fling all of them open and the most spacious cabin to ever leave a Ferrari factory will unveil itself to you. For the first time ever, there are four individual and separately adjustable seats that promise to grip you in total comfort when the driver puts his foot down.
The lucky chap gets to enjoy a cockpit inspired by the SF90 Stradale, and his passengers can follow the fun thanks to the dual cockpit concept that has been extended to the rear seats as well. Naturally, buyers can spec the cabin in pretty much any way they wish. On top of carpet or leather for the flooring, the carmaker is also offering a new material similar to the one used for military uniforms. Apparently, it's especially hard-wearing, a characteristic that will no doubt come in useful when passengers try to phantom-brake during especially spirited driving.
Screams of panic (or joy) can be drowned out by the Burmester high-end surround sound system that comes as standard, and even the environment hasn't been forgotten. Among other efforts, the Alcantara used in the cabin is made from 68% recycled polyester and a whopping 85% of the leather trim is sustainably sourced.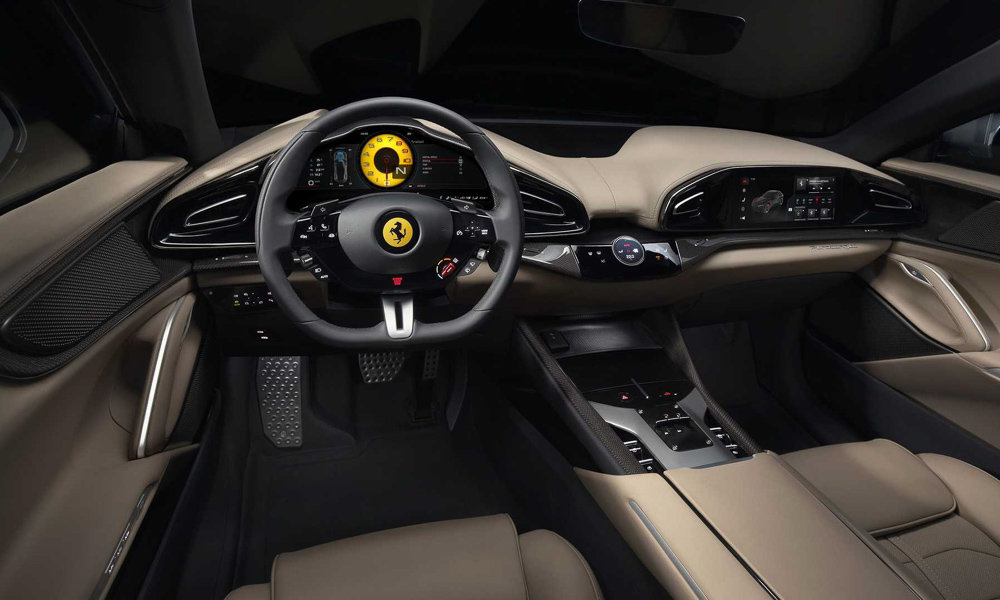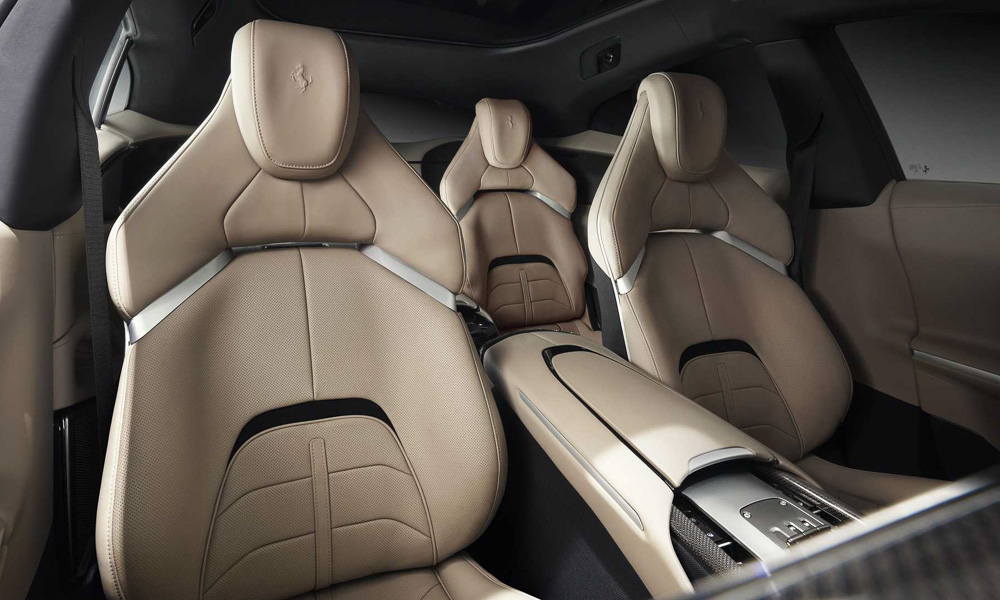 Naturally, a Ferrari wouldn't be a Ferrari if it didn't handle like one, and engineers left no stone unturned to try and achieve that. The completely new active suspension system now features electric motor actuation and hydraulic damper control for even faster and better adjustment to the handling while cornering at an increased pace.
There's also a new ABS system onboard, and the traction control and the driving mode settings have been adjusted for the changed requirements of this car. The fact Ferrari points out that the settings for driving on low-grip surfaces have been improved also tells you where you'll likely to find most Purosangues—namely, in snow-covered Switzerland and sand-rich countries like Dubai.
There are a ton of other things we could tell you about this engineering marvel, but the most important thing about this car is the fact that it will be treated as near blasphemy by some. Don't forget that the previous Ferrari CEO was on record as saying that there would never be an SUV with the Prancing Horse on it under his watch. He was quickly removed, and here we are now. Some will love it, some will hate it, but one thing is for sure: Plenty of people will buy it despite its estimated $400,000 (P22.9 million) sticker price.