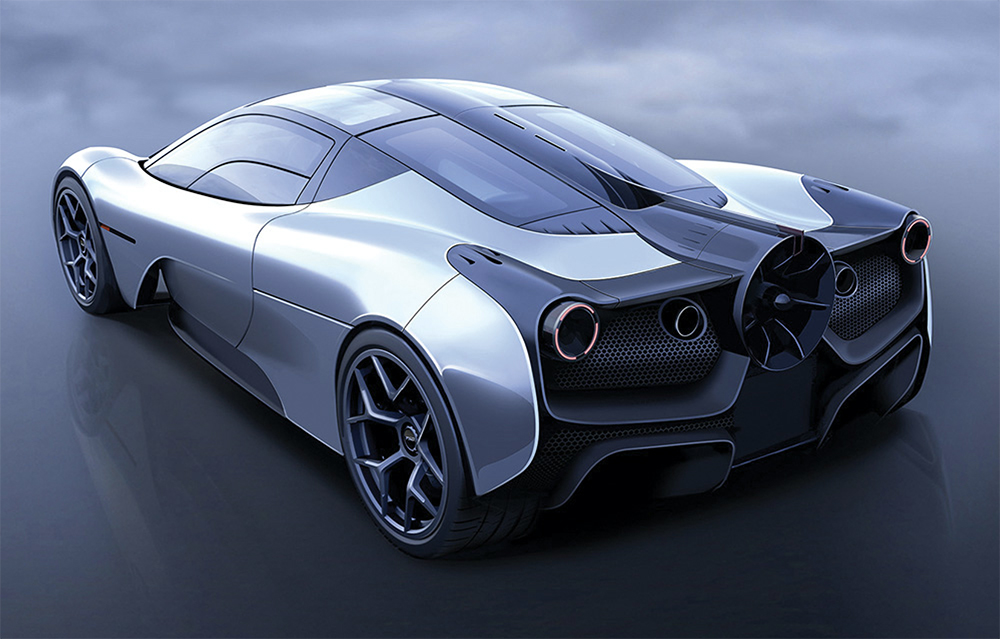 When a low-volume boutique supercar maker is promising big things like the highest-revving V12 engine ever used in a production car, some skepticism is usually justified. But not so if the man making the big claims is named Gordon Murray. In case he doesn't ring a bell (he really should), the 74-year-old British designer is best known for his work on Formula 1 cars and a certain road car called the McLaren F1. His company, Gordon Murray Automotive, is currently working on a new hypercar that features a pretty spectacular-sounding list of specs.
Let's start with the engine. It's a naturally aspirated 3.9-liter V12 built by Cosworth, which reportedly revs up to a crazy 12,100rpm and develops 650hp and 450Nm. The whole powerplant weighs only 180kg, and Murray is claiming that next to being the lightest and highest-revving nonturbo V12 ever built for a road car, it will also have the highest power density and be the fastest-responding one. Just how fast? The firm claims this motor can rev from idle to 12,100rpm in 0.3 second, and that 71% of the maximum torque will be at the driver's disposal at just 2,500rpm. That sounds like a serious piece of kit, and the rest of the car isn't any less breathtaking.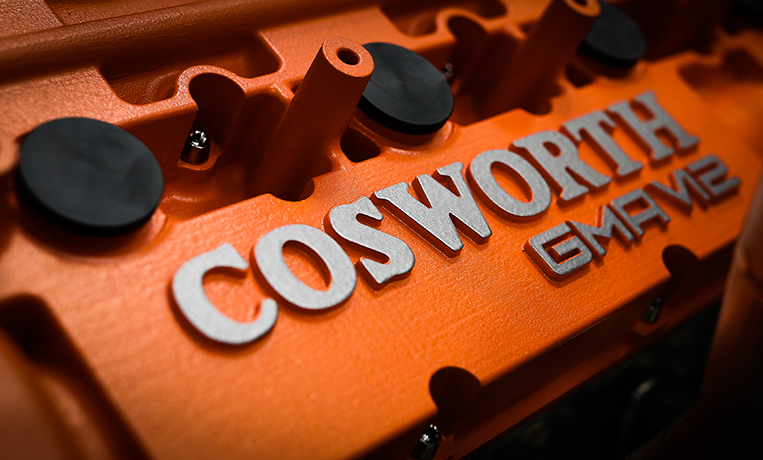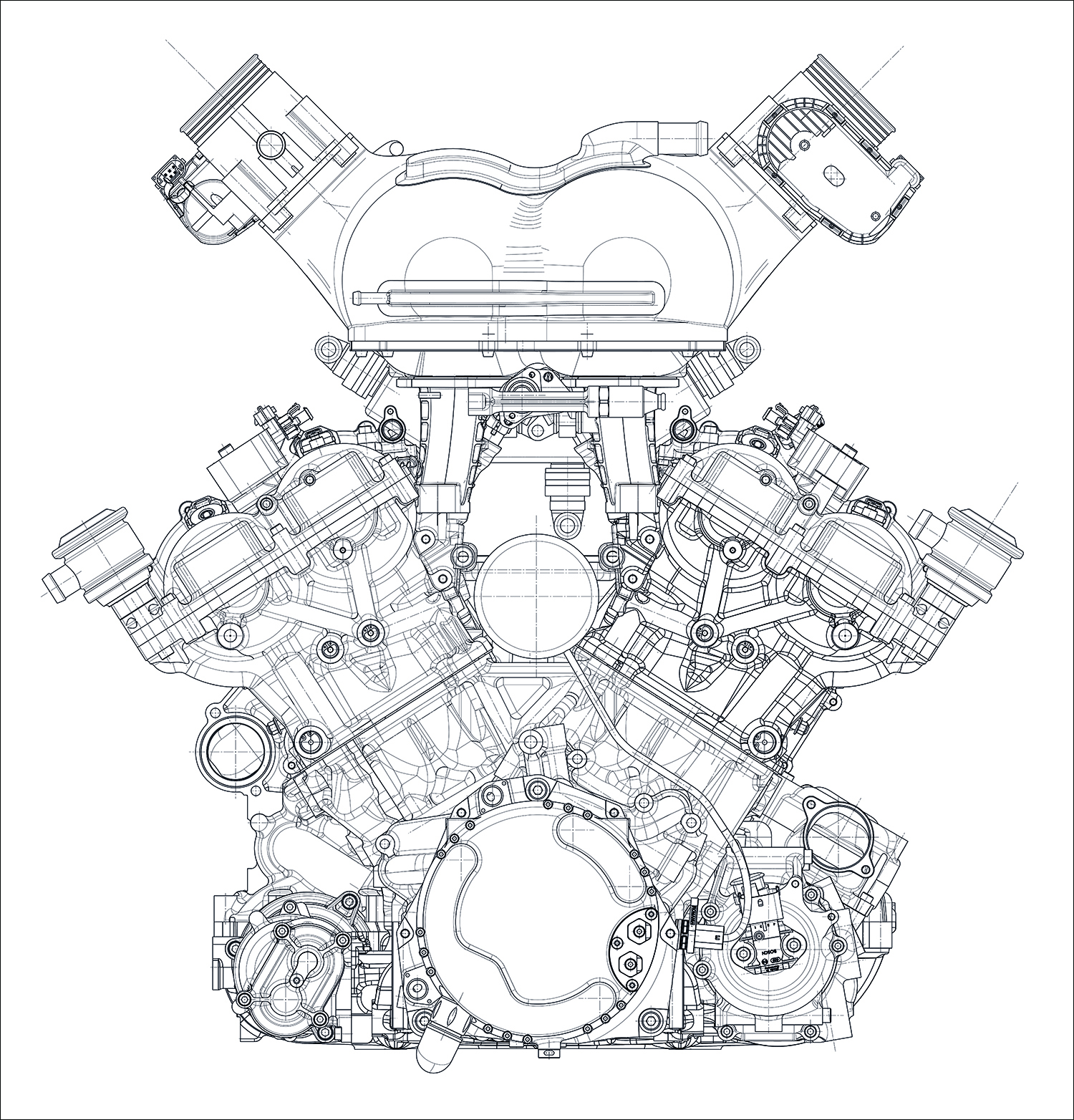 Called the T.50, Murray's latest masterpiece will weigh just 980kg, with the monocoque structure alone weighing less than 150kg. This car has been put on such a diet, it would earn applause from Colin Chapman if he were still around. The transmission is 10kg lighter than the one in an F1 car, and everything has been trimmed to make this the lightest supercar in history. On the subject of transmission, there's no super high-tech flappy paddle magic here. The T.50 comes with a six-speed manual gearbox that features an H pattern, and was developed by British transmission technology specialist Xtrac.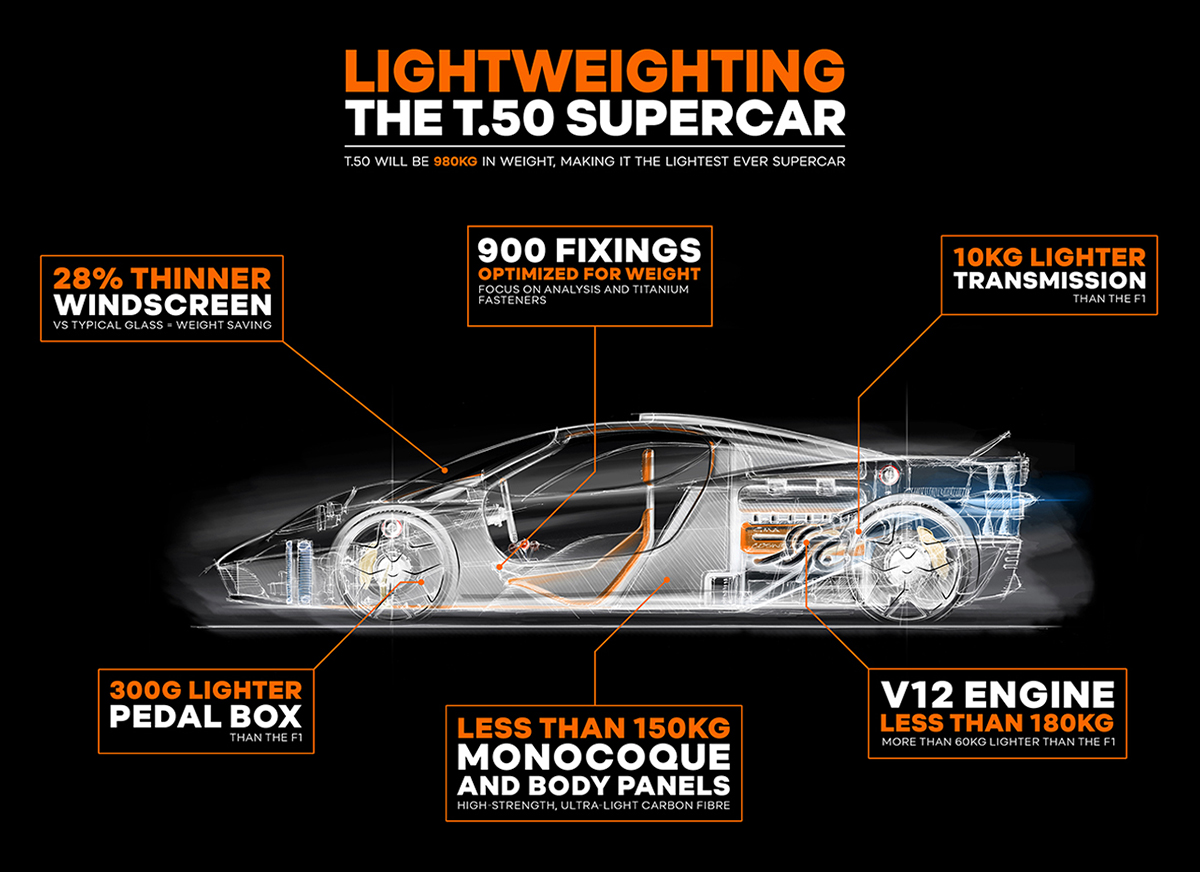 The design of the T.50, which is so named because it is the 50th car Murray has ever penned, has more than a hint of the McLaren F1 about it. The silhouette, the side windows and, of course, the three-seater cabin configuration (with the driver sitting in the middle) all pay homage to what many are still calling the greatest supercar ever made. This modern successor, however, has one trick up its sleeve that the F1 didn't have: It's a fan car. Yes, the same kind of fan that the crazy Brabham BT46B Formula 1 car featured in 1978 is making a comeback in a road-going supercar.
The T.50 will boast a 400mm ground-effect fan that should give it handling characteristics that are second to none. Sadly, only 100 lucky (and very rich) buyers will ever be able to experience this beast, as the production run will be very limited. There has been no word on pricing yet, but it will likely be as out-of-this-world as the car itself. The T.50 is due for its official premiere on August 4th, and we can't wait to see the finished automobile.