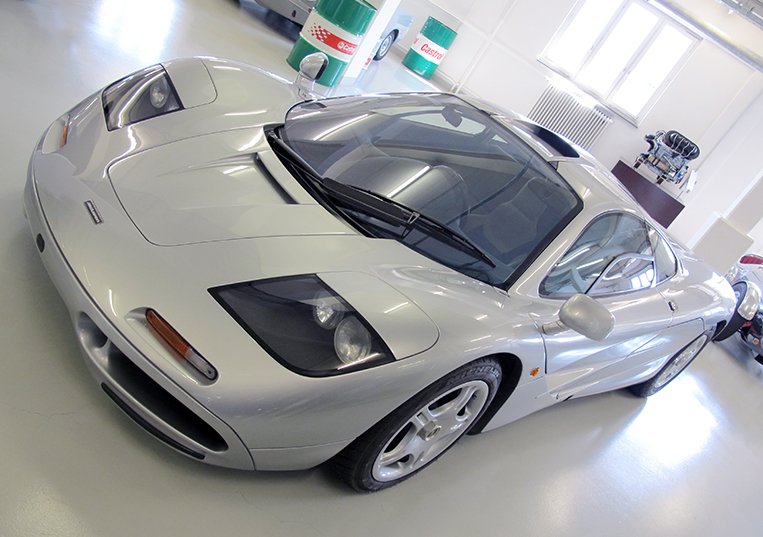 Gather 10 automotive enthusiasts around a table and have each of them pick the greatest, most special car ever produced. I guarantee you'll get 10 different answers. But if there's one car that's almost a sure bet to always make it to such a distinguished list, it's the McLaren F1 road car that was officially presented to a stunned world on May 28, 1992.
Famously conceptualized by Formula 1 car designer Gordon Murray, the F1 is the one true production car that was born from the womb of the motorsport series. We always hear how certain technologies gradually trickle from race cars to street-legal cars, but the F1 didn't just get drips of technological advancement—it was immersed in it. Not only did it inherit carbon-composite construction (for its monocoque chassis) from the 1981 McLaren MP4/1, it was the first production car to be developed by Formula 1 aerodynamicists using a wind tunnel. And thanks to the ultra-lightweight materials used for the body, the engine and other mechanicals, the aptly named F1 had a curb weight of just 1,150kg. For context, the 935kg Smart Fortwo—a plastic-paneled hatchback so small you could probably park it in your living room—is lighter by a mere four sacks of rice.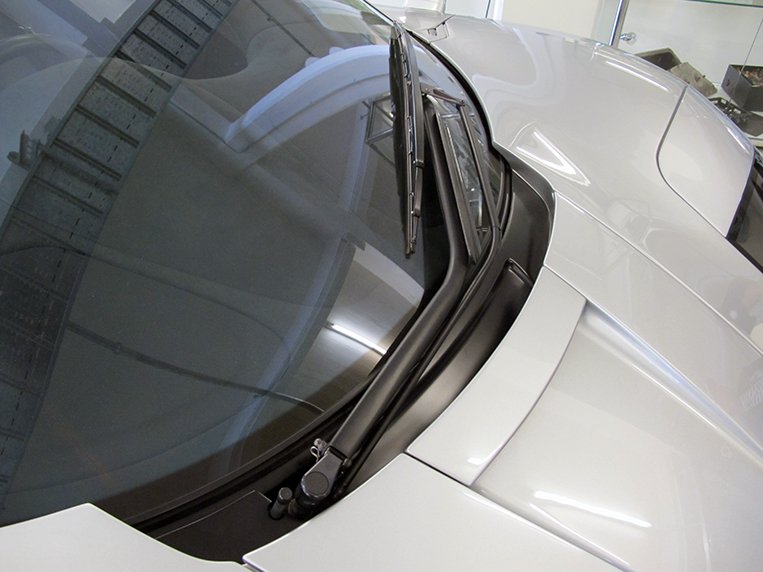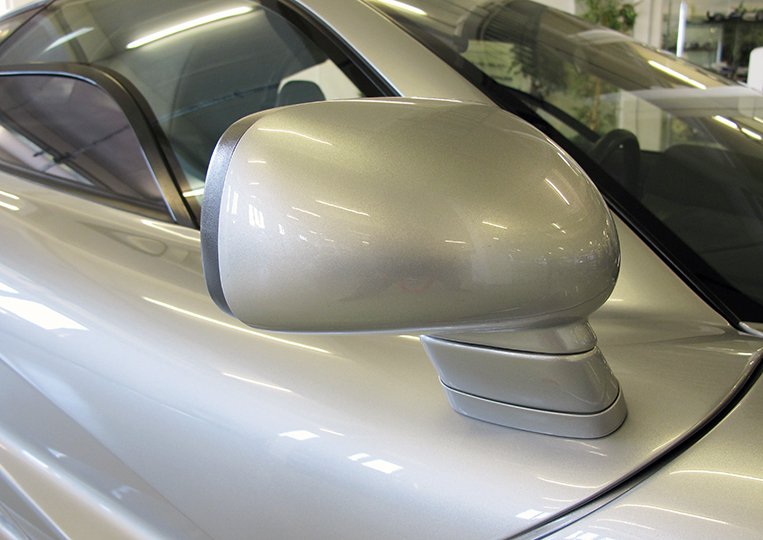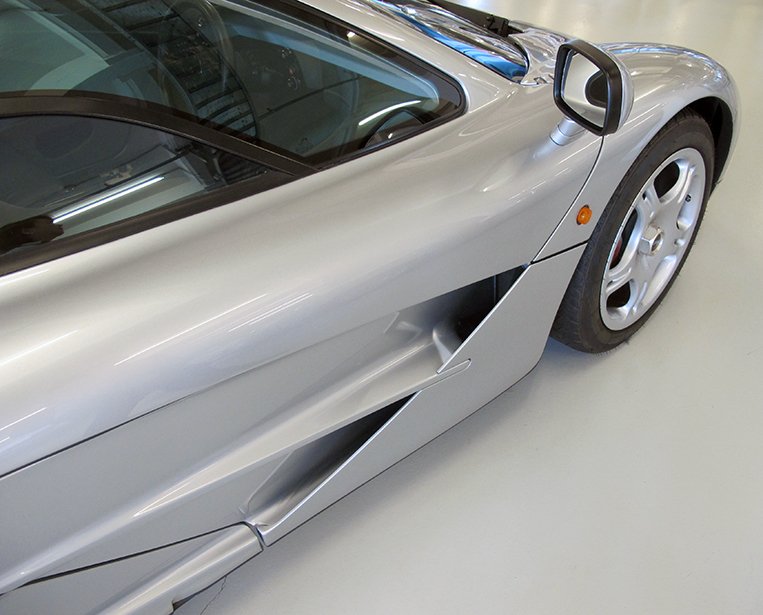 "We set out to produce the best road-going driver's car ever built—or ever likely to be built—and we are confident that this first McLaren production model represents the pinnacle of 20th-century high-performance sports car design," Murray was quoted by the press statement as saying.
The F1's driver was seated squarely in the middle of the cabin, ahead of two rear passengers. So the F1 was a 1+2 car like the three-seaters Formula 1 teams used for treating VIP sponsors and lucky fans to a rip-roaring experience around the track. One of the most abused adjectives in the lexicon of automotive PR writers is "driver-centric." For those who hate fake news, the F1 is the only road car that truly deserves that description.
To ensure that bystanders fully understood the grandeur of the F1, its designers gave it dihedral or butterfly doors, which moved up and then out to disgorge the driver and his companions in head-turning fashion. The otherworldly sports car was so visually striking and cutting-edge that it still freezes people motionless in their tracks today—25 years after it was launched.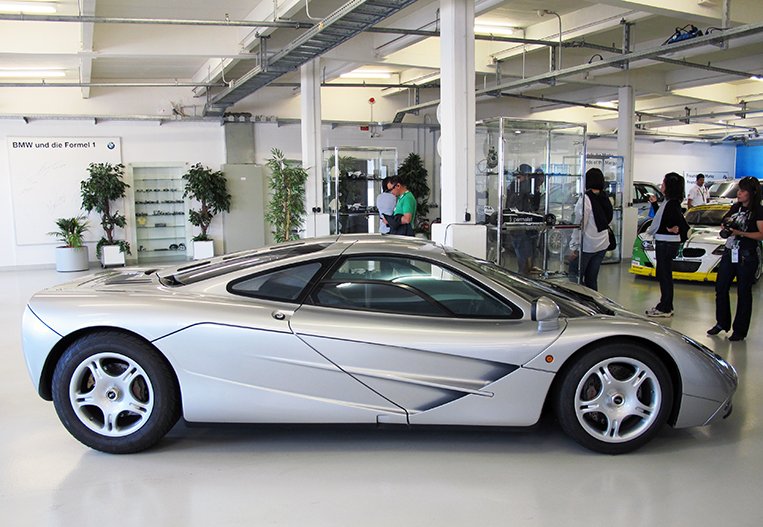 For the engine that would be tasked to provide propulsion for this once-in-a-generation project, McLaren commissioned BMW, which had previously collaborated with both Murray and McLaren International managing director Ron Dennis in Formula 1. For reliability's sake, normal aspiration was agreed upon. The German firm proceeded to deliver a 6,064cc 60° aluminum V12 that was tested for 618hp (at 7,400rpm) of output and 650Nm (from 4,000 to 7,000rpm) of torque. Topping out at 7,500rpm, this powerplant catapulted the F1 to a top speed exceeding 350km/h, decisively obliterating the record set by the Jaguar XJ220. The Bugatti-this or the Koenigsegg-that may have since overtaken the McLaren in this department, but the F1 held the title of "world's fastest production car" for years. No mean feat, especially considering that the BMW engine installed amidship benefited from neither turbocharging nor supercharging.
A purpose-built six-speed manual transmission boasted a full-synchromesh gearchange for quick and efficient shifts. It enabled the F1 to accelerate from rest to 100km/h in about 3.5 seconds, and then to 200km/h in about 8.5 seconds—both jaw-dropping figures in the '90s.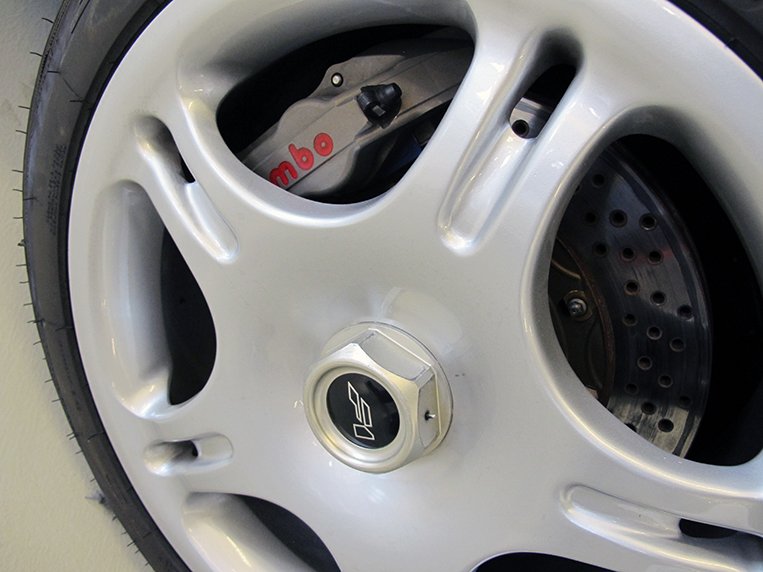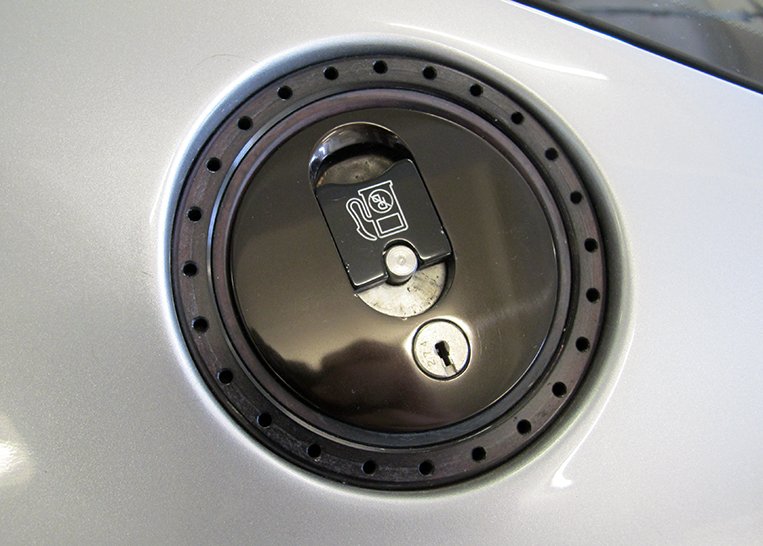 Like moths to the flame, affluent petrolheads lined up for the chance to own one. But with only 106 units made until May 1998, those chances were very low—even if said clients could afford McLaren's asking price of $815,000. To make matters even more desperate, only 64 units were assembled as regular road cars. The rest rolled off in these versions: F1 prototype (5 units), F1 LM (6 units), F1 GT (3 units), F1 GTR '95 (9 units), F1 GTR '96 (9 units), and F1 GTR '97 (10 units).
It is this scarcity that makes the motoring community groan whenever an owner wrecks his F1. I have no doubt Rowan Atkinson lost a few car-loving fans when he crashed his hypercoupe twice. But that's the trouble with high-performance automobiles with more power than you know what to do with. In the heat of the moment, not even 332mm (front) and 305mm (rear) brake discs can stop the dedicated Goodyear F1 (235/45 R17 front; 315/45 R17 rear) tires from rolling.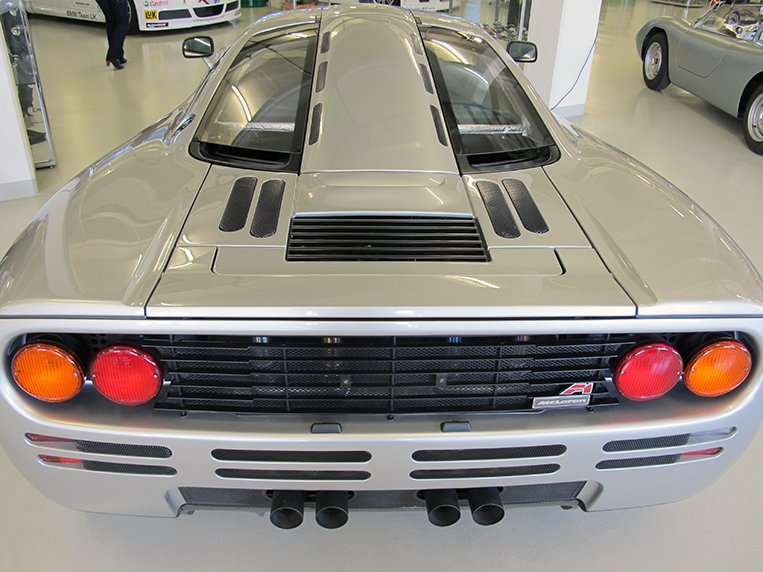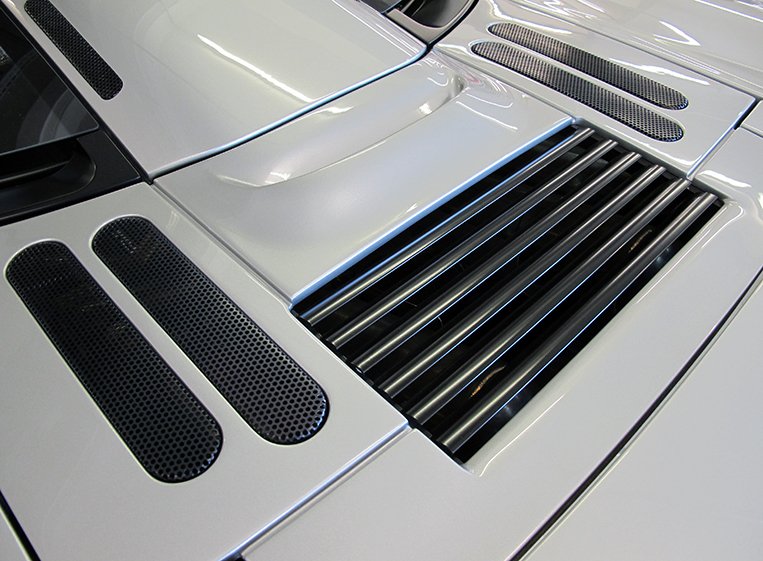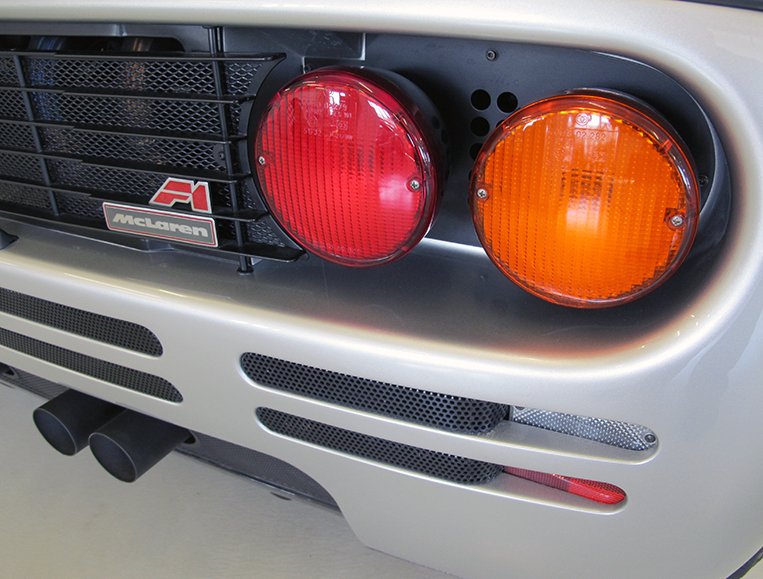 I encountered one of these rare units at the BMW Classic facility in Munich, Germany, in 2011. Just getting near the F1 in the metal was an event in itself. With a height of just 1,140mm, the McLaren masterpiece looked like a toy that sent grown men back to their childhood. On second thought, this car is a toy.
Because the F1 on display was locked, I wasn't able to take photos of the interior. But just to give you an idea, below are two official pictures of the cabin from McLaren.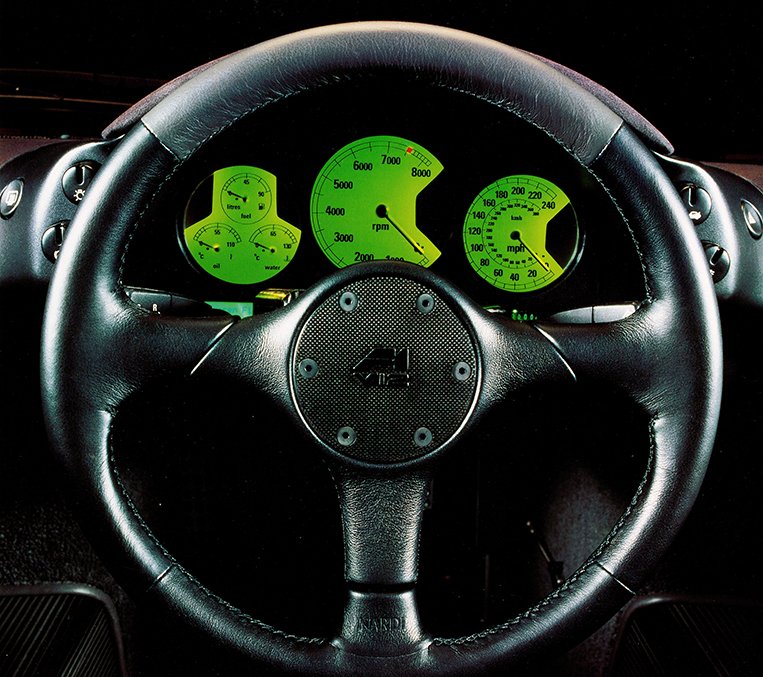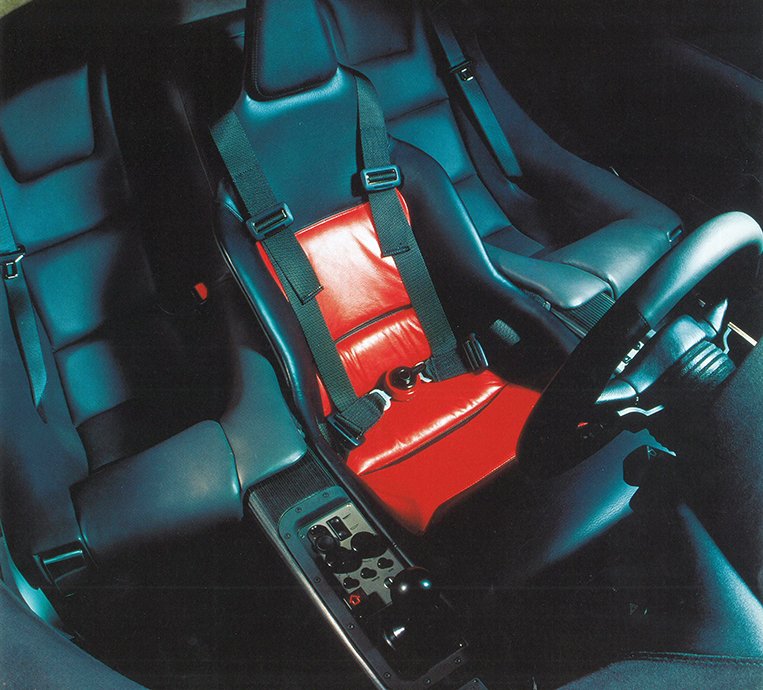 Among the noteworthy features of the F1 were two side compartments that could store a combined 227L of luggage; the world's smallest 10-disc CD player by Kenwood; and a set of titanium tools by Facom. Each of these items was meticulously specced just to complement a car for the ages. A car the likes of which we may never see again.
So, is the McLaren F1 the most special car ever made? Well, someone who just paid $15,620,000 for a unit in excellent condition seems to think so.