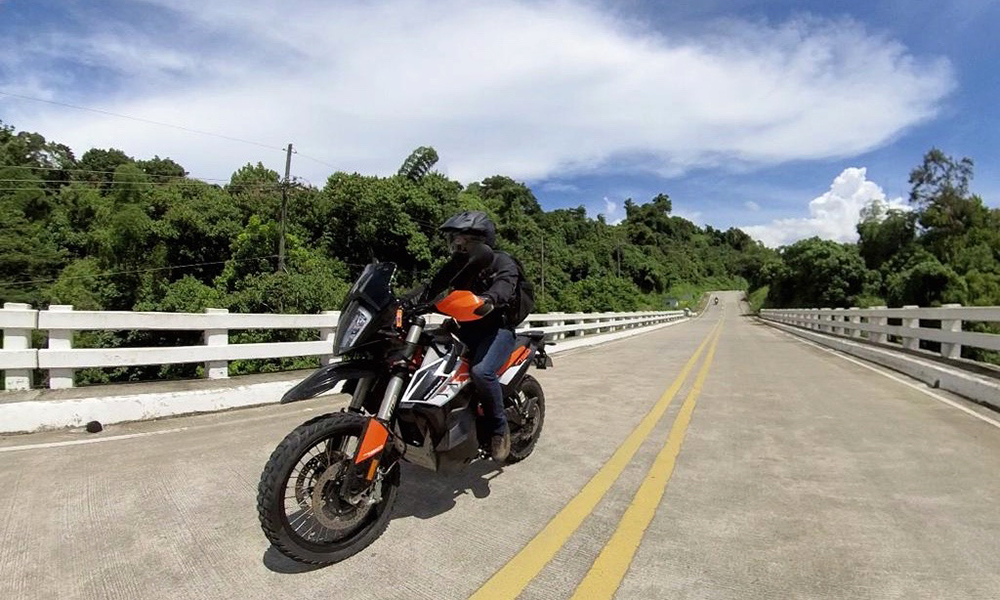 "Oh damn. This thing is TALL!"
This is what I told myself as the service crew at KTM Bonifacio Global City turned over the bike to me. At 5'8" tall and with a 31-inch inseam, I was at the lowest part of the saddle—crotch right up against the tank, and on tiptoes in my riding boots. How the heck was I going to survive the three-day test period without dropping this beast? KTM's release form had a rather explicit "you break it, you pay for it" clause; something that felt quite certain if, at any point during the test, I lost concentration or had a moment of The Dumbs.
But since I was already committed to the bike—and no way was I going to chicken out then and there—I gingerly rolled out of the service bay and warmed up for a few laps. Clutch and shifter action were remarkably light. The response from the drive-by-wire throttle was smooth and linear—not jumpy at all in Street mode. After a few successful stops to put my feet down and get rolling again, I pointed the bike southbound for what was supposed to be a quick ride to the SLEX and back. It wasn't. The moment I pinned the throttle, I was hooked.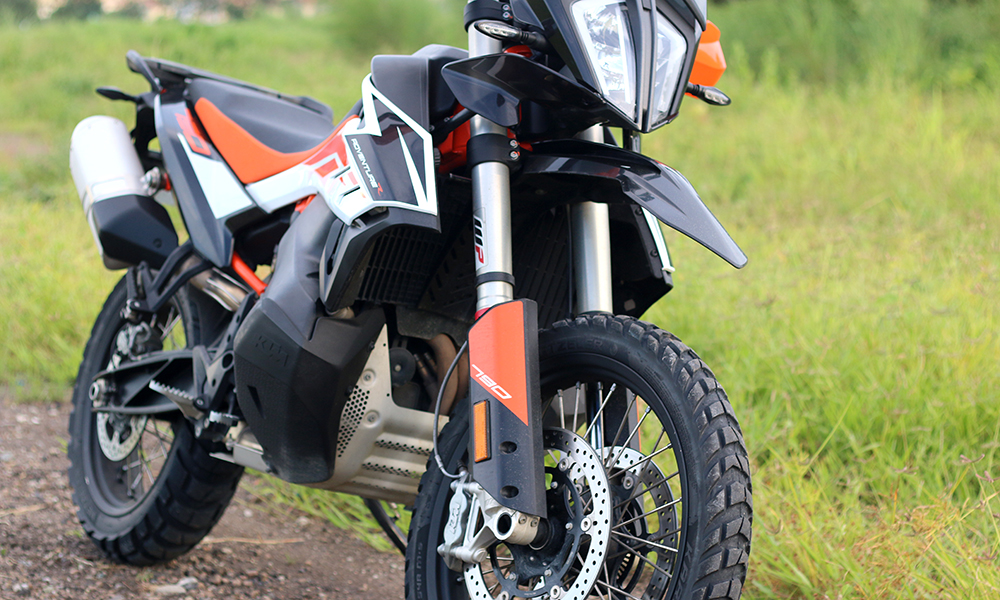 Aesthetically, like all KTMs, it's a love-it-or-hate-it look. As far as adventure bikes go, it's not as chunky as the usual fare from BMW or the Japanese big three. It's more of the furious spawn of a dirt bike and a pterodactyl with KTM's trademark angry bird look. It's lean and purposeful, like it's ready for the Dakar Rally.
On paper, the bike's 799cc parallel-twin engine makes decent, but not exciting numbers: 94hp at 8,000rpm and 88Nm of torque at 6,500rpm. The figures are respectable for a midsize motor, but it's only when you check the bike's low curb weight of 189kg (dry) and its low center of gravity that you realize it lives up to the brand's reputation for hooliganism.
Pin the throttle at over 2,000rpm in any gear and the bike practically leaps forward with an intake howl and a frenzied, sonorous roar from the stock exhaust that somehow reminds me of a Subaru STI's flat-four mill. The parallel-twin benefits from balance shafts for remarkable smoothness, while the forged pistons and connecting rods are light and strong, resulting in an engine with great low- to midrange torque for most riding situations. At wide open throttle, it only gets buzzy past 6,000rpm.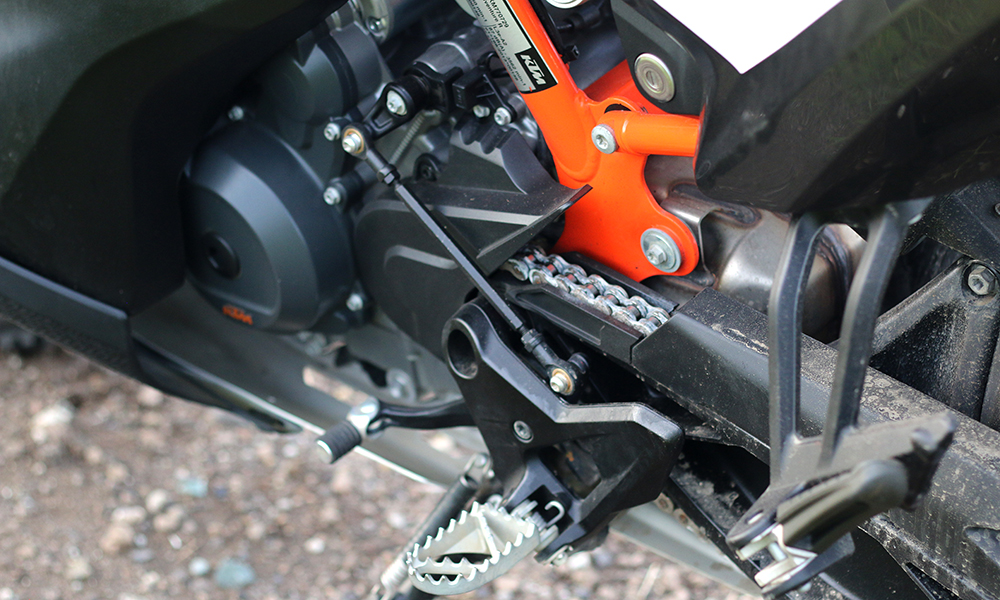 It's intoxicating and addictive, and will require great restraint on public roads lest you piss off other motorists. Give it a fistful of throttle and the bike threatens to wheelie and loop if you're not careful. Zero to 100km/h is easily done in just over four seconds. Give it a few more seconds and you'll quickly be way over the speed limit, if you're feeling the urge. For this rally-spec model fitted with off-road Metzeler Karoo 3 knobby tires, top speed is restricted to 170km/h. Speed-addicted riders should opt for the Adventure S or Duke 790 if their goal is a higher terminal velocity.
On the other hand, if your goal is to ride like a bat out of hell off road, the Adventure R is spec'd way higher than the average rider's skill level. Its suspension features a 48mm WP upside-down fork with 11 settings and 240mm of travel, and a rear WP Xplor PDS with adjustable preload, compression and rebound. The chassis is fitted with a steering damper and triple-clamp setup. The low slung, plastic fuel tank is shaped like an inverted "U" over the engine, bringing down the center of gravity. Brakes are twin 320mm discs up front, and a 260mm at the back.
As impressive as all that hardware is, it's the software that makes the 790 Adventure a supremely capable machine. The engine and brakes are managed by a traction control and antilock braking system that can adapt to the terrain and your riding style. Set it in Street mode and these rider assist features are fully enabled. With the test unit equipped with a slipper clutch and an optional quick shifter, you can be aggressive with throttle applications and the electronics quickly dial back engine output to prevent unwanted rear wheel slippage (and a resultant loss of control). The ABS also has angle sensors to adjust brake pressure for more predictable braking.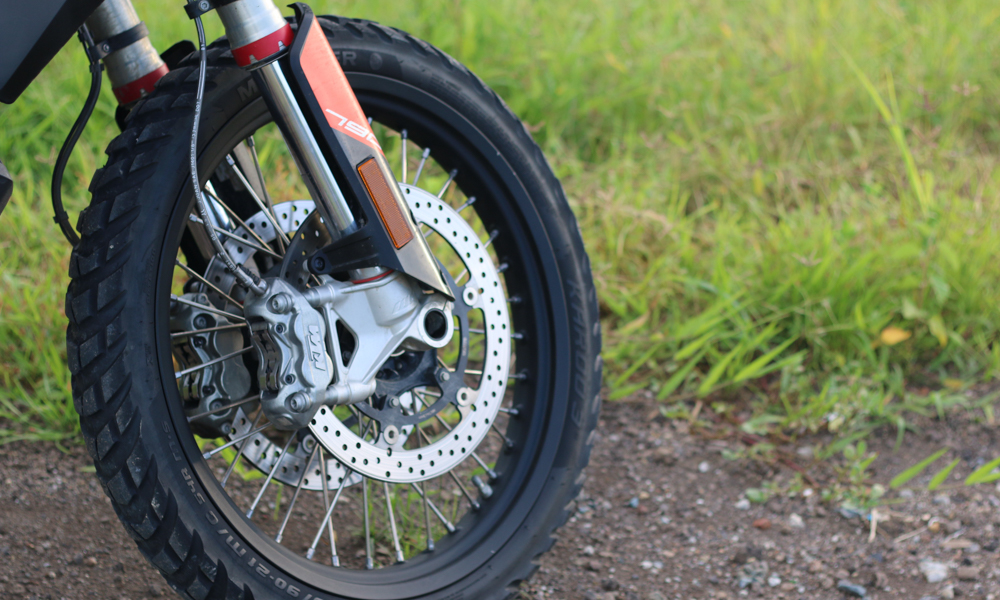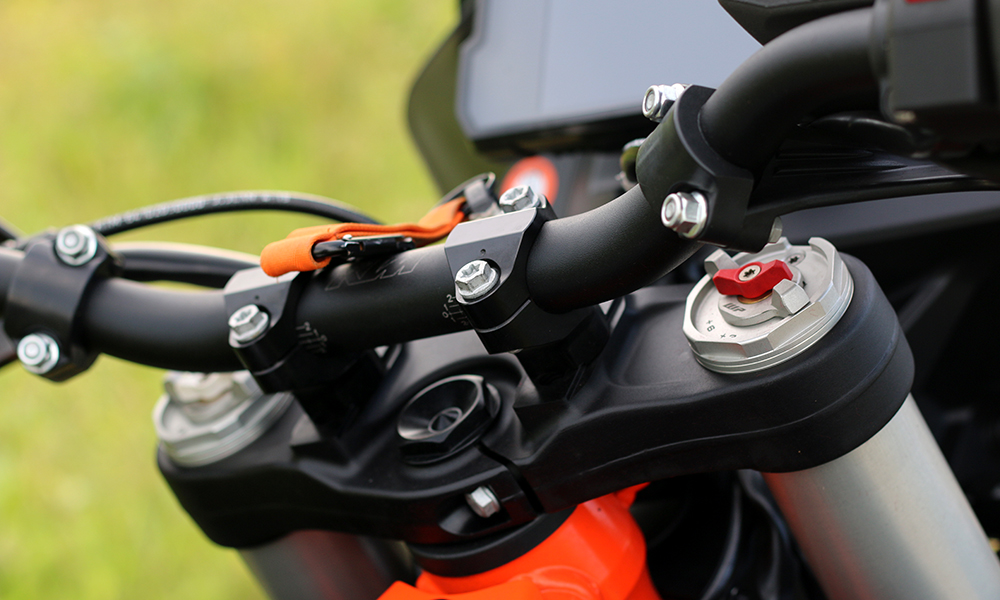 For off-road use, switching to "Off-Road ABS" lets you lock up the rear wheel as needed, while also reducing front-wheel brake pulsing for more precise control. While Off-Road mode does reduce engine power while allowing some wheel slippage, it's Rally mode that will put a smile on the hardcore rider's face. For experienced riders, it has no less than nine selectable levels of rear-wheel slippage so you can make the 790 as wild as you can handle it. Coupled with expert knowledge on suspension setup, a rider can set up this motorcycle to perform like a dirt bike that just happens to be comfortable on long rides.
All of this electronic wizardry is managed with a four-button panel on the left grip and a 5-inch TFT display. The cockpit is business-like and tidy; setting up the bike's ride modes takes only a few seconds once you're familiar with the menus. Since I wasn't going on an off-road jaunt with any companions during my test, I restricted my rides to paved streets with a few rough sections.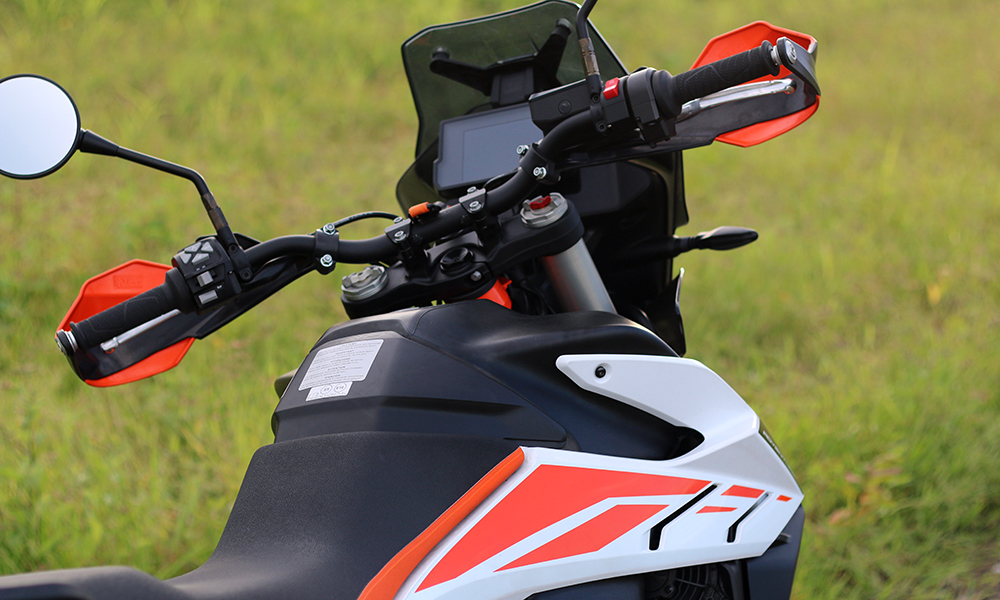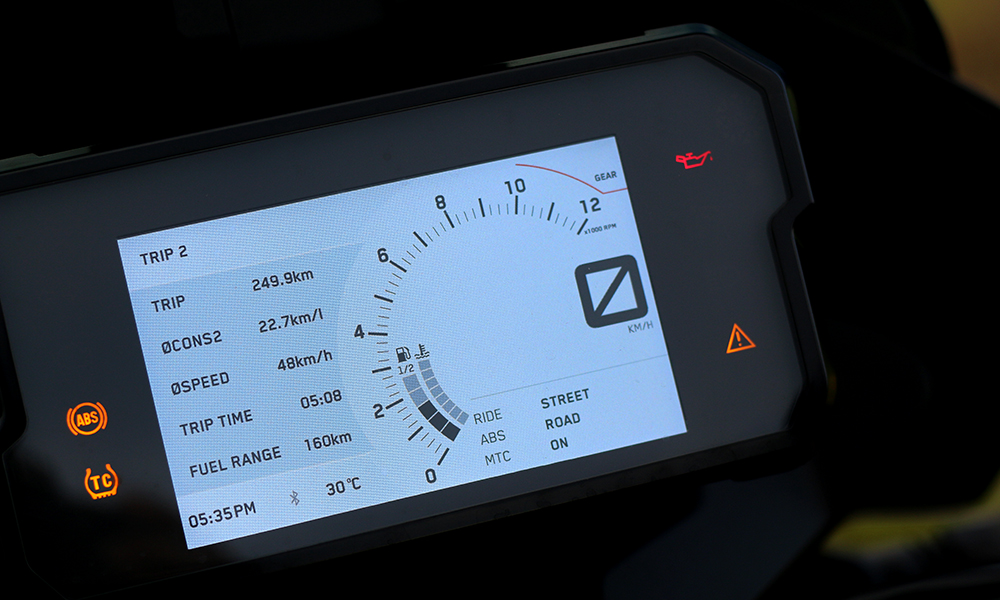 The bike's 34.6 inch-high seating position places you higher than the roofs of most cars, and even eye-level with some truck drivers. Despite this, you'll feel like you're sitting "in" the bike rather than on it, as you're placed securely in the trough of the seat and fuel tank. The adjustable handlebar is waist high and has a gentle sweep back so you can sit upright or stand with full control. The seat is long and firm, offering a variety of sitting positions. I tended to scoot my butt back for a highway crouch, then moved forward up against the tank at low speed so I could quickly put my foot down if needed. Pedal and lever action is light and precise. The foot pegs are reversible for road/off-road use, and that's something you need to be mindful of before you ride. On my loaner unit, the pegs were set to off-road, and the lower placement relative to the rear brake pedal made covering the latter uncomfortable as the angle of my foot and lower leg was too acute. When off-roading, however, that exact position makes standing up easier as your foot naturally covers the brake pedal.
At speed on the highway, the fairing effect of the fuel tank and the small windscreen do a good job of lessening the windblast. The suspension is plush and damped very well, too.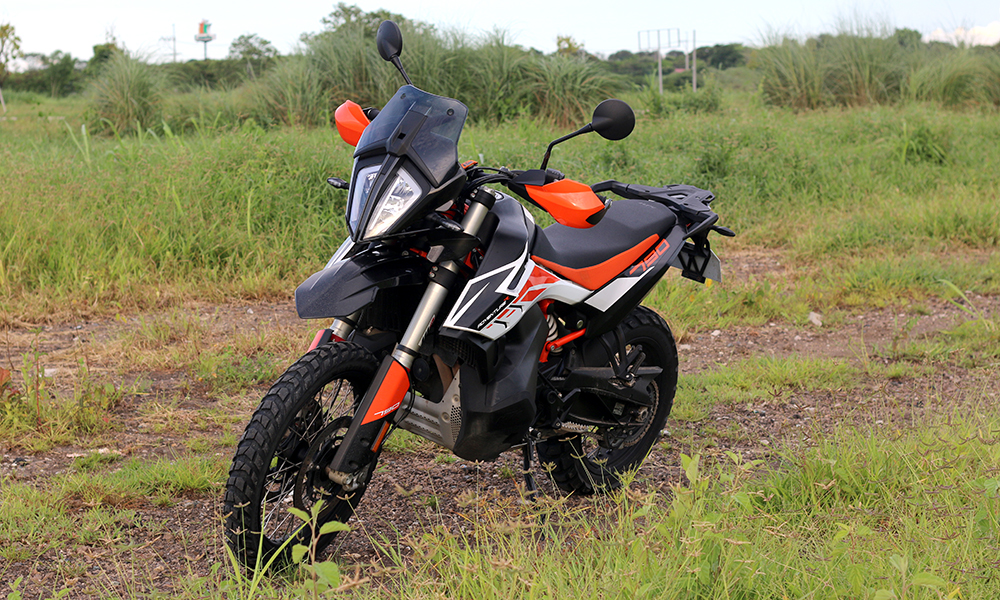 While I could easily imagine myself going on a long road trip with this bike, it's obvious that the 790 Adventure R lives for rough roads and dirt. Over gravel and broken pavement, you can just point the bike where you want to go and the suspension just eats it up without complaint. It feels nimble like a dirt bike, which tempts to look for jumps just because you can. Again, that "you break it, you pay for it clause" kept ringing in my head. As much as I wanted to pop some wheelies, thrash it on dusty trails, and take the bike solo to the fabulous tracks of General Nakar, I kept things on the safe side and blasted around on tarmac when the road was clear, laughing and hooting like a maniac in my helmet.
A bike like this that covers ground so rapidly and decisively just begs to be ridden hard. And now that the 790 Adventure R is manufactured here at the Ayala's Laguna manufacturing plant, pricing has gone down to a reasonable P749,000. It is not the "last bike you will ever need", because no moto junkie is ever satisfied, but it's definitely a bike that will satisfy the demands of hard-charging riders who like to get their kicks on the road and off it.