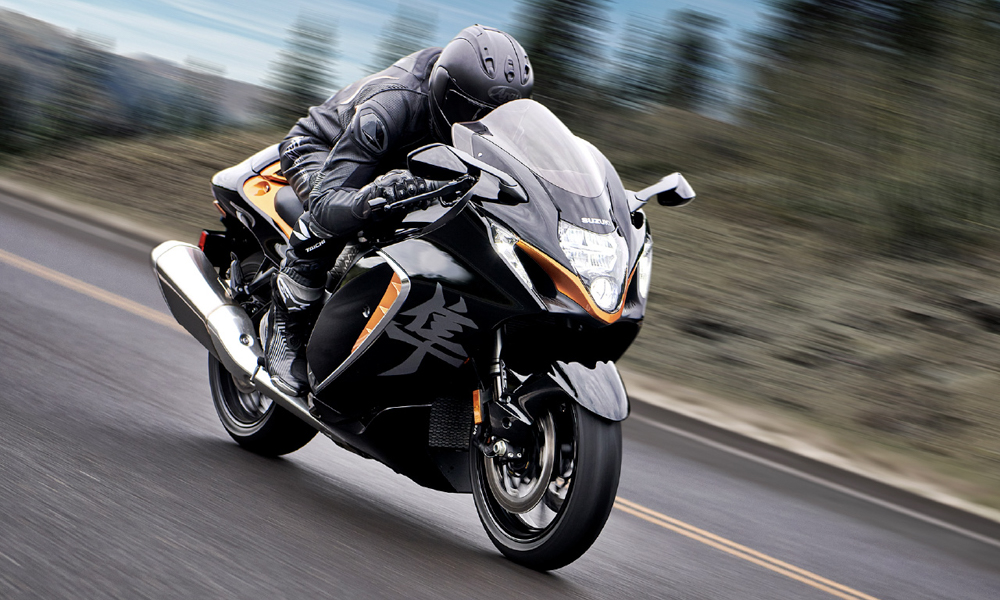 Back in the late 1990s, the superbike wars were in full swing as manufacturers came up with ever faster bikes that sought to breach the 300km/h barrier. Suzuki laid down the gauntlet in 1999 with the Hayabusa (Japanese for "peregrine falcon"), which had a top speed of 312km/h in stock form. As the Japanese and European manufacturers came to a temporary truce with respect to chasing top speeds, the first-generation Hayabusa owned the reputation for being the fastest production motorcycle for many years.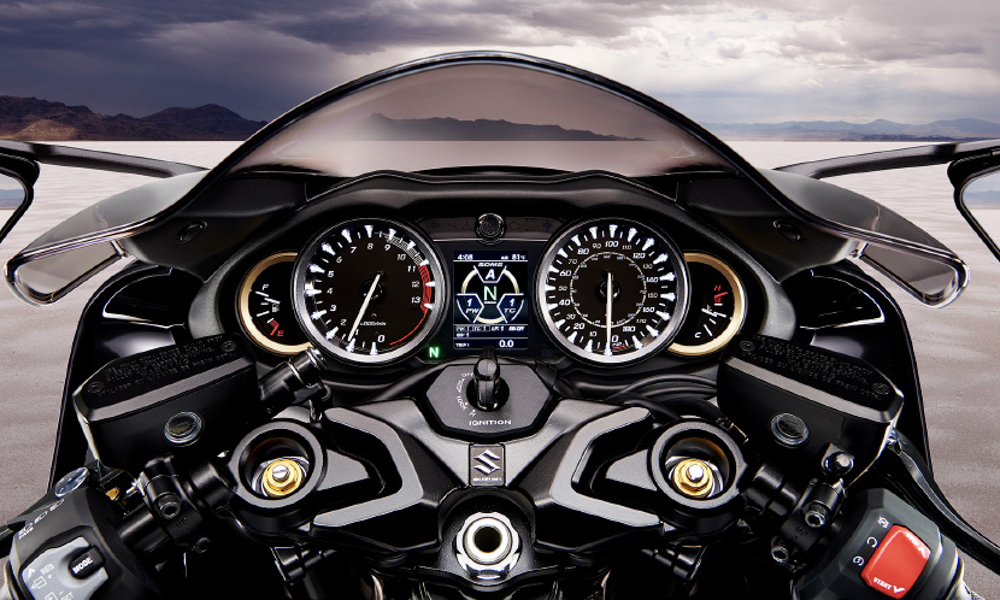 Now in its third generation, the Hayabusa looks much the same as before. But numerous changes under its bulbous skin supposedly make it the smoothest and friendliest iteration yet. The engine is still a 1,340cc four-stroke liquid-cooled DOHC in-line-four, but with new pistons and connecting rods for reduced weight. Changes to the crankshaft oil passages improve engine lubrication, while the transmission-shaft needle bearings are longer. A new piston design with Twin Swirl Combustion Chamber technology brings in more air on valve lift for increased efficiency. New dual side-feed injectors use a design that positions the secondary injector so its spray strikes a reflecting plate in the funnel and enters the combustion chamber as a fine mist. A higher-capacity air cleaner and a longer intake-pipe design also optimize low- to midrange power. Peak output is 197hp at 9,800rpm, and maximum torque is 150Nm at 7,000rpm. The transmission is a six-speed constant-mesh gearbox.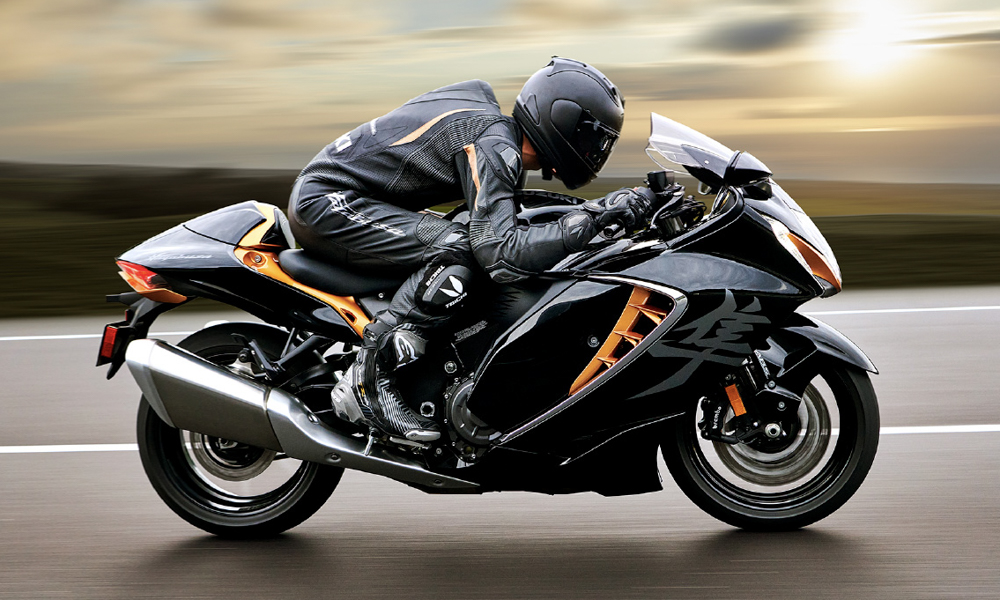 The Hayabusa still uses a tried-and-tested twin-spar aluminum frame and swingarm. Suspension duties are carried out by a fully adjustable, inverted 43mm fork with 120mm of travel at the front, and a link-type, coil-sprung rear by KYB. Braking is handled by ABS-assisted Brembo Stylema four-piston calipers with twin 320mm discs up front, and a Nissin one-piston caliper with a single disc at the back. Bridgestone provides the original-equipment Battlax Hypersport S22 tires (120/70 front and 190/50 rear) wrapping the 17-inch wheels.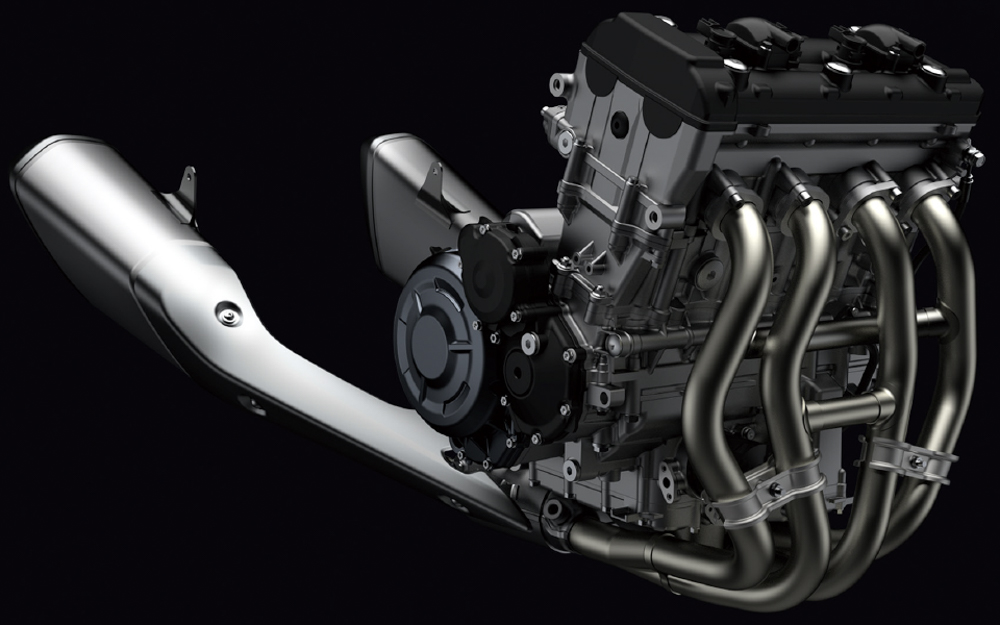 The Hayabusa's cockpit is probably the closest thing most riders will get to a fighter-jet feel with twin analog dials flanking a large TFT LCD panel. The latter is central to controlling the bike's myriad riding modes called Suzuki Intelligent Ride System. The Suzuki Drive Mode Selector Alpha groups together five advanced electronic control systems, in which the rider can select individual settings for each. There are three factory presets along with three user-defined configurations. Modes and settings can be changed using switches on the left handlebar.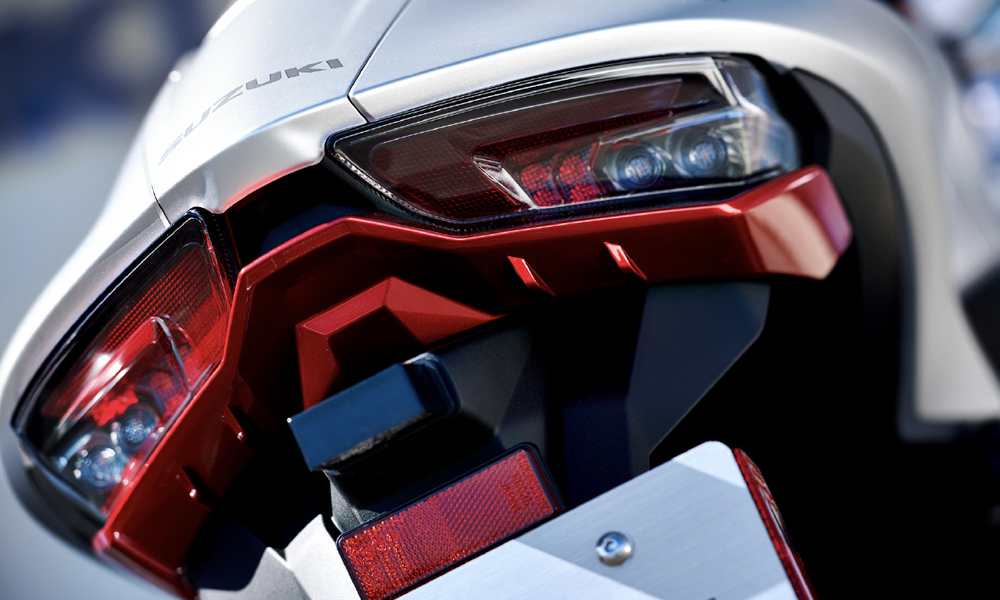 A six-axis Bosch Inertial Measurement Unit (IMU) combines accelerometers and gyroscopes to constantly monitor pitch, roll and yaw. The IMU works with the Motion Track Traction Control System to constantly monitor the amount of lean angle and limit tire slip in corners and on straightaways. The Motion Track Brake System also works with the IMU to activate ABS not only in a straight line but also when leaning into a corner, while the Slope Dependent Control System helps prevent rear-wheel lift by using the ABS to control brake pressure and compensate while braking downhill.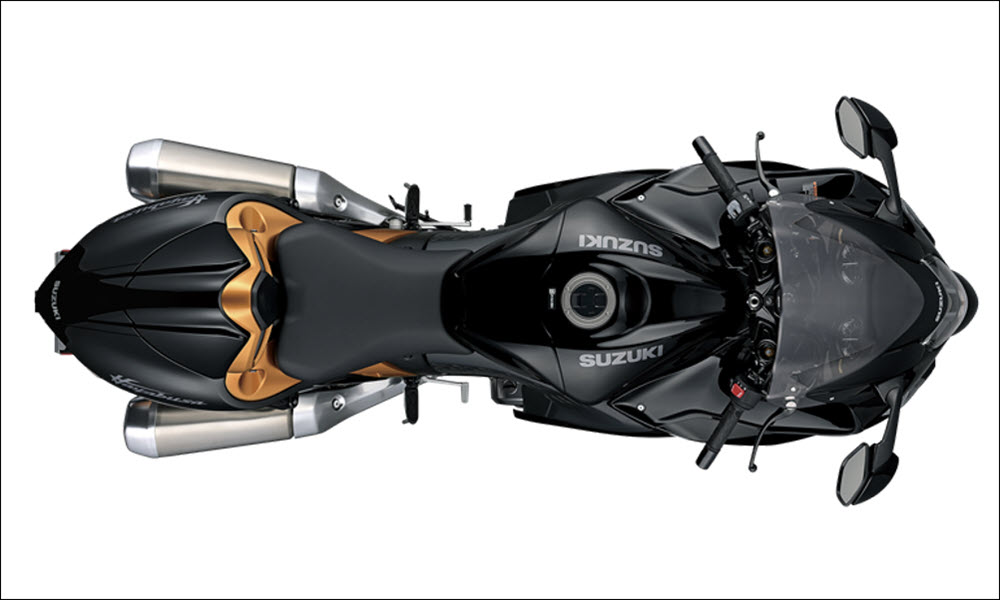 Meanwhile, three different engine modes let the rider tailor-fit throttle response to road conditions. For hole shots and quarter-mile records, the Hayabusa has an anti-lift control system to prevent unintended wheelies, with 10 levels of intervention. The bidirectional quick-shift system can also be set for lightning-fast responsiveness for track use, or smooth gear changes for everyday riding. A launch control system featuring three modes lets you match the engine speed to your level of bravery. You can take off from as low as 4,000rpm to as high as 8,000rpm.
Normally, engine braking is a good thing. But powerful bikes like the Hayabusa can break rear-wheel traction if you downshift aggressively. An engine brake control system cancels out the effect of engine braking and has three levels so you can set just how much engine-braking you prefer. Other nifty electronic aids include cruise control, active speed limiter, emergency stop signal, and hill hold control.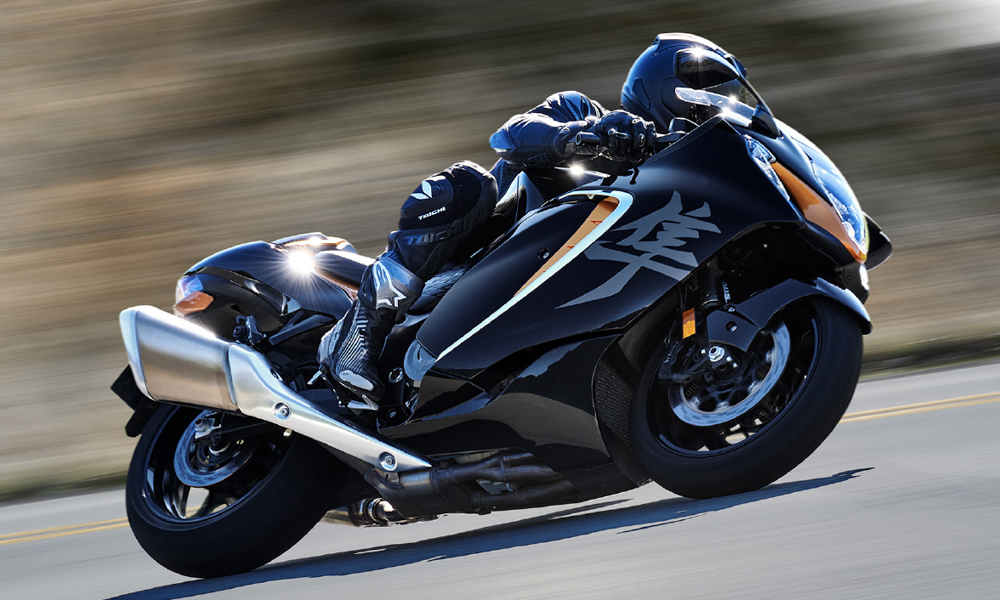 Aesthetically, the Hayabusa's long and low aerodynamic stance is still the "bird of prey" look as before. New LED headlights grace the front, while position lights with integrated turn signals flank the outer edges of the air intakes. The back end features a new LED taillight and turn-signal design.
With a price tag of P1,088,000, aficionados can enjoy the high-speed stability that the Hayabusa is known for. Suzuki Big Bike Centers are now taking orders for what the company calls the "Ultimate Sport Bike."