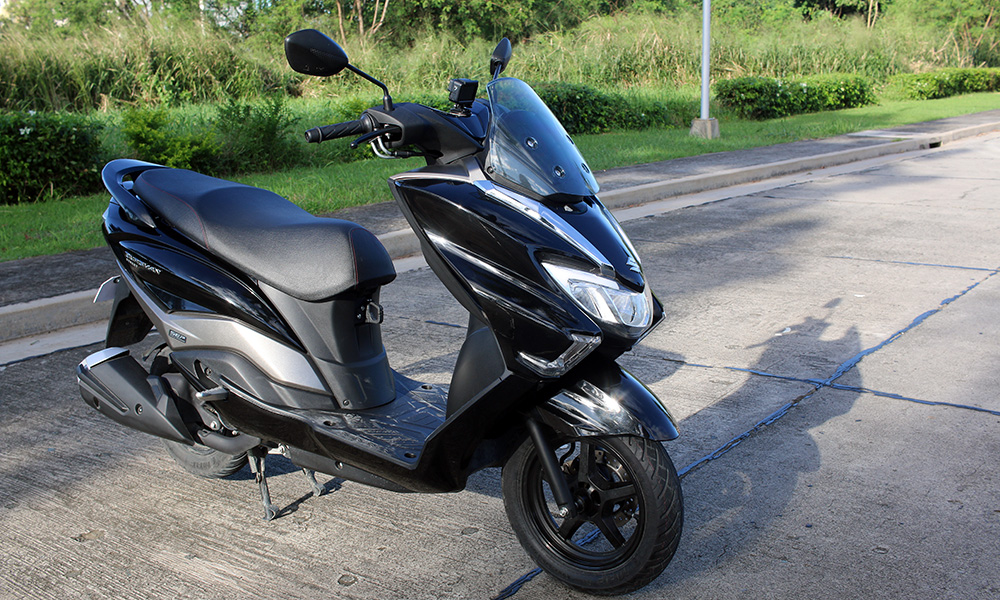 In the motorcycle arms race, it's common for manufacturers to roll out bigger, better, faster, cooler tech with every new model like ABS, smart keys, and Bluetooth connectivity.
Suzuki has taken a different track with its latest offerings. The Burgman Street has an impressively low price of just P76,900—significantly lower than comparable models from the other Japanese brands. Its other new entry is the Skydrive Crossover—a basic, "naked" scooter with some rough-road capability for an amazingly affordable P69,900.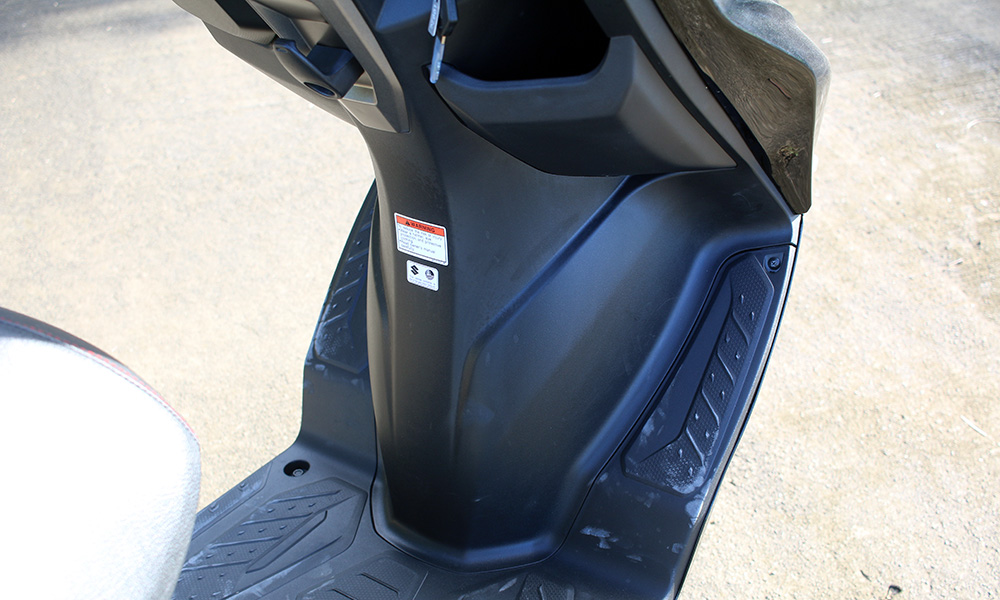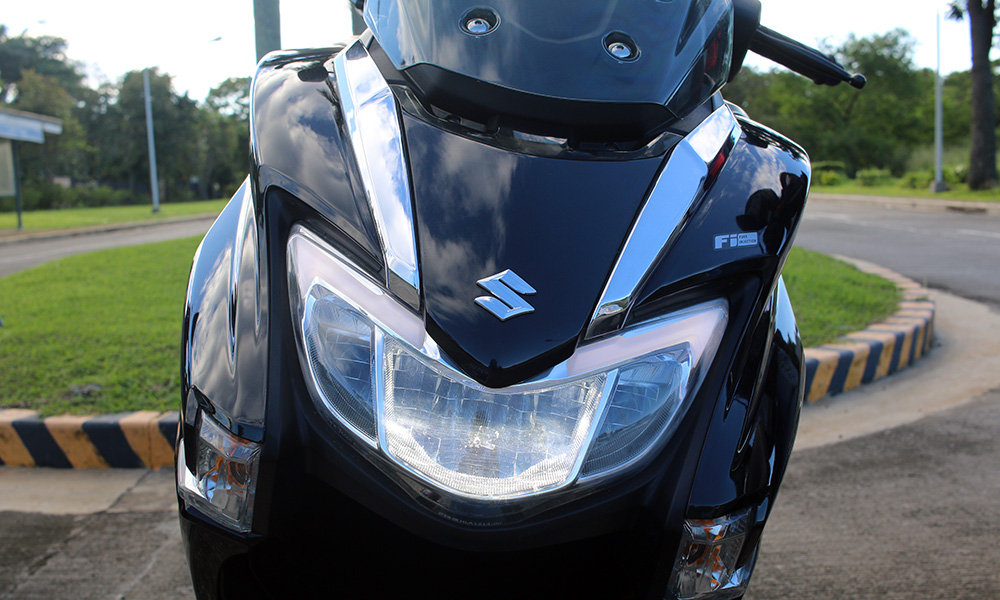 The Burgman Street has relatively small wheels measuring 12 inches in front and 10 inches at the rear, no ABS, no engine start-stop or keyless system, and it gets by with a 124cc motor rated at a modest 8.6hp and 10.2Nm of torque. Acceleration is pleasantly brisk, but obviously not enough to set the road on fire. Engine response is smooth and quiet. The fuel injection is spot-on and doesn't get flustered even if you open and close the throttle rapidly. You'll need to pin the throttle a lot to accelerate smartly off the line or to hold a steady cruising speed.
Top speed is around 90km/h, with a sweet spot at the 65 to 70km/h range. Ride quality is a bit on the firm side so it feels stable at speed. The brakes have a strong bite with a nicely linear feel. Since it's a smallish maxi-scoot, it has a few features that make it ideal for urban riders or those who intend to take it on long trips. The dashboard panel is protected by the top part of the clear windscreen and displays speed, time, odometer, and even battery voltage. The numerals are large and easily readable at a glance.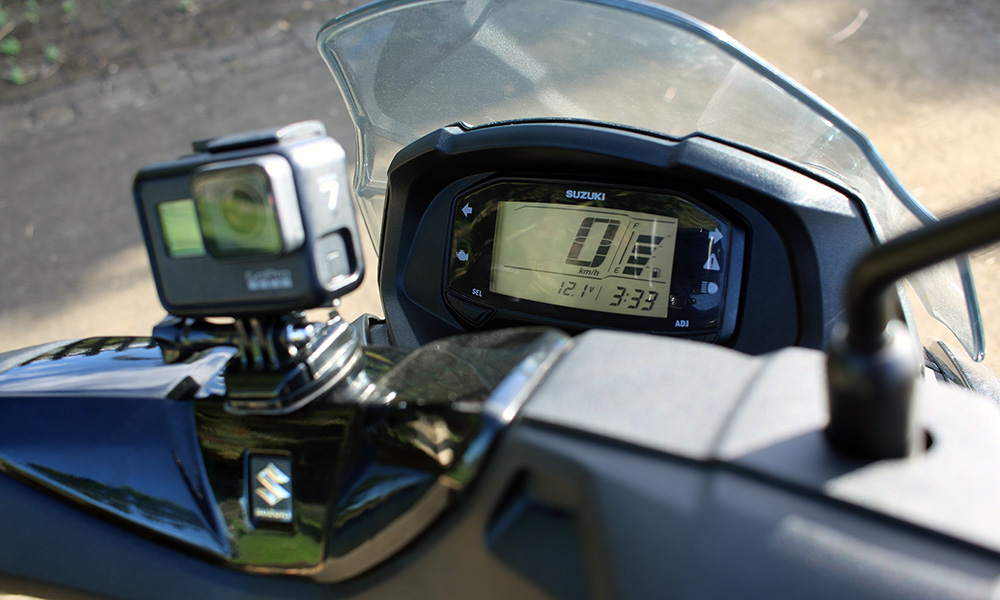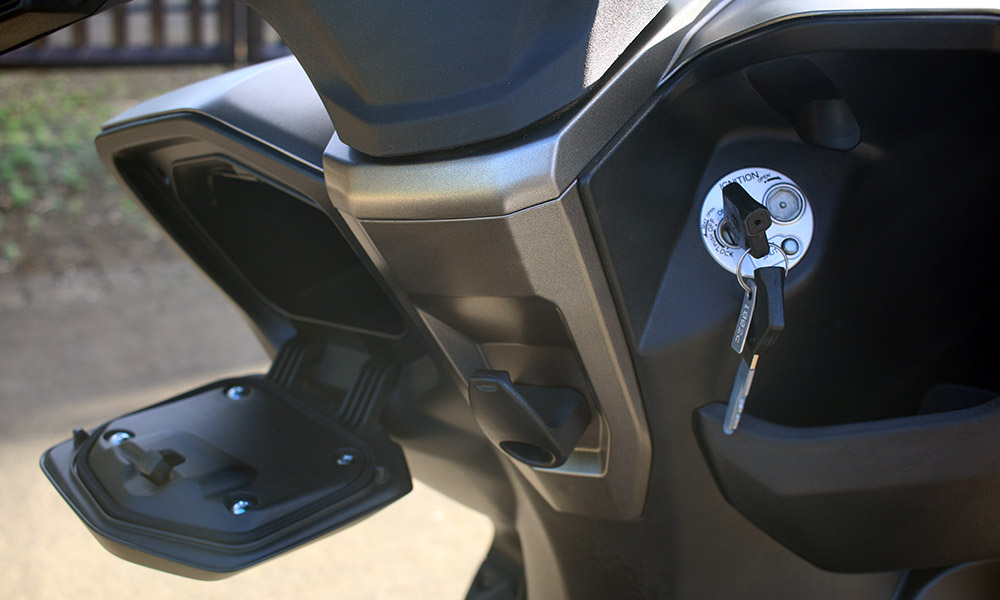 The step board is nice and flat, and you get footrests integrated into the legshield. There's a small, covered cubbyhole on the left with a charging port, while there's a cupholder on the right. The underseat bucket is rated at 21.5L; not quite big enough for a full-face helmet, but it should do for small bags and quick grocery runs. There's also a foldable hook below and ahead of the seat, another hook on the front panel, and the grab rails can be used as tie-down points.
At this price point, it's normal to expect a lot of injection-molded plastic for the body panels, but it still gets some upmarket flourishes with the chrome strips that run down the front and exhaust garnish. The use of gloss black for the front and side panels mixes nicely with the matte black and silver elements. The stylized, clear-lens front turn signals along with the fat, crescent-shaped LED headlamp give the Burgman a futuristic look.  A side stand and center stand further add to the Burgman's utility. While the Burgman doesn't have any techy "wow!" features, it gets the basics right, rides well, and looks the business. Overall, it's a compelling option for the urban rider who doesn't want to break five figures for a scooter.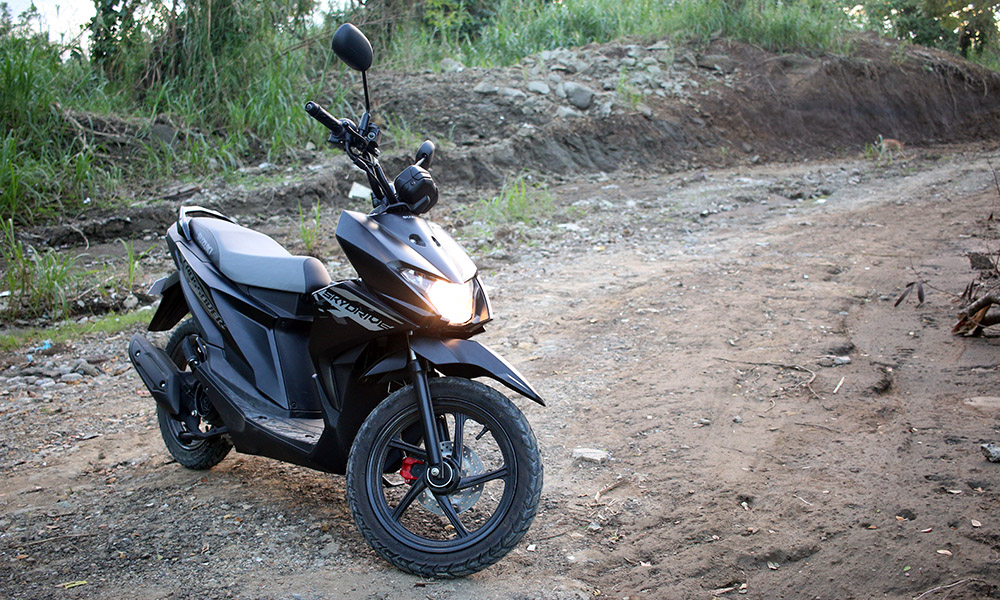 Meanwhile, the Skydrive Crossover's semi-naked styling eliminates some body panels for a more utilitarian mission. The back wheel is exposed, and the dashboard panel doesn't get even the barest hint of a windscreen. There's a hint of dirt bike spirit in the sport-style handlebar and red-painted rear shock, but only a hint. Even Suzuki has no illusions about the Crossover's off-road prowess. Instead, they see it as a bike that can take on rough roads while offering the comfort of a scooter.
The little motor churns out 9hp at 9,000rpm and 8.7Nm at 9,000rpm from just 113cc of displacement, yet it doesn't feel strained. There's enough low-end grunt for zipping around, and it will claw its way to a shade over 90km/h on level ground. Like the Burgman, the engine is almost whisper-quiet and benefits from smooth throttle response.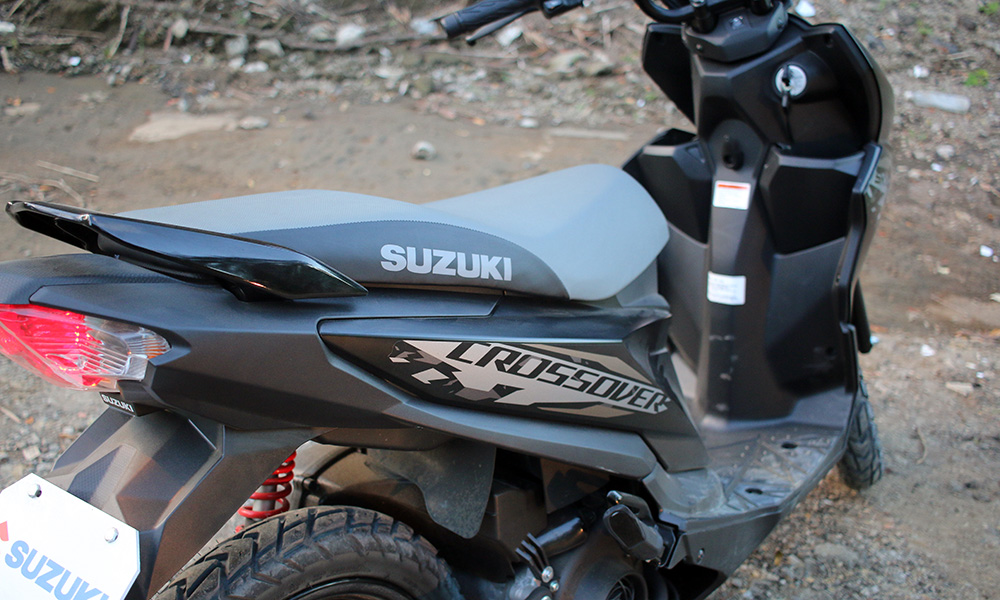 The suspension is nonadjustable, and the rear shock has a touch of pogoing movement as you roll over pavement imperfections. It's not enough to rob you of confidence at speed, but it does make for a somewhat busy ride if you're traveling light.
A little bit of rebound control would be good, but I'm sure the aftermarket will have options for this.  The brakes have a strong initial bite, and there's no ABS.  You can lock up the rear and slide the tail around if you like. Our test loop included the short, gravel section going up to Casile in Nuvali, and the knobby tires and low-end grunt of the Crossover made short work of that segment.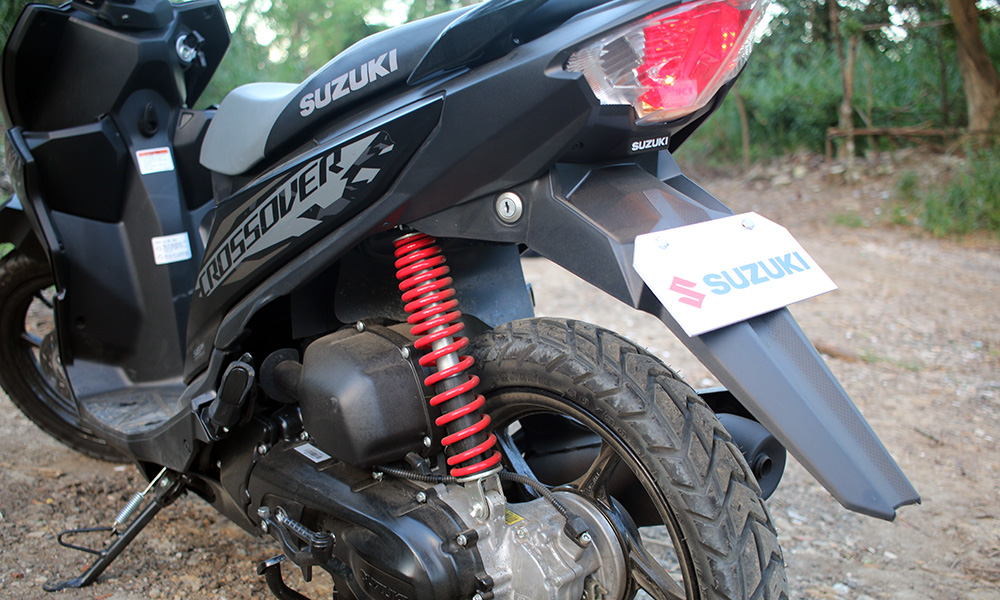 A ground clearance of 150mm lets you clear modest-sized obstacles without scraping the underbelly. For utility, you get two cubbyholes up front, a utility hook, a nice, fat grab bar that doubles as a tie-down, and underseat storage of 4.5 liters. The stamped alloy casing and cast alloy wheels have a rough, budget finish that's forgivable given the price. Apart from the red painted front brake caliper and rear shock, it's devoid of any tacky graphics. The Crossover has a lean and likable personality that's all about getting you from A to B in a competent manner.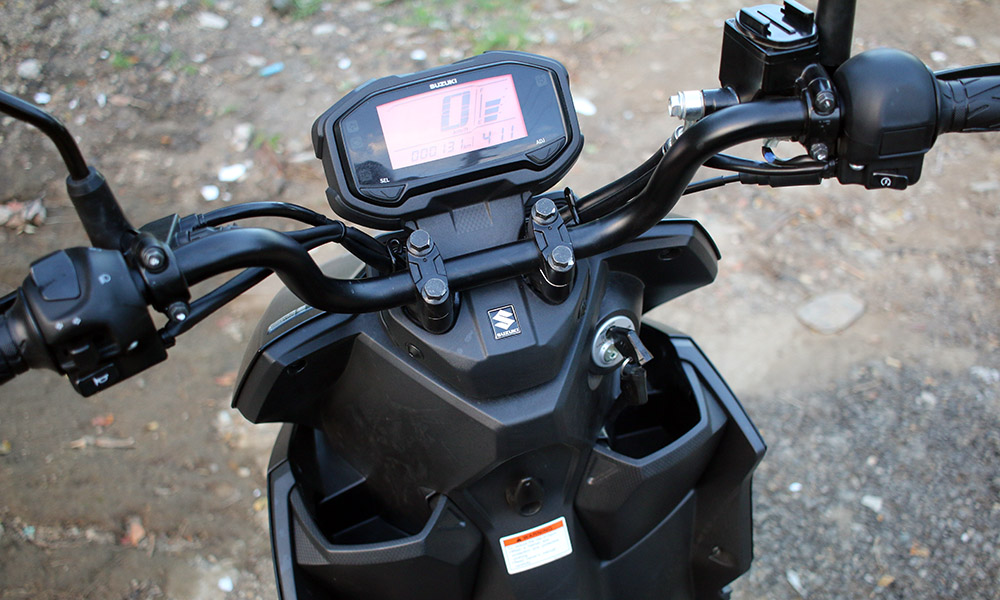 With Suzuki's killer pricing strategy, don't be surprised to see these two scoots running around the city in droves.