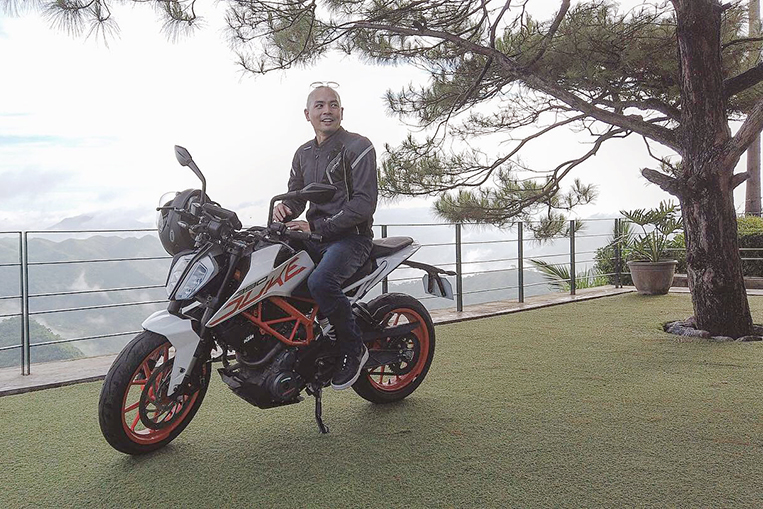 Usually, my preference in motorbikes favors the classics, the café racers, the bobbers, the brat-style ones. But every now and then, I see a naked bike or a street fighter and think to myself: "Yup, I can see myself riding one of those."
When the opportunity to head to Tanay, Rizal, presented itself, I thought it would be fun to try going naked. However, since I had never been there and I had seen countless motorcycle accident videos in that area, I wanted to try something easy—something I ccould handle. Enter the KTM 390 Duke.
I texted an old friend at KTM Philippines, and just like that he said he would loan me one. It was as if God wanted me to try the bike out. The next day, I picked up the bike from the showroom, which, by the way, sells everything KTM has to offer. DMX's "Ruff Ryders' Anthem" kept playing in my head as I left the store.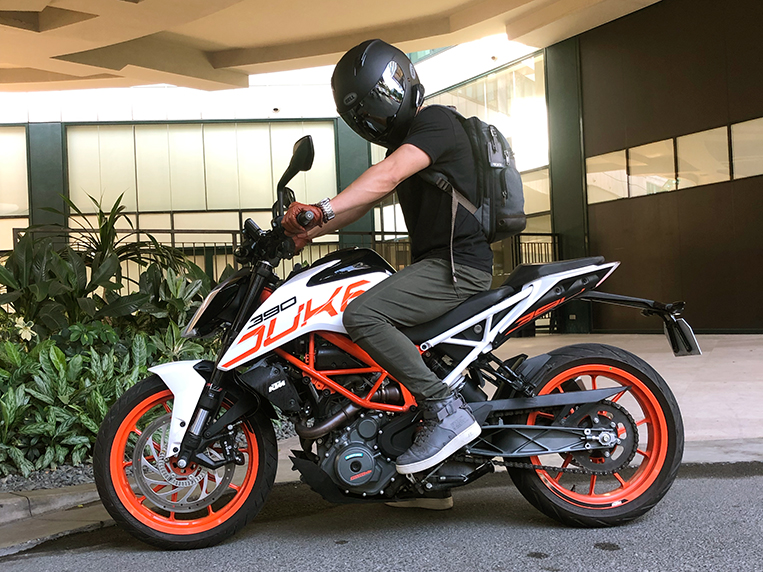 I always had this idea that KTMs were known for adventure. Bikes that could bring you anywhere and go through anything (well, maybe not a brick wall). Being relatively light at 149kg, the 390 Duke was easy to maneuver through Metro Manila traffic. When some passengers of a car rolled down their windows, I thought they were going to scold me for lane-filtering and moving up to the front. Thankfully, they just smiled and said: "Ganda ng bike mo!" This Duke is quite the head-turner. Its random admirers asked: "Pwede ba 'yan sa expressway?" I answered: "Yes, sir. Pwedeng-pwede."
The 390 Duke is expressway-legal. It is registered as a 400cc bike, which is the minimum displacement needed for you to take a two-wheel vehicle on a high-speed highway. In fact, I tried it out on SLEX and the Skyway. Despite strong winds and speeds of 100km/h, the bike was extremely stable. I could imagine that if I were on TPLEX or SCTEX, I might want a little more power, but then I'd be breaking the speed limit, which I try not to do.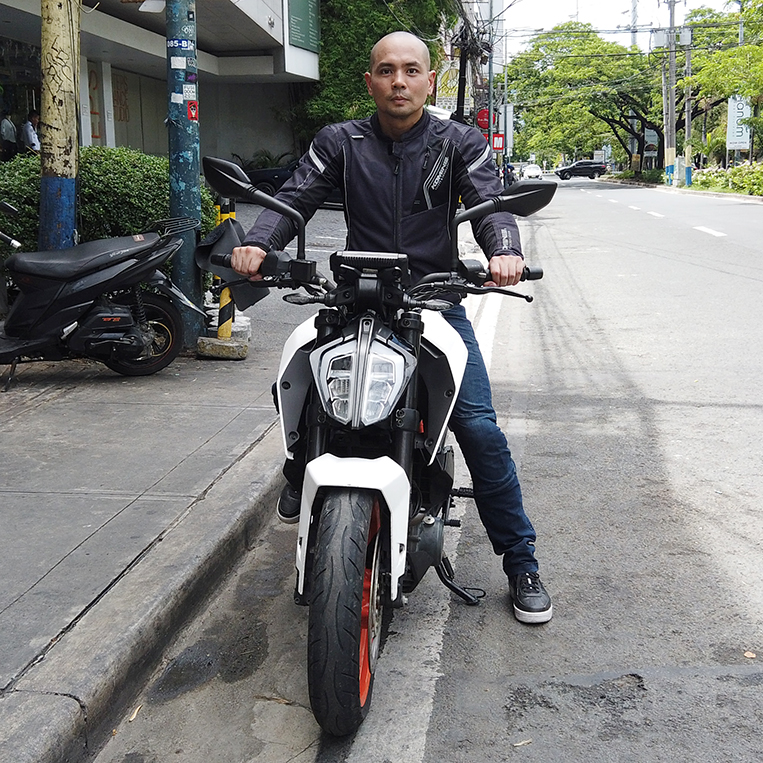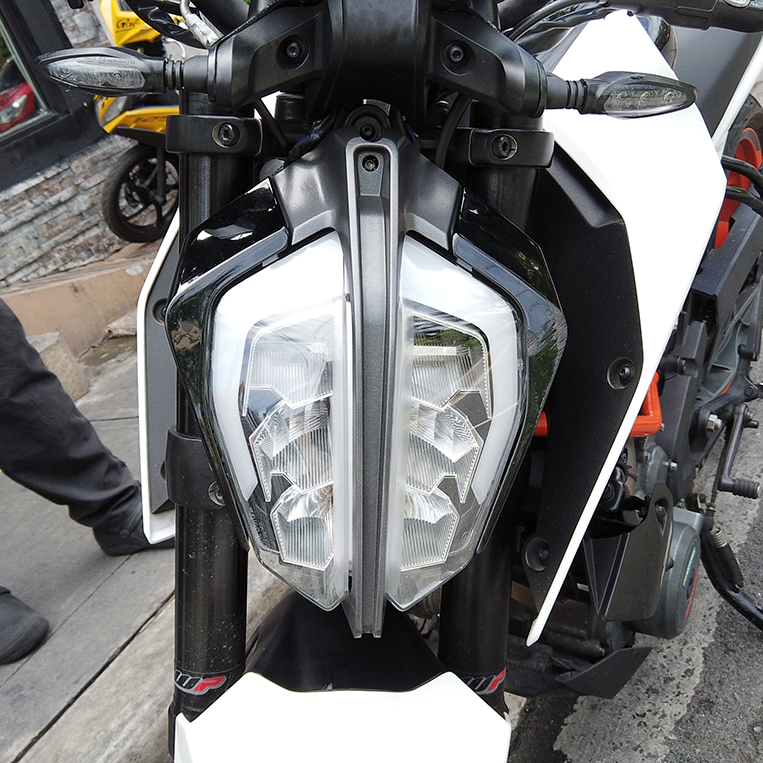 I spent the next few hours trying to familiarize myself with the motorcycle. The first thing I noticed was the seating position. You sit upright, but the foot pegs are a little behind you, making it a little aggressive. The light-adaptive TFT dashboard shows you a lot of information, from your fuel to your Spotify music. You can customize it with controls on the left handlebar, so you won't get too distracted with all the numbers and the other information it can show you. The clutch and brake levers are adjustable depending on how far or near you like them.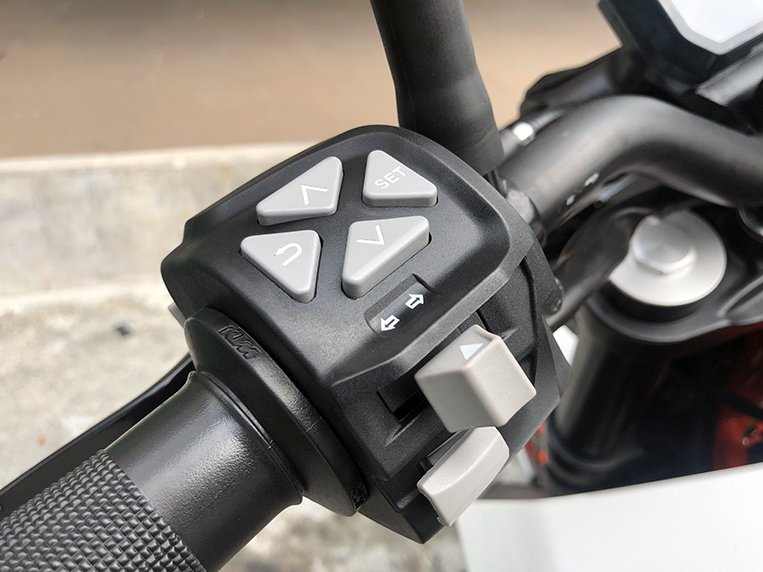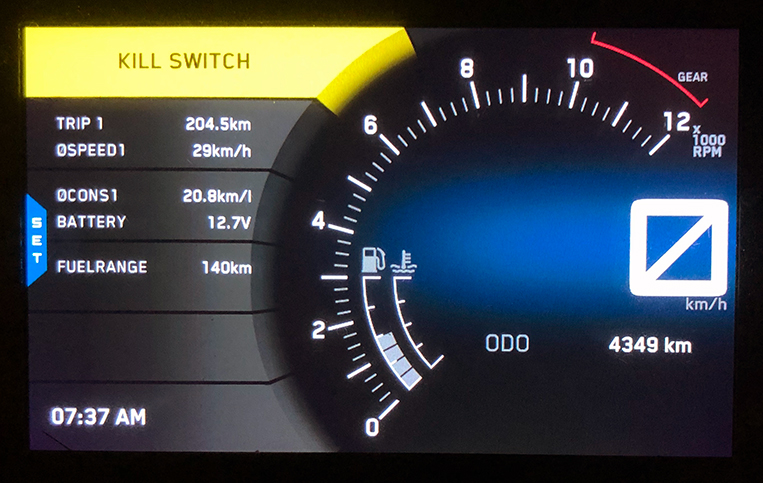 The bike has a four-stroke, single-cylinder, twin-cam and six-speed engine that produces 44hp at 9,000rpm. If that doesn't sound like much to you, know that the power-to-weight ratio will please you. The feature I loved the most was the slipper clutch, which dummy-proofs the bike (in case the rider makes a mistake and downshifts, the rear tire won't lock). This came in handy when we ventured to Tanay the next day.
Five of us took off from Tiendesitas just before 6am. To my surprise, three of my companions were on KTMs as well, and two of them were on the same model I was using. Sam YG was in front of me and lost part of his seat on C5 (he wasn't on a KTM), and it flew toward me. I was able to avoid the hurtling object thanks to the Duke's maneuverability. Sid Maderazo was playing sweeper, making sure we were all okay (specifically me, who he knew didn't have as much experience as the others). Since it was early, the traffic on Marcos Highway wasn't so bad.
To my surprise, three of my companions were on KTM motorbikes as well, and two of them were on the same model I was using
As we reached Antipolo and the Marikina-Infanta Highway, we were greeted by the rising sun. Riding a motorcycle is a form of meditation and therapy for me, but that setting made me feel even more Zen—as if it was preparing me for the twisties we were about to encounter. Of course, I still had to be alert to avoid stray dogs, pedestrians and tricycles. Good thing the braking power of the 390 Duke is among the best I've ever experienced: a 320mm four-piston radially mounted front ByBre disc and a 230mm single-piston, floating-caliper rear ByBre disc, both with antilock braking system. The ABS function can be changed to Road, Super Moto or Off, depending on where or how you are riding. As a relative newbie, I kept the ABS on Road the entire time. The seat height of 32.7 inches was probably a little higher than I wanted it to be. KTM BGC has a lowering kit you can purchase, or you can make small adjustments yourself like lessening the padding of the seat, among other things. My feet were able to reach the ground with no issues (okay, fine…I was tiptoeing a bit).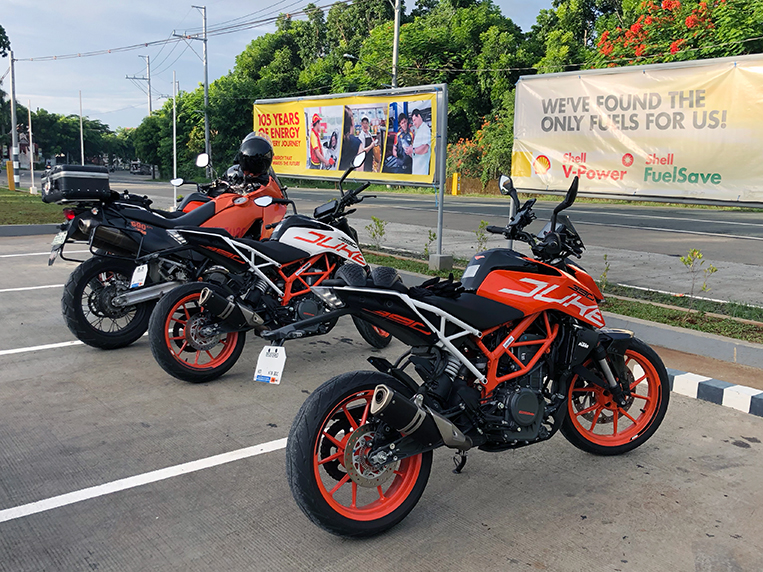 After a quick pit stop—some of us needed to refuel—we paused to take in the gorgeous view of the mountains and the clouds. It was at that point that Ibba Bernardo said: "Okay, guys, it's time to have some real fun."
Riding in Tanay was more than I expected—beautiful scenery, great weather, super fun twisties, open roads that made me want to just go on and on (which I could have probably done as the tank of the 390 Duke had 13.4L of fuel). And despite having a full tank, the bike was both nimble and stable. I was pleasantly surprised at how easy it was to handle the bike. It was as if I'd had it for longer than just 18 hours. The bike had just the right amount of power to overtake slower vehicles, and I wasn't overwhelmed at all. I was at the peak of confidence without going overboard with recklessness. Not sure if it was the setting, the bike or perhaps both, but I felt totally comfortable. The experience was simply glorious.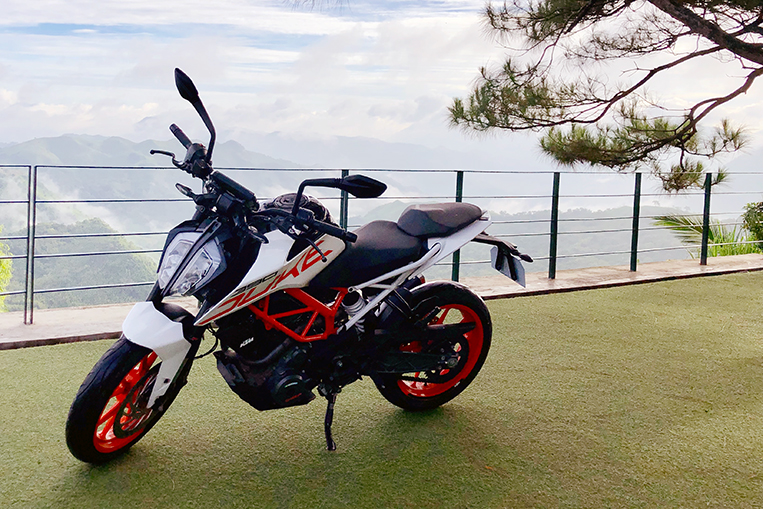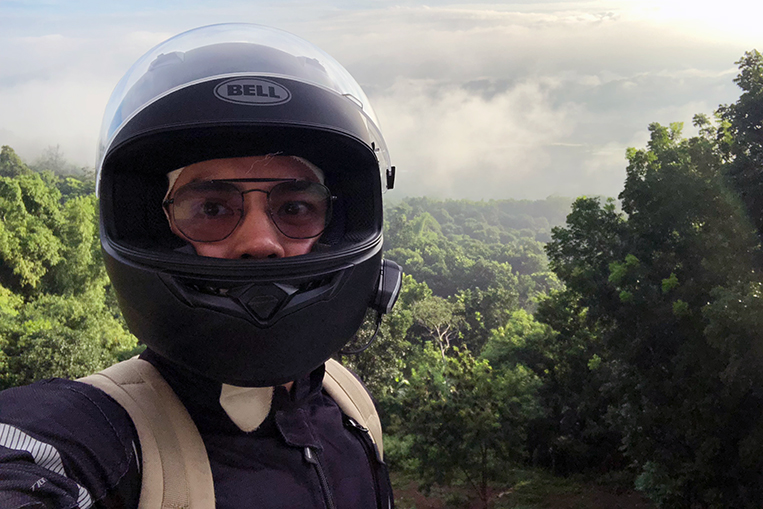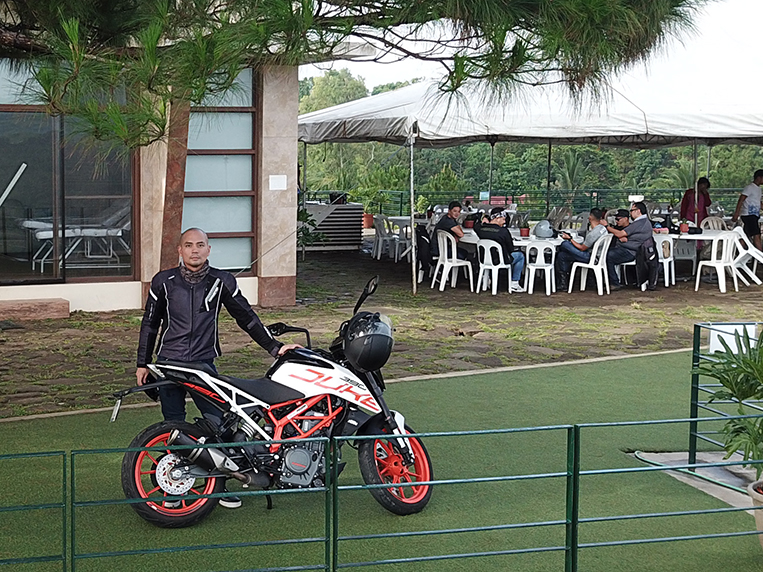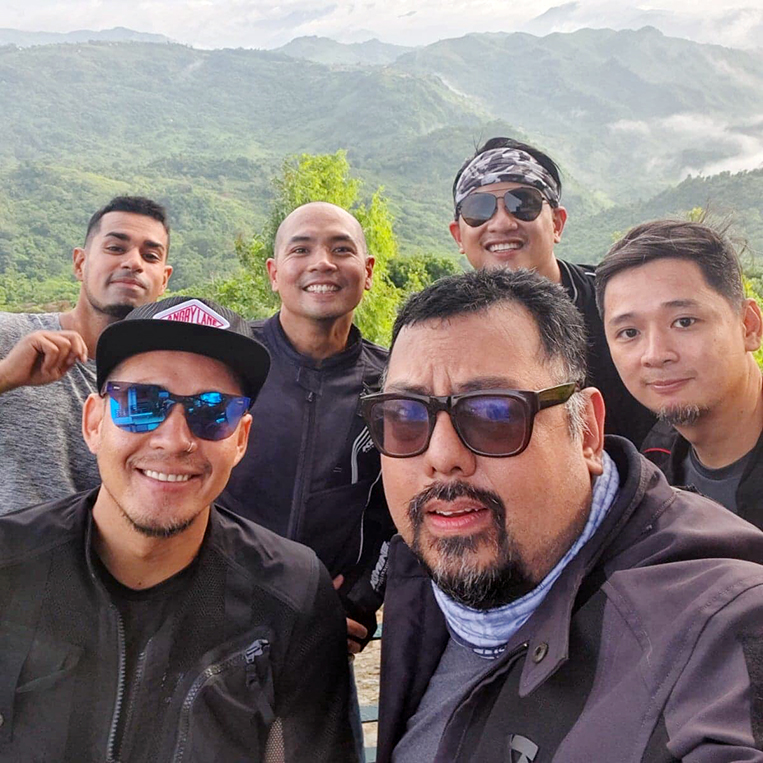 On the way home, at around 9:30am, we caught rush hour on Marcos Highway and C5. It was brutal, but I was able to maneuver the bike easily though traffic. I did, however, start feeling the heat from the motorbike, being stuck in traffic. For a European-brand motorcycle, the 390 Duke is pretty cheap at P289,000, but it sure didn't feel like it.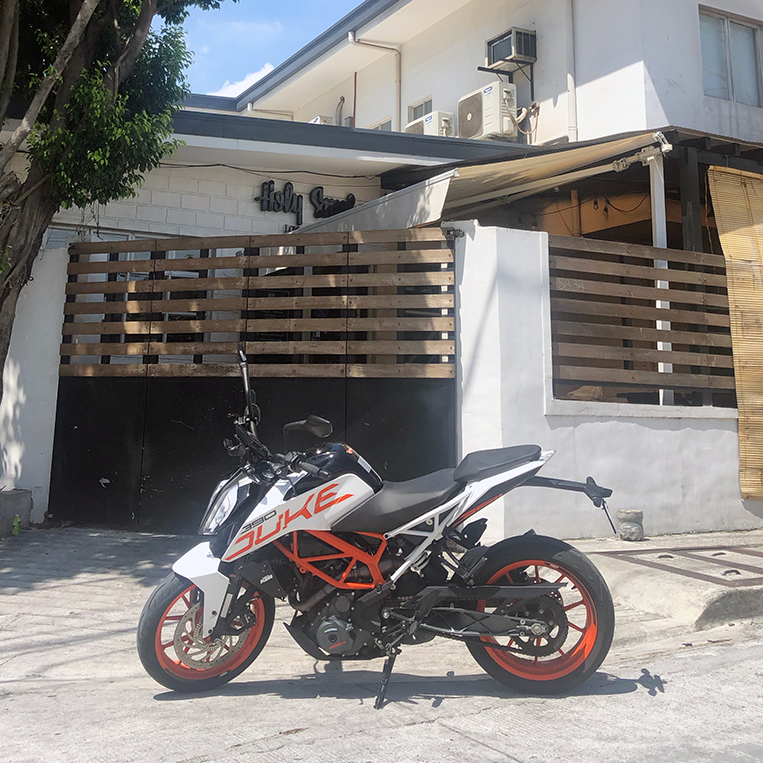 KTM opened a factory in Laguna in 2017. This bike was one of the first KTMs assembled in the Philippines, a fact that made me feel a sense of pride. The Austrian brand's manufacturing facility in the country is apparently just its third in the world (the other two being in the firm's home country and in India). The fact that KTM chose the Philippines as a hub speaks volumes of what the company sees in our rapidly growing riding community. The Laguna factory exports units to Vietnam, Thailand and China, and is now making a push to distribute to the entire ASEAN market.
I quickly fell in love with the KTM 390 Duke. It was like going out on a first date and realizing the girl who you thought was just attractive, was actually also fun, smart and adventurous. It's a bike that I would strongly consider owning one day in the not-too-distant future. It would make getting up at 4am well worth it.