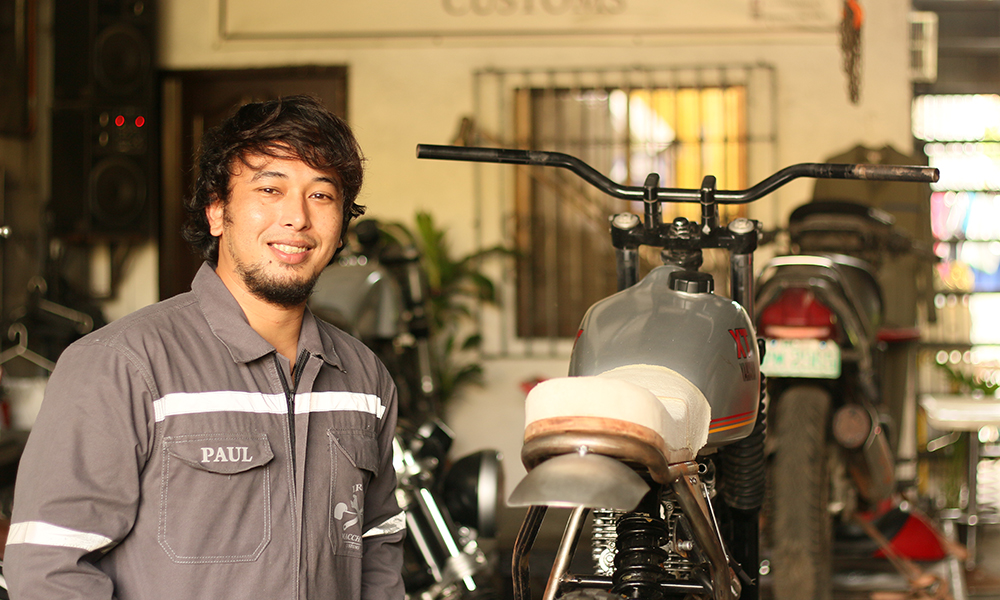 Spoiler alert: If you watched Eurovision Song Contest: The Story of Fire Saga on Netflix, you'll recall that toward the climax, down-and-out musician Lars Erickssong (played by Will Ferrell) has resigned himself to a fisherman's life after failing spectacularly at the semifinals of the Eurovision Song Contest. Just before he casts off at the pier, he shouts to a young boy who had been looking up to him.
"Remember, give up on your dreams now while you're still young!"
Reality is a bitch, and many a young person's ambitions have been dashed on the hard rock wall of life. So it's very interesting for me to learn, during my interview with Iron Macchina Customs' Paul Symon Cantos, that the seeds of his art began in his youth with his first bike—a Yamaha Chappy. Along with his childhood friend Roy Vidal (now his business partner), they started out customizing that Chappy and then moved on to modifying brutish Yamaha Virago cruisers.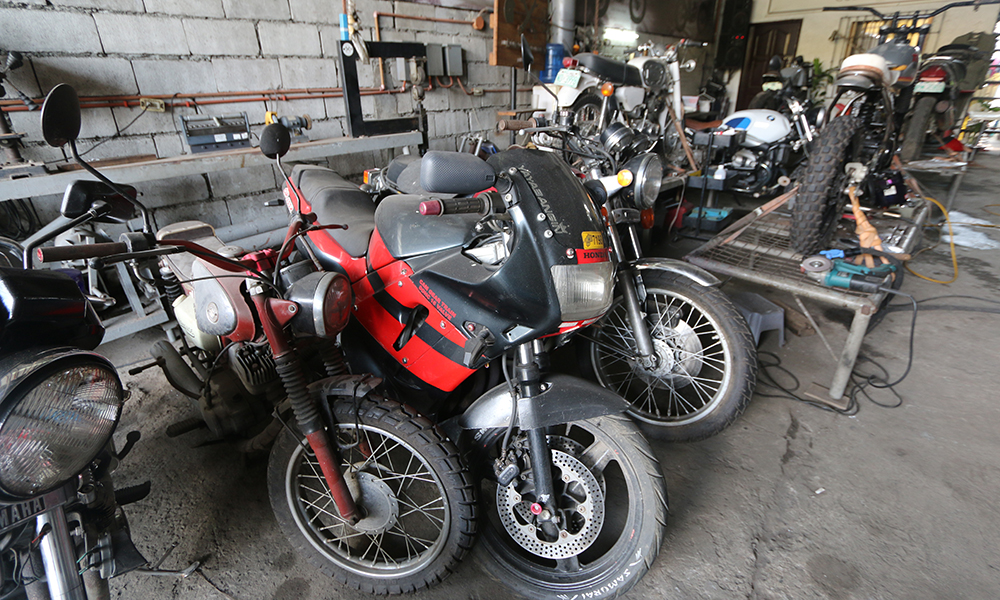 While working a corporate job at a lifestyle distributor, Paul was already dreaming of setting up his own custom shop. In 2016, he purchased a Kawasaki Barako, proceeded to customize it in his garage, and then posted it on social media. With the positive feedback and inquiries this first build generated, he was encouraged to take on several more projects, which led him to occupy his dad's dormant warehouse for some much-needed space.
Paul has come a long way from the days when he even took on contracts to build gym equipment just to raise funds for his business; his custom shop now has several ongoing builds at any one time. Located just off the SLEX off-ramp in Santa Rosa, Laguna, Iron Macchina Customs is the place to go for riders who want their machines transformed into something unique and jaw-droppingly striking.
A self-taught artisan, Paul does the machining and welding of the bikes himself with the help of several assistants. The paintwork, which used to be outsourced, is now done in-house for better quality control.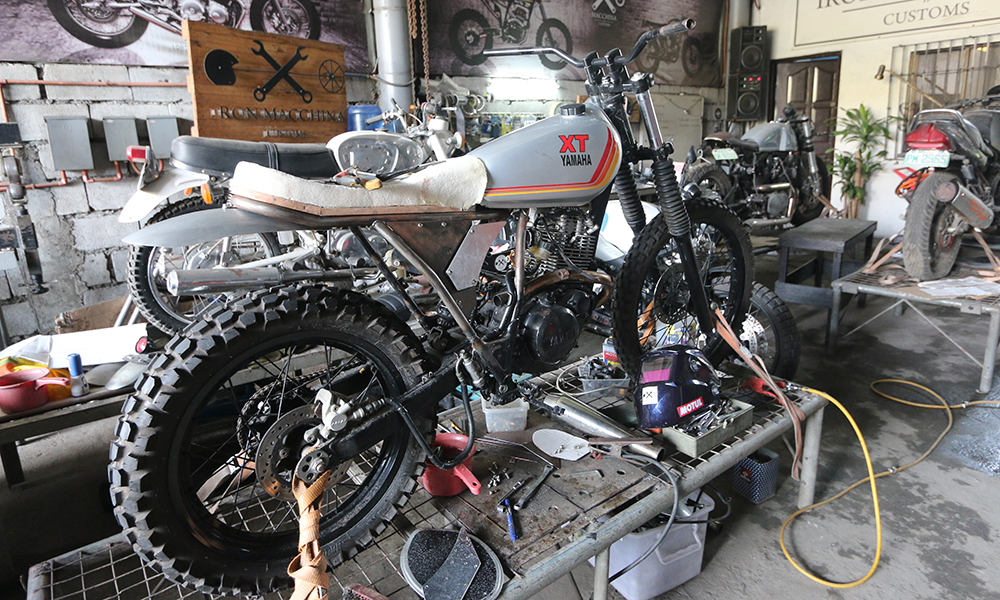 To keep things simple, he has a three-tiered customization scheme: Basic, Premium, and Primo. "Basic" (P30,000-P50,000) is a simple swapping of bolt-on parts such as lights, fenders and tires to turn a regular base bike like a Honda TMX into a scrambler. "Premium" (P60,000-P130,000) involves more detailed work like custom parts, paint, some welding and cutting such as turning a cruiser into a bobber. "Prime" (up to P300,000 or higher) is a full custom/concept build, involving things like restoration, cutting the subframe, rewiring the electricals, sourcing out new suspension, and basically turning whatever is the base bike into a veritable, rideable work of art.
A quick tour of the shop and its adjacent coffee shop (Motorelli Café) reveals several gems like a Honda CB400 that looks like it was lifted from a manga novel, and a 1978 BMW R90/6 that Tom Cruise would only be so happy to ride in his next movie.
On the day of my visit, Paul was busy preparing to take delivery of a Yamaha XSR155. Recently launched in the Philippines, Yamaha's small-displacement "sport heritage" bike brims with retro-cool style. As a major sponsor of this year's virtual Moto Builds custom show, Yamaha sent bikes to some of the Philippines' most prominent custom builders to showcase how the motorcycle could be radically personalized. The finished project will be unveiled on Iron Macchina's Facebook page and on Makina's social media outlet soon. But in the meantime, here are some excellent samples of Paul's work.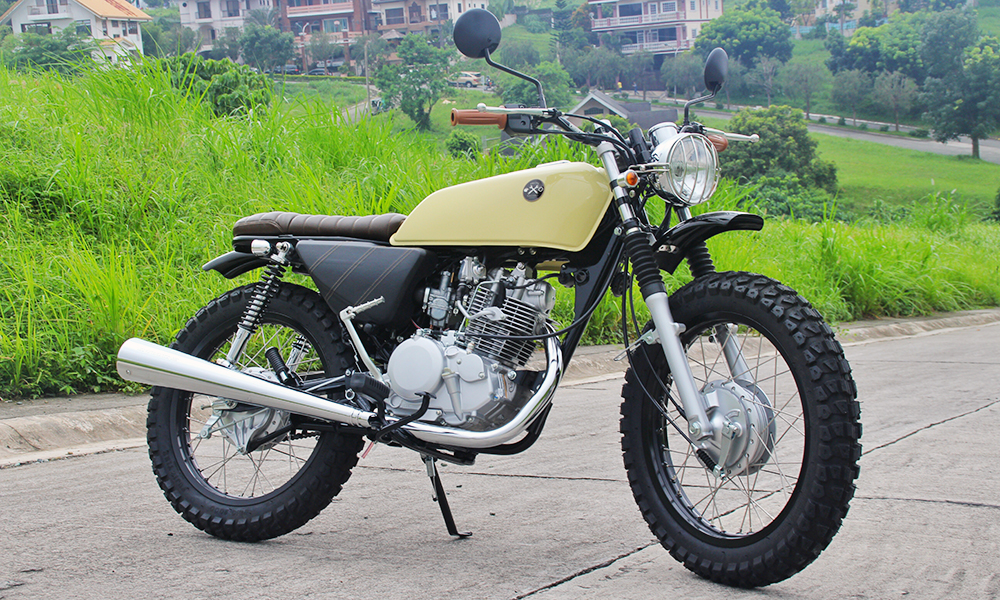 Kawasaki Barako. The humble Barako is an affordable workhorse. But in the hands of a custom builder, it can turn into a sexy little scrambler. With a 1970s-inspired color scheme, knobby tires, and raised suspension, this bike looks ready to tackle mountain trails or go beach combing in Siargao. This is the actual bike that launched Iron Macchina Customs.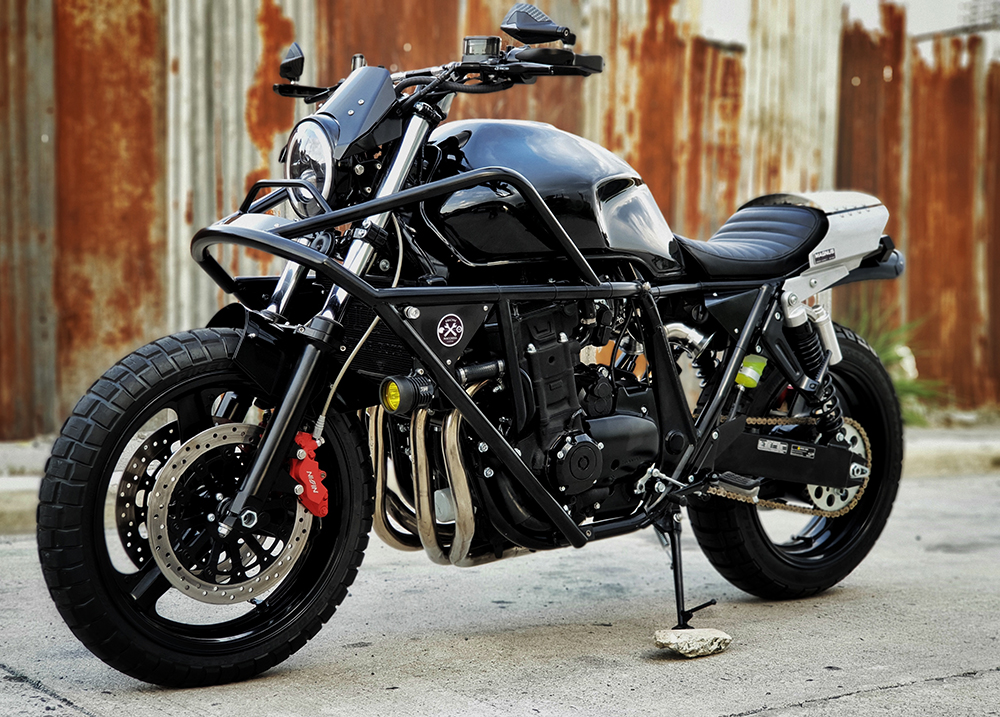 Honda CB1000 Super Four. Crash guards on big bikes, particularly sport bikes, can often look as embarrassing as training wheels on a mountain bike. But with this Honda CB1000, the exoskeleton design looks just right. Not that you'd still relish losing your balance in it, as this bike sports an integrated taillight with a custom light box, a custom snail type air filter. Pirelli STR Scorpion dual sport tires finish off the meaty look.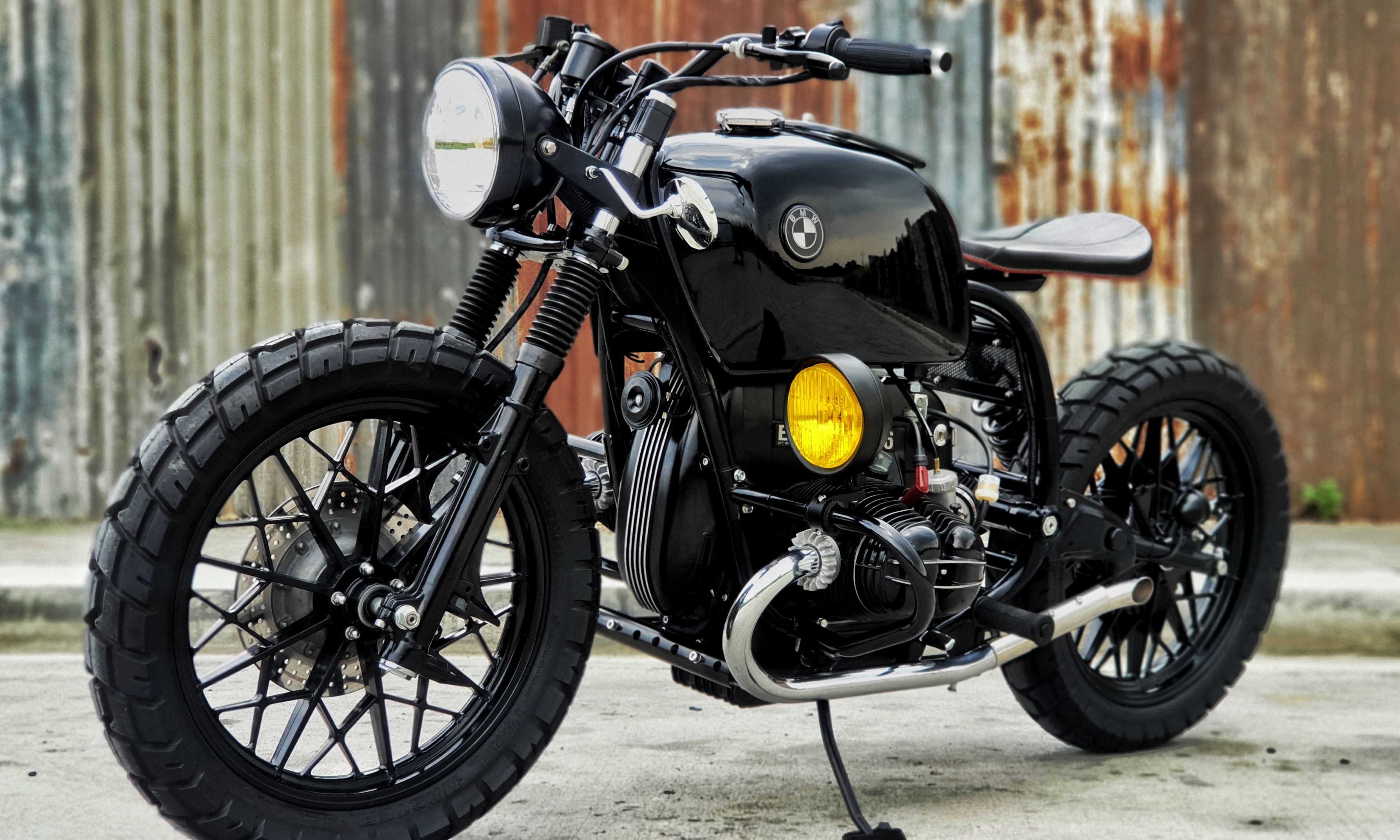 1978 BMW R90/6. Hard to believe, but this bike essentially started out as a tired chassis with many parts missing before Iron Macchina got its hands on it. Fully restored and reimagined as a retro modern scrambler, it features a bobber seat, reinforced rear suspension, and a redesigned front suspension.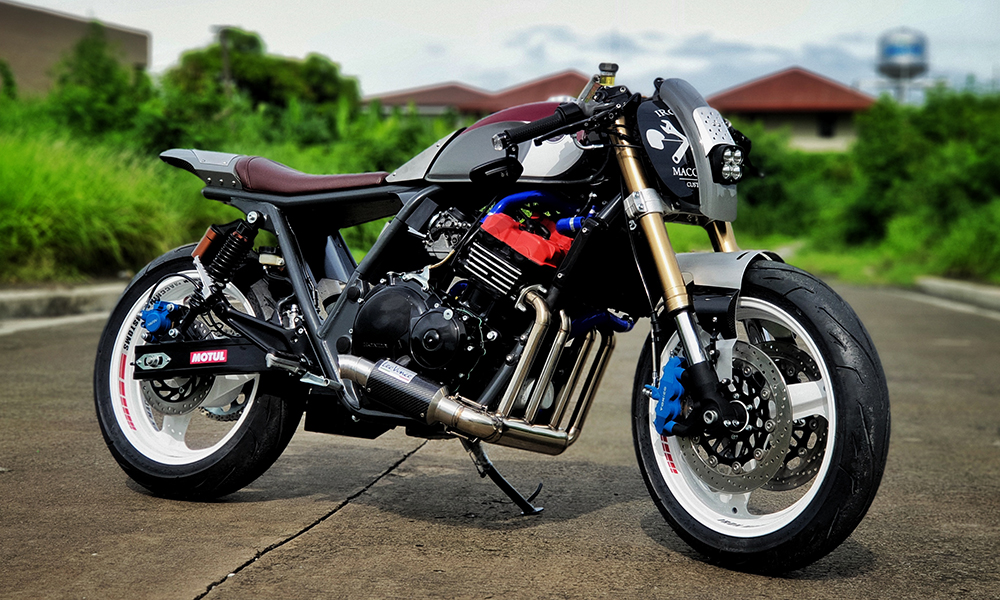 Honda CB400 Super Four. Renowned for its screaming engine howl, you can get a nice, used Super Four for less than P200,000 these days. But it's safe to say you'll need more than that to recreate this concept. With a fully customized chassis featuring front and rear racing cowls with integrated LED lights, custom flat type air filter box, and an exhaust manifold with carbon-fiber components, it's futuristic, clean, and would look as at home on a racetrack as in the Museum of Modern Art.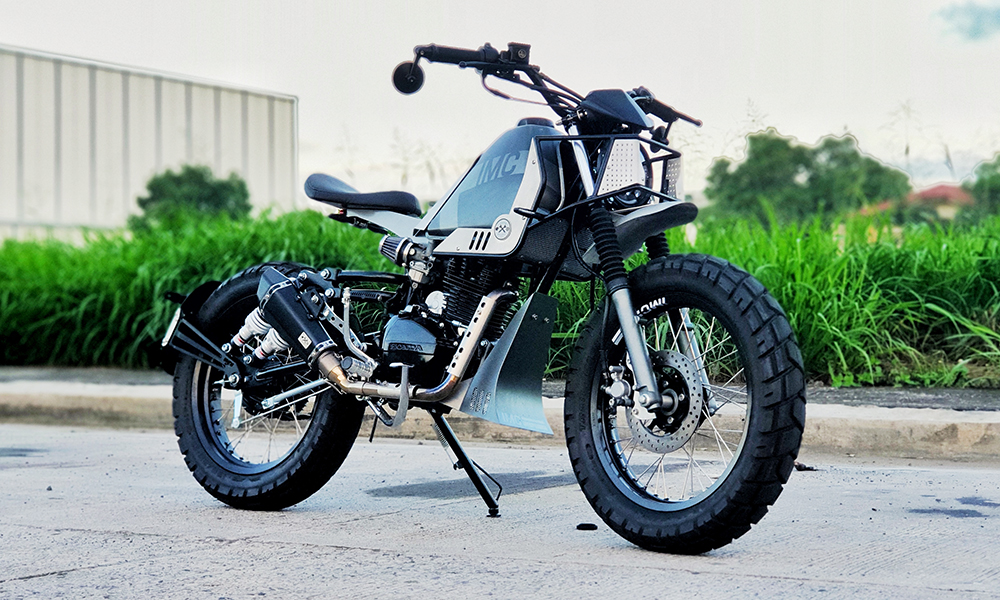 The Ex-Wife. Who knew that the humble tricycle machine could turn into something so wicked? What started life as a Honda TMX125 morphed into a fully customized chassis, suspension, tires, tank, and a bespoke rear fender. It looks like it belongs on the set of Mad Max: Fury Road.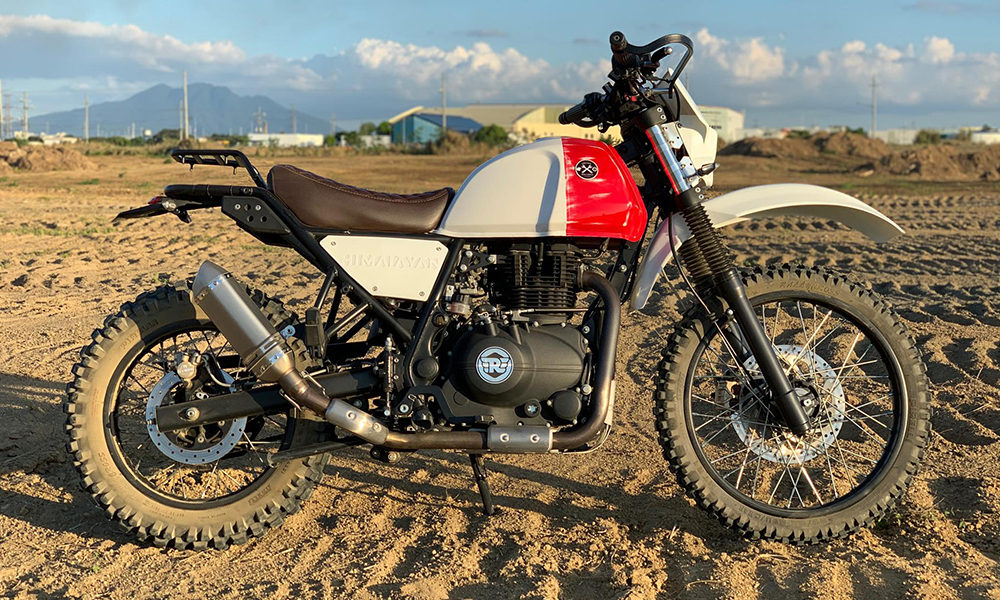 Royal Enfield Himalayan. Who would have thought that Royal Enfield's affordable little billy goat that is the Himalayan could transform into a mud-crawling, pseudo-moto scramble, um, thing? Owned by Joel Gironella, who has put the bike through its paces in the muddy trails of Cavite and Batangas, this Himalayan sports knobby tires, custom exhaust and a front end that resembles that of a vintage motocross racer.