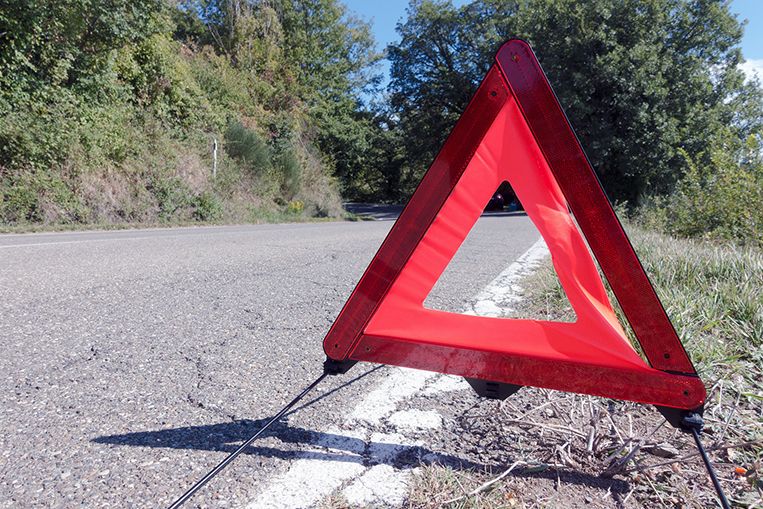 After being employed by an automotive company for more than a quarter of a century, you get to understand the industry—specifically its cycles and what makes it evolve. My long tenure at Mitsubishi Motors Philippines supported my progressive view and understanding of an industry that is directly tied to the economy.
Every car company aims for a larger piece of the pie, so to speak. Numbers (particularly market-share figures) do matter in an industry that is destined to grow rapidly given our population of more than 100 million and gross domestic product per capita of $2,891 (as of 2017). Industry experts say that the threshold for rapid motorization starts at $3,000 per capita. Thailand and Indonesia have a GDP per capita of around $6,500 and $3,800, respectively. The initial projection before the government introduced the Comprehensive Automotive Resurgence Strategy program in 2016 had been that total vehicle demand would reach half a million units by 2020. And after showing significant annual growth of around 20% for the past three years, vehicle sales were projected to hit the 500,000-unit milestone much earlier.
From 2012 to 2017, brand-new vehicles in the country—according to the sales reports of the Chamber of Automotive Manufacturers of the Philippines (CAMPI) and the Association of Vehicle Importers and Distributors (AVID)—totaled around 1,900,000 units. That's an average of 317,000 brand-new cars sold annually for six straight years. Within this six-year period, growth was robust, averaging around 19% per year. This easily bested our ASEAN neighbors Thailand and Indonesia, which only registered average growth of 6% and 4%, respectively, for the same period. (But obviously, both have a higher annual car sales average of 830,000 for Thailand and 1,080,000 for Indonesia over the same period).
Official 2018 sales numbers for our market show that total vehicle demand dropped from 470,000 in 2017 to just about 400,000 last year—representing a 15.6% decline. The major volume segment drivers (with sales of more than 60,000 units annually) suffered huge dips: subcompact sedans and hatchbacks (down by 17.5%), midsize SUVs (down by 36%) and multipurpose vehicles (down by 22%). Only the pickup segment showed a notable increase of almost 30%, due to cheaper prices brought about by excise tax exemption under the TRAIN law.
Official 2018 sales numbers show that total vehicle demand dropped from 470,000 in 2017 to just about 400,000 last year—a 15.6% decline
At the start of 2018, industry players were positive that industry sales would still register modest growth in spite of the impact of the new taxation law. Majority of buyers had rushed to purchase new vehicles during the last months of 2017 to "beat" the expected new car prices, which put a damper on the industry's prospects for the year. Still, the industry tried to remain upbeat that a major rebound would happen by the second half, hopefully with the help of new mainstream models.
Alas, even with the very attractive financing offers (zero down payment, anyone?) by banks, the huge incentives from distributors, the fantastic discounts by dealers, the entry of supposedly game-changing models (Mitsubishi Xpander and Toyota Rush) and the introduction of potential bestsellers (Nissan Terra and Toyota Vios) failed to create a major surge in demand in the second half of 2018. Historically, the second half of the year brought more sales for the industry as most players depleted their stocks for upcoming-year models. This would then be complemented by huge incentives or discounts to expedite the inventories' sellout. I'm sure most of the distributors and even the dealers spent a lot on promotions and marketing activities, while at the same time offering enormous discounts just to minimize the impact of this downturn.
So, why did vehicle demand lose steam? The increase in excise tax—especially on core mainstream segments—may have triggered the slowdown, but this could have been neutralized by a robust economy and a strong consumer outlook. Although the country's GDP grew by 6.1% in the third quarter, consumer confidence index fell to negative 7.1 for the same period after being positive for the past 24 months. Buyer confidence worsened due to the high inflation rate, which hit a nine-year high of 6.7% in September. All these factors increased the cost of living, resulted in soaring fuel prices and rising interest rates, and affected car loans.
Even overseas Filipino workers who were supposed to take advantage of their dollar's higher value due to the peso depreciation, had to cope with the bigger needs of their dependents back home and postponed their planned vehicle purchase.
Now, as inflation rate cooled down to 5.1% in December and is expected to further ease up at the start of 2019, the Philippine auto industry is poised to recover this year, no doubt aided by a better economic outlook and renewed consumer confidence.
NOTE: Below are the sales numbers of the various car brands in our market in 2018, presented in two tables (one for market shares and another for variances versus 2017 figures). Let's just say Nissan was the clear (and possibly only) winner with a 39.84% increase. Whether much of this growth was organic or discount-induced is hard to tell, but the sales spike is still impressive nevertheless.
2018 car sales and market shares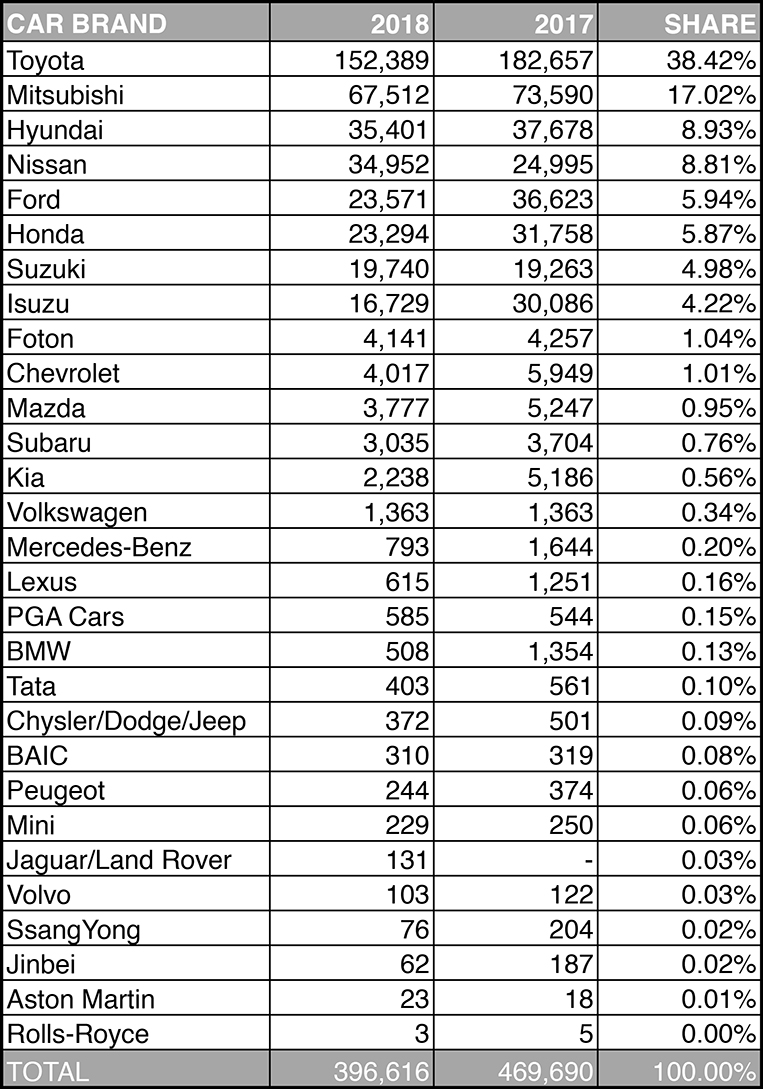 2018 car sales and variances