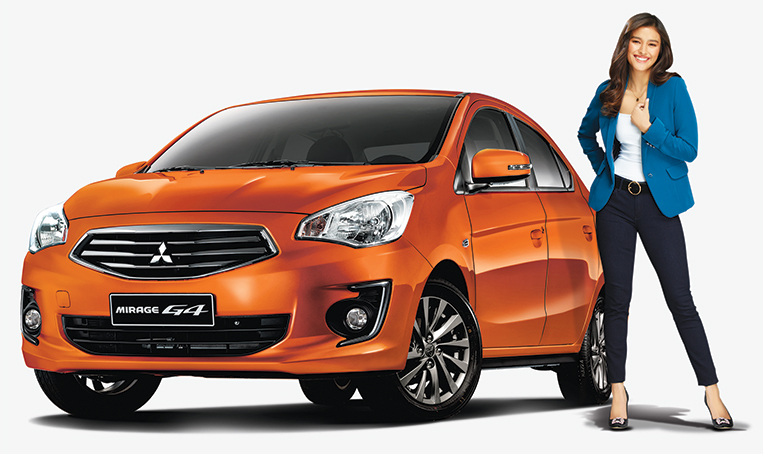 In the Philippines—where people love their movie idols more than they do their own family members—product endorsement is a big thing. If Daniel Padilla and Kathryn Bernardo tell their fans to eat a certain brand of fried chicken, the latter will do so even if they really prefer another brand. That's how fiercely loyal many Pinoy celebrity followers can be. And so it's perfectly understandable if some automakers occasionally get the urge to hire popular actors and actresses to be their brand ambassadors—especially to promote mass-market or youth-oriented vehicles.
We just foisted that introductory paragraph on you just to say that Mitsubishi Motors Philippines has acquired the services of Liza Soberano to endorse the Mirage G4 sedan. Previously, the same company enlisted the help of Maine Mendoza and Alden Richards to boost the sales of the Mirage hatchback. At the time, an MMPC marketing officer admitted to us that they had indeed observed an uptick in Mirage sales after partnering with the AlDub pair. So the firm is likely now hoping that the same formula will work with Soberano.
This marketing campaign for the Mirage G4 is called "Be Practicool." From the press statement:
Liza is currently one of the most in-demand and most beautiful actresses in the Philippine entertainment industry, and has received numerous awards here and abroad. Liza is also known for being one of the best-dressed actresses in the industry. Her style has been known to be chic and classy yet still practical and fun just like the Mirage G4. Not only does Liza show that she's a woman of substance and style, but her character also reflects how youthful and fun-loving she is. Despite her busy schedule, Liza is always on the go to spend time with her family and friends. She finds that the Mirage G4 truly fits her lifestyle. MMPC believes that the charming Liza perfectly personifies the Mirage G4 brand as a "Practicool" car.
Translation: We know Liza only rides spacious and luxurious vehicles, but we're paying her a lot of money to make it look like she's in love with our Mirage G4.
Just kidding—they paid her a boatload of money.
But seriously, congratulations to Mitsubishi for having Liza Soberano as its latest brand ambassador. You'll easily get your money back, MMPC friends!
Anyway, here are the updated prices of the Mirage G4 for the 2018 model year:
GLX MT – P666,000
GLX CVT – P717,000
GLS CVT – P769,000
You pay P10,000 more if you want a Pearl White paint job.
So there, you guys! Another famous and pretty face to convince you to buy a new car. Yay!