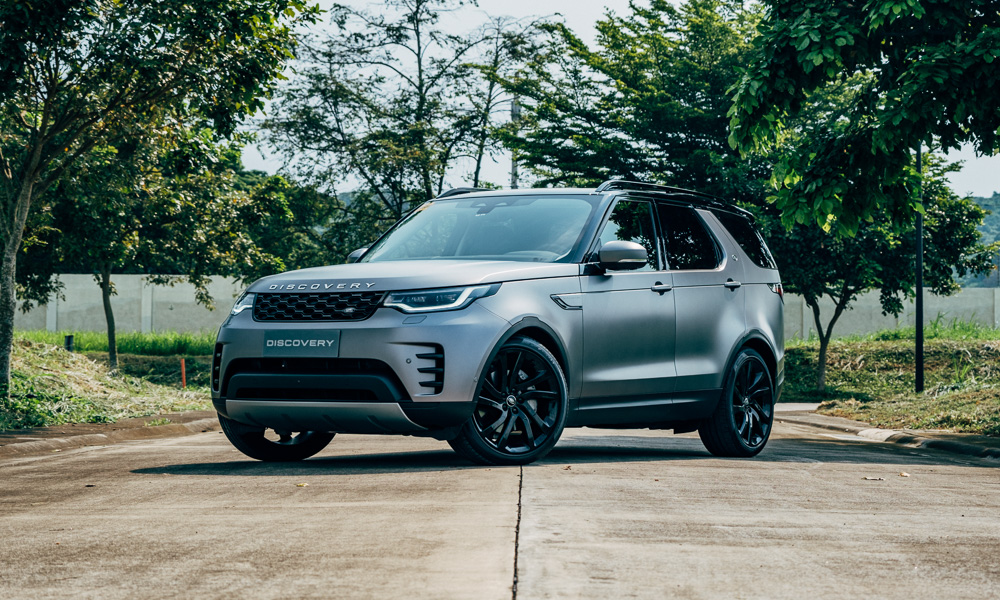 Land Rover has many offerings in its diversified product lineup.
Want nothing but the best? You have the Range Rover. The Defender can take you anywhere you dare, while the Range Rover Sport and the Discovery Sport are for those who want a little more excitement from the tried-and-true SUV package. And let's not forget the smaller style-oriented pair of the Evoque and the Velar.
Finally, there's the Discovery, which the automaker proudly calls "the ultimate family SUV." A bold claim, considering the sea of competitors that would lay claim to the role.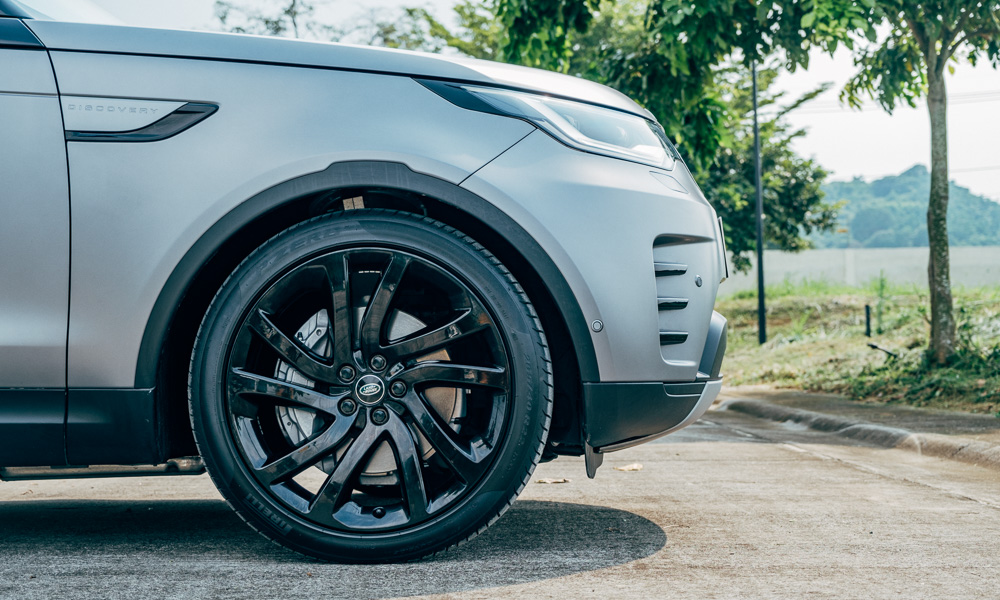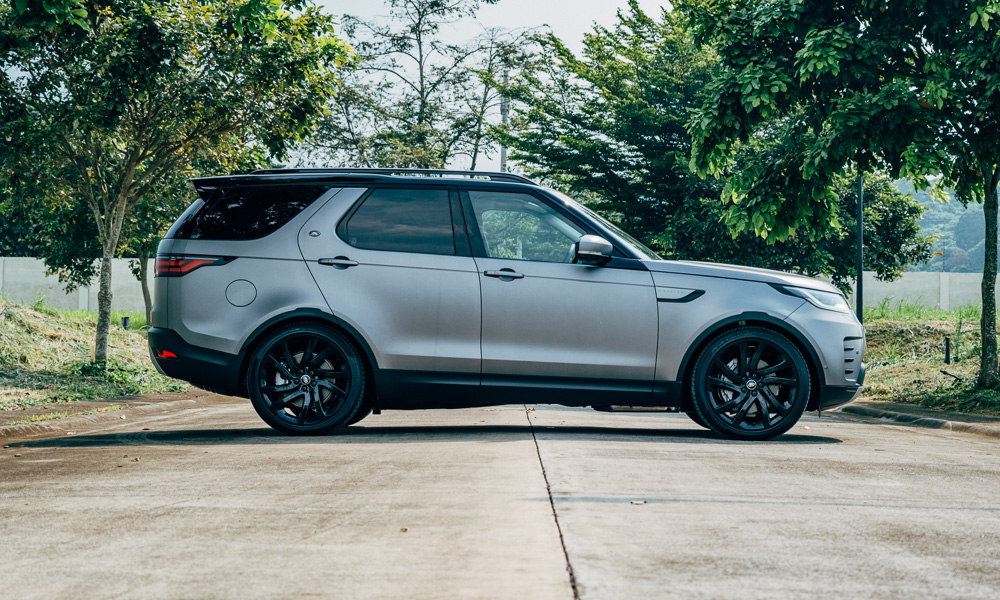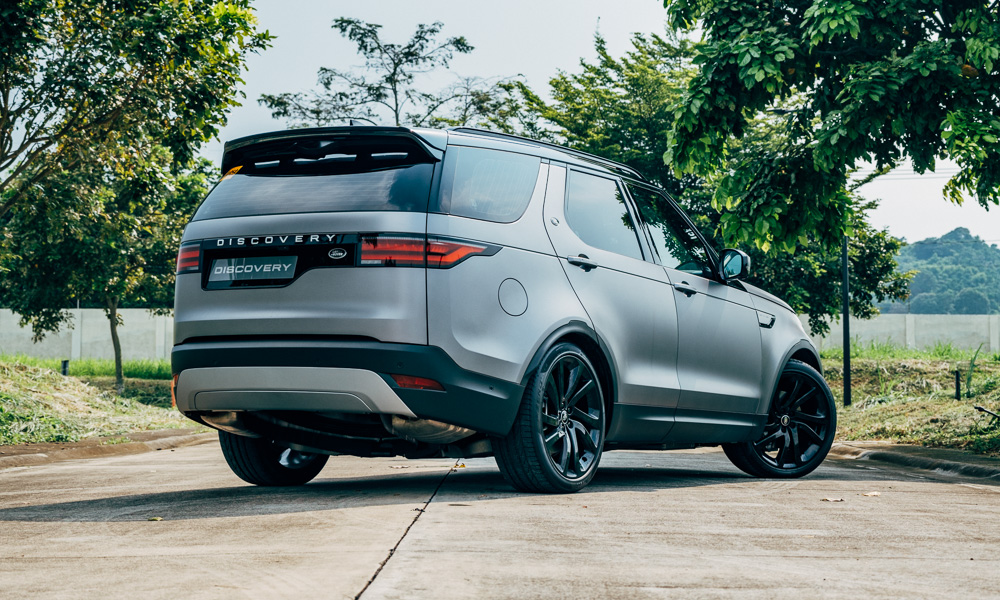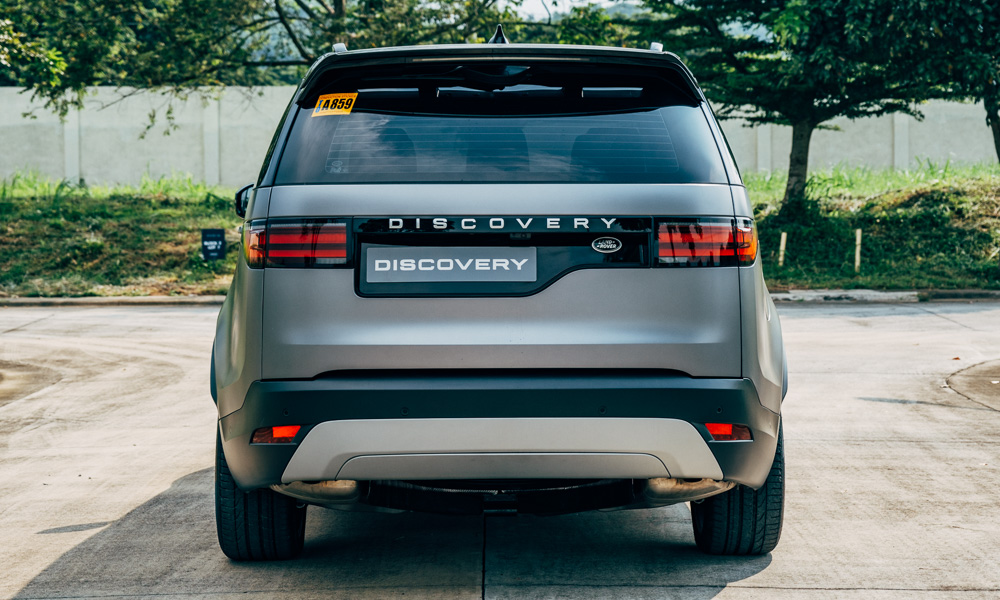 This specific tester was wrapped by Second Skin Industries. The custom-made satin-gray finish with a gloss-black roof (costing P210,000) is one head-turner in all lighting conditions, making this car look like a rolling concept car, especially with the optional Dynamic front bumper, grille, black wheel nuts (P300,000), and 22-inch rims (P448,000 without tires).
If you do decide to have your vehicle wrapped, make sure that the touchpoints for the convenience entry function on the door handles are exposed. Otherwise, you're rendering the feature unusable.
Personally, I love the front half of the vehicle, but I find the rear end to be a little polarizing. I know the asymmetrical rear end, the offset plate location, and the subtle "bubble" ceiling are nods to previous models, but there's a reason for the vehicle's odd rear, and it's the sheer amount of interior volume the vehicle has.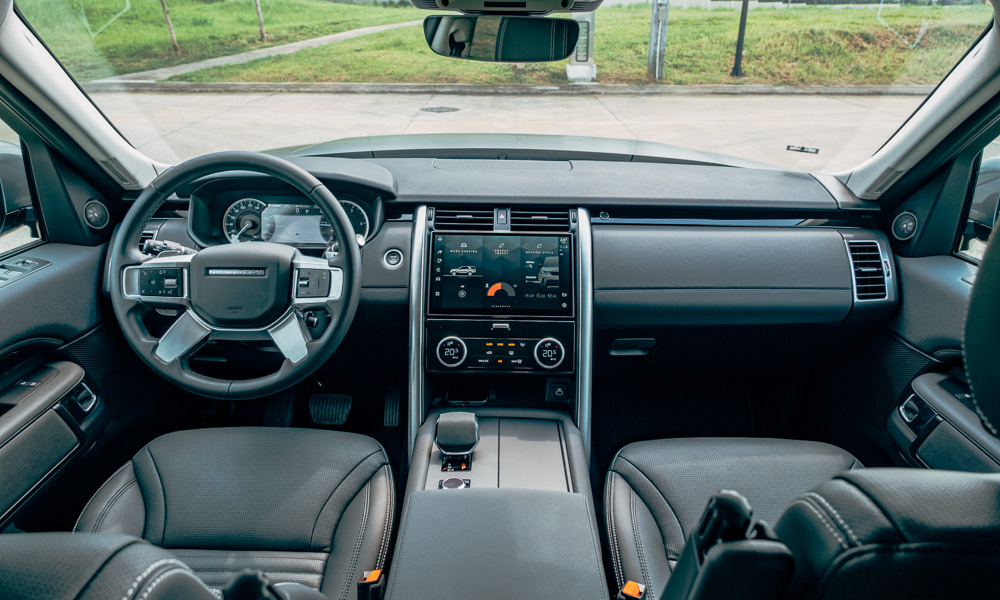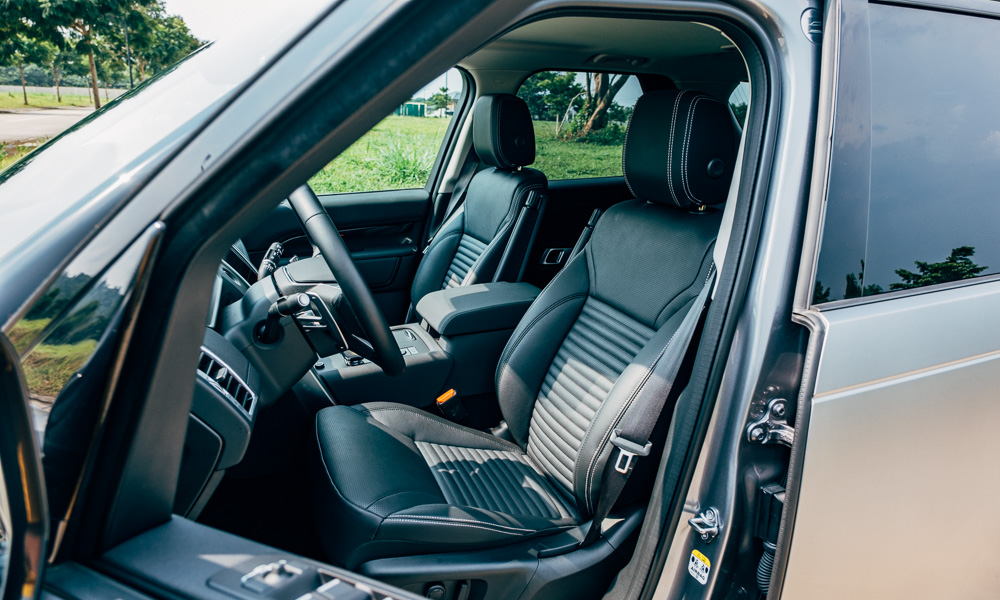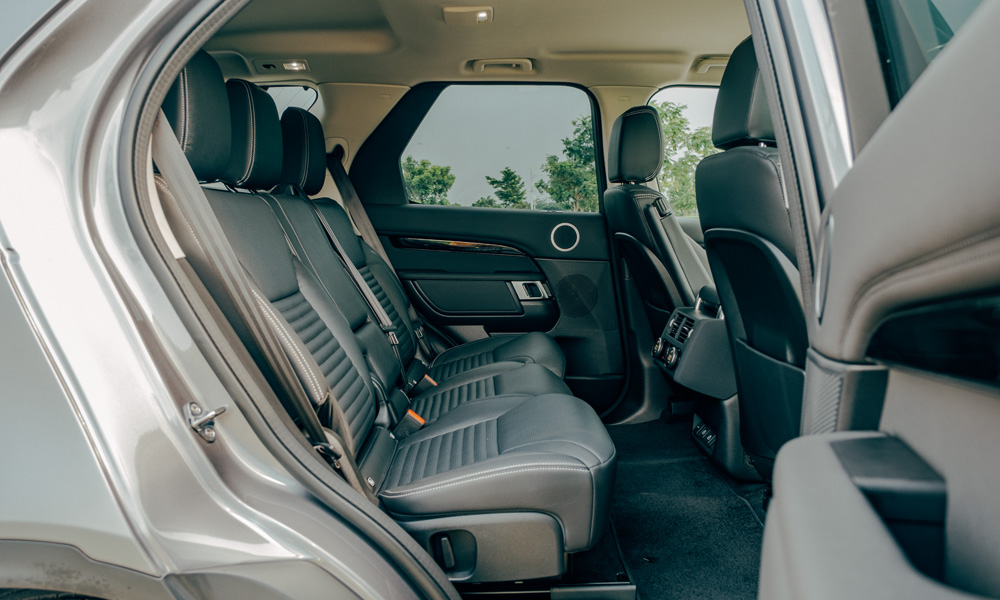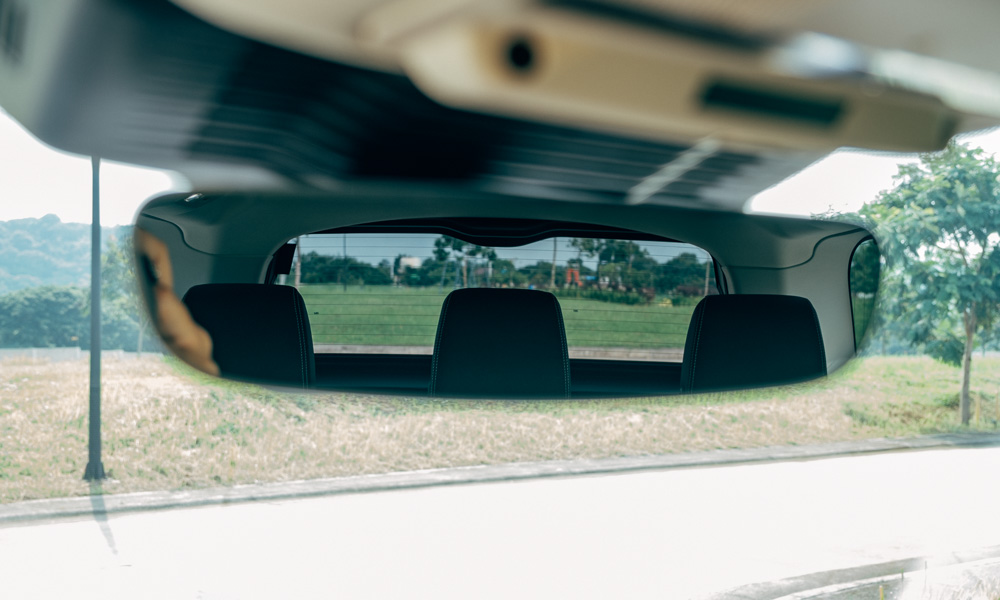 It's a minimalist cabin, with no fancy wooden accents or bright hues. It's all black as the eye can see, and I applaud the restraint of gloss-black plastics. There are a few sprinkled here and there to accentuate the cabin with satin-silver accents, but most of the high-traffic touchpoints are clad in matte-black plastic or black leather.
You sit very high up, even with the seat at its lowest setting. You have decent forward and side visibility, but just remember how long the front overhang is when you park. There's subpar rearward visibility with passengers in the back, so drop down the headrests when you're driving alone.
At least there's a very good 360° camera with some of the best 3D graphics I have seen. This will be your best friend when parking the vehicle. On this unit, the parking sensors freak out every now and then even if nothing is remotely close to hitting the vehicle (it isn't broken; it's British).
The seats are extremely comfortable and supportive, and the front seats have pull-out captain's chair-style armrests. It's fine for the passenger, but it can get in the way of steering-wheel maneuvers.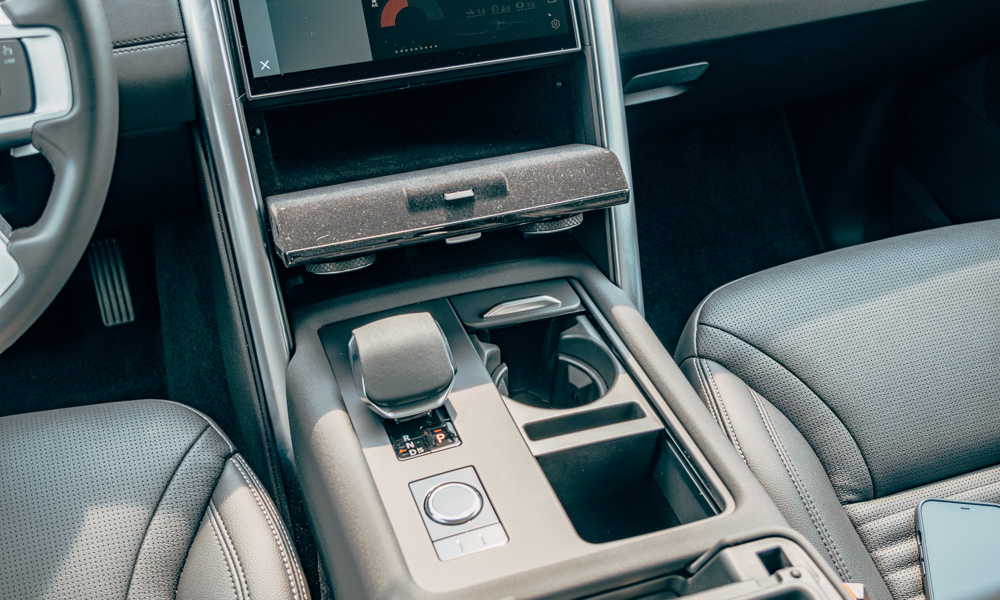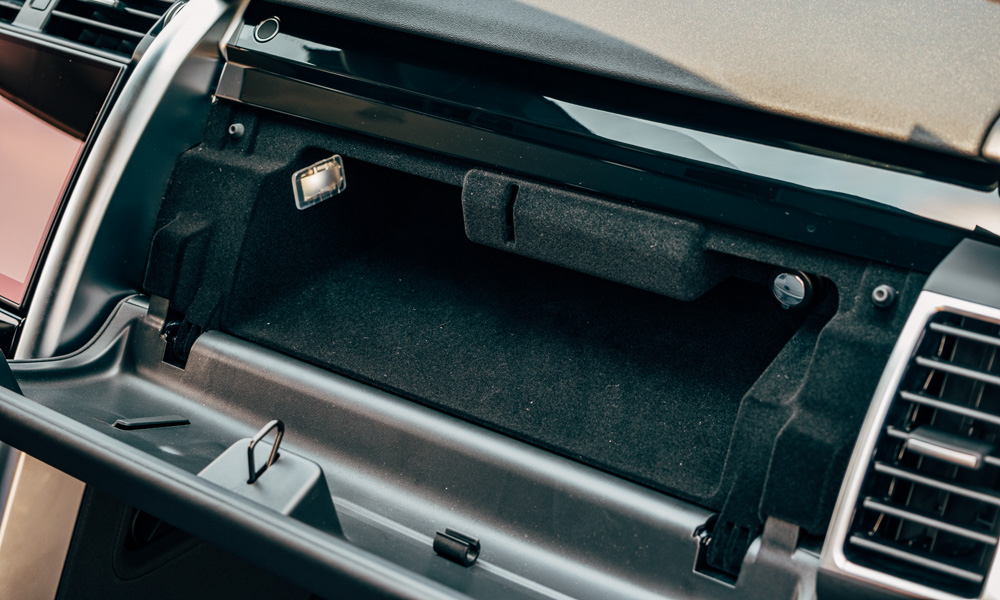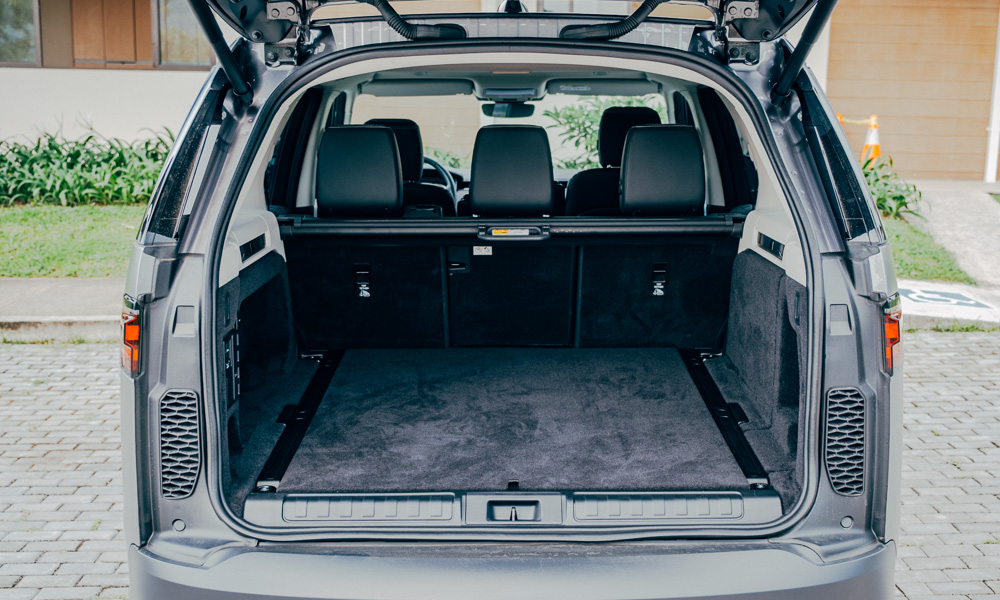 Because of the Disco's box-like proportions, there's an excessive amount of space, especially for the second row. This is only the five-seater, but if this were the seven-seater, two people of my stature (5'10") would comfortably fit at the back.
Instead, there's a massive 1,137L of loadspace (with the load cover removed), and there are tons of hidden compartments and cubbyholes in the front row, plus extra storage underneath the false floor.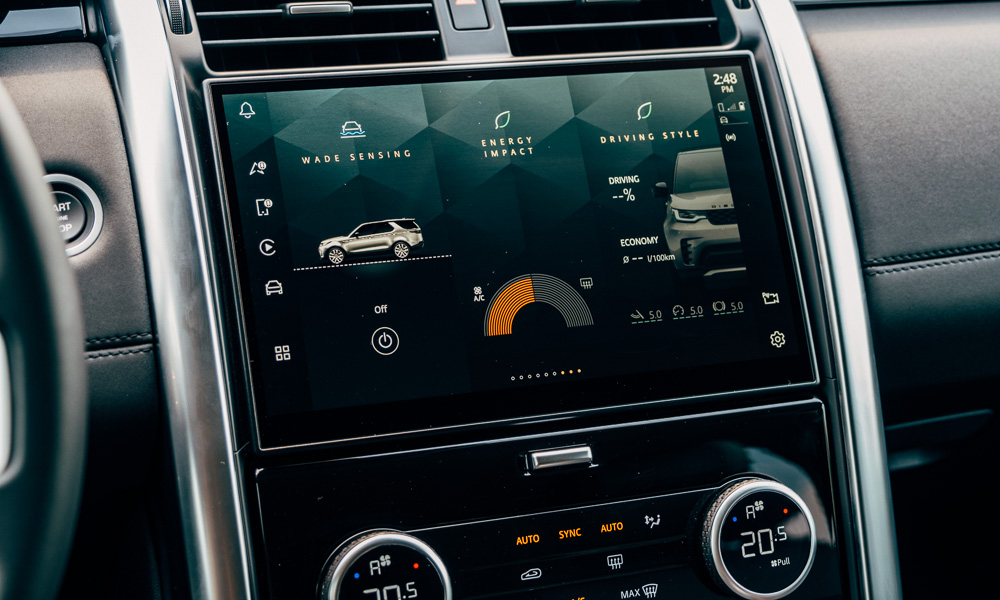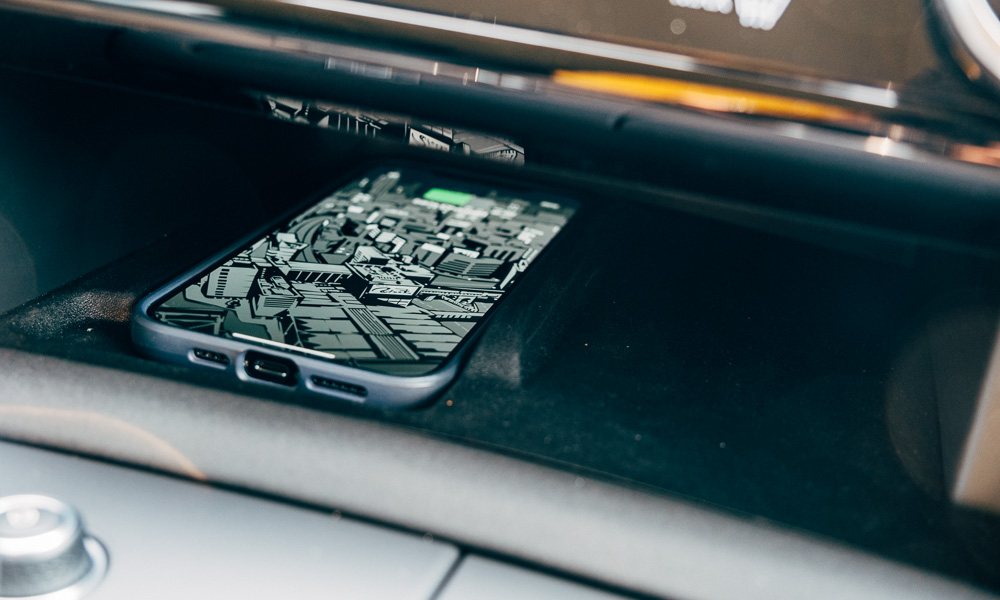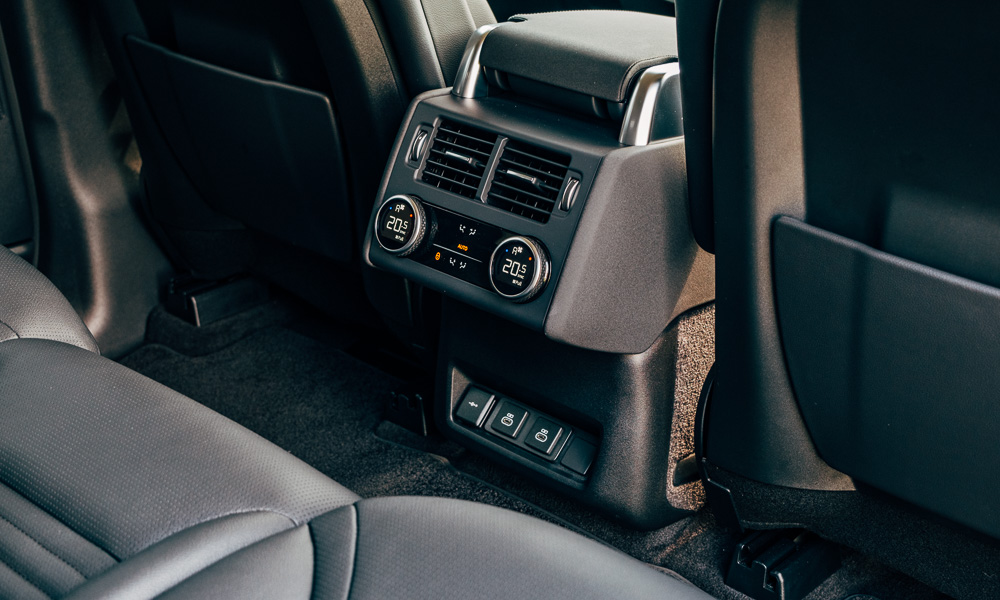 The 11.4-inch infotainment runs Pivi Pro. It instantly turns on, and has crisp graphics and a very responsive interface. Plus, it comes with over-the-air updates that you can do from the comfort of your home, so receiving new features no longer requires a trip to the dealer. Apple CarPlay and Android Auto are wireless only, which is great for convenience, but it isn't the most stable connection. The eight-speaker sound system is fine, but a little disappointing considering the price you're paying.
Thankfully, the wireless charger works well enough to not overheat the phone, and there are two USB-C ports and one USB-A port for the front row (with a 12V socket hidden in the upper glove compartment), while the rear passengers have two USB-C ports and a 12V socket underneath the dual-zone climate controls.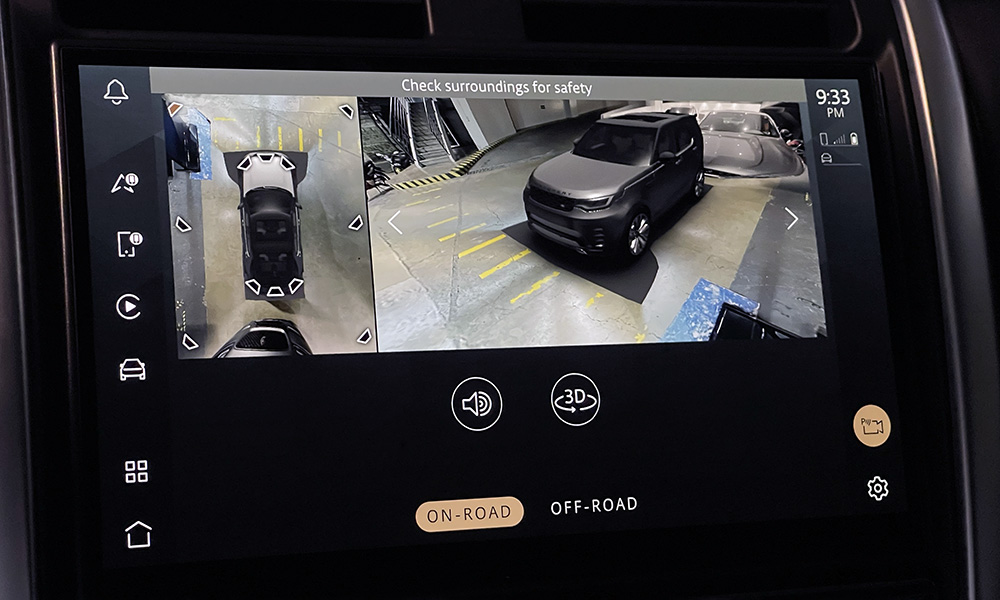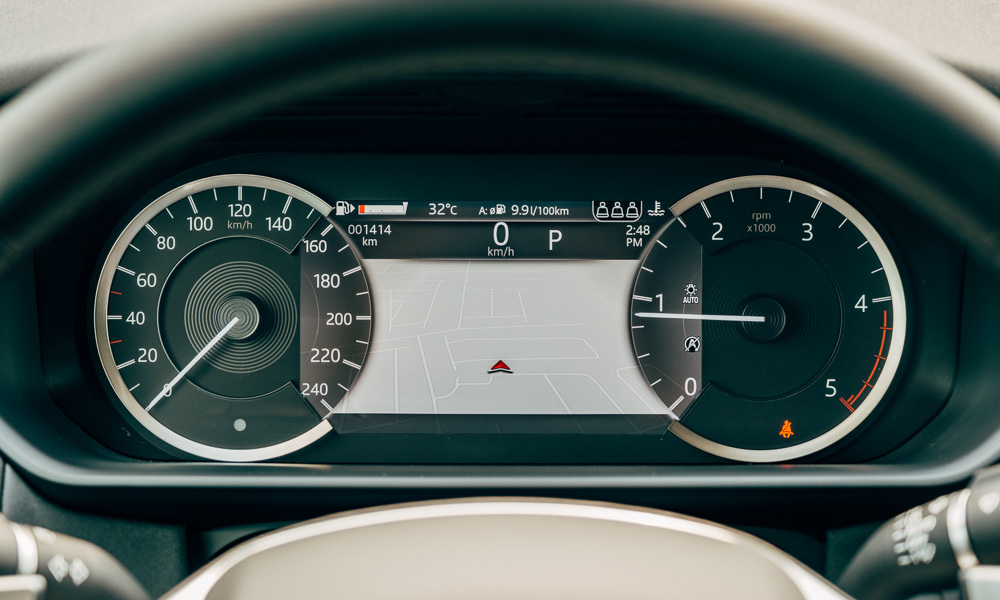 The gauge cluster is not the full digital one found in other models, but it's charming how portions of the analog gauges were cut out and replaced with partial digital sections. You still can do things like pull up a map or check your trip statistics, and contextual buttons on the steering wheel change depending on your menu.
As for driver-assistance systems, you have adaptive cruise control, a speed limiter, and lane-keep assist. Oddly enough, there's no blind-spot monitor for the price (you'll have to option that separately).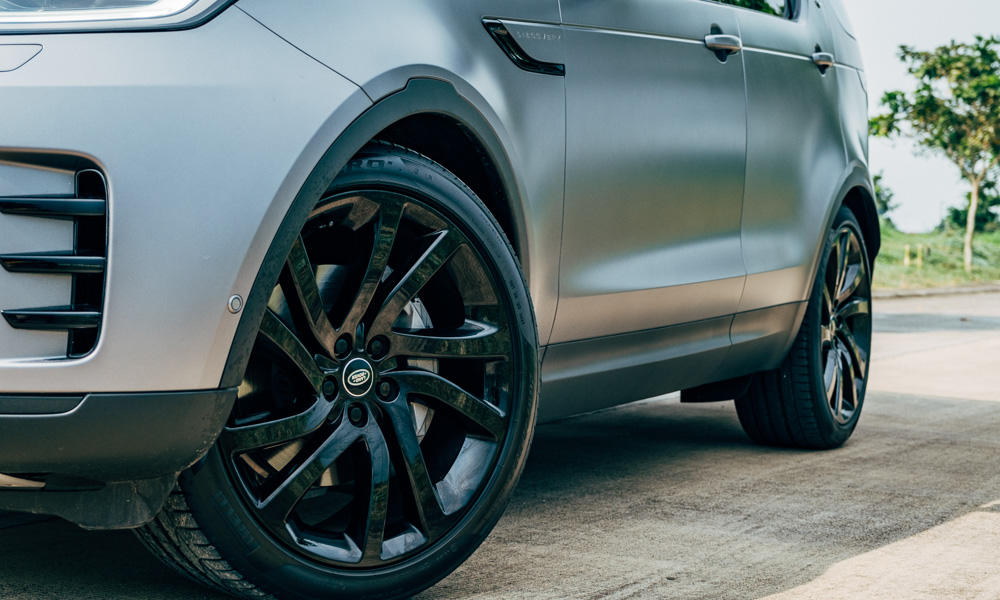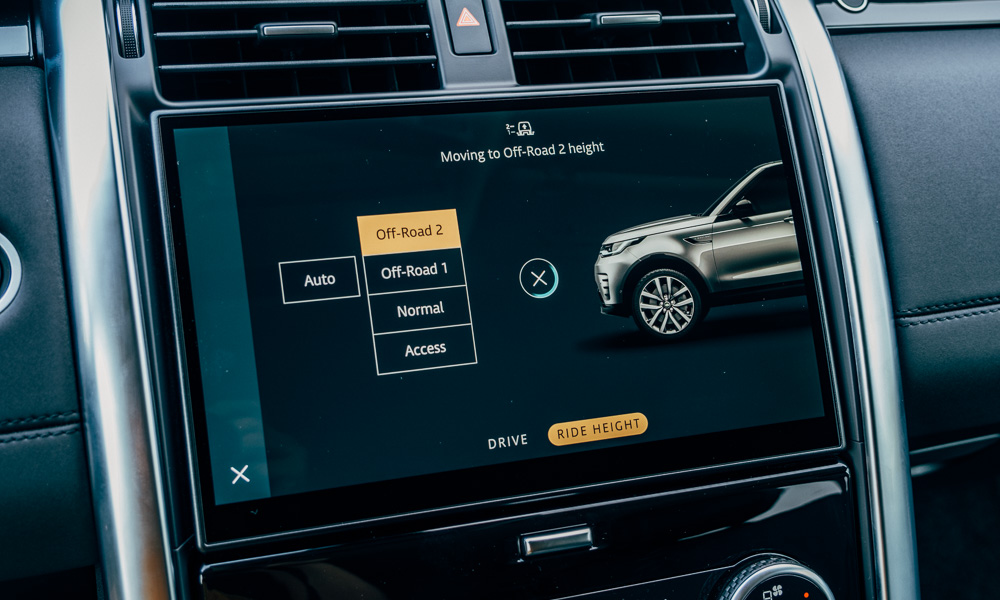 Handling is better than most big SUVs with controlled (but still noticeable) body roll. Of course, you wouldn't be throwing this around a slalom, but maneuvering it around tight spaces and parking lots can be an issue because of its girth.
The Pirelli P Zero rubber is mostly quiet on well-paved tarmac, but can get really noisy on specific surfaces, even overshadowing the car's great NVH.
The electronic air suspension also provides for a supple and uniform ride at higher speeds, but it can feel a bit clunky, especially when traversing speed bumps at lower speeds.
You have three selectable ride height modes: Normal (207mm), Off-Road (up to 283mm), and Access (167mm).
In Access mode, the air suspension drops the ride height by 40mm to aid with ingress, or to make it easier to enter low-clearance parking lots. You can drive around in this mode up to 40km/h before the system returns the car to regular height. Also, you can lower the rear suspension to aid with loading cargo.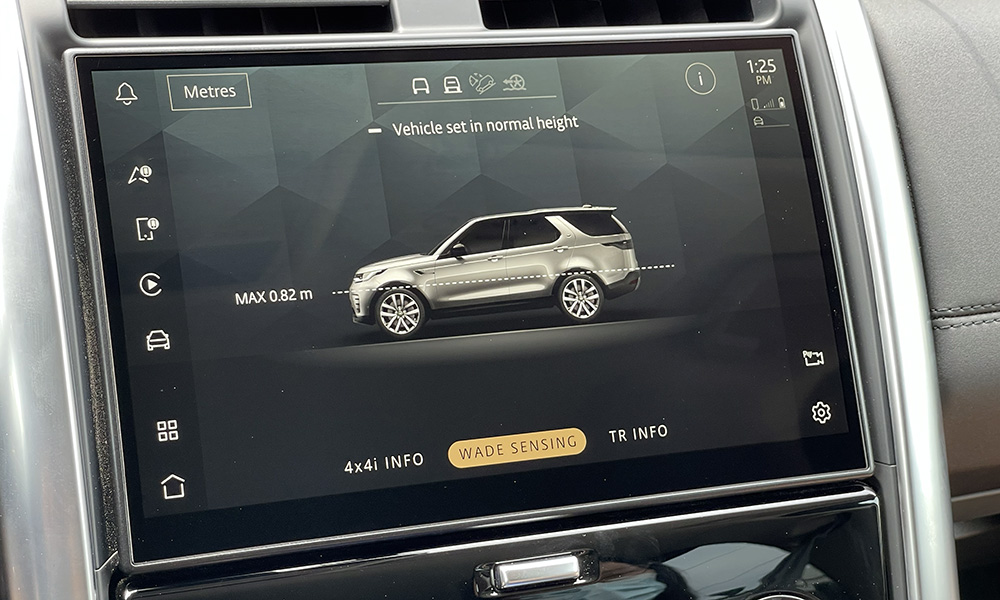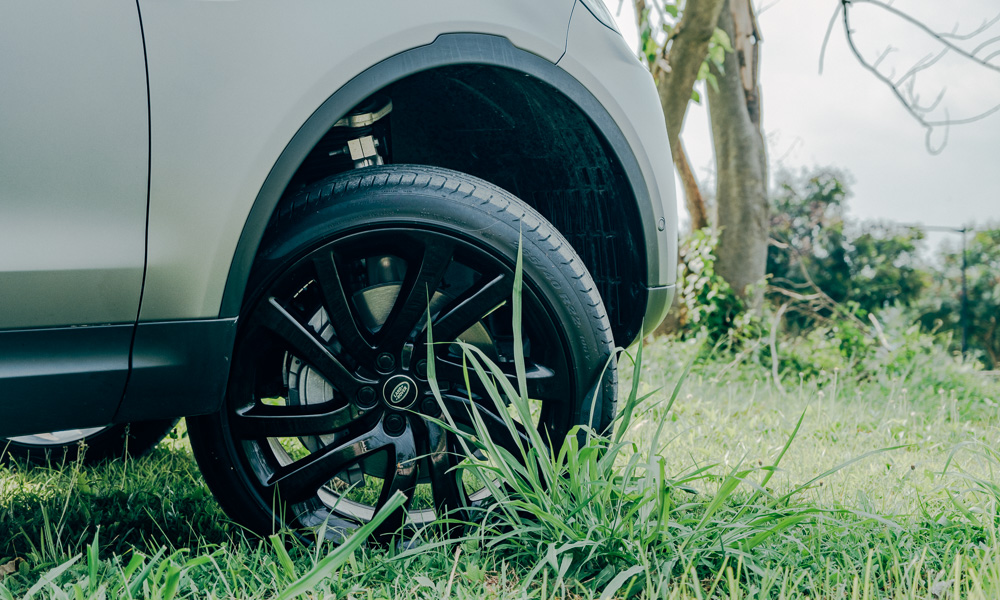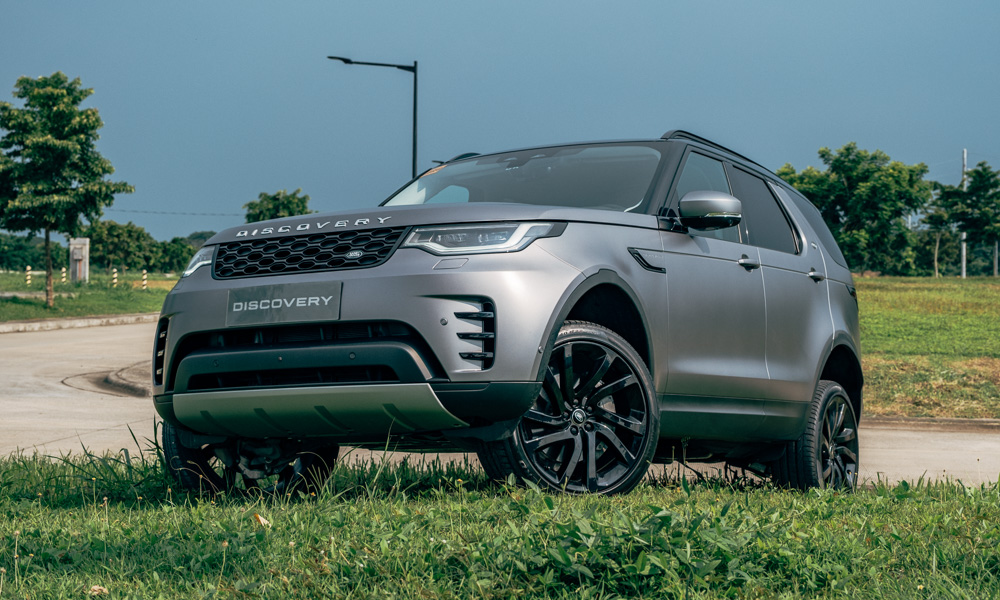 The off-road setting is self-explanatory, but there are three selectable modes. Off-road 1 raises the vehicle by 40mm and is good for speeds up to 80km/h. Off-road 2 raises it even further by 75mm, but only up to 50km/h. You can have the system decide for you automatically as well.
Of course, being a Land Rover, it's extremely capable off the beaten path, and even has a maximum wading depth of 900mm. But then, the roughest terrain this SUV will probably experience is the unpaved parking lot.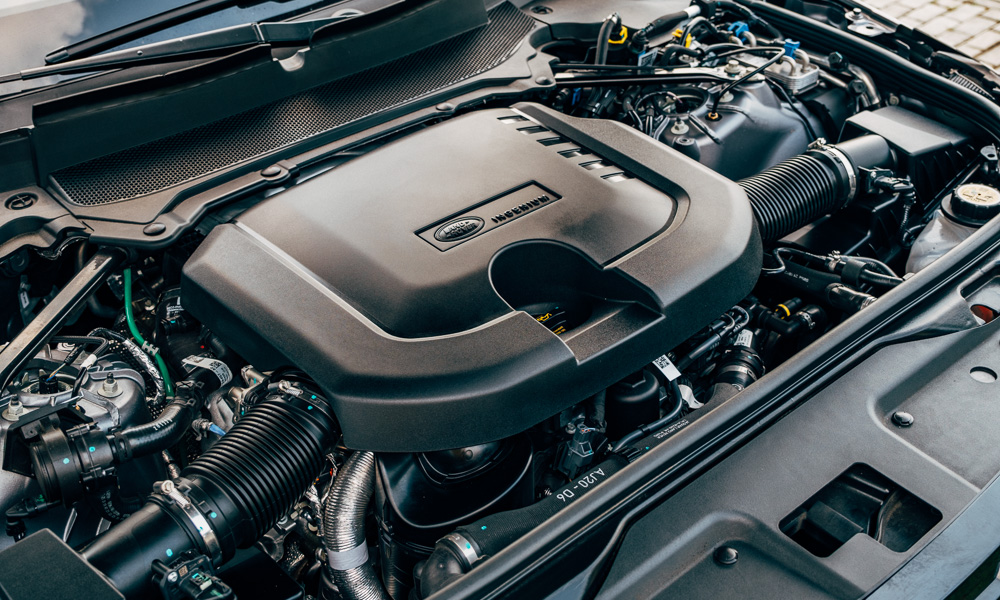 The 3.0-liter in-line-six turbodiesel has 245hp and 600Nm, and is mated to a smooth-shifting eight-speed automatic that sends power to all four wheels.
Even when fully loaded with passengers and cargo, it takes off like a frenzied cat and has a baritone growl to it if you decide to wring it out. It's one of the smoothest diesel engines I've ever experienced, and the auto start-stop system is extremely quick and judder-free.
It has a 48V mild-hybrid system to aid with efficiency, so you'll get surprising results despite the vehicle's size and engine displacement. Driving around the city gave me 10.4km/L, and cruising on the highway with four adults produced 15.6km/L—for a combined total of 13km/L.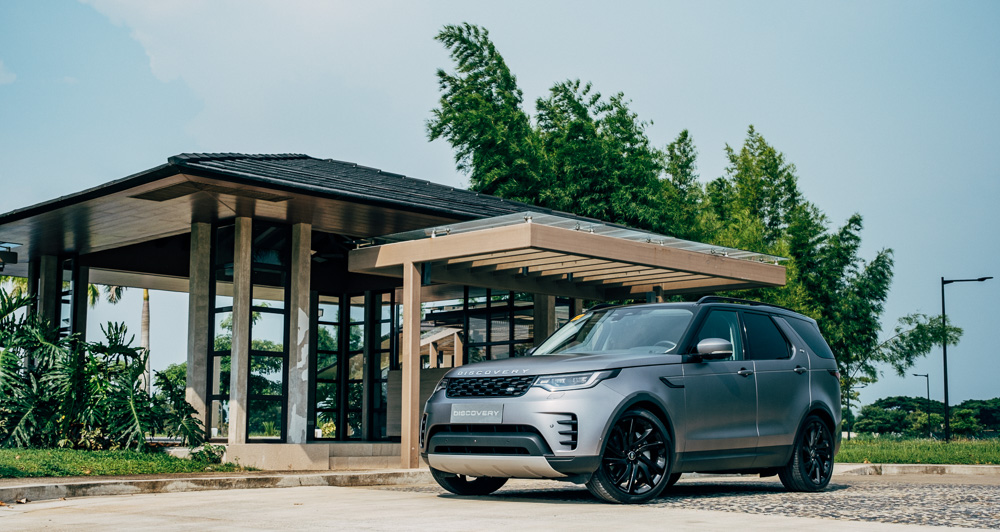 With Land Rover's lineup becoming more competent with carrying people or cargo around (see the Defender 130 and the seven-seater Range Rover), is the Disco in danger?
Well, not really. Maybe you want something that can transport a lot of cargo (or people, if you option your Disco with the third row) with shades of the Range Rover's luxury, and don't want something that looks as rugged as a Defender—yet it can easily follow your hardcore off-roader friends in a pinch. That's what the Discovery is, and always has been ever since it was introduced.
With prices starting at P6,190,000, it's not cheap. Most likely, you will be tacking on accessories (like on this demo unit, which costs P7,128,000 as tested). But then again, if you're looking at a Land Rover in the first place, this may be more of an emotionally driven purchase that can serve as a practical family vehicle.
LAND ROVER DISCOVERY S D250
| | |
| --- | --- |
| Engine | 3.0-liter in-line-six turbodiesel |
| Transmission | 8-speed automatic |
| Power | 245hp @ 4,000rpm |
| Torque | 600Nm @ 1,250-2,250rpm |
| Dimensions | 4,956mm x 2,073mm x 1,888mm |
| Drive layout | AWD |
| Seating | 5 |
| Price | P6,190,000 |
| Upside | It's a very capable SUV that can do almost everything you'd expect from a Land Rover, and has a stellar engine powering it all. |
| Downside | It's expensive and big, has subpar rear visibility, and the rear end's design can be a tad bit controversial. |