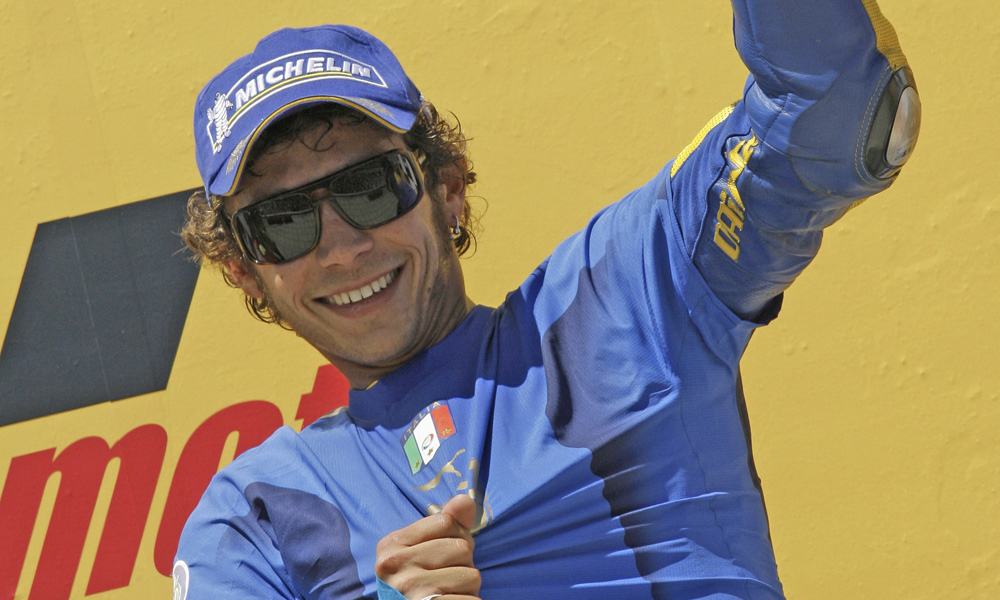 People call him "The Doctor," and he was known as "Rossifumi" and "Valentinik" in his early years. But for many racing fans, Valentino Rossi will forever be known as the GOAT. Nine times a world champion—with seven of those being in the top-tier MotoGP series—Rossi will be hanging up his leathers at the end of the 2021 season after more than 400 race starts, 115 wins and 235 podium finishes.
Currently competing for the Petronas Yamaha Sepang Racing Team, Rossi has announced that 2021 would be his last year of racing. New followers of the sport will note that the rider hasn't been occupying the podium in recent years. And that's probably due to bad luck, uncompetitive bikes, or a new generation of riders that is just a little bit faster than he is. At the top level of motorcycle racing (as in Formula 1), marginal variances in chassis tuning, tire selection, and riding style—and even a seemingly insignificant tweak to aerodynamics—can spell the difference between starting in the first row and bringing up the rear. Rossi's best finish in 2020 was third at Andalusia, and he concluded the season in 15th place. In 2019, he did better with several second-place finishes, but his best years were in 2008 and 2009 when he won the World Championship and dominated the podium.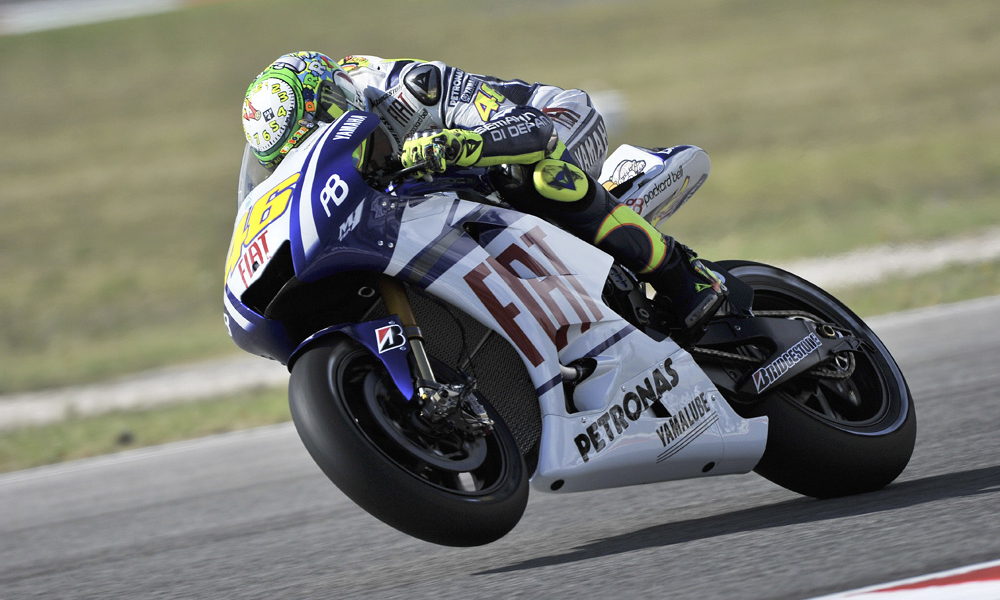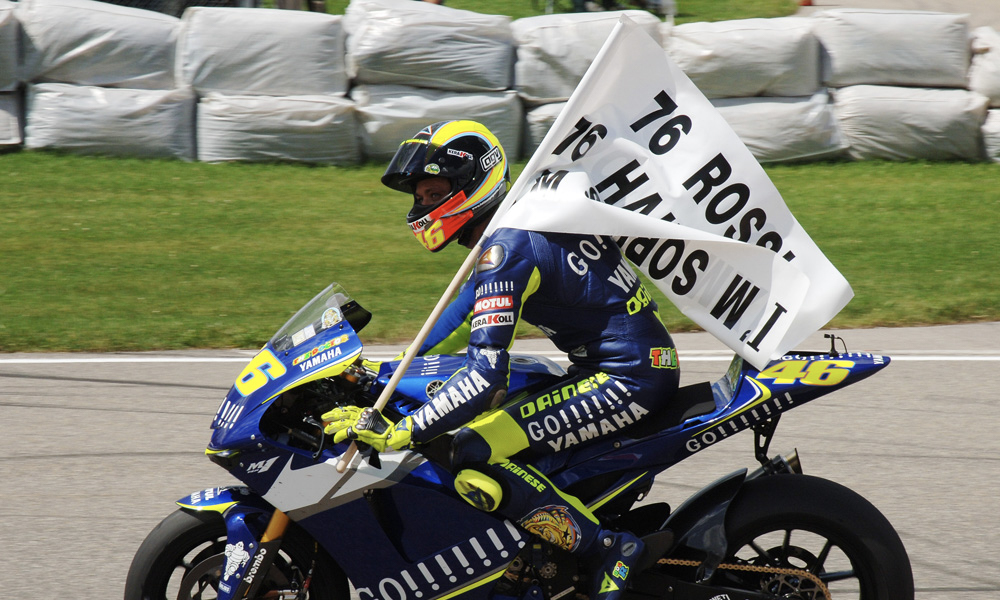 From 2010 to 2017, The Doctor was always a contender for the throne, but his seasons were riddled with mid-pack finishes. It was only from 2014 to 2016 that he displayed his competitive form, but this was also the period of the rise of Marc Marquez. He did have the pleasure of seeing his teammate Jorge Lorenzo take the 2015 title.
Still, nine titles is nothing to scoff at, and the story of Valentino Rossi is a classic example of following your dreams and racing your heart out. The son of former motorcycle racer Graziano Rossi, Valentino raced his first go-kart at the age of five. He won the regional kart championship in 1990, and did well in succeeding events. Father and son would have wanted to continue moving up the rungs and eventually get into F1, but the expenses associated with racing pushed the youngster to try out minimoto instead. The year 1993 saw Valentino competing in the 125cc class, and two years later he would win the Italian 125cc championship on an Aprilia. By 1999, Rossi was now two years into the 250cc class, snatching the title with the firm's works team.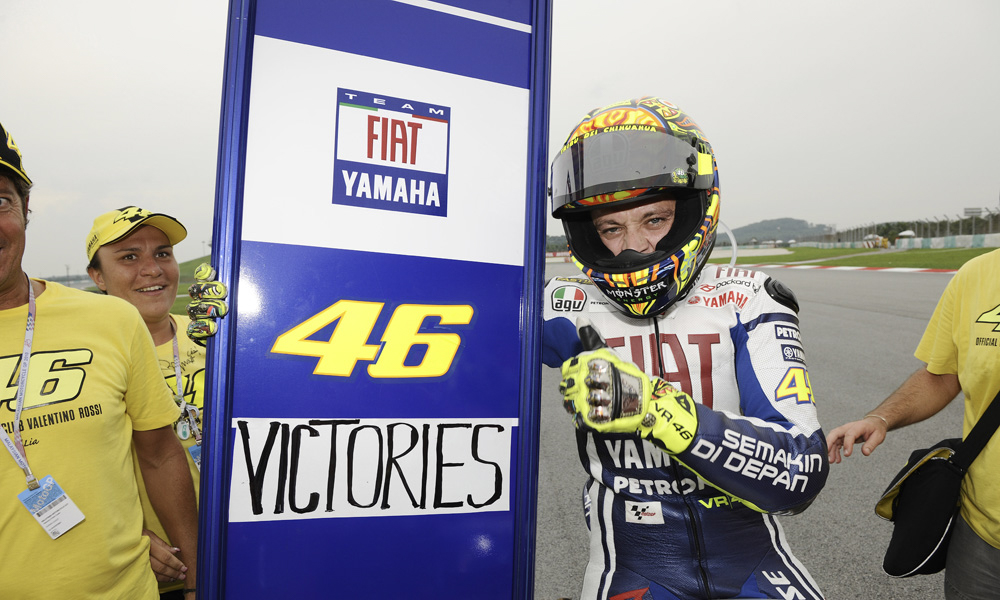 A year later, Rossi was racing for Honda in the 500cc category, and he showed that he had talent. Though he lost the championship to Kenny Roberts Jr., the Italian rider was consistently on the podium for most of the season. By 2001, The Doctor handily won the world title with no fewer than 11 wins. You could say that this marked the beginning of his era. From 2001 to 2005, Rossi was as dominant on the podium as Michael Schumacher was in Formula 1 with a total of 40 wins, 14 second places and five third-place finishes, with his worst result being 11th at Valencia in 2001 and only five DNFs during that period.
Off the bike, he also displayed a natural talent for going fast that translated well into four wheels. Rossi enjoyed some seat time in Ferrari F1 cars in 2006. He lapped the Valencia track just one second slower than Schumacher, and was actually faster than Mark Webber and David Coulthard. He also displayed potential in rallying, competing at Rally Great Britain in 2002 and Rally New Zealand in 2006. Obviously, motorcycle racing was in his blood as he never switched to four-wheelers during his career.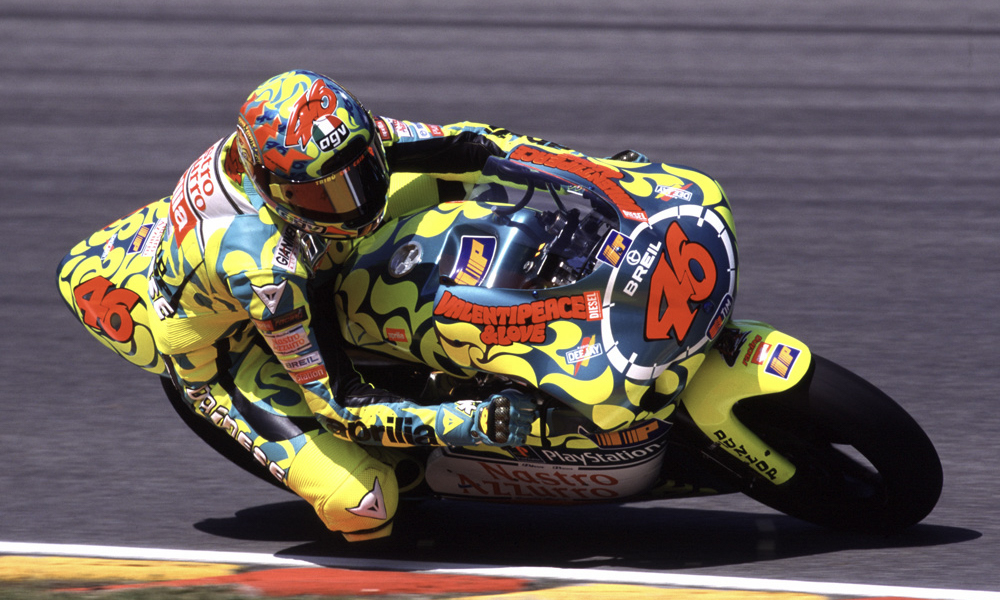 Ironically for an Italian champion (and to the benefit of Yamaha), Rossi spent only two years riding an Italian bike in MotoGP. He competed with Honda from 2000 to 2003, and transferred to the Shizuoka-based team in 2004. Rossi had a brief spell with Ducati in 2011 and 2012, returning to Yamaha afterward (which he races for to this day).
Besides his professional racing career, Rossi also owns Sky Racing Team VR46, a junior-class team that competes in Moto3 and Moto2. He has not yet revealed plans on what he'll do after the end of the season, but his legacy has long been guaranteed. A whole generation of racing fans can thank him for his immense contributions to the sport.