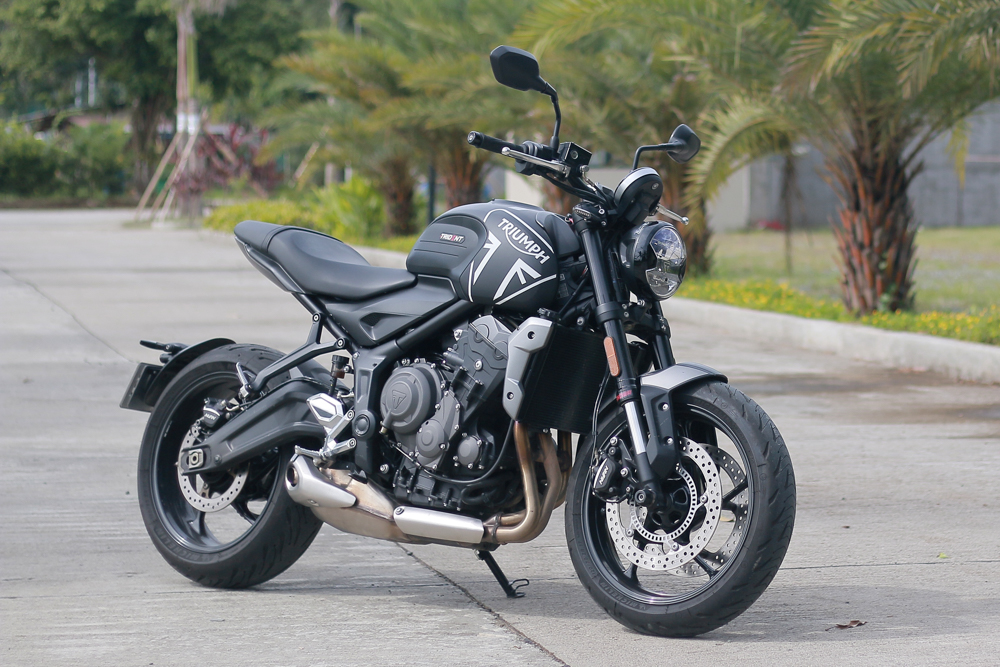 Triumph ranks among the top tier of aspirational brands. Machines like the Rocket 3 and the Speed Triple RS are smashing-good bikes. And there are a lot more buyers in the sub-P500,000 bracket than above it. The Trident 660 is squarely aimed at riders who've grown accustomed to choosing between the usual suspects like the Honda CB650R, the Yamaha MT-07/XSR700, the Suzuki SV650, and the Kawasaki Z650. It's sneakily priced at P499,000 for that psychological edge, although it'll cost a few more for LTO registration and if you splurge on accessories. It's far from being chump change, but it does get you the prestige of a British brand, and the actual machine feels like it's worth every penny centavo.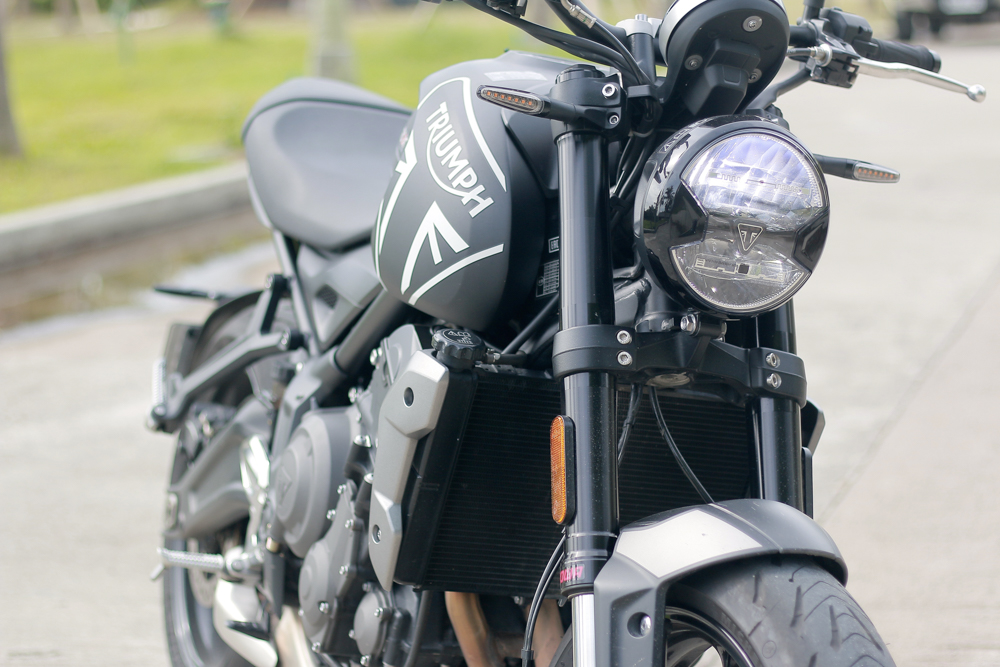 Aficionados will note that the "Trident" nameplate first appeared on a roadster by Triumph Engineering and BSA (Birmingham Small Arms Company) from 1968 to 1975. Advanced for its time, the 740cc triple-cylinder made just 58hp but could push the bike to 188km/h. Later on, after Triumph had changed owners, Trident reappeared in the 1990s in 750, 900 and Sprint 900 guises. Most riders will neither know nor care about the history behind the name, but its spiritual roots are key to understanding what the modern bike is about—namely a fast, fun and easy-to-ride roadster relatively unencumbered by a bazillion electronic systems.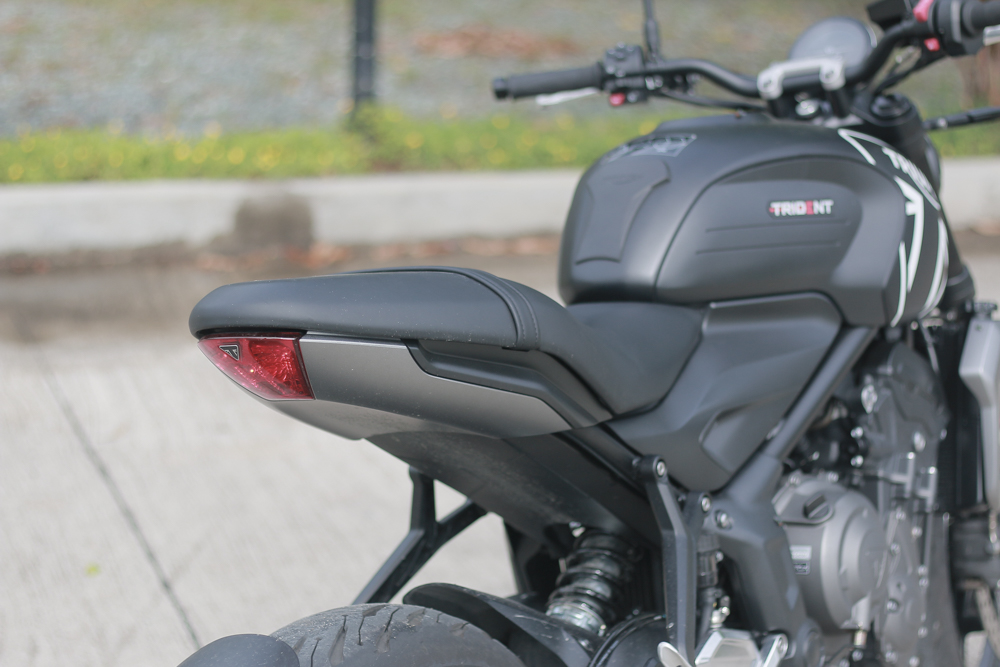 Like the number after its name says, it uses a water-cooled 660cc triple-cylinder engine. Based partly on Triumph's old 675cc lump from the Daytona (see Mission Impossible 2), the motor has been developed for linear power delivery rather than outright high numbers. Peak output is still a healthy 80hp at 10,250rpm, with max torque at 64Nm at 6,250rpm.
More importantly, 90% of that torque is hit at 3,000rpm, and the curve is practically flat until it finally tapers off at just below 9,000rpm. With a close-ratio six-speed gearbox and a slip-and-assist clutch to harness this power, acceleration is gutsy off the line and the bike just pulls with gusto in any gear. There's only a 500rpm or 600rpm difference in engine speeds between gears, so you can be lazy with your downshifts and the bike will still accelerate without protest. "Triples" have a rep for combining the torque characteristics of a parallel-twin with the high-revving output of a four-cylinder, and the Trident mill is no exception. Fuel delivery is syrupy from closed throttle to fully open, so you can gently roll on the power in city traffic. Combined with a buttery-smooth slipper clutch, it's almost impossible to stall the engine.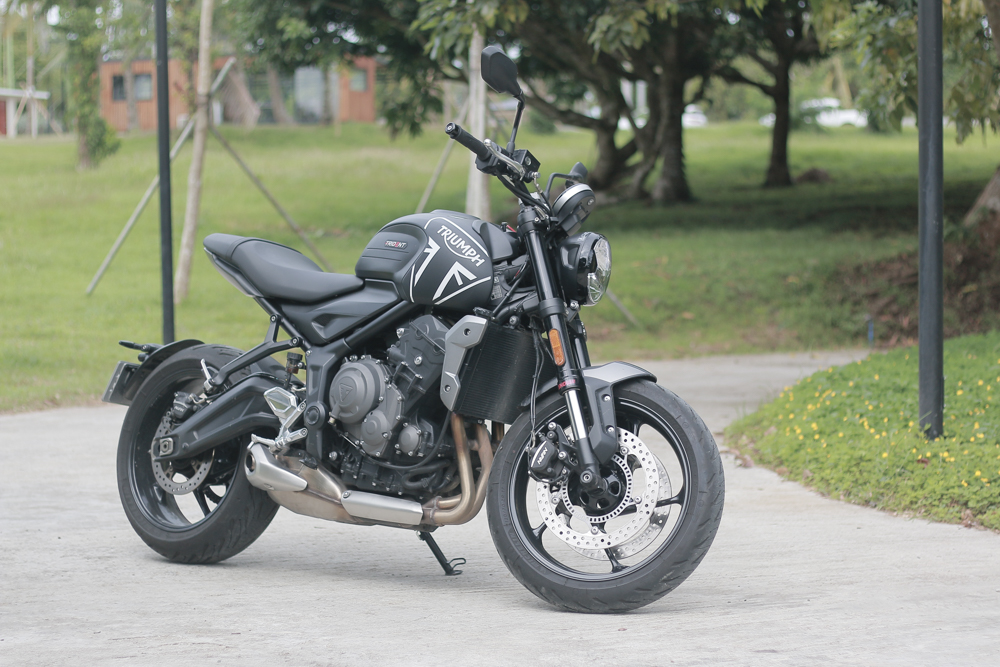 It sounds sporty, too, with a guttural bark that seems to come from a bigger flat-twin like the BMW R nineT. It does have a few shortcomings. Its average fuel economy of 20km/L is likely attributed to having more moving parts than a twin. This number is similar to larger-displacement bikes like the KTM 790 Duke, but worse than similarly sized machines like the Suzuki SV650 and the Royal Enfield 650 twins where 24-26km/L is the norm. The close-ratio gearing could also do with a taller sixth gear or final drive to lessen the bike's frenetic nature as it's nearly at 5,000rpm in top gear at 100km/h. It's quite an engaging bike to ride. But for long highway stints, it wouldn't hurt to have something a little more chill.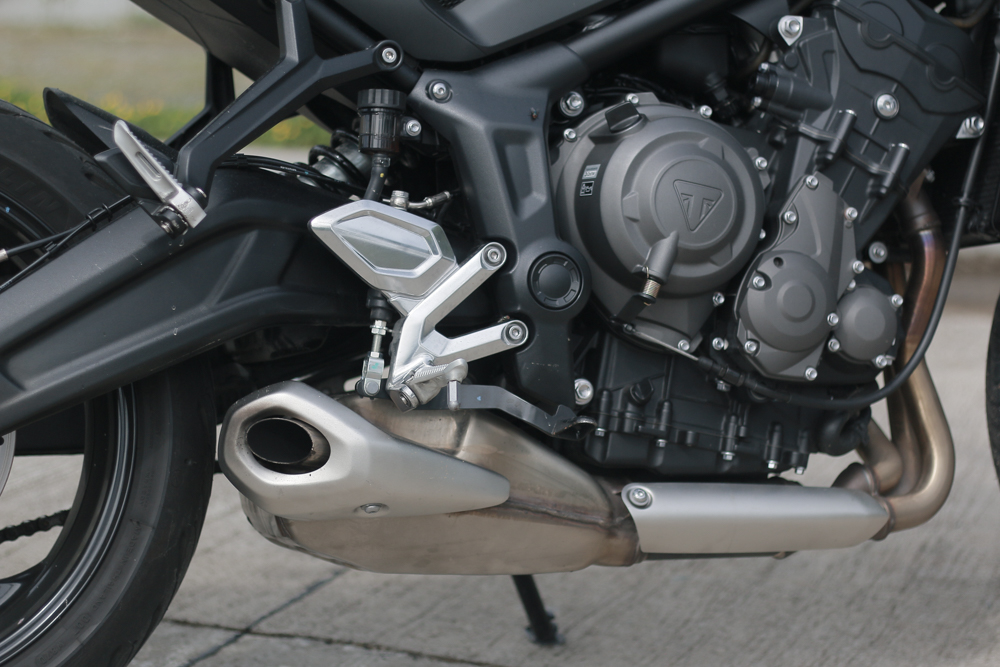 This being the entry-level model, the Showa suspension is nonadjustable save for rear preload, but the upside-down fork gets plus points like the Honda CB650R's. The setup is on the side of firm with just enough compliance to take on choppy pavement in stride. A fast, steep downhill course with a lot of corners will push it and the Nissin braking system's limits. With its neutral riding position, it feels like a heavier 790 Duke that's a little less eager to turn in. Ergonomically, the seating position favors smaller riders than tall as I found the knee bend a little cramped and the rear brake pedal too close to the foot peg. Covering the pedal with my foot is uncomfortable as it forces me to fold my ankle. Maybe an aftermarket pedal/foot peg set will solve this issue.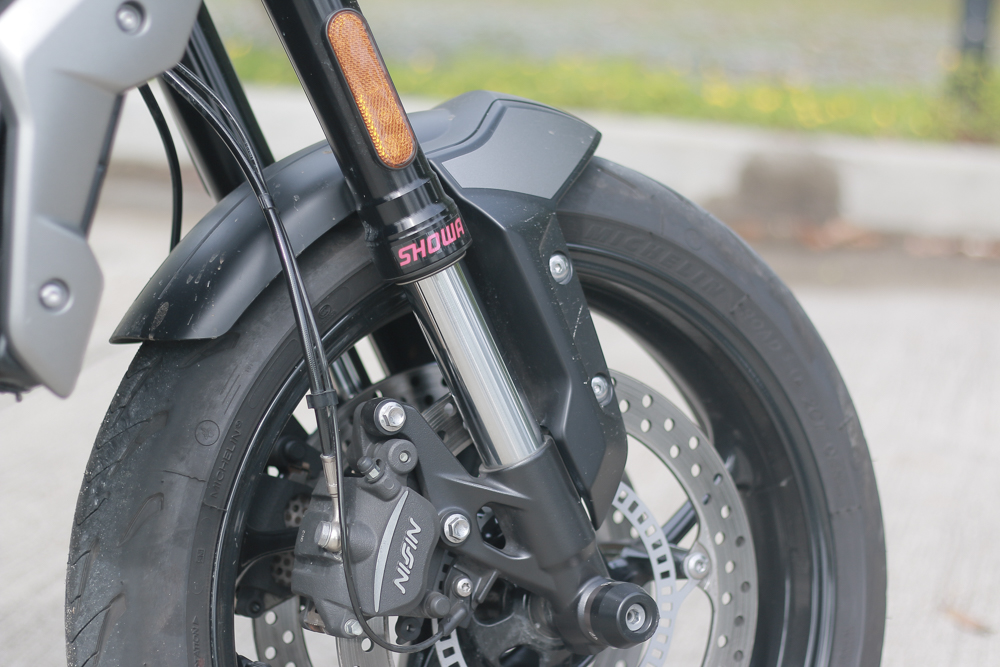 The single, round instrument pod uses an elegant TFT screen that displays speed, engine rpm, and other data. It's legible even under harsh sunlight, and configuring the different displays and the traction control settings is easy with the controls on the left grip.
Aesthetically, the Trident is a bit generic and takes a long look for you to appreciate the details. The profile is similar to most other naked roadsters (really, how much more different can they look anyway?) with the almond-shaped tank and the round headlamp, so Triumph has to resort to color-keyed panels and subtle graphics for some definition.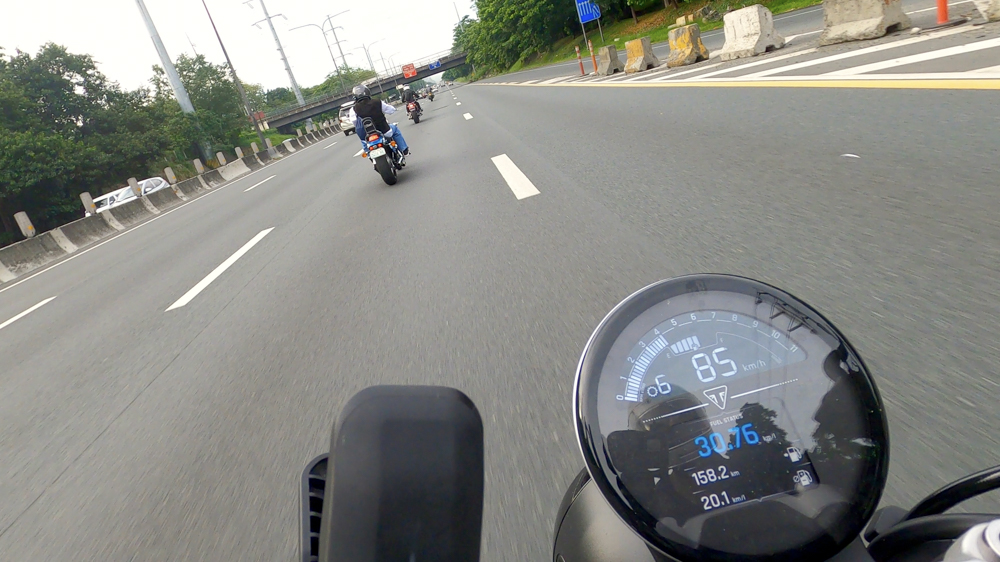 The stubby, upswept tail is pushing the limits of practicality, and the tail-hugger-style plate holder looks clean in profile. Most of the visual weight is centered on the engine, and enthusiasts will admire the triple headers leading back to the short, stainless-steel silencer on the right side. However, once you notice the relatively large catalytic converter on the bottom of the frame like an oversized bangus belly, it's hard to unsee it. For enthusiasts who value style as much as performance—especially those who like the panache of Triumph's higher-end models—the Trident's looks will take some getting used to.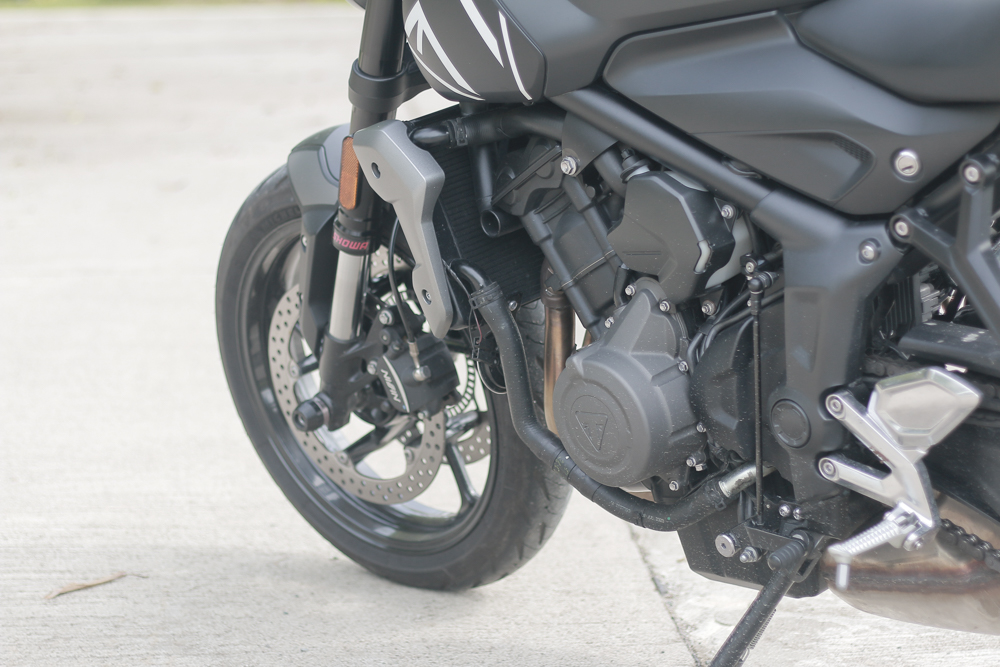 Of course, this should all be taken in consideration of the starting price. This bike has enough power to entertain without getting you in serious trouble, as well as ABS, traction control, LED lighting, and the cachet of a British brand. Triumph even boasts of lengthy service intervals of every 12 months or 16,000km, so you spend more time riding than bringing it to the shop. Novices looking for their first big bike will find the Trident a great machine to develop their skills on, while more experienced riders will be entertained with a bike whose limits they can push at not necessarily insane speeds.