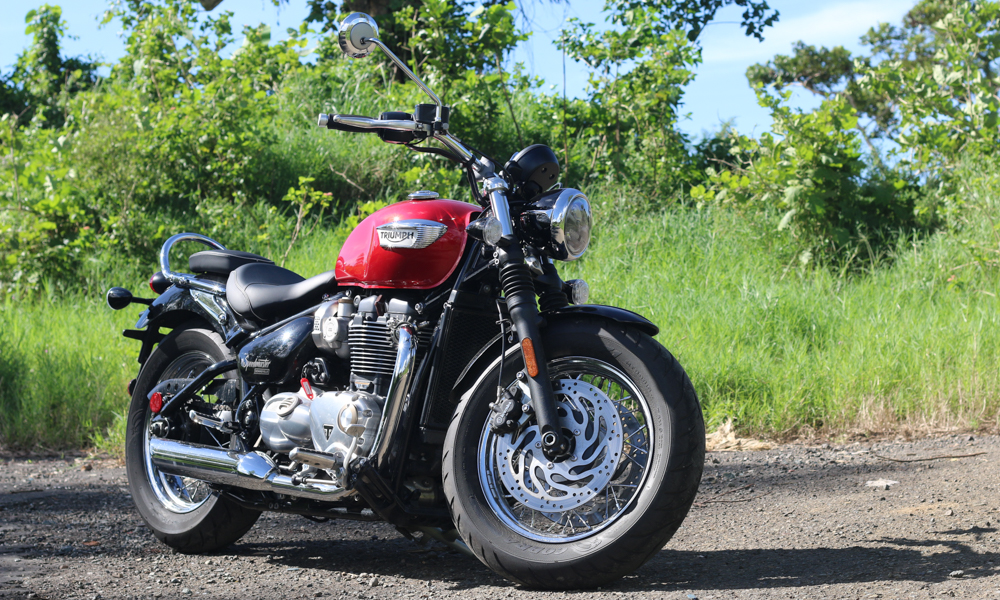 The cruiser type of motorcycle may be forever associated with American iron, but the truth is that Europe and Japan make some pretty good ones, too. Now, you can always trust the Brits to do the same thing as their US counterpart—just in a subtler manner.
As one of the oldest motorcycle brands in the world, Triumph is one of the few remaining British marques that are still owned and operated by Englishmen, and which manufacture bikes by the tens of thousands. Some models and components are assembled in Thailand, but the headquarters, R&D and a select few products are still produced in Hinckley. Now, Triumph Motorcycles isn't the same company that started the brand way back in 1885 (that would be Triumph Engineering Co. Ltd.), but what's important is that the current owners have kept the DNA alive and well.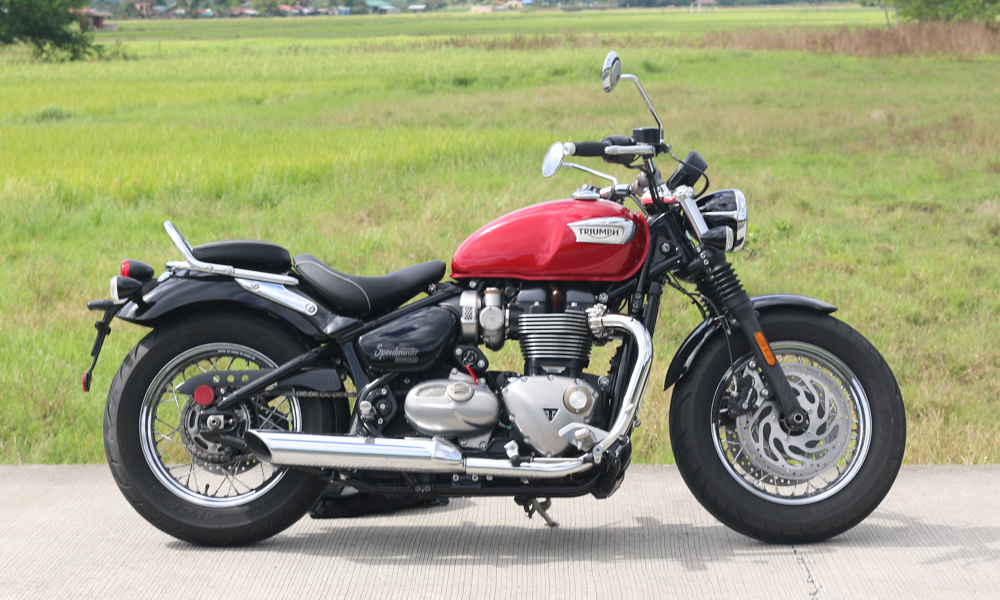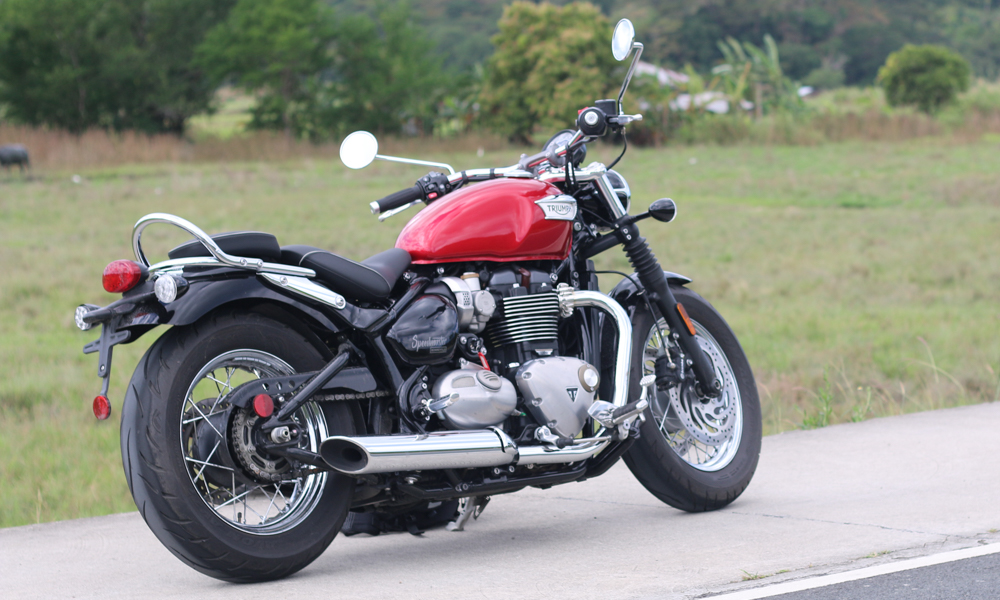 If your passion for motorcycles includes more than a passing interest in a marque's heritage, riding a Triumph is bound to cover some interesting conversation with like-minded enthusiasts and historians. In the case of the Bonneville Speedmaster, it basically answers the question of how a standard Bonneville would look like if it were turned into a cruiser. The result is a beautiful machine, with an aesthetic that's both timeless and charming at the same time.
The Speedmaster's 1,200cc parallel-twin engine has a 270° crank and is mated to a six-speed transmission with a slipper clutch. Output is an easy 77hp at 6,100rpm, while torque is rated at 106Nm at 4,000rpm. Forward foot controls, a low 705mm seat height, and swept-back handlebar make handling the bike an enjoyable experience, if not exactly sporty.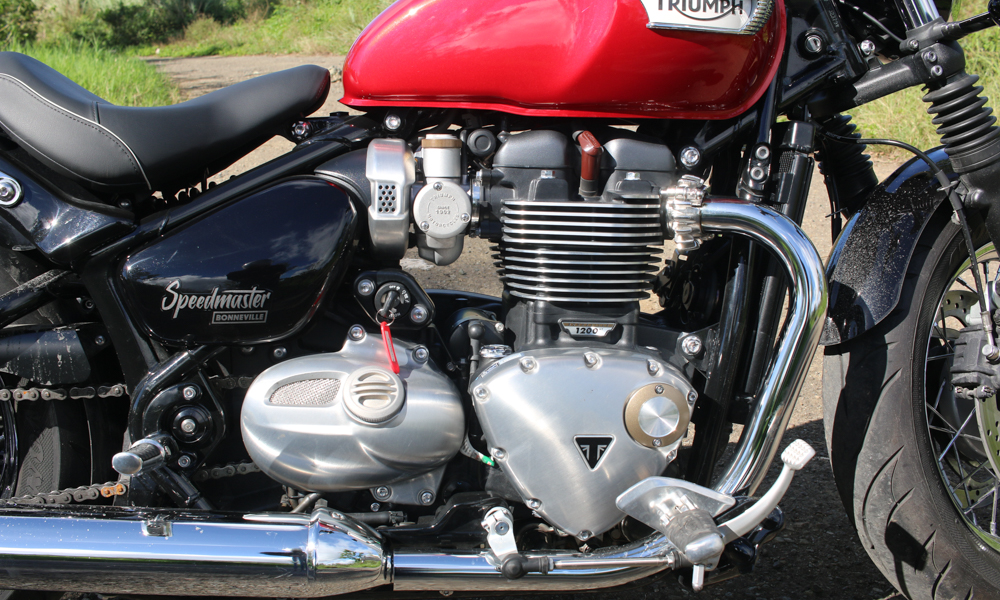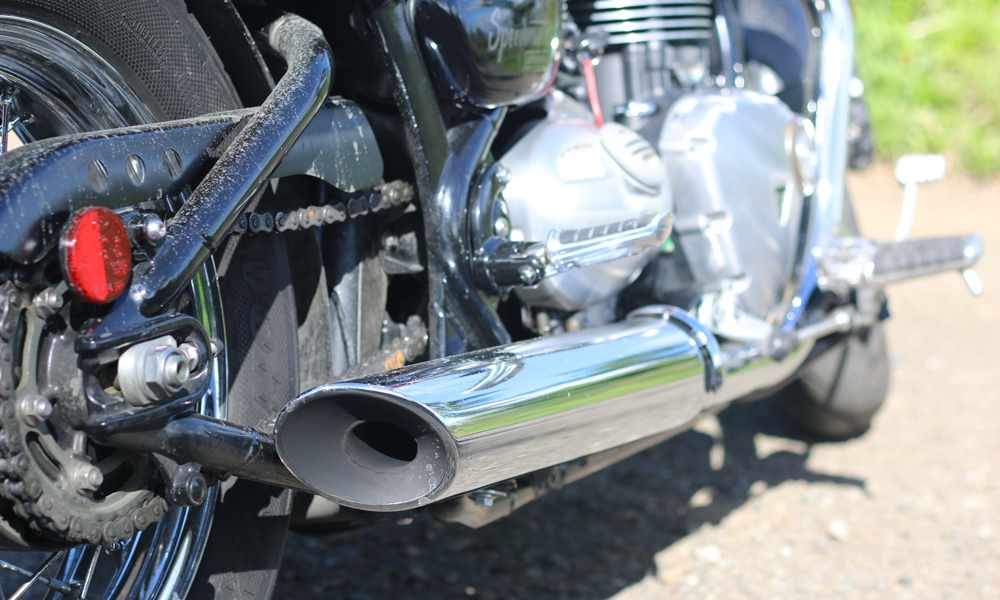 Like all cruiser bikes, you sit low on the bike with a slight forward lean and your back scrunched due to the foot controls (imagine sitting on a low bench with your knees up). It's one of those "porma first" things that go with the genre. To ease the discomfort, Triumph uses a well-padded seat so at least your ass doesn't go numb. The handlebar's orientation also minimizes the need to lean forward, which made it easy for me to ride for an hour before stopping to stretch my legs.
Another thing to consider with cruisers is the sheer force of the windblast you'll have to deal with. On the expressway, that comes at you in full force thanks to the aerodynamics of a barn door and the lack of fairings or a windscreen. It takes a lot of effort to stay relaxed and in control as the buffeting intensifies as you approach the legal speed limit.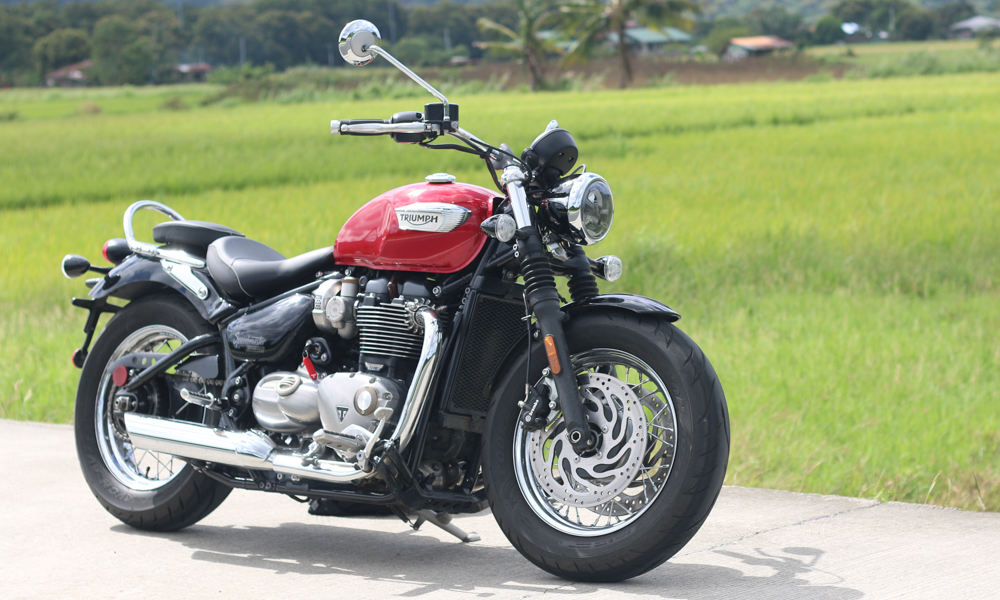 And yet, for all these limitations, I fell in love with this bike. I already have a soft spot for cruisers as they embody the "no pressure, just enjoy the ride" ethos, but this Triumph has such a classy way of going about its business that's such a sharp contrast to what we normally expect from cruisers.
Instead of a loud, raucous engine note, the parallel twin emits a throaty burble that never gets old and won't make you deaf. The slipper clutch is a joy to work with in traffic or the open road, with just enough resistance to help you feel the clutch's biting point. The gearing is tall as befits a cruiser, and there's enough torque to get you moving at a spirited pace without ever having to rev it past 4,000rpm. That's just as well, because vibrations start at around 3,500rpm.
One great benefit of the parallel-twin design versus a more traditional V-twin is heat management. With the big cylinder head more than a foot away from your crotch, you won't get that "chestnuts roasting over an open fire" feeling. And while it's a water-cooled design, the engineers did a great job of hiding the pipework so you can admire the motor in all its shiny glory.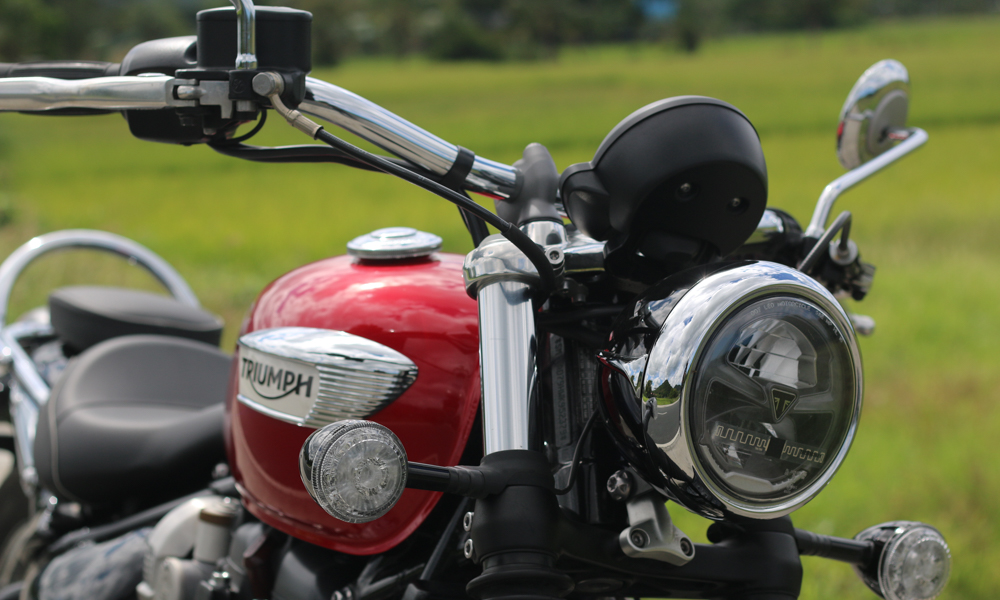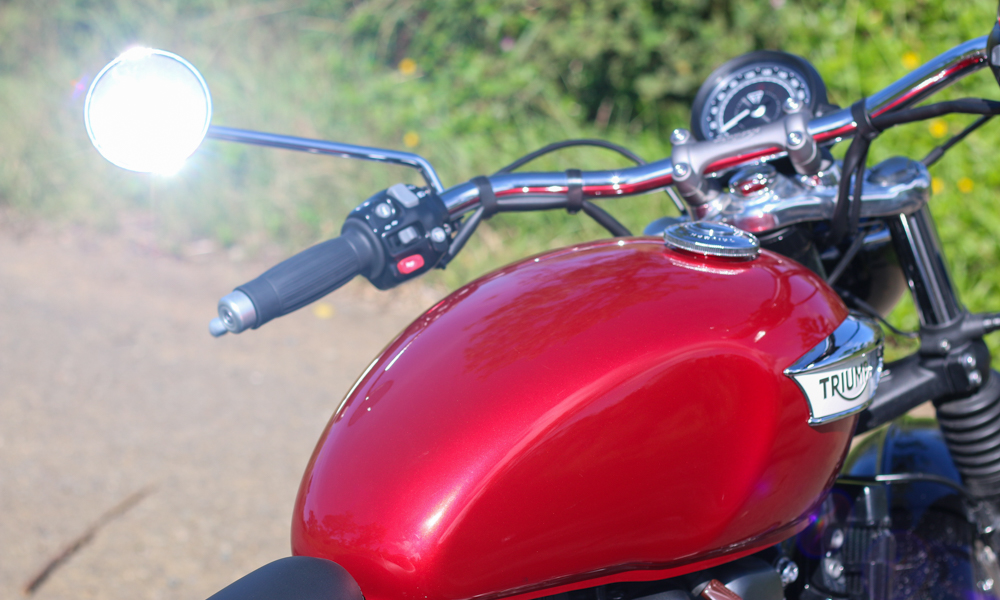 The chassis particularly stands out for its dexterity in the twisties considering the bike's 245.5kg (dry) weight. Triumph has a solid reputation for creating beautiful handling chassis, and the Speedmaster is no exception.  Even with its fat MT90B front and 150/80 rear tires wrapping 16-inch wheels, the Speedmaster leans into turns like a smaller and lighter motorcycle. It feels nimble in side-to-side transitions, and the only thing that will hold you back from leaning it further is the limited bank angle of the pegs. While it's no sport bike, you can make good time on a twisty road with the unflappable chassis and the tractor beam-like pull of the engine as it hauls you from one corner to the next.
Braking response from the front twin 310mm and rear single 255mm discs is solid and linear. At low speeds or urban rides, you must keep in mind that the low ground clearance will scrape the bottom on speed bumps if you're not careful (a protective crossbar is fitted for this eventuality).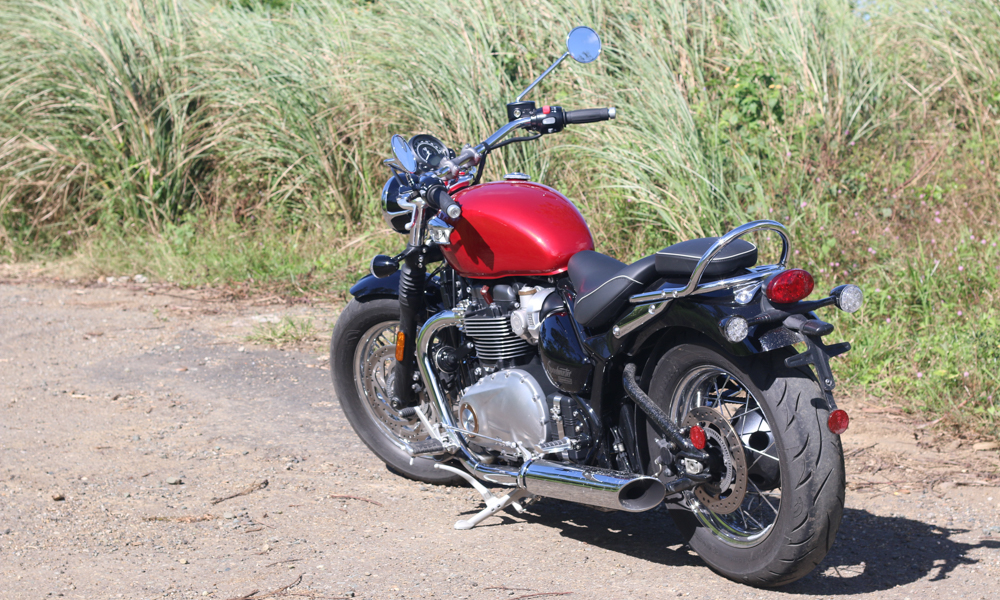 Finally, it must be said that the detailing on the Speedmaster is excellent. From the machining of the engine, the silky movement of the levers, down to the richness of the paint, everything looks and feels premium as expected of a P995,000 motorcycle. That's a lot of money for a bike, but not the most expensive cruiser you can get by a long shot. And as old-school as its image may be, the Speedmaster doesn't make you suffer for it by giving you the little details like a trip computer, ABS and cruise control. The first one is much appreciated because the bike sacrifices a bit of utility for aesthetics. That teardrop fuel tank looks lovely and perfectly proportioned, but it still only holds 12L. Even with a thrifty consumption of 24km/L, the usable range is only around 200km before the "low fuel" light starts blinking.
Cruisers generally prioritize fashion over function, but apart from these minor considerations, the Speedmaster proves you can have a cool-looking bike that's equally fun to ride with very little compromise.