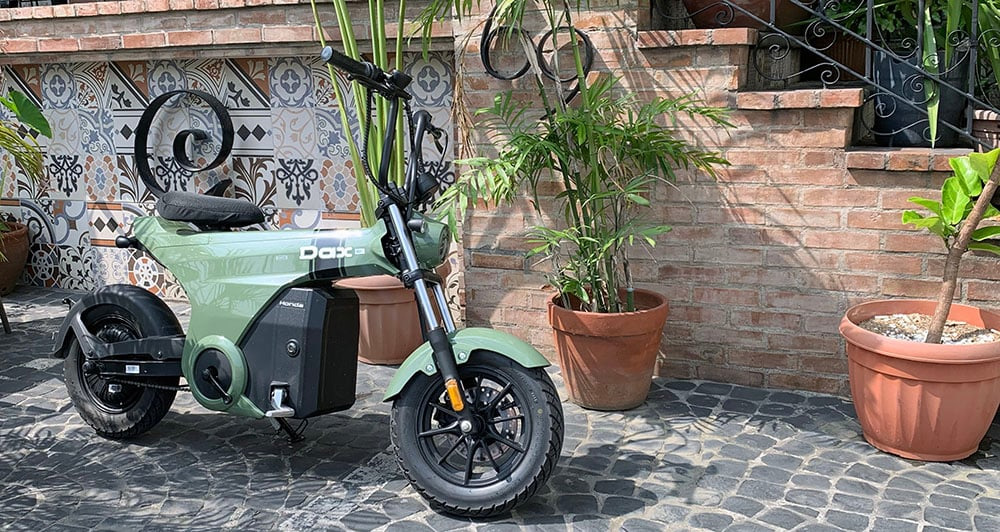 At any given time, I'm fortunate to have a choice of cars, bicycles, and motorcycles to get around on. The Honda Dax e:—an electric version of the retro, gasoline-powered minibike still sold in some markets—has a meager range of "around 80km" and tops out at an (unlocked) 50km/h.
It's cartoonishly small, takes its sweet time hitting terminal velocity, and generates its fair share of jokes about its name, which, translated in Filipino slang, means "well-hung." Oh, the irony.
And yet I want one. Seriously, I do. If I had P82,000 burning a hole in my wallet right now, I'd go over to Electric Cyclery (one of its importers) and get one of my own. Why, you ask?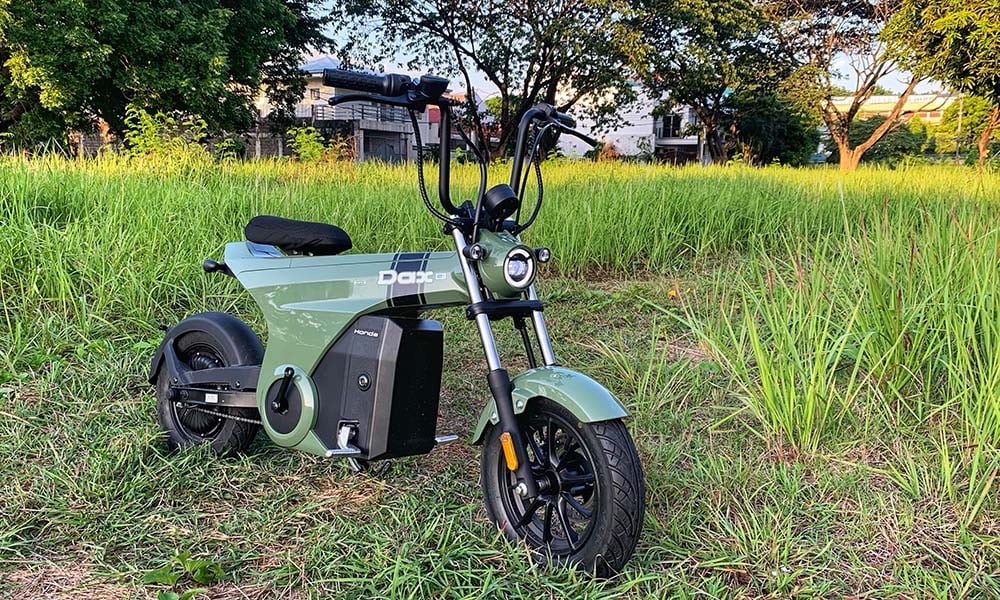 Well, the first and most obvious reason is "N + 1." I love almost anything with two wheels, and since I have a bunch of serious racing bikes in my stable as well as a big bike and some scooters, one novelty would be a nice and useful addition.
It is indescribably cute when you see it in the flesh, with the simple T-frame, 10-inch wheels, mini-ape handlebars, and bicycle-style, single-person saddle. There's a single LED pod for speed and battery charge. It has hydraulic disc brakes, too.
And if you think P82,000 is crazy, check out gray-market prices for the original, ICE-powered Dax, which can easily fetch six figures for collectors. Suddenly, the electric version looks reasonably priced.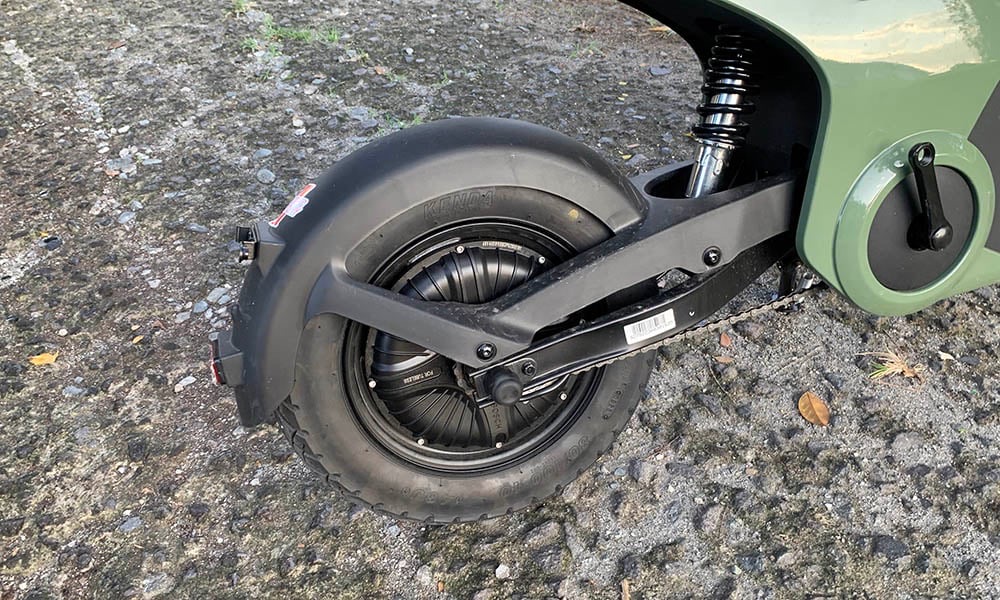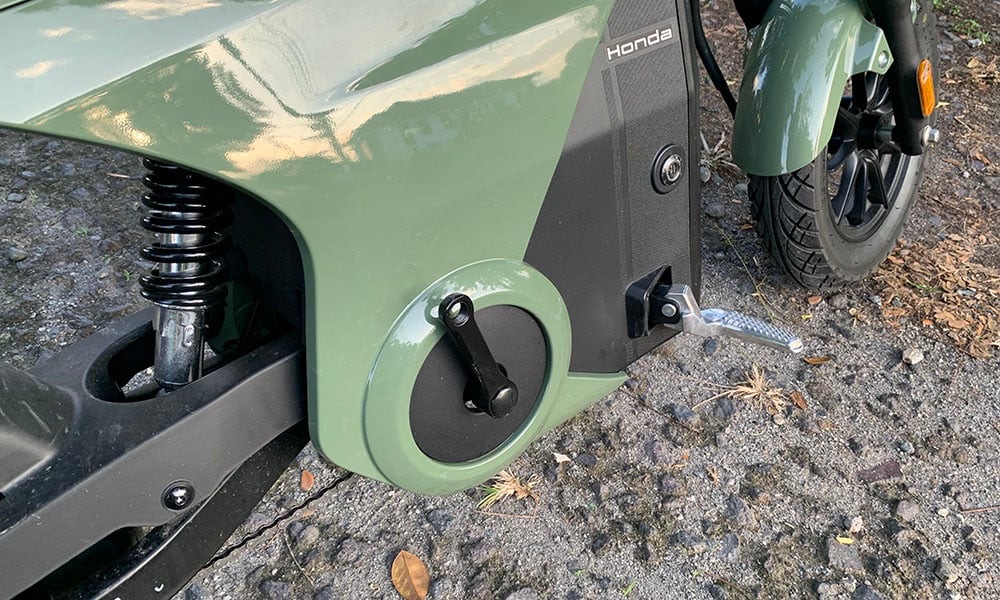 The second reason is that it's very easy to master for anyone dipping their toes into motorized two-wheeled transportation for the first time. I forgot to measure the seat height, but it should be close to the original ST125 Dax's 775mm.
When I sit my 5'8" frame on it, it feels like sitting on a stool. The twist-throttle system delivers a gentle stream of power, and at full throttle will provide 400W.
The Dax e: and its Cub and Zoomer siblings were primarily developed for the Chinese market, and were thus limited to 25km/h to comply with e-bike regulations.
However, the locally available model can be unlocked to hit 50km/h, and while it takes its time clawing its way to 50km/h once you reach 40km/h, at least it's not unbearably slow. The instrument pod is only calibrated to max out at "25km/h" even though you're already going faster, though. No big deal.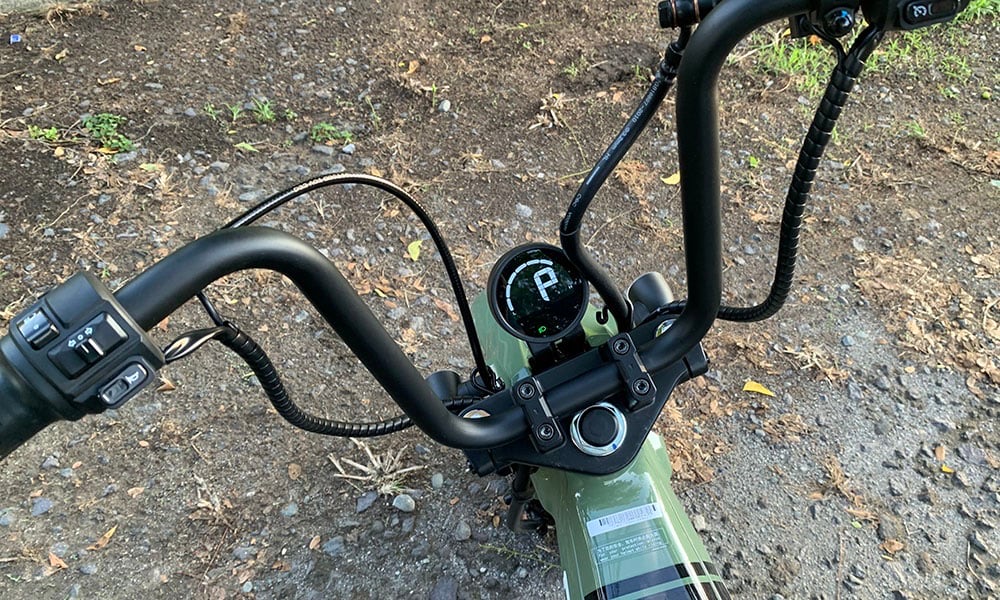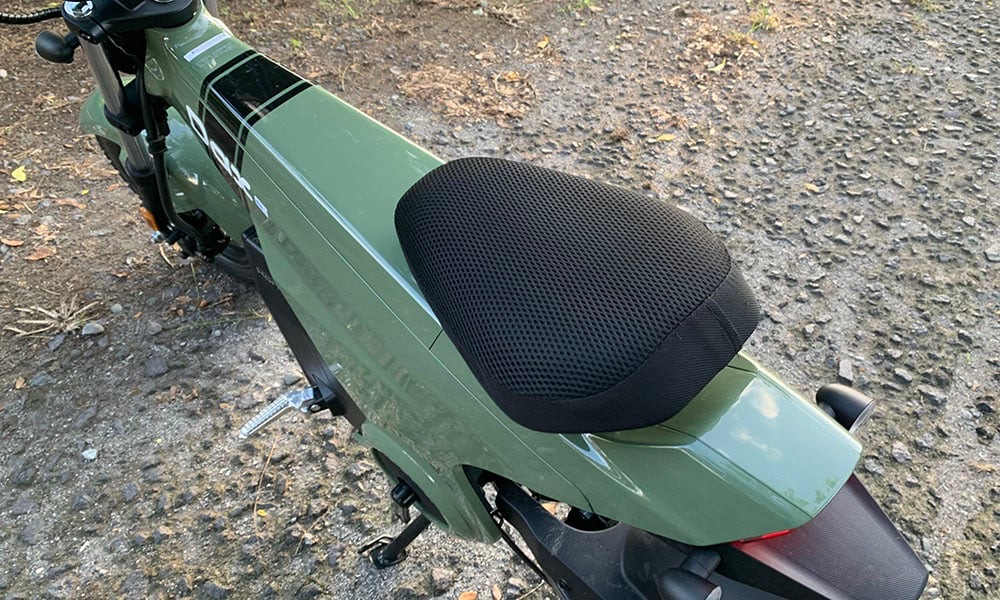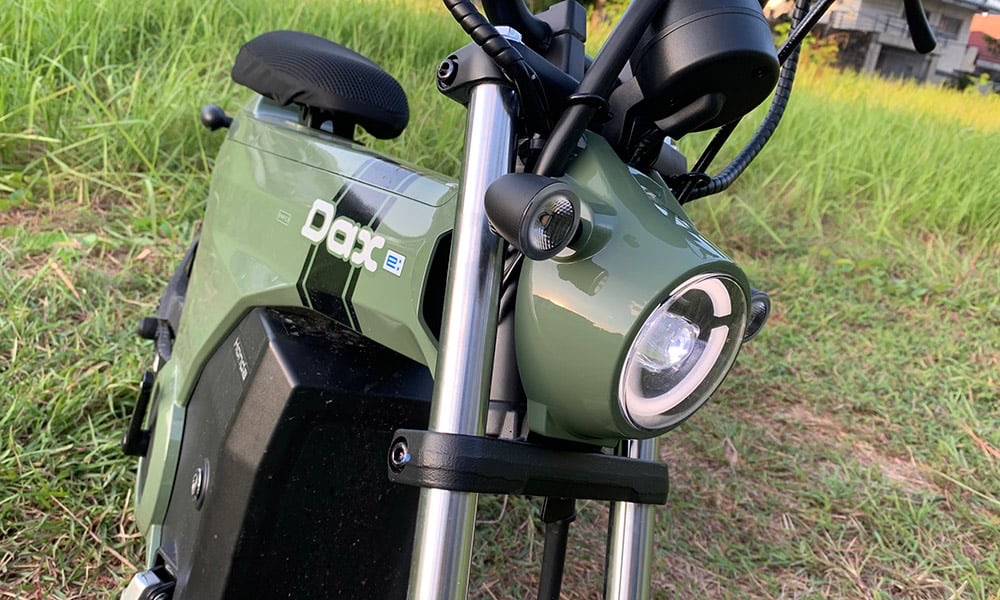 One overcast Friday afternoon, I thought I'd take the Dax e: to the VISOR office instead of a proper motorcycle, and was mentally prepared for a miserable time. Didn't happen. For that 16km one-way trip, I was keeping up just fine with scooters on the service roads during rush hour.
Acceleration from a stoplight is smooth, but not anywhere near as quick as a scooter—like how quickly you'd accelerate on a bicycle if your adrenaline was pumping. On the moderate slopes of Lawton Avenue and the Katipunan-Kapitolyo Bridge, the bike steadily chugged its way up at around 30km/h.
An afternoon rain shower got me and the bike thoroughly drenched, but I kept going. According to Electric Cyclery, the battery and Bosch motor are sealed. So long as you don't play submarine in a flood, you'll be just fine.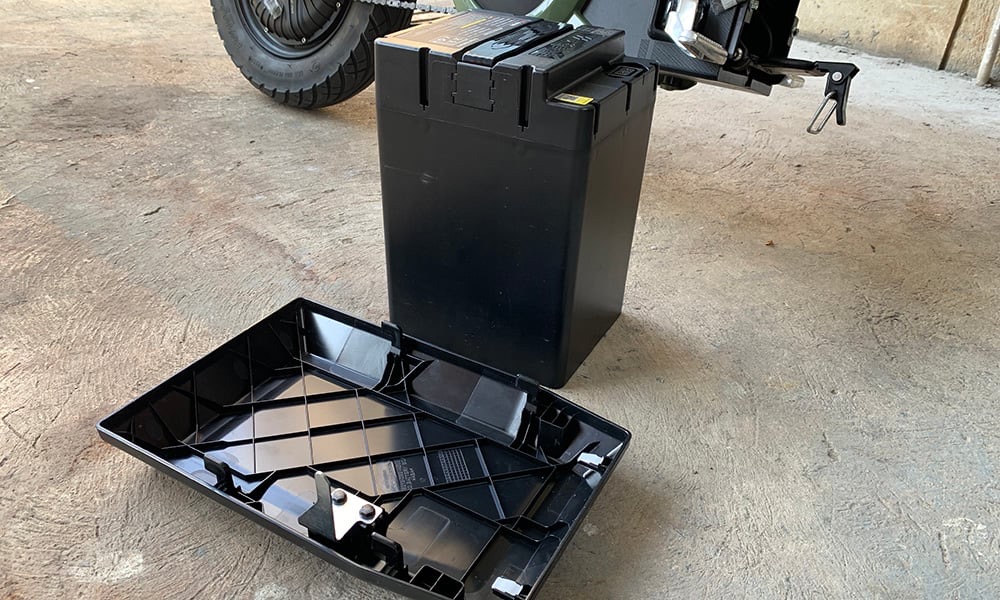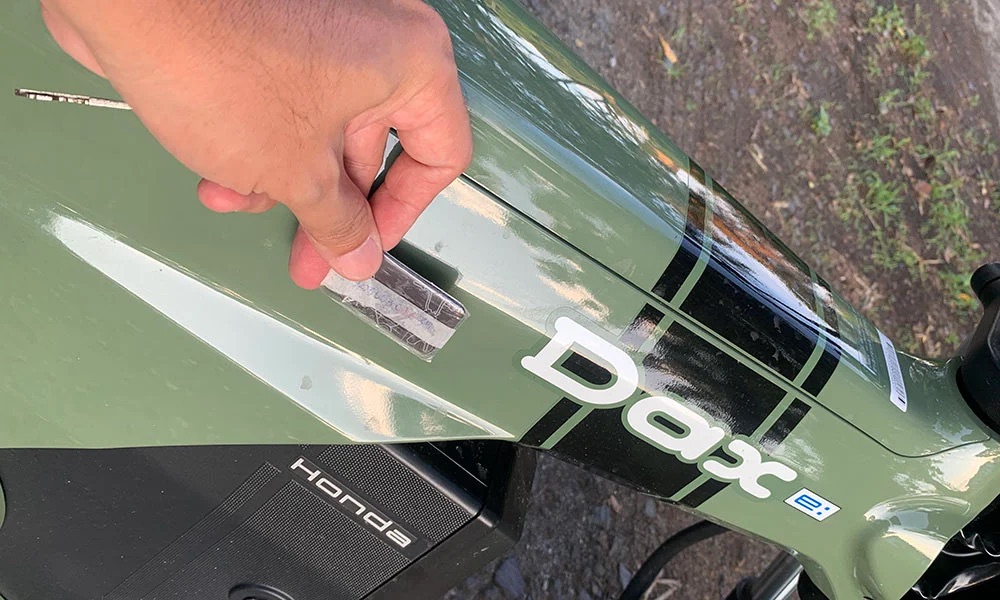 When I got to the office, the instrument pod showed a 60% charge since I'd been at full throttle most of the time and had turned on the LED headlamp as an added safety measure.
Taking out the battery is a 60-second exercise. You need to unlock the cover, give it a light, upward whack with your palm, remove the charging plug, then slide out the 10kg-ish battery. I plugged the battery into a standard wall outlet, and it was back to 100% after two hours of meetings.
I made the 16km trip home in 45 minutes—around five minutes slower than on a regular scooter, and 15 minutes faster than on my mountain bike. The real benefit is that I didn't spend a cent for gas, nor did I have to get sweaty and tire myself out for what I'd consider junk miles on a bicycle.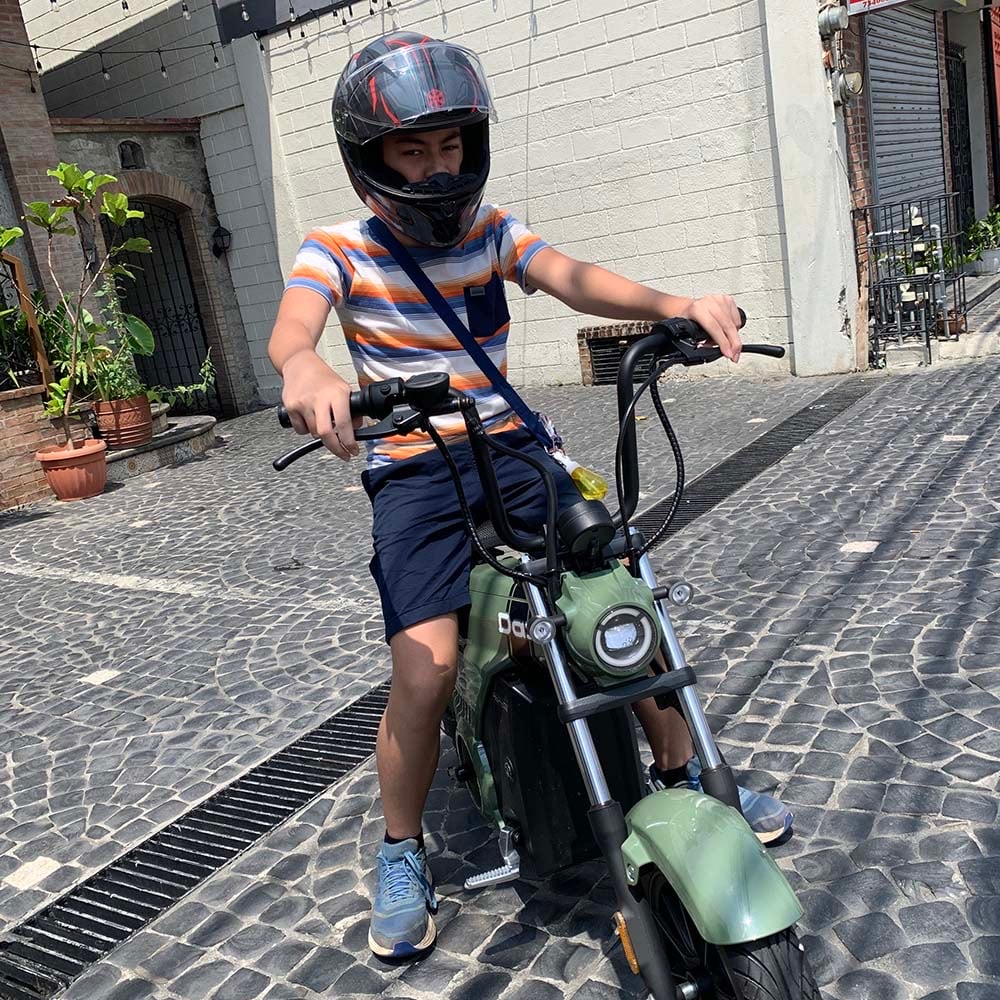 I was also fresh enough to invite my teenage son Max to try it out for another hour of riding. Since it's classified as an electric bicycle, you don't need a driver's license to operate one. Max already knows how to bike, so all he needed was five minutes to get comfortable on the Dax e:, and soon we were riding around the subdivision hunting for snacks and the odd trail or two.
This brings me to my third reason: People could use it to get around for distances that would be too far for a regular bicycle. Especially in unlocked mode—or locked, if you don't want them zipping around too fast—the Dax e: makes sense for errand-hopping, getting to school and back, café-hunting, and the like. Trips that a regular scooter could do, but only if you're old enough to get a license.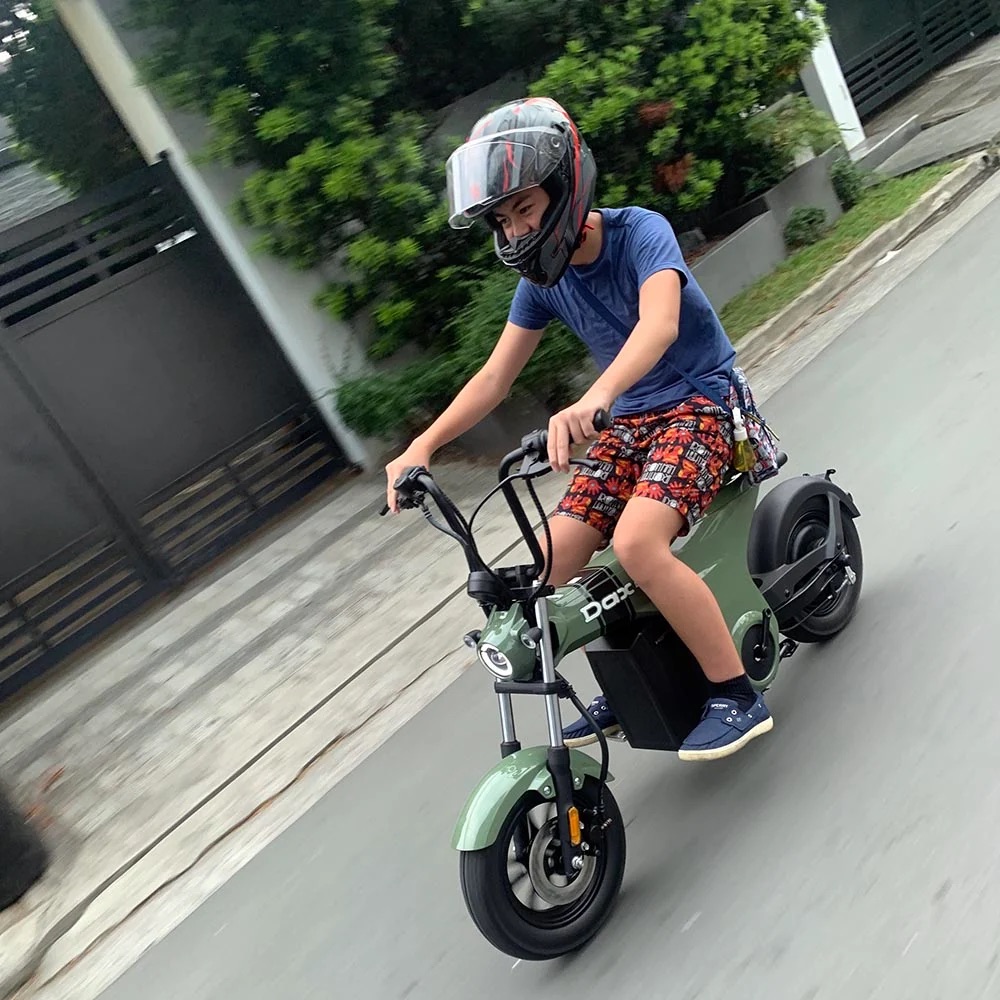 Any parent spending four figures a month on school-bus expenses could see some sense in just getting a teenager an e-bike, especially when they're mature enough to venture into the crazy streets. I don't mind driving for my kids, but sometimes it would be nice if they could just get to where they need to go by themselves.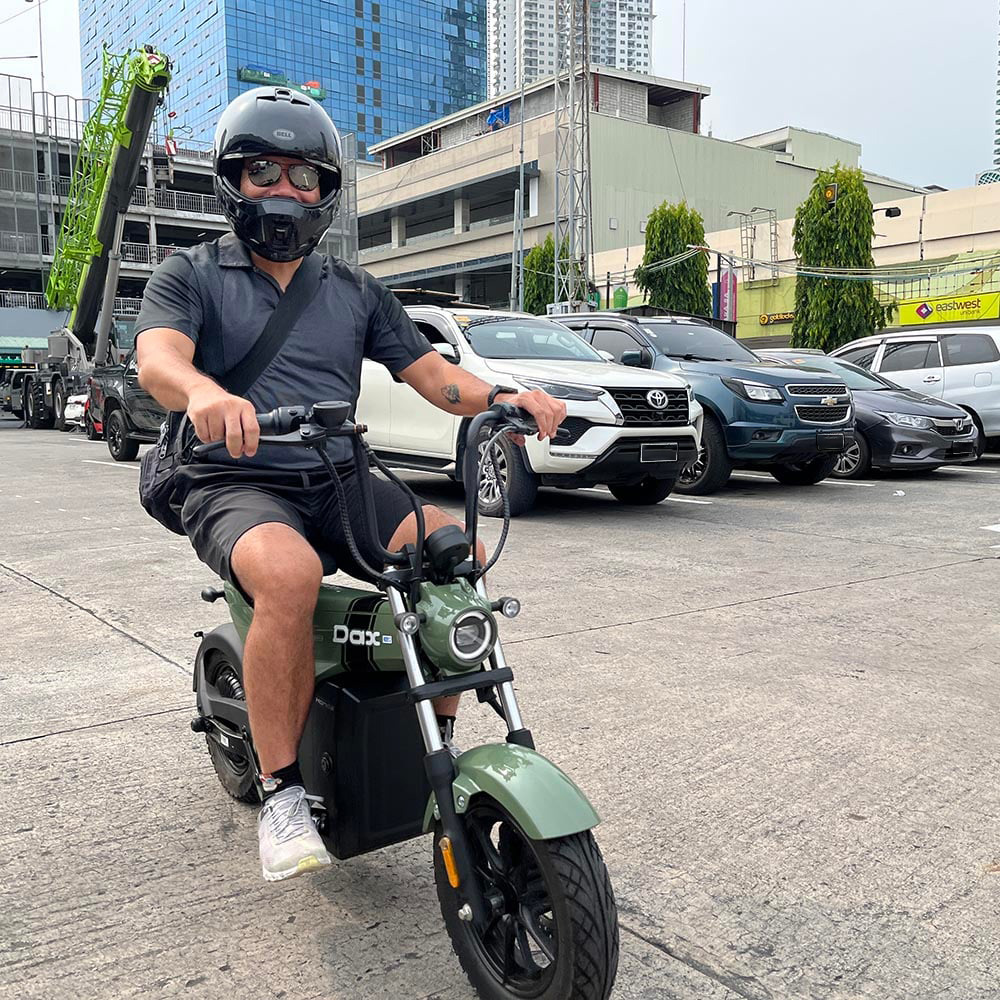 As a personal mobility device, it's a mistake to compare the Dax e: to a similar-priced scooter. Any gas-powered scooter will be more capable than this or its siblings. It doesn't even have storage space, which means you'll always need a backpack. But there's value precisely within its limitations.
A realistic range is 50km before you seriously need to recharge, and when you do, it's a no-brainer exercise. The battery will take just five to six hours to get to 100% if you completely drain it, and the battery pack will last two years before it starts degrading.
The suspension is soft and underdamped, quickly blowing through its limited travel, which in a way will also prevent you from doing stupid stuff like flying over speed humps and riding off sidewalks. And the styling is charming and distinctive, easily setting you apart from those hideously ugly e-trikes and scores of lookalike scooters.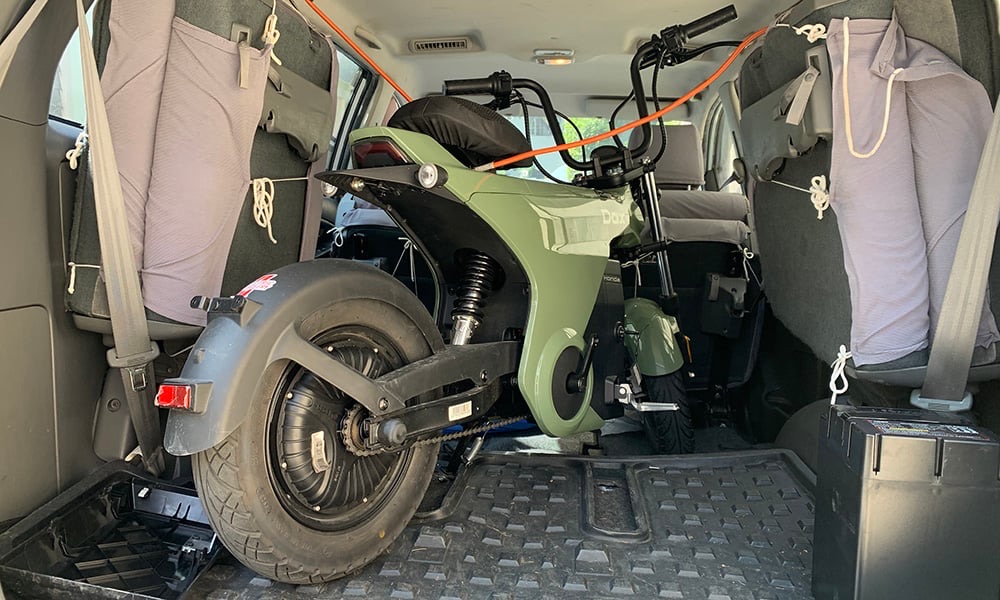 Finally, its diminutive size means it can fit in a van or an MPV. The Dax e: easily fit in our Innova, and could easily fit in similar-sized vehicles. No need to remove the wheels, and no need for a hitch-mounted bike carrier unless your vehicle is already full of passengers and luggage. You could bring it along for an out-of-town trip and use it for exploring the local countryside.
The Honda Dax e: isn't for everyone, but if you hate gassing up along with paying for annual registration fees, don't want to get a motorcycle license, and just want a cute and fun way to get around the city, it's definitely worth a try.