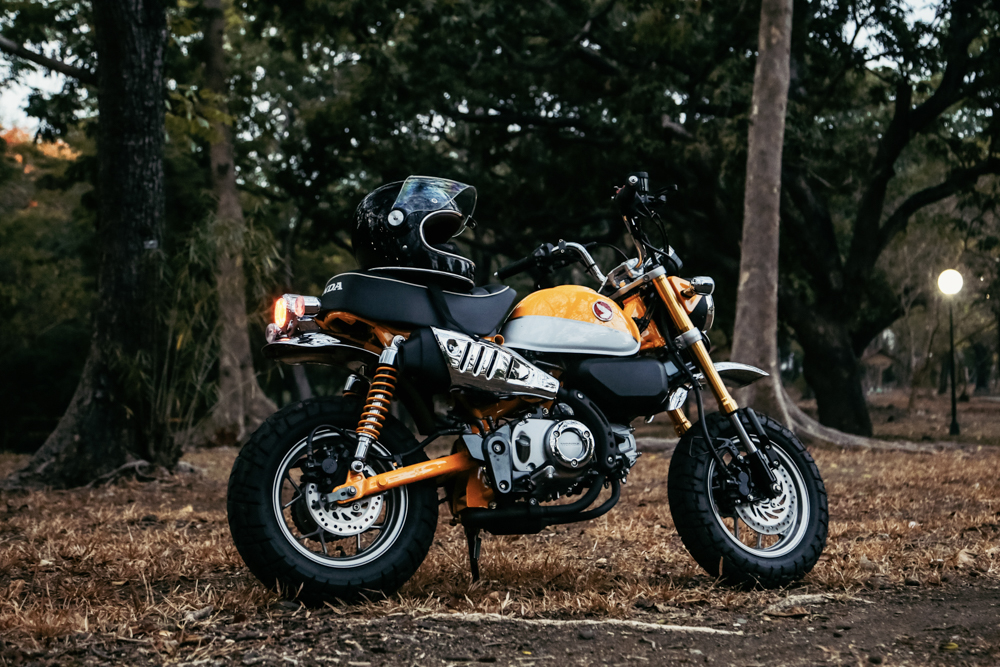 Hi there. I'm Jenna, and this is my very first article for VISOR. I recently got to borrow a Honda Monkey 125. Any gearhead can imagine how big of a deal this was for me. And boy, do I need to vent! Glad I have somewhere new to do it. Thanks for having me.
Everyone's familiar with the genius Super Cub slogan, "You meet the nicest people on a Honda." That proclamation simply means that riding is for everyone—not just grizzled war vets, insane racers, and restless rebels. The Monkey and the Super Cub are siblings by blood, but there's a difference. You meet friendly people on Super Cubs; you meet delinquents on Monkeys.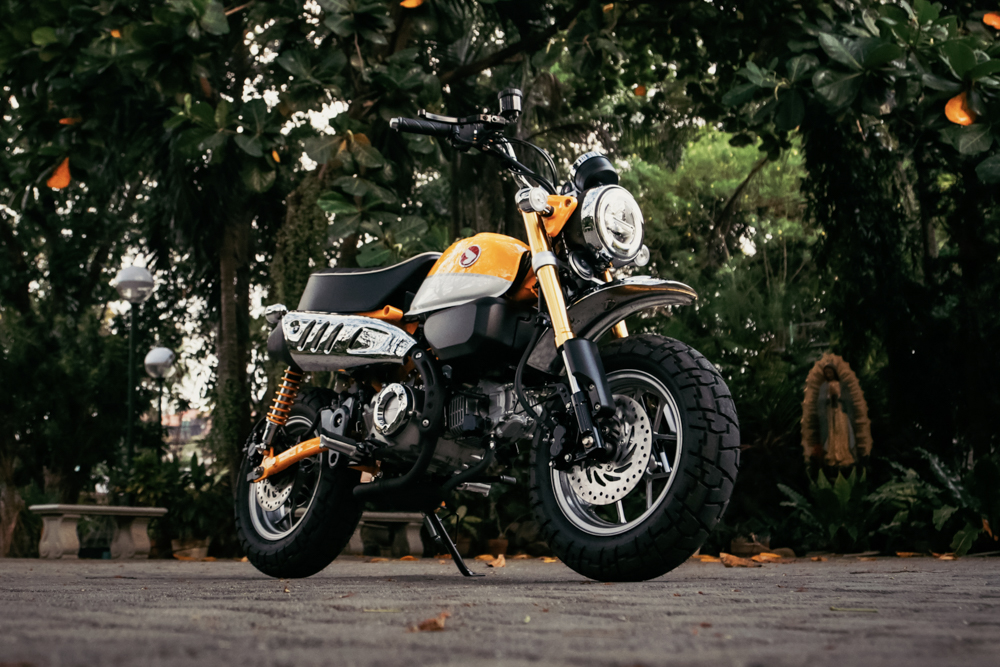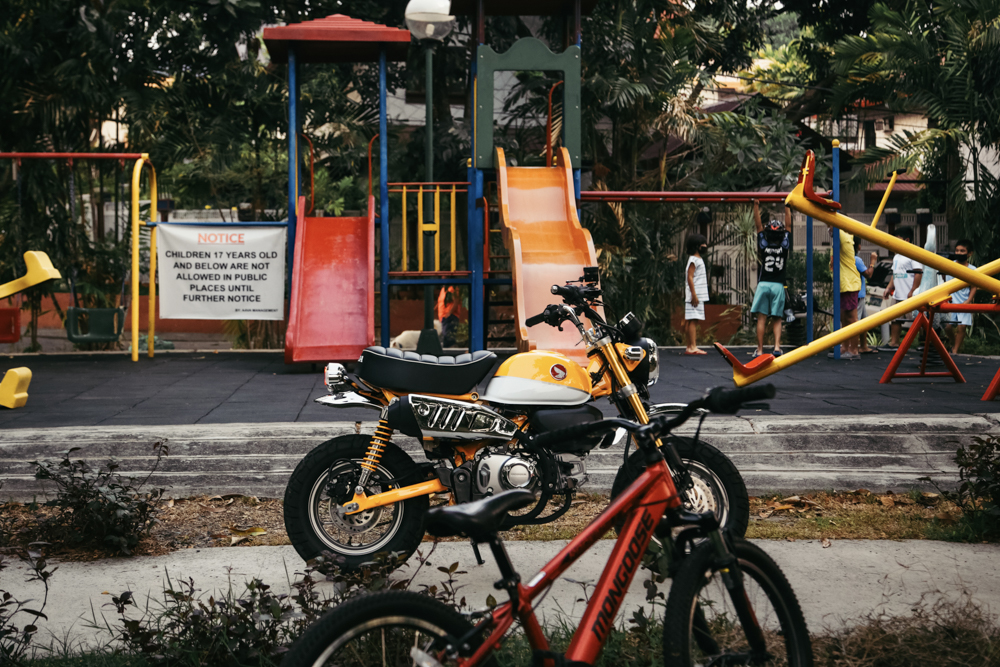 Honda used to run a motoring-themed amusement park called Tama Tech. When it opened in 1961, one attraction was the Z100 mini bike powered by the Super Cub's 50cc single-cylinder engine. The Z100s were intended for kids, but adults hopped on them, too, looking hilariously awkward and lanky, hunched over like monkeys—hence the nickname "monkey bikes."
In 1964, Honda released the street-legal CZ100. Then, in 1966, the Z50M was born. The tiny Z-Series terrors invaded the globe, making the "Monkey" name official and kick-starting a legacy of legendary longevity with multiple generations forming fond, unforgettable memories with these chaotic creations.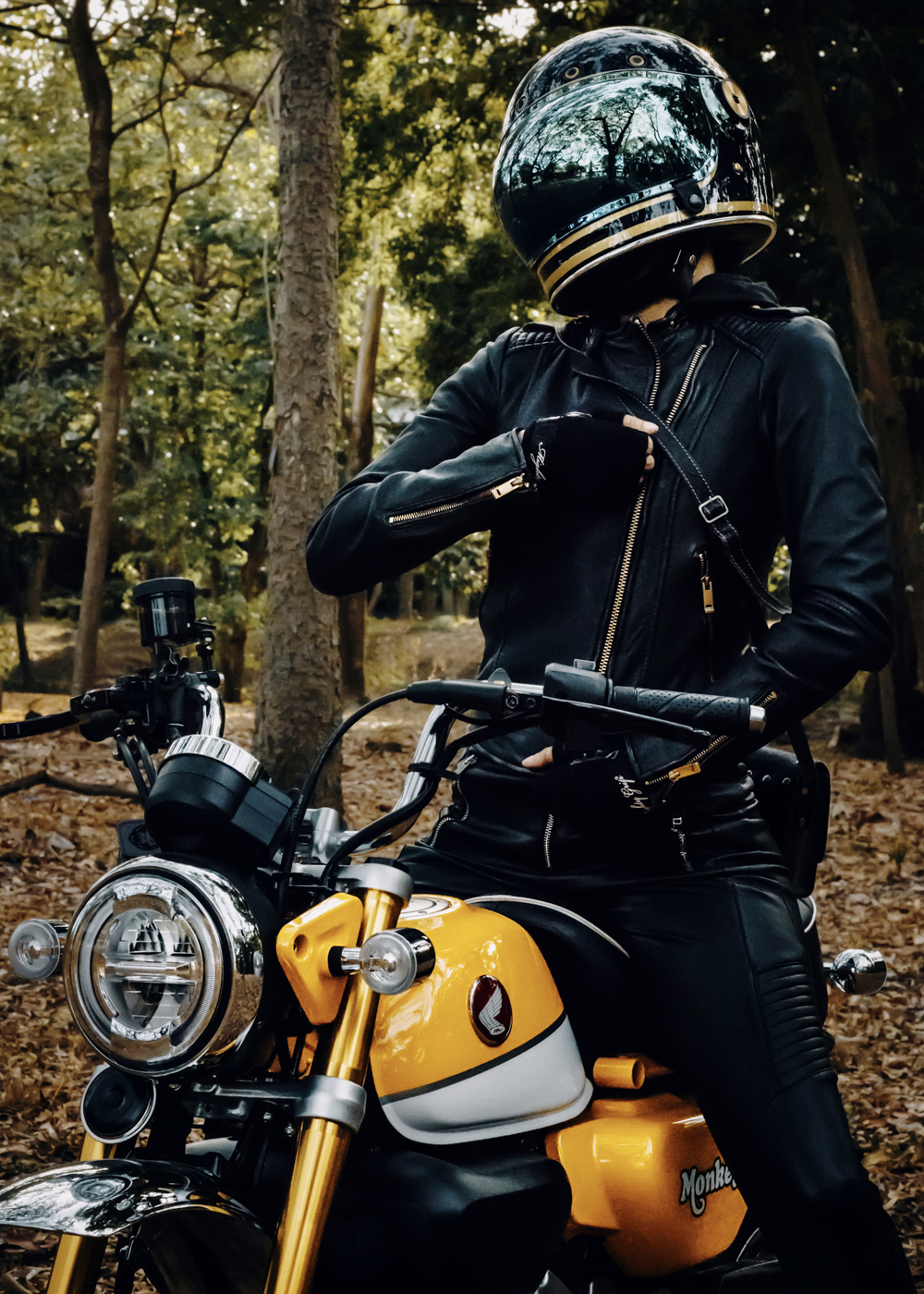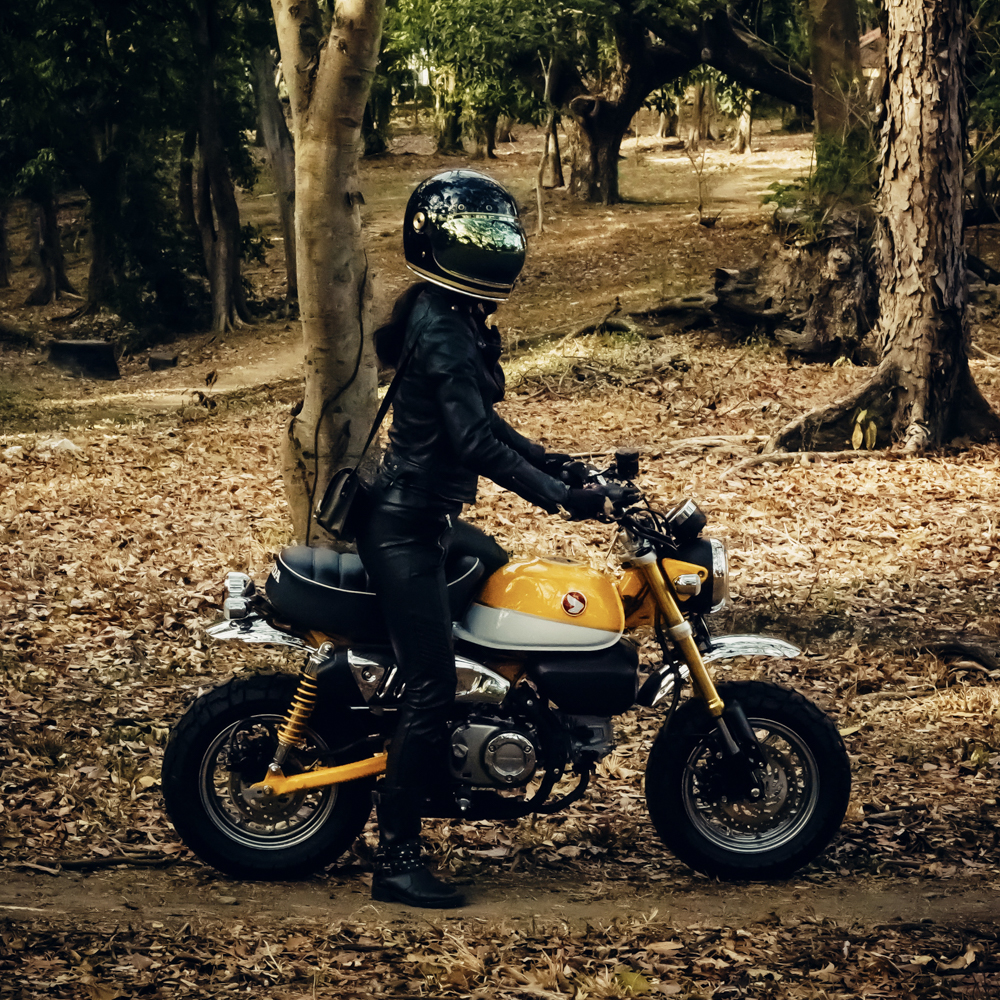 Monkey tales are about shenanigans and misadventures. It's ironic that the bikes were tools to divert kids from misconduct, when they spelled trouble. But riding is much better than truancy, violence and drugs. And mini bikes aren't dangerous crotch rockets. I've heard people reminisce about riding Monkeys in empty villages and bucolic provinces. They formed little juvenile groups that would disappear unsupervised for hours. Someone told me that he and his friends were caught by cops trying to take their mini bikes to a friend's house via EDSA when they were children. Monkeys, Gorillas and Mini Trails were the first gateways to motorcycling for many.
In the 2010s, the flames of nostalgia began burning bright. At the 2017 Tokyo Motor Show, Honda fanned them into a proper blaze, unveiling the retro-modern Super Cub C125 and Monkey 125 concepts. Then, the Japanese powerhouse announced the end of the Z50's production. The tears didn't put out the fire of hype.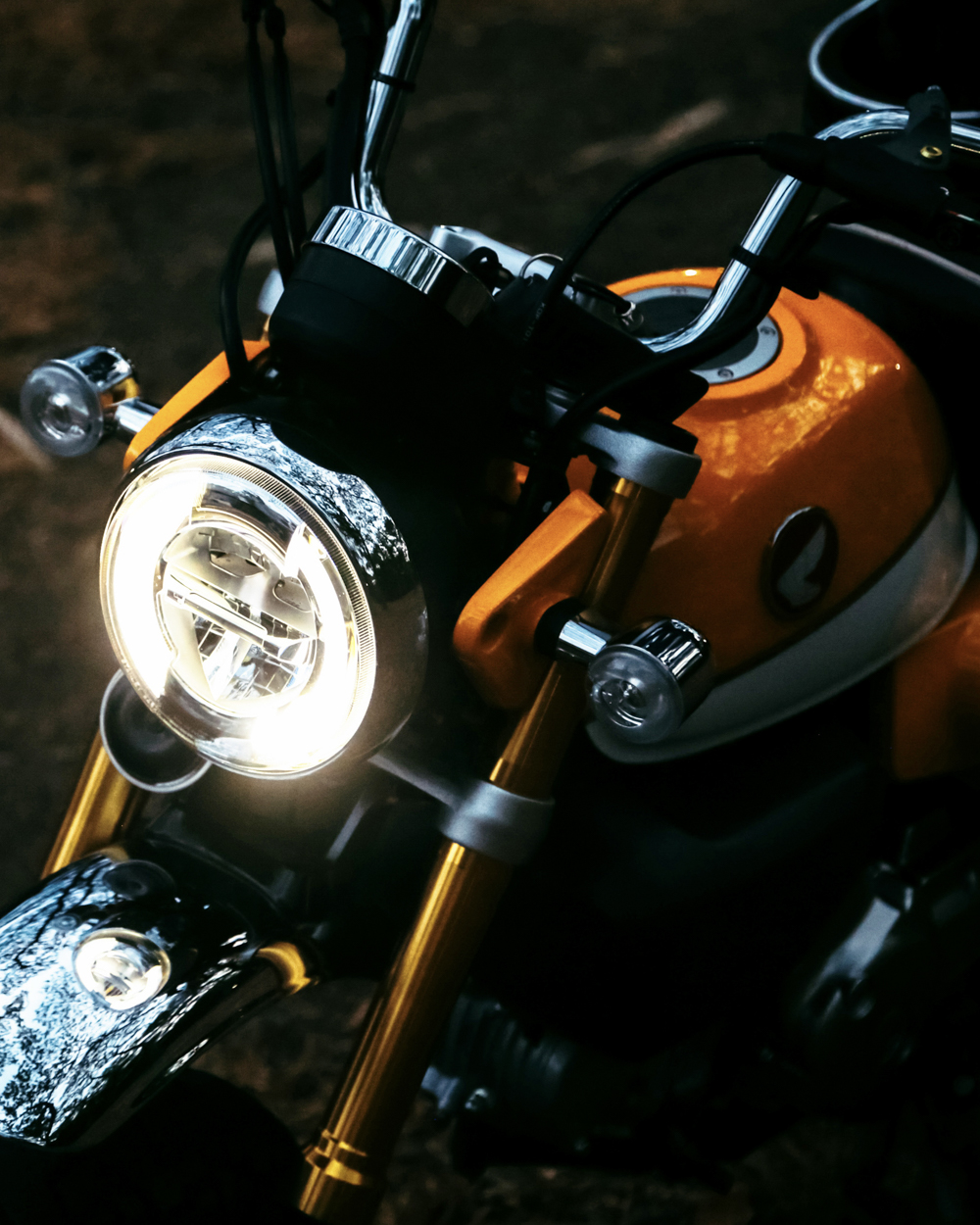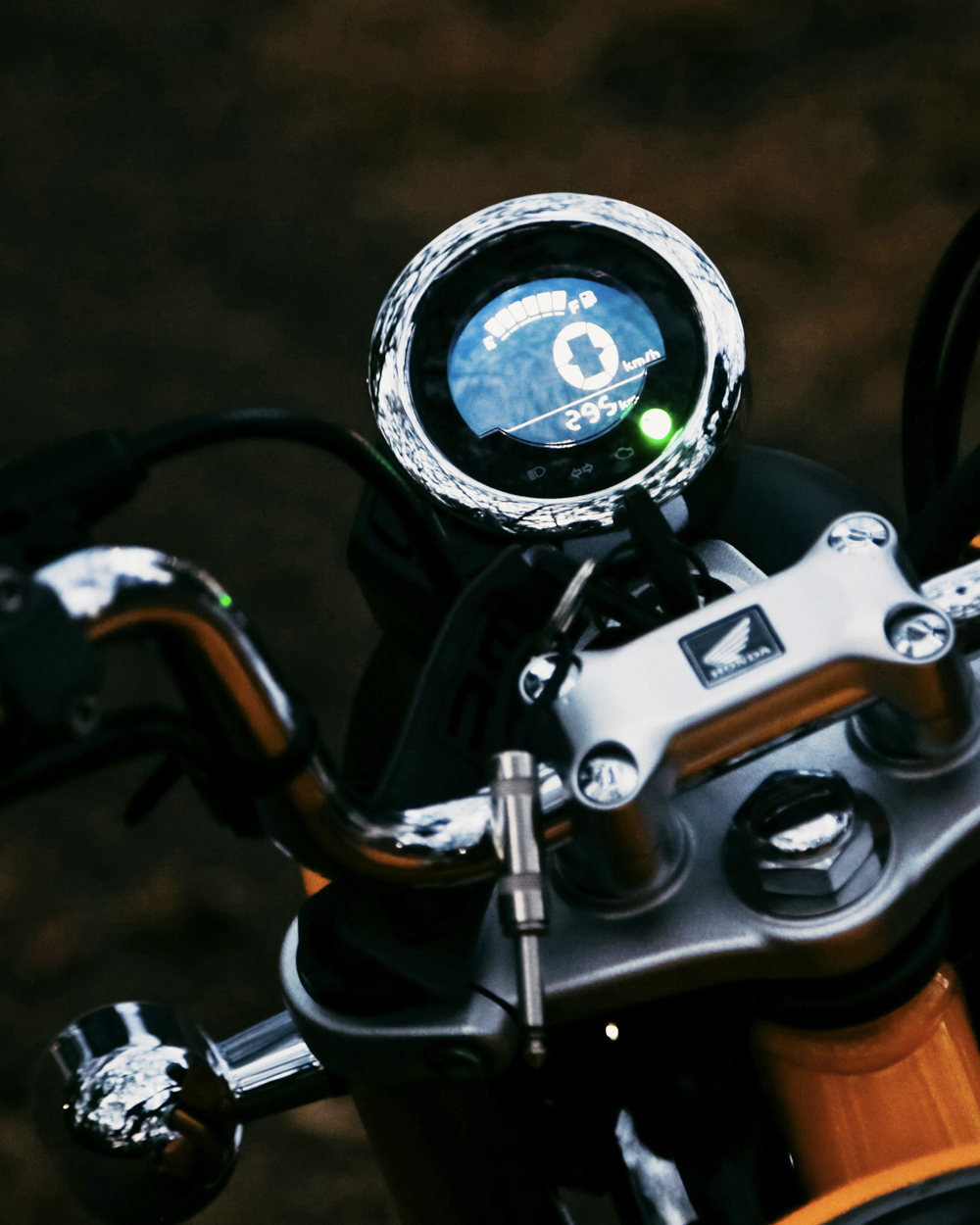 I'm here to tell you that the new Monkey 125 is everything we hoped for and more. Designed around the notorious MSX125 Grom's modern 125cc platform, it inherits the best bits of its parents. It's as easy, fun and beginner-friendly as the Grom, as heart-warming as the historic Z-Series, and as naughty and hoonable as both. It's as well-built and dreamy as you'd expect from Honda.
When my buddy Bullet lent me his Honda Monkey 125 in Banana Yellow, he said, "You can take it up sidewalks and jump humps with it."
"Oh, I wouldn't do such a thing," I thought to myself. "This isn't my bike. I'll be lovely, careful and behaved."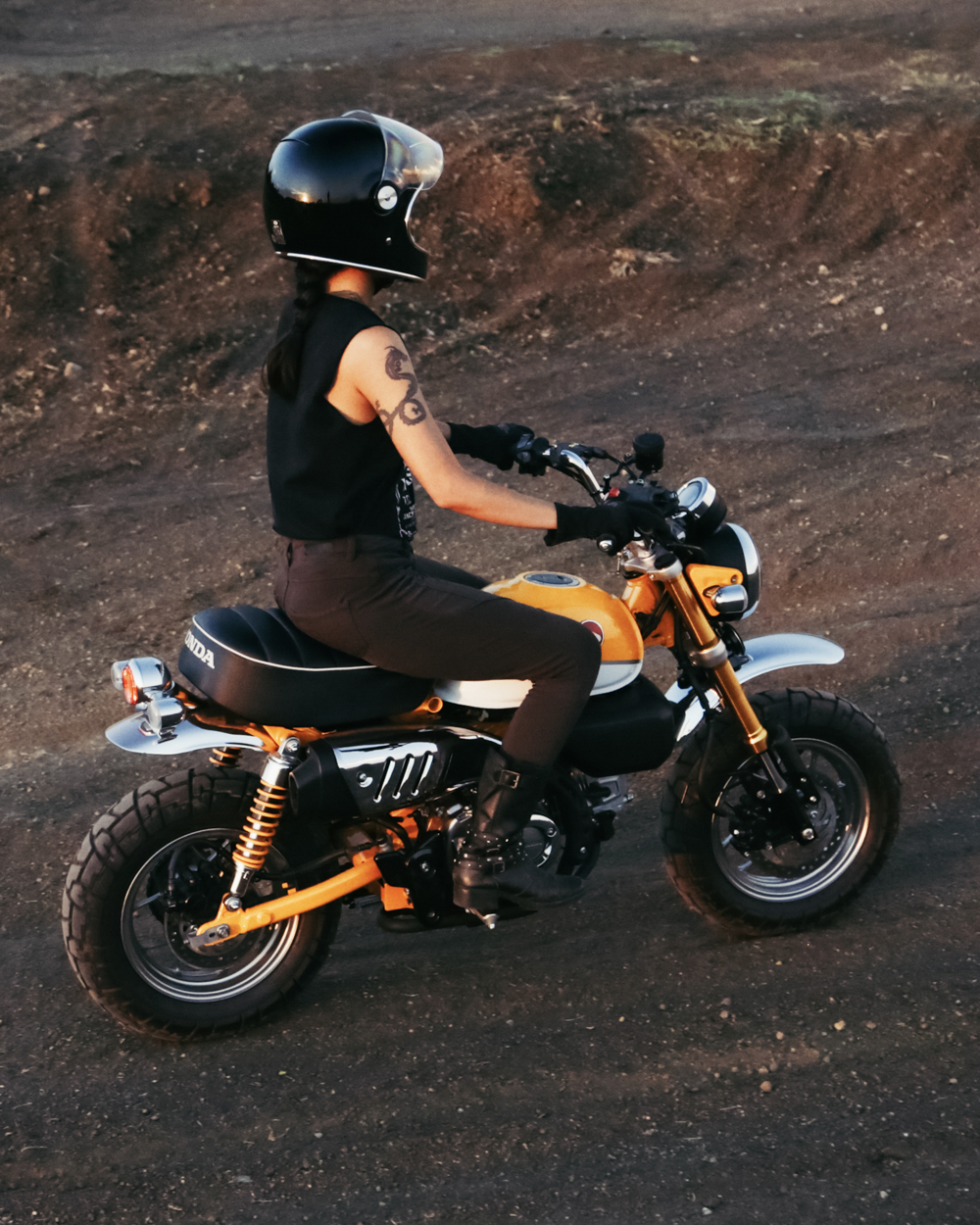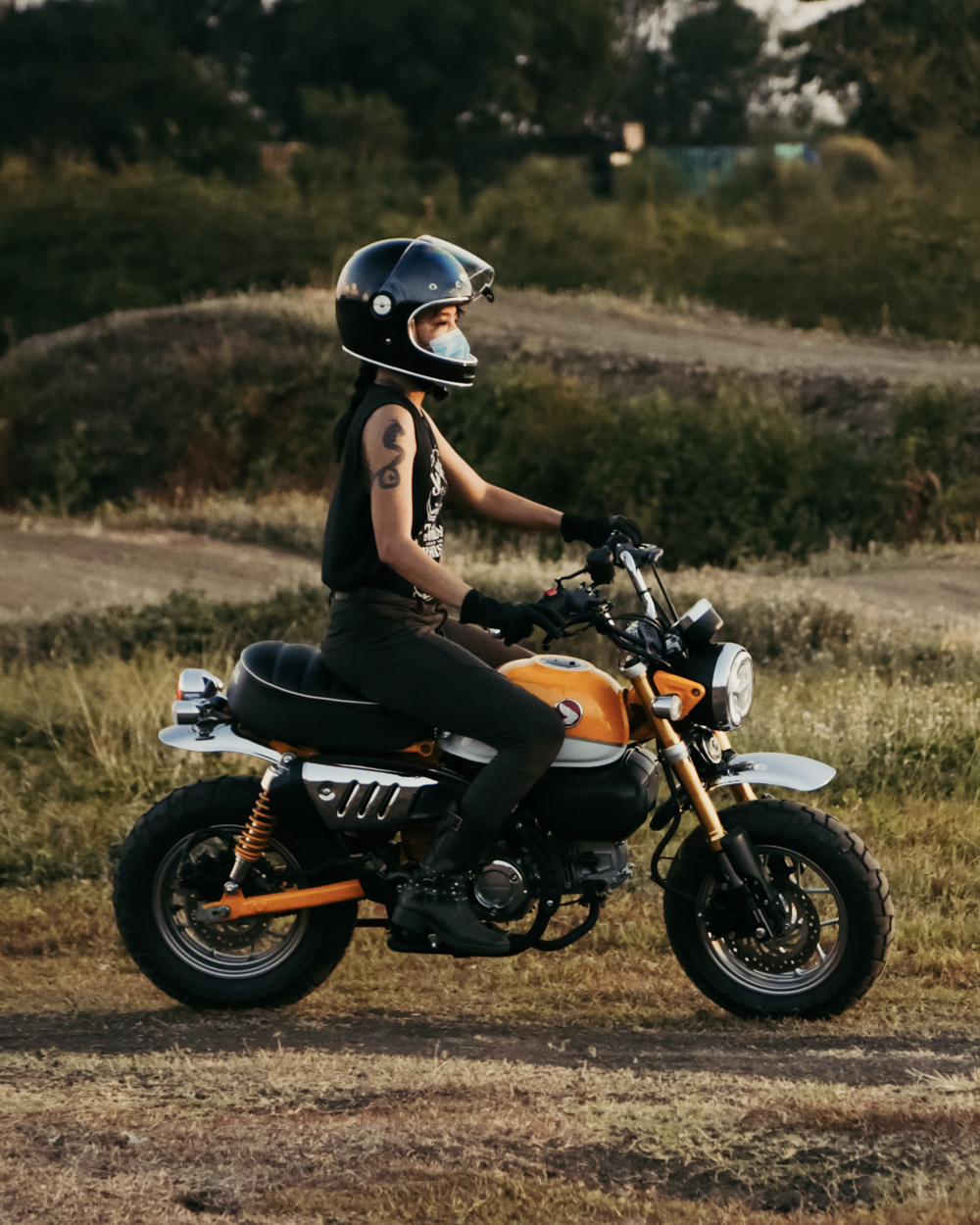 I wasn't lying, but I was wrong. The Monkey's small stature and nimble stability egged me to ride like a manic kid on Skittles. I was flying—sporadically doing three digits on the speedometer with mechanical smoothness and guffawing abandon. It took time to get up to speed, though: The fuel-injected, air-cooled engine only makes around 9.3hp at 7,000rpm, and 11Nm at 5,250rpm. My slight frame helped. Another friend with a Monkey 125 said his heavier body prevented him from achieving similar results.
The simple round LED gauge is cute and well-lit with a fuel-level indicator, speedometer and odometer. The lack of a tachometer is a bit sad, but no big deal. Yes, it's got a manual transmission with a wet multiplate clutch and four fantastic gears. Would take it over a scooter any day. By the way, the Super Cub 125 doesn't count as a scooter because it's technically a semi-automatic underbone. I want to try one, too.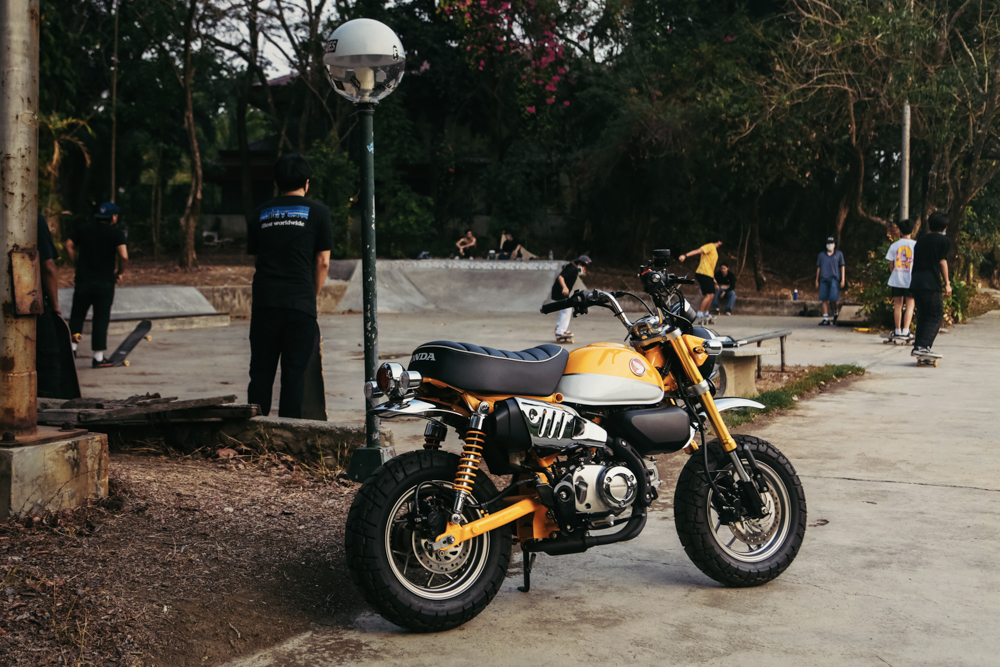 The Monkey has 31mm inverted forks like the Grom, but uses classic twin shocks as opposed to the Grom's lone rear unit. Each end gets a single brake disc (220mm up front and 190mm behind). The one I rode wasn't the ABS version. Both the Monkey and the Grom have 12-inch wheels, but tire sizes slightly differ (120/80 and 130/80, and 120/70 and 130/70, respectively).
With the 775mm seat height, it isn't microscopic. Seating position is similar to scooters and underbones, but even more compact. I'm 5'3" and didn't feel bunched up. The seat is crazy comfy, like a sofa cushion. If piloting an adventure touring bike is like riding a storm cloud, using the Monkey 125 is like coasting on a cotton ball. My butt sure was happy.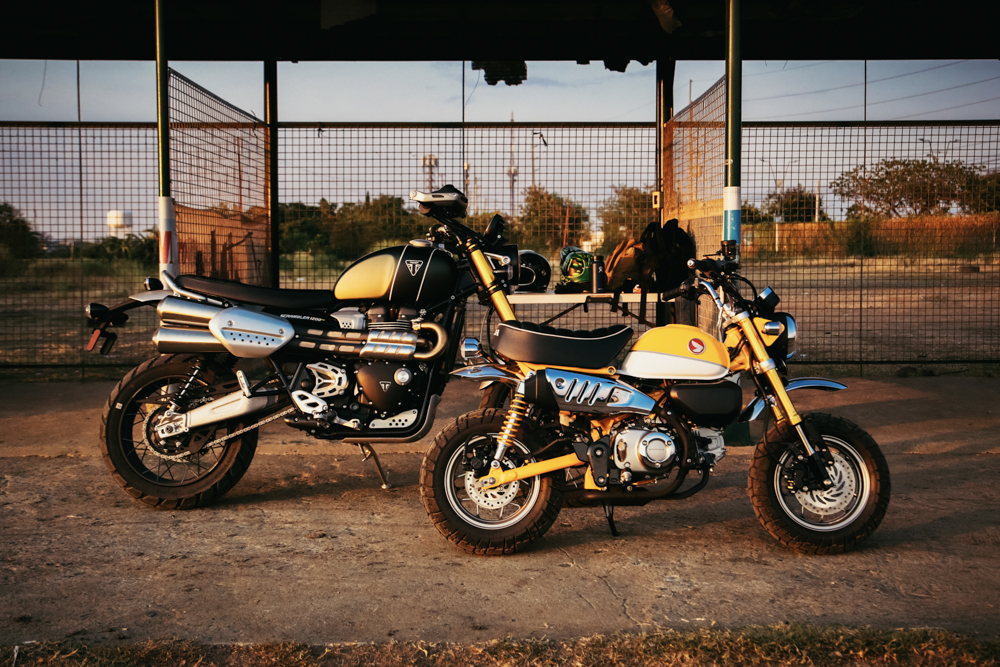 The doughy seat was handy when attacking village speed bumps a bit too fast, catching my derrière like a soft mitten. Bullet said it'd be fun jumping humps, and he was right. Actually, the paltry brakes weren't stopping me in time—but that's because I was riding like a joyful idiot. I don't fault Honda for the brakes, but rather the devil within me. It's a perfectly civil and safe bike for polite folks. Screw manners! I took it on sidewalks, leaf-littered easements, over roots, across parks, and through playgrounds.
I rode it to Vermosa via Daang Hari where I easily kept up with the free-flowing traffic. Met my buddy Brando to shoot him on the motocross track with the Triumph Scrambler 1200 XE—a giant in comparison. They looked good together, two mischief machines with high exhausts and refined yet rugged looks. I let him use the Monkey to survey the track.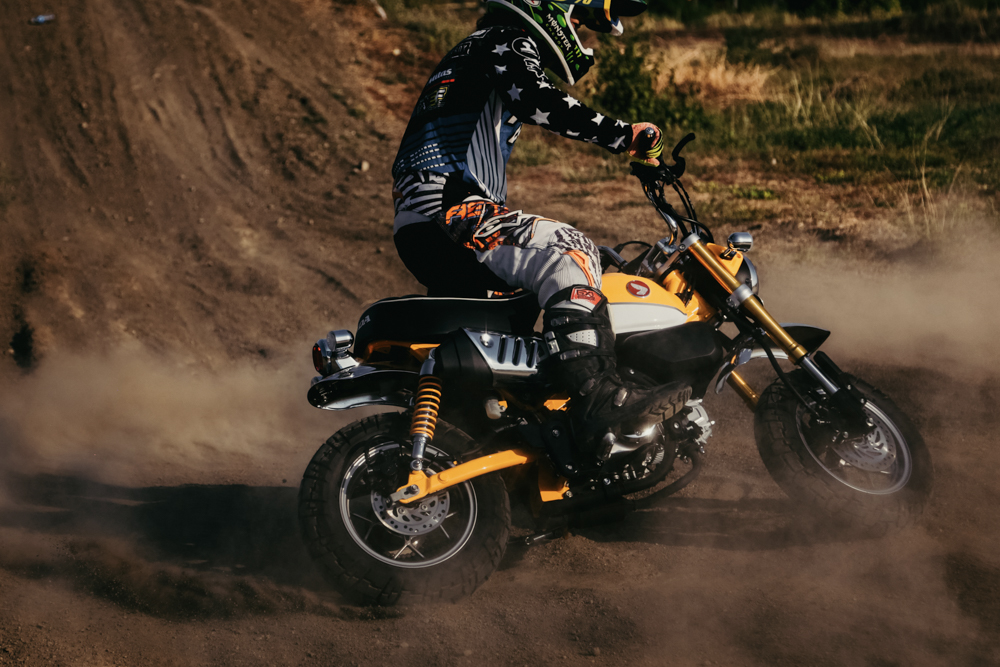 It possessed him, as it did me. I was completely unsurprised when he started drifting it. After all, people all over the world use mini bikes to dick around and even race off-road. The vintage Z50A Mini Trails were marketed as camping runabouts for the great outdoors. Some people modify the Grom into little adventure bikes and custom rally raiders. I was content just puttering around the track. But if I owned one myself, I'd try everything.
The Monkey 125 is small without being too clownish. It's inspiring, not just because of its nostalgic appearance, but also due to the ride itself. I fantasize about sticking it in the back of my car and taking it everywhere. I'd explore back roads and twisties with it, take it deep into the mountains, and pray I'd find a gas station. I'd take it back to the motocross track and practice shredding with it. I'd proudly be the village menace.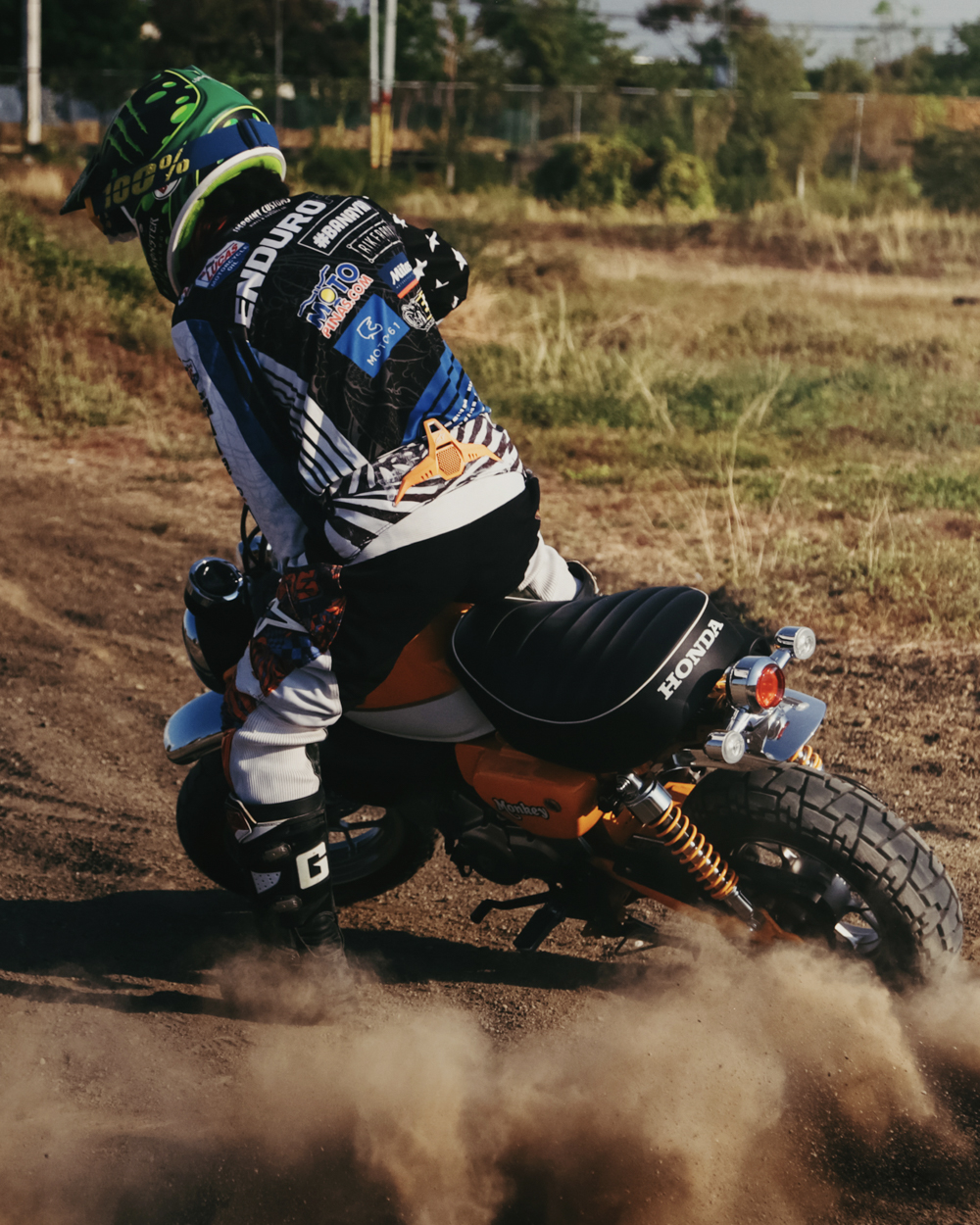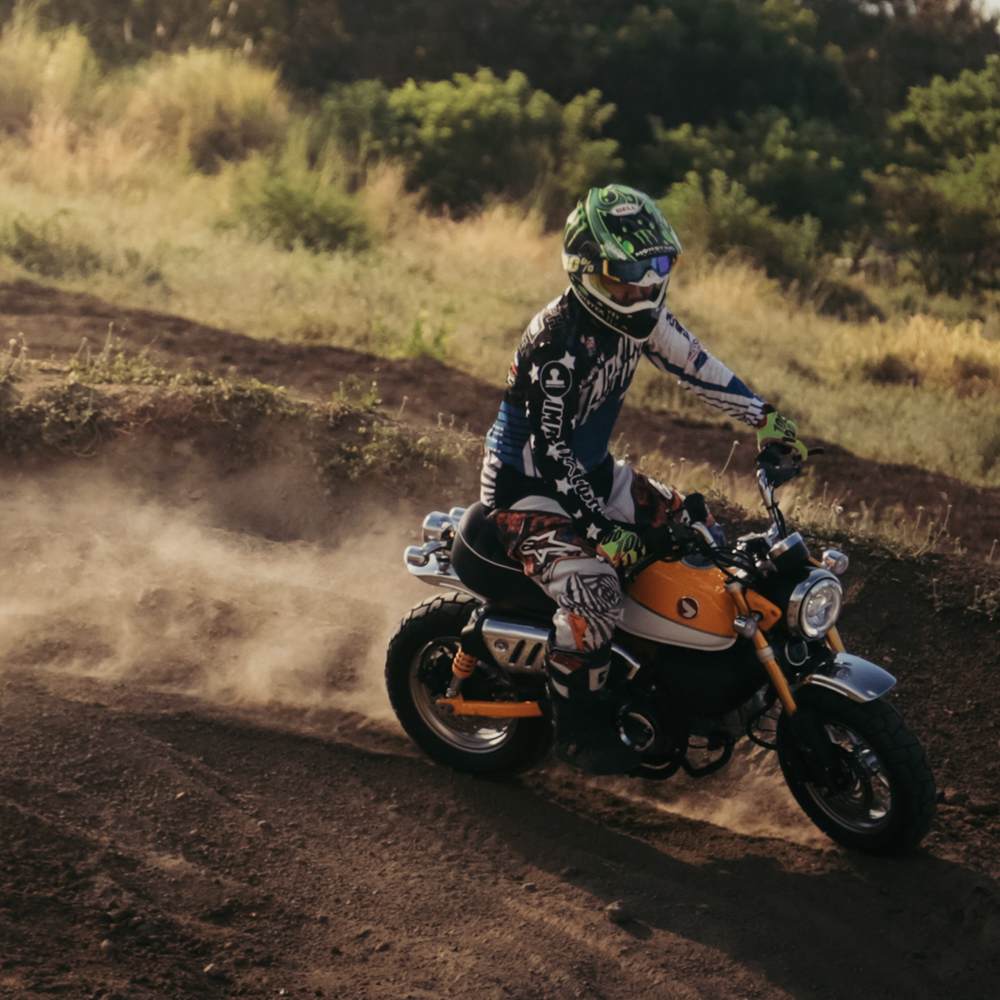 The Monkey 125 made me feel more badass than I had ever felt on any motorbike. I was like crazy little Jenna, buzzing after downing a bag of Halloween candy. Must have put my inner child on beast mode.
It was rush hour by the time Brando and I said bye, and I filtered through standstill traffic with ridiculous ease. I then returned the Monkey 125 to Bullet, and lamented our parting for weeks. Riders of large-displacement ADVs, sport bikes, and café racers started messaging me. They wanted a new Monkey, too. But it's currently unavailable to the local market. Importers sell it for P280,000 to P350,000. Love is painful. The longing lingers to this day.