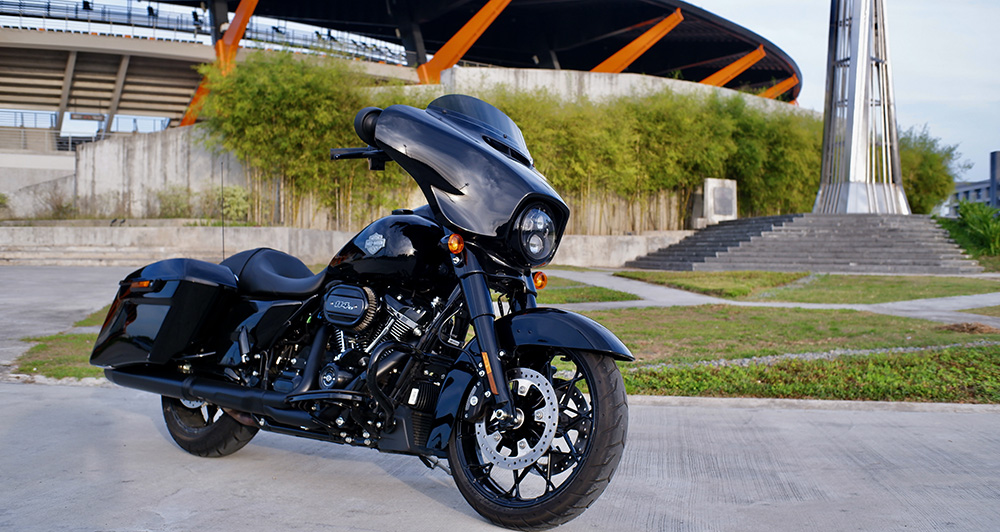 Arnold Schwarzenegger and a Fat Boy while shooting (and cocking!) a lever-action shotgun one-handed in T2. Erik Estrada chasing bad guys and girls on the freeway on the original CHiPs. And of course, Ron Perlman and Charlie Hunnam doing stupid crimes while looking very cool and in dire need of a bath in Sons of Anarchy.
Of all the motorcycle brands, none are as memorable in pop culture as Harley-Davidson, whose collaboration with Hollywood goes back decades. When you see a Harley on the road—particularly an old-school cruiser—you're not thinking so much about the engineering in those tubes and humongous cylinder heads, but how cool and intimidating it all looks.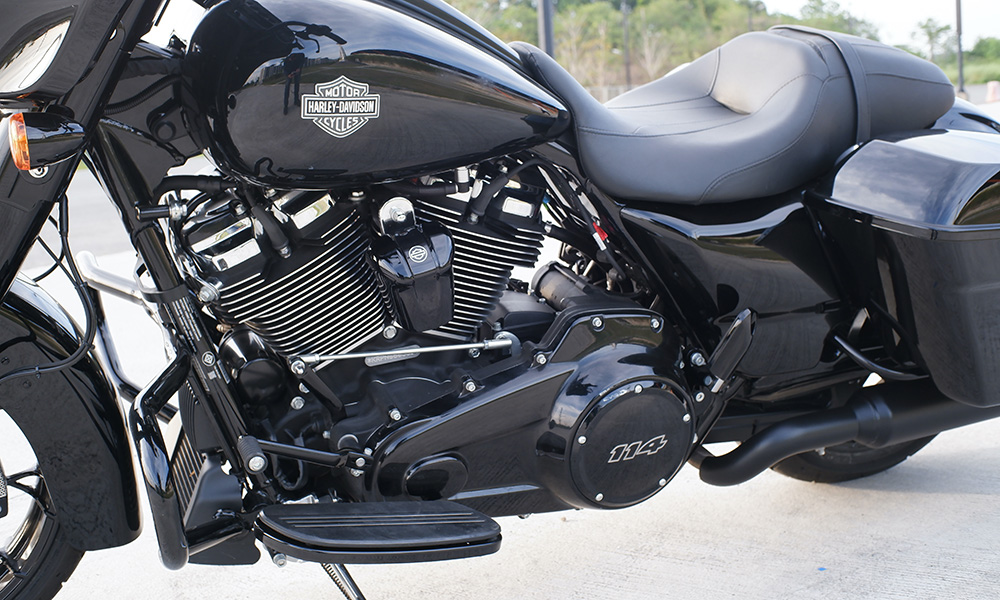 So, when Harley-Davidson of Manila offered the "bagger" Street Glide for testing, I wasn't exactly looking forward to the experience. You may think I'm in a position that many motorheads would kill for where I could test a different bike every week if I wanted to, but in reality, there's a lot of responsibility and discomfort involved.
For starters, imagine the embarrassment if I were to scratch or, God forbid, drop this bike. And at more than 800lb (363kg) for a standard Street Glide, it would be one heck of a back squat to get back up. I'd probably need a crane. We're not even talking about the financial implications here, although I always hope these units have insurance.
Next, the discomfort. I like adventure bikes because they're upright and I can practice good posture. Cruisers, with their low seats and feet-forward position, are hell on the back, especially when you're not a strapping young buck anymore. And there is the ever-present engine heat. V-twin engines and big displacement are a recipe for cooked jewels—great for birth control, but not enjoyable while you're miserable in EDSA traffic.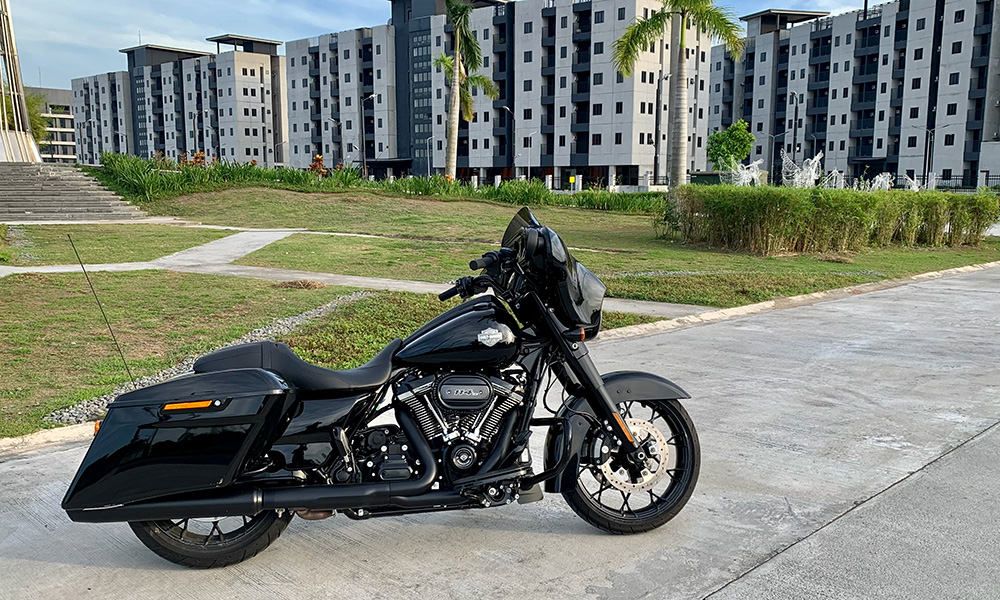 But I like to think I'm a pro about these things, so I showed up at the appointed time at their EDSA showroom, and vehicle sales manager Luiji Lardizabal gave me a brief rundown on the bike.
Not that there's much difference from the average bike, but the key differences were the touchscreen panel (with a radio and Bluetooth speakers!), the panniers, and the keyless system. No need to insert a key. Just twist the knob, press the engine start, and the big motor comes to life.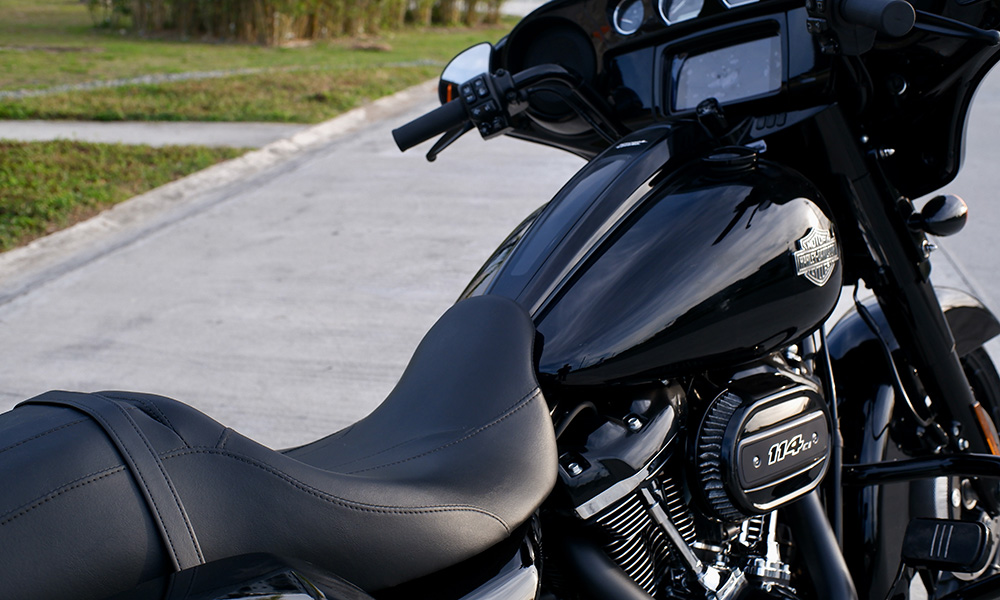 I spent the first day getting acquainted with the bike. The low seat allows you to place both feet flat on the ground, while the forward-foot controls are a bit of a stretch if you're not especially long-legged.
The shifter takes some effort to clunk into gear, and you'll want to be wearing boots for a more positive connection to the bike. The rear brake is useful for modulating your speed in traffic, although both front and rear discs are linked.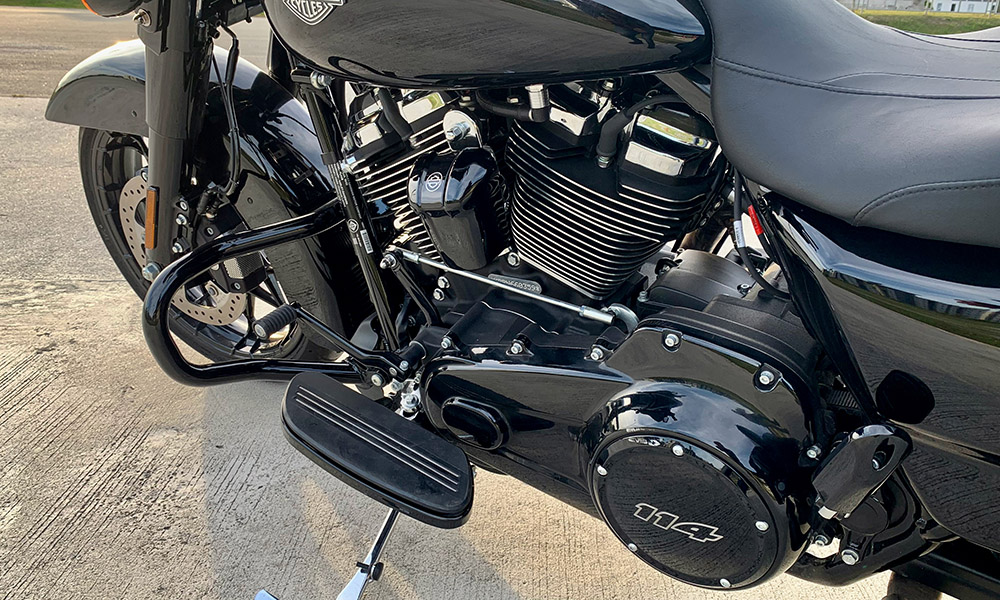 I was expecting to have a horrible time on EDSA, but good timing allowed me to avoid Carmageddon so I was moving most of the time. Filtering was out of the question, but changing lanes wasn't as bad as I thought it would be since most cars gave me enough room to safely change lanes when needed. There's something to be said for being a source of amusement on the road—like they're waiting for me to make a fool of myself.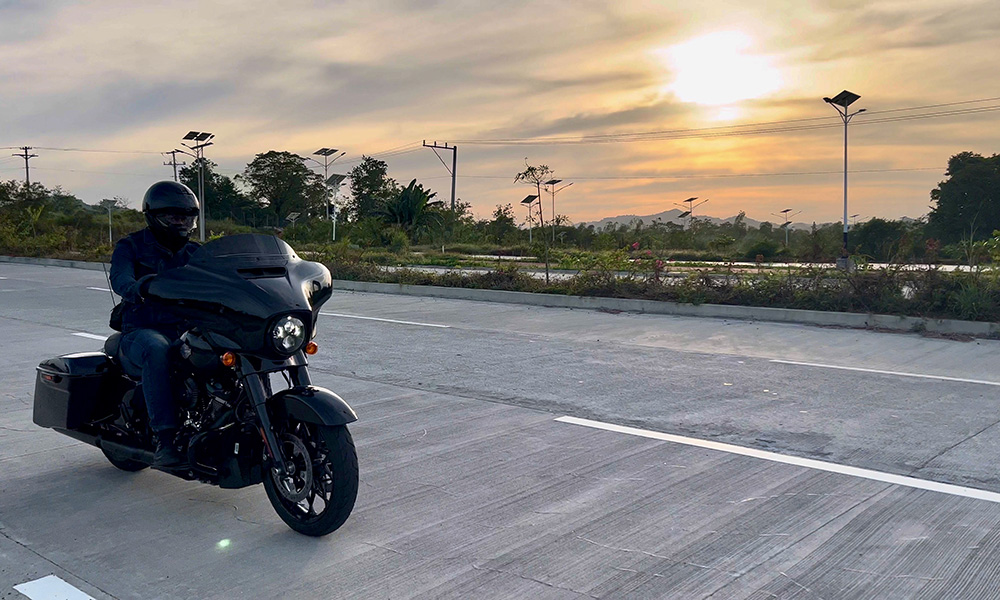 The next day would be a longish ride. Around a 300km round trip to New Clark City, and I made sure to be out of the house before 6am in order to avoid rush-hour traffic. By the time I hit Skyway Stage 3, I was gradually falling in love with the Harley.
Loping along in sixth gear, looking out at the skyline with just enough of a cool breeze hitting my face while the batwing fairing blocked most of it, the Street Glide was in its element. I never did bother to pair my phone to the Bluetooth system, but I enjoyed the stereo a lot. When you've got several hours on the road and nothing much but straight ahead, having some music helps to pass the time.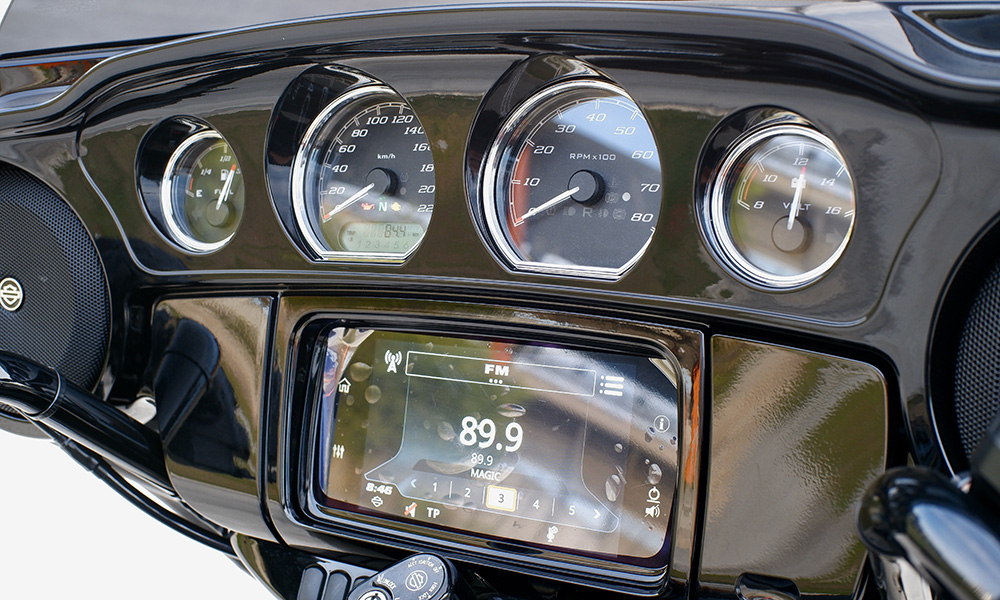 Predictably, the big "Milwaukee Eight 114" V-twin is a beast once the road clears up. The "114" represents the piston stroke of 114mm. By comparison, an entry-level Honda Rebel 500 has a relatively puny stroke of 66.8mm. With a stroke longer than its bore of 102mm, the V-twin makes a truckload of very useful torque.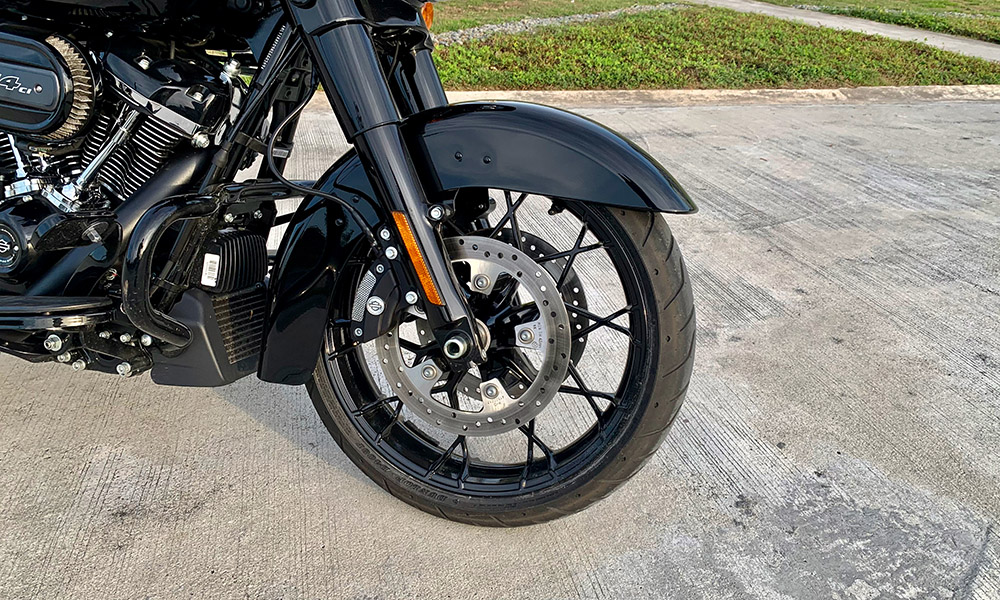 Even just cracking the throttle a little bit is enough to get you moving briskly. Wide open and it's like you're being sucked into a black hole. The redline is just 5,250rpm, where it's peaking at 94hp, but the peak torque of 158Nm is where all the fun is. It doesn't matter what gear you're in, the Street Glide just pulls and pulls. You could probably even tow a car if you had to.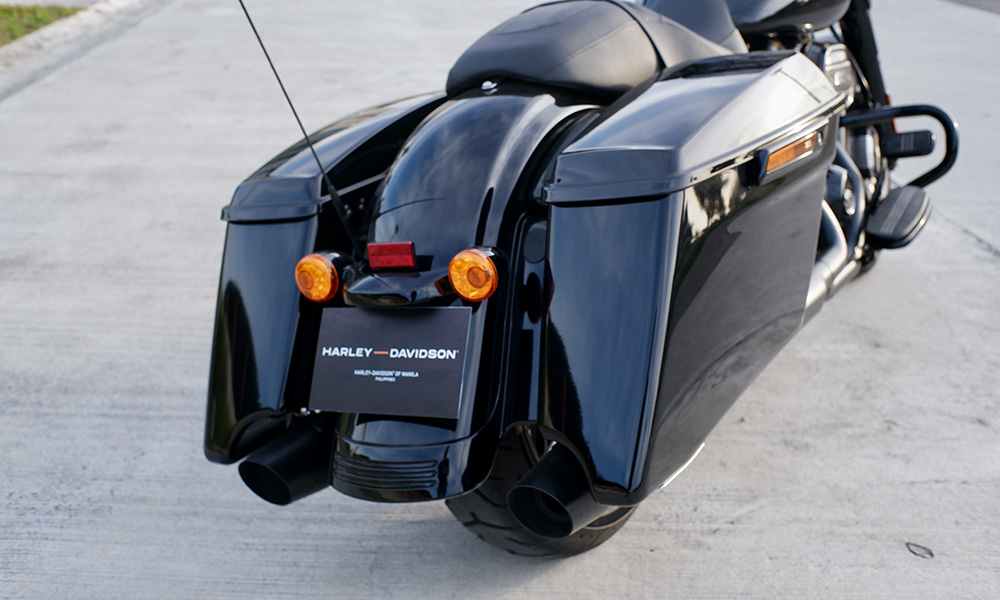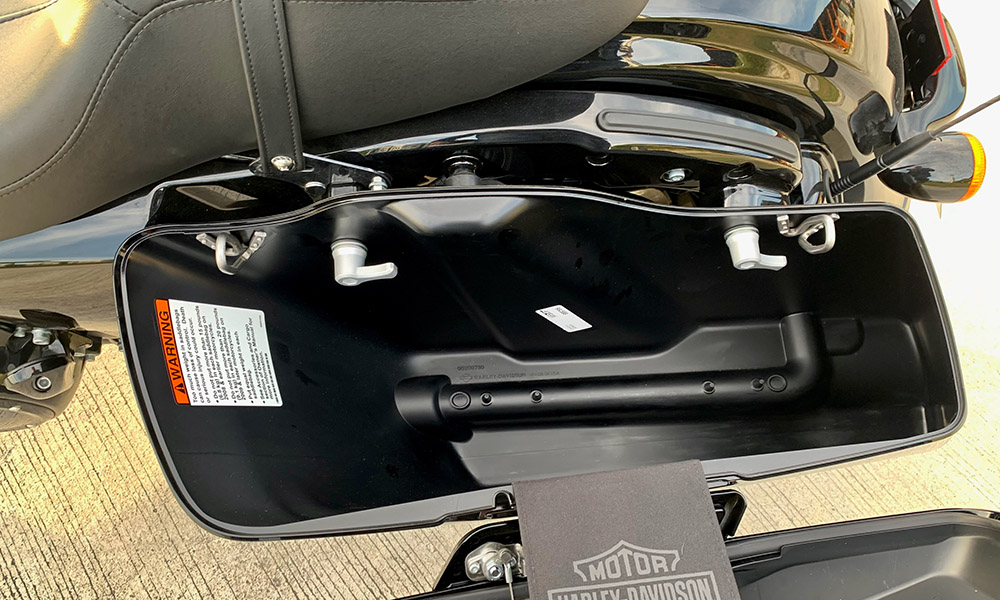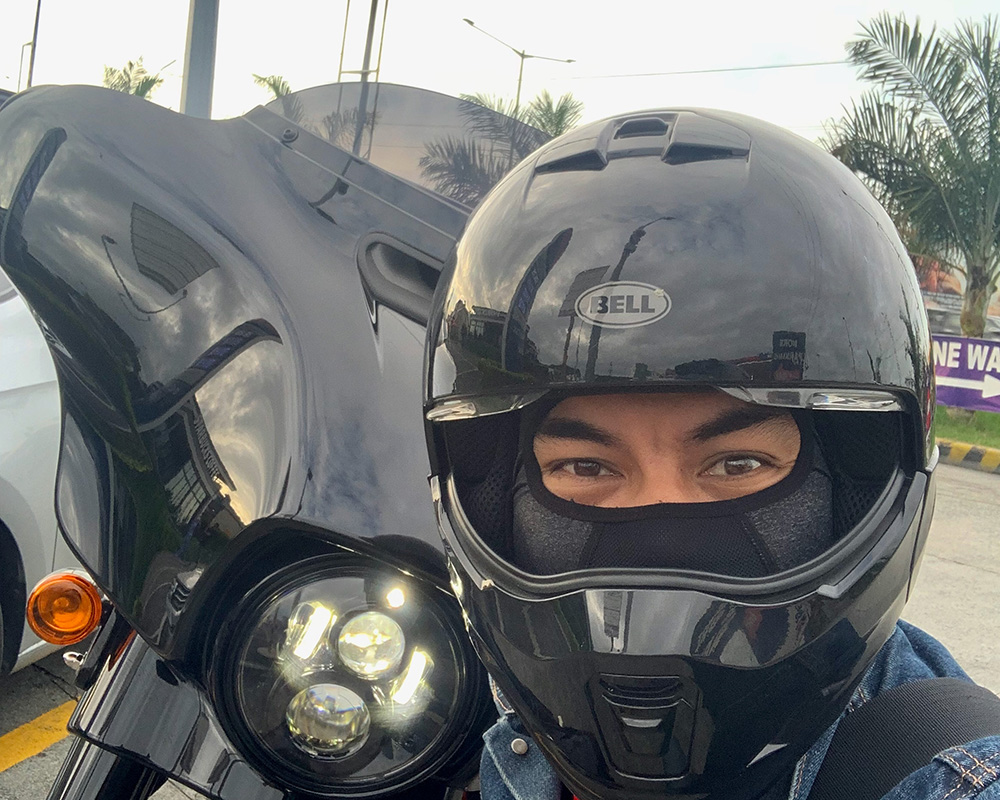 While the low seating position is standard cruiser fare, it only takes a while to get used to it and be comfortable leaning into turns. The ride is borderline stiff, helped somewhat by the ample cushioning of the saddle.
It's no sport bike, but an experienced and confident rider can have it turn on a dime by deft application of the rear brake and the throttle control.
The bike sounds authoritatively burly, but not obnoxious with the stock pipes. At wide-open throttle, the engine roar is both addictive and scary. Addictive because the syncopated beat of a V-twin is one of life's big pleasures; scary because you'll be past 160km/h if you're not paying attention to the speedometer.
While the brakes are big enough to scrub off speed quickly, nearly 400kg of bike and rider is still a lot of mass to come to a stop (or change direction). Plus, the limit of the fairing is around 110km/h, where the windblast will buffet our helmet relentlessly.
Taking all of that into consideration, now you understand why many Harley riders are content to just cruise on the expressway and go with the flow.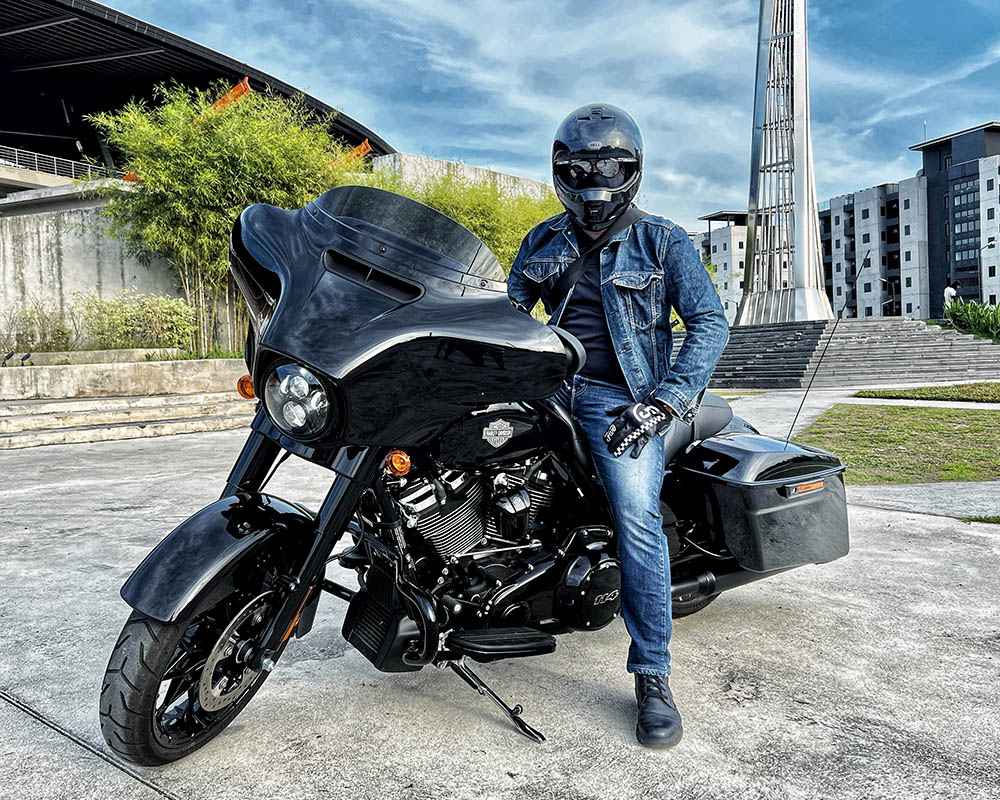 By the time I was on my way back to Manila, I was truly smitten. It's one of the meanest-looking bikes on the market, yet it's remarkably easy to handle. The 22.7L tank, combined with thrifty mode riding of around 15-16km/L, affords decent range between fill-ups. It has a battery of riding aids to keep you rubber side down. The hard saddle bags are a boon for anyone who has ever had to bring stuff along for a ride.
There is no way I would want to use this as a city bike, but when the day's riding calls for lots of open road at a leisurely pace—and with some hurry-up moments just for fun—the Street Glide nails it. The price of P1.93 million is a lot of money for this Harley (and a little more for colored or two-tone options), but the big bucks also get you a bike that fully captures the essence of a full-fat cruiser.