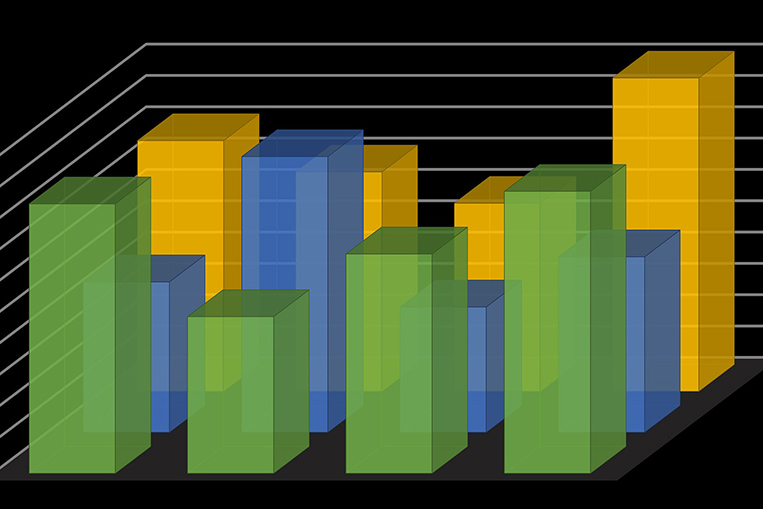 It's that time of the year again when we look back at how the locally available automotive brands performed in our market in the past 12 months. Overall, the Philippine car industry held steady in 2019 and actually even registered a humble 2% growth in terms of sales compared to 2018. Leading the pack, as usual, was Toyota with 161,385 sold units, again good enough for about 40% of the market. And still in comfortable second place was Mitsubishi with 64,065 units.
Perhaps the most noteworthy story was the ascent of Nissan to third place with 42,694 units, easily beating Hyundai's 32,856 vehicles. Likewise, Suzuki impressed in its climb from seventh to fifth place with 23,919 units. The next three brands—Ford, Honda and Isuzu—all experienced a significant decline last year.
Kia, now with a new distributor in Ayala Corporation, bounced back with 5,019 units, a whopping 124% improvement from the previous year.
Equally worth noting is the entry of several Chinese automakers, a trend that we expect to continue in the coming years.
Enough with the boring introduction. Here are the sales numbers from 2019, as provided by the Chamber of Automotive Manufacturers of the Philippines (CAMPI) and the Association of Vehicle Importers and Distributors (AVID). See how your favorite car companies fared. And may these figures help guide you in your next vehicle purchase.
2019 car sales and market shares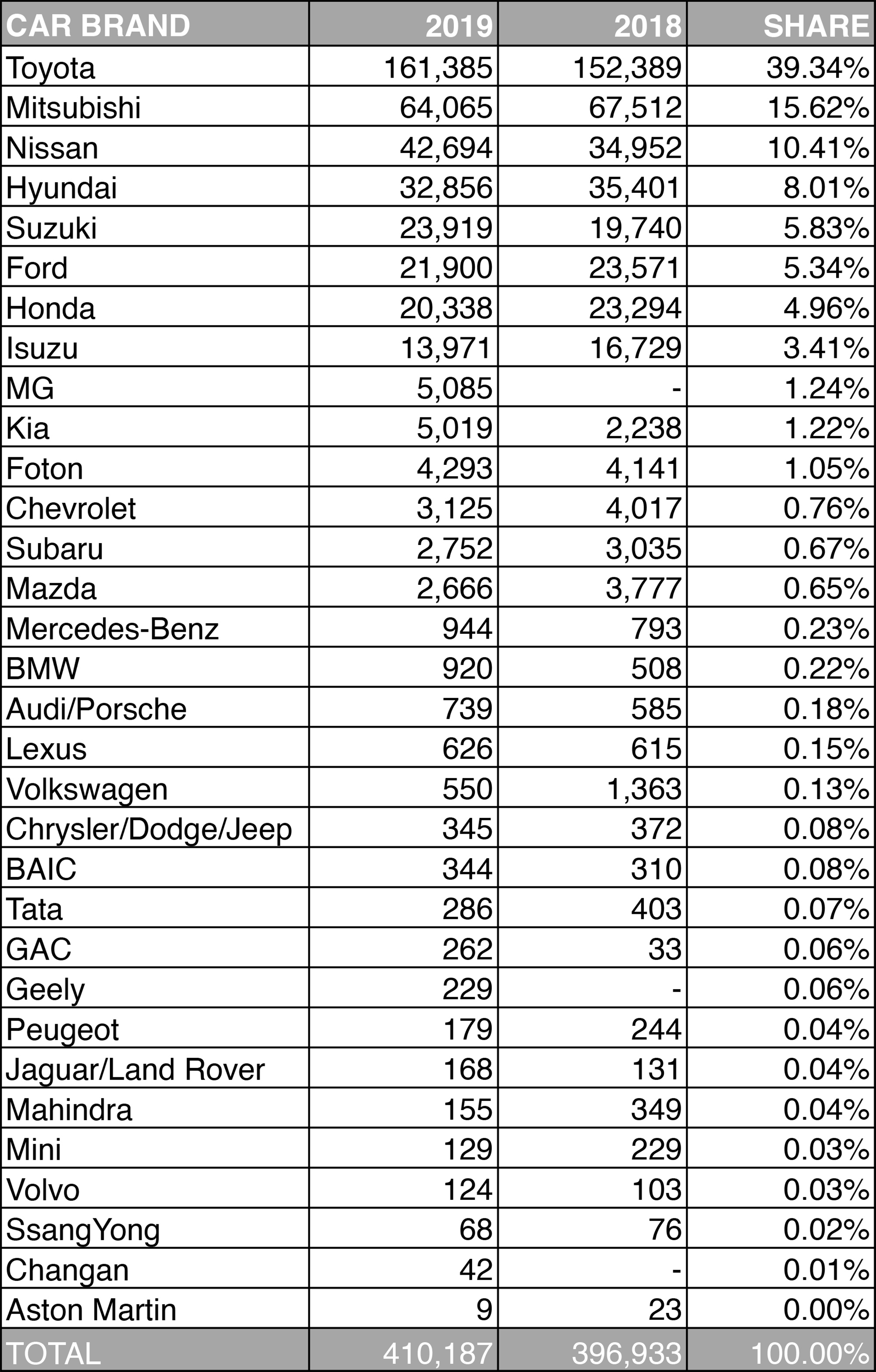 2019 car sales and variances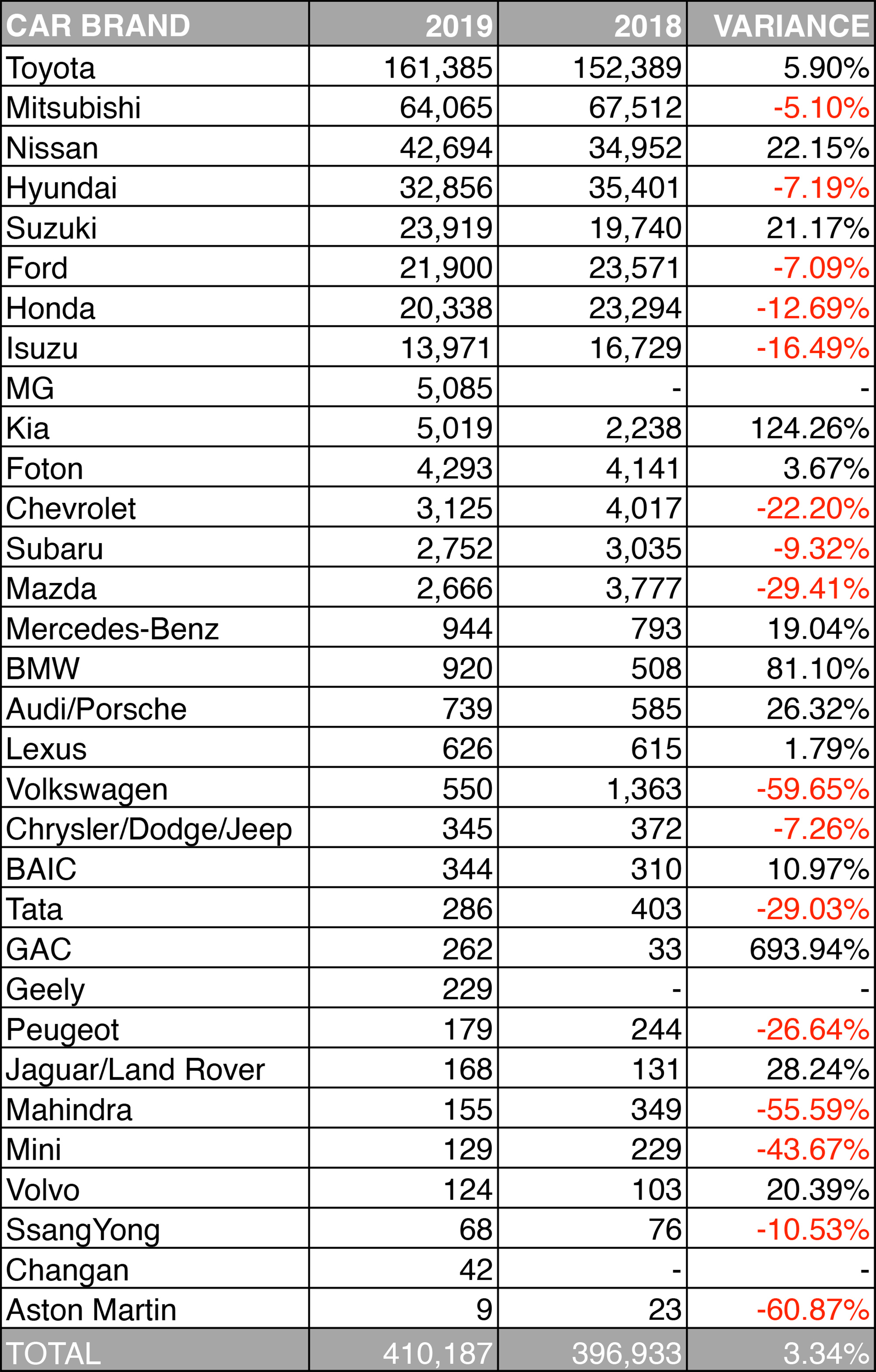 UPDATE: After publishing this article, we received a message from Mahindra saying there were 30 units sold in December not included in the report. And so the correct figure for its 2019 sales is 155 units. Likewise, Mini informed us that its actual sales tally last year was 129 units. This just proves how difficult it is to gather accurate sales data around the Philippine car industry. The companies themselves often get their digits wrong.

UPDATE 2: Turns out the 3,125-unit tally initially reported by The Covenant Car Company Inc. was just for Chevrolet and did not include MG. Thankfully, the distributor has been given the green light by its principals from China to release the 2019 sales figure for MG. All corrections mentioned in these updates are now reflected in the above tables. We apologize for the miscommunication.