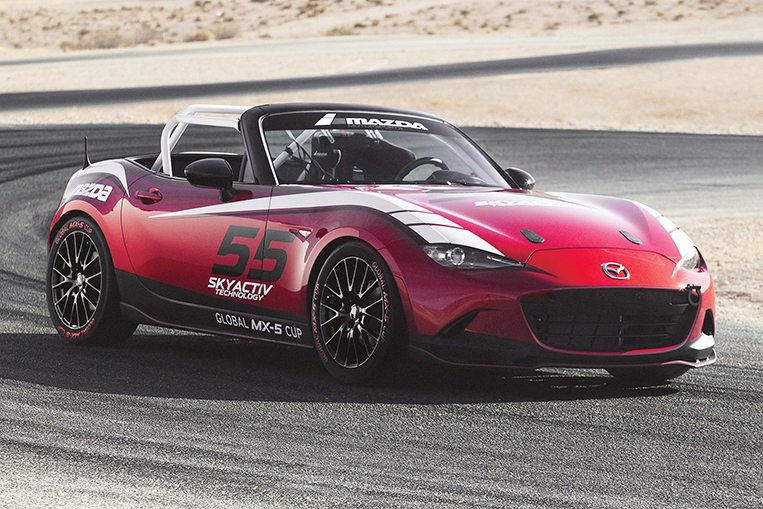 Who doesn't know and desire the Mazda MX-5 (or Miata to all the titos out there)? The popular sports car—now four generations old—is a fairly affordable way to experience what it's like to be in a Fast & Furious movie without having to spend blockbuster money.
In stock form, the MX-5 is already a dream to drive. Not the most comfortable nor the most convenient automobile on the market, sure, but always in contention for the "Most Fun Car" award. If I were to own one, I'd be perfectly happy to keep it in the same configuration I bought it in. I've driven both the regular version and the RF, and found that no extra ingredients are necessary for me to fully enjoy the car.
But not all car owners are like me. There are those who like going to the racetrack on weekends just to properly put their roadster through its paces—and also to test the limits of their driving skills. They even go through the trouble (and high costs) of modifying their steed because they find regular cars to be a little inadequate for their full-throttle pursuits.
So they add horsepower, get a better wheel-and-tire combo, install more powerful brakes, tweak the suspension setup, and even put bucket seats. More hardcore enthusiasts do a lot more, wishing to own the best track weapon among their peers.
If you're that kind of a car owner, you can go this route or just get a track-ready roadster built specifically for circuit use. I'm talking about Mazda's Global MX-5 Cup Car.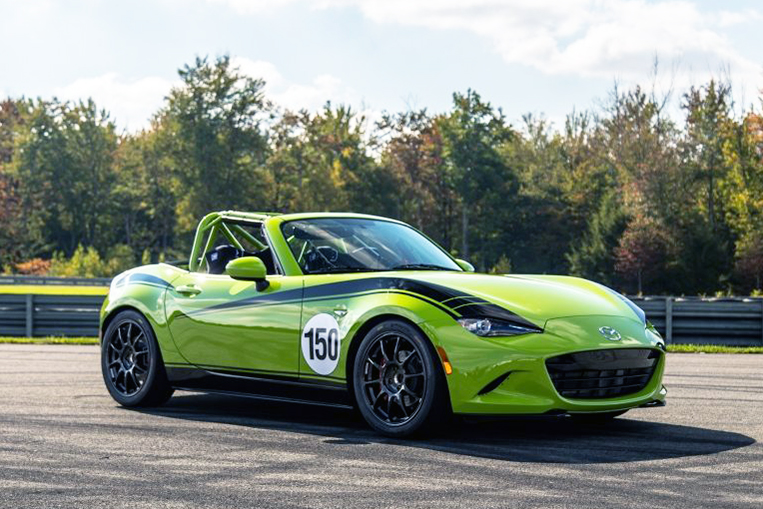 Last year, a new racing series called Global MX-5 Cup was started in the US. It's basically a one-make series featuring production MX-5 cars that have been recipients of some 250 modifications. These modifications include a tuned engine management computer system, a Mazda Motorsports-specific six-speed manual gearbox, special motor mounts, tow hooks, a digital instrument panel, racing wheels with slick tires, racing exhaust, and a NASCAR-style safety roll cage. The 2.0-liter Skyactiv-G four-cylinder engine is kept in stock form.
The modifications are done by Long Road Racing, a racing shop based in North Carolina in the US. The paint job is a uniform white, as this supposedly "weighs several pounds less" than the famous Soul Red Metallic.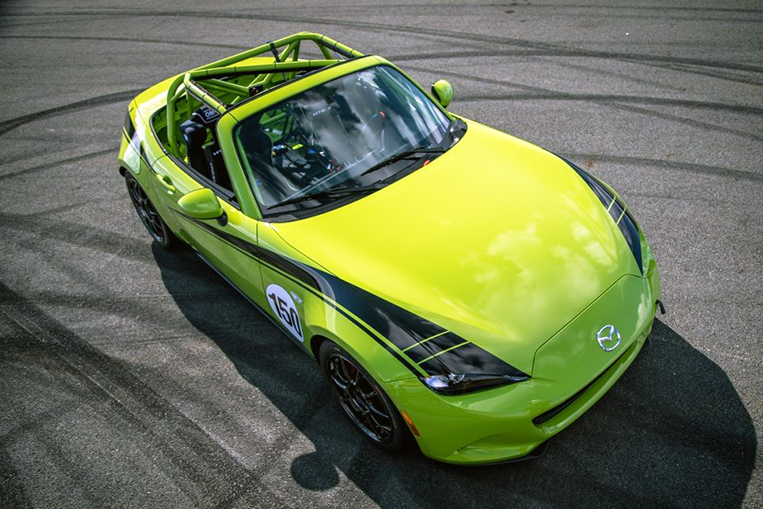 In the US—where the series is held over six two-race weekends—the Global MX-5 Cup Car sells for $59,000 (P2,971,000). In Japan—where a parallel series is staged over five legs—the car is priced at ¥7,300,000 (P3,307,000).
This race car isn't street-legal. It is strictly for track use. In all, they've sold around 160 units of it. The car is available to any person with the wherewithal to acquire one, not just to participants of the race series.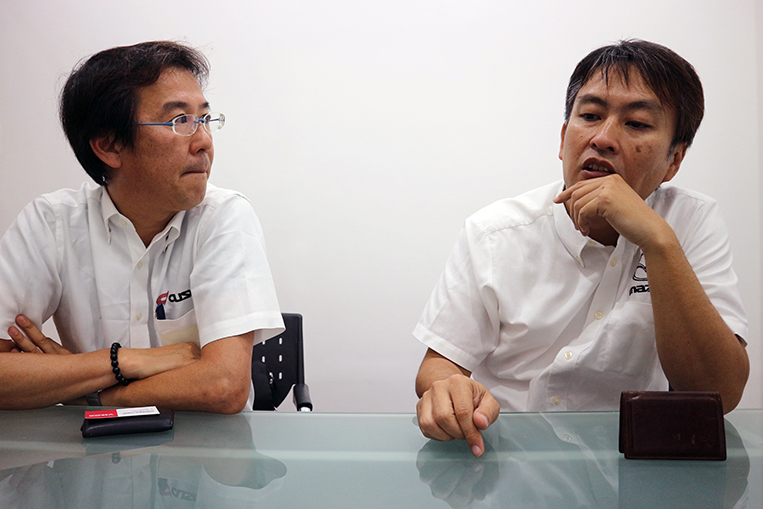 Recently, Takahiro Kobayakawa from Mazda's brand strategy department, and Kazumasa Takata from aftermarket specialist Cusco paid Mazda Philippines a visit in an effort to sell the idea of an Asian version of the Global MX-5 Cup, with the Philippines being part of a regional series. Cusco is the authorized importer and reseller in Japan of the Global MX-5 Cup Car (it is modified in the US, remember?).
Interest in the car and the series isn't the issue—there's actually an enthusiastic Miata Club in the country. It's funding that is going to be the real challenge if even a single promotional Global MX-5 Cup race is planned. The Vios Cup has shown us that a professionally organized motorsport event isn't cheap. According to Kobayakawa and Takata, a local series is possible if there's a financial investor to put it all together. Right now, we have two racetracks—Clark International Speedway and Batangas Racing Circuit—that can serve this purpose, so it can be done.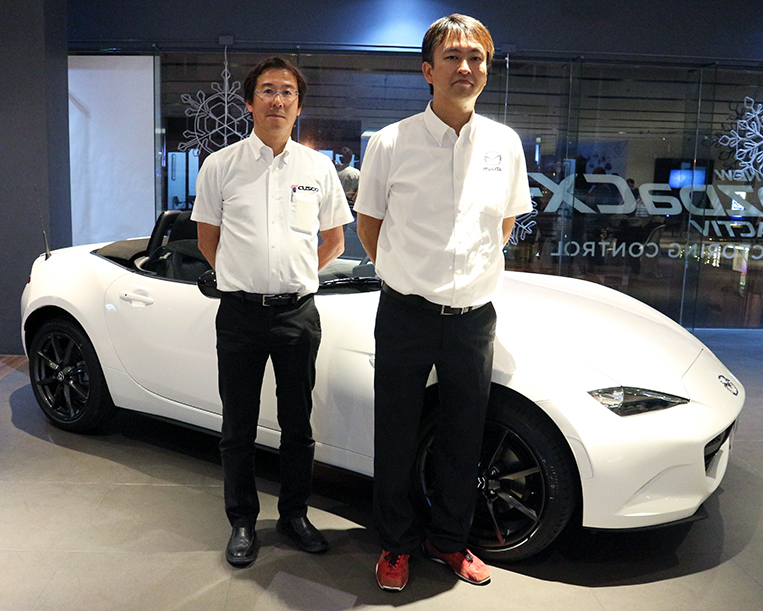 Asked if Filipino buyers can purchase the left-hand-drive Global MX-5 Cup Car if they want to, Mazda Philippines officials said there is currently no facility to accommodate such a request. But knowing how company president Steven Tan is able to make things happen just to please customers and promote the Mazda brand, I have a feeling this is doable. Just note that the prices quoted above will substantially increase after taxes when the unit reaches Philippine territory.
The ND-series Mazda MX-5 is already an exhilarating car straight out of the showroom. But know that it has a super alter ego. If you're looking for a weekend toy car you can only use around the track, a brand-new Global MX-5 Cup roadster just might be the way to go.