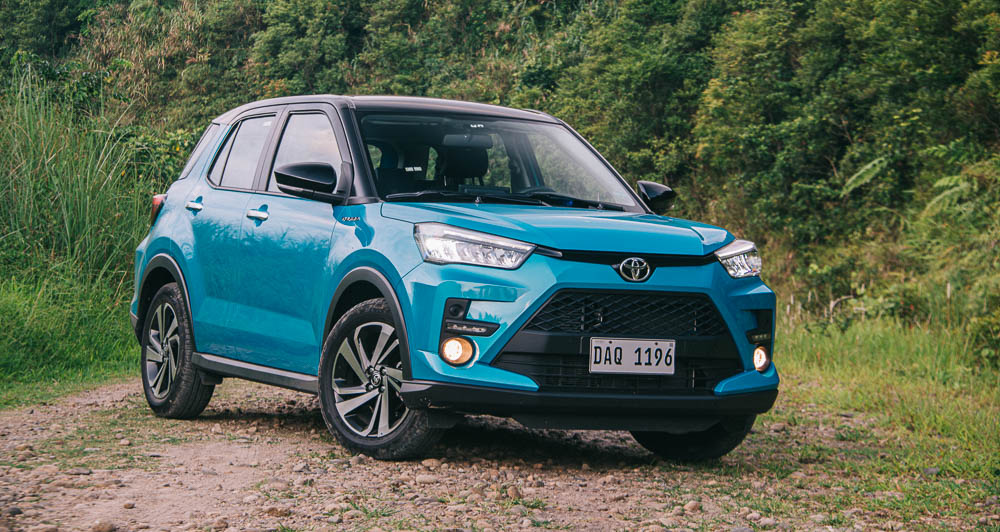 If there's one thing that Toyota is great at, it's selling cars that become ubiquitous. Just look at the Vios; that's the country's best-selling sedan. But as sedans falter in favor of crossovers, there has to be something to fill in the affordable subcompact crossover niche.
Enter the Raize. It's essentially a badge-engineered Daihatsu Rocky (and Subaru Rex).
If the thought of it not being a full-fledged Toyota product turns you off, have you even realized that a good majority of Toyota Motor Philippines' lineup is like that (in both the affordable and high-end segments)? That alone hasn't stopped Filipinos from buying and enjoying these vehicles.
In fact, living with the top-spec 1.0 Turbo for a week has shown me just how damn good this car is, even if its shared Daihatsu genes tend to show up here and there. And no, it is not affected by the rigged crash-test results.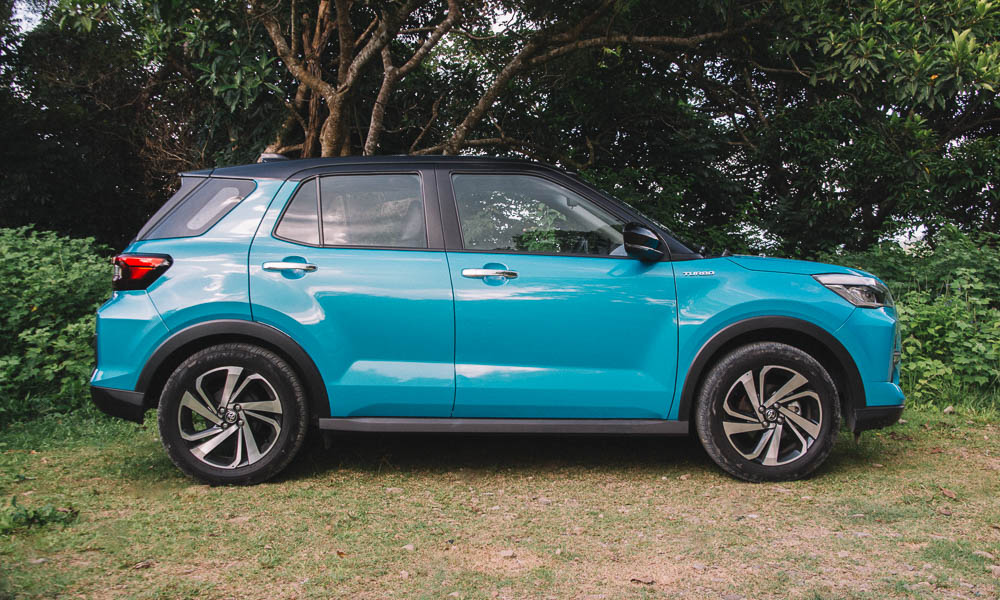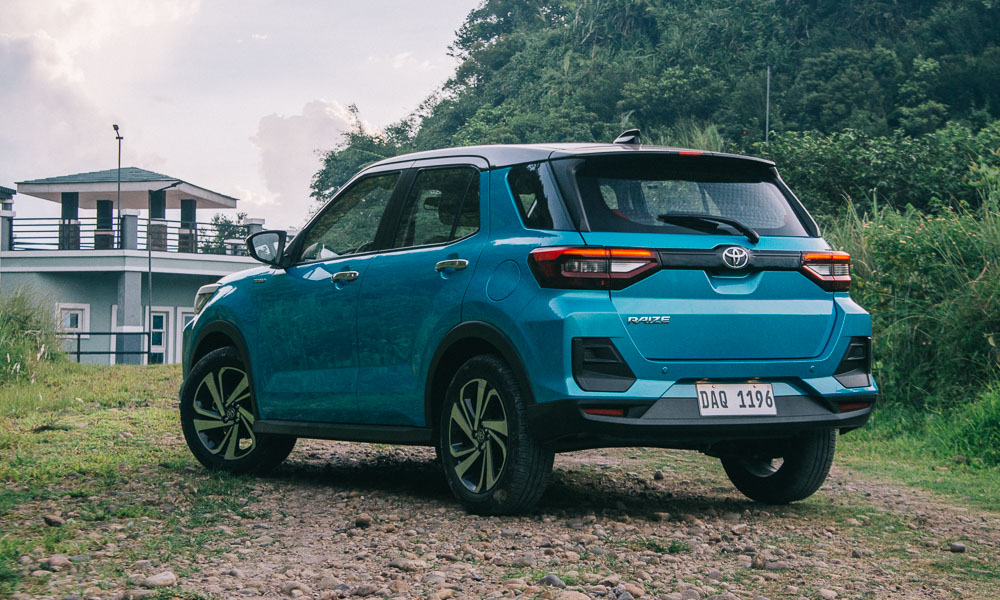 People are divided as to whether to call this a "baby Fortuner," but it's a great design overall, especially for a small crossover that allows you to navigate through tight city streets without anxiety. Seriously, more people should be driving these instead of massive pickup-based SUVs.
The lines look purposeful and well-proportioned, and this two-tone blue-and-black finish is the perfect combination of playfulness and style. But I could do without the chrome door handles and the fake bumper vents.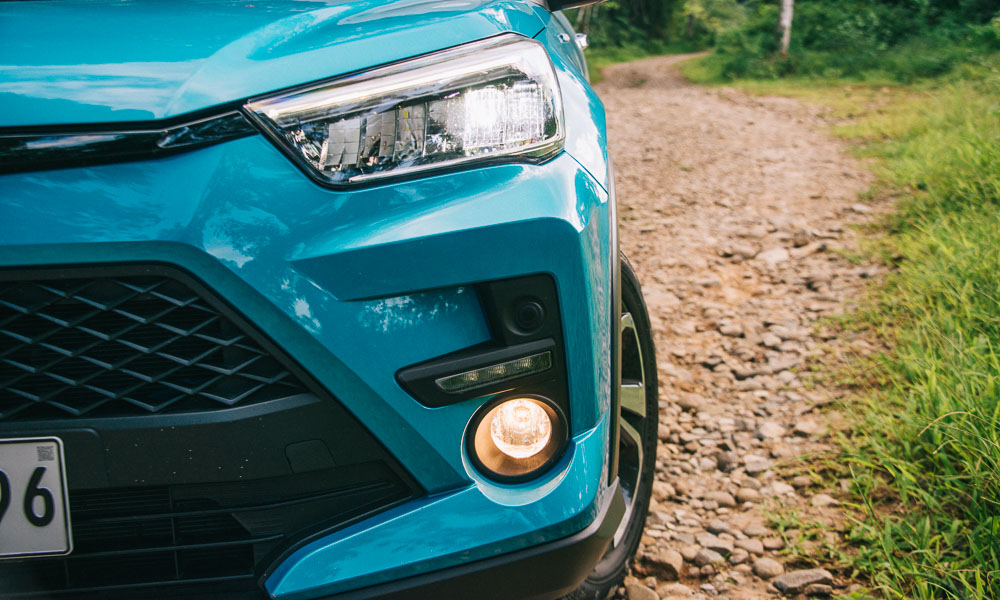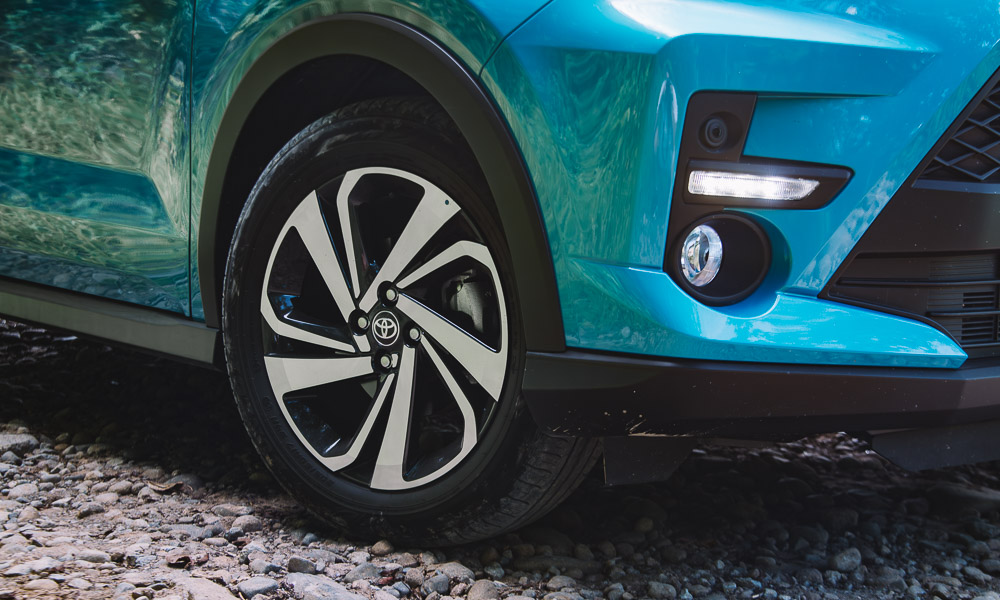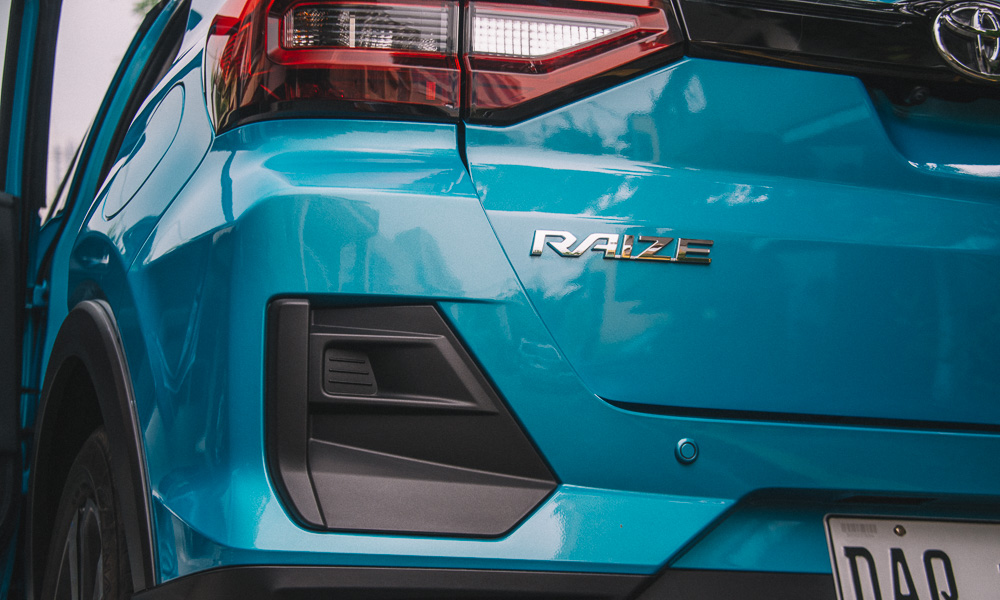 Other trendy aspects include LED reflector headlamps with sequential turn signals, separate DRLs, and halogen fog lamps. The car has a smart entry system and the gloss-black mirrors auto-fold.
In fact, I have seen many owners swap out the good-looking 17-inch wheels for aftermarket rims, improving the car's looks even further.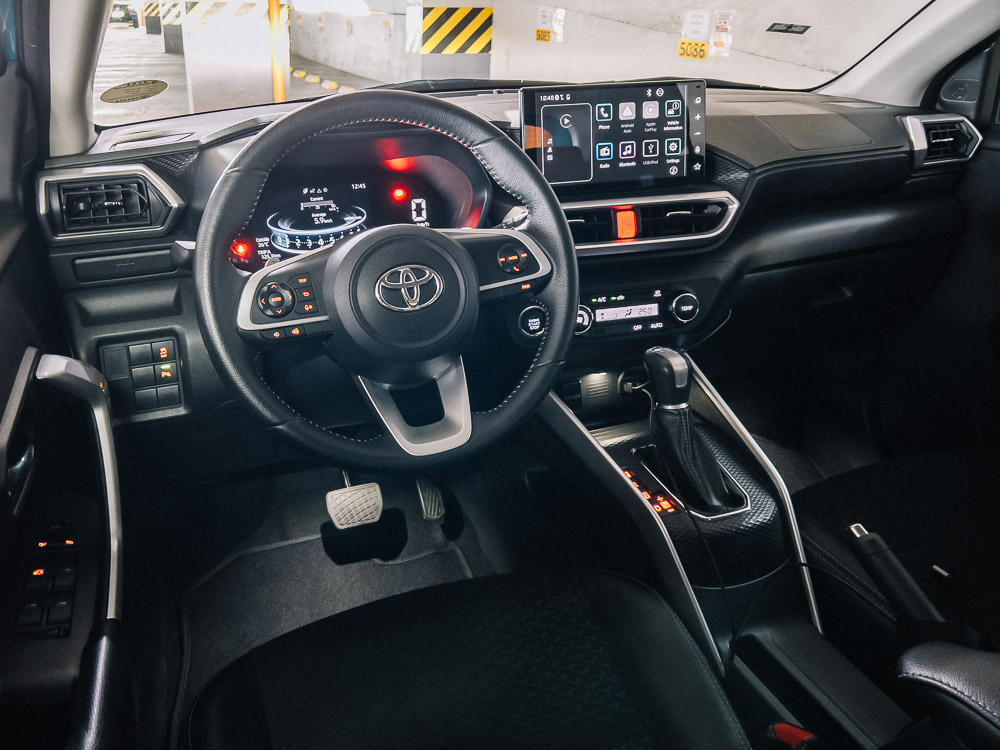 The cabin, for the lack of a better description, feels both chintzy and expensive. How so?
The dashboard wows at first glance—unconventional patterns and shapes, the absence of piano-black plastic, the subtle white ambient lighting, and a large nine-inch infotainment with smartphone integration and comprehensive audio settings.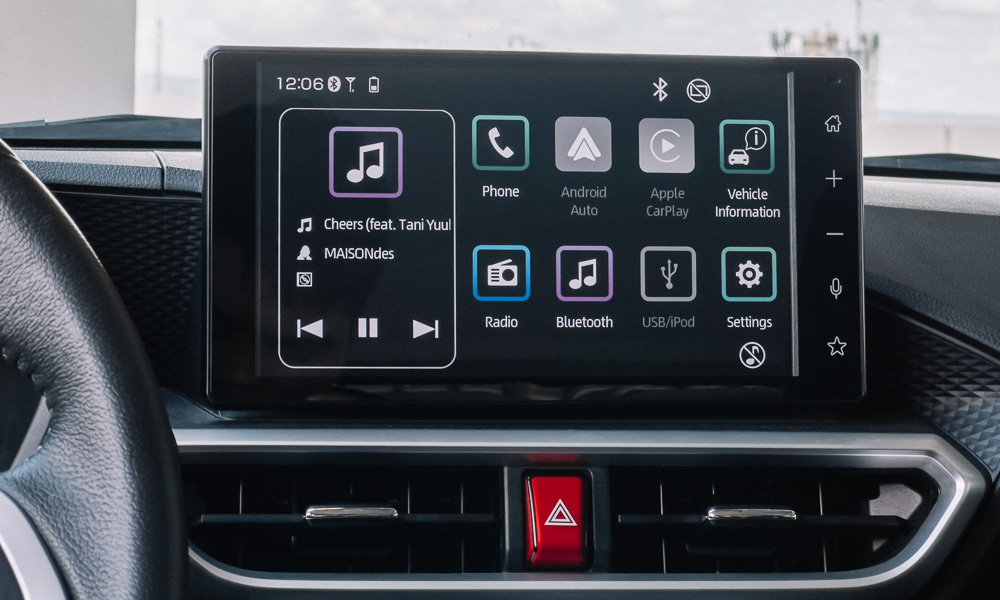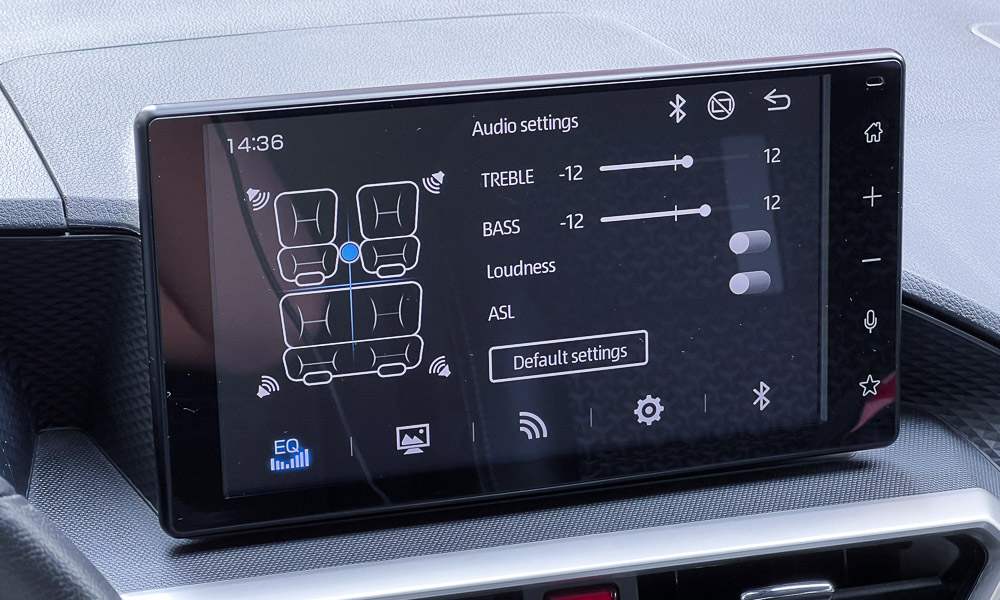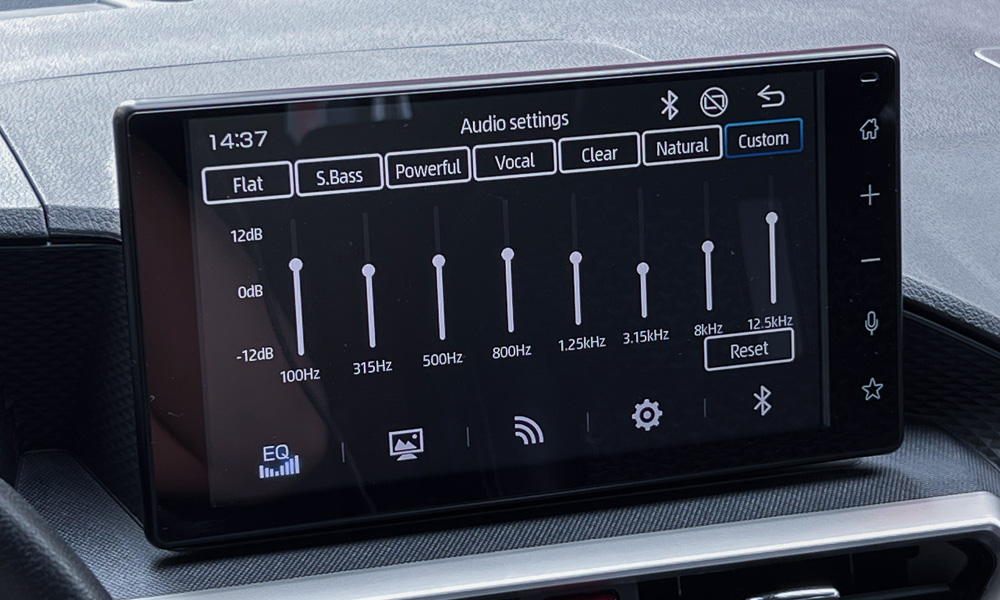 Oddly enough, it's a right-hand-drive unit, as evidenced by the buttons and the RHD-oriented Apple CarPlay layout. A minor inconvenience, but it would be nice to see proper LHD-oriented infotainments for our market.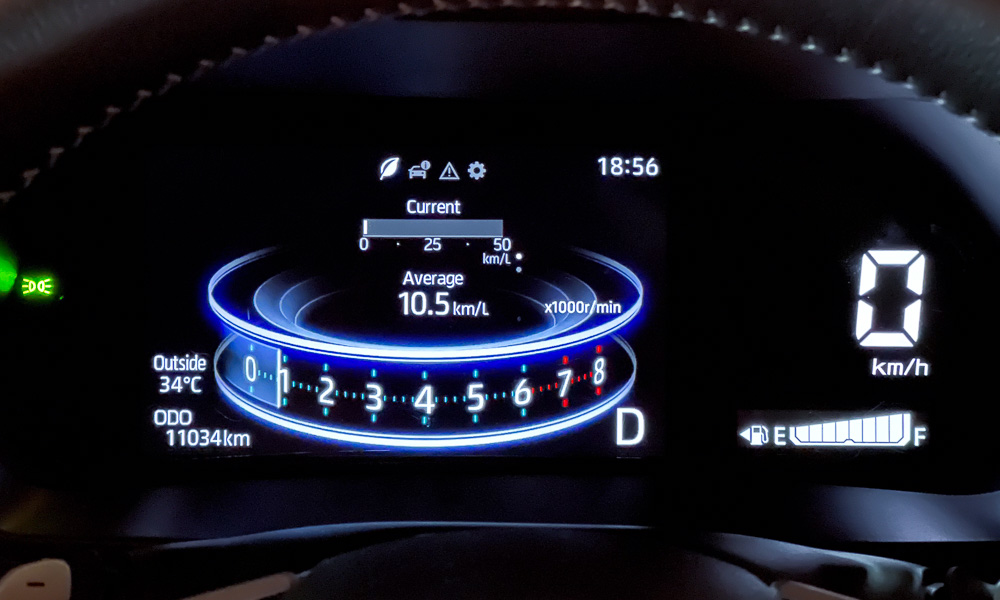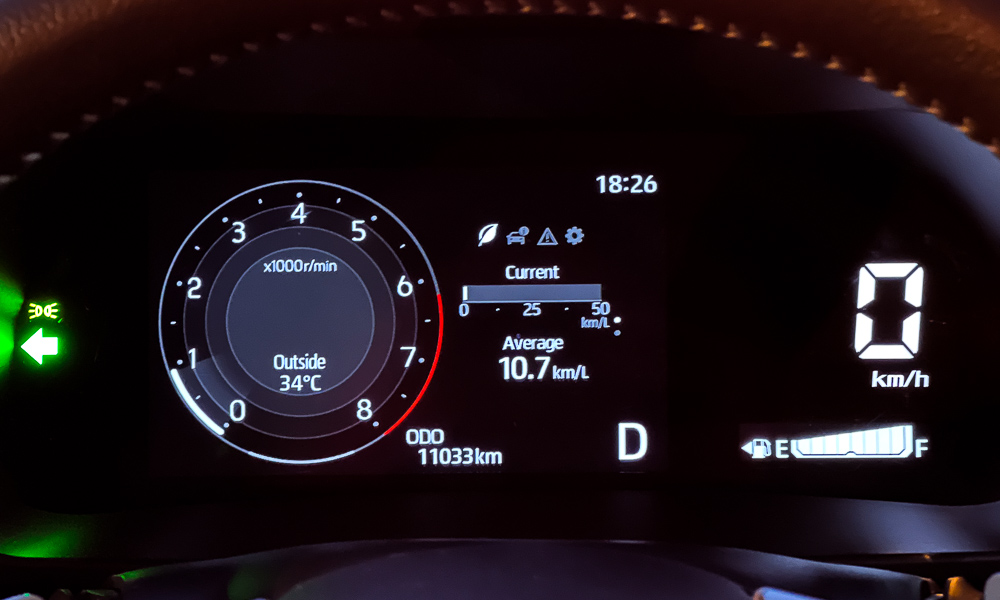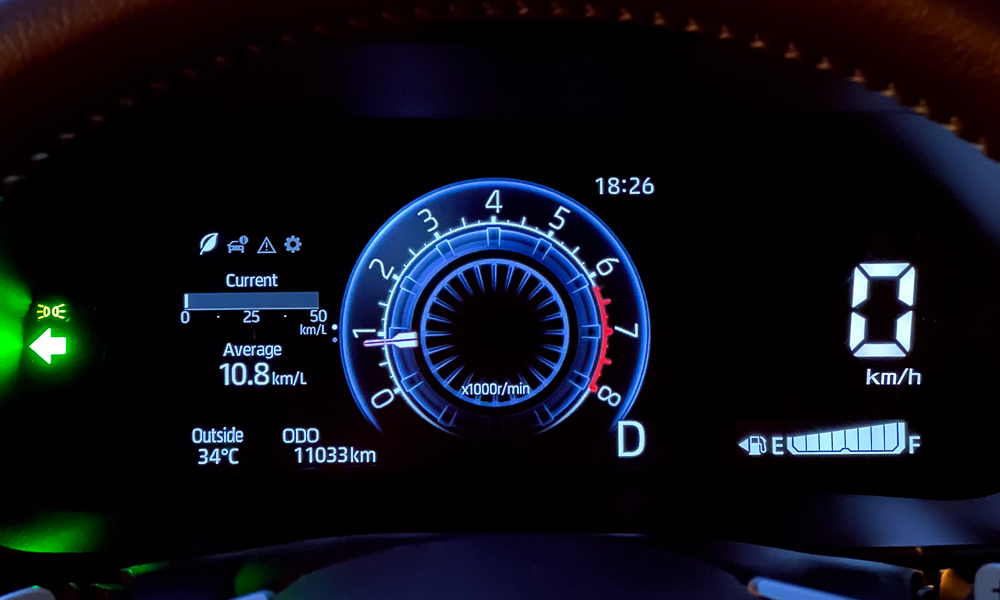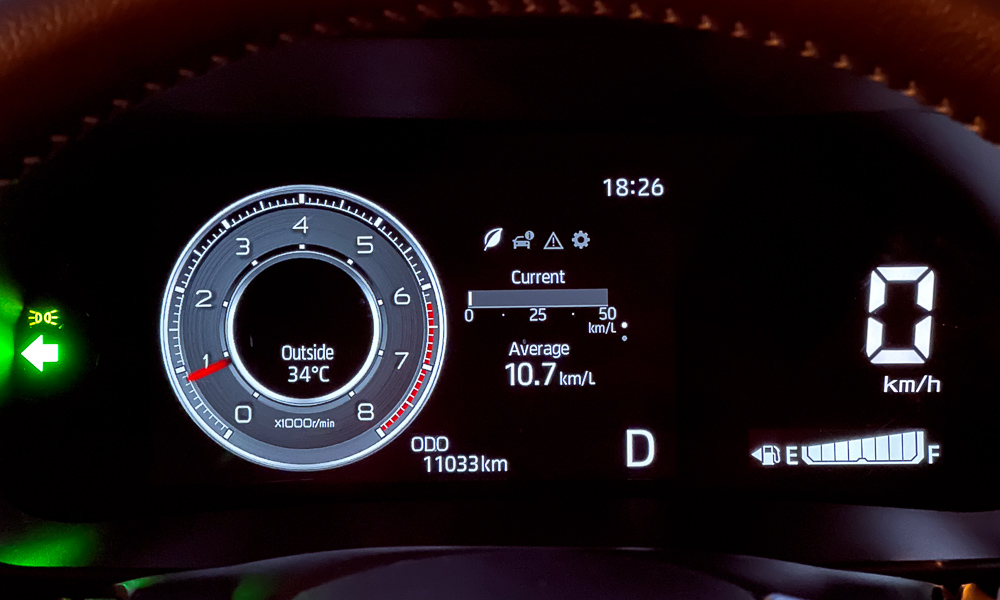 There are also a very customizable seven-inch digital gauge cluster (with the indicator sounds!), two USB-A ports and a 12V socket, speed-sensing central locking, and a serviceable six-speaker sound system.
Sounds like Toyota hit a home run, right? Well…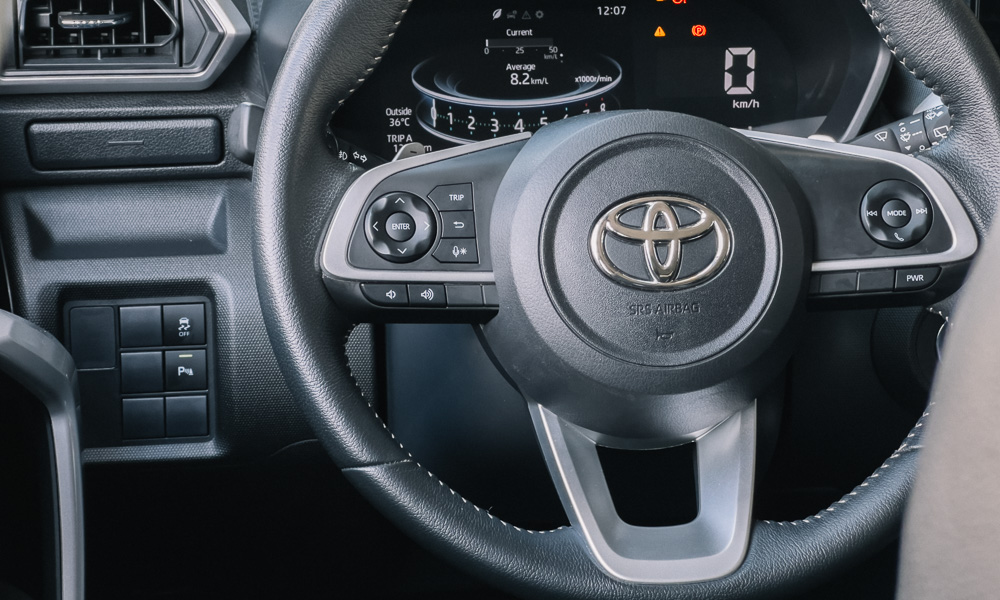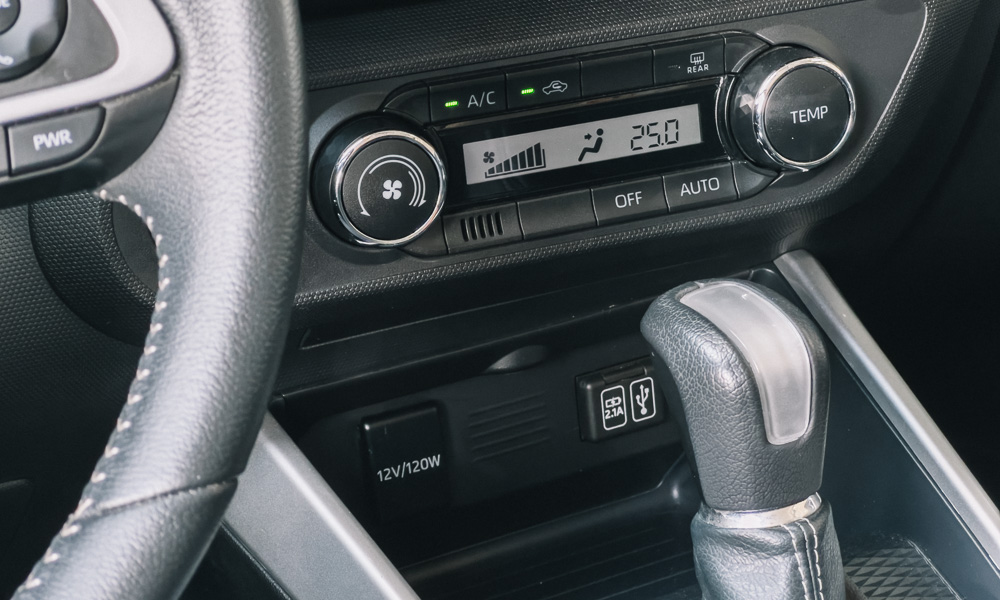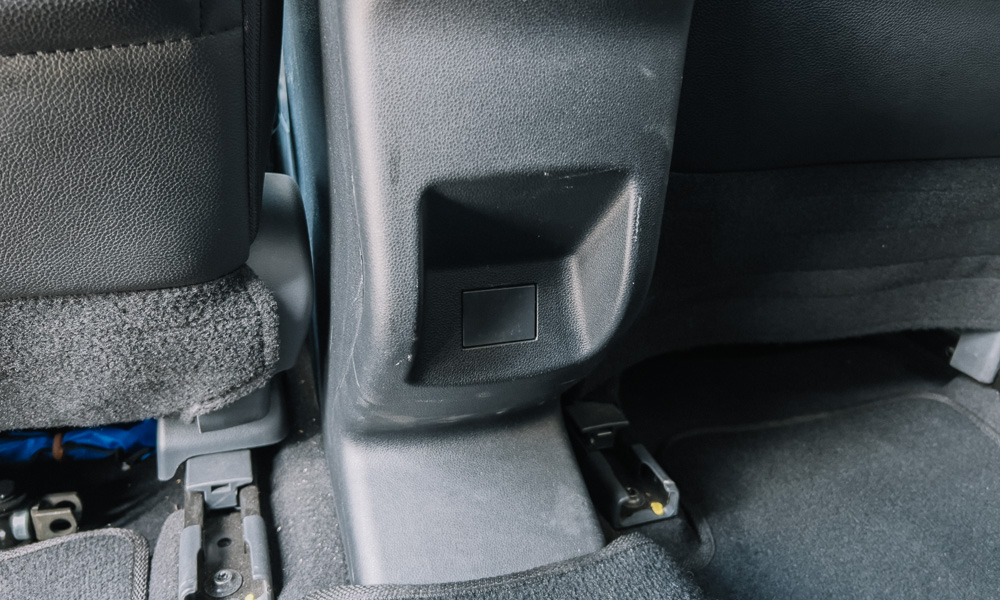 Take a closer look and see where cost-cutting creeps in. Most of these textured plastics are hard, scratchy, and hollow. There are a lot of blank switches, and the automatic climate control cannot change the direction of airflow (the control is missing even if the foot vents are present).
You may argue that I'm nitpicking over a cheap car, but we're talking about the top-of-the-line variant, which costs a shade above P1 million. If you want to see what a fully loaded Raize interior looks like, check out its Subaru sibling.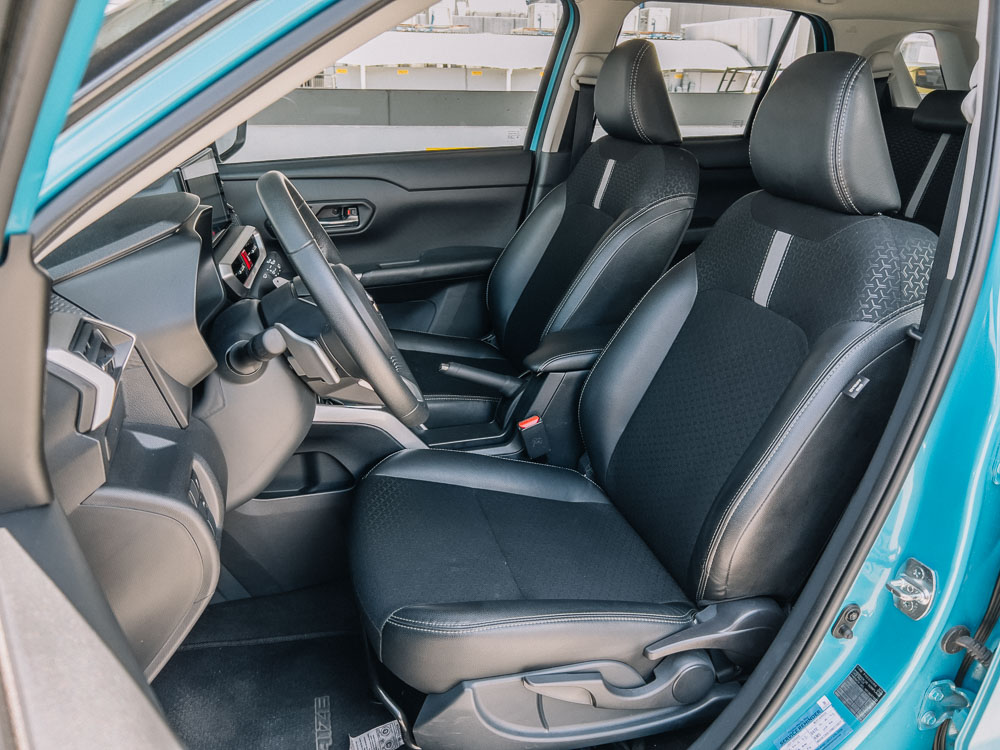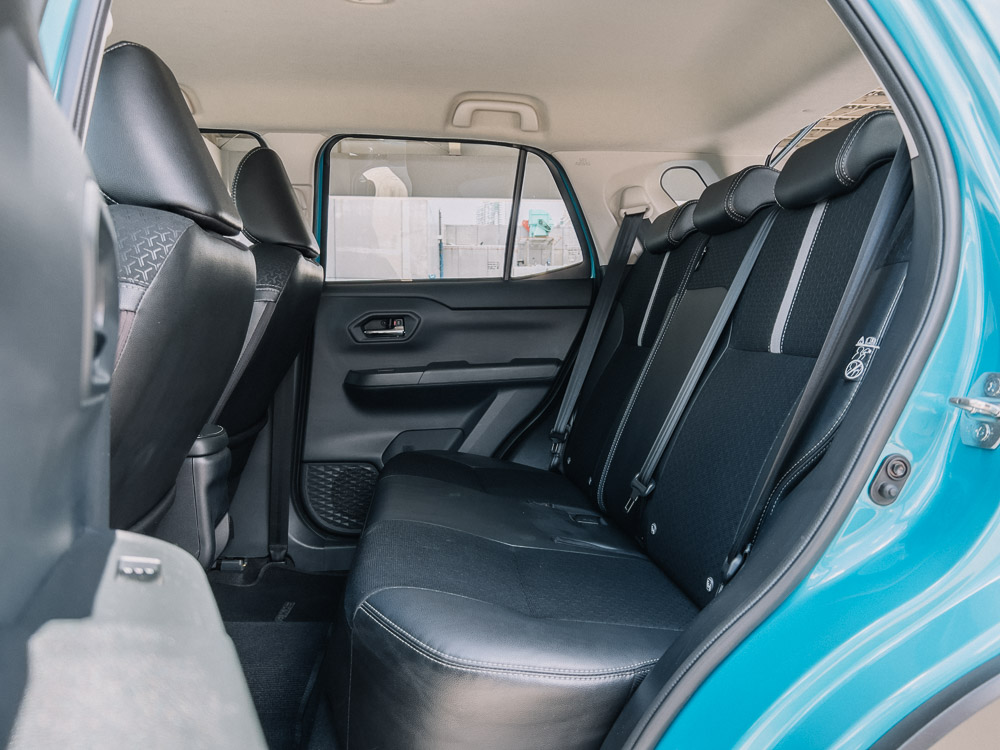 But that's where my complaints end, because the rest of the cabin is so well-thought-out. While the manual-adjustment seats aren't the softest, they're very comfortable for long drives.
While telescopic steering-wheel adjustment would be appreciated (it only tilts), it isn't hard to get into my ideal driving position. And the cabin has amazing visibility.
Rear-seat passengers have generous amounts of room, even for the middle seat. Yes, the car lacks air vents, charging points, and a center armrest, but at least the rear bench can recline (albeit in two fixed positions).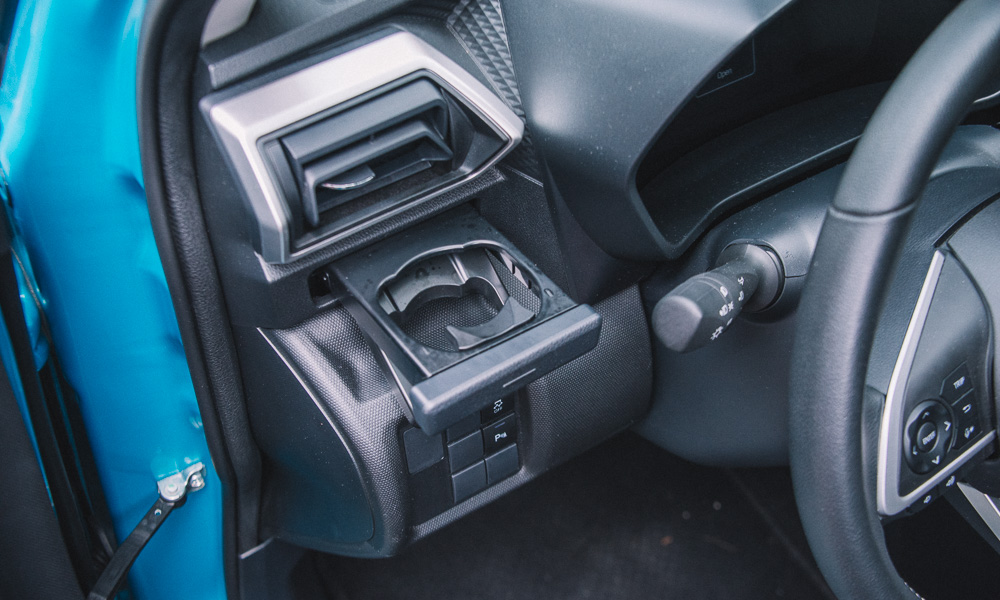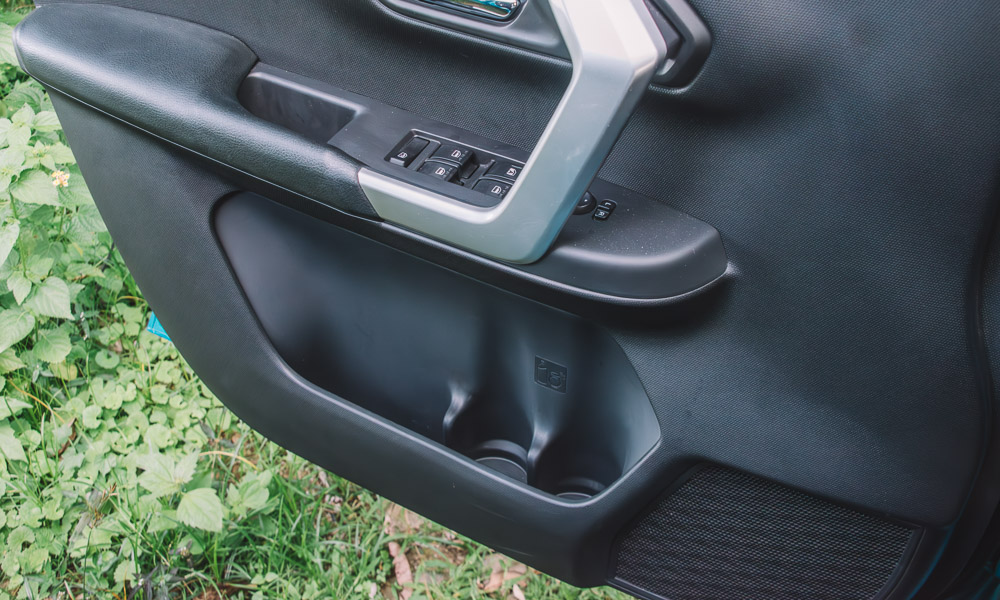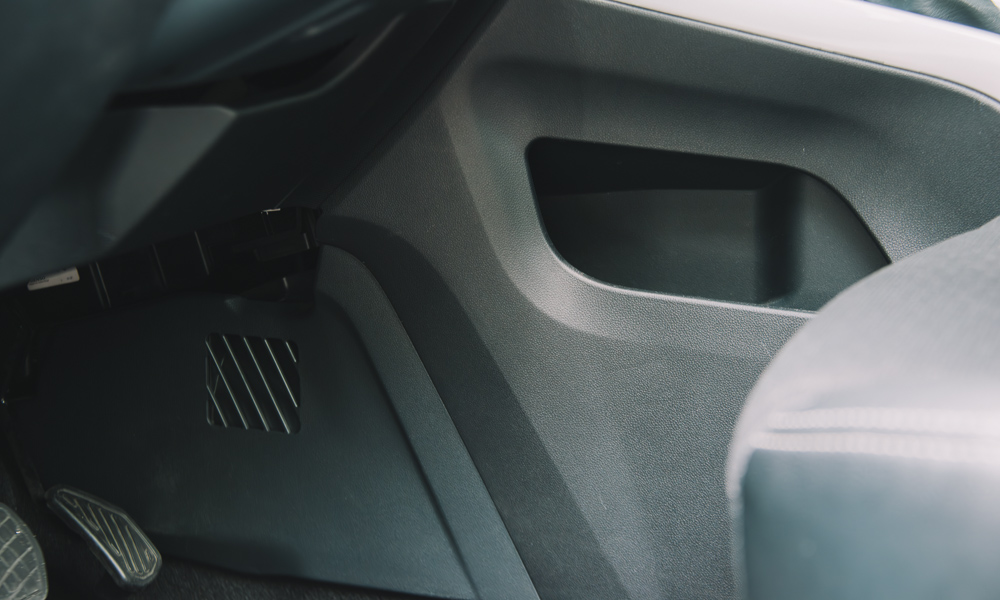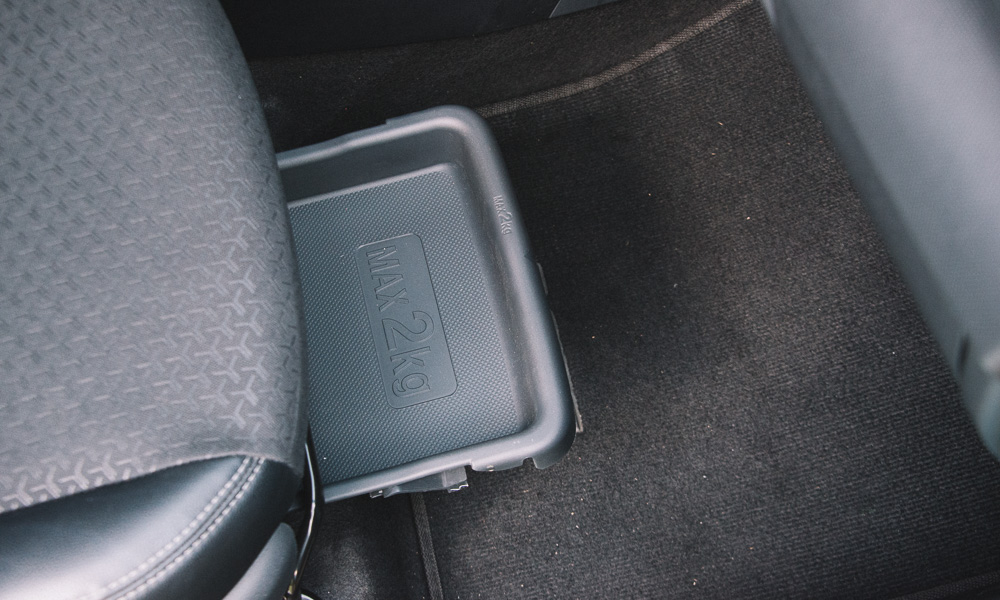 I can tell that the engineers in charge of the interior had a blast maximizing cabin space, as I counted at least 12 distinct storage spaces (not including the grab handles in the door cards) and two cupholders near the vents, perfect for keeping your drink cool.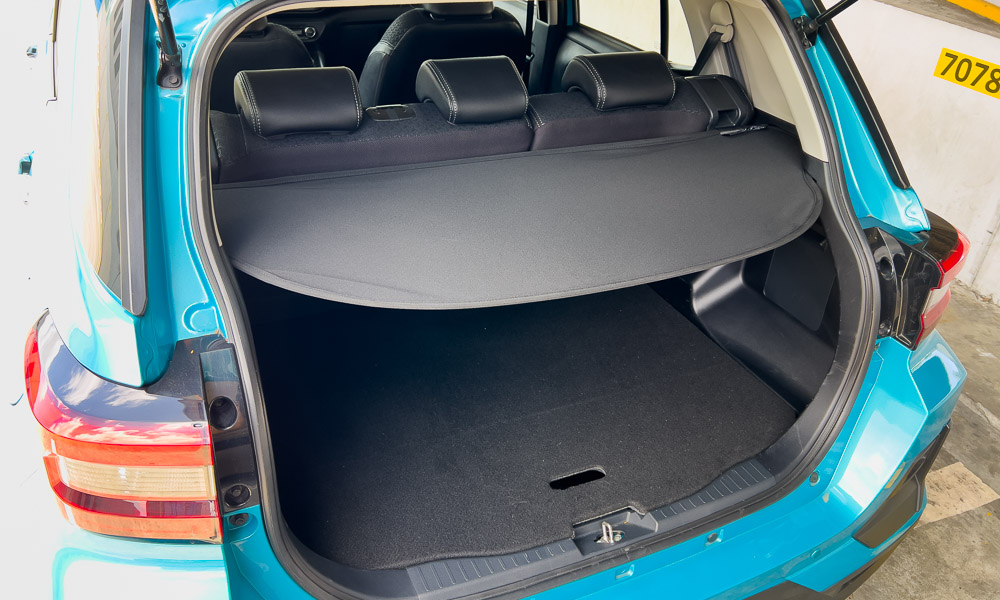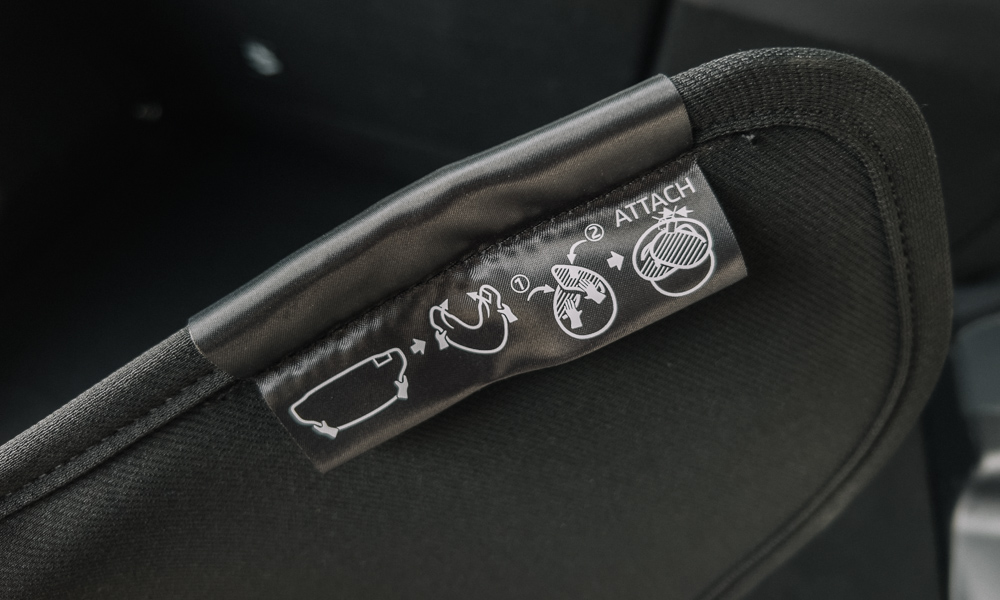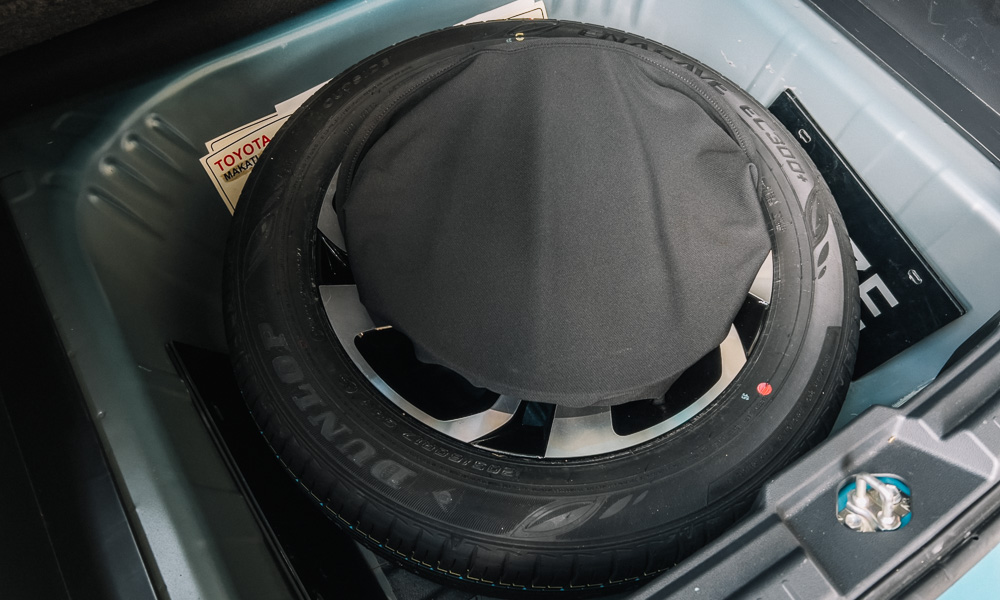 Even the rear cargo cover could be neatly folded away so you don't have to leave the parcel shelf at home when it's time to load tall items.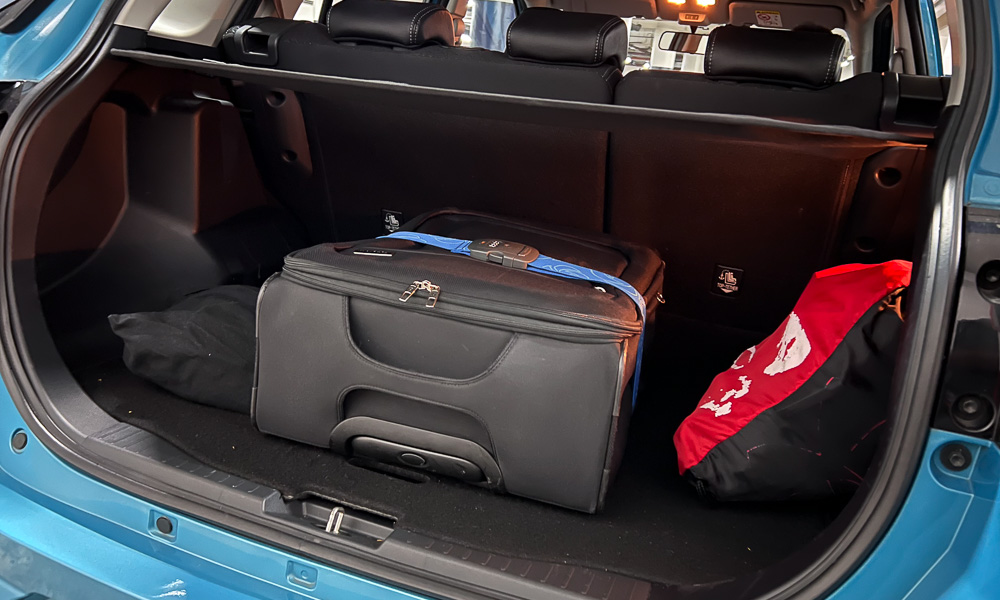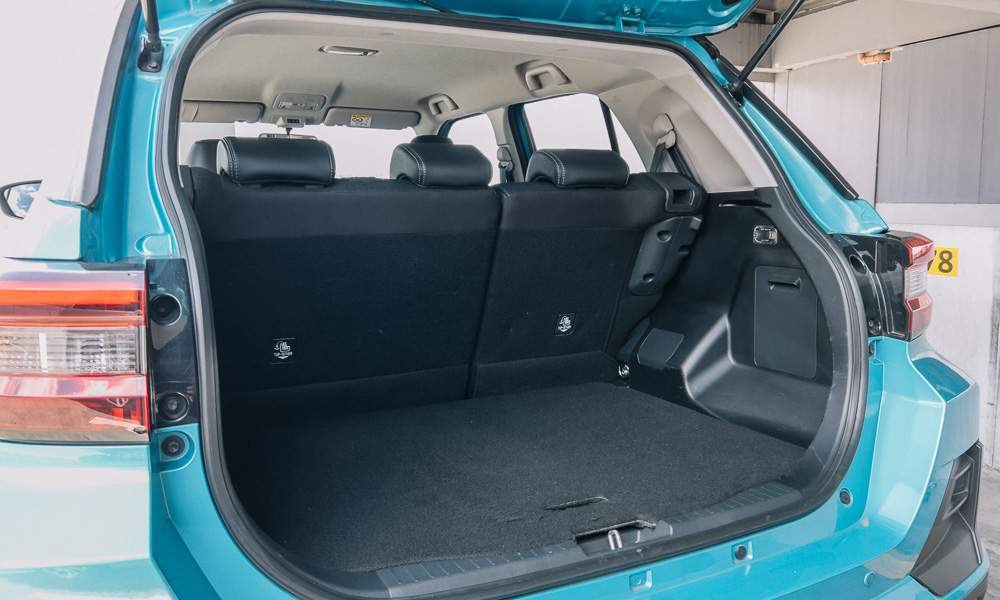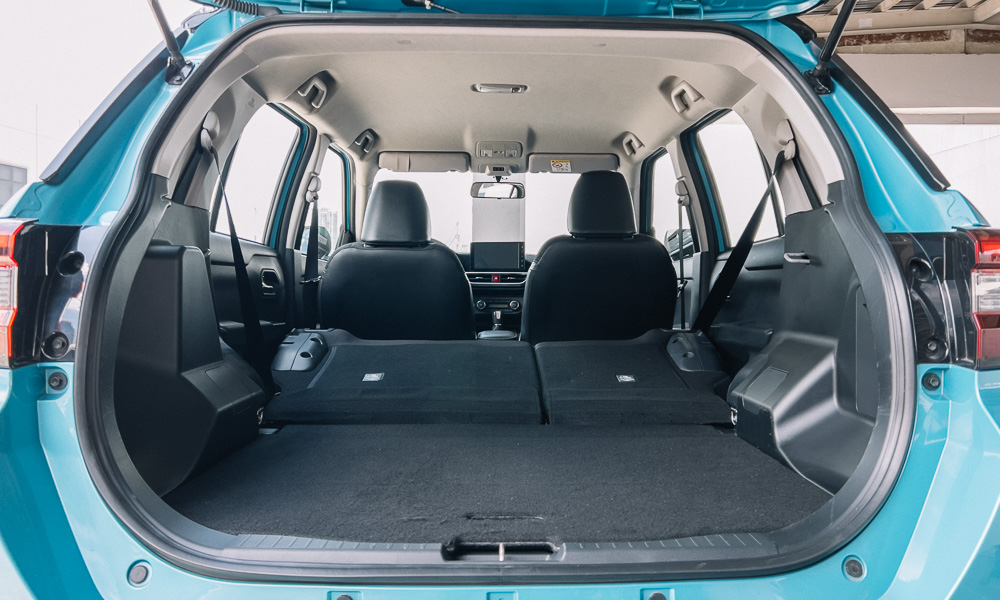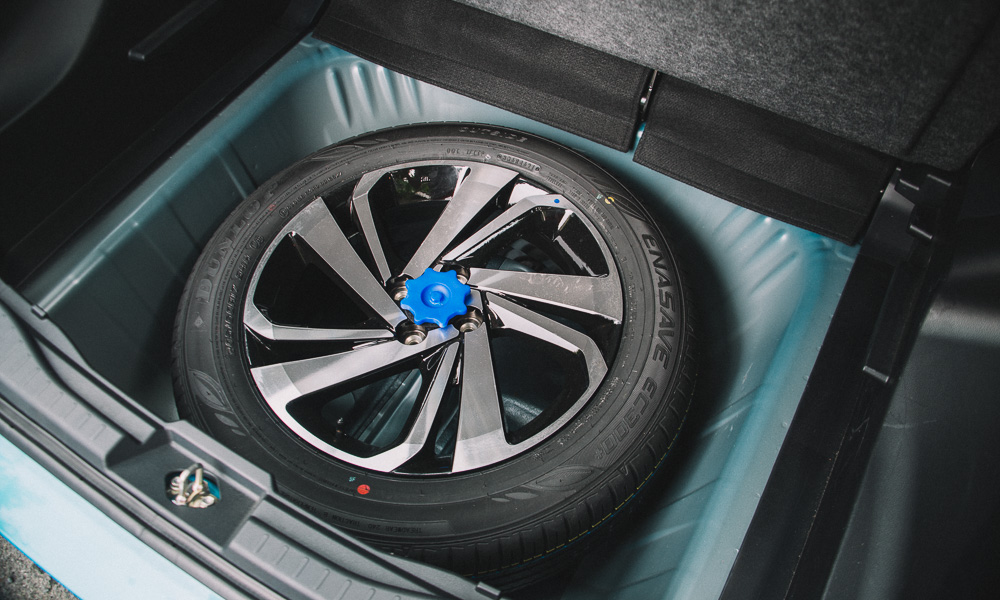 And yes, with the rear seats up and the cover stowed away, you have a generous 369L of cargo. Fold the 60:40-split rear bench down, and it's big enough to fit long items like a bicycle with the front wheel off. Oh, and bonus points for the full-size spare tire!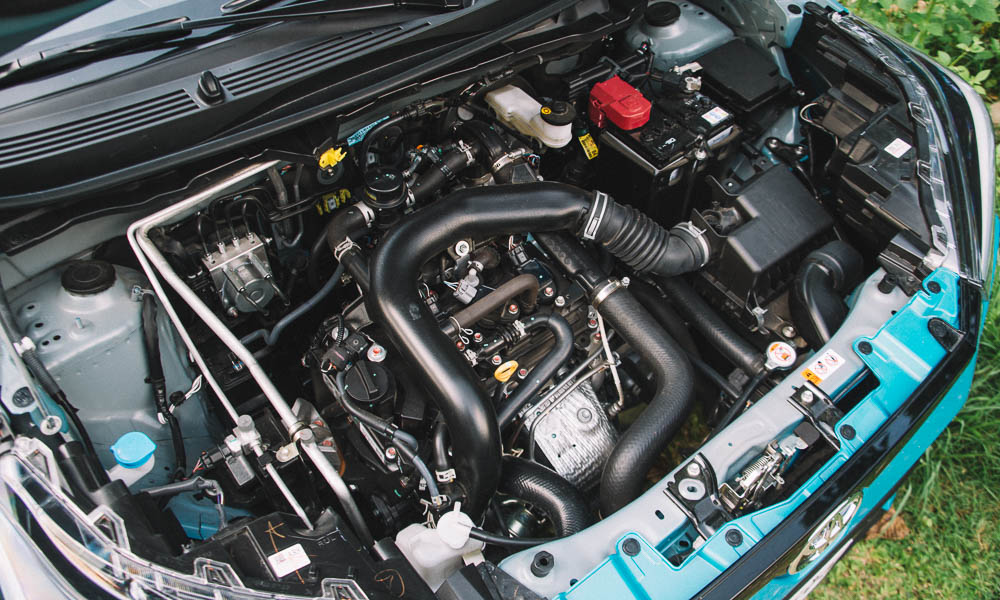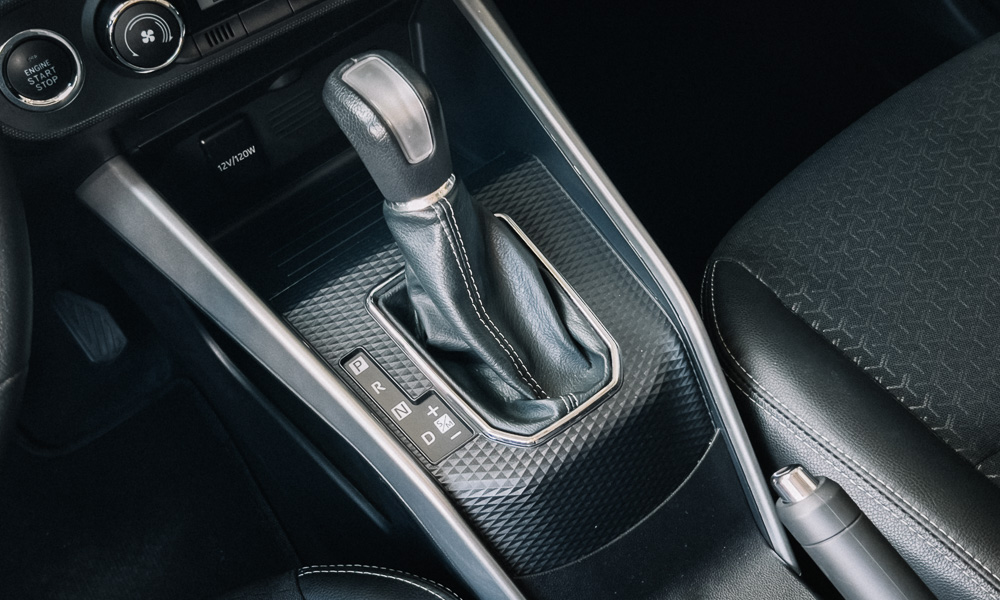 Things get sweeter from here once you start up the engine. The 1.0-liter turbocharged in-line-three gasoline mill (1KR-VET) ticks so many boxes that I wish Toyota would put this in more of its affordable vehicles.
While 96hp (98ps) and 140Nm going to the front wheels via a CVT is pedestrian, this powertrain defies expectations.
The forced induction makes it feel like a larger-displacement engine at lower speeds. When overtaking, it obliges without the Power or Sport mode or without using the paddle shifters. It will run out of steam at the top end, but it will comfortably sit at expressway speeds.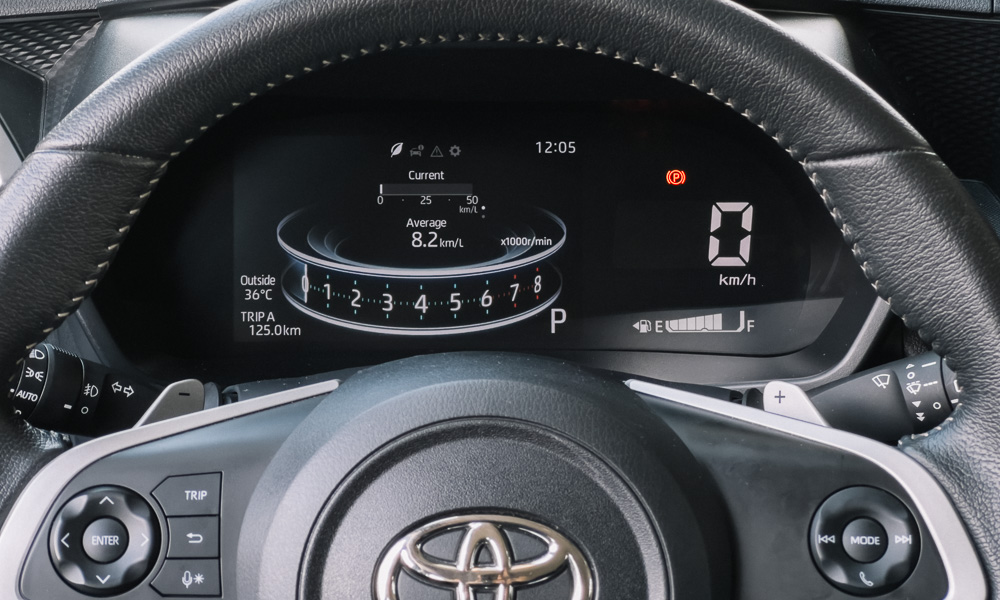 And the fuel consumption? It's fabulous! I managed 10.5km/L in the city with figures as low as 6.5km/L in heavy payday traffic, while reaching 18.6km/L on the expressway. Oh, the manual states it can run on 91-octane gasoline, but I would personally stick with 95 octane for turbocharged engines.
The DNGA (Daihatsu New Global Architecture) platform provides a decent steering feel and weight, but the suspension is a little soft and tends to wallow over bumps. Perfect for comfortably navigating through the rally stages roads of Metro Manila, but you will feel a lot of body roll. It is a crossover, after all.
As usual with modern cars, it has good brakes that are a little on the spongy side, but they'll stop you on a dime if needed. Also, this is not the quietest or most refined car to be in as wind and road noise leak in at expressway speeds, and you will have to deal with the inherent harshness of an idling three-cylinder engine in the city.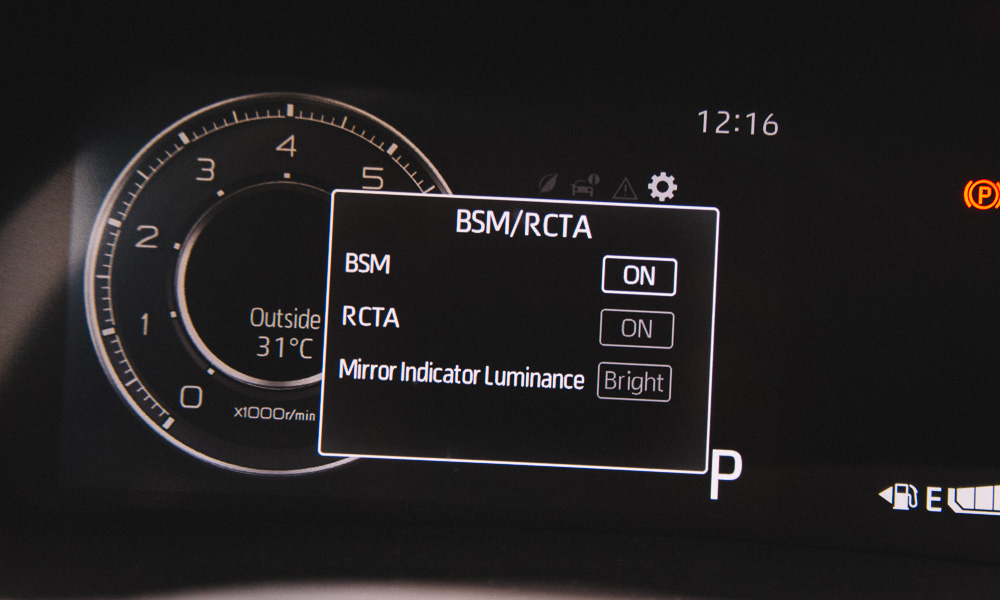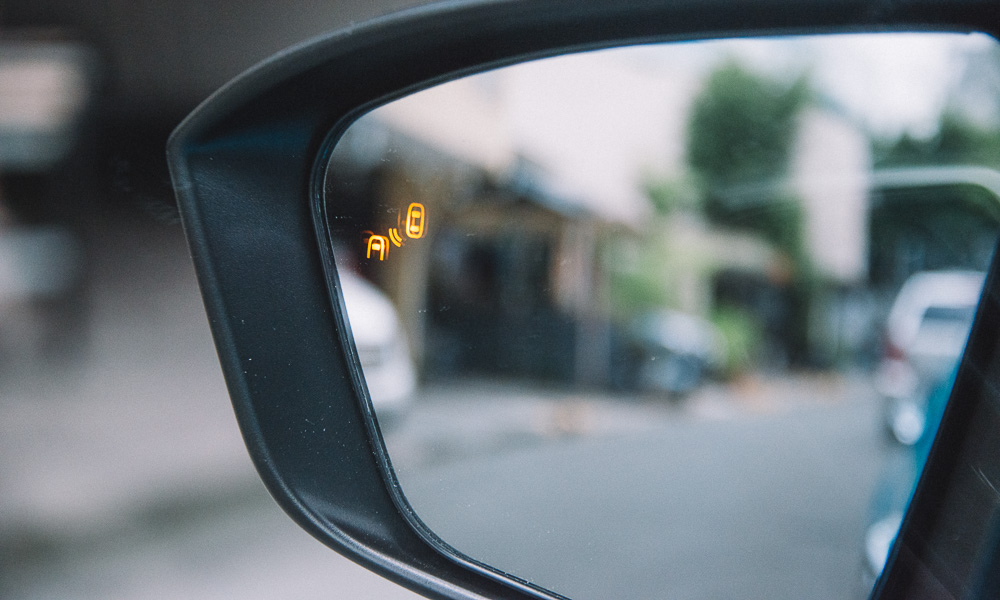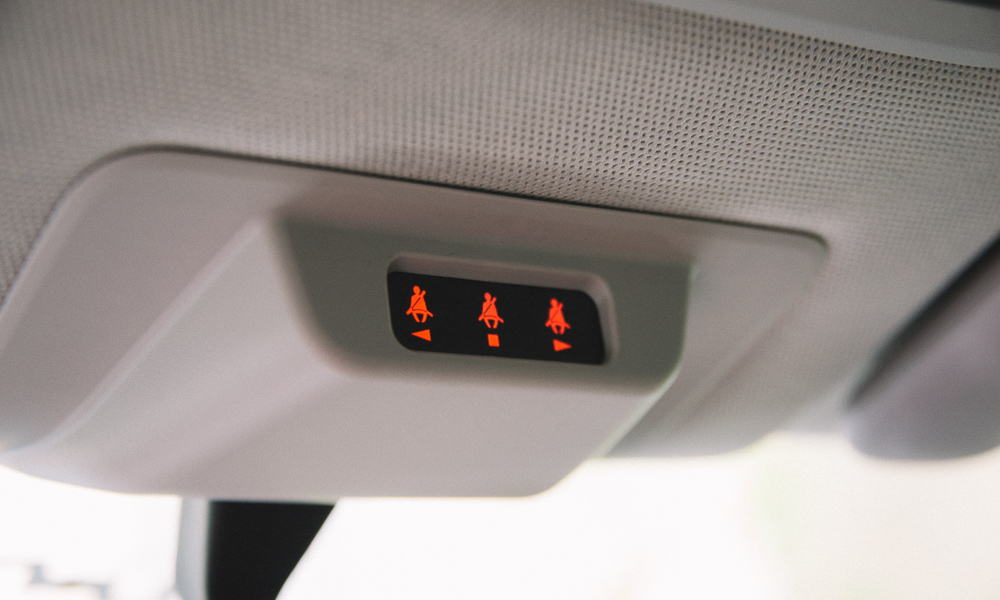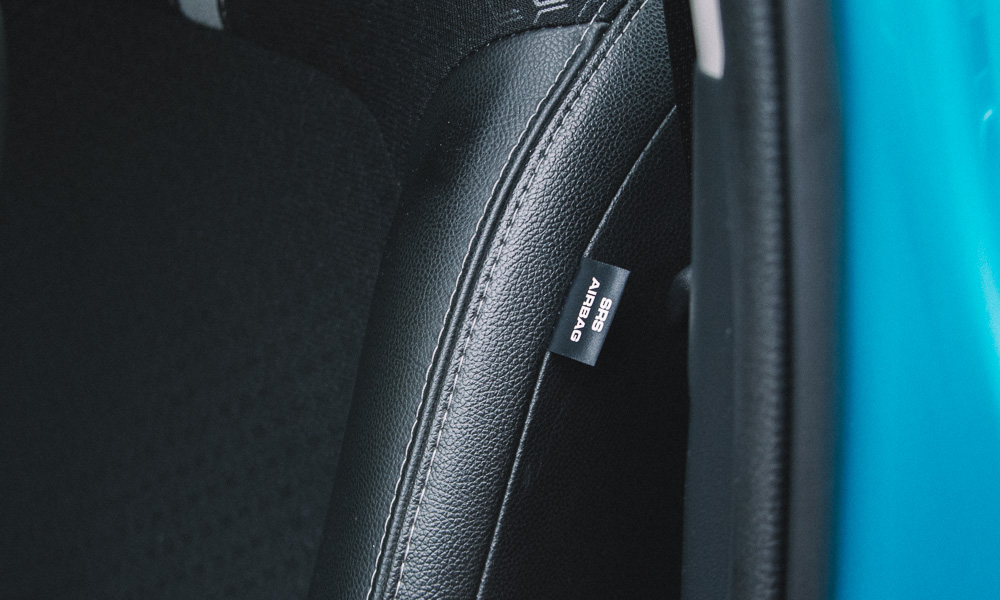 There's no Toyota Safety Sense, but the top-of-the-line Turbo has a decent kit of safety features like multiple airbags, a blind-spot monitor, rear cross-traffic alert, a reverse camera, and front-and-back parking sensors (which I turned off because they could get annoying in traffic).
Admittedly, as useful as most of these features are, you can honestly live without the majority of them.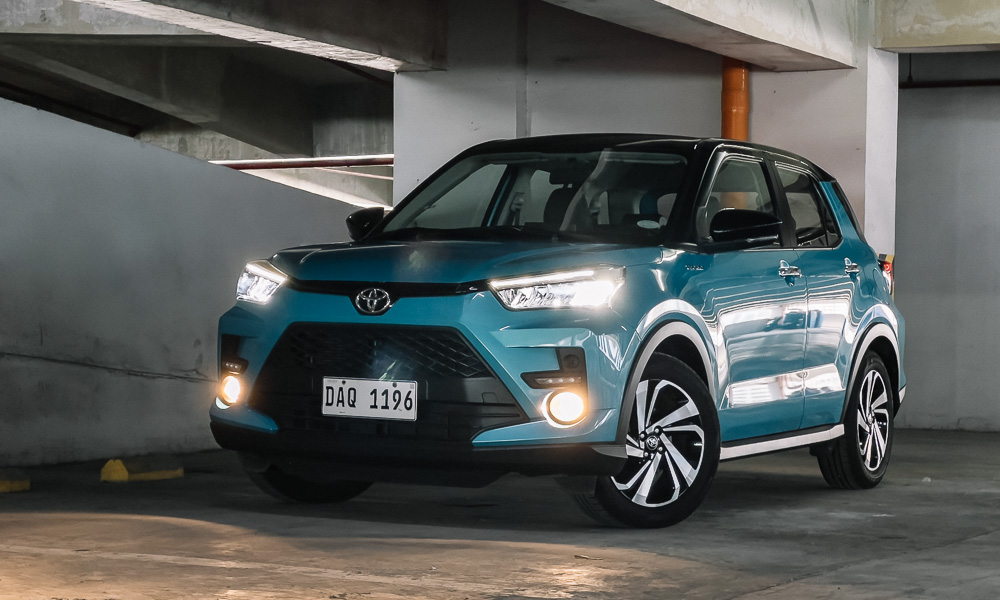 And that's one of my main takeaways from the Raize Turbo. For P1.051 million (additional P5,000 for the White Pearl SE/Black finish), it's the only way to get the turbocharged engine as cheaper variants get a 1.2-liter normally aspirated three-banger.
It's well worth the P125,000 difference over the 1.2 G CVT. So if the weaker powertrain doesn't bother you that much, it's a solidly built product. Plus, it has one thing that its more affordable competitors don't have: Toyota's legendary reliability.
TOYOTA RAIZE 1.0 TURBO
| | |
| --- | --- |
| Engine | 1.0-liter turbocharged three-cylinder gasoline |
| Transmission | CVT |
| Power | 96hp @ 6,000rpm |
| Torque | 140Nm @ 2,400-4,000rpm |
| Dimensions | 4,030mm x 1,710mm x 1,605mm |
| Drive layout | FWD |
| Seating | 5 |
| Price | P1,051,000 (P1,056,000 for White Pearl SE with black roof) |
| Upside | It's an incredibly well-thought-out crossover. Plus, that powertrain! |
| Downside | Cost-cutting is evident and slightly distracting within the cabin, especially in this top-of-the-line trim. |