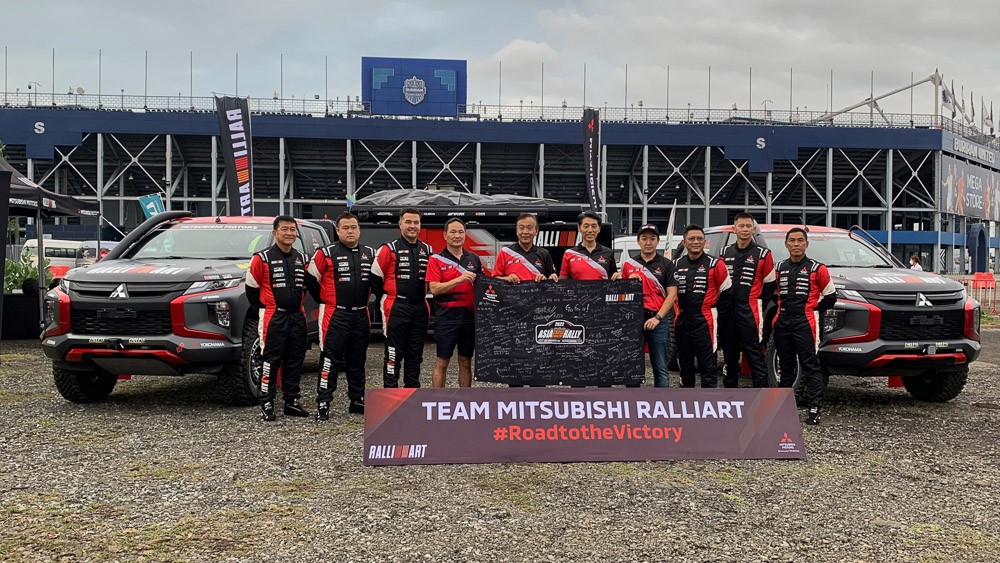 It's seven in the evening outside Chang stadium in Buriram, Thailand, about an hour before the ceremonial flag-off for the Asia Cross Country Rally. Takanobu Suzuki, Mitsubishi Motors Philippines' executive vice president for sales and marketing, has just herded our small group of Philippine media to the presence of Hiroshi Masuoka, Mitsubishi Ralliart's team director. It's time for the dreaded interview portion, where journalists struggle to ask an expert about something without looking like an idiot.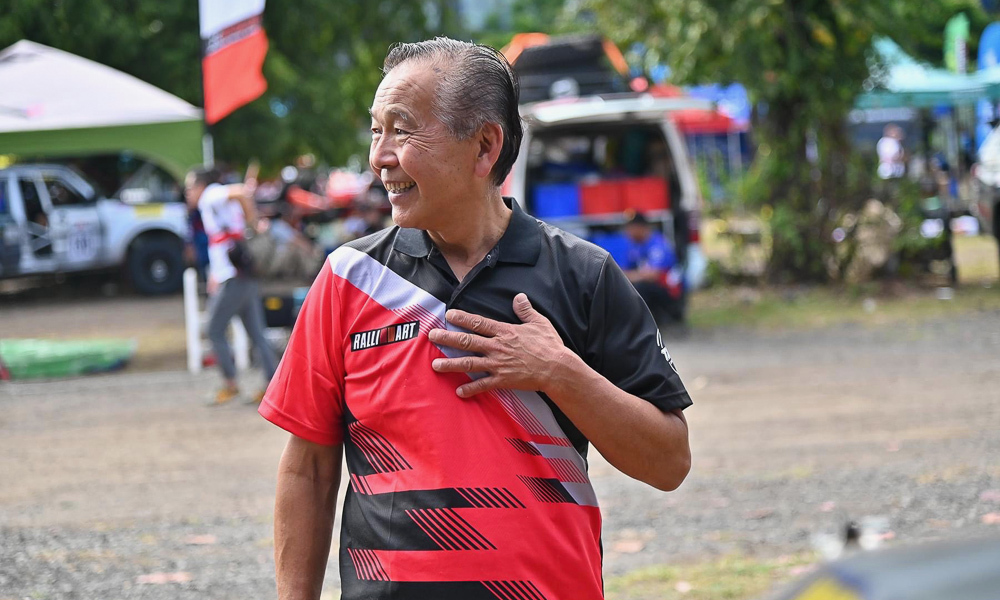 To a non-motorsports fan, Masuoka-san could just be your regular Japanese fellow. Sixty-two years young but still looking fit and with a gleam in his eye, you'd never know that he's a legend in the rallye community. A two-time, back-to-back Dakar Rally champion, one of the toughest endurance races in the world.
He won that race back in 2002 and 2003, as well as the 2003 Baja Italy and the 2004 UAE Desert Challenge, putting him fifth in the all-time list for the car category, according to his Wikipedia entry. After he had retired from racing in 2009, he stayed on with Mitsubishi as a senior expert in the public relations department.
Philippine motoring media know him well as being like your friendly uncle who'd show up for Strada/Montero Sport test rides, scaring the living daylights out of you on "taxi rides" to demonstrate how good the cars were at the limit.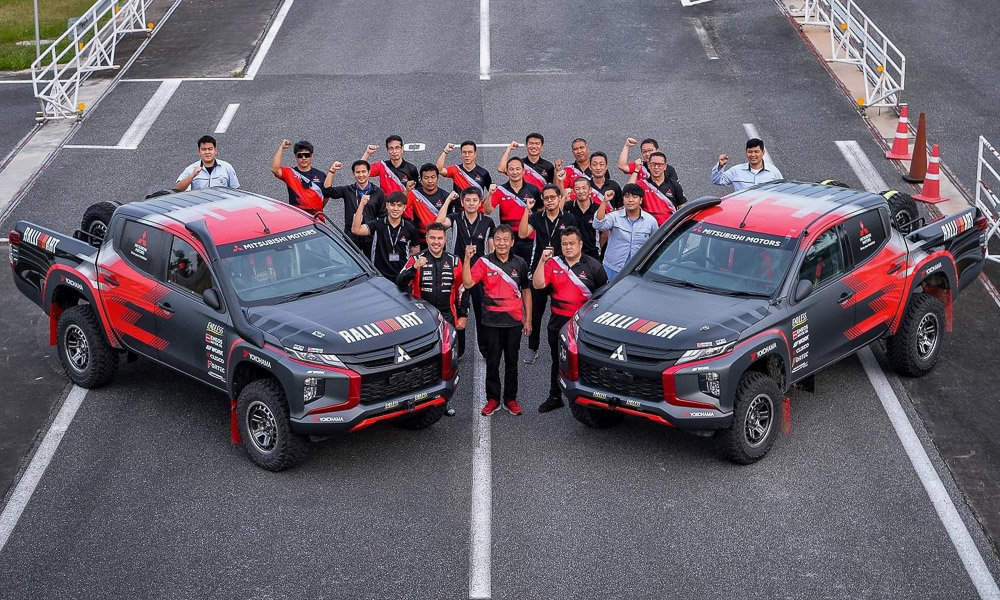 So, it's telling that with the revival of Mitsubishi Ralliart—after a 12-year hiatus from racing—the team is talking more about Masuoka than it is about its two driver/co-driver units. He's their trump card, the big stick that they'll wield in this race, which has long been the stomping ground of Isuzu and Toyota.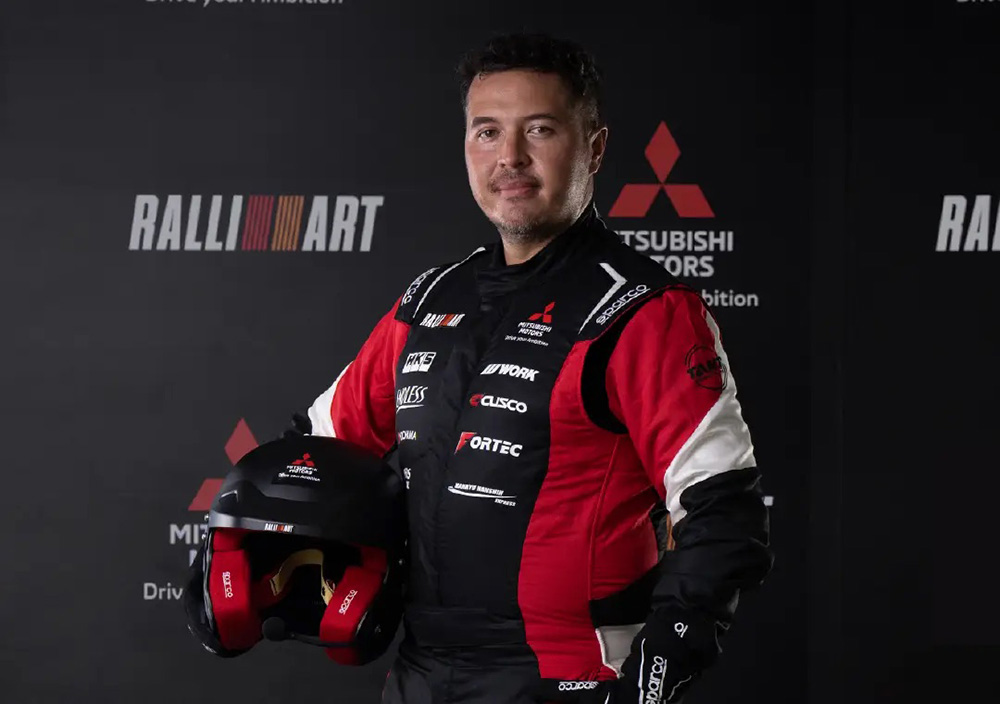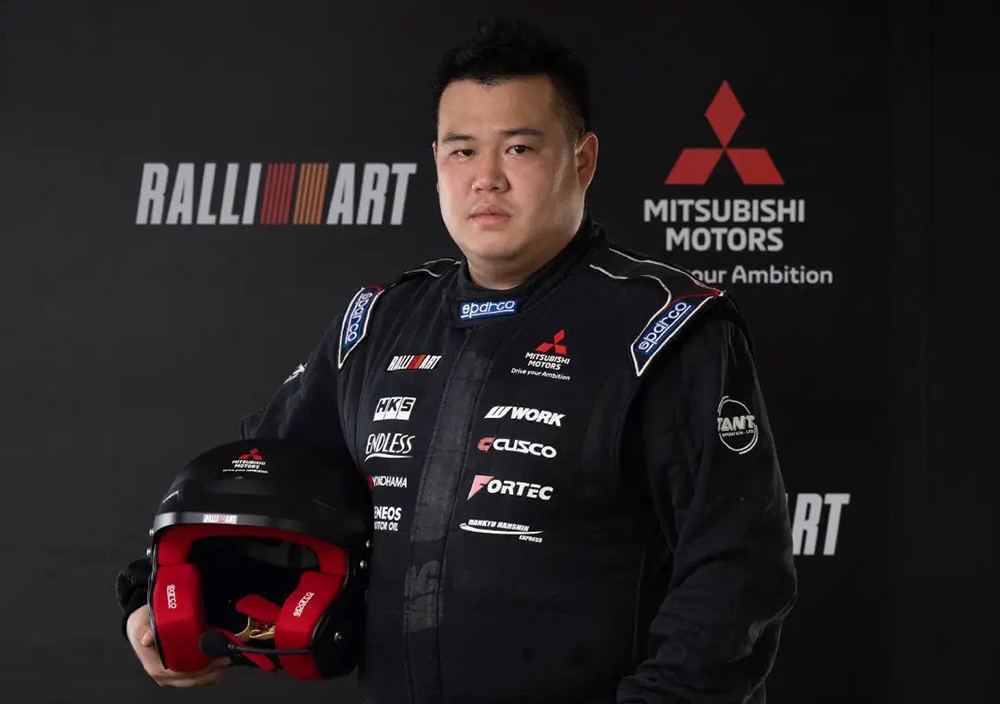 This isn't to say that the team's drivers and co-drivers are chopped liver.
Rifat Sungkar (Indonesia) is a multiple rally and sprint rally champion. In 2019 and 2021, he won overall victories in the Indonesian Sprint Rally Championship using an Xpander.
Chayapon Yotha (Thailand) has been winning races since 2012, such as the Thailand Super Series, the Thailand Autocross Championship, as well as wins in the 2019 Thailand Super Series' Supercar GTC.
They're good, but in a multiday endurance event, the team is banking on Masuoka-san's experience to guide them over the course of the race.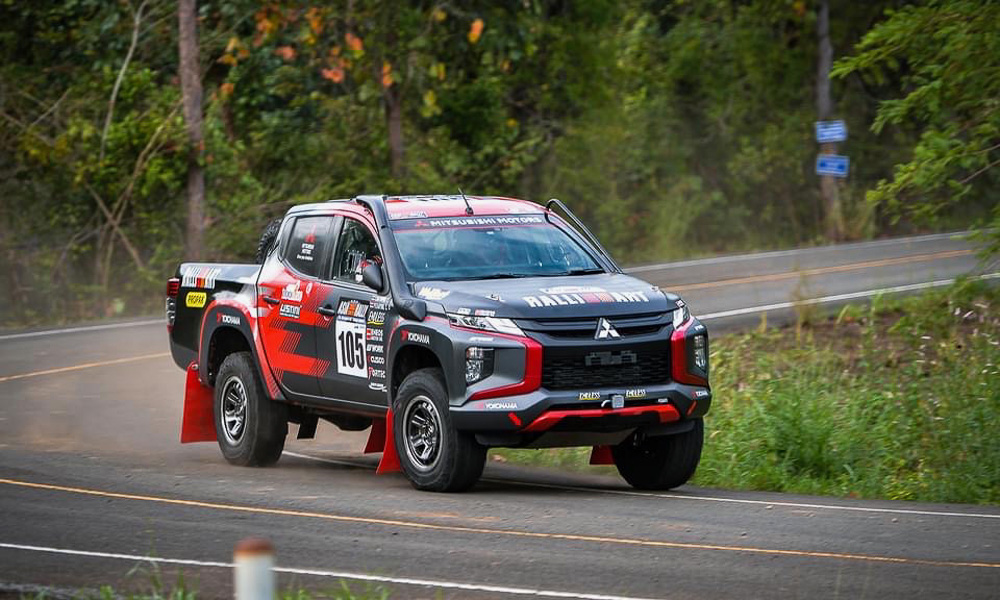 No one is talking about it either, but success in this prestigious event would also be a moral victory for Mitsubishi.
Thailand is a pickup truck country, with more than half of the market cornered by Isuzu and Toyota. In 2021, Isuzu and Toyota sold a whopping 149,102 and 127,669 units, respectively, while Mitsubishi could only get 21,301 Tritons out of showrooms. Even Ford sold more Rangers than the latter, with 26,917.
If manufacturers still go by the mantra "Race on Sunday, sell on Monday," the Asia Cross Country Rally is the arena. An outright win won't turn Mitsubishi into the number-one sales leader overnight, but it will help.
After all, for a generation of car enthusiasts who grew up watching the World Rally Championship and Dakar highlights on free TV, who played endless laps of Sega Rally before Gran Turismo became a thing, and then consummated this passion with lovingly maintained Lancers, Pajeros, and Stradas, they know that Mitsubishi makes trucks as reliable as any other Japanese brand, but they are about racing.
They're not so interested in fuel economy or active safety nannies (although they appreciate it), but in how well their cars perform under extreme conditions.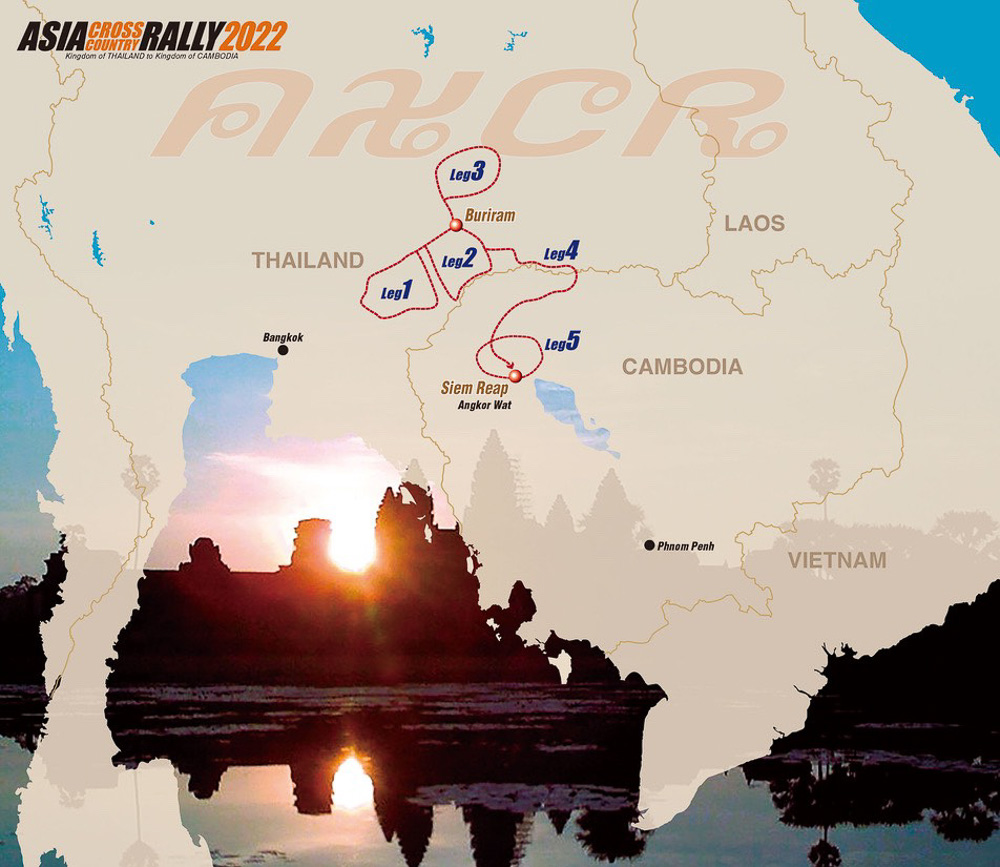 With all of these in mind, what else is there to ask a living legend except: "How are you feeling?"
And he says: "Very good. Today we took fifth and sixth places (in the prologue stage), but only a few seconds behind the first four, and the stage was only 3km. We will see what happens this week."
With five stages and 1,700km of racing, the Asia Cross Country Rally (or just Asian Rally, for short) is the most prestigious event of its kind in the region. There was no racing in 2020 and 2021 due to COVID, so this year everyone wants to have a go at it.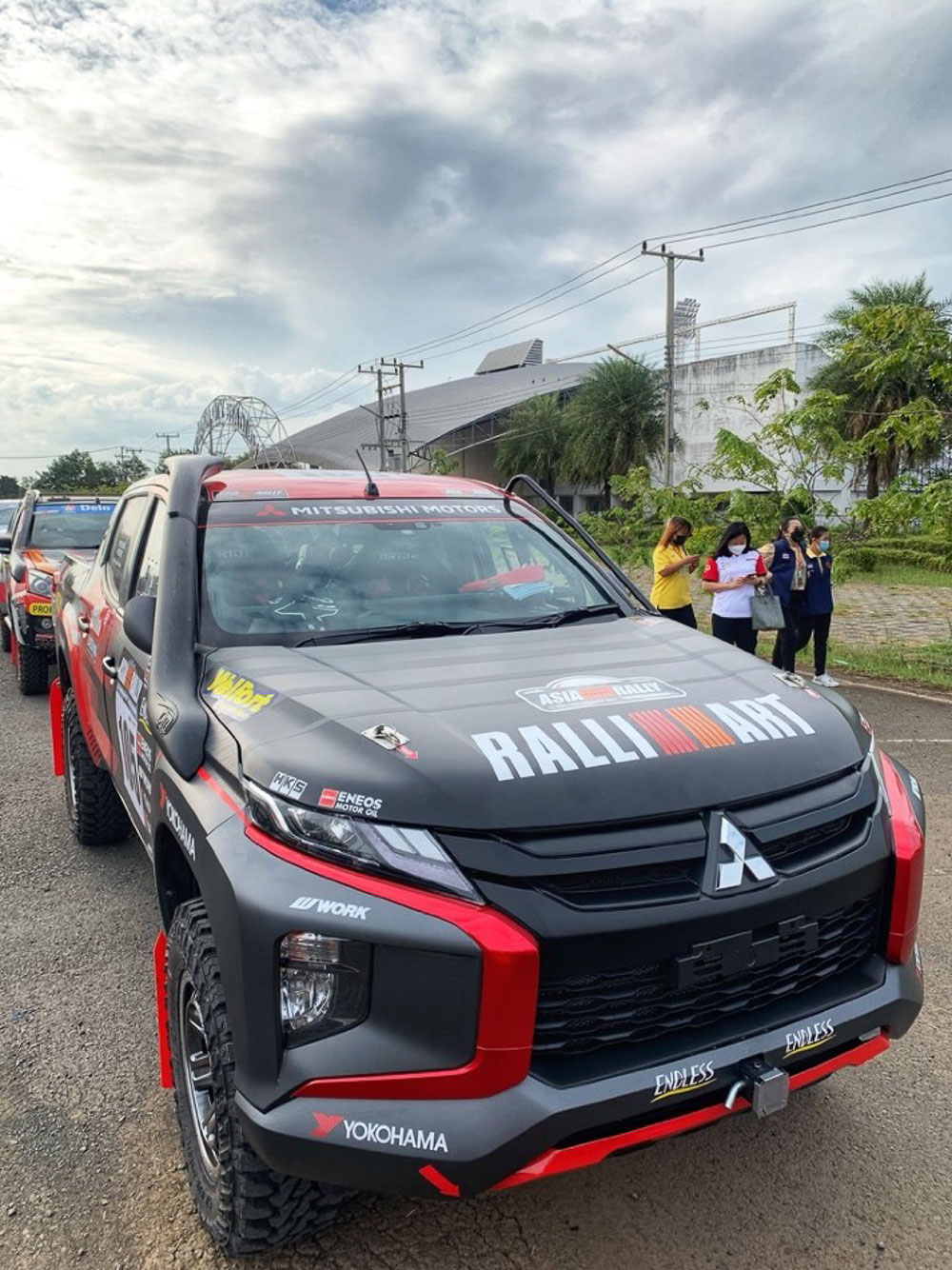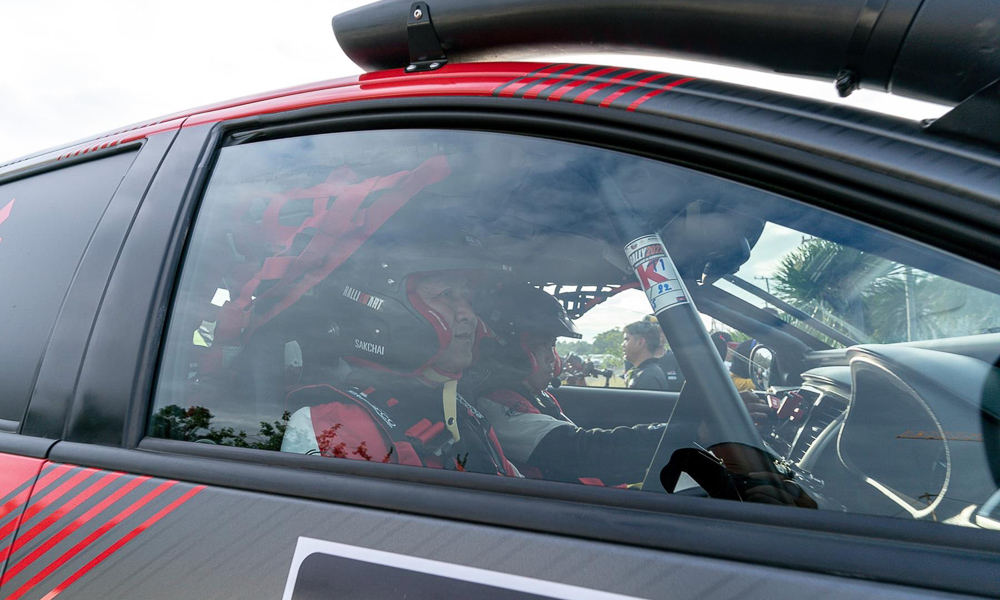 All the heavy hitters are present. There's Toyota Cross Country Team Thailand Hilux Revo, along with the Isuzu Suphan Explorer Rally Team. Ford has Raptor Team Thailand, while SRS-Osaka Welport Rally Team also entered a brand-new Land Cruiser 300, the first-ever converted for rally racing. This year's edition has a total of 20 teams, 31 cars, 16 bikes, two motorcycle sidecars, and one Adventure Class 1 car—for a total of 50 entries.
The Asian Rally flags off in Buriram, Thailand, and from there it will crisscross the region before heading over to Siem Reap, Cambodia, for the final leg.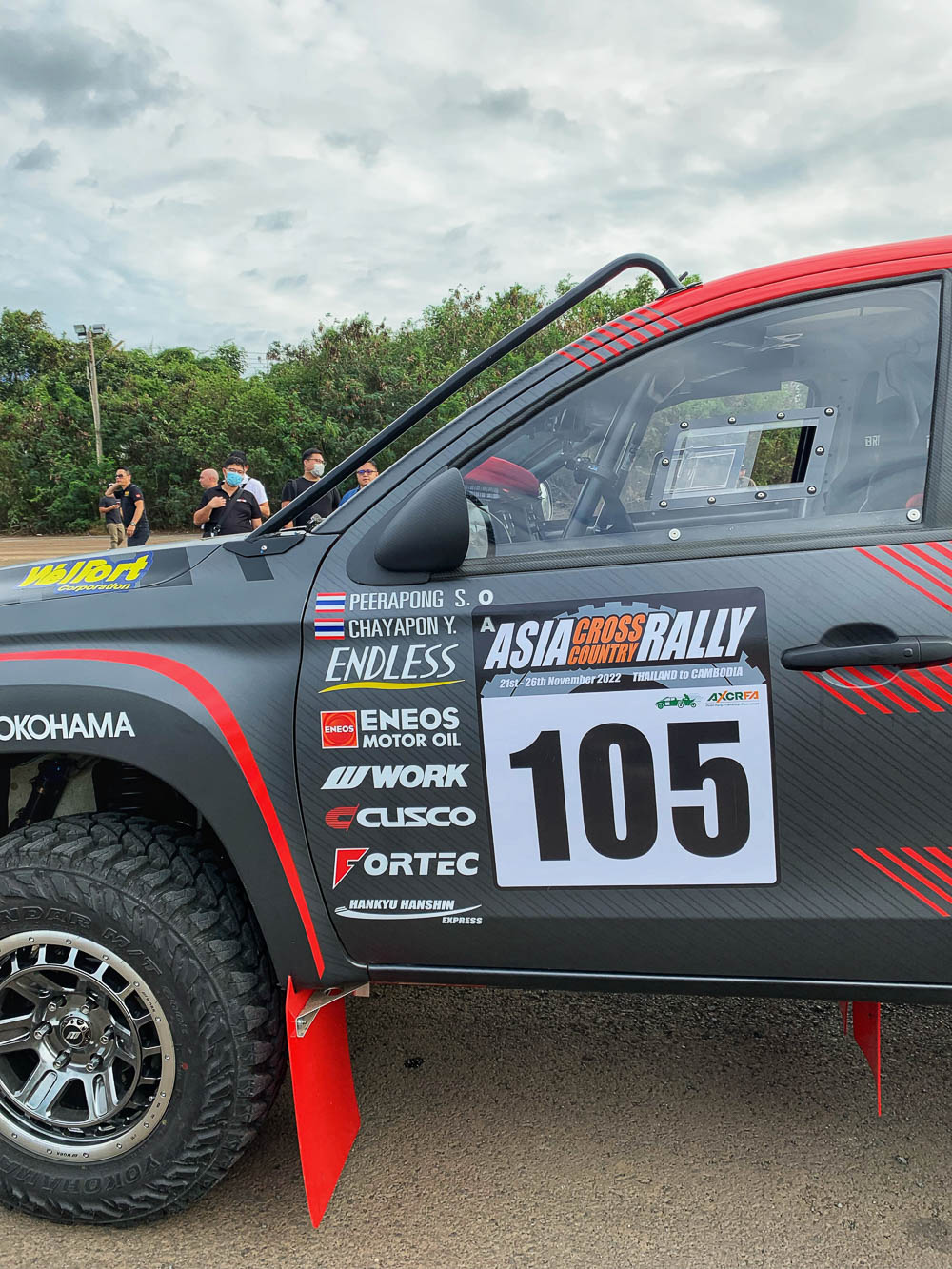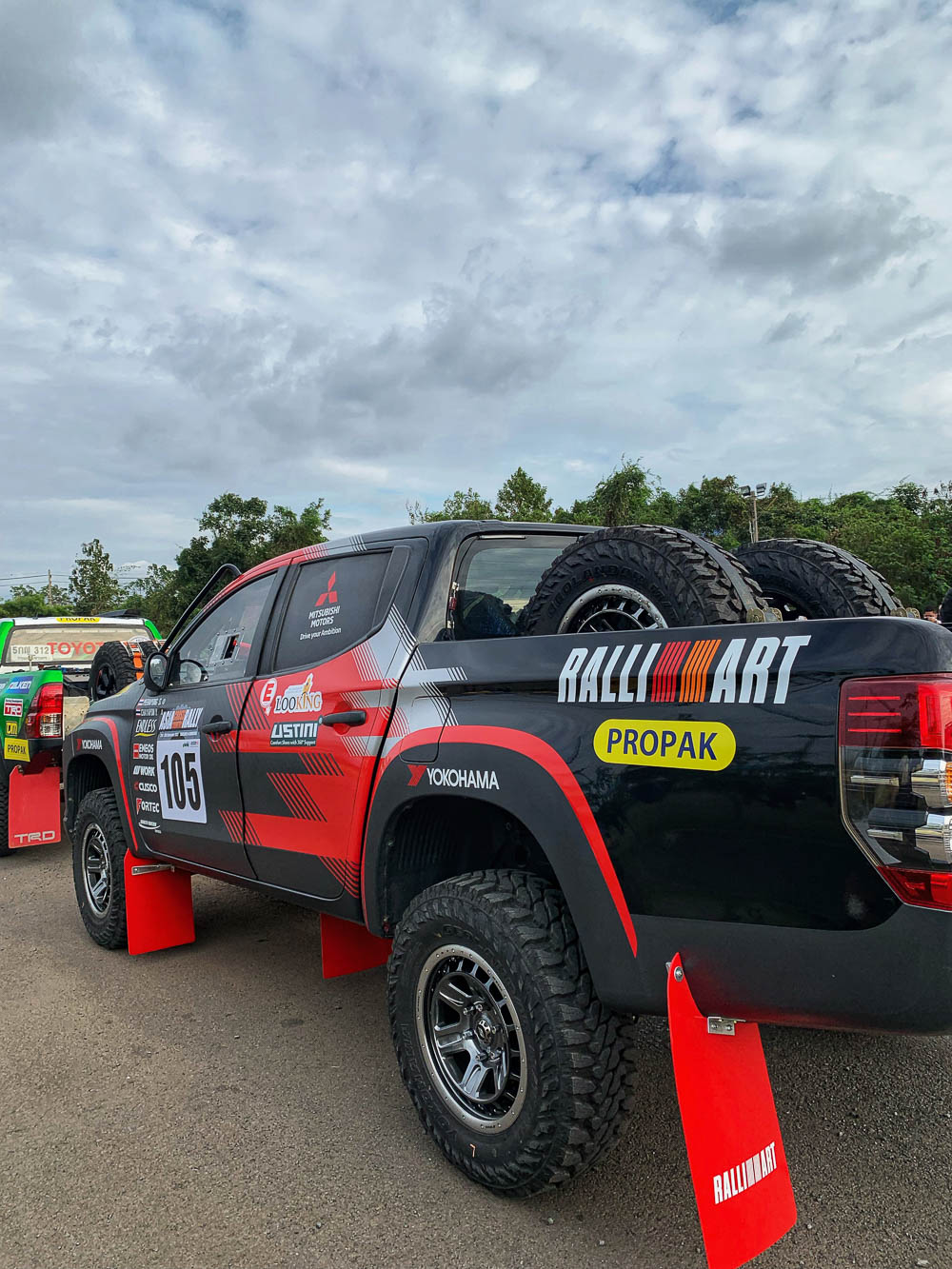 With majority of the entries being pickup trucks, it's worth noting that they fall into the Group T1 class: minimum weight requirement and modified suspension and drivetrain, but mostly stock engines.
The Triton rally cars that the team will be using have carbon-fiber doors and hoods, Plexiglas windows, Cusco front and rear limited-slip differentials and shock absorbers, and Endless disc brakes as the major modifications.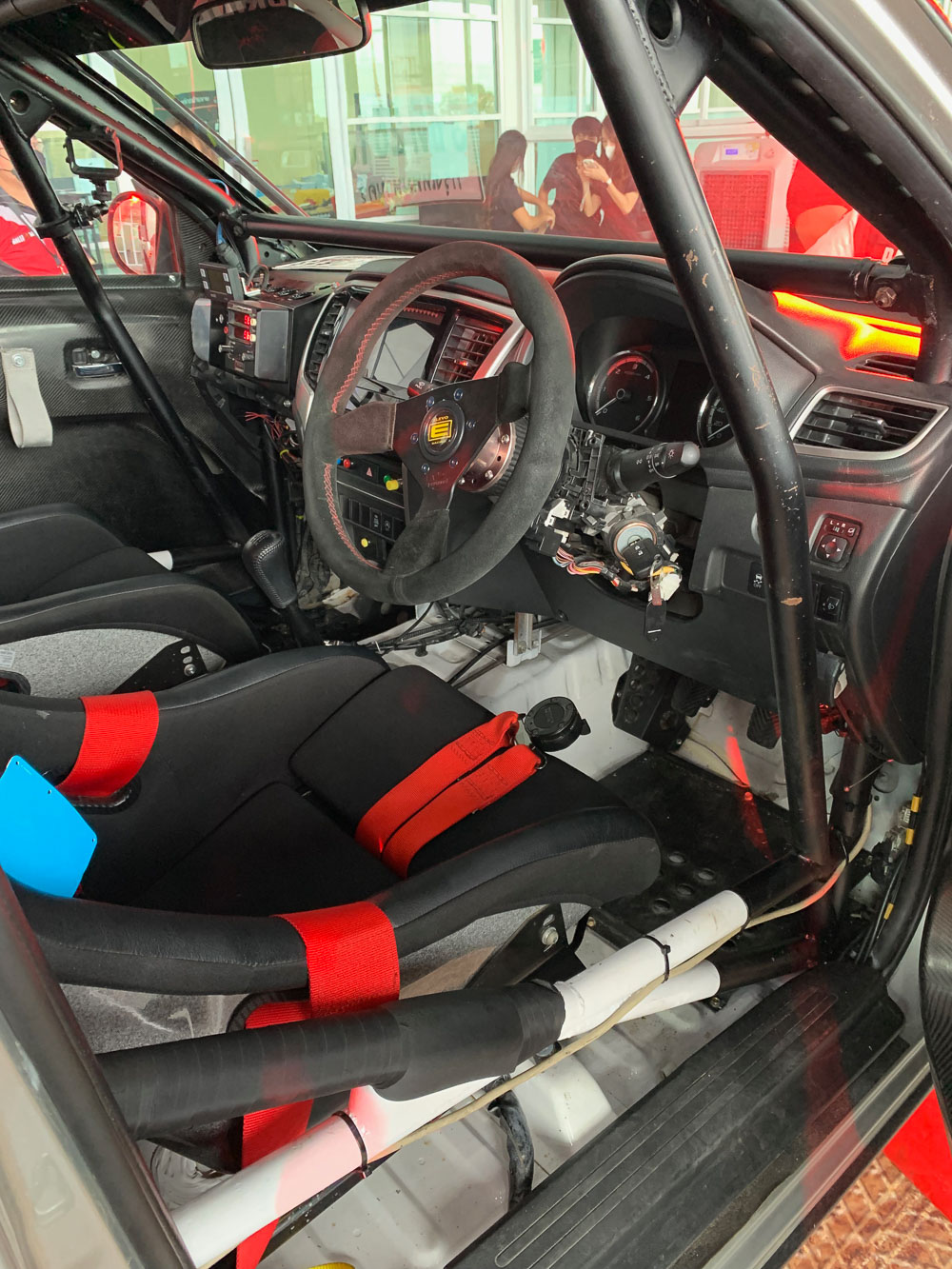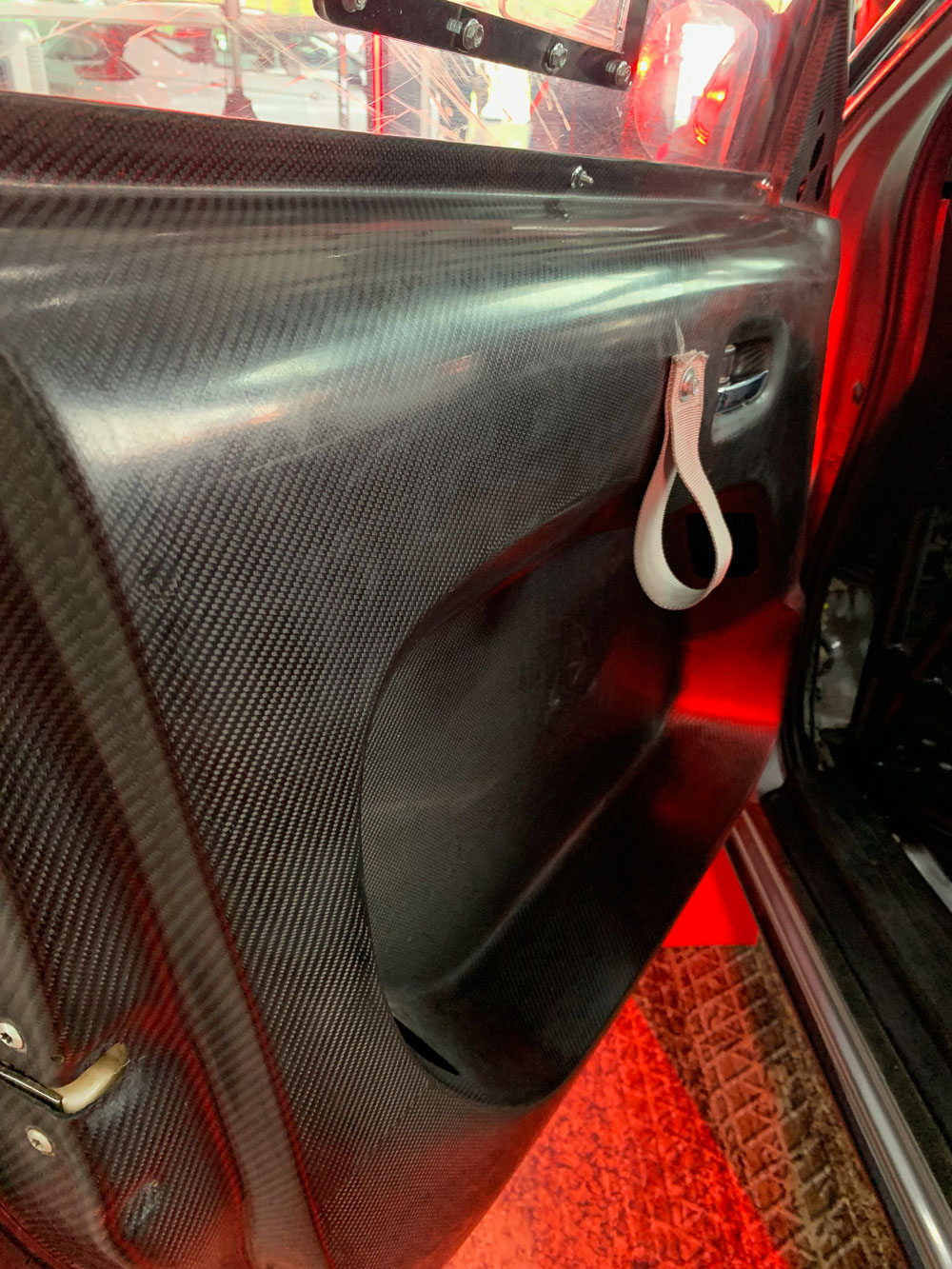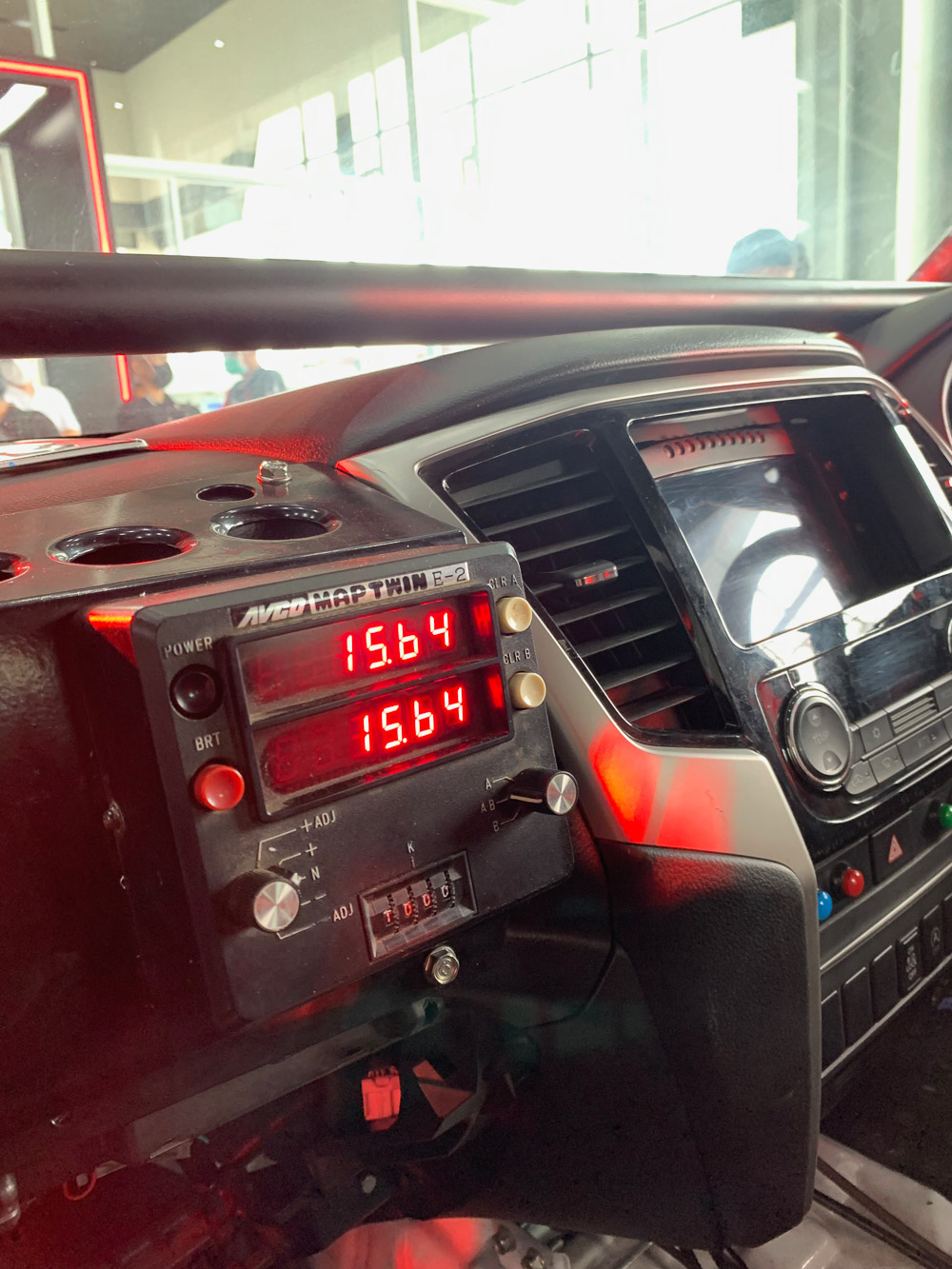 The cabin has been stripped to the bare essentials, while the engine is the stock, 2.4-liter 4N15 in-line-four MIVEC turbodiesel, retuned for reduced friction and better midrange response. The six-speed manual transmission and Super Select four-wheel drivetrain are stock.
For racing teams, this is a great class to compete in, because it keeps costs down and—assuming most entries are within a few percentage points of each other on power-to-weight—ensures a level playing field. For racing fans, it's a more relatable class. You don't need to spend millions of dollars for a Group A car, which you can't have anyway. Assuming you had the money and the parts easily available, you could build yourself a replica of the Triton rally car.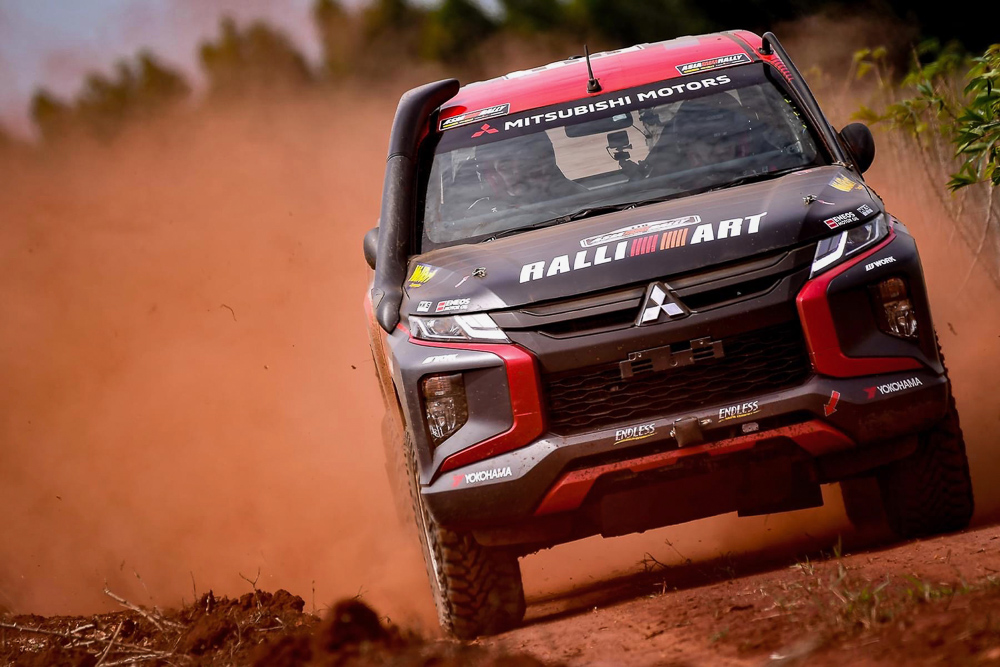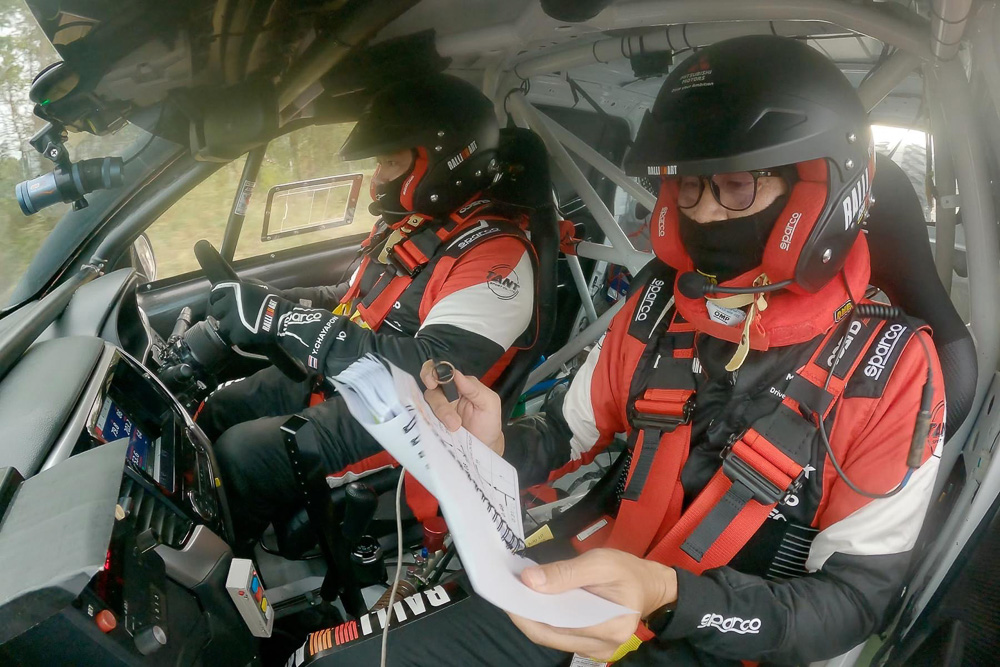 We wrap up our chat with Masuoka talking about tire pressures, pacing, and how it must feel to not be in the driver's seat for a change. During the press conference earlier, he joked that if he was unhappy with how the drivers performed, "I will do the driving myself."
The next day, the team gains both a win and a setback. Chayapon takes the stage win to lead the race by four minutes.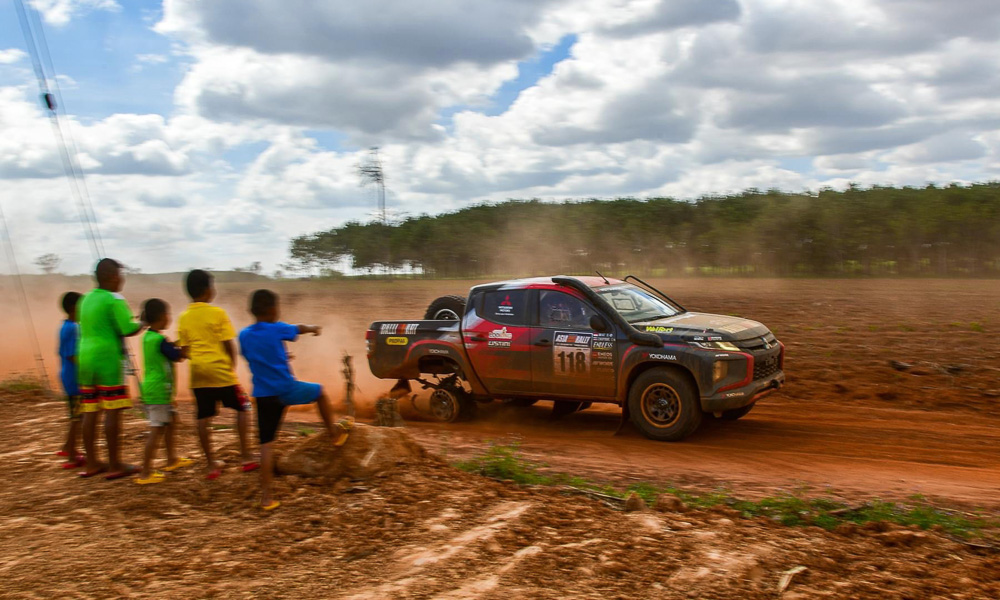 Rifat, on the other hand, suffers a flat, and rather than waste time changing the tire, runs with it until the next checkpoint. At the intermediate service area, the team works double time to fix the damage, but Rifat is forced to finish the stage without a rear shock absorber in order to salvage eighth place.
Masuoka promises him that the car will be all fixed in time for the next stage. Their spare/support car's driver (also entered as an official entry), tests positive for COVID. Even though Thailand permits COVID-positive persons to continue working, Masuoka makes the difficult decision to retire the driver, and with him, their parts vehicle. That's racing.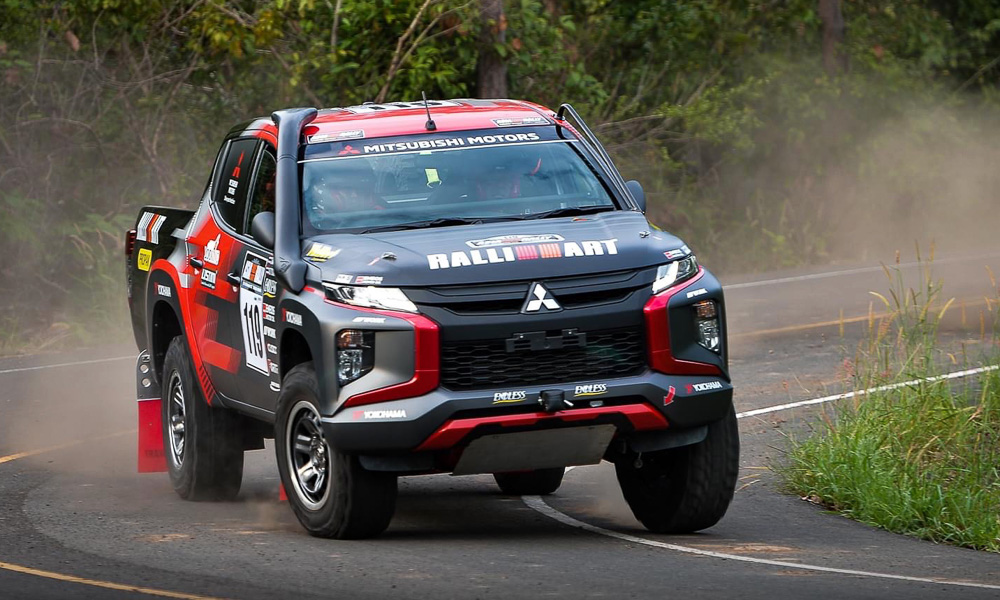 "SS2 is the longest stage and the one where you can gain the most time advantage, so Chayapon's advantage has made pacing and strategy planning easier for the next stages," concludes Masuoka. "Rifat has lost some time due to damage, but he is still within range and can make up for it. We have just started, so I have high expectations for the team."
With around 1,500km to go, anything could still happen to the team's fortunes, but in a sense, they might as well have already won.
Mitsubishi fans are happy to see themselves represented once again in motorsport. And Masuoka looks like a man who's perfectly happy to be exactly where he belongs.