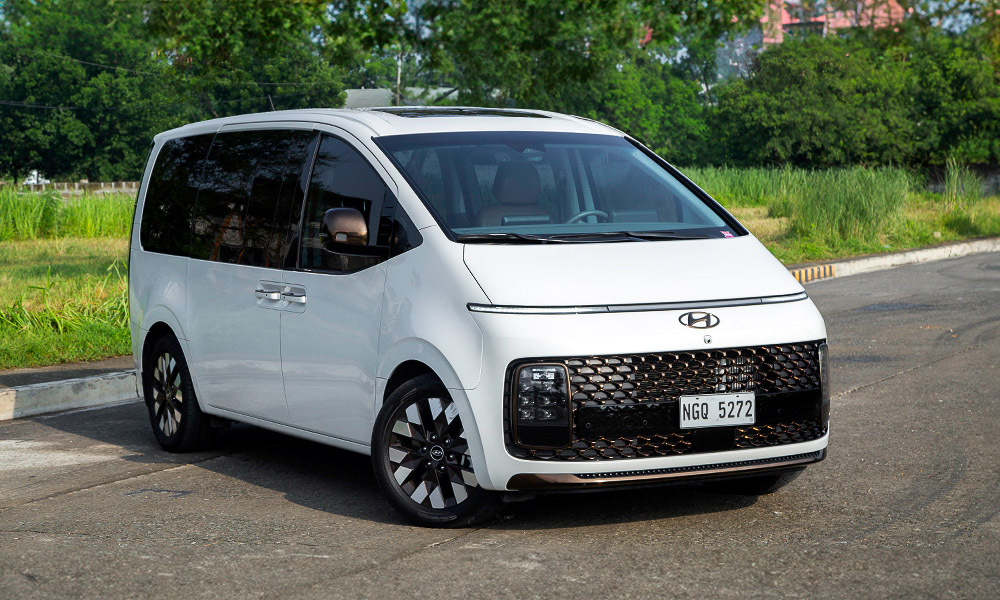 The world as it is today exists by and large around humanity's obsession with always having more. Think about it for a second. Smartphones—no matter how expensive—are made obsolete once a year by a bigger and better model. We eat up all these fast fashion brands because normal fashion just couldn't keep up.
It's the same with cars. We want bigger cars. We want taller cars. We want techier cars. We want roomier cars. We just want more and more. And I've long harbored a suspicion that this insatiability is why the van market got to this point where the shameless price gouging and scalping of large people movers run rampant.
You could say this is a multifaceted issue affected by many different factors: supply chain delays, chip shortage, pandemic, and last but not least, carpetbaggers disguised as dealers. But the bottom line is it puts these vans out of the reach of actual families who just want a car that can fit them all on a Sunday, and those who simply refuse to hand over a significant amount of their hard-earned cash to opportunists.
It's weird to think that vans have now become emblematic of wealth and excess just because they're so hard to get. They're not rare, limited, or exotic, and the apparent scarcity or desirability is simply the result of arbitrage. They're people carriers for crying out loud. I never thought anyone would ever feel cool getting out of a van.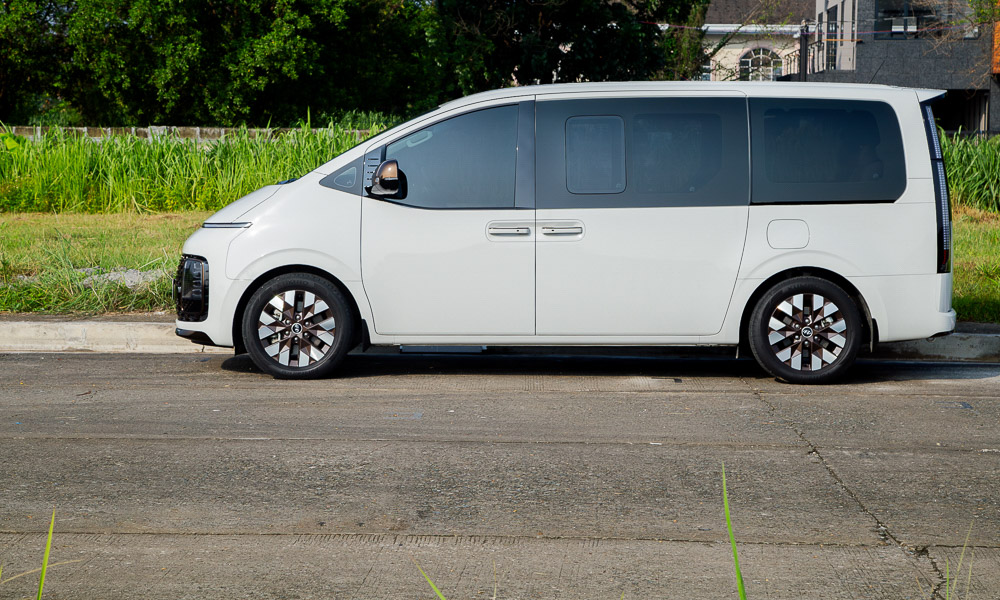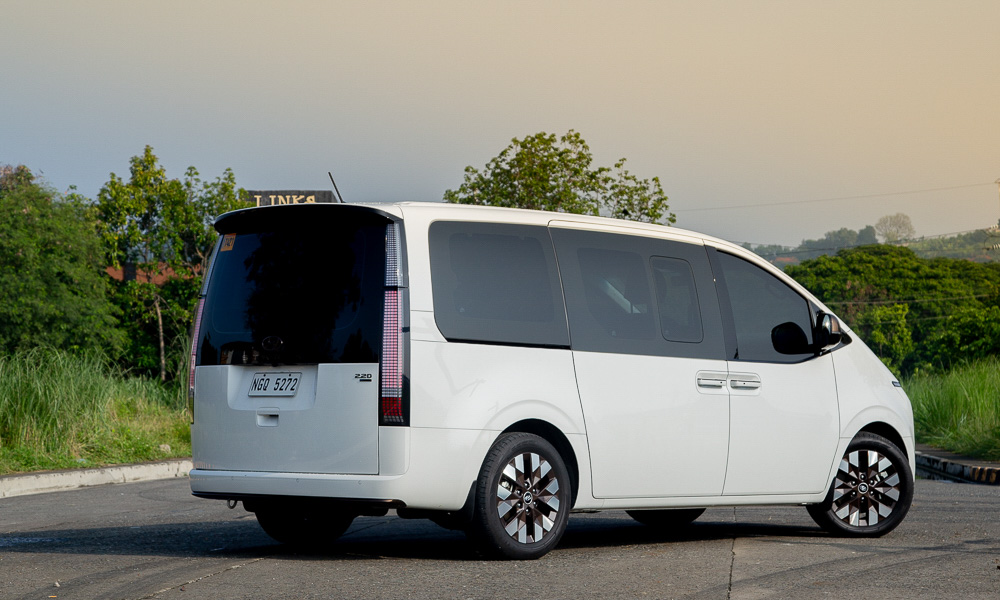 But as a colleague pointed out, size and space have always been associated with luxury. From houses and hotel rooms to airplane seats, bigger is always better. And what passenger vehicle is bigger than a van, right? And so, here we are in a world where luxury vans like this Hyundai Staria Premium exist.
A vehicle of this size and proportion should look like a giant slab of mozzarella cheese or a rolling shoebox, but it doesn't. It looks contemporary. Futuristic, even. There's always something to catch your eye from every angle. Up front, the Premium variant gets the full headlight treatment and the sophisticated grille.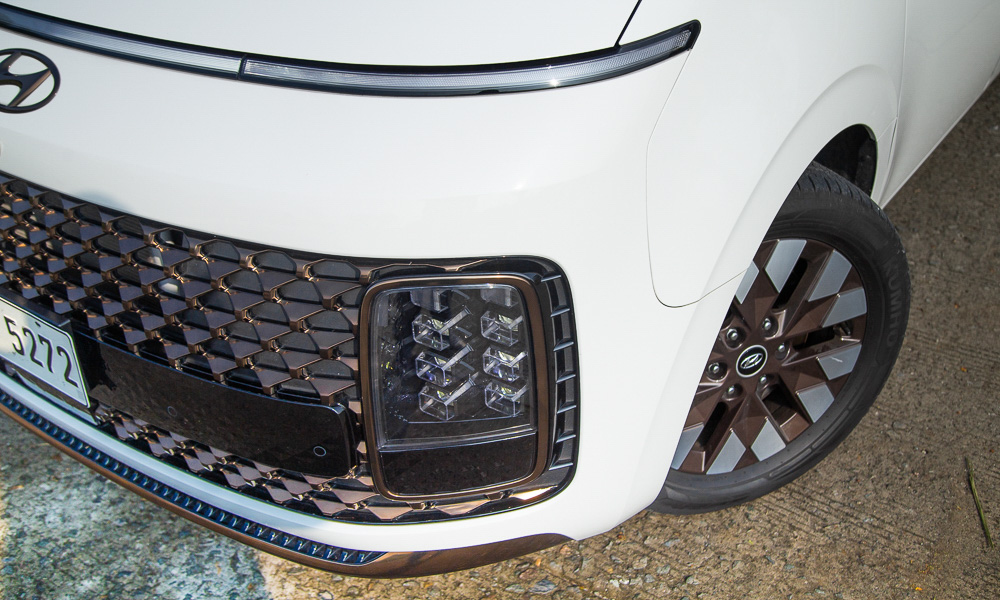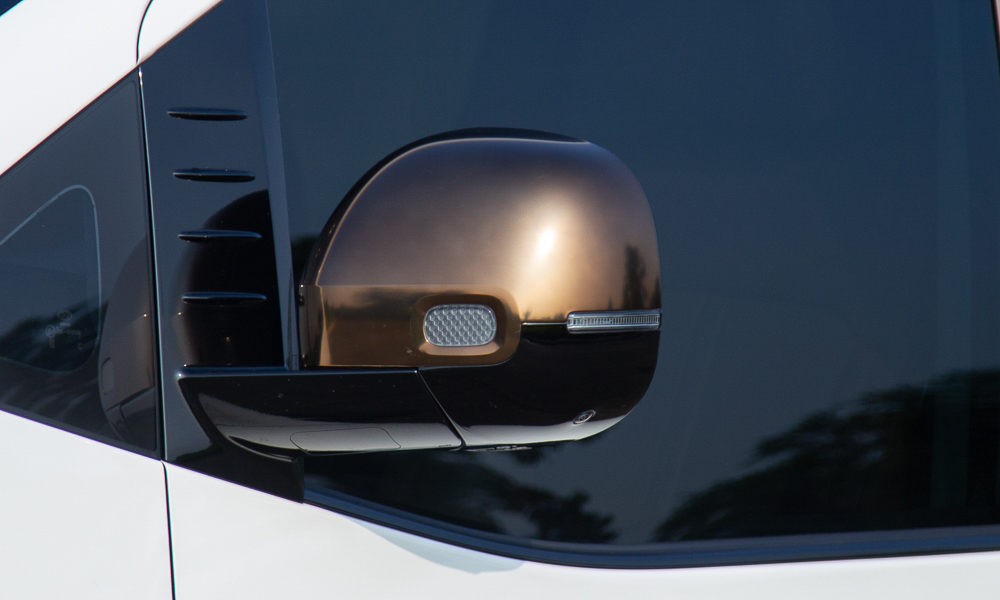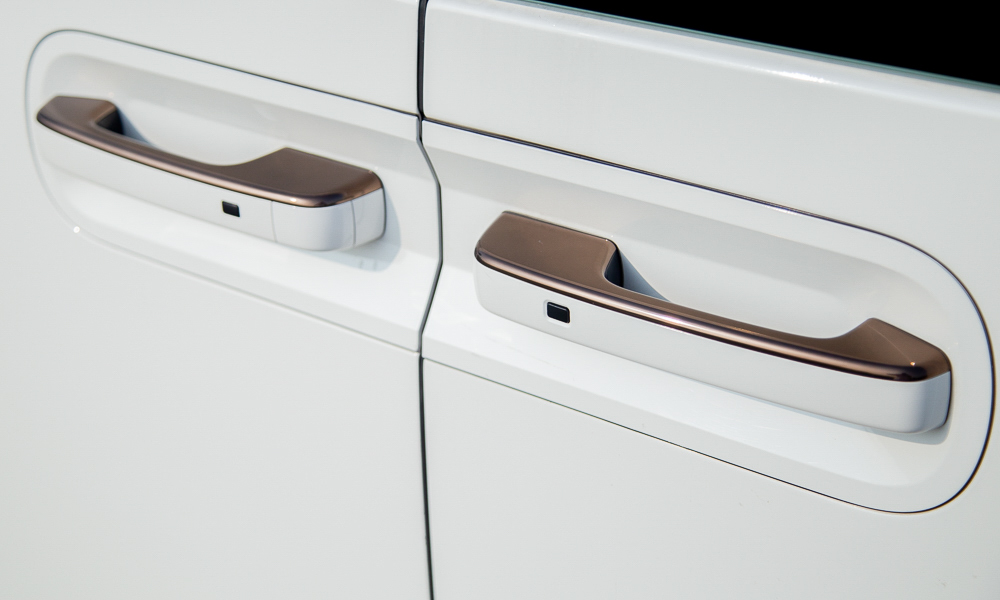 Down the sides, the enormity of the windows that taper beautifully toward the front creates an interesting profile. Out back, the Premium is fitted with full-length "8-bit-style" taillights instead of those that only go three-quarters of the way up in the GLS and lower specs.
One thing I do have an issue with is the bronze accents on the grille, the mirrors, and the door handles. They give off a little too much millionaire-K-drama-antagonist vibes to me—almost as villainous and over-the-top as a two-tone Rolex.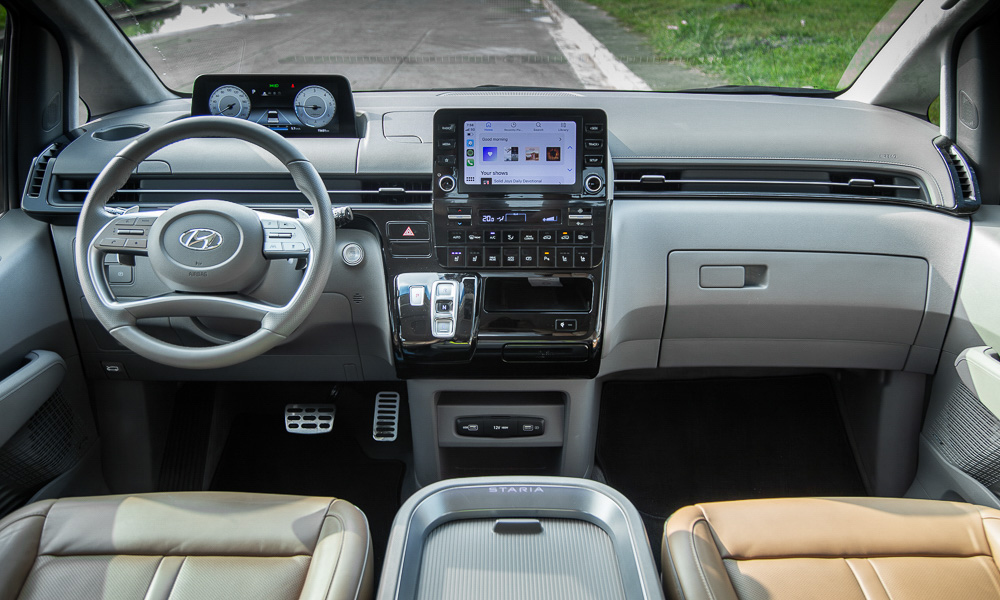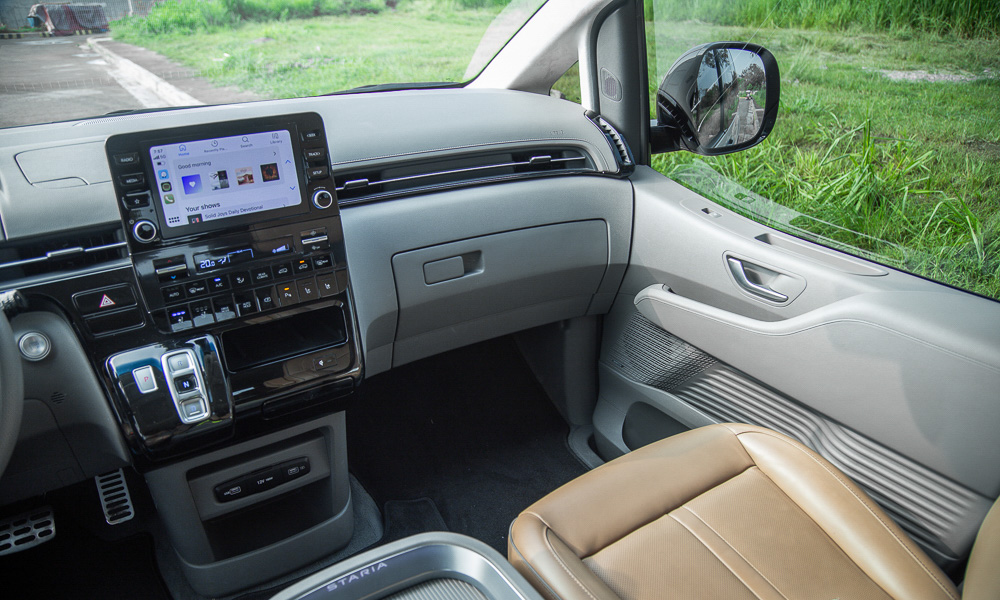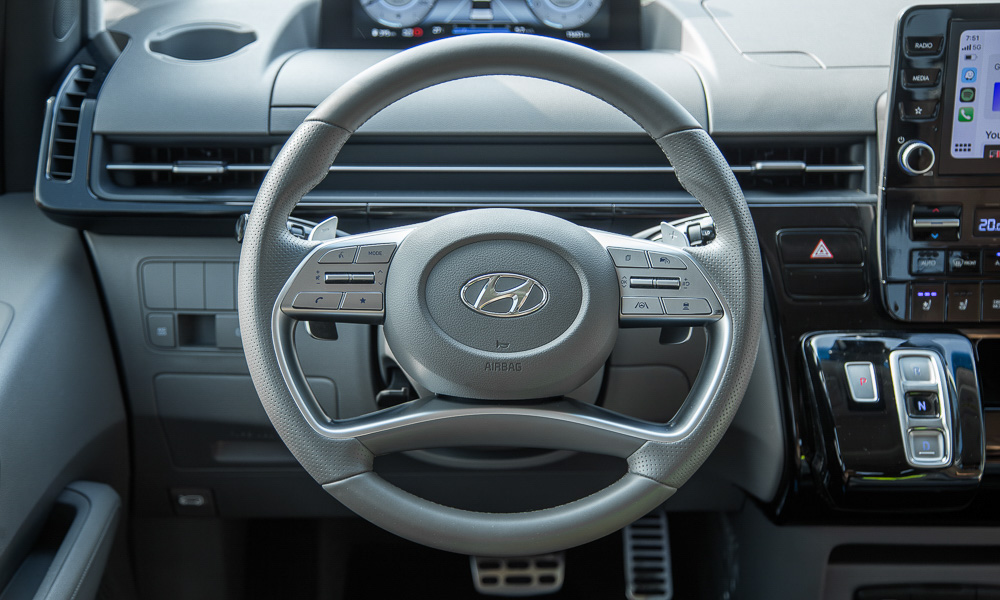 But press the button on the pearly sliding gates of this pearl-white demo, and you may very well think you were granted access to heaven. There's a lot to cover here, so do bear with me. In total, this van only seats as much as a midsize PPV. So there's more than enough space to go around.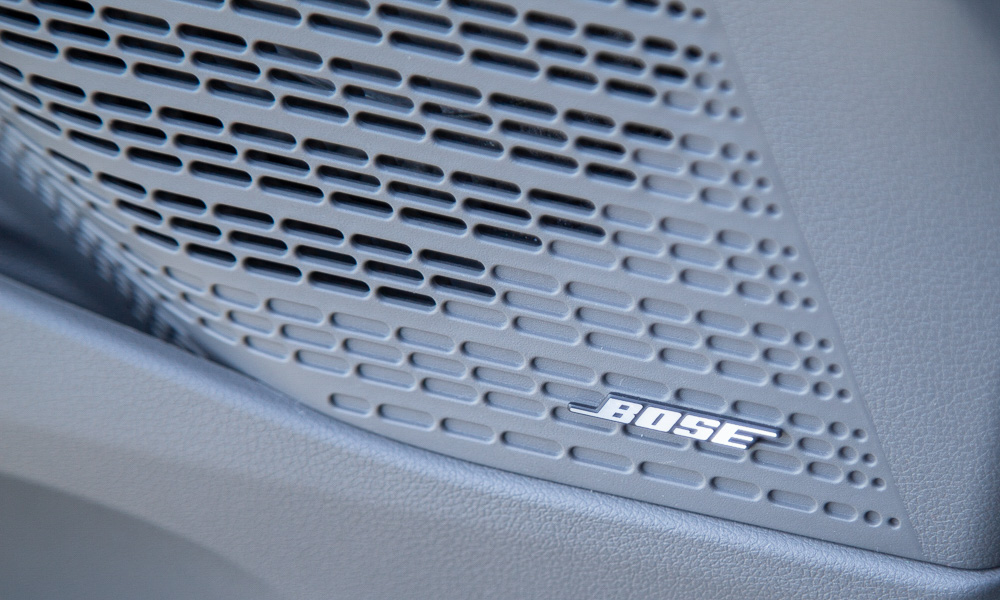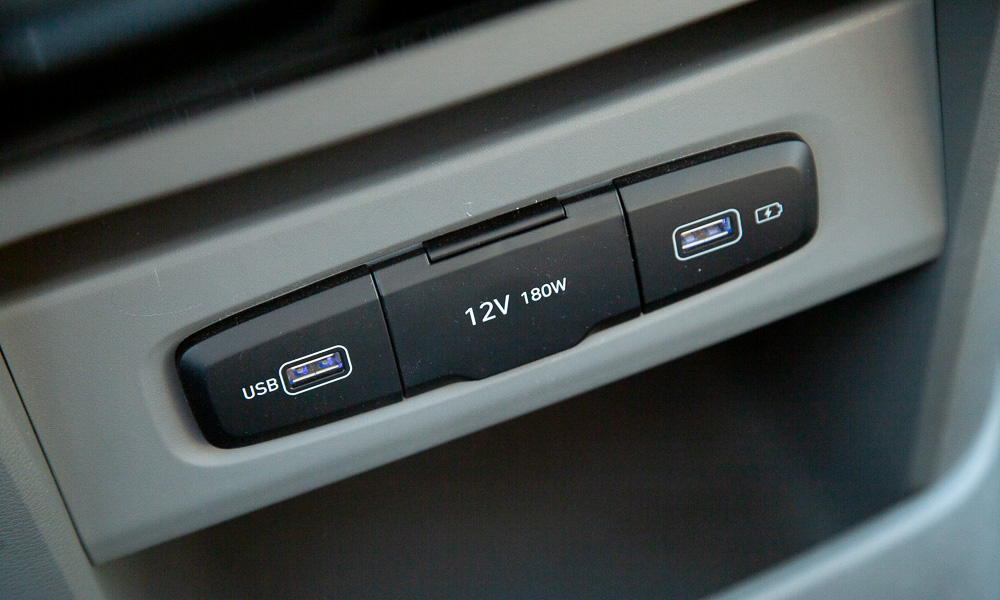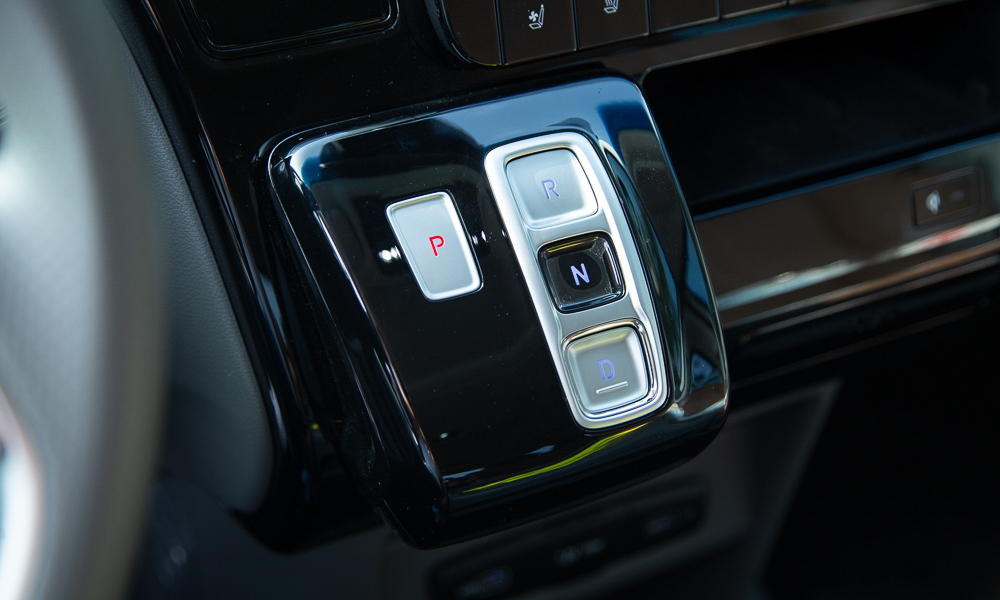 Starting up front, the dashboard is very modern and practical with tons of storage options besides the standard glove box. Hyundai does away with the typical wall-like dash layout of old vans, and makes the shapes and the lines flow across the space in a more SUV-esque manner.
The steering wheel diameter is also slightly smaller than the Grand Starex's, which makes the Staria feel more like a crossover than a van from the driver's seat.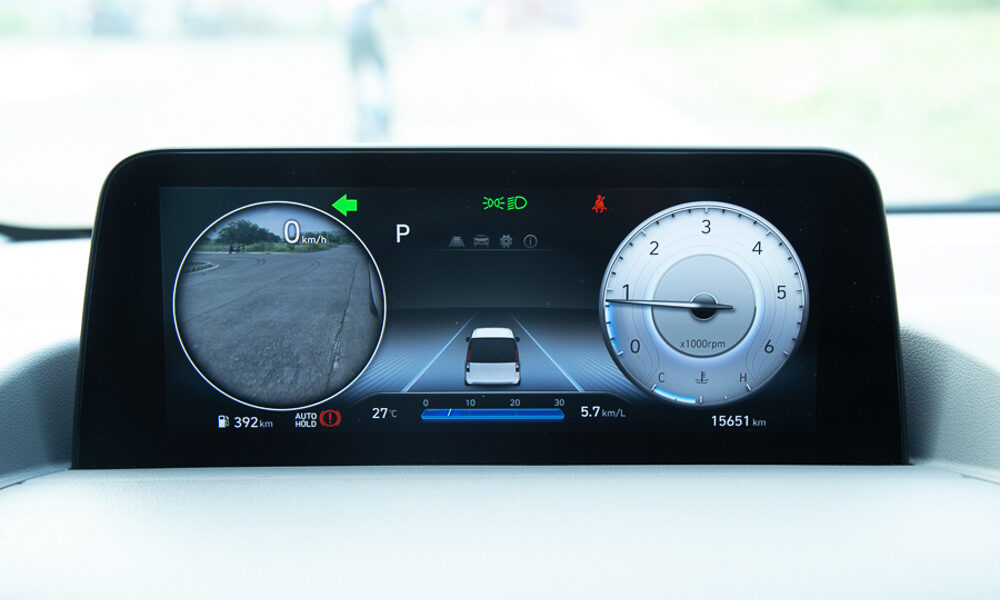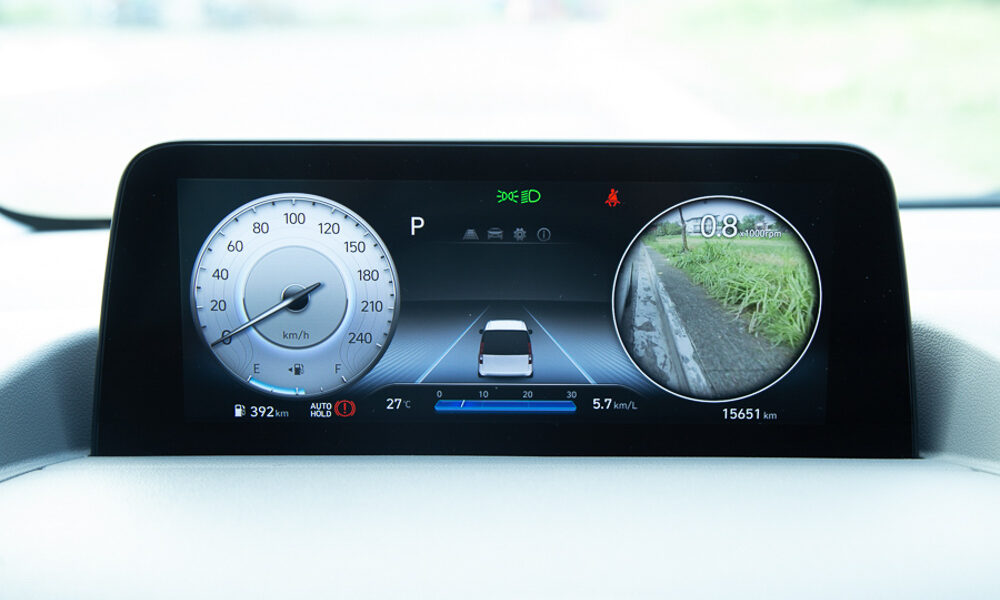 The digital gauge cluster is clear and glare-free, and is made to extremely high standards. It displays the blind-spot cameras once the turn signal is activated, and the interface is simple to use and very familiar if you have been in any Hyundai of the past decade.
The center screen is home to a 360° camera, and is also equipped with wireless Apple CarPlay and Android Auto. Sound is pushed out through bottom-heavy Bose speakers. The driver and the passenger enjoy an unprecedented amount of space in the cockpit as well as heated and cooled seats.
Tall glass panes exaggerate the scale of the interior space with the windows going as far down as a passenger's hip. Look up and you will find more glass with a sunroof up front and another panoramic one illuminating the second and third rows.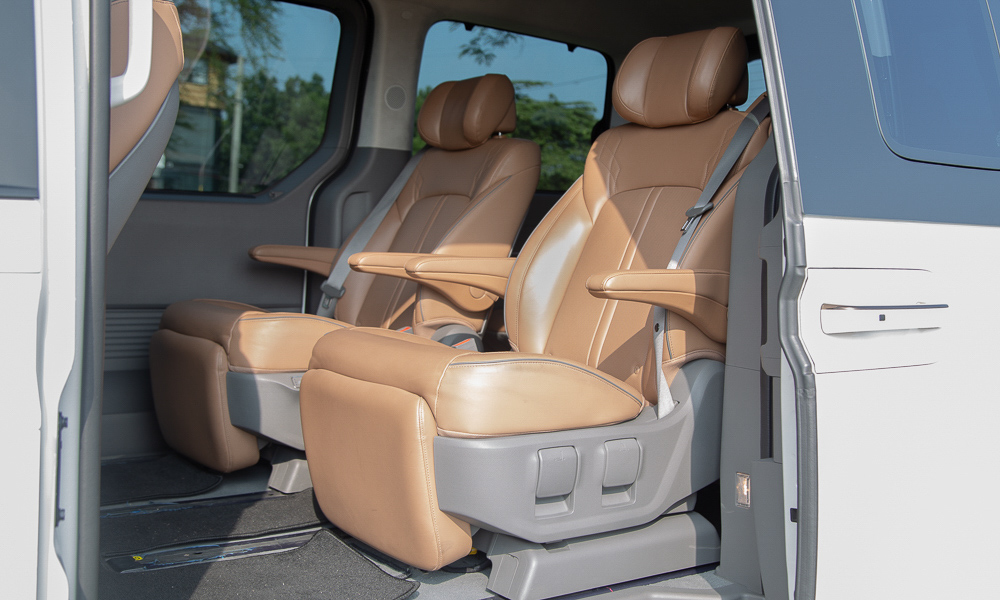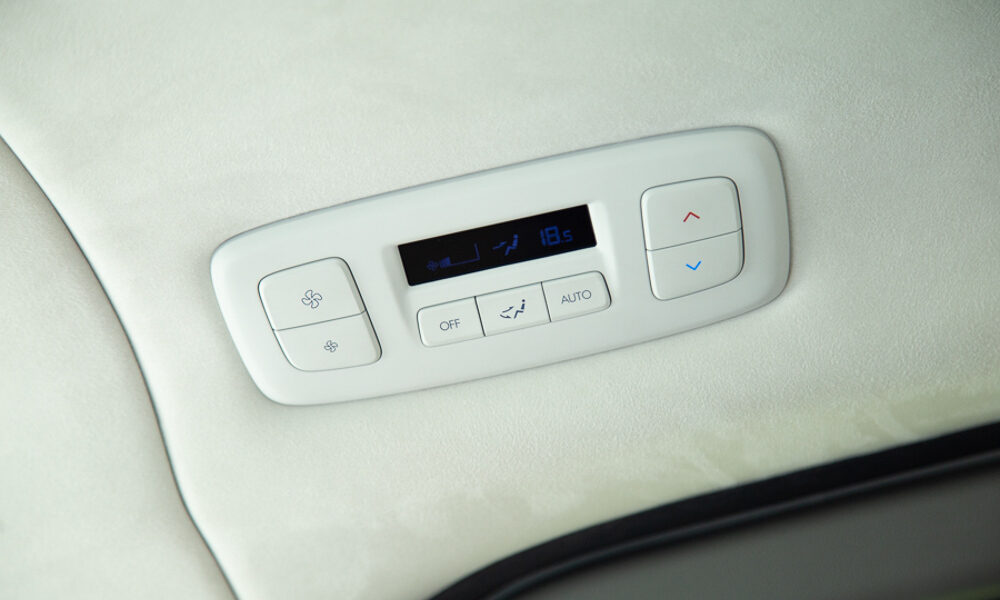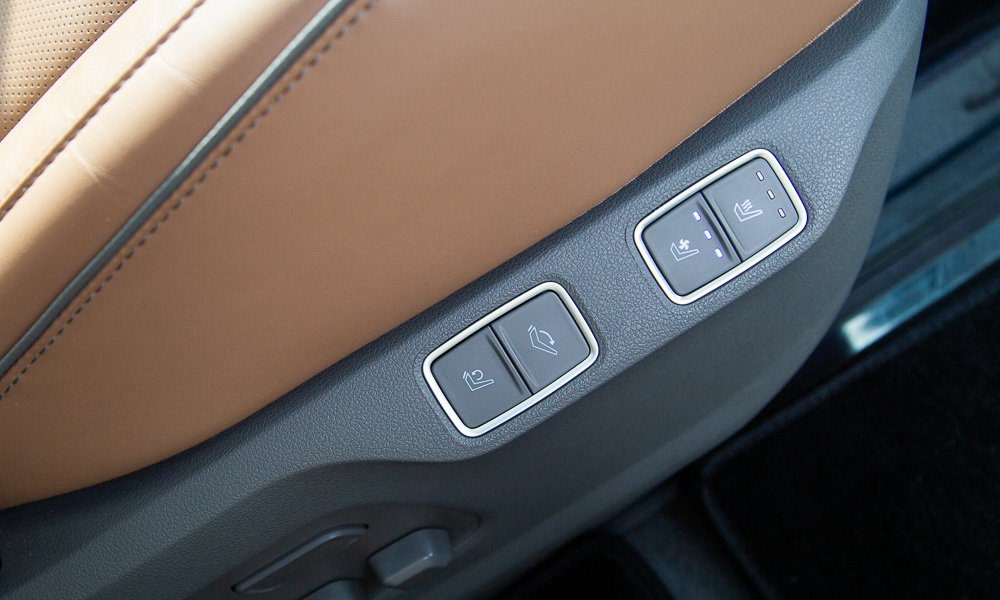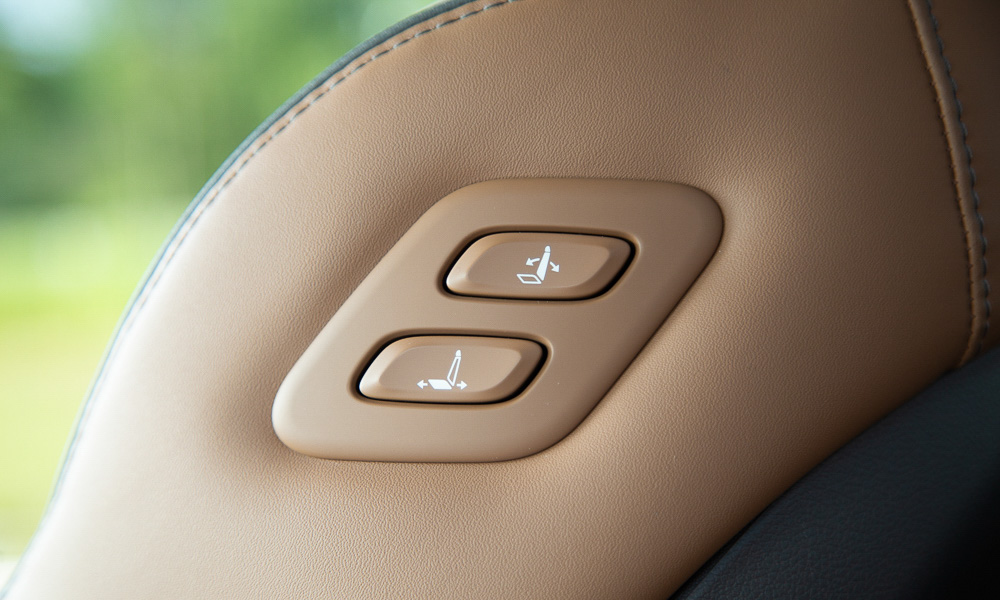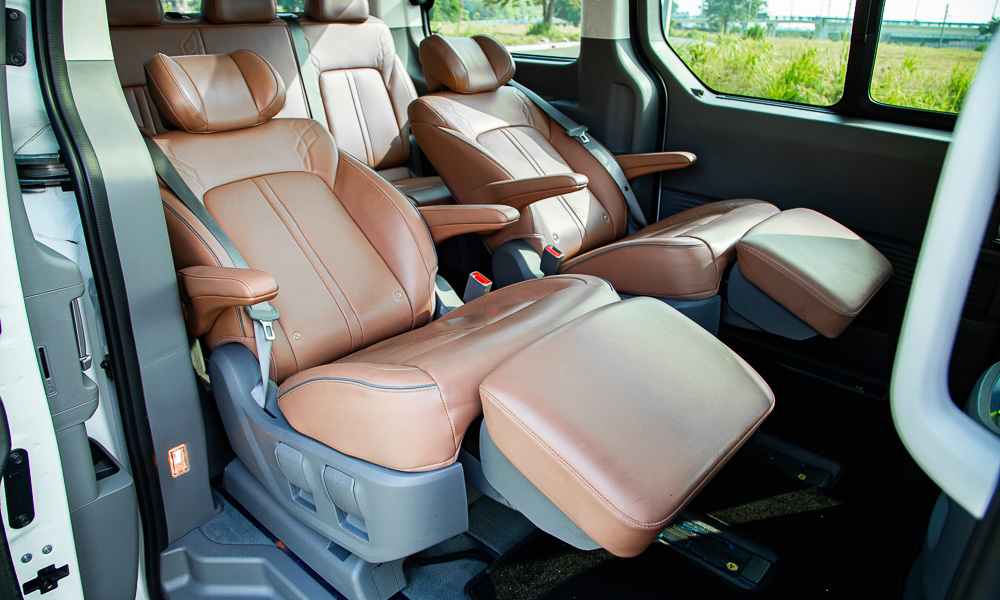 As with any other luxury van, the second row is, of course, the highlight of the space. The VIPs occupying this area are spoiled by fully reclining, heated, and ventilated captain's chairs with ottomans. These babies can almost lie flat like a first-class plane seat with legroom that will still feel spacious after a 12-hour red-eye flight.
Oddly, however, the armrests for these chairs are not height-adjustable. There are no detents that keep them in place at varying heights. Still, families that plan to purchase this van will be happy to know that the second row also has Isofix anchor points.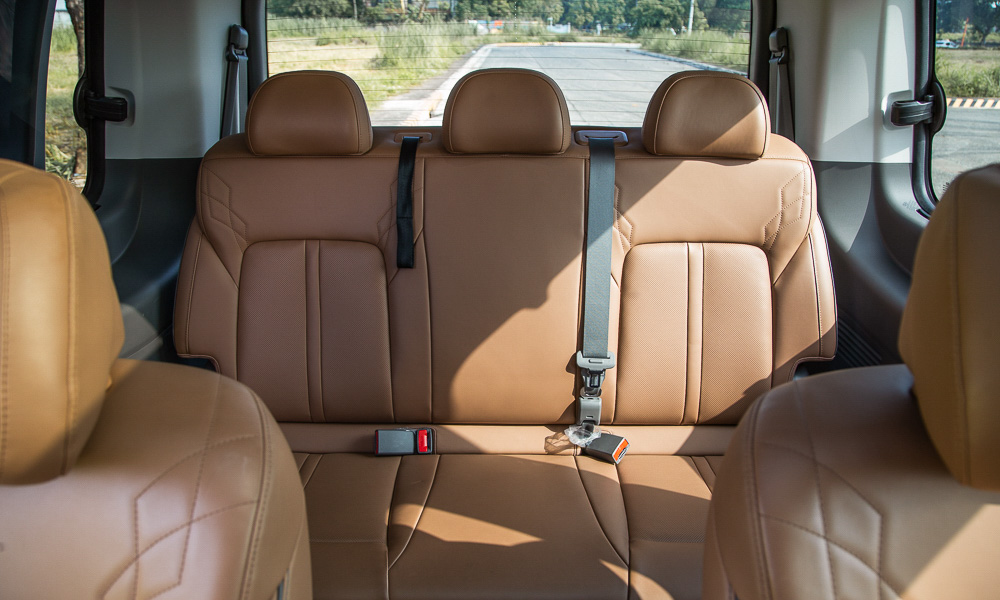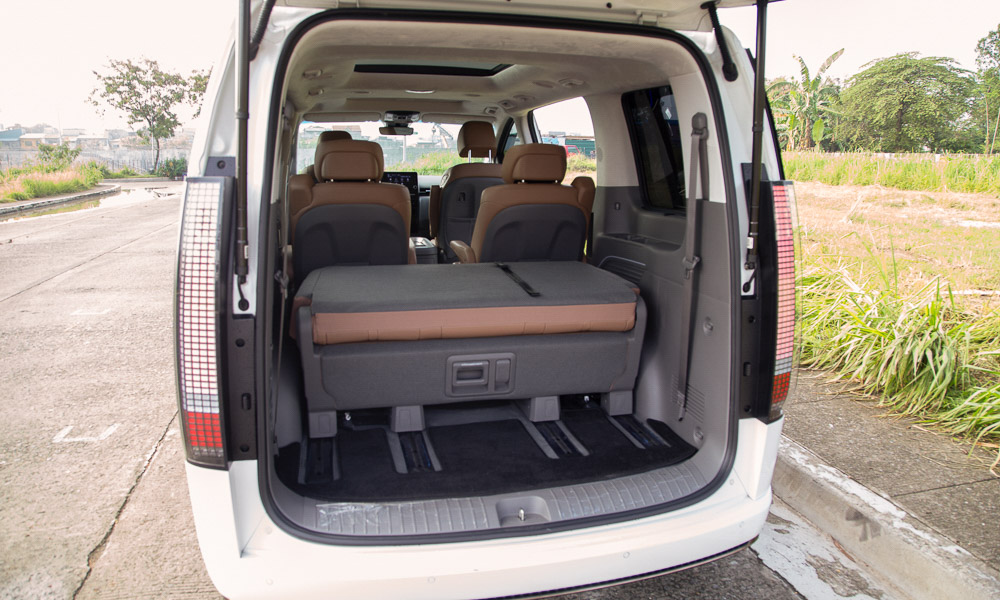 The third row is a more traditional bench layout, but still gets a ton of legroom. It can slide even further back until the backrests rub on the rear tailgate for an extra serving of space. Access to the third row is easy by walking through the two captain's seats. I would have loved to see a center armrest here to bring the comfort closer to that of the other seats in this cabin.
But alas, the rich are miserable and handsome men have puny peckers because you can't have it all, as they say. And as large as this vehicle is, it does not have much in the way of cargo space. With all seven seats filled, all that's left is about the depth of a piece of large-size travel luggage, and that's with the third-row bench pushed all the way forward.
You can fold the third-row backrest down for more cargo capacity, but then you're left with space for just four passengers. A potential problem when you have to bring a large cooler filled with grilling meats on your Christmas holiday.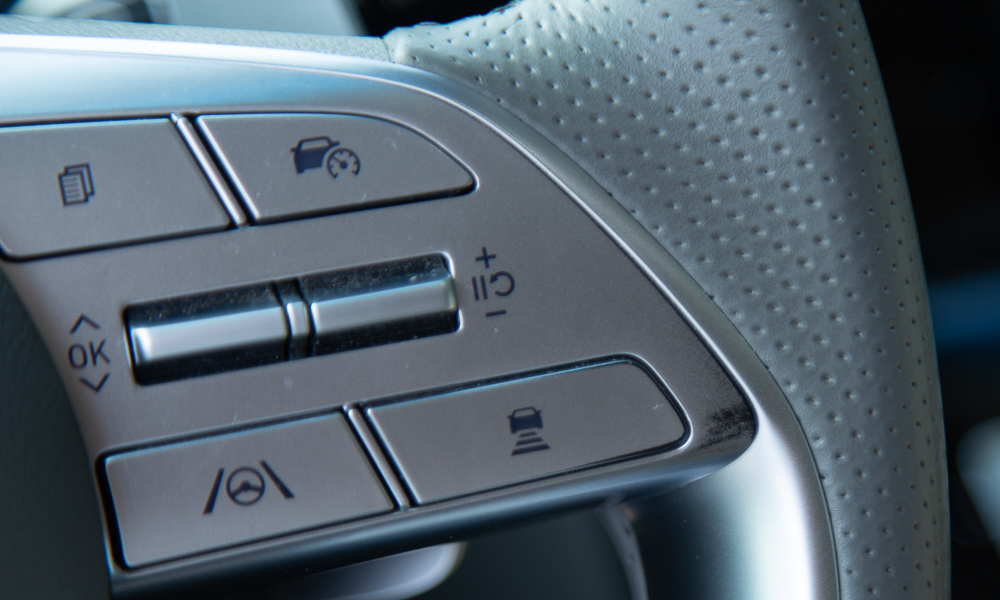 There is one alarming thing about the Staria that I must point out. This particular demo unit had just a smidge over 15,000km on the clock when I had it, and it was already showing clear and visible signs of wear in the interior.
The silver trims on the steering wheel were starting to fade, and there were noticeable scratches on the plastic touchpoints such as the door pulls and around the rear sunshade hooks. Given the extent of the wear present in this particular example, it is slightly worrying to think how the interior will hold up after years of school runs, family road trips, and Sunday mall crawls.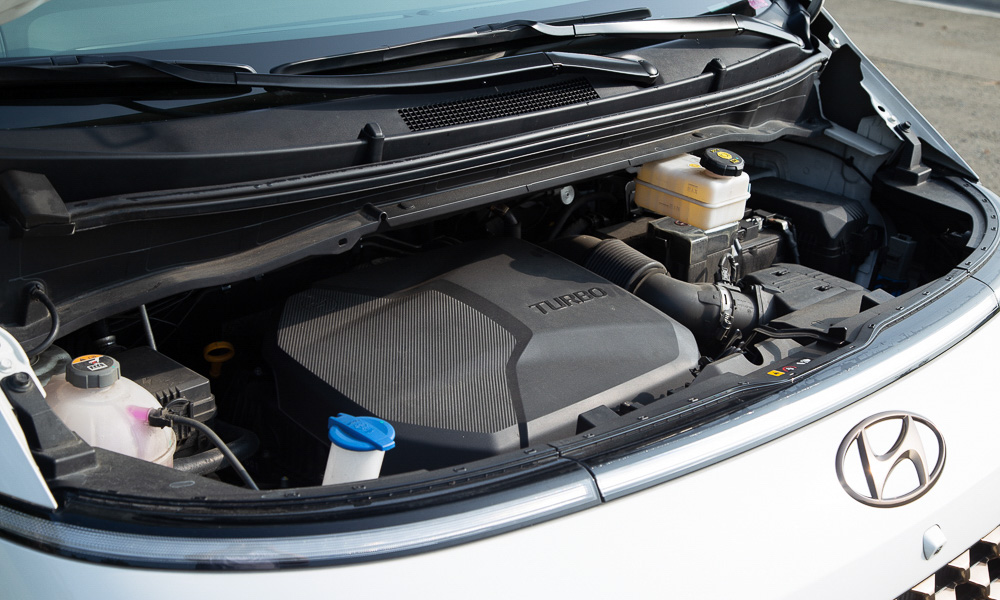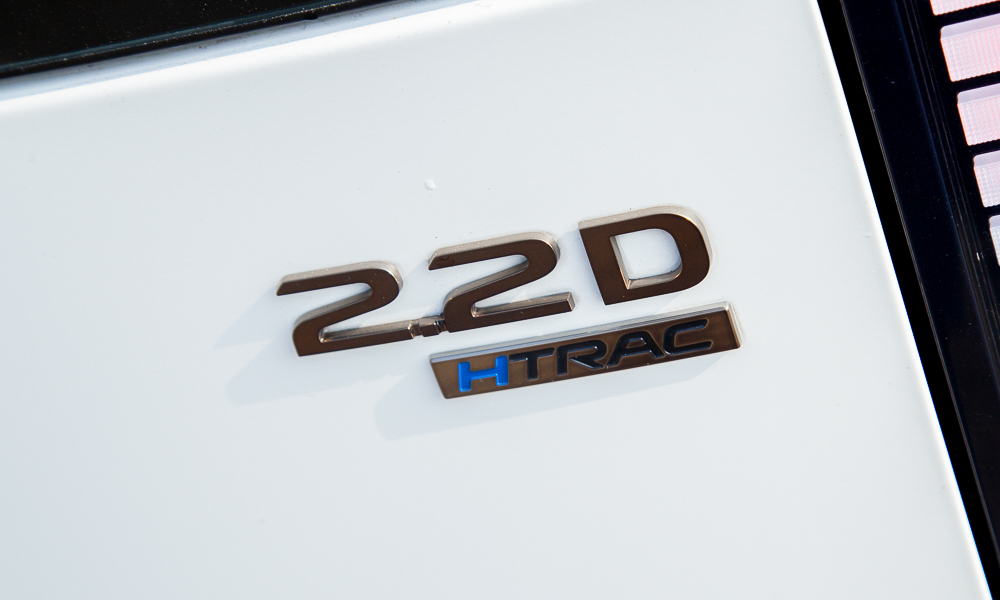 The 2.2-liter D4HB turbodiesel has been around for the better part of a decade and a half now, first making an appearance locally in the face-lifted second-generation Santa Fe. In 2010, it was a revolutionary powerplant fitted with a variable-geometry turbo whistling to the tune of a listed 194hp. Remember that this was at a time when the Toyota Fortuner's 2KD was pushing an asthmatic 100hp, and before the Mitsubishi Montero Sport's 4D56 was ever graced with VGT.
It was a smooth, relatively small-displacement engine with unparalleled power and efficiency. And while much of its best traits are still present, the D4HB is no longer breaking new ground today. The Staria is the heaviest chassis this engine has had to pull, and with all-wheel drive, no less. It has also been detuned to just 175hp, which means that what was once a tire-chirping torque monster has now been reduced to a pedestrian workhorse.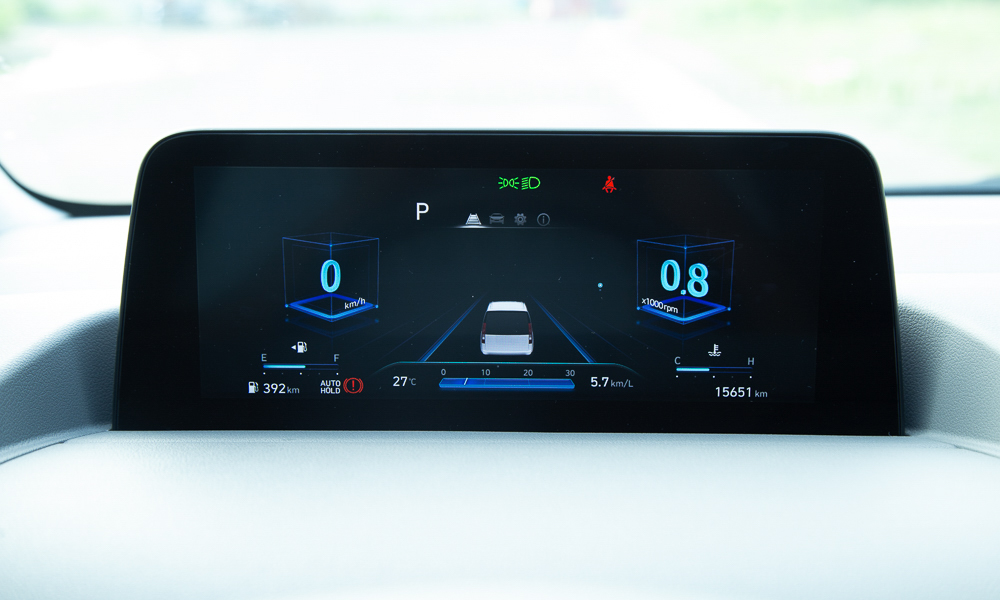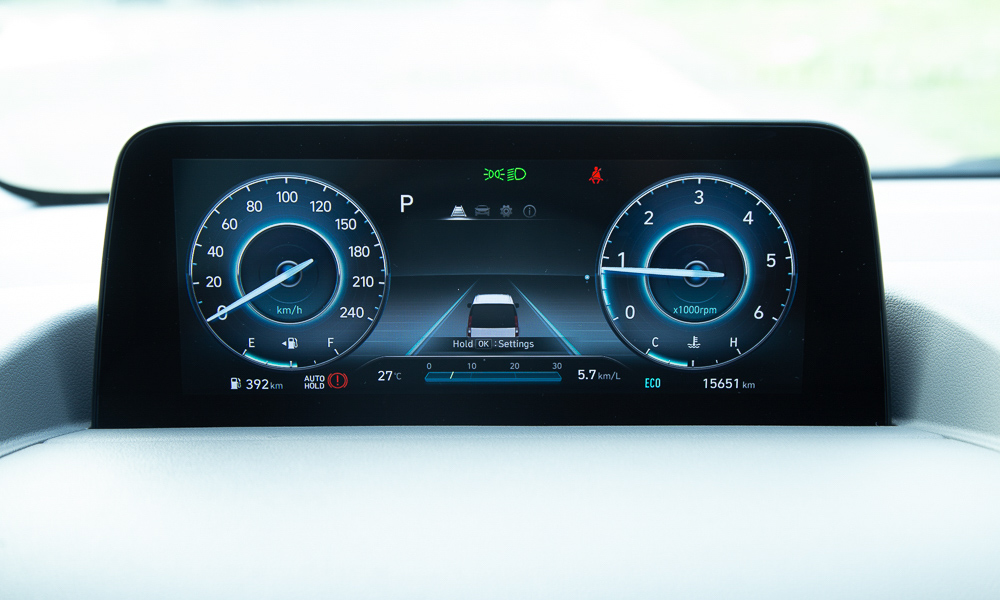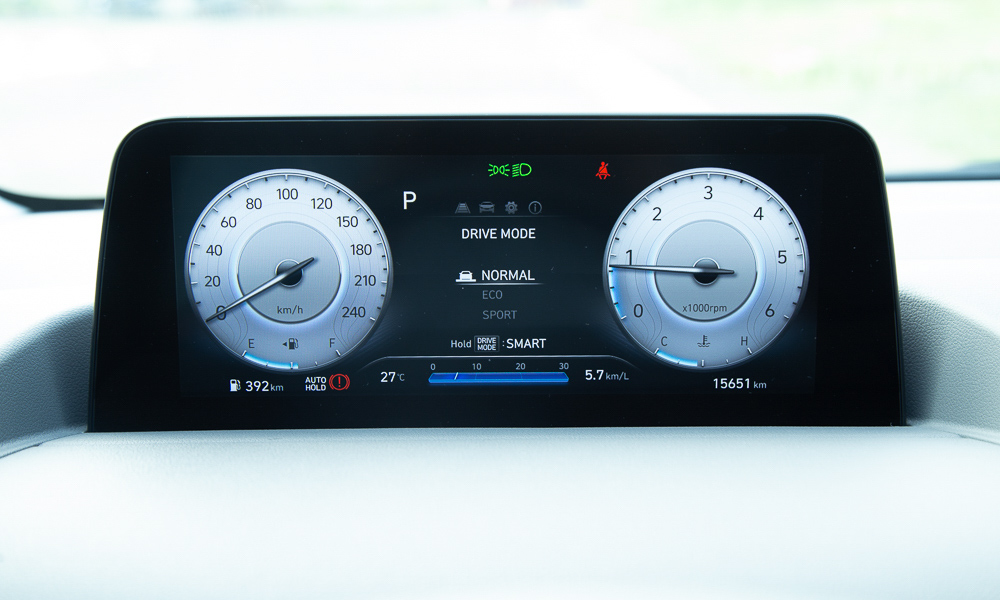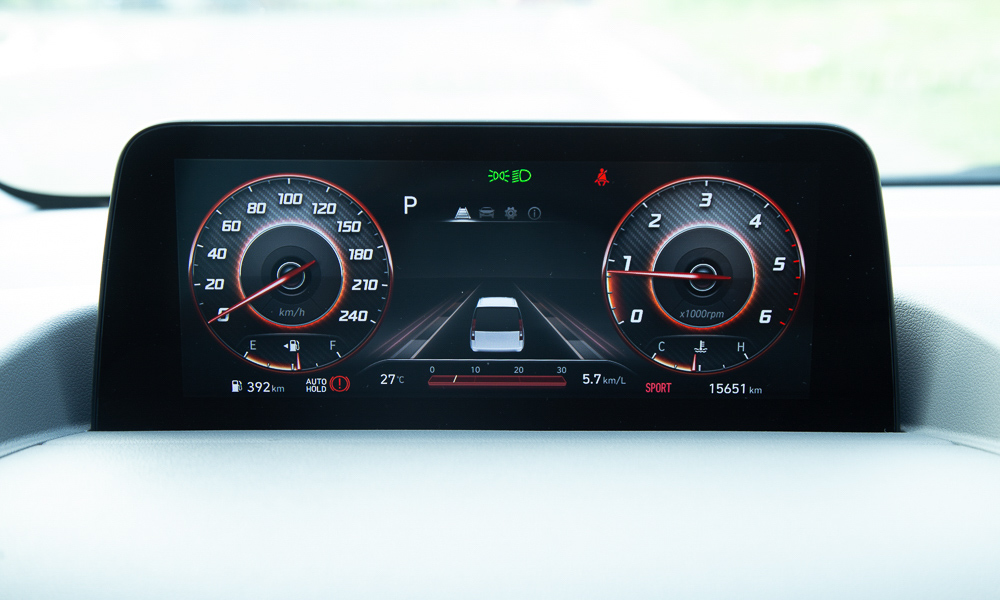 Initial pick-up is slow and slightly cumbrous. It requires deeper prods of the throttle to build speed that should be effortlessly achieved. Fuel efficiency suffers greatly as a result. My best in the city was 5.8km/L, while my personal Santa Fe with the same engine and an un-frugal driver day in and day out can easily do 7km/L. Nevertheless, it's still a solid engine with refinement perfectly suited for a van like this.
The eight-speed automatic transmission is smooth and unobtrusive; it does the job without ever calling any attention to itself. Paddle shifters are available should the need to select a gear manually arise. In addition, AWD will give you the confidence to traverse a wet Kennon Road or go down a sandy beach in La Union.
Hyundai labels the Staria as an MPV on its website, and the driving experience does seem to match. Again, the Staria drives more like a crossover than anything else. While it does lack that floaty, rolling-on-clouds quality, the chassis is tuned well, with just a sprinkling of dynamism to keep things entertaining. Drive both the Staria and the Grand Starex back to back, and the latter will feel like a cargo truck in contrast.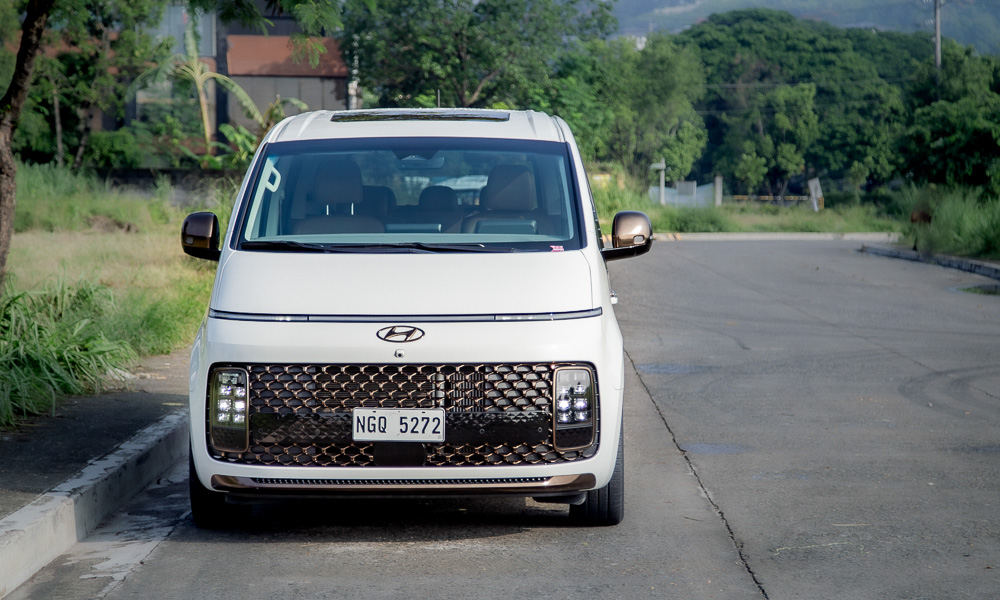 The Staria Premium is amazing and great in every way. I do have qualms about its long-term reliability given what I've seen from this demo, but it's something I would choose to put up with eyes wide open in exchange for the superb experience it can provide for the whole family.
Sadly, however, the Staria Premium has yet again fallen into the hands of blood-sucking dealers. I did some digging myself by walking into a Hyundai dealership, and was told that despite the listed price of P2,930,000, it was only available at a "package" price of P3,500,000.
I guess it's still a bargain considering that a Toyota Hiace Super Grandia Elite goes for P3,173,000 plus a dealer markup of two brand-new Liteaces. Plus, it offers more space than an Alphard and practically the same level of luxury for at least a million bucks less if you don't consider the "package pricing" for both vehicles.
But if getting ripped off leaves a bitter taste in your mouth, then you're all out of luck.
HYUNDAI STARIA PREMIUM
| | |
| --- | --- |
| Engine | 2.2-liter four-cylinder turbodiesel |
| Transmission | 8-speed automatic |
| Power | 175hp @ 3,800rpm |
| Torque | 430Nm @ 1,500-2,500rpm |
| Dimensions | 5,253mm x 1,970mm x 1,990mm |
| Drive layout | AWD |
| Seating | 7 |
| Price | P2,930,000 |
| Upside | Truly comfortable and luxurious in both size and spec. |
| Downside | Will it keep its grandeur after decades of use and abuse? Also, the price gouging makes this prohibitively expensive. |