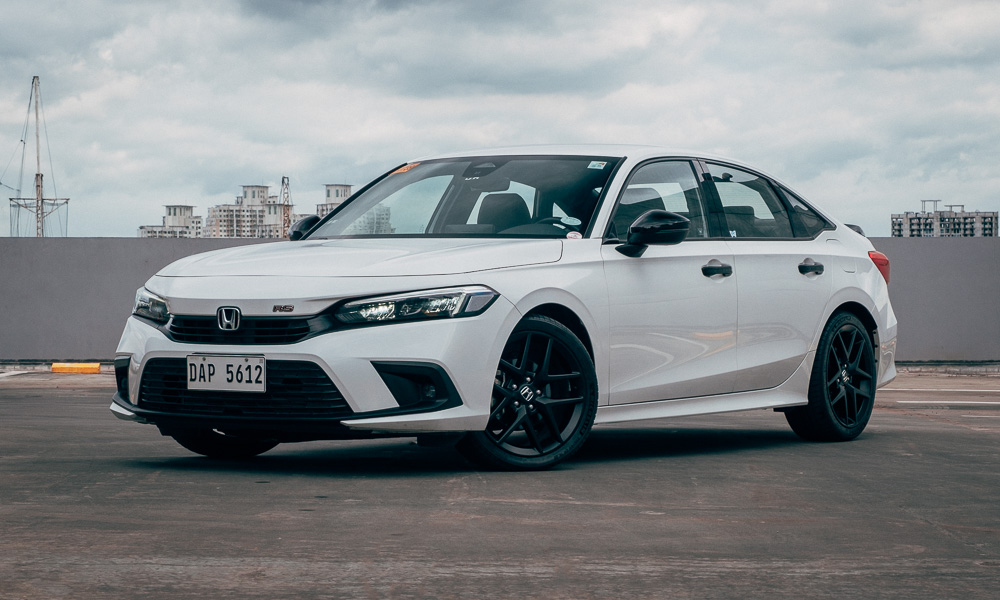 Those in their thirties or early forties might have been fortunate enough to have some really cool sedans as their college cars, such as the Toyota Corolla and the Mitsubishi Lancer. Of course, who could forget about the venerable Honda Civic SiR? If you had one, you were immediately one of the "cool kids." Fast-forward to today, and you'll see that the typical college car is some subcompact or small crossover.
While practical, the subcompact or the crossover lacks the flair that sedans used to have. So, if you are a tito looking to get a family sedan and relive his college years, you'll be glad to know that the 11th-generation Honda Civic has managed to retain that same spirit that was lost when the crossover nation attacked.
This is the top-dog Civic, the RS. RS means "Road Sailing"—it's no SiR with a high-revving engine and a manual gearbox; it has the same powertrain as the lesser variants—so it's simply the best and most pogi-looking Civic on offer until the FL5 Type R makes its way to our shores.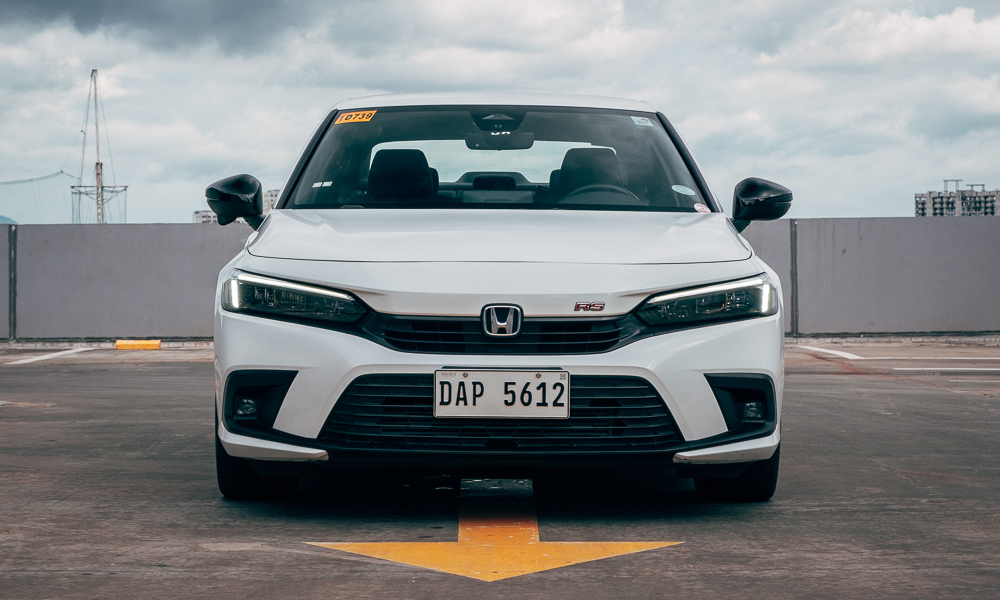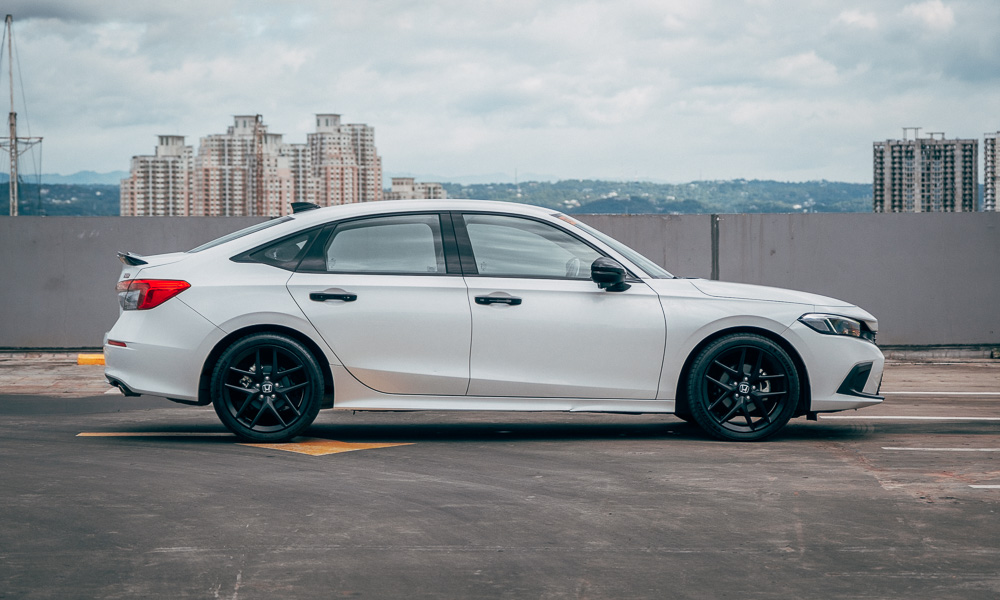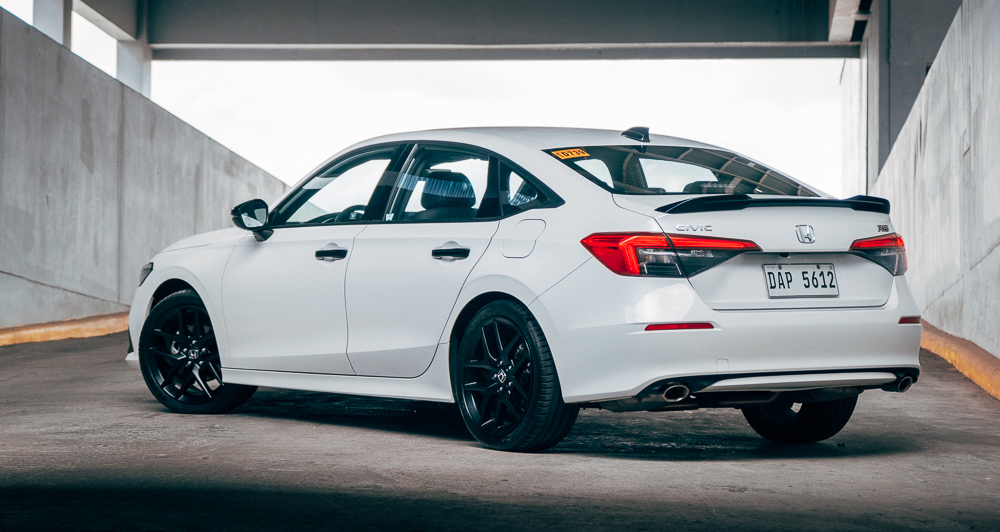 Styling is subjective, and the Civic is no stranger to this kind of controversy, especially with its "flip-flop curse" where every other year seems to be a hit after a miss. Despite what fans of the 10th-generation say, the general consensus for this year is that Honda has a very good-looking vehicle on its hands.
While more conservative owners would look to the S and V Turbo variants, the RS tugs at my 24-year-old heartstrings with its "boy racer" appeal. In fact, this looks racier than its Type R equivalent, thanks to the 18-inch matte-black wheels and the black door handles, mirrors and spoiler.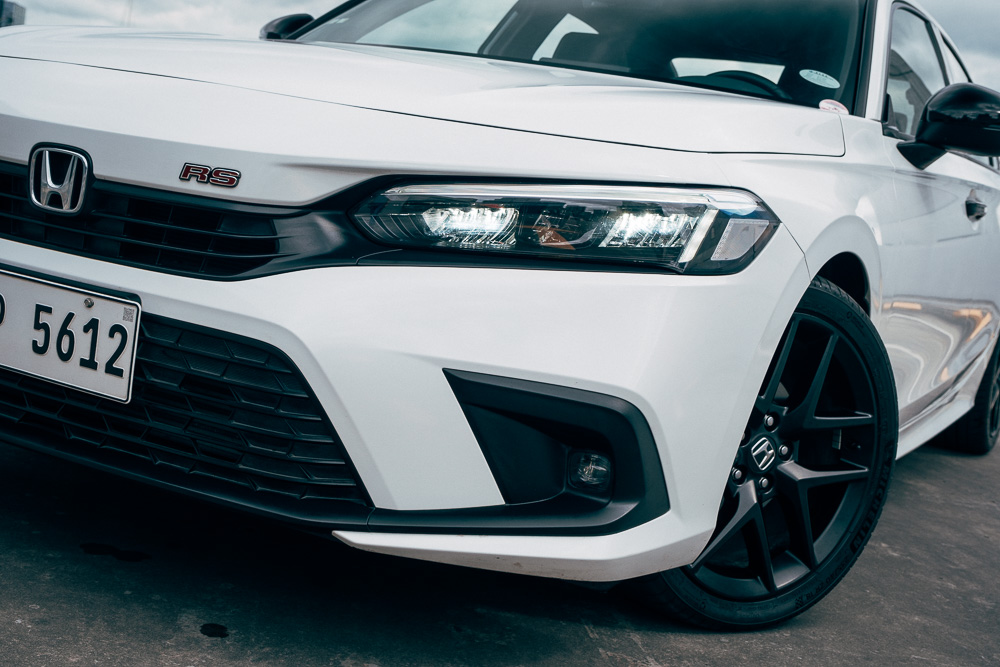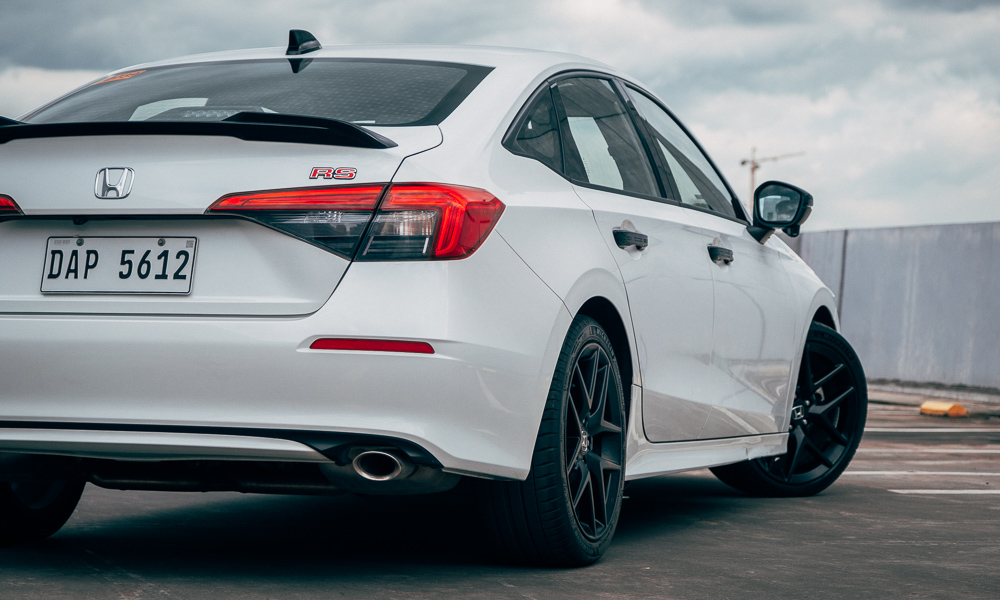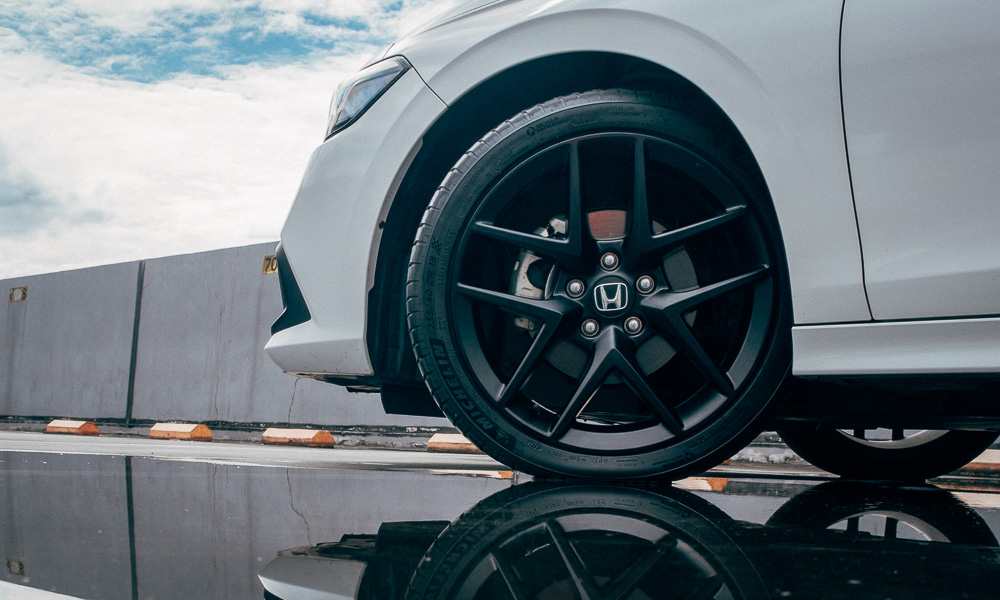 But I can't help but nitpick a bit, considering its price of P1.775 million. Bear with me, as you'll hear me bring this up a lot.
For one, while the front has full-LED lighting, it's of the reflector type, meaning that the beam pattern and cutoff aren't as sharp when compared to projectors. Also, the rear turn signals are halogens, while everything else is LED. Nothing that the Civic's extensive aftermarket catalog can't fix, of course.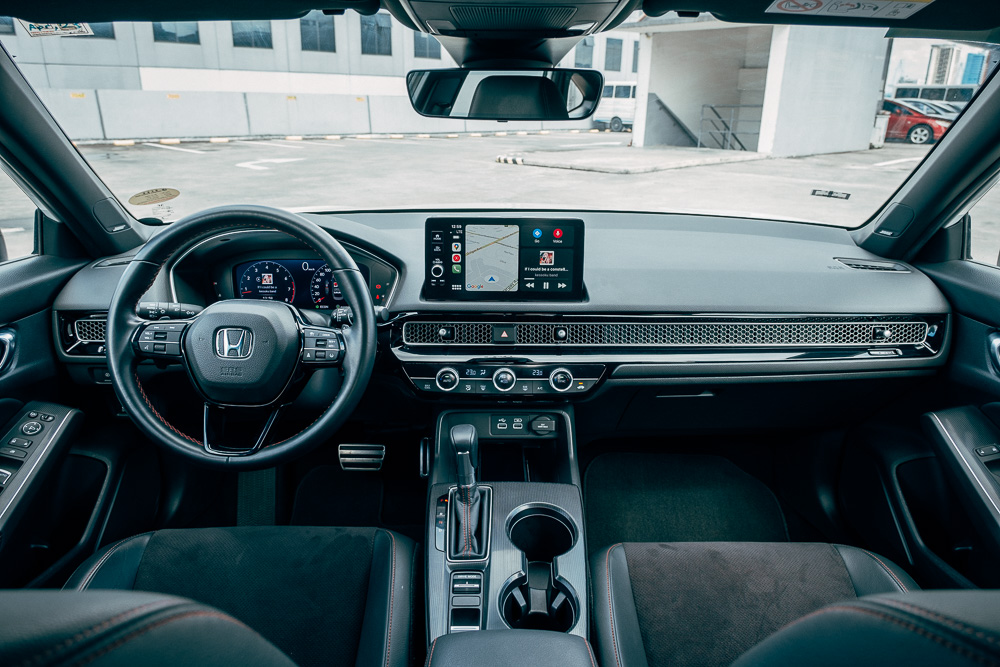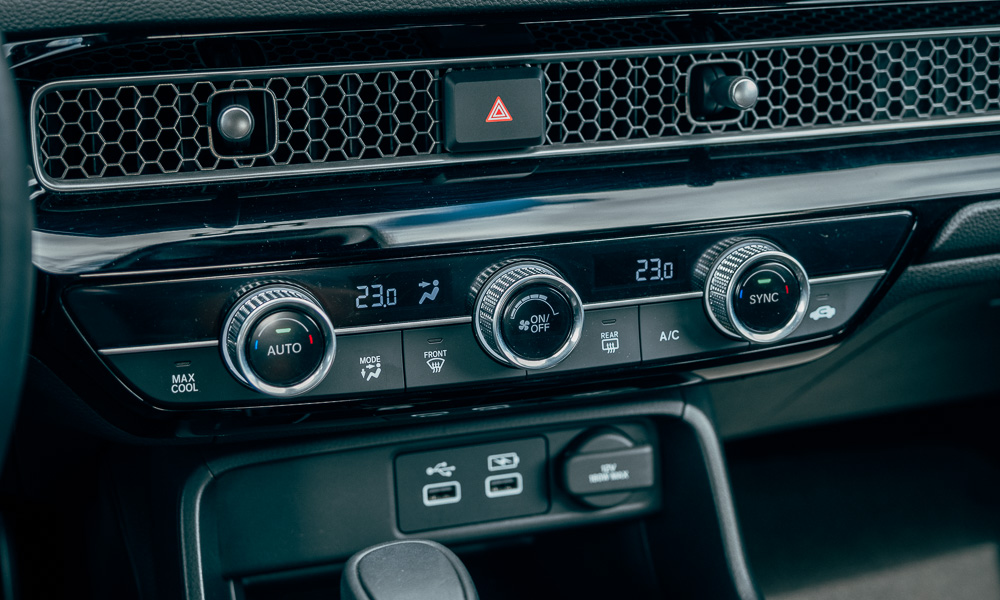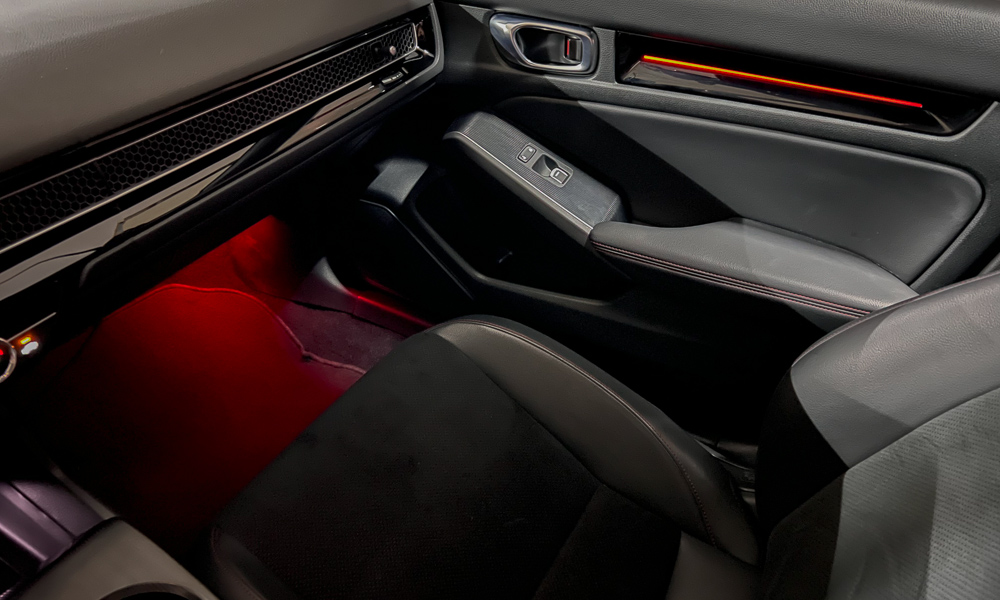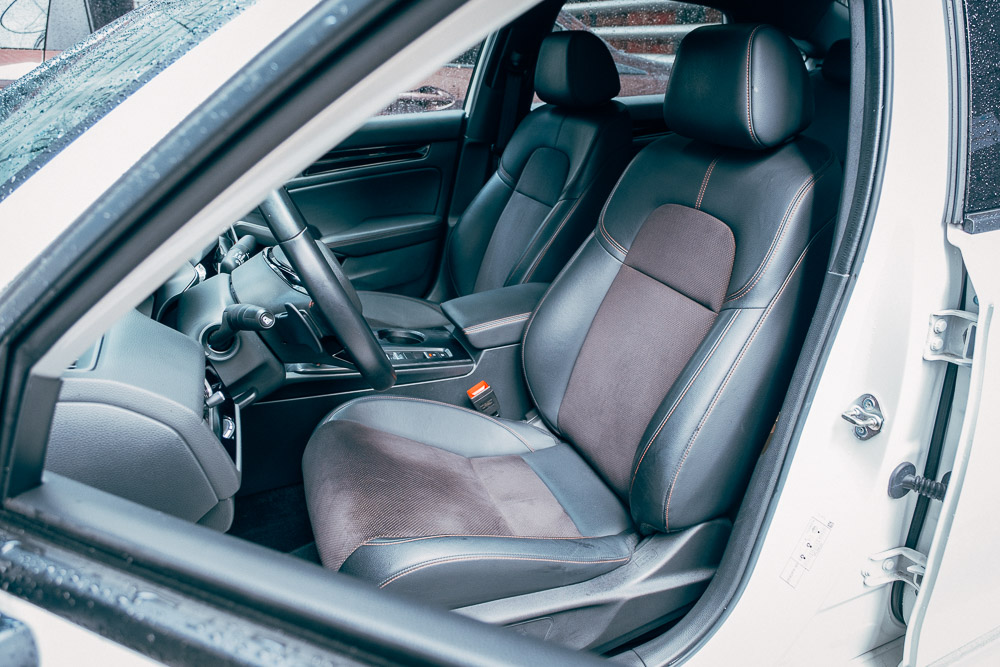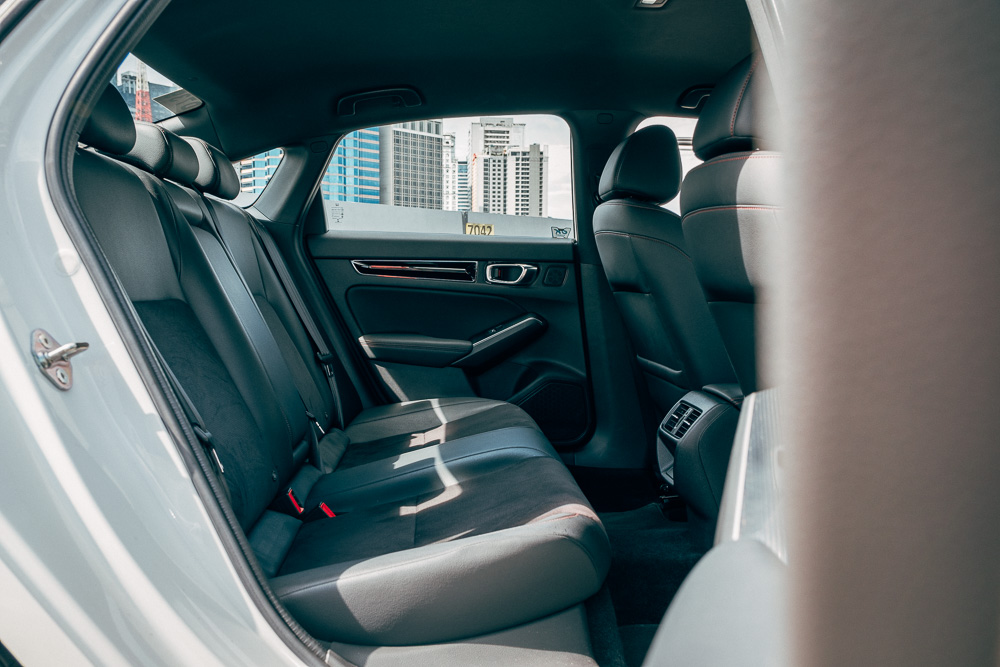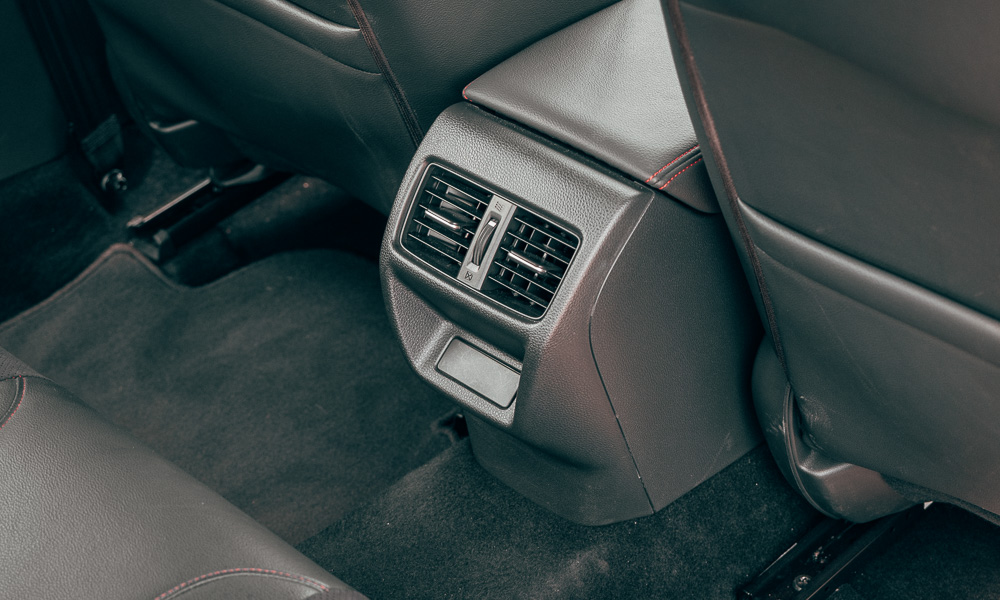 As soon as you clamber into the vehicle's comfortable and six-way power-adjustable driver's seat, the older generation will be greeted with a familiar feeling—amazing visibility, a low beltline that sits even below those of other sedans on the market, and the terror you get when large SUVs surround you in traffic.
It has its advantages and disadvantages, especially with its low ride height of 134mm, but I promise you that this is the most sports-car-like experience you can get while comfortably hauling two adults in the rear (save the middle seat for a small child). Rear passengers have rear cupholders in the armrest and climate vents of their own, but there's a blank plate for two nonexistent USB ports, which should be there for the price.
The interior is upholstered in a mix of leather and suede with red accents and orange ambient lighting, incredibly tactile switchgear, solid build quality, and a tasteful use of trim throughout the cabin.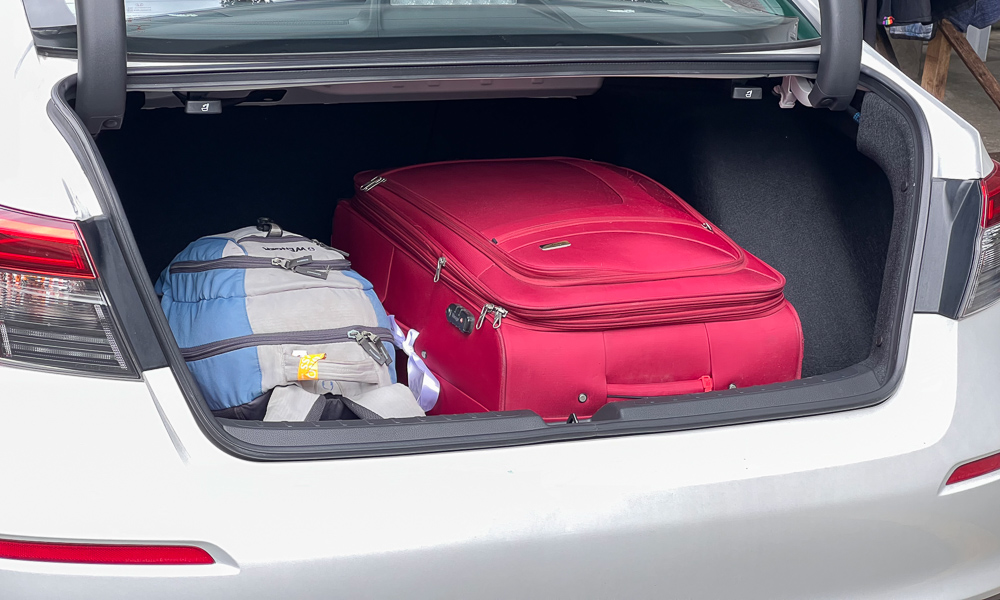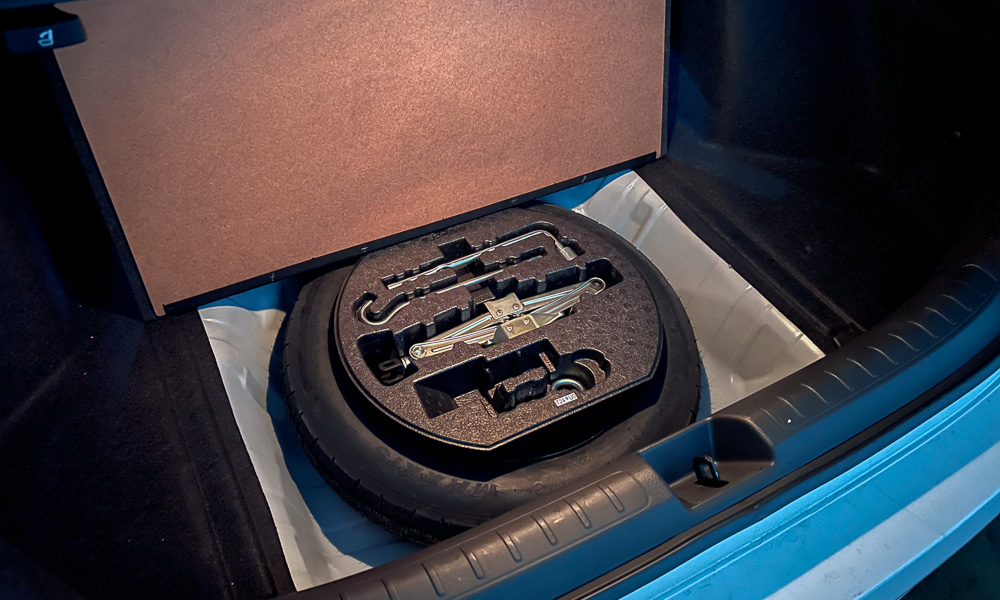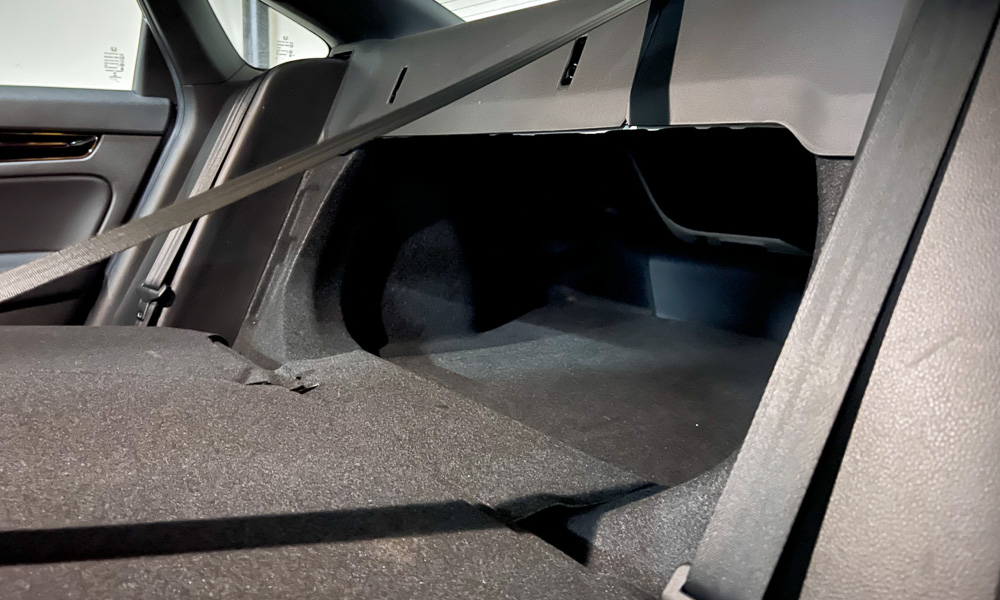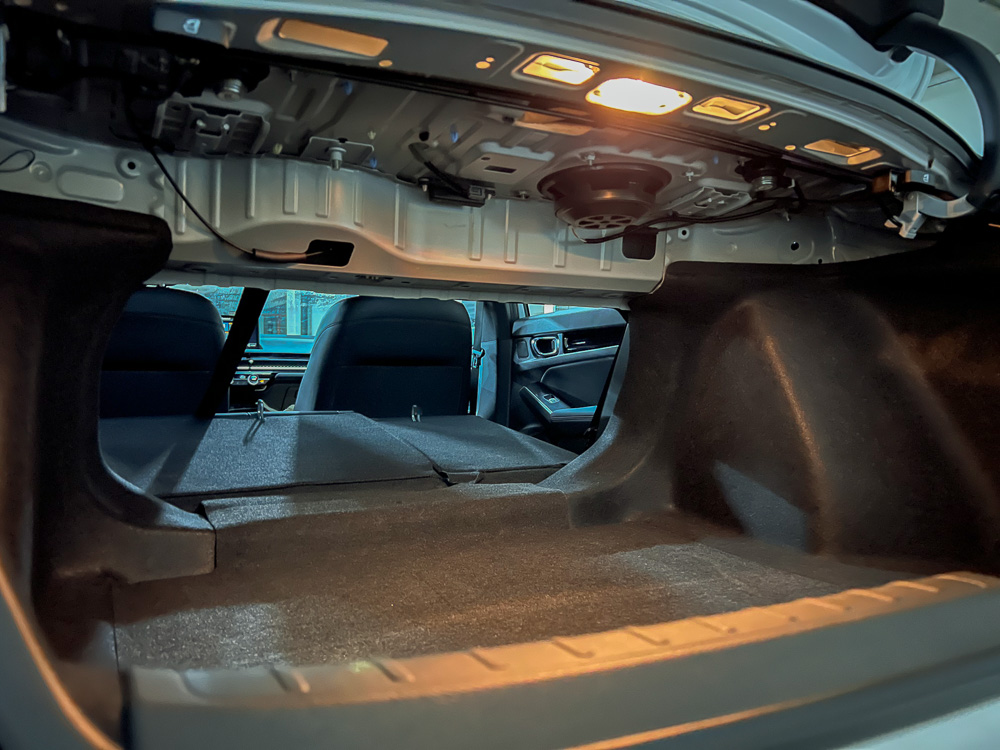 The trunk capacity is a good 495L with tools and a space-saving spare hidden underneath a false floor, but the rear deck-mounted subwoofer will make loading taller items a slight challenge. For longer items, the seats can be folded down (only from the trunk) in a 60:40 split, but the aperture will limit what can be fitted.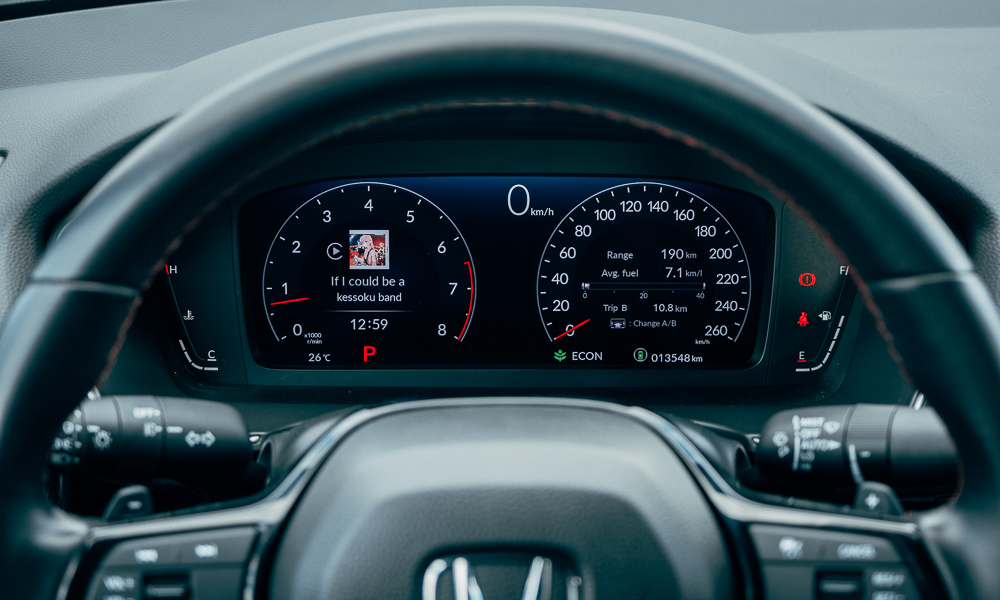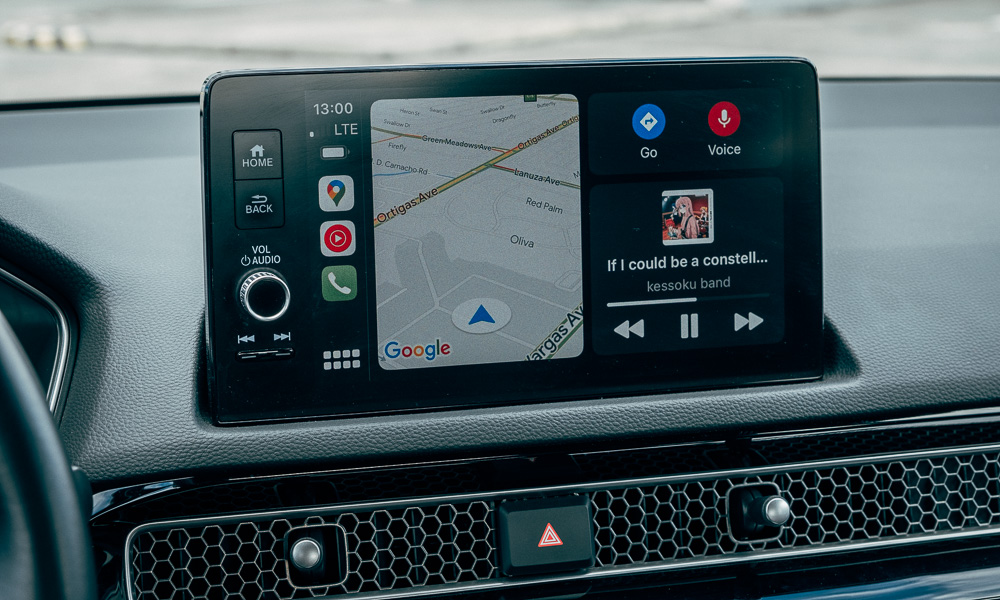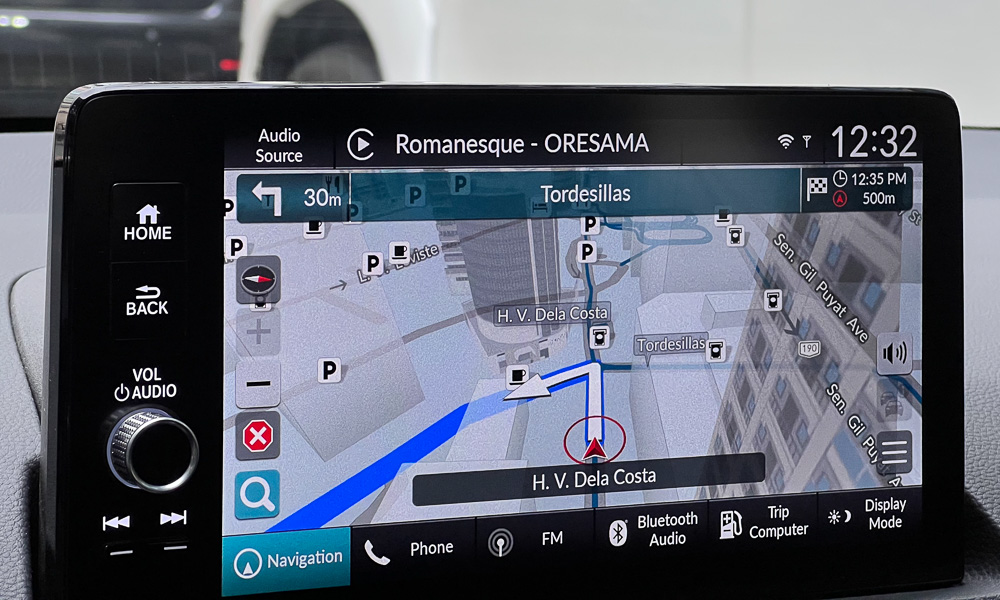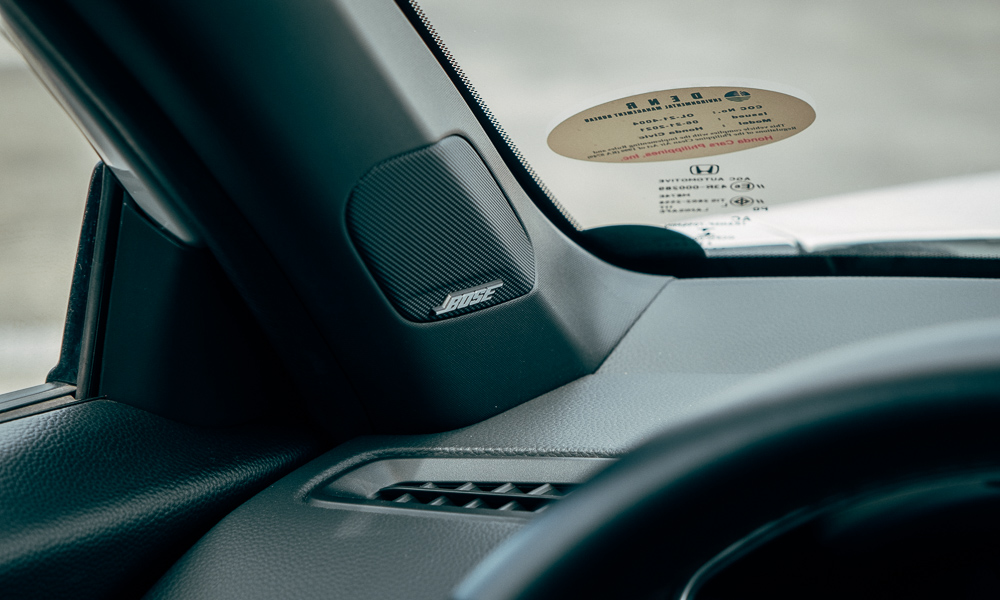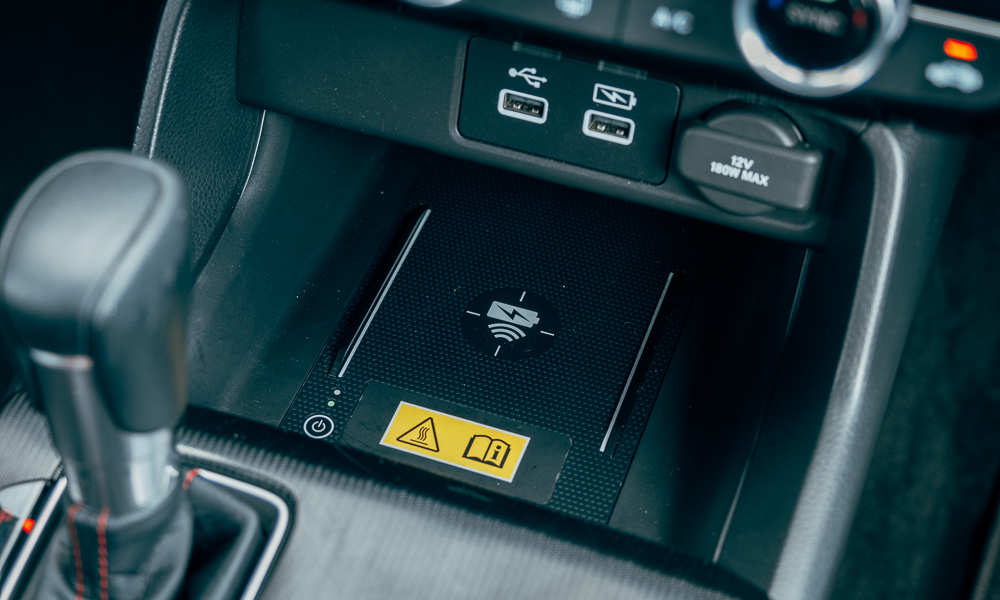 The main reason you would normally go for the RS is the added tech and niceties that separate it from the lower variants.
In the case of the interior, you get a 10-inch digital instrument cluster, a very competent nine-inch infotainment that runs on the Android Automotive OS, and an excellent 12-speaker Bose audio system. Other small goodies are dual-zone climate control, a frameless auto-dimming mirror, wireless charging, and wireless Apple CarPlay and Android Auto.
Of course, you would want to use phone connectivity (preferably wired for the best audio quality and stability), but you can use the infotainment alone as the built-in navigation system is very competent (and even displays directions on the gauge cluster).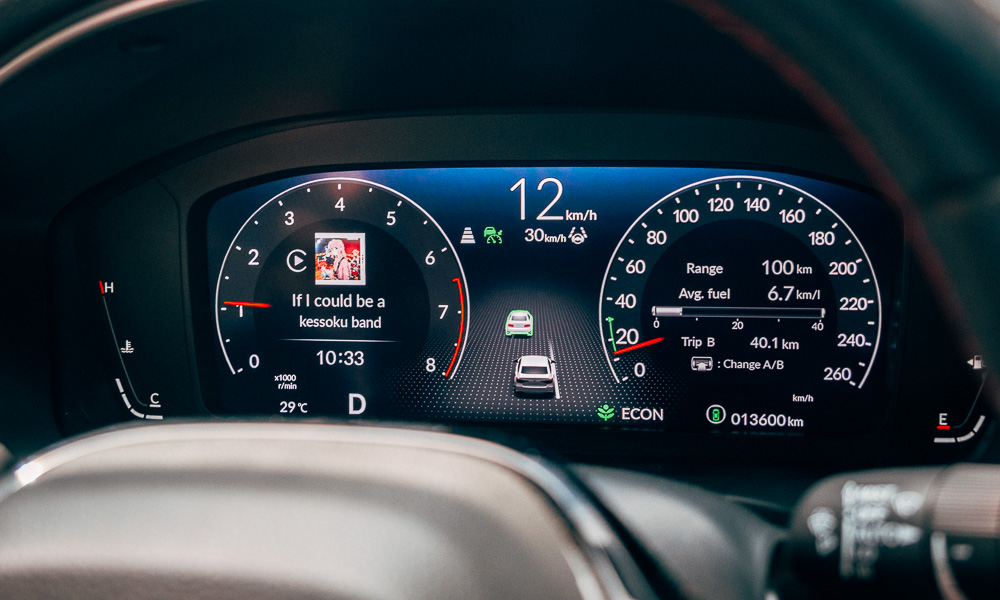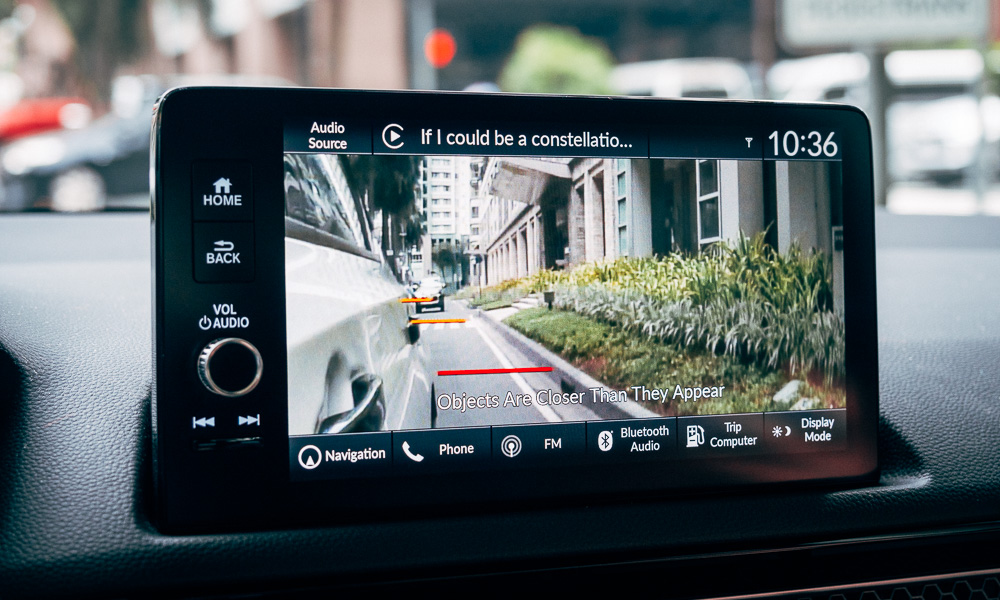 The Honda Sensing driver-assistance suite has to be one of my favorite safety systems out there with how unobtrusive and accurate it is. I didn't get to test it out as extensively as my colleague did, but using it daily shows just how well it works.
The adaptive cruise control system worked really well even within the city for stop-and-go traffic, and combined with the lead-car departure notification and collision-mitigating brake system works like magic, alerting me of a motorist with broken taillights who suddenly stepped on the brakes.
I personally find the LaneWatch camera to be a little redundant with how good visibility is in the cabin. It's nice to have compared to nothing, but I would have preferred parking sensors for the vehicle's price.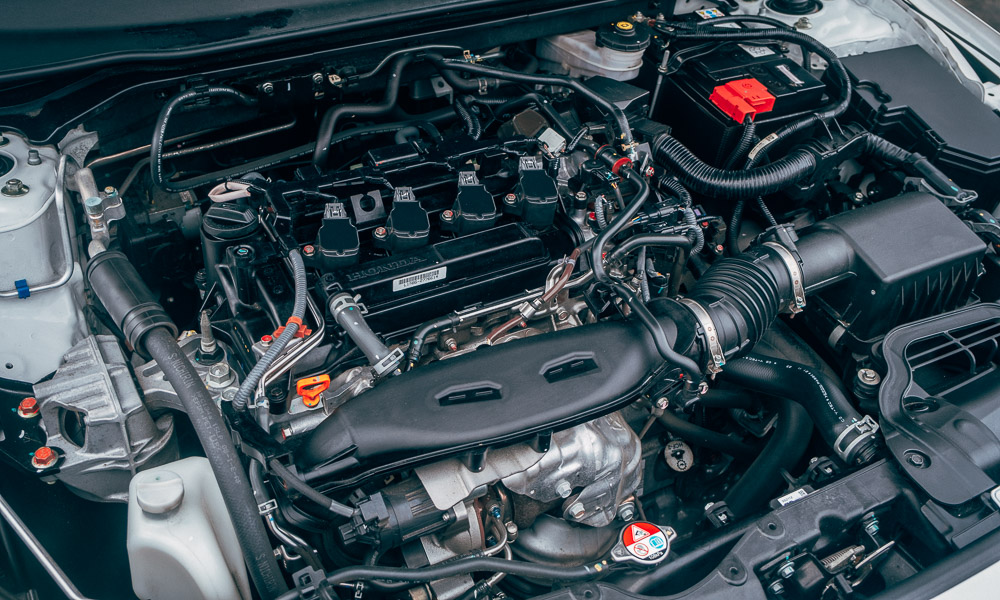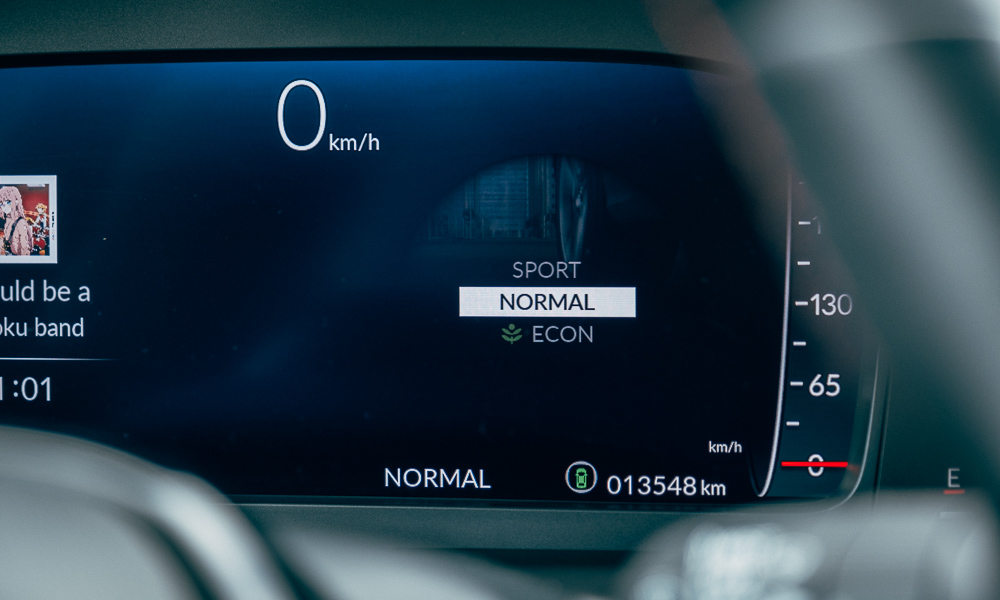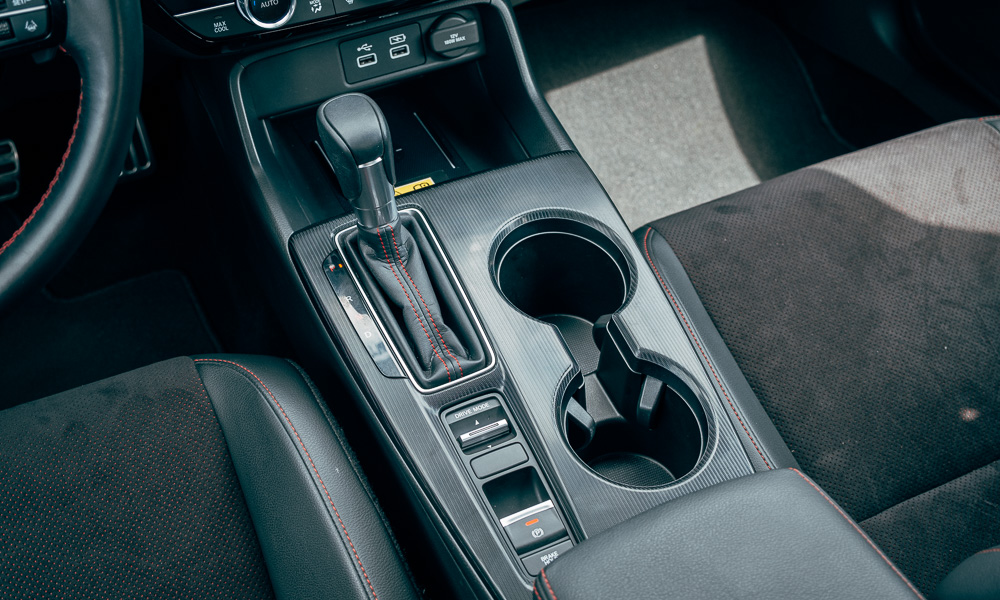 As for the meat and potatoes of this car, it drives really well. Yes, it has the same 1.5-liter turbocharged in-line-four engine (L15BG) with 176hp and 240Nm, and continuously variable transmission as the lower variants, but the difference here is the addition of a Sport mode.
Before you call me out, the Sport mode (and Eco, to an extension) works a little differently in the Civic compared to others, where it would sharpen the throttle and hold revs longer.
You see, in Normal mode, the transmission "fakes" shifts to make it feel like a regular vehicle, but put it in the other two modes and it disables the shift logic, allowing the CVT to stay in the ideal rev range for performance or frugality. This is how CVTs are supposed to work, actually, but you can always take over with the paddle shifters that feel almost instantaneous.
In peak Christmas traffic, the car gave me 6.4km/L, but when the roads opened up, it was easy to get 9.9km/L in the city, and 13.6km/L on the highway with four adults inside. The ability to remotely start your engine is nice to cool the cabin down, but it will affect your fuel economy for sure.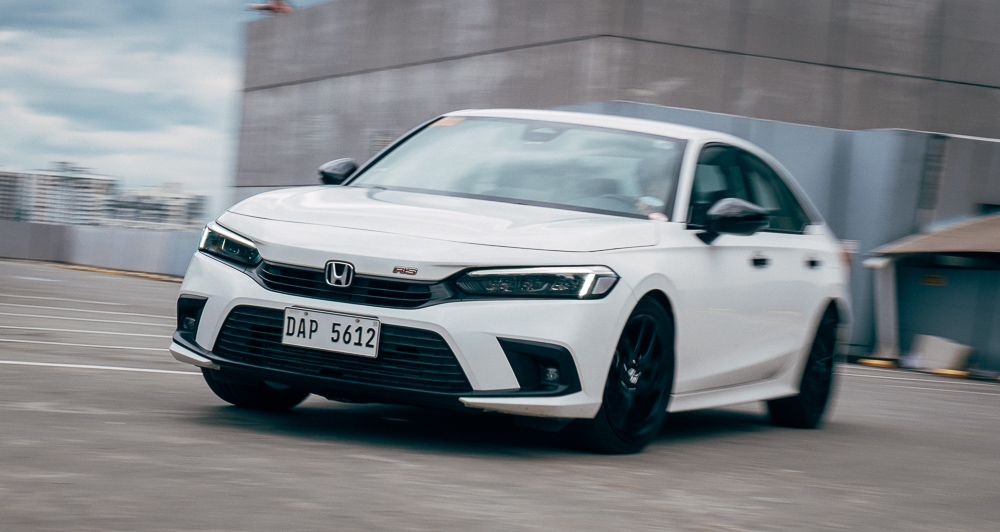 As for driving it around, the sticky Michelin Pilot Sport 4 tires (235mm wide) make a world of a difference. This car grips the pavement like nobody's business, and takes corners with gusto.
There are trade-offs like the increased tire noise at highway speeds (considering the Civic's already so-so NVH performance), and the ride quality is on the firm side, especially with those thin sidewalls. The things you have to put up with for looking good, I guess.
One thing to note is that despite this car feeling agile for spirited driving, this is not a nimble car in the city.
Aside from watching out for taller-than-usual speed humps, avoiding deep potholes, and taking ramps diagonally, this vehicle's turning radius of 5.7m is SUV-like, having to do three or more point-turns in places that other sedans can take easily. This could be a result of the wider tires, as the V and the S have a smaller (but still large) turning radius of 5.4m.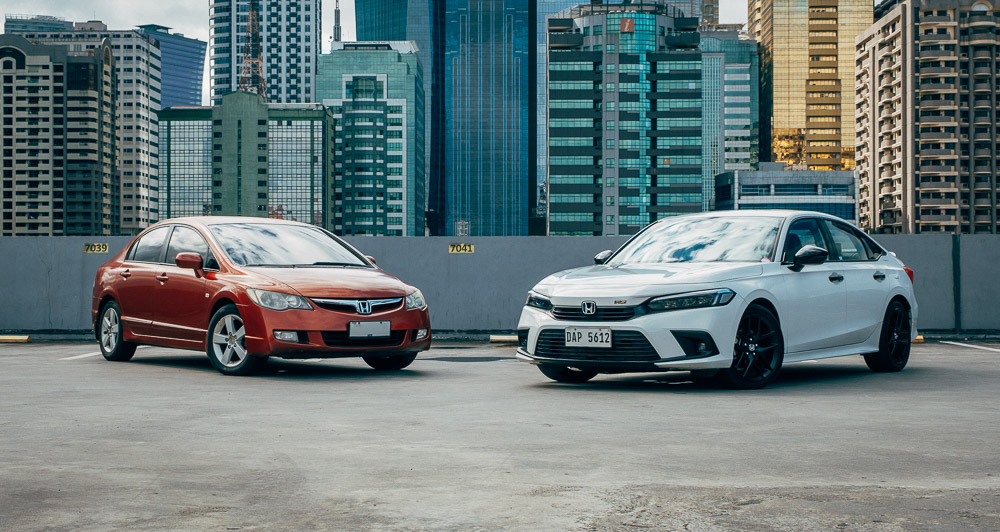 So, despite all these trade-offs and the substantially higher price, is the Civic RS still worth it? Well, from a practical standpoint, it makes a lot of sense as it has everything most people need from a Civic.
I had a discussion with a friend who was eyeing the 11th-generation Civic to replace his aging Civic FD. We agreed that if someone tried to spec out a V or an S to make it as close as possible to the RS, he would end up spending more and still have missing features, so it's for the kind of person who would opt for a higher-spec device just because he wants the best out of something.
If you have the money and are willing to spend it on this, you are getting one heck of a sedan, something that has the potential to be loved by many in the future. To me, the Civic RS is a really good throwback, a modern time capsule that will help you reminisce about your past.
HONDA CIVIC RS TURBO
| | |
| --- | --- |
| Engine | 1.5-liter in-line-four turbo gasoline |
| Transmission | CVT |
| Power | 176hp @ 6,000rpm |
| Torque | 240Nm @ 1,700-4,500rpm |
| Dimensions | 4,678mm x 1,802mm x 1,415mm |
| Drive layout | FWD |
| Seating | 5 |
| Price | P1,775,000 |
| Upside | A well-rounded package of pogi looks, comfortable cabin, good engine, and excellent driving dynamics. |
| Downside | Not everyone needs all the goodies the RS package has for the price difference, and you will have to contend with the vehicle's lower-than-usual ride height. |