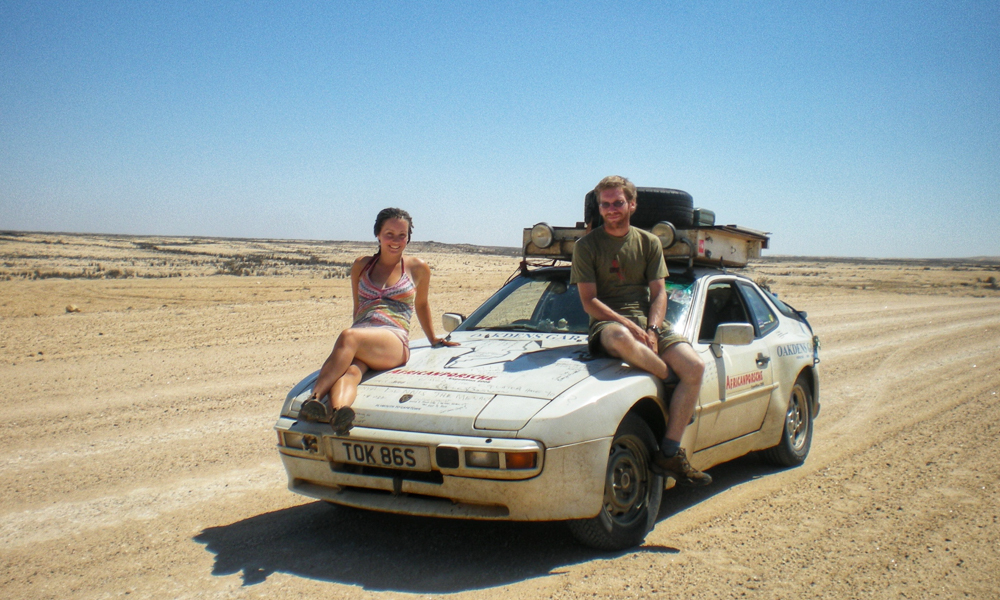 When most people think of what vehicle to use for epic, transcontinental journeys, they tend to think of the usual suspects like a Toyota Land Cruiser or a Land Rover. Perhaps epitomizing the saying that "the best car to use is the one you actually have," and that Brits can really be quite daft, Ben Coombs and Laura Reddin traveled from England to Cape Town, South Africa, in a Porsche 944.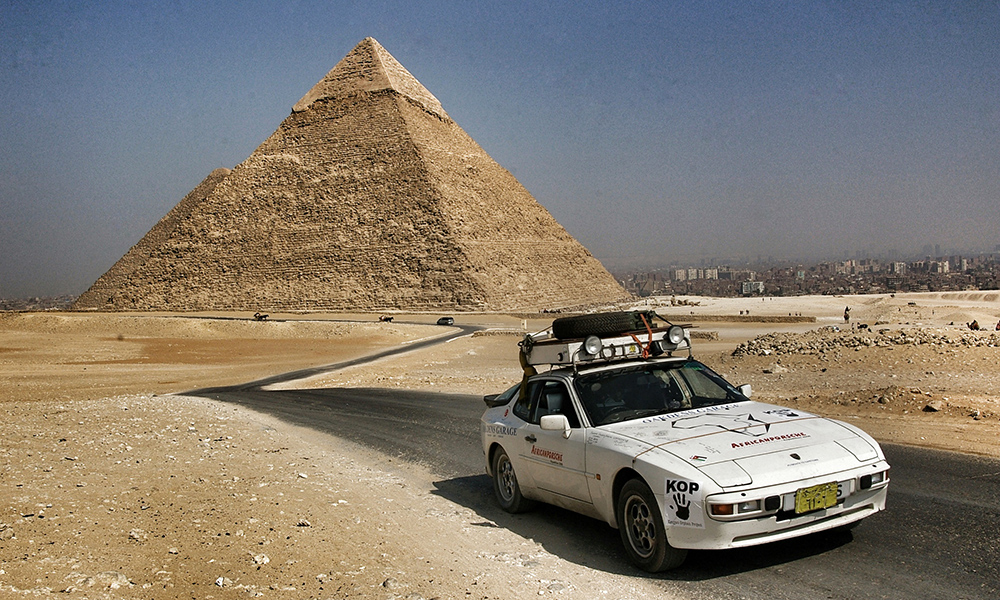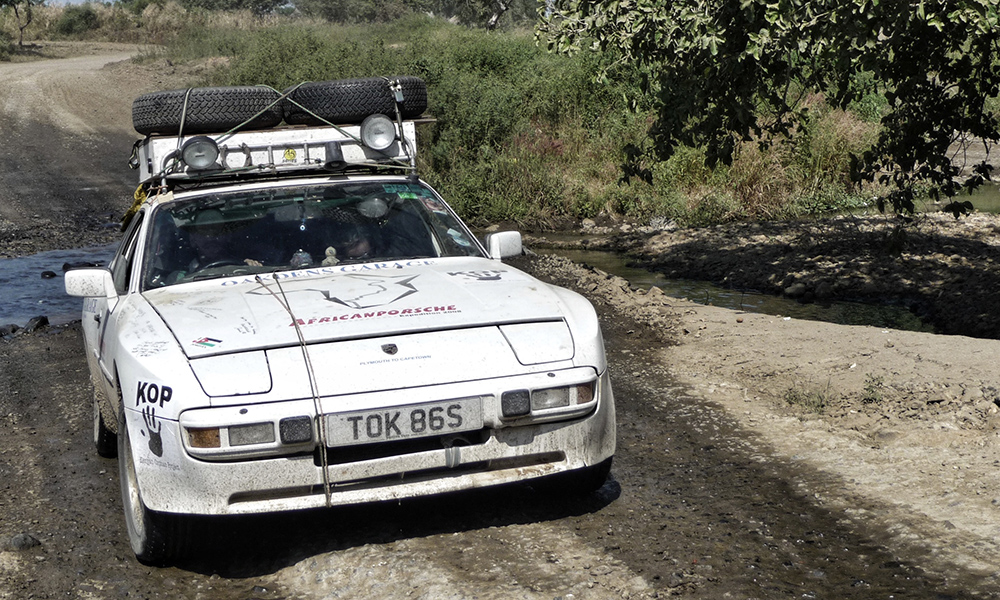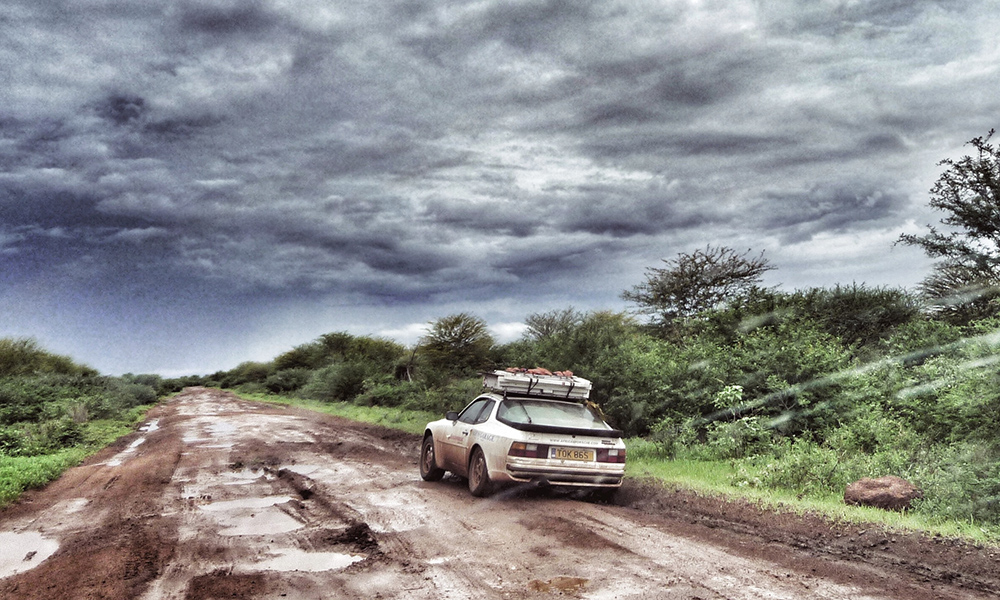 First produced in 1982, the front-engine, rear-wheel drive 2+2 was marketed as the "affordable" Porsche. It originally came with a spunky 2.5-liter in-line-four engine, a five-speed manual, and excellent weight distribution. Eventually, the engine size would grow and add a turbocharger, while the chassis would also benefit from other improvements. It's probably safe to say that during its entire production run, no engineer in Stuttgart ever thought that some lunatic will attempt to drive this car across some of the most inhospitable terrain known to man.
And that's exactly what our intrepid couple did—on an old, worn-out model, not a factory-fresh unit. Ben Coombs bought his Alpine White 944 in 2002 when it already had 217,000km on the odometer. For the next five years, the car served as his daily driver until he decided it was time to let it go with a bang.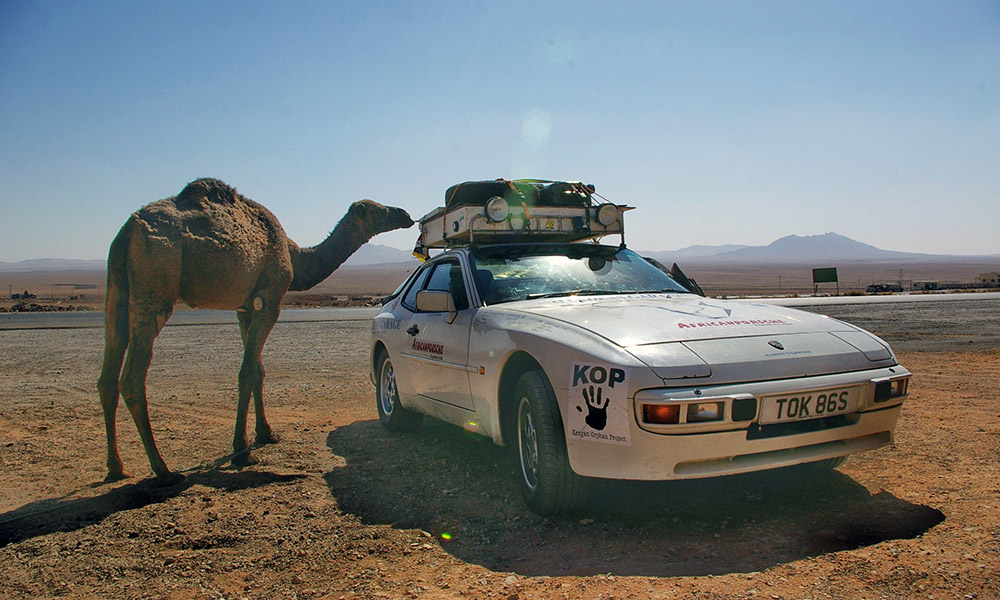 By that time, the car now had 320,000km on the clock, so Ben and co-driver Laura Reddin thought it would be a good idea to take the car from England to Cape Town on the southernmost tip of South Africa. For the 21,000km journey, the duo raised the 22-year-old car's suspension by 5cm, fitted a homemade plywood tent on the roof, and that was that.
With a not-so-minor oil pump replacement at the last minute, Ben and Laura set out with visas in hand and quite a bit of courage in their bags. Crossing to France was uneventful except for a minor vacuum leak, which Ben—an engineer by profession—managed to fix. Next up were weeks of driving through Europe, Turkey, Syria, and Jordan. Coming off the ferry to Egypt, the couple pointed the 944 toward Cairo.
"Driving past the pyramids," Ben says, "that was the first moment where it actually felt like we were achieving something. But in truth it was only the start of our journey across Africa and we still had around 16,000km to go."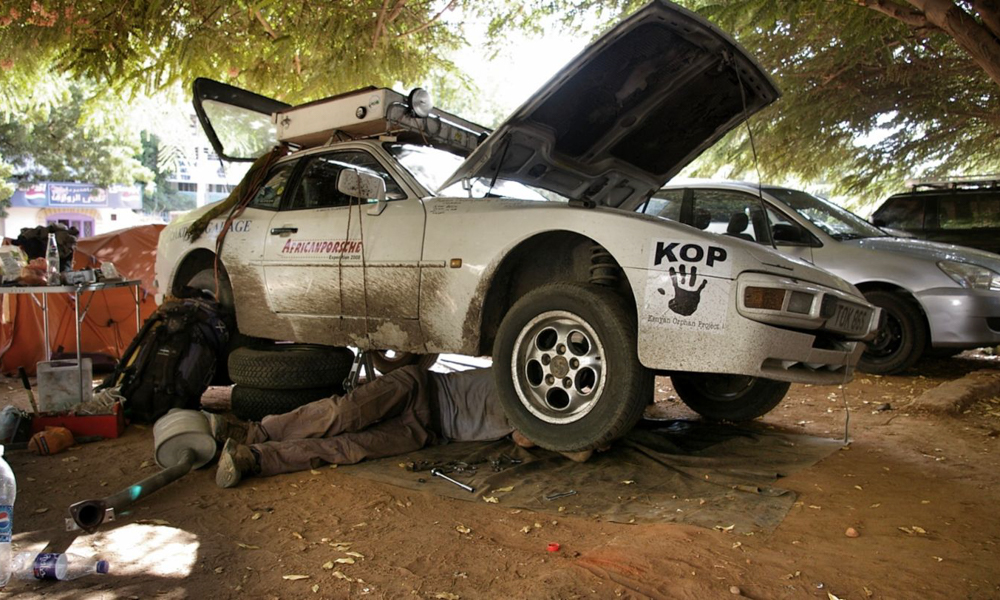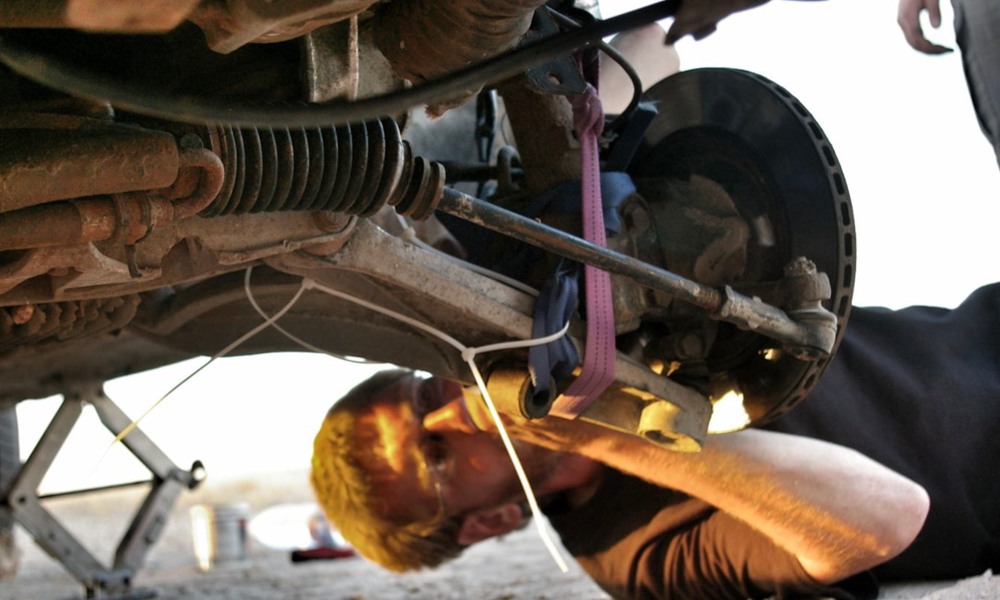 After crossing Egypt, the car faced its first big challenge: the Nubian Desert. There, the car had to endure 500km of rough roads and dirt tracks in 40⁰C heat. Carefully weaving their way across the Sudan, the 944 shed its exhaust, so the two just strapped it to the roof and carried on.
Having survived their Sudanese adventure, the couple had an uneventful crossing of Ethiopia. It was when they arrived at Kenya that they had their biggest and most dangerous challenge. The road from Moyale to Marzabit skirts the disputed border between Kenya and Somalia, where violence is the norm with frequent skirmishes among rival groups.
"It's 500km of really bad roads where it is understood you just do not stop. Let alone break down," Ben explains. "We were formed into a convoy with the Kenyan army as an escort, but it had rained for the first time in two years and the roads had turned to soup. We couldn't keep up with the trucks in these massive ruts and were eventually abandoned in the middle of this bandit-ridden tribal war zone."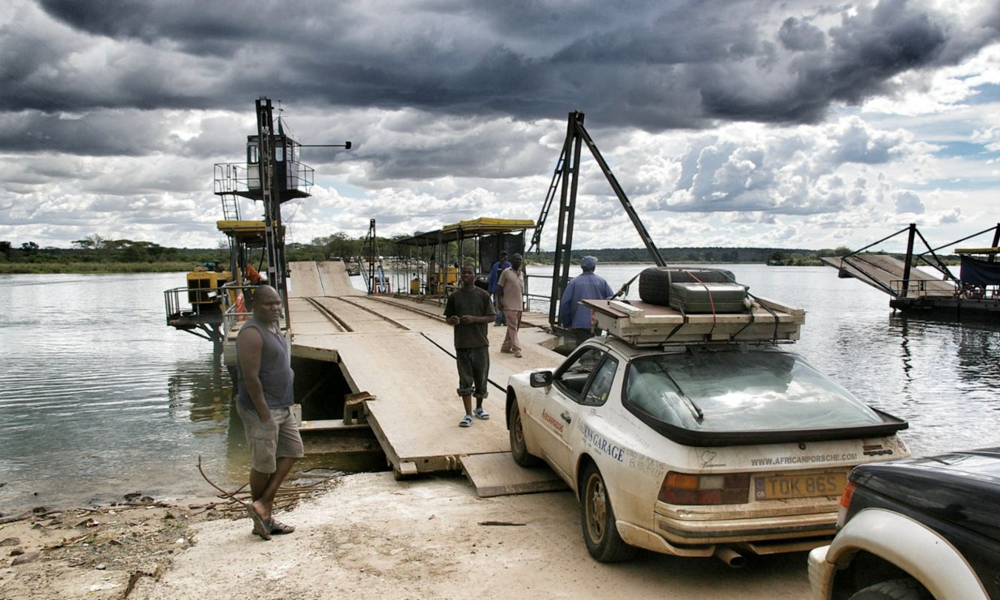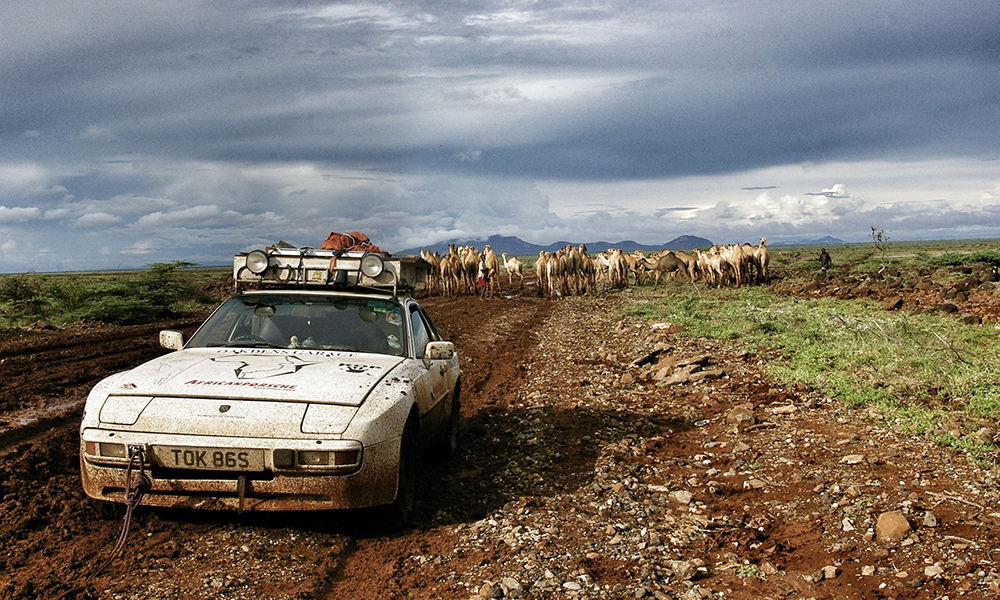 Still, they ploughed on (not that they had a choice anyway), with the 944's undercarriage mercilessly ravaged by the driving conditions. At Marzabit, the car had its fuel pump fixed so they could continue to Nanyuki, a mere 8,000km from Cape Town.
They passed through Uganda and Tanzania with the car now showing over 350,000km, with at least 1,600km of off-road driving. Through Malawi and Zambia, the car drew a small crowd as onlookers beheld the scrappy little sports car with a tent on its roof.  When the couple reached the Namib Desert, one of the ball joints gave up the ghost.
"The sun was setting as we began to cross the Namib," Ben says, "and we had this feeling that nothing could stop us now. We were doing about 65km/h when one of the ball joints fractured and we didn't have a spare. So, we used ratchet straps and cable ties to lash it back together."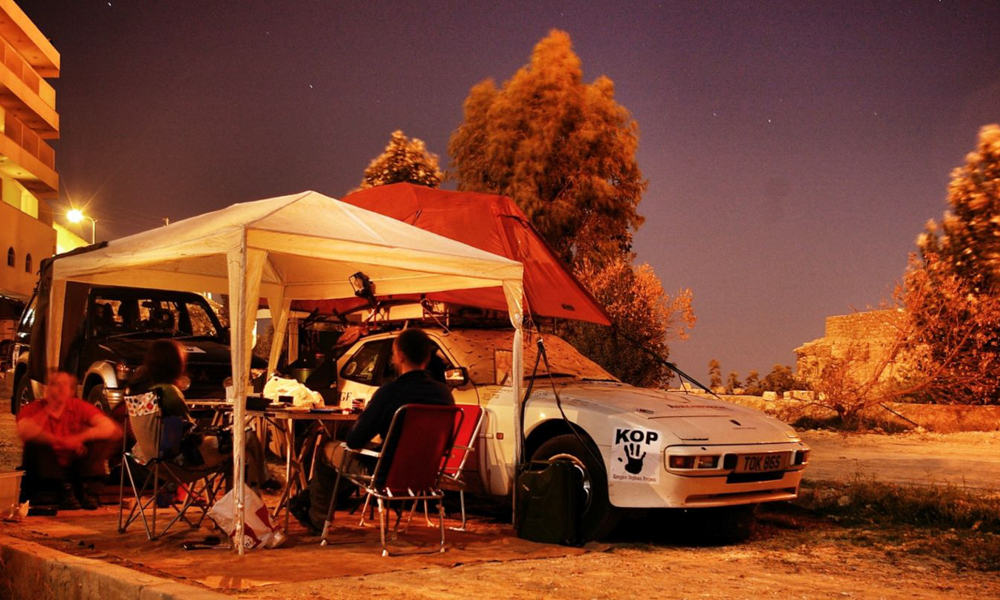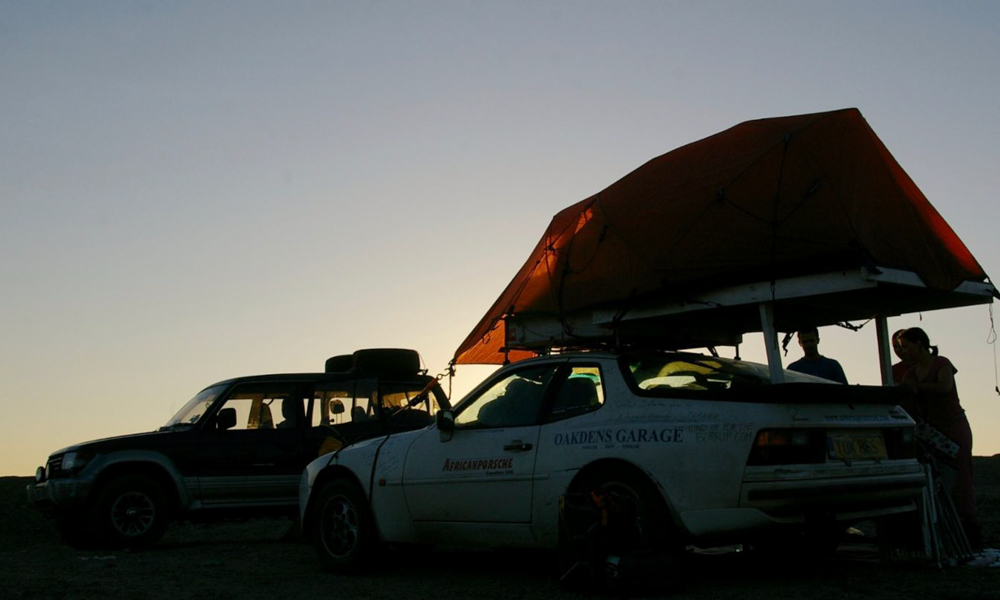 The temporary fix wouldn't hold for long, and it took eight more attempts before it finally held. A lightning storm forced the couple to huddle in their tent and wait it out. At dawn, the couple set out at just under 20mph, taking them eight hours to get back on tarmac. By this time, the car was in really bad shape but they still managed to keep to around 40mph (64km/h). It took them two more days to cover the last 1,100km to Cape Town.
"It was a dramatic finish and the car limped over the line," Ben admits, "but it did it. Some 62 days after we left the UK, covering over 21,000km, crossing 26 countries and five major deserts. Coming over the brow of a hill about 80km north of Cape Town to see the gray smudge of Table Mountain on the horizon, we realized at that moment that nothing was going to stop us. I don't think there are many sports cars I'd have the confidence to cross Africa in, but the depth of engineering in the 944 made us believe that it was possible. And we did it."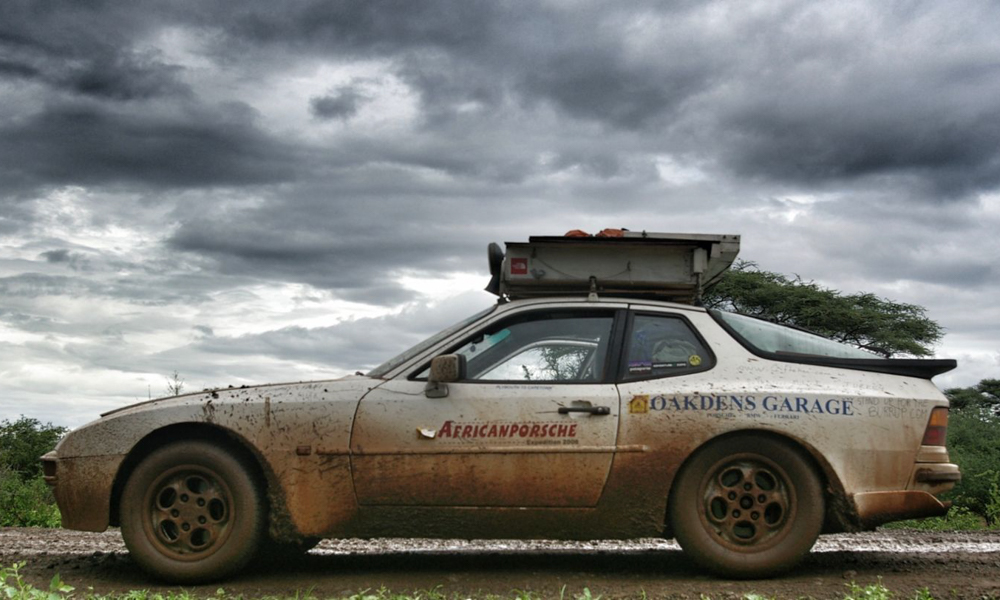 A splendid achievement for Ben and Laura, indeed. Ben has since moved on to other vehicles, the latest being a TVR Chimaera. Follow him on Instagram to see more interesting photos of his road trip adventures.