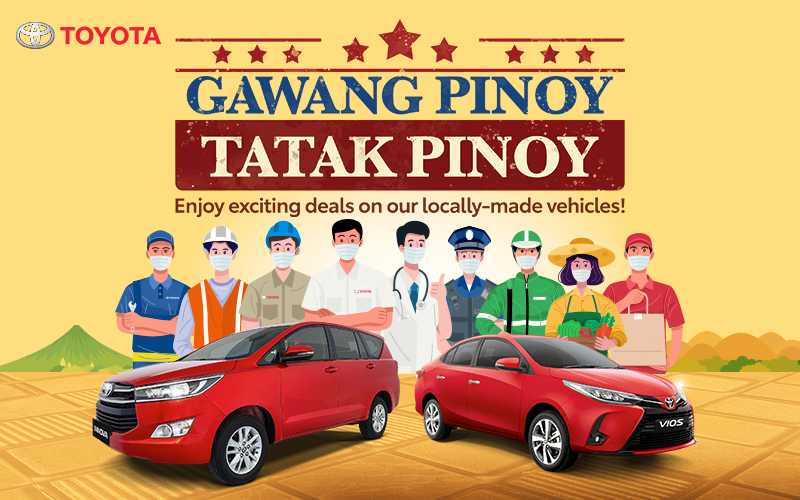 Toyota Motor Philippines firmly believes that Pinoy-made can compete with world-class quality. In fact, the Vios and the Innova—two of the brand's top domestic products—are assembled locally. Not only are these vehicles near and dear to the Filipino, they proudly represent national pride and craftsmanship.
Since its debut in 2003, the Vios subcompact sedan has been a sales hit for its practicality, affordability, reliability and youthful styling. It has remained the top-selling Toyota product for some years now, and is built within the confines of the automaker's Santa Rosa, Laguna, plant by highly trained and skilled Filipino Toyota team members.
Sitting on a proven platform, the Vios is a solid crowd-pleaser. From fleet vehicle to all-around family car, this subcompact wears shoes bigger than its actual physical dimensions suggest. It is the go-to car for daily city drives, out-of-town trips, essential errands or leisurely cruises after a hard day at the office.
Powered by either a 1.3- or 1.5-liter gasoline engine mated to a five-speed manual or continuously variable transmission, all powertrain options provide years of driving satisfaction, unparalleled reliability and commendable fuel efficiency. Ranging from P671,000 to P1,071,000, the Vios rewards owners with useful amenities, substantial comfort, spaciousness and noteworthy safety features for its class—perfect for that first car or even for starting couples with a kid or two.
Another vehicle from the Toyota stable that proudly dons the Philippine-made badge is the Innova. A gem of a ride that has etched its name into the hearts of countless Filipino families, this people carrier is king of the domestic scene and has further evolved into a more desirable and compelling offering.
After two generations and a number of facelifts, the Innova never fails to capture its intended audience. With the ability to carry seven to eight occupants with ample room for cargo, it has been the perennial pick of medium-size families. Priced between P919,000 and P1,490,000, and covering five variants with two solid powertrain options (the 2.8-liter turbodiesel being the top engine choice), the Innova answers family needs and budget parameters.
These offers essentially put the Vios and the Innova within easier reach of customers who desire a proudly Philippine-made car
With the health crisis and the economic challenges that it creates, Toyota understands that many of us could use a helping hand. Its "Gawang Pinoy, Tatak Pinoy" promo serves up to reward patriotism with enticing deals for both the Vios and the Innova.
Until October 31, 2020, the promo offers three attractive options: Pay Low (All-In Package), Pay Light and Savings. With Pay Low, customers enjoy an all-in cash out for as low as 15% down payment, free first year insurance and three-year LTO registration, and no chattel mortgage. Pay Light includes low monthly plans, 50% down payment and 60 months to pay. The Savings option serves as an outright cash discount.
TOYOTA VIOS:
Pay Low
Down payment of P112,950 for the XE CVT
Pay Light
Monthly payment of only P7,528 for the XE CVT
Savings
Save P20,000 on the 1.5L G and E
Save P35,000 on the 1.3L XLE CVT and MT
Save P10,000 on the 1.3L XE CVT and 1.3L J MT
TOYOTA INNOVA:
Pay Low
Down payment of P220,050 for the 2.8 G Diesel MT
Pay Light
Monthly payment of only P10,540 for the 2.0 J Gas MT
Savings
Save P10,000 on the G and E gasoline variants
Save P20,000 on the V, G, Sport Touring and E diesel variants
Save P30,000 on the J gasoline and diesel variants
These offers essentially put the Vios and the Innova within easier reach of patrons who desire a proudly Philippine-made car. The promo also covers other models on Toyota's product roster. Just set a date at your nearest dealership and feel good about supporting local.
This branded article was produced in partnership with Toyota Motor Philippines.