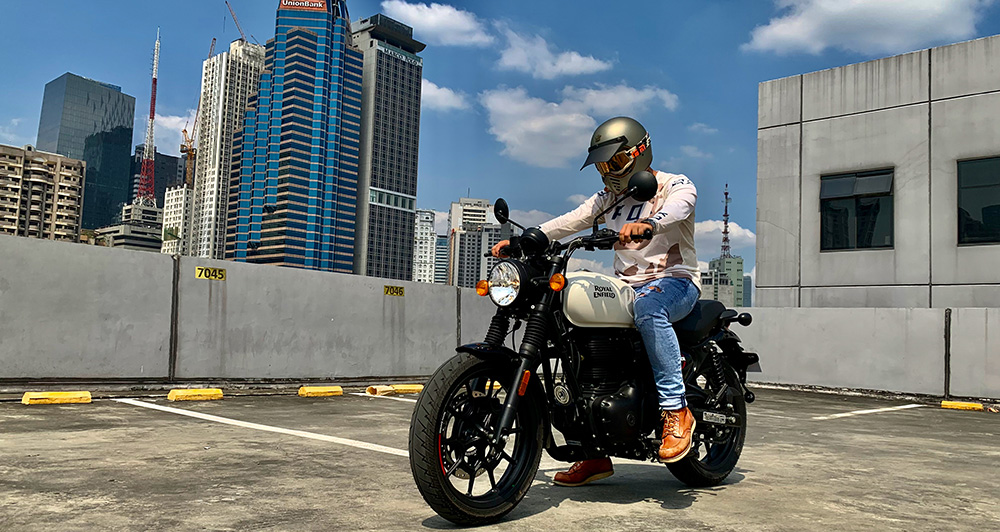 No, that's not me in the picture. That's Dustin Dagamac, our videographer. Normally, I'd be in the photo of the article I'm writing, except he looks much better on this bike than I do. At 25 years old, he's the kind of buyer that Royal Enfield is targeting, which for many years has mostly appealed to old souls like me.
The bike in question is the Hunter 350, Royal Enfield's most affordable yet. It starts at P231,000 for two-tone "Metro Dapper" colorways, and another P2,000 for "Metro Rebel" colorways like this white one. Blacked-out components, 17-inch tubeless alloy wheels, and chic tank designs make the Hunter stand out in a sea of generically styled commuter bikes.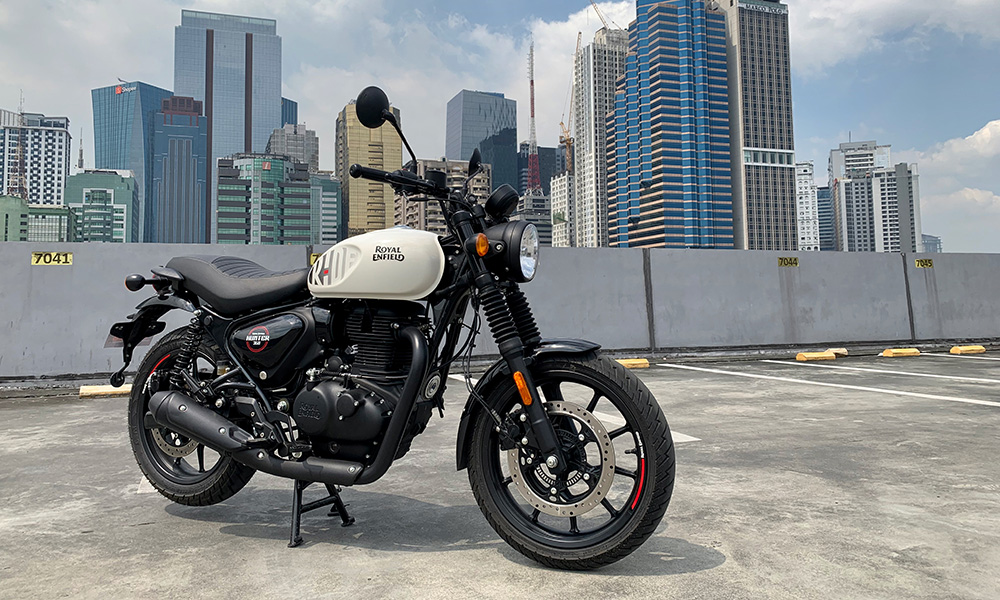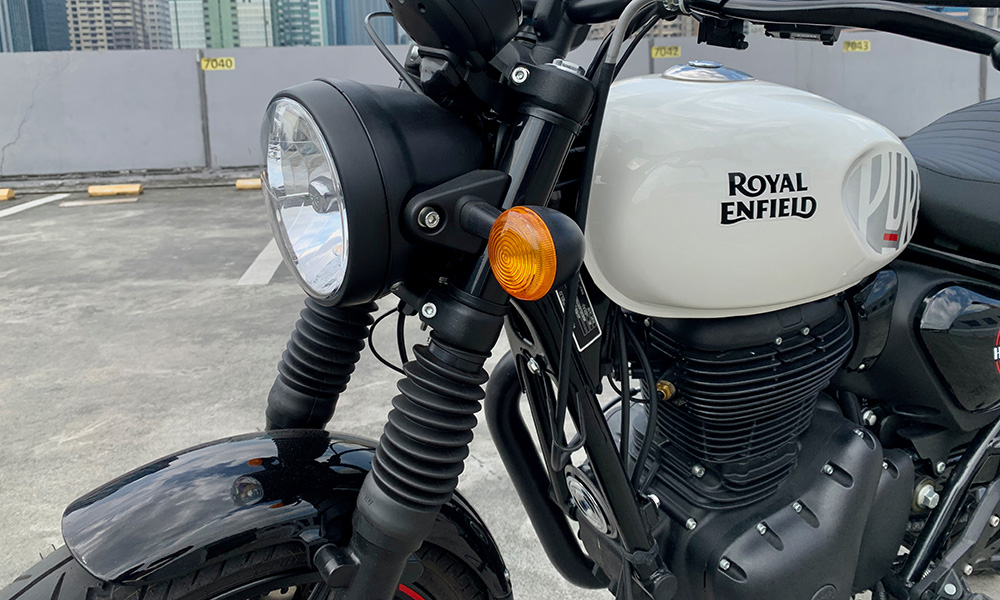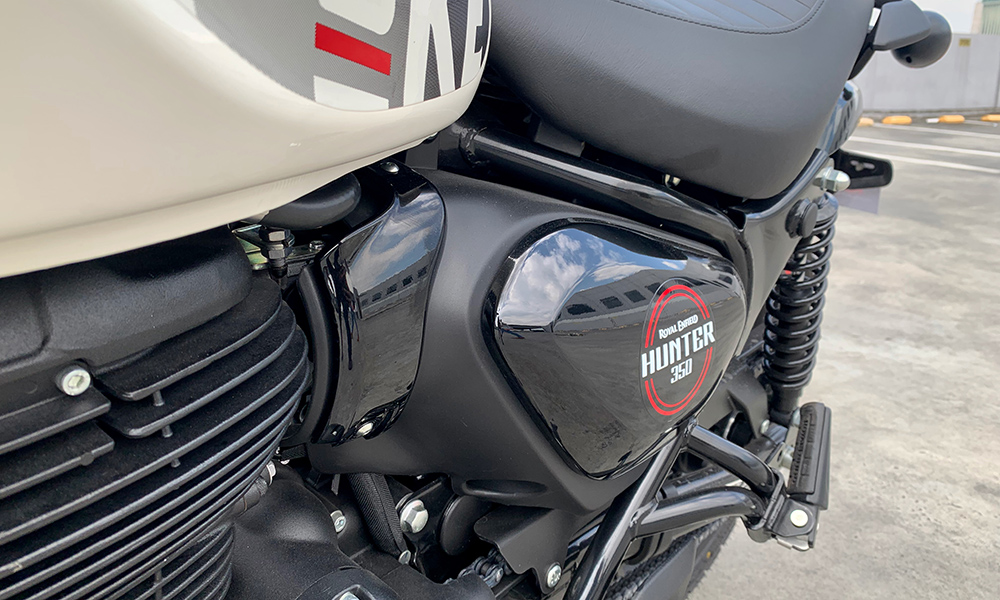 Based on RE's J-platform, it's the third iteration to hit our shores, the first two being the Meteor and the Classic. I've already written about how much I like these two, small-capacity bikes, and about how full of character they are.
Like these two, the Hunter gets by with a 349cc, 20hp, air- and oil-cooled single. It's not expressway-legal because of that outdated 400cc rule, but it has enough power to safely traverse toll roads if it could, but not so much that it would turn you into another wannabe MotoGP potato.
It has been a day since I returned the bike to Hardcore Brothers (RE's Philippine distributor), and I still can't stop thinking about it. The reason for this is that of the three bikes on the J-platform, the Hunter feels the liveliest.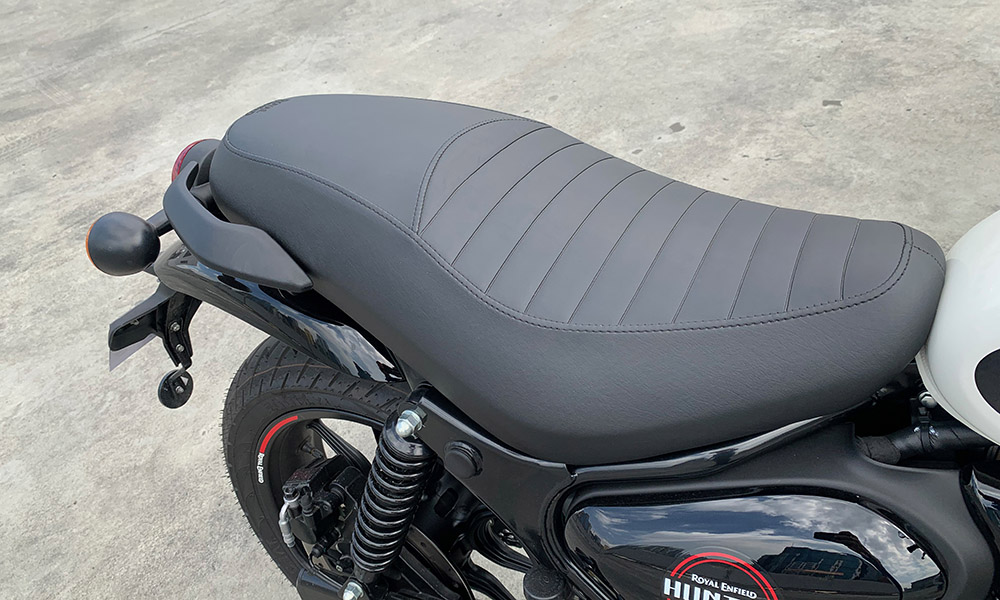 Slight changes to the wheelbase, the trail and the rake make it nimble like a smaller bike, so filtering is a breeze. The chassis is stiff and flex-free, with a relatively taut suspension that adds to the responsiveness. Seat height is 790mm, with a saddle that slopes down where you place your butt. It has a slender "waist" so it's easy to flat-foot. The pillion pad is decently sized for a smallish pillion while not detracting from the overall aesthetic.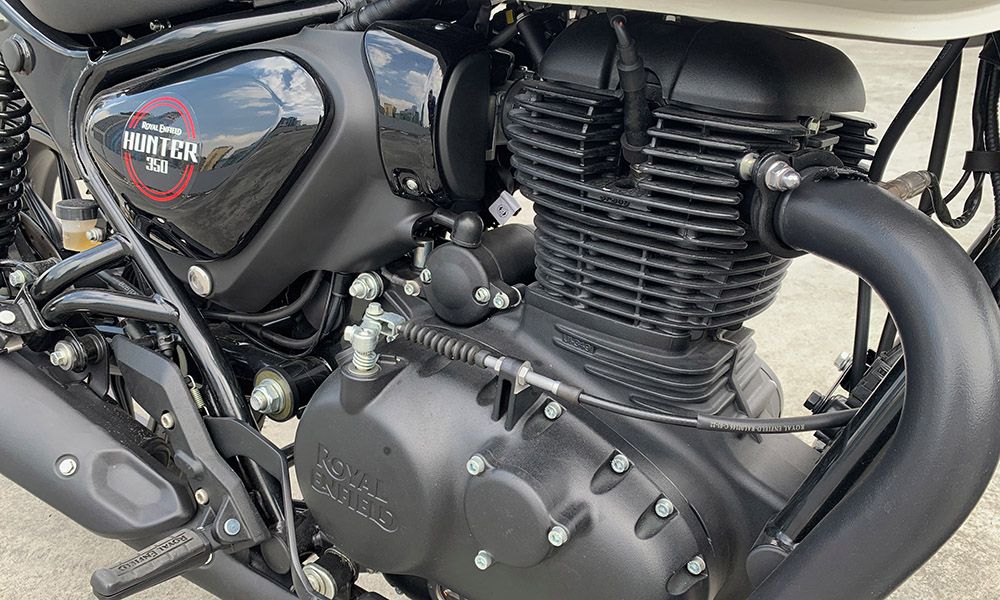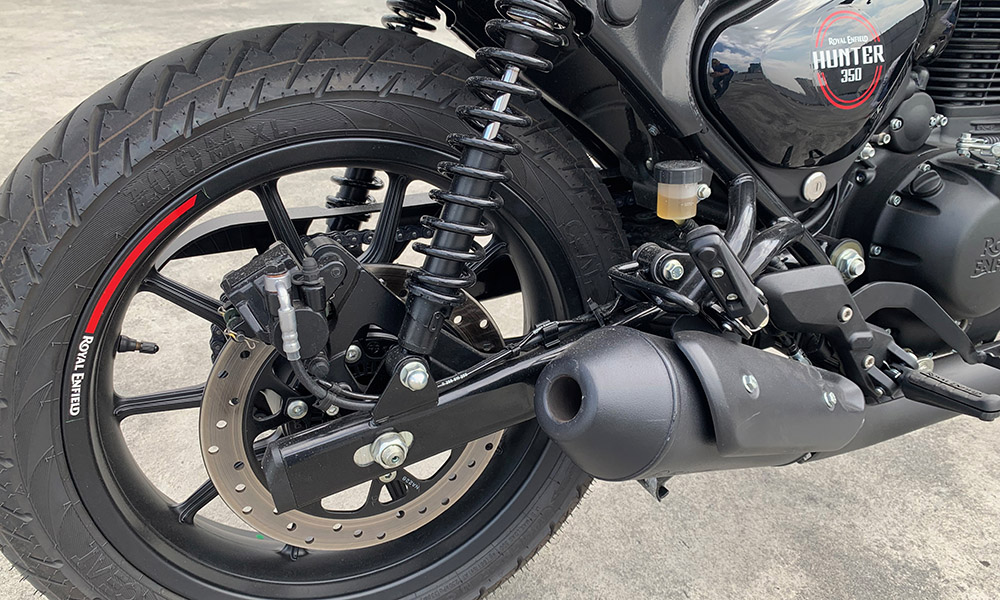 The thumper engine is such a cheerful little motor. The long-stroke design gives it plenty of grunt off the line up to the midrange (27Nm at 4,000rpm, to be exact), so there's no need for frequent shifting in urban traffic. It has been mildly retuned for faster throttle response compared to the Meteor or the Classic, and while it'll never be as nippy as a Duke 200, neither do you need to wind it out to the redline just to gather speed quickly.
It also has a delightfully cheerful "thap-a-pap-pap!" soundtrack with just enough bass to be noticed without sounding obnoxious. The five-speed transmission is precise and finds Neutral easily. You can forget about using the clutch after popping it into first gear.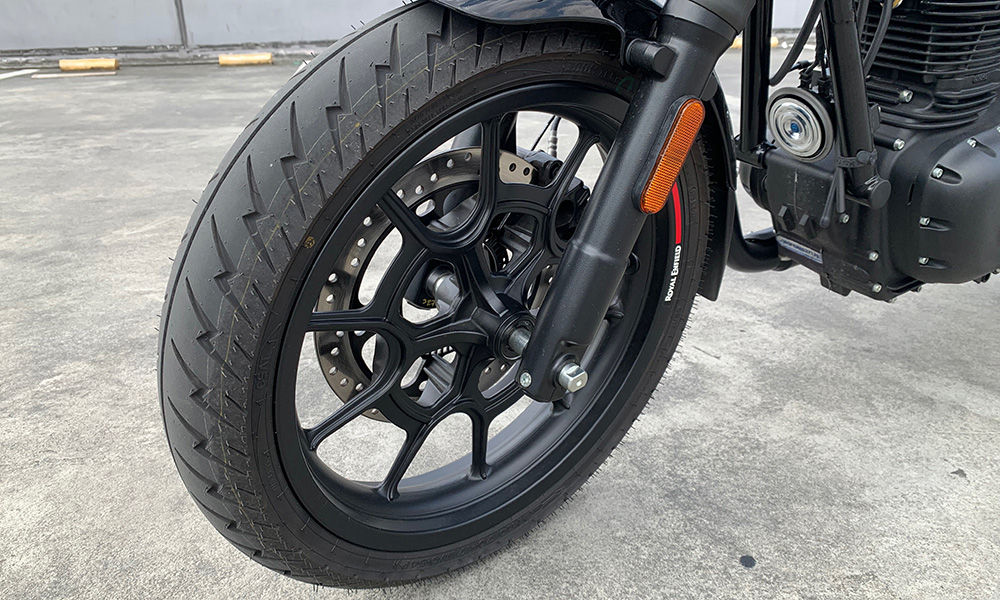 Instrumentation is basic and typically retro, combining an analog speedometer with digital trip meter, odometer, and gear indicator displays. The speedometer goes up to 160km/h, which is very optimistic.
The top speed is around 110-120km/h, depending on how heavy you are. As for the bike, it's the lightest RE yet (or ever), weighing in at 181kg. Svelte by Enfield standards, but no lightweight like your typical KTM.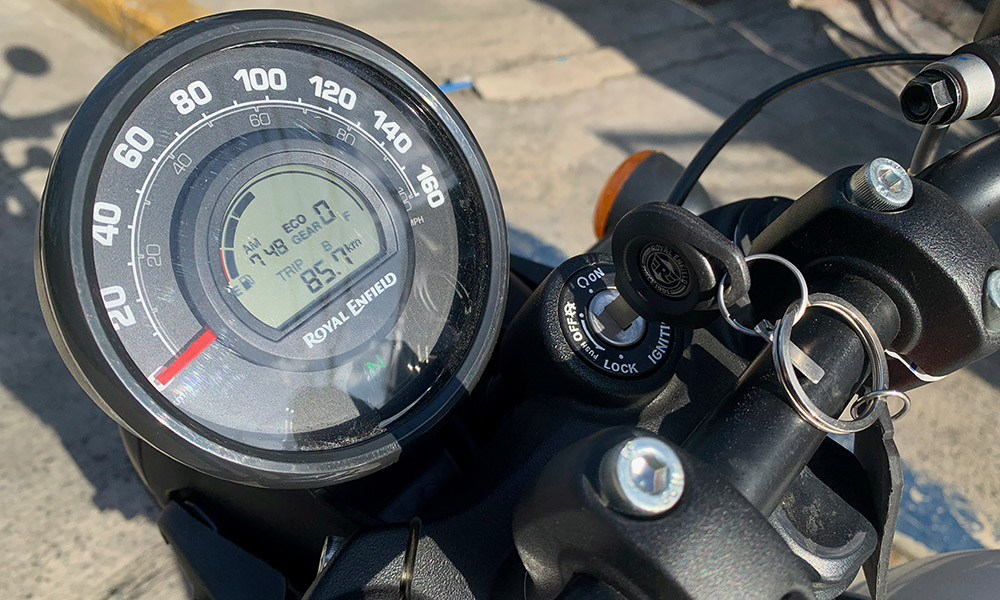 But again, a low seat height and compact dimensions give the Hunter a frisky character. I wasn't 10 minutes into my ride home and I was right at home maneuvering through Friday-night traffic along with swarms of scooters. Out in the twisties, you can lean the bike over at sporty angles, although the stock CEAT tires will dissuade you from dragging a knee.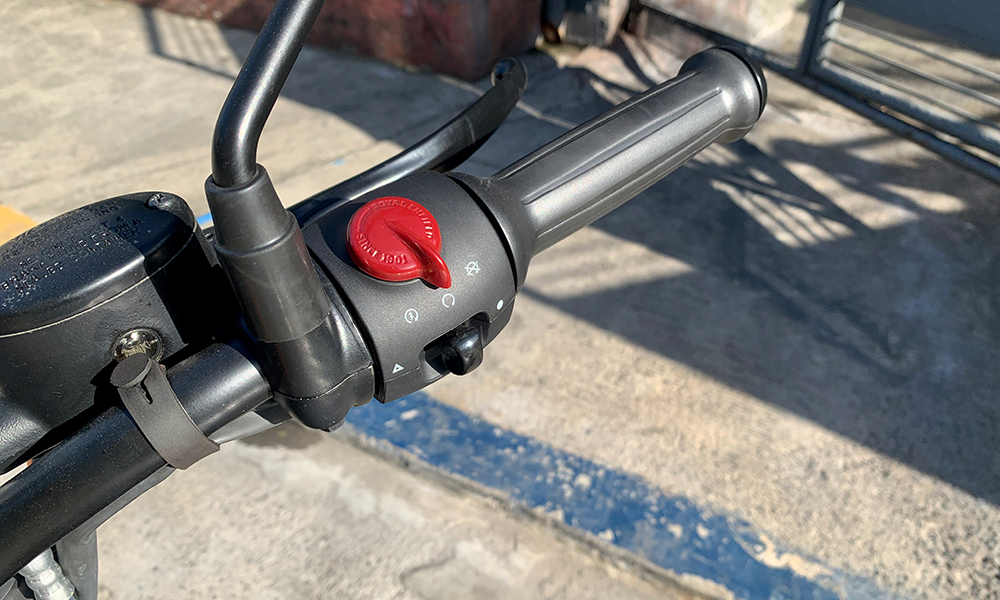 Being the most affordable Enfield in the lineup, some corners had to be cut, likely mandated by the bean counters. A closer look at the graphics on the tank and side panels reveals they're stickers, not painted on. You'll have to go higher up the RE line to get real, painted graphics. Or you can bring the tank to an artist and have your own design airbrushed on it.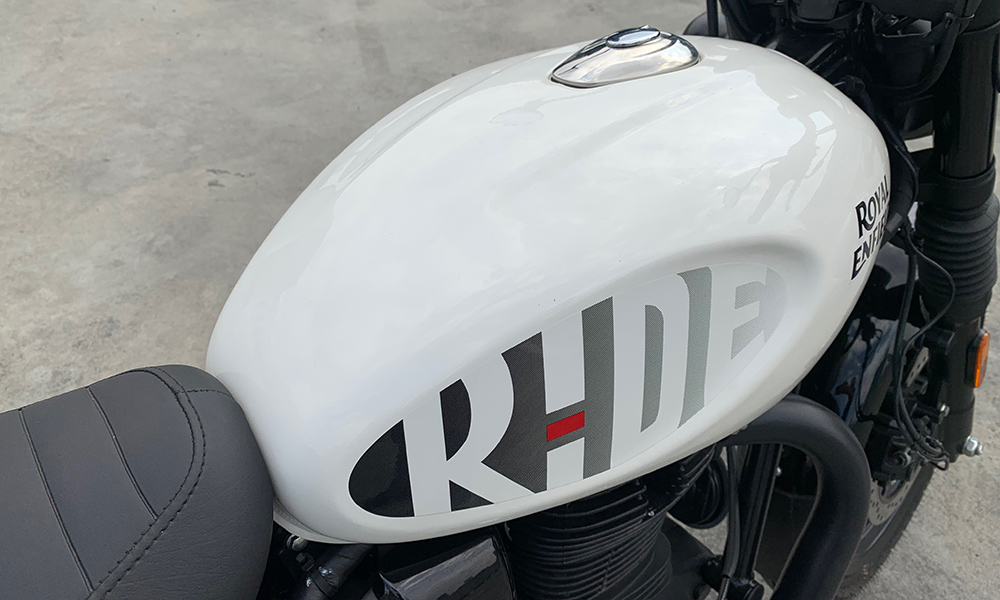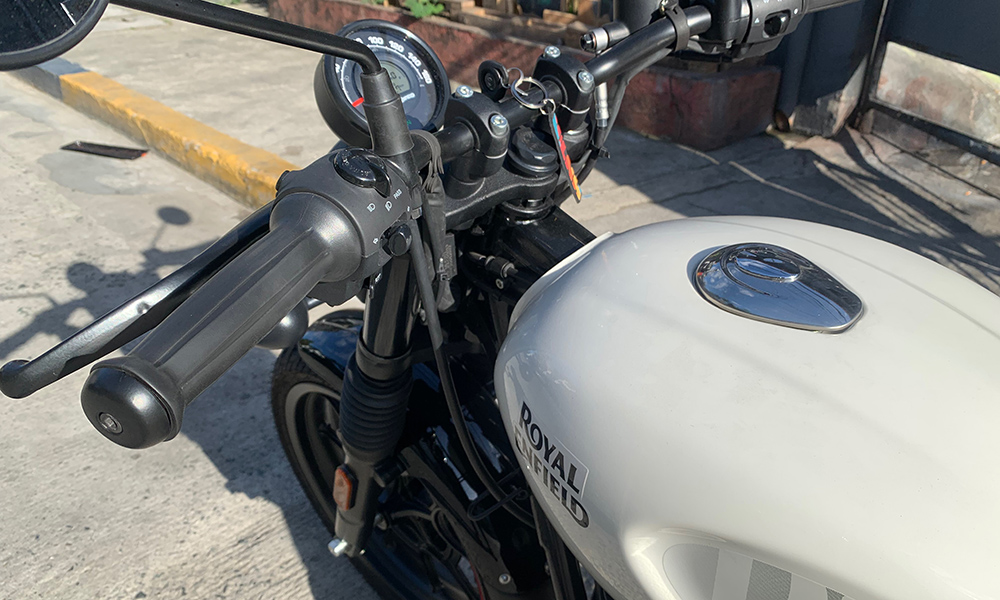 The finish of the switch pods and the fittings for the mirrors and such is workman-like and won't set a new standard for the class. The brake and shift levers similarly look and feel robust and meaty, if not particularly elegant.
This is alright when you consider what you're getting. At a price that's about what you'd pay for a Vespa Sprint, you get dual-channel ABS, front and rear discs, a 13L tank, and a burly-feeling drivetrain.
It's not especially powerful, but it gets the job done and is also thrifty at around 30-35km/L. It's a lot of bike for the money, and it doesn't feel at all like an appliance like the majority of so many other cheaper, small-capacity motorcycles. The soul of Royal Enfield is very much alive in its smallest bike.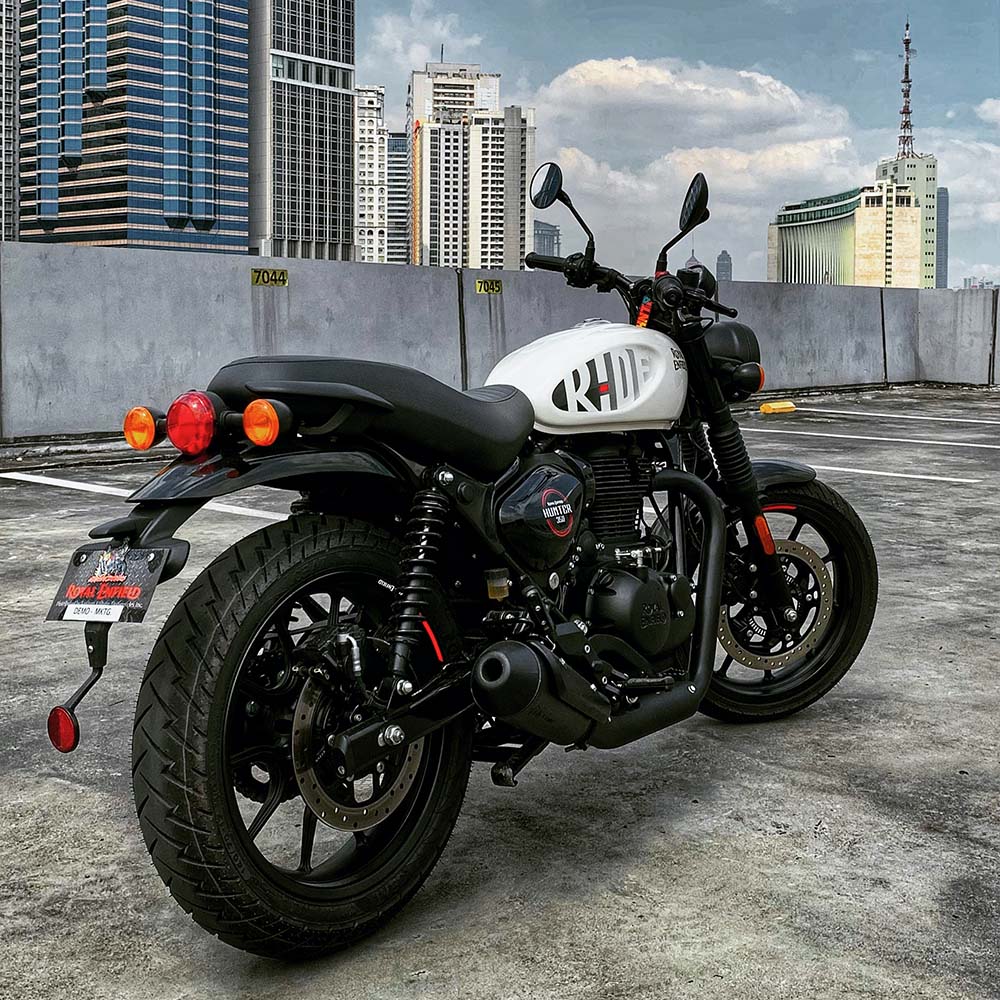 The Indian manufacturer is targeting a younger market with the Hunter 350. They're style- and brand-conscious, but also have a budget to consider. Their primary use for a motorcycle is for commuting and for traipsing around town, so big power isn't a concern especially if that will only drive up the price (and make it unrideable in traffic). I'm still bummed that it's not allowed on the expressway because most of my city commutes involve traversing SLEX.
However, city folks who have no such concerns about expressway access—as well as motorheads looking for a lighter bike to get around on without sacrificing style—will find the Hunter easy to fall in love with. I may just end up getting my own before the year ends. Sorry, kids, tito Andy really likes your bike.