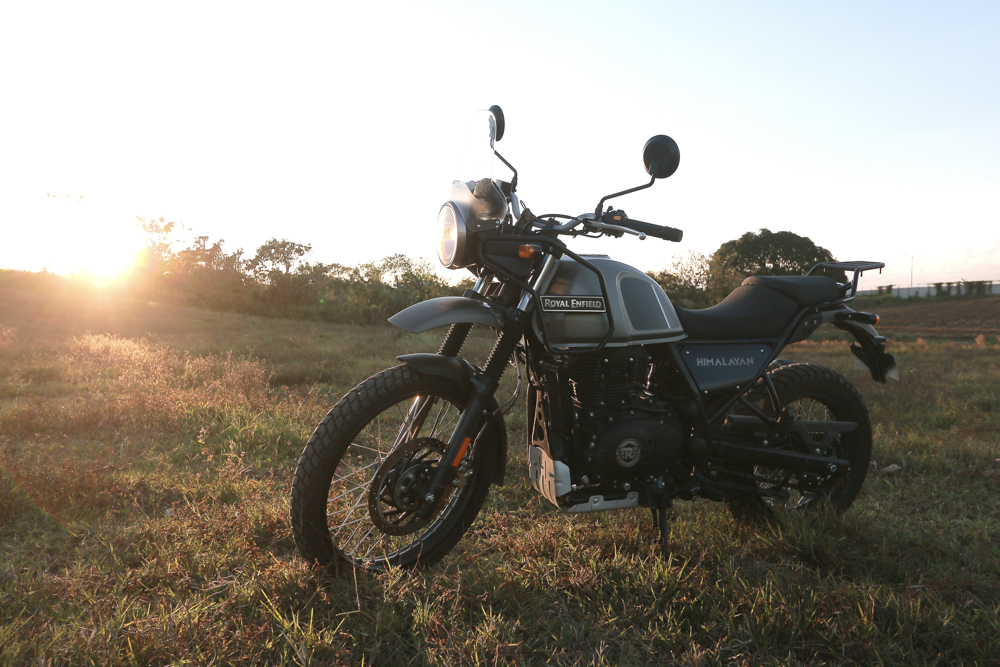 Uncomplicated. Unpretentious. Unintimidating.
These are the three words that kept ringing through my head as I took the Royal Enfield Himalayan adventure bike through its paces. On paper, it's not terribly impressive. The single-cylinder, 411cc long-stroke engine churns out just 24.3hp at 6,500rpm and 32Nm at 4,000-4,500rpm. ABS and EFI are the only acronyms you can find on the spec sheet, because why would such a low-powered bike with a five-speed gearbox need several variations on traction control or riding modes anyway?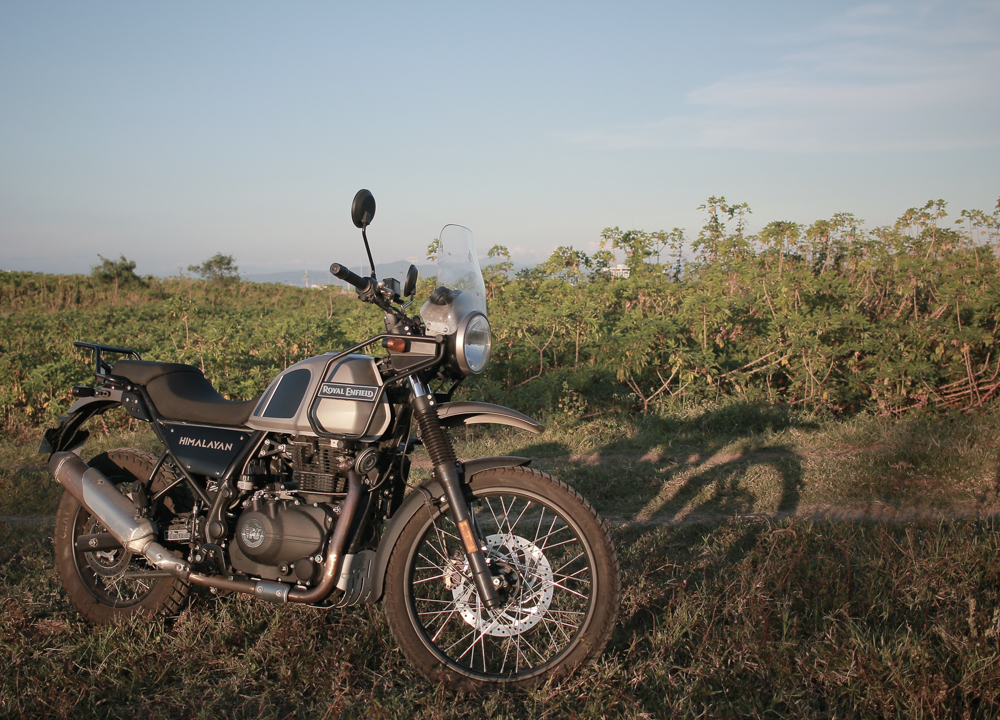 But the big draws of this bike are its price (starts at P304,000), its long-travel suspension (200mm front and 180mm rear), and its reputation. Since its launch in 2016, the Himalayan has won the hearts of many riders the world over for its robust engineering and go-anywhere mantra. Dutch motorcycle vlogger Noraly Schoenmaker (Itchy Boots on YouTube) famously used a Himalayan to get her from India to the Netherlands—documenting how reliable the motorcycle was and how simple and cheap it was to repair during the 36,000km journey.
Even Peter Egan, whom I grew up reading during his time at Road & Track and Cycle World, was smitten by his Himalayan even though he could well afford any of the more expensive bikes offered stateside. Locally, you'll be hard-pressed to find a used Hima for cheap because those who buy it just love it so much that they don't want to part with it.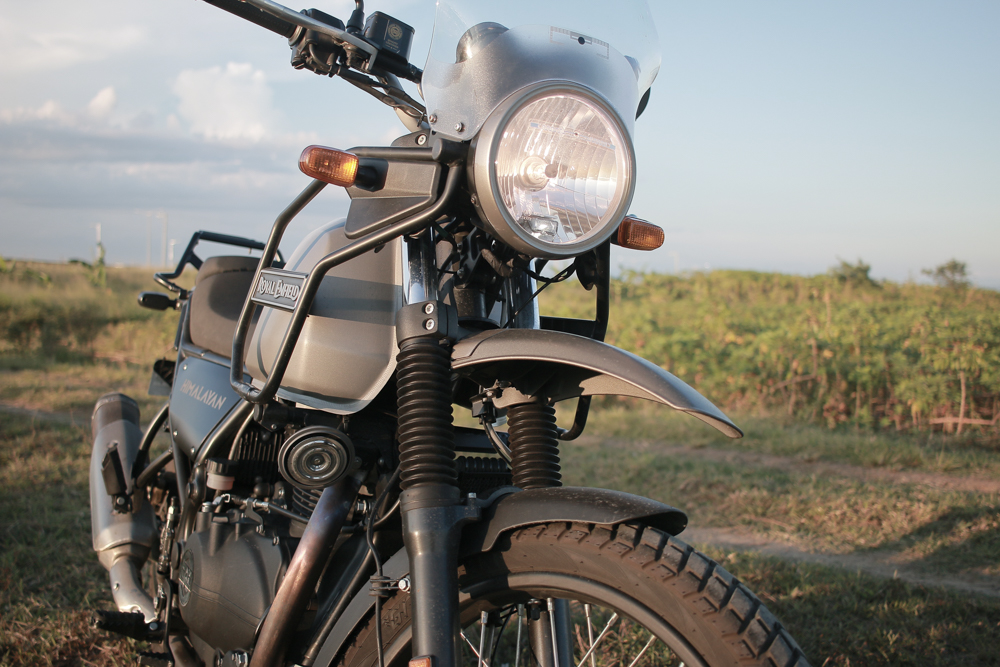 So, there's more to the Himalayan than its humble specs suggest. Aesthetically, it has charming 1980s styling with the single round headlamp, short windscreen, and pentagonal tank profile. Pierre Terblanche, formerly of Ducati and Moto Guzzi, headed the design team during the Hima's development, so there are hints of vintage Euro design. It's quite handsome and likable. Park it beside a BMW GS or Ducati Multistrada and it looks diminutive but approachable. Practical details include the side brackets by the tank for auxiliary lights and mini jerry cans, a rear rack, and a center stand.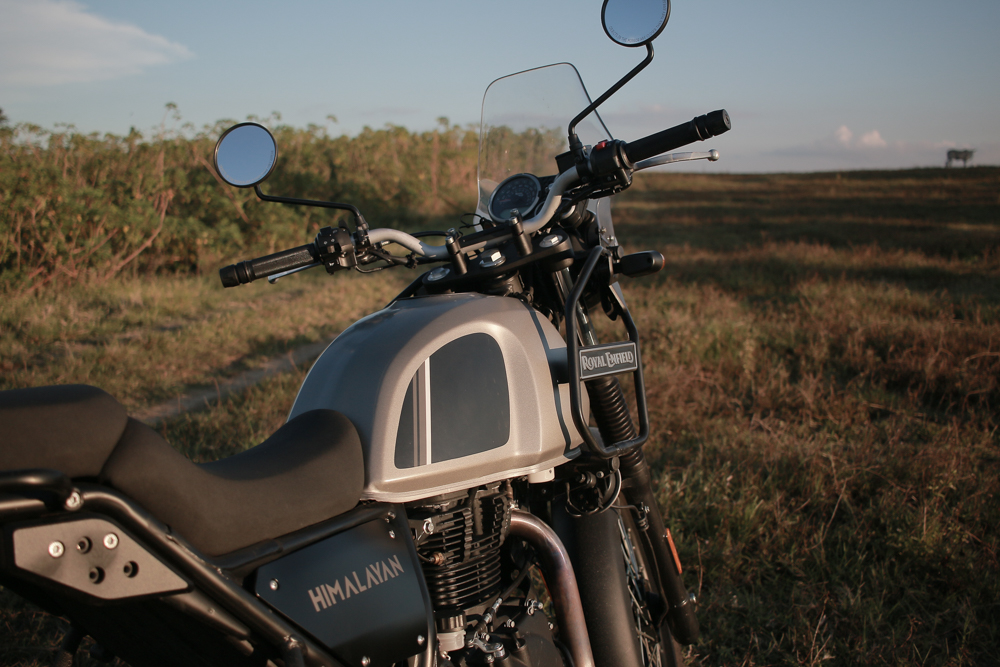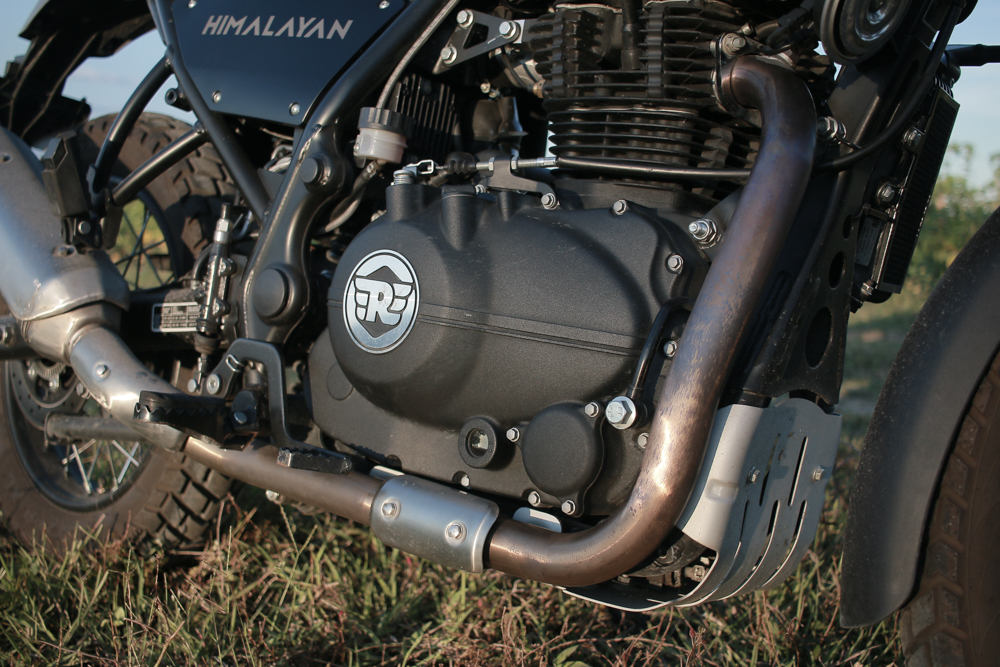 A low seat height of 800mm will immediately endear itself to most Filipino riders who aren't blessed with long inseams. No need to step on the left peg and jump over like you would on a horse. Once you're on it, the raised cockpit and handlebar give a secure feeling like you're in the bike rather than on it. I did find that the seat-to-peg distance was about a centimeter too short for my comfort, so a higher custom seat would be the first thing I'd get if I were to buy a Himalayan. By itself, though, the padding of the stock saddle is very good and has just the right length and width to find a comfortable position. A slender waist and relatively narrow tires make the Himalayan handle lightly in traffic. And on the trail, it's easy to crawl around ruts and rocks in low gear.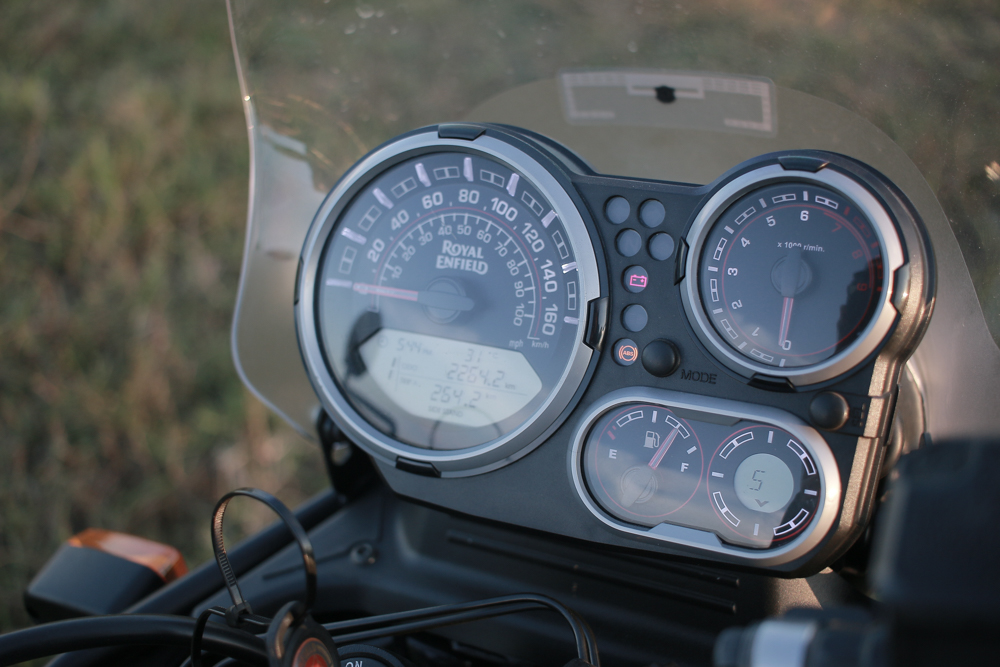 Surprisingly, the little thumper motor revs smoothly and has decent pull to get you running at a brisk pace. Unlike most big bikes, acceleration is car-like rather than cat-quick. But if you're used to the gradual acceleration of the average modern car, it's no big deal. A low compression ratio of 9.5:1 and a longer piston stroke compared to its bore tell you that the engineers prioritized all-day torque and miles of longevity over outright performance.
On the highway, a redline-limited top speed of just a little over 125km/h means you'll be responsibly obeying the speed limit to keep the revs at around 4,000rpm. The exhaust note also sounds like a wet fart at wide-open throttle, so you don't really want to explore the redline too often. The short windscreen looks a bit of a token effort, but really, at max speed, there's not that much windblast anyway.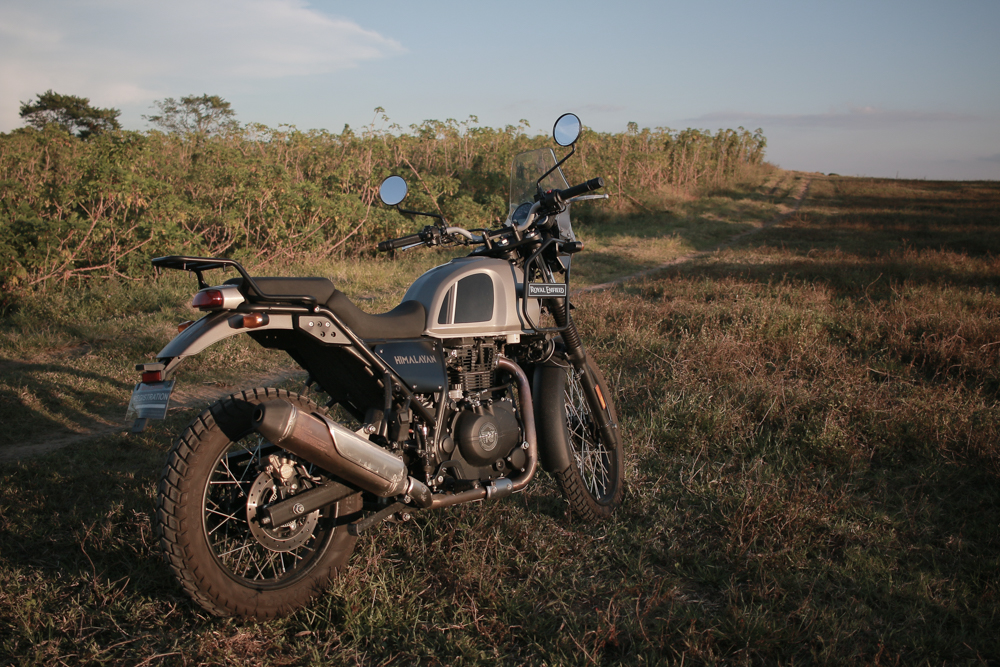 So yeah, it's a slow bike. But I still liked it a lot. The analog clocks on the dash are handsome and uncomplicated, and getting the bike to hustle is all about skillful energy conservation. On the trail, the suspension just gobbles up the terrain without any drama. Face a steep hill and the torquey little engine will have you crawling up the gradient like a mountain goat. You won't get to where you want to go especially quickly, but you will get there short of anything more extreme that would require a proper enduro bike. And if the inevitable happens that you end up dropping it, you can get the Himalayan's 400lb back up a lot more easily than you would, oh, a 500lb-plus GS.
One thing I thought was odd was the mushy feel of the front brake as I found myself squeezing the lever harder than usual to get it to stop on the road. I did wonder if it was better that way for more gradual braking on technical trails. But then, nah, it's shite. Change to better pads if you're getting one.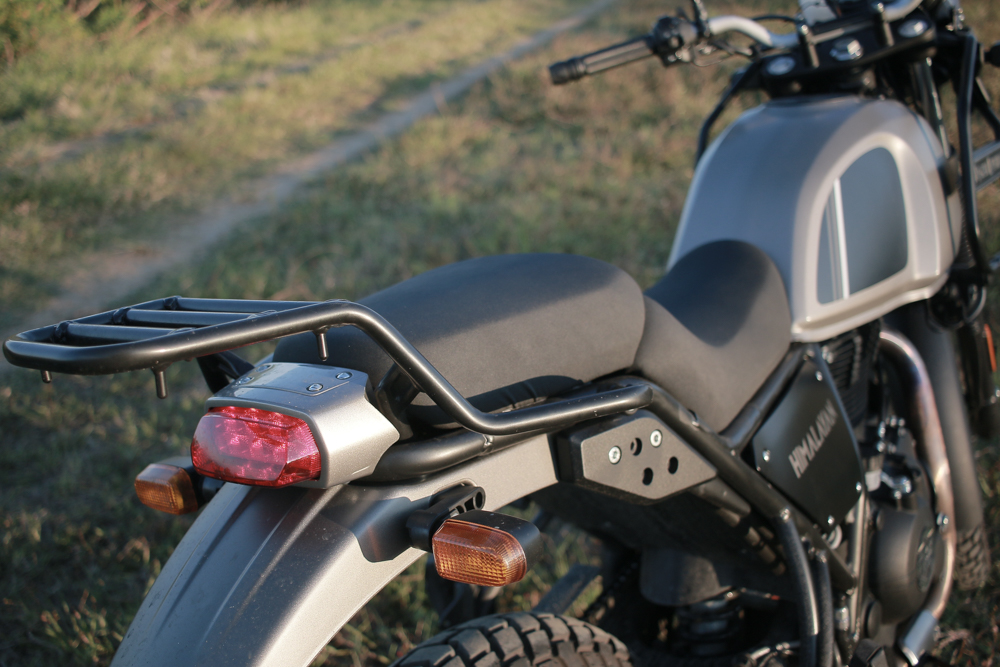 And finally, there is the financial appeal of the bike. The 15L tank seems tiny for an adventure bike, until you consider that it only drinks gas to the tune of 25-30km/L. And it doesn't need pricey 95-octane juice either because of its low compression ratio. The relatively slender 90/90 21-inch front and 120/90 17-inch rear CEAT tires won't cost you an arm and a leg when they wear out, and the simple design of the air-cooled engine will also keep your servicing costs low. Pesos saved on these mundane expenses translate into more money for other necessities like riding gear and, ah…more bikes.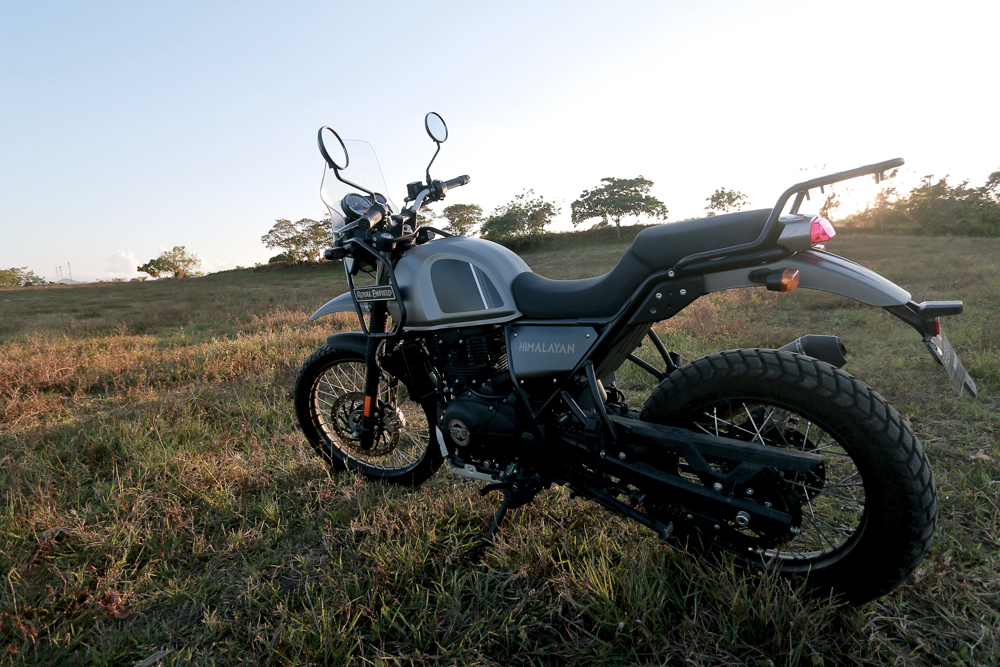 When you consider all of these, it's really not surprising why the Himalayan is such a hit. It's inexpensive to own and maintain, it's competent on and off the road, and it's not mainit sa mata. It is a near-perfect machine to explore the Third World. It just happens to look like it's ready for the end of the world.