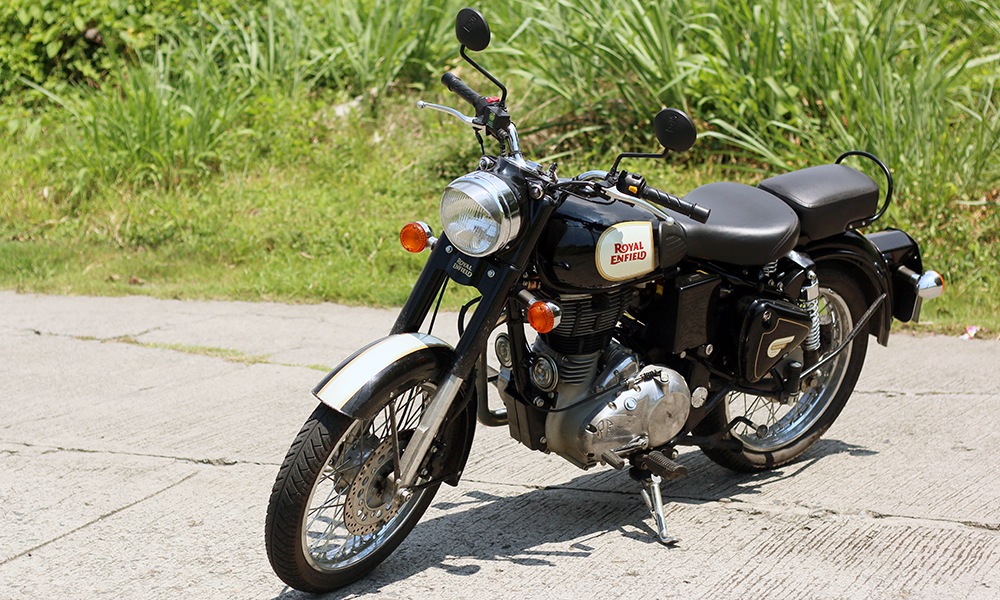 By conventional motorcycle standards, the Classic 500 is not a very good bike. It stutters at idle, it vibrates all the time, and the "modern" tech is bare bones: you get fuel injection, but that's it. No traction control, no fuel gauge. You get a five-speed transmission, and a single cylinder, 499cc motor that makes more noise than thrust. It will set you back P313,000—a price point that will have you on a fair number of more modern, expressway-legal bikes, too. But you do get a kick-start along with the electric start button.
My two-year old tester even has a rear drum brake (later models have front and rear discs with ABS, thank God).
Yet this is a bike that is beloved by thousands, if not hundreds of thousands, in the UK and in its current home country, India. More out of curiosity than outright desire, I asked the distributor, Hardcore Brothers, for a weekend test ride. The brand is British, but the company is Indian. The bike is a reminder of how simple motorcycling was back in the 1950s. Wire spoke wheels, oversized fenders, single down-tube chassis, headlight "Bullet" nacelle—it's like it just rolled out of a museum. It's quite handsome and distinguished; a welcome change from the proliferation of angry alien, plastic-covered bikes these days.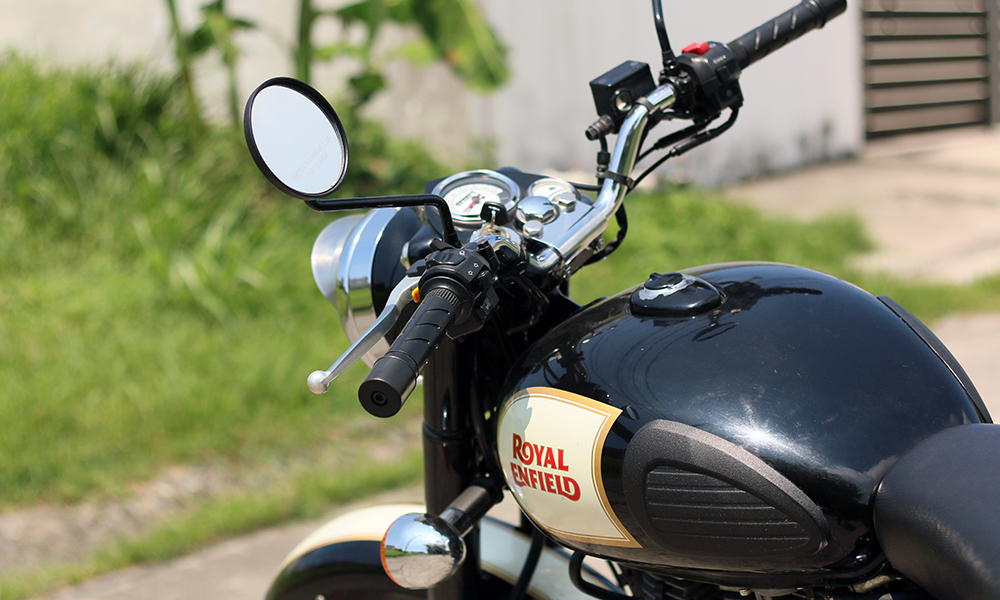 Back in 1955, Royal Enfield UK partnered with Indian company Madras Motors to form Enfield India and manufacture the Classic 350; a simple, rugged workhorse that the Indian Army would use to patrol its vast borders. To cut the long story short, Royal Enfield UK was purchased in 1994 by the Eicher Group, also from India. The brand lived on under Indian ownership and its factory in Chennai kept churning out these time machines.
The Classic is thoroughly, unapologetically old-school. On a cold morning, despite its fuel injection, the engine stutters to life and threatens to die if you don't twist the throttle just so. If that doesn't work, there's an idle control lever on the left grip to fiddle with. You'll have to wait a few minutes for the transmission to loosen up and give you neutral, too, as I struggled to extract myself from our crowded garage with the bike stuck in first.
Once I did get going, I began to appreciate its quirks. The straight, peashooter exhaust delivers a pleasing putt-putt-putt note. Rev the engine and it delivers more vibration and noise than thrust, although the 41Nm of torque from the big, long-stroke 499cc thumper is pretty darn useful. You can breeze through traffic in fourth gear at 40km/h and it just keeps going like a tractor. The soft, thickly padded seat has its own springs, so go ahead and ride through that rough road section without a care. The seating position is upright like a scooter's; comfortable, not at all sporty, but your back will thank you for it. Seat height is around 27 inches, so most riders can easily flat foot at stoplights.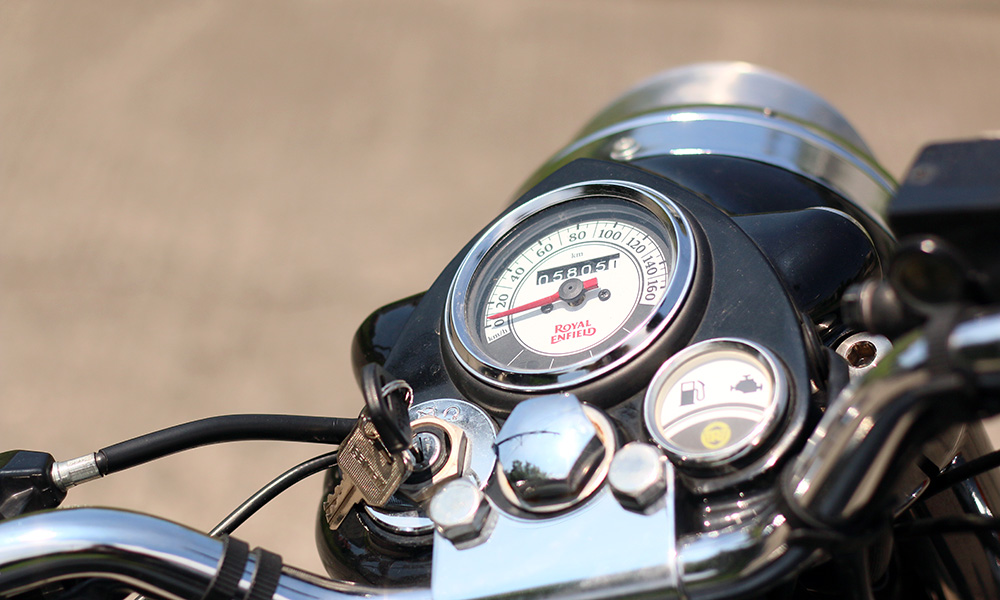 While the bike is expressway-legal, you won't want to spend too much time there. The 27hp engine will push you to around 120km/h with a tailwind, but the vibrations will gradually shake the mirrors out of alignment and then it's time to pull over and have a coffee. Or tea, if you prefer. The bike is happiest between 80 to 100km/h, which means you'll never be tempted to break the speed limit. Overtaking takes around as much planning as, oh, a vintage Mitsubishi Pajero. Chuggachuggachugga.
Lean angles? You'll know you're approaching the limit when the fuel warning lamp starts flickering. Braking? Well, how quickly do you think a 1950s-era bike can stop? The anchors feel mushy, the suspension pogos up and down under hard braking and acceleration, but the clunky transmission is saved by a remarkably light and easy to modulate clutch.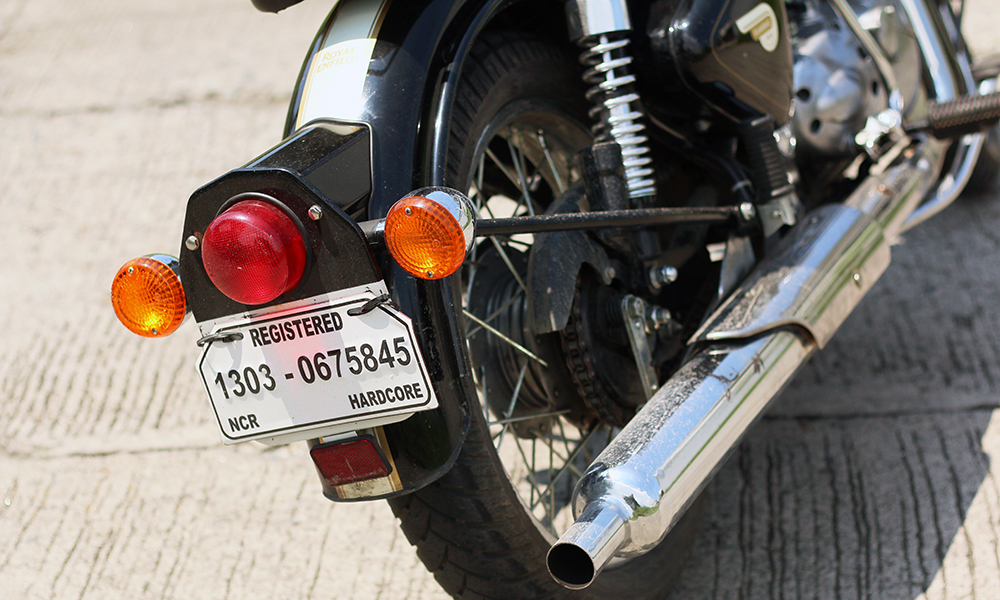 Bikers like to say that "it's more fun to ride a slow bike fast." Thing is, you can't really ride this thing fast anyway, and that's the point.
For my four-day test, I took it to a bit of highway, but spent more time exploring the back roads of Cavite. And I genuinely, honestly, enjoyed it. At a time when the technological arms race is heating up the motorcycle industry, and when it's cool to roll out a "modern retro" bike with vintage styling but modern tech, the Classic is the real thing.
Fellow bikers would pull alongside me to either give me a thumbs-up or point out that the left side panel had vibrated itself loose again. It's not quick and it's not refined, but it feels unstoppable, more pack mule than pony. Fuel economy of 35-38km/L on a 13.5L tank brings to mind the story of the tortoise and the hare.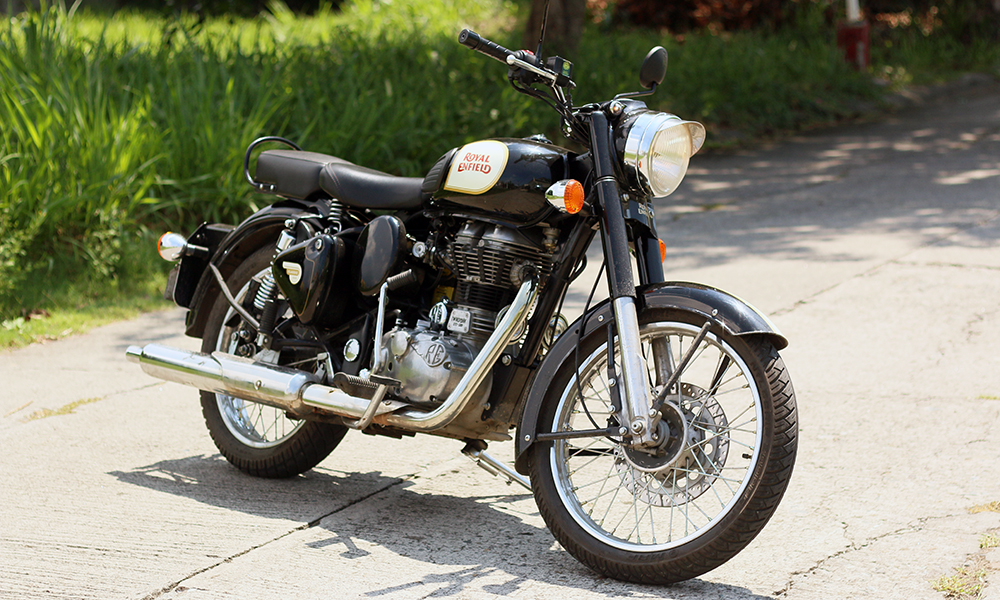 As is, the bike is a fun commuter for the rider who sees value in a motorcycle with a long and interesting history. More expressive owners also use it as a base bike for customization, with some truly handsome bobber conversions populating Instagram.
Collectors spend a small fortune to scoop up "barn find" motorcycles and restore them to their former glory. This bike, on the other hand, is a turnkey machine that's basically lifted from the fifties and bestowed with the bare technological necessities to lessen the headaches of vintage ownership.
Alas, time has finally caught up to the Classic. Royal Enfield India ended production of the model back in March in a nod to tightening emissions regulations, and there are only a handful of brand-new units available locally. For those who want to own a piece of history they can actually ride every day, the Classic is as authentic as it gets.